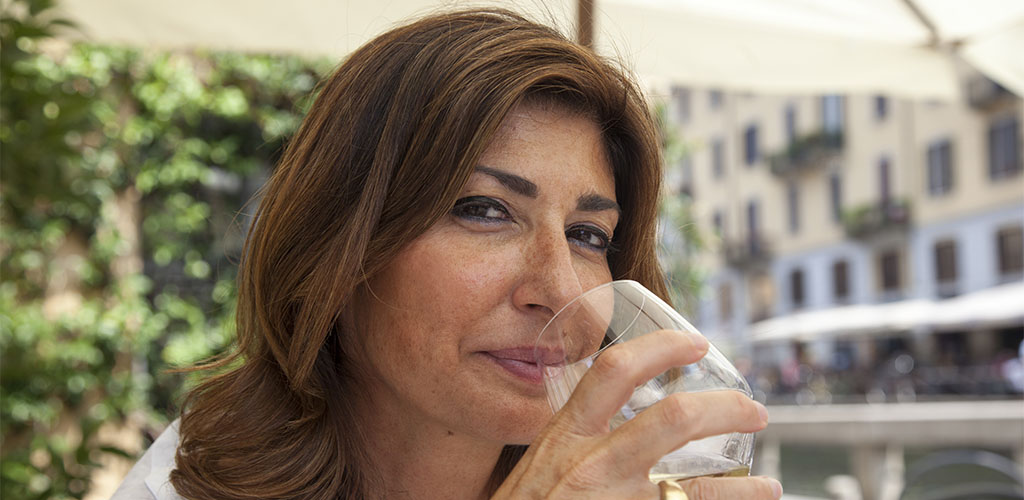 When you think of older women and sex, you probably aren't thinking of mind-blowing sex that leaves you unable to walk. That's your first mistake. You may think of older women as frigid or shy. If that's the case, you've met the wrong women. There are things about older women and sex you need to know.
What You Need To Know About Older women and Sex
Today's older women are sexy, accomplished, and confident. They're not the older women of generations past. Barriers and stereotypes are being busted wide open. They're taking back their sexuality in ways you've never seen.
When looking for an older woman, there are a ton of things you'll need to know before you ever get started. Finding out which hookup sites and apps are filled with older women is only the beginning and it can be daunting if you're not fully prepared. It's why we have a complete video course to guide you on how to attract older women and land dates.
It's time for you to take advantage of the sexual revolution that's happening. Educate yourself and enjoy the elegant beauty that lay before you.
Here are 10 things about older women and sex you need to know:
They have experience
Most older women have more sexual experience than their younger counterparts. With more experience comes more practice.
Like anything else, the more you practice something, the better at it you become. If you're going to excel at any activity, sex should be at the top of the list.
Older women and sex are like younger guys and video games. While you were playing Call of Duty, she was learning how to please every one of your erogenous zones.
Luckily, you don't have to spend years playing catch-up. Snag yourself a sexy older woman and she'll teach you what those years of experience taught her. Soak up all the fun tutorials. You can be an active learner by asking questions and voicing your concerns.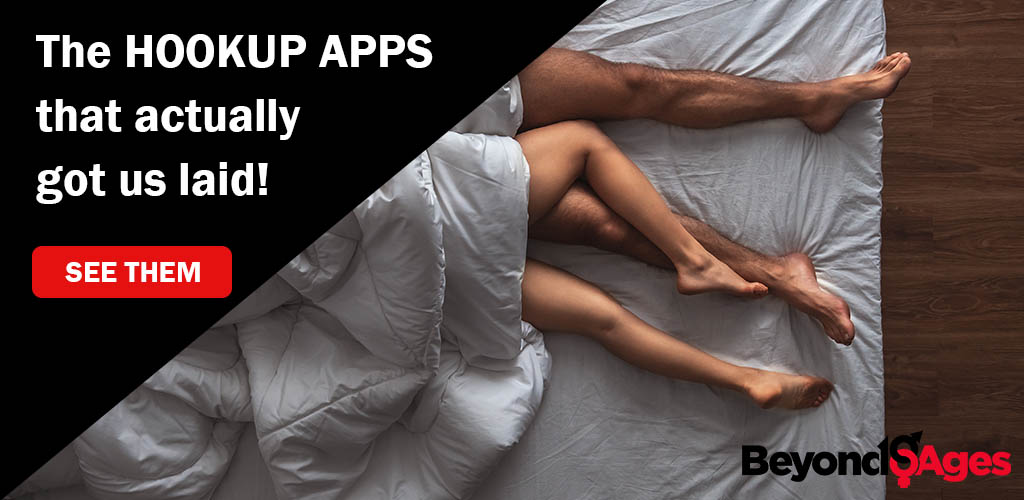 They can communicate
An older woman can teach you the ways of mind-blowing sex. The most effective way of doing that is clear and productive communication. I'm not talking about this vague, non-verbal lingo in the media that gets everyone in trouble. A questionable flinch here or a limp hand there.
When you're approaching older women you need to keep this in mind. There are a lot of great places out there for people looking to find quick hookups and many of them are also great for older women. You need to be ready for them to be more forthright with their interests and what they don't like.
An older woman will tell you if she doesn't like something. She'll let you know, loud and clear, if you're doing something that drives her wild. She'll tell you to do more of it. She'll ask you to do specific things to her because she knows what turns her on already. No guesswork, no mind games. Simple and direct.
Clear communication involves verbal and non-verbal elements. Expect to hear some dirty talk, moans of pleasure, grabbing and squeezing in the throes of passion. You'll always know where you stand because you'll be comfortable talking after sex.
Women interested in sex are easier to meet online than you think (we like Adult FriendFinder)
Many guys are very outdated views about women and what they want. They assume that all women are very traditional in their views on sex and expect 3+ full-scale dates before sex is even on the table. Fortunately, that just isn't the case.
There are a lot of women out there that just don't have the time to meet a guy for a committed relationship but are interested in sex. Their lives are so busy that often the only way they can meet someone is online. That is where Adult FriendFinder comes in.
With over 90,000,000 active members they are the largest and most well-known place or men and women (especially those over 30) to meet for short-term flings. If you are looking for women 30-50 you won't find a better place.
The only comparable place is Tinder and that is almost exclusively filled with women under 30. Give Adult FriendFinder's free trial a shot and see what we mean.
They are confident
Younger girls often suffer from low self-esteem. Which means you're left reassuring her how beautiful she is. You find yourself telling her she's the only girl for you, to appease her so you can have sex again. What a pain. An older woman needs none of this; she knows she looks good. Older women are confident in their ability to give you what you want and get theirs too.
She's comfortable being naked with the lights on, and might even let you keep the blinds open. That's part of being a mature, self-assured woman.
Being with a woman who is secure in her sexuality makes all the difference. A woman who can ride you without hiding herself is the sexiest thing ever. Meet her on her level by showing how confident you can be in your skin.
Show her your confidence too! When you're approaching her in one of the many places cougars looking for younger guys can be found be straight forward. Confidence is just as sexy coming from you!
They know what they want
Older women have had time to learn what they like. They know what they want, what they desire, and what gets them hot. That's a great thing for you since you don't have to waste your time with trial and error.
Her experience, communication, and self-awareness is the perfect cocktail for sensual sex. You can learn a lot about your desires from older women and sex. Knowing what you want is a powerful gift. Who wouldn't want a woman who's not afraid to direct you deeper, further down, or a little harder?
She'll tell you she's fantasizing about you. And she won't hesitate to let you know if she wants something done differently. The habits that come with knowing what you want in bed can help create a healthy relationship in general.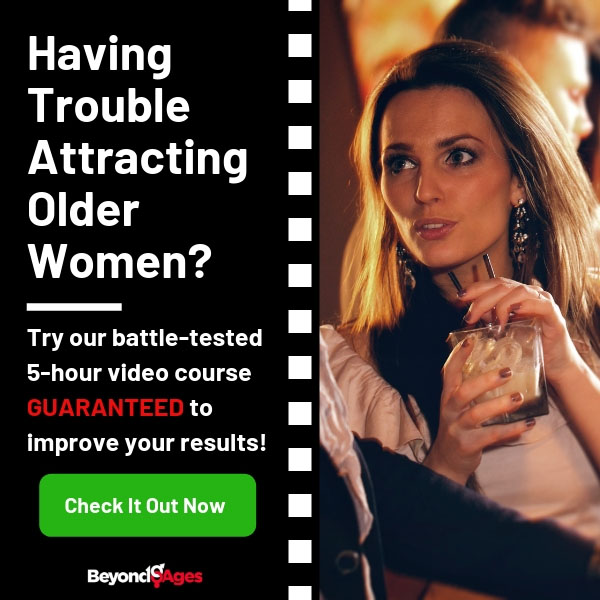 They enjoy sex
Most older women are no longer dealing with the drama that comes with sexual insecurity. And they don't have time for anyone else's childish riff-raff.
They enjoy sex; why shouldn't they? They're beautiful creatures of desire. And if an older woman is smart enough to date a man her junior, she damn well knows it. Most women reach their sexual prime in their 30s and 40s. It stands to reason that middle-aged women enjoy sex more than younger girls. They don't have to deal with learning curves or hormonal obstacles.
Older women and sex are the dynamic duo. And you are the prize. Embrace the situation by following her lead and making sure you're comfortable. Not every man can handle an older woman who is sexually confident. But the ones who can are rewarded in spades.
They know what you want
Sure, older women know what they want in bed (which is essential). But with experience comes something else.
They also have a much better idea of what men want. They've learned what guys detest, what they like and what they love. And yes, every man is unique, which is why it's crucial that they can also attentively observe. They've learned what specific moans and non-verbal cues mean. And they know how to react, so their guy gets what he desires. Older women and sex is a giving game. They understand sex is a mutual affair -- you give to get.
If she doesn't know what you want, her goal will be to learn. You can help her by being open and communicative in return. She'll use all her tools to make sure she finds the best path to a mind-blowing sexual experience. And her tools are the sharpest in the box.
They know it's important
Older women understand that sex is more than a carnal transaction. They recognize the value in physical pleasure but realize that sex can be so much more. It's sensual, emotional, passionate, wild, salacious, seductive, risque, spiritual, and more. It's a critical element in a healthy relationship. Your brain releases vast amounts of the "love hormone" oxytocin while in the throes of orgasm. This hormone promotes bonding and intimacy, two crucial things for a healthy relationship.
Most older women recognize benefits through experience and hard-won results. See for yourself. Dial up the heat by including foreplay into your sex. Make sure you engage in open communication during and after sex to make sure you're both on the same page. You'll quickly see the evidence of intimacy rear its beautiful head.
They don't want drama
Leave the drama to the porn actors. Older women have been there and done that, and want none of it. You'll thank her later; drama is a waste of precious time that can be better spent getting sweaty. Older women and sex is as low-drama as it comes. You won't see any mixed messages, temper tantrums, or stalking behavior. Older women want to have a good time, then return to their life. If they want a commitment, they'll tell you. If they don't, they'll let you know. Imagine that.
Make the most of a great situation by meeting her in the middle. Don't bring drama to her doorstep either. If she's honest and straightforward with you, return the gesture. Let her know up front if you just want something casual. If you aren't cool with strap-on play, let her know that too. It's pretty simple . . . just be honest.
They are responsible
Most older women have responsibilities in life. A career, a home, possibly children. They don't have the freedom to make stupid decisions anymore. Making smart choices tends to bleed into all areas of life, including sex. Older women and sex is analogous to dependability. You can count on her to let you know if she's uncomfortable with something, or needs more from you. Practice your mature decision-making by exercising safe-sex. You'll both enjoy the mutual trust built on responsible sex in the bedroom, and in your relationship.
They experiment more
With age comes the desire for novelty. Research has found that older women experiment with different kinds of sexual play. Which is excellent news for a young buck like you. You won't have to worry about things getting dull because she's older than you. In fact, you'll probably learn a few things from your femme fatale. A variety of toys, games, and positions keeps things interesting.
Older women who are willing to experiment are also more open to ideas from you. So don't be afraid to voice your desires, she may surprise you.
---
Older women aren't the dowdy mother figures of eons past. Forget what you think you know and open your mind to what you can gain. More than ever older women are looking for younger partners.
There are several dating sites dedicated to matching older women with younger guys. Check them out if you're feeling up to it. It's time for a new chapter in your life; one that will reap benefits beyond your wildest dreams. An experienced, open-minded, sexy, self-confident woman is awaiting your introduction.