Before asking a girl out over text, there are some things you need to know.
It's important to be prepared for your date beforehand, but it's even more essential to know what type of girl she is before you meet in person.
What You Need To Know Before Asking a Girl Out Over Text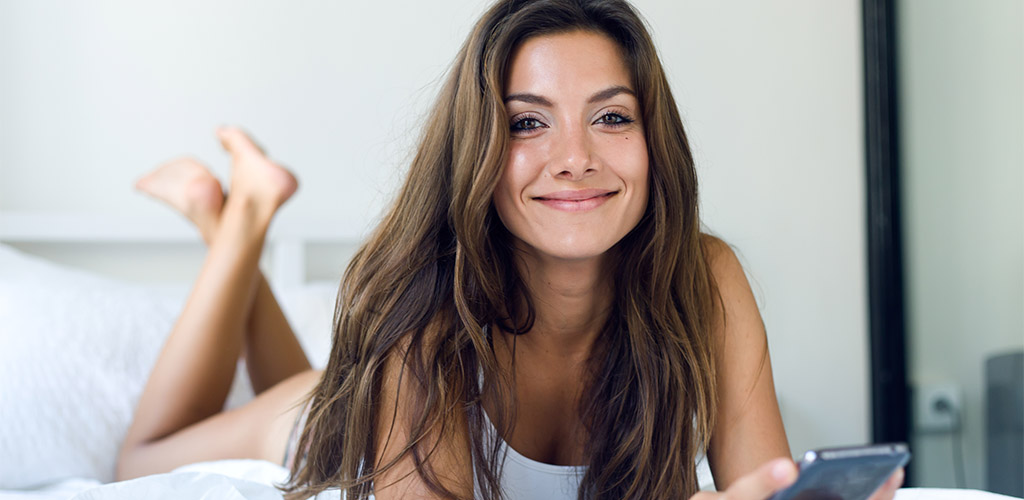 Here is our list of ten things you have to know beforehand:
Her interest level
It might go without saying that she should be interested in you before you ask her out.
But it's important to take note of this fact because it's often overlooked.
If you feel that she is not interested in you enough, then you could be wasting your time on a girl that might end up flaking on you at the last minute.
One surefire way to know she's interested in you is if she asks personal questions.
It's her covert way of letting you know that she'd like to meet, while allowing her to get to know a little bit more about you.
Before asking a girl out over text find out her schedule
Trying to plan a date with a girl without knowing her schedule is an exercise in futility.
You must have at the very least an idea of when she's free.
If you met online (check out our review of the top websites for dating older women if you are interested) you can get a decent idea when she is free based on her messages.
In addition, you must have a time in mind that would actually work.
If she's free on Tuesday only after her yoga class at 9 PM and she gets up early for work the next day, there's no point trying to make plans with her that night.
If she tells you she's free on weekend afternoons however, you'll be able to ask her if she'd like to go out on a Sunday afternoon.
Her personality
It's crucial for you to have an idea of what her personality is like before asking a girl out over text.
That doesn't mean you should go through a checklist of questions to determine what she will be like in person.
But you could ask her if she considers herself shy or outgoing, or if she sees herself as an adventurous woman.
The way she answers these questions will give a hint to what her vibe is like, so you know what to expect when you finally meet up on a date.
Her interests
There are only a few things better when it comes to dating than going into a first date knowing what sorts of things interest her most.
She may like painting, singing, reading history novels, or playing chess online. You'll have instant material for your conversations when you're acquainted with her interests.
Asking her what her favorite pastime is a great question because it may allow you to connect with her through a similar interest.
You could also tell her how fascinating you find the activity and how much it complements her personality.
Her hobbies
Similar to her interests, it's helpful to be specific and ask her directly about her hobbies.
But don't ask her in a generic way.
Rather, ask her about the hobbies she takes pride in.
While dancing might be one of her interests, perhaps she's also a salsa teacher with 20 years of experience.
A passionate hobby for her offers you an opportunity to connect with her in a way that few or none have ever attempted.
Ask her why a particular hobby draws her in.
Appeal to her emotional side by having her tell you her most memorable experiences.
Just be ready to share a personal hobby you love if she asks you in return.
Her opinion on dating
It may sound peculiar, but her opinion on dating is another thing you must know before asking a girl out over text.
It's not necessarily what she answers that's important.
Instead, gauge her response to your question.
If she gives you a bubbly answer or shows that she doesn't take dating too seriously despite it being a serious topic, you've certainly met a girl worth taking out.
On the other hand, if she seems desperate to meet a man for something long-term, it may not be a red flag, but it's most definitely a yellow one at least.
While everyone wants something out of a potential relationship, it's crucial to go into a first date with a lighthearted vibe.
Does she drink coffee or alcohol?
You may be surprised to know that not all women drink coffee and alcohol.
Caffeine is not for everyone, and some women are especially conscious about their health and will avoid alcohol in all but the rarest occasions.
While this isn't inherently bad, you must know if she drinks coffee or alcohol before asking her out.
"What's your favorite drink?" and "what's your favorite coffee shop?" are great questions to ask, and if you'd like you could follow up by asking her out right then and there.
The chemistry between you
Does your gut feeling suggest there is some chemistry between you and her?
Be careful not to overthink this.
You'll only find out for sure when you meet in person.
But you should have an optimistic feeling about it before asking a girl out over text.
What's her ideal evening?
Ask her this exact question as you get to know each other a little better over text, before inevitably asking her out.
It will shed light to the type of activity she prefers.
If her ideal evening consists of reading a good book while drinking hot tea, you won't go wrong by asking her out for coffee.
If she enjoys a good gym workout followed by a quality post-workout meal, go for a walk or hike and get fruit smoothies afterwards.
How open she is to new experiences
While asking her how open she is to new experiences may have a sexual connotation in the right context, it's a great way to learn a bit more about her personality and vibe.
Don't be afraid to get a little creative with this. It should all be in good fun.
Conclusion
We hope that you're more familiar with the things you must know before asking out a woman over text.
Get to know her as best you can, spark some chemistry between you, and take her out on what is hopefully the start to a memorable relationship.