We have pulled out all the stops in our review of BBW Romance to help you find the right dating site for meeting lovely larger ladies.
It can be hard to identify the best from the rest when it comes to online dating sites so you need to do your research.
After digging up all of the most important facts about BBBRomance we have put together our review below.
Once you have taken a look your next stop should be our overall review of all BBW Dating websites so you can see how everyone else stacks up.
Our BBW Romance Review
Here were our main findings:
The BBW Romance site design is okay
How the homepage of a dating website looks is critical to its success and can tell you a lot about the site.
Successful sites that attract a lot of women are going to be well designed and frequently updated.
They are not going to be overly graphic and will make sure they are welcoming to both men and women.
The homepage for BBWRomance.com is pretty decent though it does have one very important issue that we are going to dig into further.
There is a Facebook "like" button that looks a little strange and is claiming to have 66,000 "likes".
That is an extremely high number of "likes" and immediately sets off alarm bells for us.
BBW Romance Has a Fake Facebook "Like" Count

After seeing the Facebook "like" count of 66,000 we were immediately suspicious and decided to probe deeper.
We used another web browser to go to the site with the intention of signing up for a second profile.
Once we got to the homepage we found a pretty surprising site.
As you can see above, the top image is what we first saw when we logged into the site.
The image below is what we saw when we logged in the second time.
If you look at the Facebook "like" button you can clearly see that the count of the "likes" is about 100,000,000 apart!
This is a pretty clear sign that the BBWRomance.com site is posting fake numbers for their Facebook page.
Now, why would a site post such incredibly high fake numbers?
The obvious answer is they are trying to trick you into thinking they are popular and don't think they have to try very hard to do it.
If a BBW site really had 101,000,000 "likes" that would be truly incredible.
They would undoubtedly be the most popular dating website for BBW and probably the most popular dating website period.
Sadly, the fact that they need to be so deceptive leads us to believe that their true number of "likes" is tiny, if they have any at all.
In fact, we couldn't even find evidence that they have a Facebook page at all!
eHarmony going to be a lot better for meeting a BBW for a relationship (click to try for free)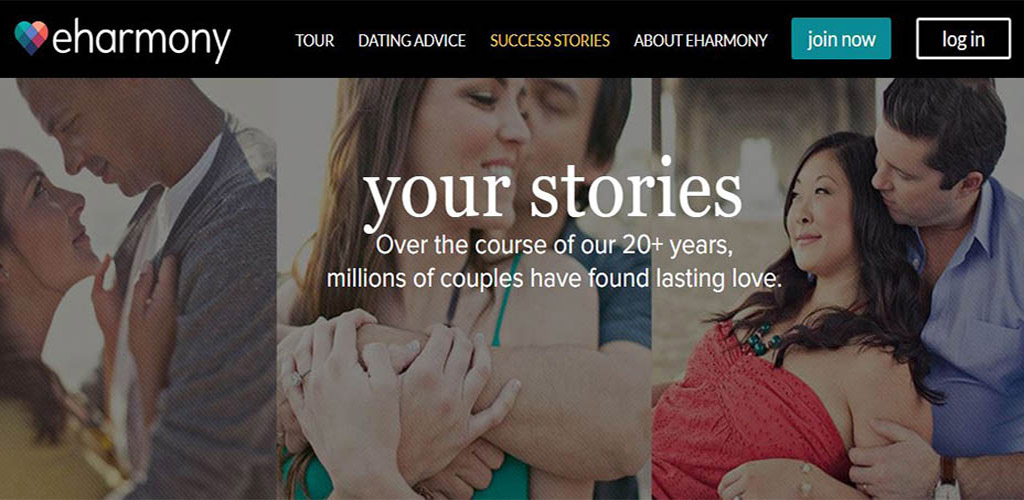 Of all the sites and apps out there for meeting BBW who want more than just one night of fun, we have seen the best results on eHarmony, particularly for guys who want something longer-term. This site is fantastic for guys for two main reasons: the sheer number of single BBW using it and how motivated they are.
To start with, there are thirty million+ active members on this site. Not just people who have signed up, but people who are using this site all the time. That's a huge number of women that you will have access to. Plus eHarmony does a really great job of matching you up with the women that fit the physical characteristics you are looking for.
Even more important than the number of women is how motivated they are to actually meet. 20,000,000 women who are just looking for attention doesn't do you a lot of good (looking at you Tinder). The women on eHarmony all took the time to go through the signup process and personality tests. If they were not serious about online dating they would have dropped out before the test. That leaves a ton of women who have been way more likely to message us first as well as respond to our messages (in our experiences).
They even have a free trial offer to make it easy for you to say yes to success. The signup process is a little long but it will pay off later. Better matches from the beginning and so much time saved.
BBW Match Mate is best if you are just looking for a quick hookup (and you can try them for free)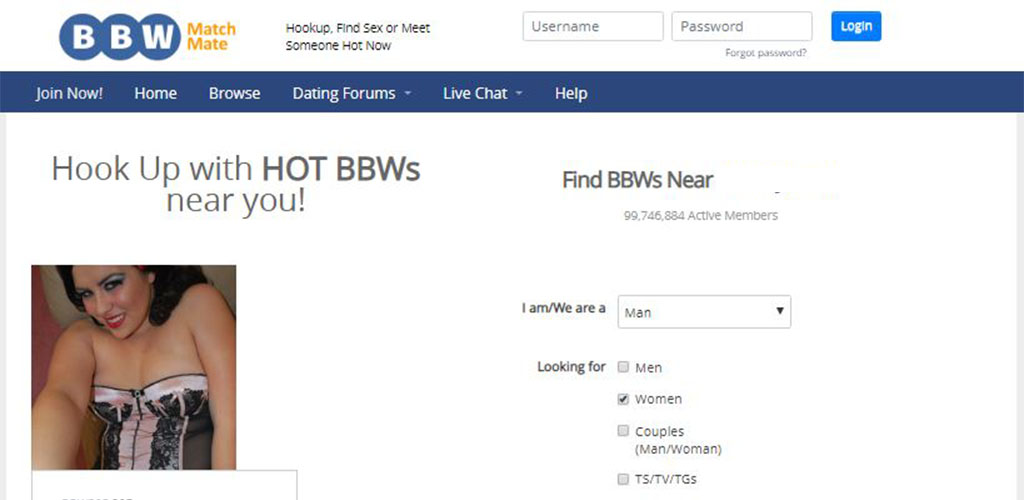 While eHarmony is great, it is more focused on long-term relationships instead of quick hookups. If you are taking a break from committed relationships or just don't have any desire to be in one BBW Match Mate is going to make your life MUCH easier.
When it comes to these kinds of apps and sites there are really only a couple of options worth considering; Tinder and BBW Match Mate. I'm sure you have heard of Tinder and you may have tried it out. It can be great if you are a very attractive guy or a typical woman. The best-looking guys get 90%+ of the matches and guys who are not male models tend to have a very frustrating experience.
On the other side, BBW tend to avoid Tinder as well. It can be really hard on your self-esteem if you don't fit traditional images of beauty and the guys using Tinder can be pretty cruel. As a result, a guy interested in meeting a BBW for some short-term fun is going to really struggle to find them. Every year we do a thorough review of all the best BBW dating sites so we know what we are talking about.
BBW Match Mate (which has a free trial) really does a good job of enabling guys to connect with BBW. They have a huge active user base drawing from over 90 million members (they are part of AFF) and have been around for WAY longer than Tinder (since 2006). They are pretty much the top site for people, especially those over 30, who are looking for some fun with BBW.
If you are taking a break from long-term commitments or just want some short-term excitement give them a shot.
As soon as you sign up for a free membership, they hard-sell you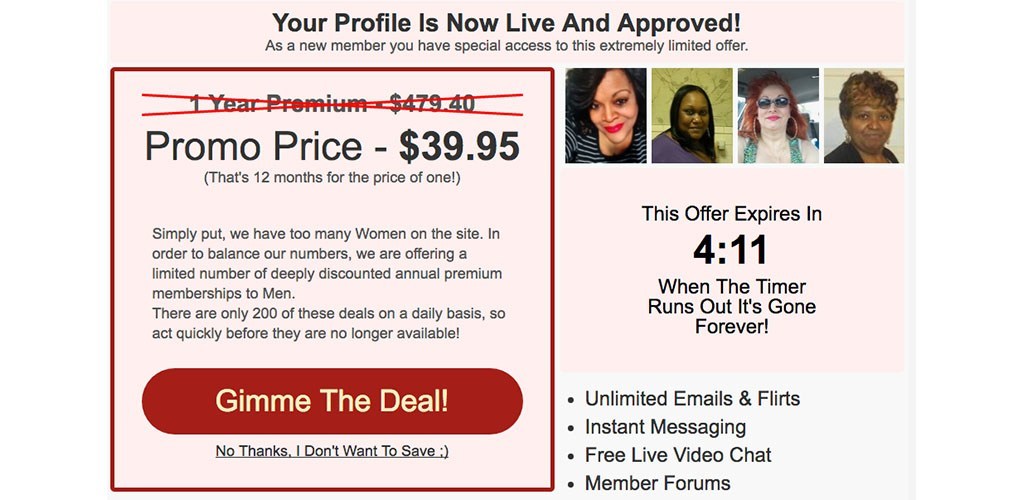 Once you have signed up for your free membership BBW Romance will immediately try to get you to pay for a membership.
Before you even have a chance to look at the site or view any of the members they really pressure you hard into signing up.
They even try to put time pressure on you with a countdown clock on the right-hand side.
This is the worst case of hard-selling prospective new members that we have ever seen.
They even put a fake limit of 200 discounted memberships on the offer!
Dating sites for big and beautiful women that have confidence that their service is valuable do not need to stoop to these techniques.
The good sites out there are more than happy to let potential users spend a little time checking out the women and looking around the site.
They want you to see all the great women and features on the site before they try to sell you.
It is much easier to get someone to pay for a service if they can see the value.
What we find here is the complete opposite.
BBWRomance.com is trying everything they can to get you to pay BEFORE you have a chance to see what they have to offer.
The most likely reason for this, as I'm sure you have realized, is that it would be much harder to convince potential members AFTER they see the quality of the site.
That lack of confidence is extremely troubling.
Very few people are even searching for BBW Romance online
We dug into the number of times that people were searching for BBW Romance on Google and other search engines over the past few years.
A good site will have tens of thousands of people searching for their site every month.
Online dating sites need to be constantly attracting new members every month in order to stay relevant.
As soon as they are no longer able to bring in more members than leave every month they begin to die.
In our research, we found that this site hasn't received more than 2,000 internet searches a month for at least two years!
Considering that this is just internet searches and that only a small portion of those people will become members and you begin to see a big problem.
There is simply no way that a dating site can stay afloat with such a small number of new users coming in.
With data like this, it is very hard to believe that there is a robust user base.
There were only 128 members online!
Last but not least we get to the advertised online member count.
After all our research and investigation we get to the killing blow for this site.
On a typical weekday evening, there were only a total of 128 members within 2,500 miles of New York!
That is pretty much a wrap for this site even if we had not uncovered all of the additional evidence we have discussed above.
Unless you like wasting your time this site is not going to be a good use of time.
The Final Word: Do Not Use This Site!
It would have been great to go through all our research and come out with another great site to recommend.
Sadly, as is often the case, we have a pretty awful site on our hands.
You will not be finding BBW Romance at the top of our review of the best BBW dating websites.
They don't seem to have any new members coming in, they have very few members total, and they do not seem to be very trustworthy.
This site is a waste of your time and money.
Frequently Asked Questions About BBW Romance
If you aren't sure about what to think of BBW Romance, these FAQs might help you out.
What is BBW Romance?
BBW Romance is a dating site that claims to help men meet BBW. Sadly, the site design is extremely outdated and it's full of errors when you try to create an account. Even more telling is that Facebook blocks any attempts to create an account with BBW Romance using your login credentials.
Who actually owns BBWRomance?
BBWRomance is owned by owned and operated by First Beat Media Inc. dba Dating Media Group.
How can I contact BBWRomance.com?
You can contact BBWRomance using their contact form: https://www.bbwromance.com/contact
Is BBW Romance real?
BBW Romance is a real site, but it seems next to impossible to create an account. Perhaps it's no longer functional.
Is BBWRomance legit?
At some point in the past, BBWRomance may have been legit. But it seems like it's no longer the case.
Is BBWRomance.com a scam or fake?
BBWRomance.com may not seem like an outright scam. But it looks like an all but useless site.
Is BBW Romance safe?
BBW Romance doesn't seem safe at all. So avoid it if you can.
What are BBWRomance alternatives?
Forget BBWRomance. We have a list of the best BBW dating apps and sites that are sure to be better alternatives.
How does BBWRomance.com work?
In short, it doesn't. BBWRomance.com doesn't seem to work anymore. So it's best to use a different site.
Is there a BBW Romance app?
Yes, BBW Romance has an app. But at a glance, it doesn't seem like a good one.
How much does BBWRomance cost?
We weren't able to create an account on BBWRomance, so we weren't able to see the updated price of premium plans.
How can you use BBWRomance.com for free?
You can't really use BBWRomance.com for free at all.
Can you send messages for free on BBW Romance?
No, you can't send messages at all on BBW Romance.
How do you cancel your BBWRomance account?
Good news: you can't create an account on BBWRomance. Their account creation system seems to be broken. So no need to worry about not being able to delete your account.