In our Cougar Life review, we spend hours and hours using and testing the site to determine just how beneficial it will be for you. We have investigated and reviewed hundreds of cougar dating sites in our Best Cougar Dating Site Review and we have finally found a great site worth talking about!
There are other legitimate dating sites out there where you can find attractive older women to date but Cougar Life (which you can try for free) is really the only game in town if you are serious about it. Sites like eHarmony and Match have a certain percentage of cougars but nothing like what you will find on Cougar Life.
In this review, we will take an in-depth look at Cougar Life using the same criteria we used for all of our other site reviews. If you like what you see sign up for a free trial HERE  and don't forget to take a look at our step-by-step 10 minute profile creation guide for Cougar Life.
Cougar Life Review (The Only Legit Site Around)
Promising Sign #1 – Professional Design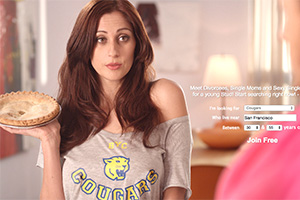 Logging onto a cougar dating site and seeing professional web design (like you will find on their homepage) is surprisingly refreshing. After reviewing so many sites that look like they were designed as part of a high school homework project (that didn't get a good grade) you learn to appreciate real design.
The design is not on the level of a Match or eHarmony but it is definitely far ahead of the pack for sites that cater primarily to younger men dating older women. Some of you might miss the rows and rows of fake profile pictures with half-naked models that you see on the scam sites. Unfortunately, you won't find them on Cougar Life and will have to settle for the real deal.
Promising Sign #2 – We Found Legitimate Links and Partnerships During Our Cougar Life Review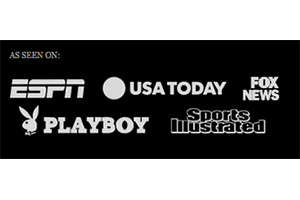 You are not going to find links or mentions from ESPN, Playboy, Sports Illustrated, USA Today, or Fox News for any other cougar dating site. In terms of widespread legitimacy and publicity, Cougar Life is miles ahead of the competition.
The only links or mentions that you are going to find to any other site that is focused on younger men dating older women are spam links and fake sites. Spam attracts spam and quality attracts quality.
The New Yorks Mets even proactively approached Cougar Life to undertake marketing campaigns together! No legitimate company would even consider partnering with any of Cougar Life's competitors but they know a legitimate site when the see one.
Promising Sign #3 – The Women Are Not All Models (but still good looking)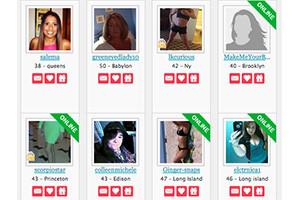 It may sound counterintuitive at first but you don't want to see row after row of gorgeous women when you first search a dating website. If you see nothing but models when you are searching you can be 99.9% sure that the site is 100% fake.
The 0.1% of sites where you can actually find that are generally going to be mail-order brides from Eastern Europe or very expensive "escorts".
What you want to see is what I was pleasantly surprised to find in this Cougar Life Review. You want to see very attractive but not "model hot" women. You also want to see some average and below average looking women sprinkled in there as well. Basically, you want to see a little bit of everything as you would expect from a site that attracts all kinds of women.
There are a surprising number of very attractive older women on this site.
Promising Sign #4 – A Lot Of Facebook "Likes"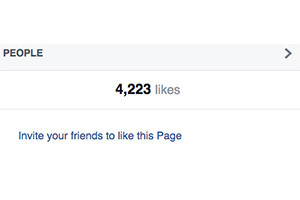 Over 4,000 people how "liked" Cougar Life or one of the posts on their Facebook page. That goes a long way in showing the legitimacy of a site.
It is usually a pretty big step for someone to publicly declare to all of the internet that they "like" or approve of a particular dating website. If you have thousands of fans publicly singing your praises to their friends and family you must be doing something very right.
Promising Sing #5 – Millions of Members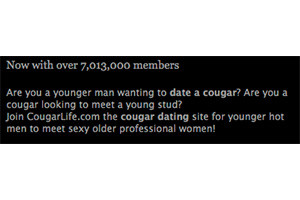 When you get down to it the number of attractive older women your site has members is the number one factor for most guys. They want to find where all the cougars are so that they can contact them and meet them. In the case of our Cougar Life Review, where there is smoke there is fire.
When you look at a lot of other cougar dating sites you will have a hard time finding any kind of credible numbers of members. Their reason for that is that there are almost zero women on those sites. Given Cougar Life's widespread publicity and far superior service, they have been able to create a member base of over 7 MILLION users! The only sites with comparable users counts are the major dating sites that cater to everyone.
We have not been able to find the sheer number of older women dating younger men nor the quality that we saw in this Cougar Life review anywhere else.
Warning Sign #1 – Potential Escort's Posing as Cougars
While Cougar Life does seem to be the best cougar dating site on the market we do want to call out one negative we noticed. There does appear to be a small population of escorts and other professional companions on Cougar Life. This is very common on most dating sites and Cougar Life is not any different. Be sure to use common sense when dating any older woman you meet online and you will almost certainly have a great experience.
Conclusion
If you have made it this far in our Cougar Life review then you have likely come to a similar conclusion to us. Cougar Life is by far the best cougar dating site around. If you are ready to take the next step to meeting a lovely older woman online then be sure to check out our step-by-step 10 minute profile creation guide for Cougar Life. If you are ready to get started then follow this link and start your free trial right now! Don't wait until tomorrow. Take that easy first step now!