Our Hookup Cougars review has a lot in common with the old saying that you can't judge a book by its cover. But what if that book says that it's about horses, and instead it has a picture of a giraffe on the front? Well, it's either a strange, animal-themed joke book, or it's a total fraud. Either way, I think it's fair to judge that the book is not to be taken seriously.
So, when I navigated to Hookup Cougars' website and saw a picture of a young woman (she couldn't be older than 25) in a scandalous position right on the front page, I was definitely judging the book by its cover. Why would this site, which advertises itself as a place to meet 'cougars' have a picture of a younger woman on the front? It's almost like they aren't trying to seem legitimate.
When evaluating the authenticity of a dating site (as we do for all of the sites we consider including on our ranking of the absolute best hookup apps and sites) this is a great first test: does their content match their name and advertising? The fact that this site has pictures of young women all over their site right from the beginning makes me think it's a Hookup Cougars scam.
The Hookupcougars.com Complete Review
Read through the rest of this HookupCougers review to see if the inside of this book is as bad as its cover (hint: it is).
No Cougars on Hookup Cougars, Just Cupids
What are 'Cupids'? That's a good question. It's the same question I had when I was signing up for an account on this site and they gave me a warning that said, "By proceeding I acknowledge and agree that this Site includes Online Cupids® which are fantasy profiles operated by the site for entertainment and compliance."
Before I have even logged on, this 'dating' site had admitted that they use 'fantasy' (just a nice way of saying 'fake') profiles. These Cupid profiles are common amongst the scam dating sites, and they are a good way to tell that the site you are on isn't really trying to help you find a date.
Cupids and other fake profiles have all kinds of tricks up their sleeve to try to get honest, real users to buy memberships, spend money on 'gifts', and access predatory, third-party companies. This is exactly what they tried to do to me on this site.
AFF has way more cougars to meet
We try not to be too harsh on sites we are reviewing but sometimes we just have to come out and say it. In our review of hookupcougars.com we didn't find anything worth recommending. It's hard NOT to recommend that guys at least check out AFF (you can try them for free with the links above after all). We have seen a lot of guys find success using it and most of those guys have been pretty average in the looks department. With that kind of success and how little time it takes to use there really isn't a downside.
If you actually want to find cougars to hookup with you need to try out AFF's free trial. You will quickly see just how different things are when you use a quality site like AFF.
Meeting women 30+ for some casual fun is usually a numbers game. The more options you have and the messages you send the better results you get. AFF has the largest number of single cougars of any hookup site (they have 60 million+ members) so running out of options isn't likely.
We review dozens and dozens of sites in our yearly review of the top hookup apps and sites and they have been at the top for a while now. Try them.
Hookup Cougars Sends Fake Messages and Is Not Free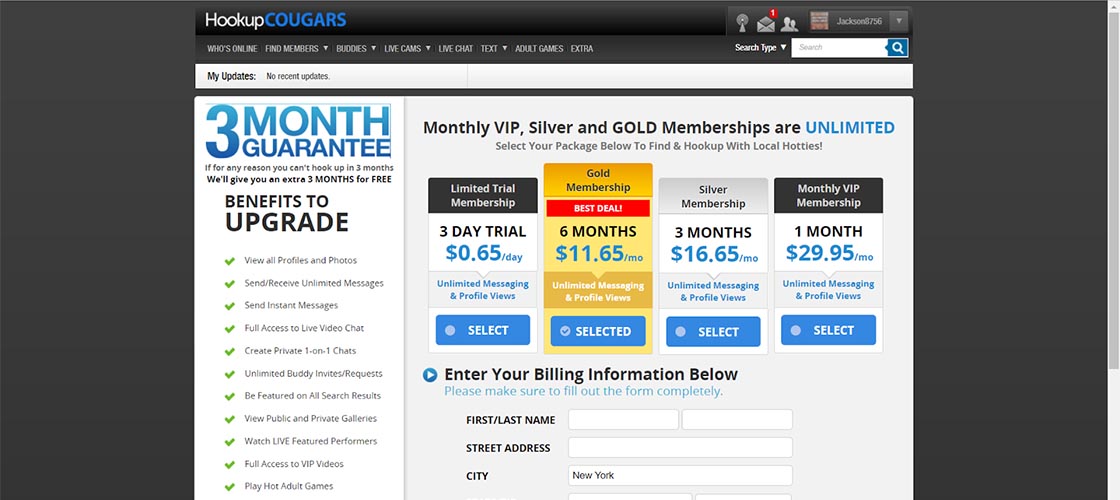 As soon as I logged into the site, I started getting messages and chat requests from all kinds of women (none of whom seemed to be older than I). This is a big problem for us and is very common with the scam sites. Now, we are going to help you out here and save some time. You can skip the rest of this review and use your time more wisely on our compilation review of the best sites for hooking up. These are the sites that can actually get you laid.
"Things can get intense between us if you allow. The 1st step would be to respond baby."
That was one of the messages I got from another 'member'. But why would she want to talk to me? I didn't have any words or pictures on my profile yet. I was just a random screen name. Well, I tried to take that '1st step,' I tried to send a message, but that's when I hit my first paywall. Apparently, you can't even converse with other members before buying a membership.
I looked a little closer at the profile that messaged me and saw that she was one of the Cupids that I was warned about. In fact, all of the profiles that had been 'liking' and chatting me were listed as "online Cupids".
The Site Has a Trashy Layout
Even if I wasn't getting messages from "Cupids," I would have been suspicious of HookupCougars.com. First of all, the site has a weird, blue and black color scheme that makes it look low budget and sketchy, like the basement apartment of some drug-dealer, or a second-rate rave in a poorly lit warehouse. It's not a place I want to be.
But that's just the beginning. The buttons and features of the site are poorly laid out. There are two navigation bars at the top of the page. One of them has my alerts, which I am raking up by the minute (because of all those fake messages). The other bar has options like "Find members" and "Adult games" (more on those later in the review).
The actual search features on the site are hard to find and navigate. All of this makes me think that this site isn't actually meant to help you date someone.
Not Safe for Work
Perhaps the most trashy part of the site is not it's bad color scheme or poor layout, but the many scandalous pictures and advertisements that adorn the site.
Most of the 'Cupids' profiles have adult photos and dialogue. But the most egregious content is actually found in the third-party ads that are on the site of the site. They are mostly for ED medicine, and feature hardcore adult content, which I won't describe here. I'll just say that it's not a good look, and a clear sign that this site is a total scam.
We Had Trouble Finding Actual Cougars in Our HookupCougars Review
There weren't any real cougars that I could find. I did a few searches, including wide searches in major cities, and all I could find were people who were 'Cupids,' or who looked much younger than their profile said. There was one woman's profile (see picture), which claimed that she was 40 years old, but then had a picture of someone who looks, at most, 22.
When I started these searches, the default age range in the search bar was 18-35. Why would a site that calls itself Hookup Cougar have that as their default age range? I'm not sure how old you have to be to consider an 18-year-old a cougar, but I do know that you would be too young to use a site like this.
Just like the photo on the sign-in page, this is a clear sign that the site isn't actually what it's advertising to be.
Third Party Promotions
Besides the vile advertisements on the side of the site, there are a ton of other third-parties trying to get a chunk of your change. For instance, when you click on "Live Cams" it takes you to a series of "live cam" models who want to get you to pay for a private show. There are also "adult games" that require payment.
Despite the fact that these third-parties have nothing to do with dating cougars, you may be tempted to use them for 'entertainment' purposes. Don't.
I read through the fine print in the site's user agreement, and under the heading "Third Party Links" it says clearly: "You further acknowledge and agree that Publisher shall not be responsible or liable, directly or indirectly, for any damage or loss caused or alleged to be caused by or in connection with use of or reliance on any such third-party content, goods or services available on or through any such website or resource."
In other words, these links are not to be trusted.
Hookup Cougar Will Steal Your Profile!
The information about third parties was not the only scary thing I found in the user agreement when I was going through it for this HookupCougar review. There was also a section that said, "You hereby release Us and all other members of the Site from any liability for invasion of privacy, defamation, false light, and related torts, in the event that your communications or profile are made public - even if they are made public for the sole purpose of amusing others at your expense."
Well, that's harsh. They can take your private information and publicize it just to make fun of you and there is nothing you can do. Does this sound like a site you really want to use?
Site Company Is Located in Cyprus
At the very beginning of the user agreement it says that "'Company' means HookupCougars, with offices located at Dositheou, 42 Strovolos, P.C. 2028, Nicosia, Cyprus."
You might not know where that is. Neither did I. So I looked it up and Cyprus is an island in the Mediterranean Sea. And, according to Wikipedia, "Cyprus has been sought as a base for several offshore businesses for its low tax rates." That's not a good sign. This site not only wants to take your money, but they want to store your credit card information in offshore servers. Scam alert!
Their Facebook Page Has No Cougars, Either
I am starting to think that the folks behind the HookupCougar scam don't even know what a 'cougar' is. On their Facebook page, they just have a bunch of pictures of young, beautiful women. Maybe they think that 'cougar' means that someone is young and sleek like the great cats of the American plains? Either way, if you are looking for older women to date, this is not the right place to find them.
HookupCougars Review Verdict - Don't Count on Hooking Up Here
After all of the research I have done for this HookupCougar review, I can say with confidence that this site is a waste of your time. It has an ugly, hard-to-use layout, it has no older women that I can find, and it is definitely trying to take your money!