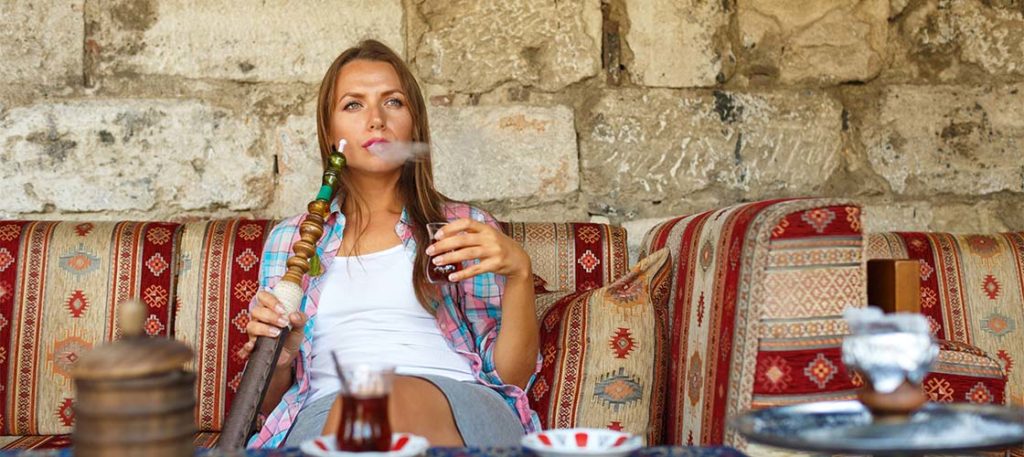 Younger and older guys who want to meet older women have one problem, where do you find them! It's not like these mature women are standing around with a sign on their forehead saying "Hey! Here I am so why don't you ask me out!" That would make it too darn easy.
Fortunately, our team has a lot of experience in this area and has put together a great list. If you want to meet older women dating younger men (or men your own age) you have to put yourself in their shoes and approach your search in the right way. These are very busy women with a lot going on. Try out our favorite spots below and make the most of your time!
Where You Can Meet Older Women Now
There are tons of great places to meet hot older women that you should try out. To simplify the process for you, we have compiled a list of our favorites. Here is a lineup of 10 great ideas to help you in your search for the best places to find cougars near you.
Yoga classes can be a great place to meet older women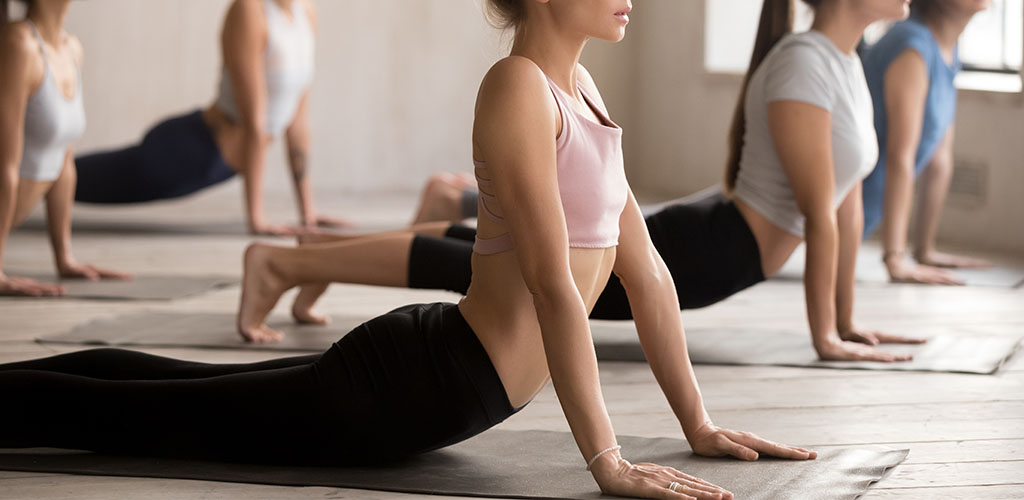 If you are looking to meet an older woman who cares about her body and likes to stay flexible yoga classes are fantastic. There are a few things about yoga classes that really make them stand out:
First, most of these classes are going to be 80% or more women. Many guys are intimidated when it comes to trying out yoga so you are not going to have a lot of competition in these classes. There is also quite a bit of mingling that happens before and after the class begins which can make striking up a conversation pretty easy.
Second, you are much more likely to find women 35+ at a yoga class than at the gym. Meeting older women in a standard gym chain can be pretty tough since many of them aren't interested in lifting weights and only use the cardio machines. If you have ever tried to talk to a woman on a treadmill you know how hard it can be!
Lastly, yoga studios are very friendly and open places. If you go there with an open mind and a friendly attitude you are going to enjoy yourself.
Need a little boost? Check out our guide for how to approach women at the gym.
Adult FriendFinder is the best option we've found for guys that just want a fling without the relationship (try it free)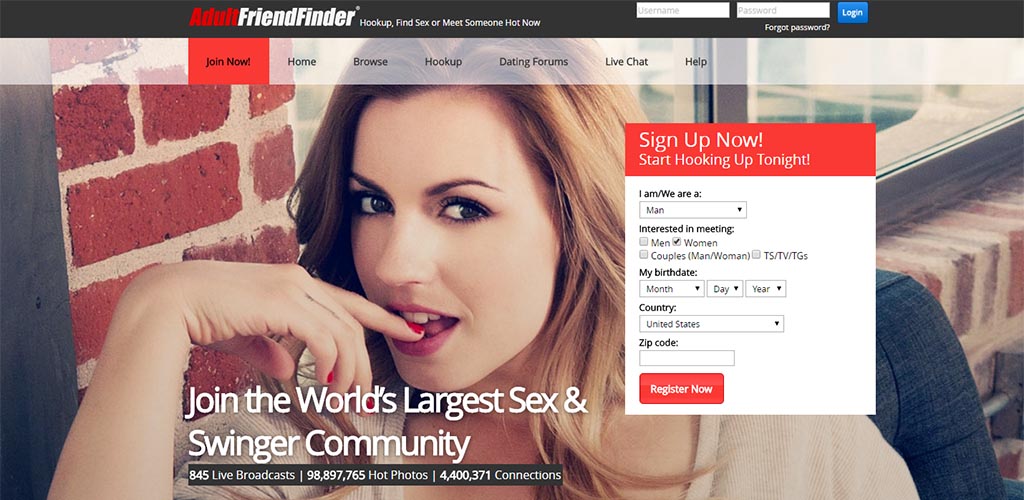 When it comes to quickly and easily meeting a woman for a quick fling there are really two options for a guy: Tinder and Adult FriendFinder (which you can try for free). Both have their advantages for different groups of guys but there is one that is WAY better for meeting older women.
Tinder is the clear favorite if you want to meet girls between 18 and 25. Millennials love this site. If you want to meet older women, say 30-35+ Tinder just isn't that great. Most women over 35 didn't grow up using Tinder and have a big aversion to using it now since it is full of people much younger than them.
Adult FriendFinder really fills the gap (no pun intended) when it comes to meeting women who are older than Tinder's typical user. They have been around since 2006 and have over 50 million members which gives most guys a lot more options. Women who are looking for something short-term tend to avoid Tinder and gravitate here.
We have had the best success using AFF to meet older women for casual fun and are confident that you will as well!
One other thing worth mentioning that many guys experience on Tinder, it can be really challenging to get attention if you are not a good looking guy. In our experience, 80%+ of all the female attention goes to the top 10% of guys. That doesn't leave a lot for the rest of us who are not male models. Adult FriendFinder has a much more even playing field since it isn't 100% picture-based. Give their free trial a shot and you can see for yourself.
Cooking stores/classes are great for meeting attractive older women seeking younger men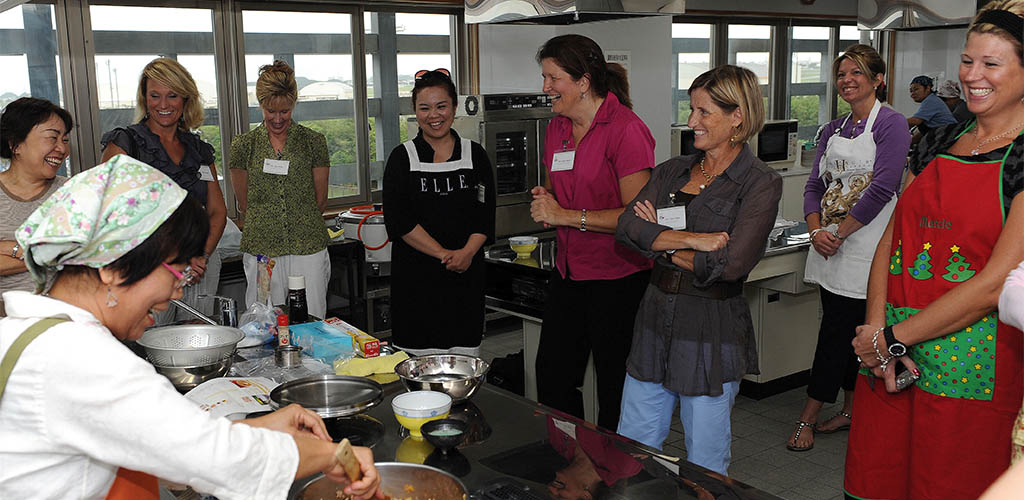 Women that love to cook are incredibly focused. They've learned how to please people, throw successful dinner parties and nurture relationships. They're also knowledgeable about everything related to cooking (once you find her niche) – or else they are open to learning. Attending cooking classes is a perfectly ripe opportunity for a kitchen date.
Type of women you'll meet here: Women who have more than a basic level of cooking skills and look for excitement in the kitchen making new dishes that please you!
eHarmony's proven trial is the easiest way to meet single older women for real relationships (try it now)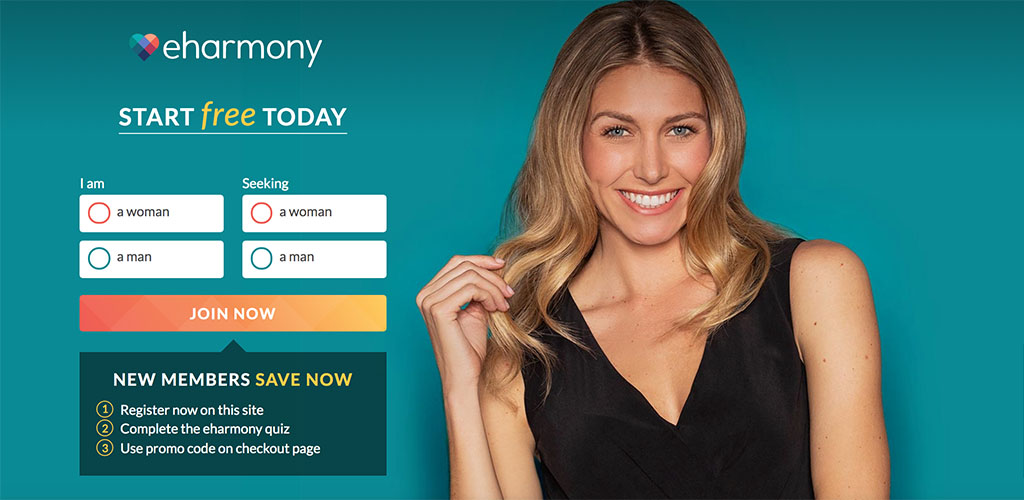 eHarmony (which you can try here right now ) is one of the best sites out there we have found (we have tested out and reviewed 100+ cougar dating sites in our annual review) with both the highest number of hot older women as well as the women who are most active in responding and meeting up offline.
There may be other sites out there but good luck finding as many single older women as you will here. Most other sites do a terrible job of making older women feel comfortable and wanted so they don't stick around long. eHarmony is so good that 75% of all marriages that begin online start with eHarmony! That's an amazing success rate!
The women using eHarmony are WAY more motivated to meet up with guys than other sites!
With eHarmony you know that every woman on the site is extremely motivated to actually meet guys instead of just looking around. The signup process is more involved and takes more time than other sites so all the women who are just looking for attention or a distraction are filtered out. That means all the women who complete their questionnaire are very, very motivated to respond to your messages or message you first (not to mention meet up offline)!
Guys who haven't check out their proven trial are leaving a lot of options on the table!
We admit it does take a little longer to get set up on eHarmony but it's well worth the effort. If you want to meet some great women it's worth putting in a few extra minutes. Every guy needs to do themselves a favor and give their proven trial a shot to see what we mean. No other site comes close.
When you're not getting great results in your dating life you need to make some changes. eHarmony is a great first start and it's a place where even guys who don't have great skills with women can be very successful.
Bars - The old favorite to meet a mature woman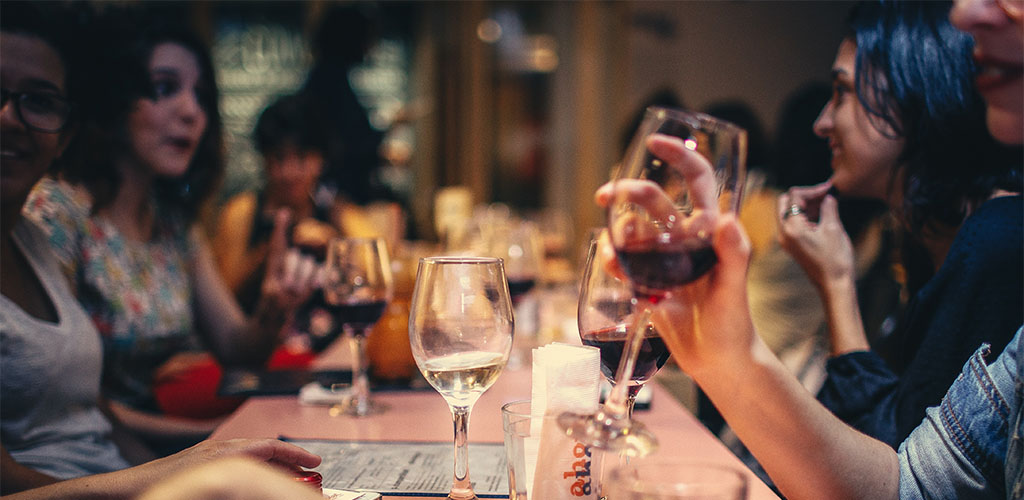 Just like with their younger counterparts, more mature women are also looking at bars as a place to meet single guys. Where you go really depends on what you are looking for! Do you want a relationship that is going to actually go somewhere, or are you just testing the waters to see if dating an older woman is really what you want to do? Are you looking for a quick hook-up and a one night stand? Is a night of pleasurable sex what you have in mind? Or do you want to approach a woman at a bar and see how it goes?
We put together a lot of city guides to help you decide which are the best bars to try. If you live in one of the largest 150 or so cities in the US, Canada, UK, or Australia you need to search our site to find the guide for our city. You will be happy you did.
Coffee Shops are a popular hangout spot for older women seeking younger men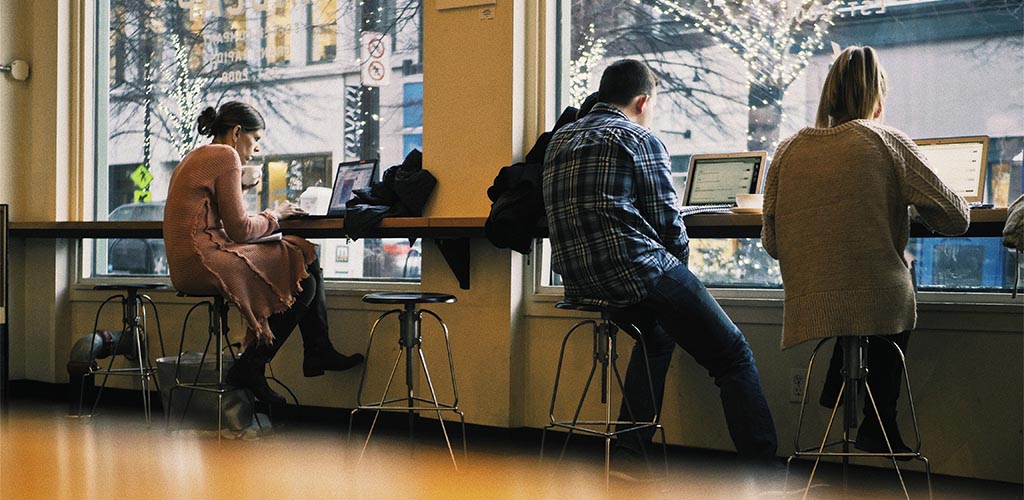 If you have a Starbucks in your area get yourself there super early in the morning. Keep in mind that you are probably not the only one looking! It's pretty well known that coffee shops are some of the best places to find and meet a single cougar without much effort.
This is where the older businesswoman is going to be before heading off to her daily place of employment. Get in line and strike up some idle conversation with her. Ask her if she comes there often and can she recommend a really good latte or iced coffee. Just random, casual questions to get the conversational ball rolling is a good start.
No Starbucks? Well..you have to have some type of coffee shop-all towns do no matter how small they are. And everyone drinks some kind of brew first thing in the morning! You might even find that hot older women sneak out from work (or use their lunch hour) to grab a cup of something.
Hang around for a few days (but don't lurk!) to see what type of woman frequents the place. Just bring along a magazine or your laptop so you don't look conspicuous or suspicious. Be casual.
After a few days of observation, you may see an older woman who comes in often and then you might try to strike up a conversation with her.
Dog obedience classes tend to have a lot of mature women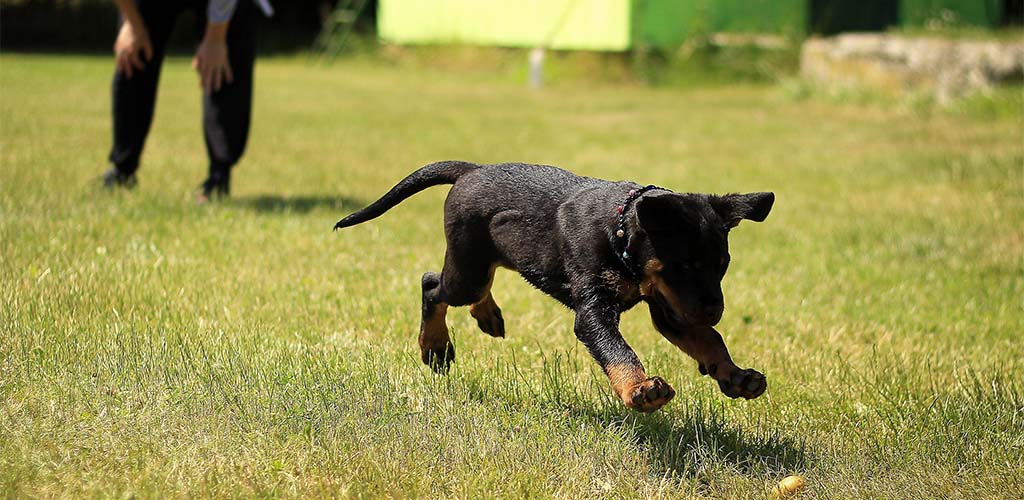 The beauty of attending these classes is you can show a lot of interest in a woman's dog – and she won't think you're coming on to her. Getting together after class to practice what you learned is an easy date plus a chance for the pooches to play.
After all, if they get along together, the chances are good that you two will get along as well.
Type of woman you'll meet here: Compassionate, loving, loyal, likes to go for walks (especially true with larger dogs). If that sounds like what you're interested in it's going to be one of the best options for you to meet a single MILF.
Cougar Life is another good way to meet attractive older women who want more than just a fling (try it free)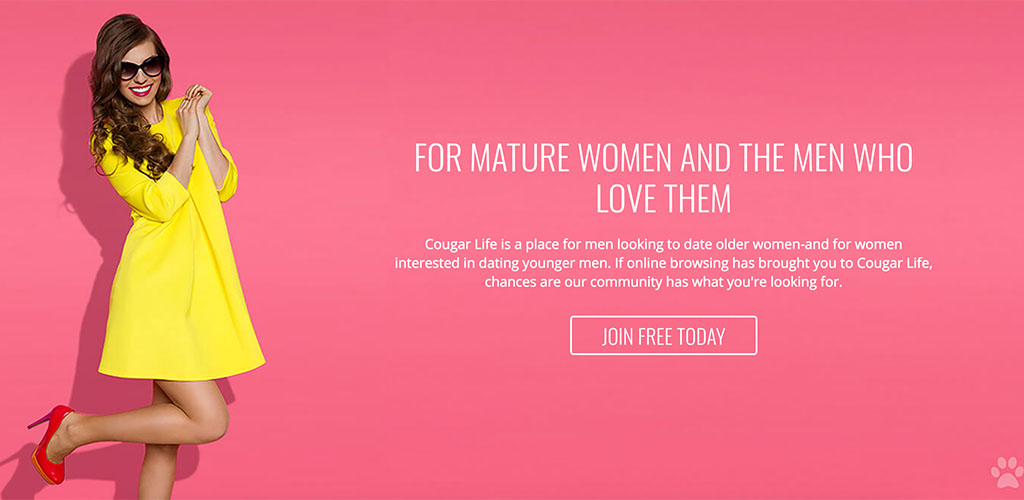 Single older women lead very busy lives and don't have as much time to spend out in bars or clubs. More and more often they ONLY have time to look for a guy online. If you haven't been spending at least part of your time looking online you are missing out on a lot of options! 
We're big fans of online dating and have had a lot of success meeting older women doing it. After trying out over 100 different cougar dating sites and apps we're confident that Cougar Life (which you can try for free here) is the best way to meet attractive single women over 35.
With over 7 million active members you are going to have a lot of options here!
There are a few reasons why Cougar Life works so well in our experience:
If you haven't had much success with online dating you're not alone. Most of the dating sites out there are filled with women just looking for attention or an ego boost without any real intention of meeting up with a guy. Cougar Life is VERY different (check out their free trial and see).
When you use a more specific dating site like this you tend to get people who are actually looking to meet other people. If the women just wanted attention they would use the more well-known names (like Match). Instead, they choose Cougar Life because they know what they want and aren't afraid to go and get it.
That means the women are way more likely to send you a message first and respond to your messages. It really is a different experience.
The women don't hold back with what they want
In public or on more traditional sites a lot of women interested in dating younger guys are shy or embarrassed to admit it, even if there isn't any reason to. There is a bit of a stigma against dating younger guys in some circles and they don't want to stand out.
On Cougar Life every woman is proudly looking for guys of all ages and younger guys will be pleasantly surprised by what that means!
It can be very tough to find older women interested in dating a younger guy on most sites. Cougar Life is full of them. Nowhere else are you going to find more attractive women 35+ more interested in meeting younger guys. Both younger and older guys can do well here too but the younger guys really shine (compared to other sites).
You don't have to waste a lot of time on women who aren't interested or have that awkward conversation. You can confidently message them all and get to the point fast.
If you are a guy in his 20's or 30's looking for an older woman give their free trial a look and see what your options are. If you are older it's still going to be your best chance to meet a lot of single women 35+ without wasting time. Avoid all the wasted time and energy on other more general sites and get down to business.
Night classes make striking up a conversation with mature women pretty easy
Have you ever thought about taking an adult class or two at night? Lots of busy professional women attend these classes to further their education because they just don't have time during the day. Their intellect, experience, and openness to new things are just some of the reasons you should date an older woman. You just might find that the women at the classes are open to dating a younger man, and she may initiate contact with you! Wouldn't that be great?
Your question may be answered right there and then. Normally this doesn't happen on your first try though so don't get discouraged. Wouldn't it be great if you didn't even have to ask where to meet older women, because that older woman may be wondering where to meet you! (In fact, while I was looking around online I found a lot more sites where the women are actually looking for younger men.)
If you are able to get yourself to a place where hot older women are apt to be. your search may be over before it even gets started! Okay, now that we have that area covered it's time to move on to the next place.
Parks can also be great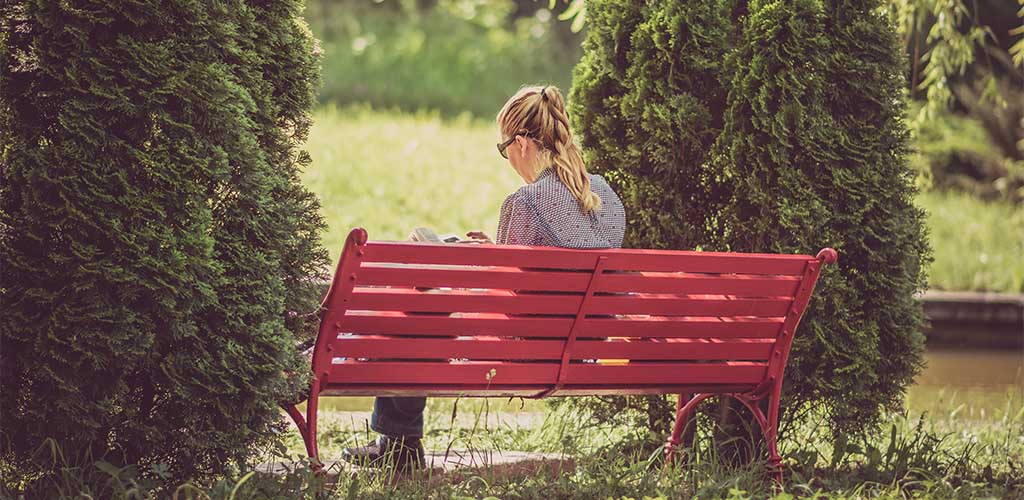 Do you have a dog? If not, get one, or borrow one from a friend. Offer to take the critter for a walk around town or in the park! Mature women love to see a young guy walking his pet and she might strike up a conversation with you-especially if she has a dog of her own. If it happens to be a younger woman who tries to come on to you, be polite but move on.
You are on the hunt and don't let anything get in the way! If you are still struggling with approaching women in public (and you are definitely not alone) there are a few books that made a huge difference in our success with older women.
You could take a blanket along and lounge around while Fido does his thing, or you can actively seek the attention of an older woman by asking her a question or two about her own pet.
You should know within minutes if she is interested. If she gives you the brush-off take the hint. Don't press it or you may wind up being arrested for ..stalking or something! Hot older women looking for younger men tend to be pretty open about it if you make the first move so don't press too hard if you are not seeing any interest.
Restaurants with bars are especially nice for meeting older women looking for younger men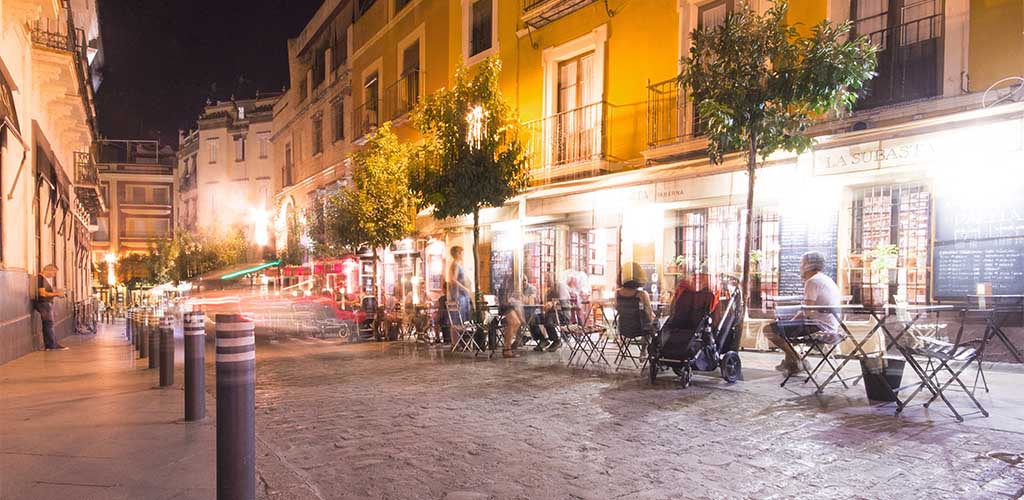 Get yourself a part-time job as a waiter or bartender in a nice eatery if you are dead serious about this. Older women tend to frequent these places for an afternoon drink or an evening meal. And the great thing about this is they rarely come in alone, so again you may have more than one choice here!
Get to know them, learn their names, and remember them--yes, that includes the waitress! Make it a point to recall what drinks they like to order or foods they like to eat, and of course, flirt a little! Just don't go overboard. A little mystery is fascinating to any mature woman, but especially so for an older one.
Flattery is one of your best friends-and believe me-older women will remember it long after they leave. They (or she) will undoubtedly know what you are doing and will love it!
Her friends may be envious of the attention she is getting and she will feel even better!
Gyms make sense if you are looking for a fit and attractive older woman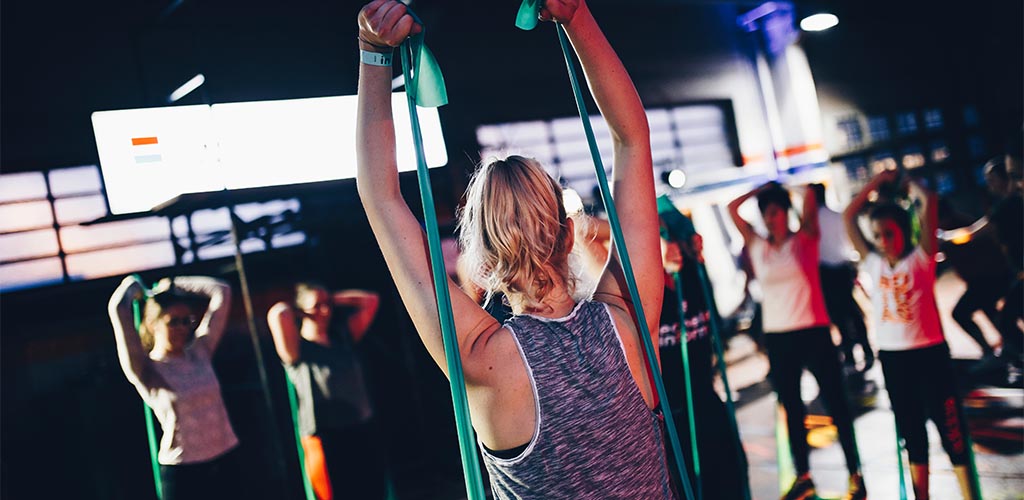 Where to meet older women if you live in a very small town? That may be a bit more difficult to pull off but there always places you can go to accomplish what you set out to do. Every town has a local gym, so get a membership and go there daily to work out. These places are known for having a mix of clientele of all ages.
Older women looking for younger men, in particular, want to keep themselves in top shape by spending an hour or two in the gym a few days a week. If you are in good physical shape you can even offer to assist her in her workouts. Compliment her and let her know you think she looks great!
You can find out a lot just by asking subtle questions such as how often she comes there, how long has she been a member, what machines seem to work better than others. You know-casual stuff. You can even pretend you are clueless about working out and ask her if she has any suggestions for you or if she would be willing to give you a few pointers. Look for her the next time you come in and casually ask her if she wants to grab a drink (or coffee) afterward. So?
Homeless Shelters/ Senior Facilities (not what you think)
One of the best- but probably an idea you never considered in your quest of where to meet older women is volunteering. Try your local homeless shelter or senior citizen's home. Now don't laugh, and don't think that the older women you may meet are going to be feeble and confined to a wheelchair! I'm talking the mature women who come to visit these people!
Women are very considerate and caring of their relatives confined to these homes, so this is an ideal place, especially if it is a parent or grandparent- and they tend to visit quite often. This is your chance to show your compassionate side, and believe me..women love a younger guy who is caring and considerate.
Homeless shelters or soup kitchens are excellent places to meet people of all ages, and most importantly-older women! Volunteering at one of these places greatly increases your chances of hooking up with someone who has the same values as you do. Keep an open mind and you never know what might happen.
In addition to the possibility of meeting that older woman-you are also doing something good for your community. So-kill two birds with one stone!
Jogging Trails
Where to meet older women other than indoors somewhere? Outdoors, of course! If you have a favorite activity or sport this may be where to look! In fact, sporting events and places of exercise are some of the most underrated places to meet women in general.
Let's take running or jogging for example. Whether you jog in a park or along a trail you are bound to run into all kinds of people.
Yes-older woman run to stay in shape just like you do, especially older women seeking younger men. After you have established your jogging routine look for familiar faces as you run. Jog alongside and make casual conservation-about anything! The scenery, the length of the run..anything to get her talking to you. Try to be in the same area at the same time each day. You want to make it look like this is something you do every day (you should anyway) so she doesn't think you are stalking her!
If she gets the wrong idea you may never see her again, or worse yet..she might call the cops on you! Try to think of places you would go if you were an older woman (c'mon..you can do it!) and were looking for fun and entertainment-and possibly meeting someone to boot.
Cruises or Island Vacations have a lot of attractive older women
Have you ever considered other than somewhere in your own town? How about a vacation or a cruise? If you can afford it this may be the ideal way to step up your game and come out a winner. Many older women go on vacation either alone or with a group of friends! This is especially good for meeting older women seeking younger men.
Consider the possibilities because they are virtually endless. You can find a vacation that is affordable if you look online. Somewhere with hot lazy days, miles of beach and warm romantic nights is just the ticket to your hunt for that perfect older woman! Is an ocean cruise where to meet older women?
Or maybe-now that your imagination is in overdrive-where to meet older women will conjure up lots of other places! You just have to give it some serious thought.
If you can't decide we always recommend taking the easiest step and trying online dating with our Top Sites For Dating Older Women.
Become a dog sitter
This way to meet older women is one for the long-haul, not the short-term plus you can earn some money while waiting to meet Fido's gal. another advantage is you can earn instant trust, which could take months any other way you meet older women. If you care for her precious Fido better than anyone else and send her photos of how much fun you're having while you care for her, she will instantly see you as part of her inner circle of friends.
Type of woman you'll meet here: Compassionate, loving, someone who is open to going out of town on weekends, loyal
Golfing classes can be solid to meet mature women
Women who want to be in the upper crust of society frequent community golf classes. Check out the type of clothes she's wearing to the class to determine whether or not she fits your criteria. It's difficult to learn the ways of the rich overnight.
Type of women you'll meet here: women who love the sunshine, the outdoors, and more of a rich lifestyle
Writing classes
Writing classes are an excellent way to build a relationship with a woman. You have the chance to share your deepest, most innermost thoughts – and hear hers. You can also gauge if she's judgmental, kind at heart, has standards, and a whole lot of other things by her comments and writing.
Type of women you'll meet here: Thinkers, those who want to contribute to society, literary types who can hold fascinating conversations
Local meetings on nutrition and health
It's a fact that women are more interested in bettering their health than men. You'll find them at meetings in your community learning about what to do about specific conditions like how to eliminate joint aches and pains, allergies, heart disease, diabetes, and even how to detox They may not be going for themselves, but to find out health info for a family member.
Type of women you'll meet here: Women who want to stay healthy and live longer!
The doctor's office
You might not want to date a nurse who has had the opportunity to see you in a patient gown but look around in the waiting room. Who else is there? Since women make more visits to the doctor, the chances are good that you will meet women here.
Type of women you'll meet here: Women taking care of their health
---
Meeting older women is just a matter of knowing where to find them and having the confidence to approach. So now that you know where to meet these ladies and you've established a bit of rapport, you'll want to learn how to ask an older woman out. With our guide, you can transition from small talk to setting up a date!