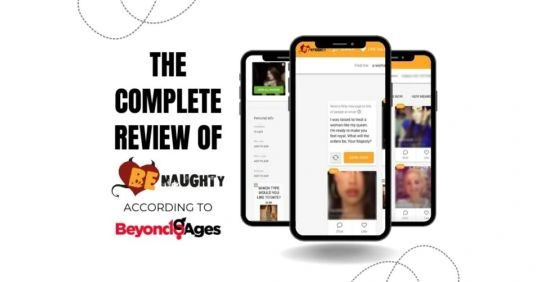 If you've read any of my articles you'll know I'm all for online dating. That's why I enjoy writing articles like this BeNaughty review — to identify potentially low-quality sites so you can avoid them altogether.
By far the biggest downside to online dating is the number of scam sites that are popping up. They work hard to fool you into a paid subscription and in some cases, force you to cancel your credit card just to make the payments stop.
It can put a real damper on your online dating and maybe even turn you off it entirely. Unfortunately, you just can't avoid it right now. Way too many are still socially distancing to reliably meet other singles in public, especially for hookups.
In fact, a huge number of women are only using dating sites and apps to meet guys right now. It's just so much more convenient than going out. If you're not on those same sites and apps you're really missing out. The trick is finding the right one for you.
Rather than taking these risks yourself, I review some of the most mentioned dating websites around. It saves you a whole bunch of time and keeps your credit card safe.
How we reviewed BeNaughty.com
To keep each review fair and unbiased I follow the same procedure each time.
I'll set up a free account on the site and leave it for a few days
. No bio, no photo, nothing. It's a great way to identify sites that will spam me with fake messages — no real user is going to message a blank profile.
After a few days I'll complete my profile and use this account for about a week. I want to see if it's possible to set up any dates or if a paid subscription is needed.
Finally, if the site seems safe enough, we'll sign up for the paid subscription. I'll use this paid account for another several weeks, again seeing how possible it is to set up a date. By the end, I'll have reached out to a ton of women of all different types.
In following this process I can give you a detailed rundown on the experience from start to finish. It also gives me a lot of opportunity to identify shady practices. Some websites are dangerously deceptive!
Time to jump into this BeNaughty review.
BeNaughty Review — Another Site in a Massive Spam Network
First, a high-level comparison. If you've had an Internet connection in the last decade I'm sure you've heard of AFF. They're arguably the biggest name in online dating sites, which makes them the perfect comparison point.
Overall

Our team rates each site objectively based on many hours of independent research, the features each site offers, and how it compares with other sites. The ratings are the opinion of our editors and their extensive experience.

2
9.5
Quality of Women

Our opinion of how attractive the typical woman is that uses this site and how easy they are to connect with compared to other sites.

2
9
Popular

How many people are using this site to actually meet people compared to other sites.

3
10
Usability

How easy is this site to use and how quickly can an average person begin meeting people compared to other sites.

9
9
Privacy & Safety

Does this site take proper precautions to safeguard its members, their identity, and their data.

1
9
Effective

Our opinion of how easily an average person will be able to achieve their dating goals with this site compared to other sites.

1
10
Value

Will the time and money spent using this site pay off for an average person based on the opinions and experience of our editors.

1
10
Our Recommendation
If you've read some of my other dating site reviews, you might notice these scores are identical to a few others. That's because this site is identical to several other fake dating sites.
Just like those identical sites, my recommendation here is to avoid Be Naughty at all costs. The second this site loaded I knew exactly what I was in for: fake profiles, fake messages, and a lot of wasted time.
Being compared to AFF is never easy but Be Naughty consistently scored near the bottom.
Together Networks Limited — The spam network behind these sites
Along with a misleading footer link you can find below, these sites also proudly state they're part of Together Networks Limited.
On the footer of each site it says "This domain is owned by Together Networks Holdings Limited. This website is operated by Together Networks Limited".
This is a fact I'd somehow glossed over in previous reviews, but this time I did some quick digging. Sure enough, they own a bunch of identical sites that I've already reviewed and so many more.
At least for the ones I've reviewed so far, the templates they use are the same and so are the dodgy tactics. I've reviewed each of these sites and they were a carbon copy of each other: IAmNaughty, NaughtyDate and AffairDating.
That's four cancerous "dating" sites in their network and counting. Since I'm yet to get a single legitimate interaction from any of these sites, I'd call it a day. Nothing to see here.
If you believe the stats on the Together Networks website, they own "238 dating brands and digital communities". Essentially, they're a cancerous tumor spreading themselves around the Internet.
Any time you see that brand mentioned on a website, run.
Save your time and money. Use a legit dating site.
Rather than wasting your time on any of these trash sites, I'd recommend AFF instead. As I mentioned earlier, it's one of the most popular dating sites around and for a reason.
The profile setup and matching system is simple, the prices are reasonable and you will meet women through it. Better yet, it's ideal for hookups since that's the whole point of the site.
If you'd like more online dating options, check out our review of the best dating apps and websites too. We've got you covered on all fronts.
Okay, back to the rest of the BeNaughty review.
Positives and negatives of BeNaughty
If our recommendation hasn't already tipped you off, BeNaughty doesn't have a lot going for it. However, we give credit where credit is due, so we still found a few nice things to say about an otherwise low-quality site.
Clean, simple user interface
Fast load time
Easy to navigate
A constant stream of instant messages you can't reply to
A constant stream of messages in my inbox
Even so much as clicking on one of these messages and you're prompted for payment
Not a single real user on the site
Profiles, pictures and members on BeNaughty
The best we can hope for with a dodgy dating site is that they're obvious about it. Unfortunately for us, all the sites in this network are actually somewhat convincing.
While many others I've reviewed have bios that resemble Pornhub video titles, these are different. The bio is either blank (very common on real dating sites) or they read like women have actually written them.
Combine that with the quality user interface and you could be forgiven for falling for this one. At least at face value.
I honestly can't tell if these photos have been stolen from a real dating website or not. It may even be the case that one of these sites used to be real once upon a time and they've retained the data.
Either way, if it weren't for the other red flags this site raises, I would have signed up for a paid membership to test it.
As we'll get into below though, not a single one of these users is real. At least not anymore. All you get is spam messages luring you into a premium membership.
The final red flag from their user base is their chosen handles. For most "users" here, the usernames follow the same format. They're a first and last name with a two-digit number in there somewhere. Here are just a few examples taken from the site:
Anne28-reyes
Susan61ward
Teresa28-green
Carole91-hall
Sandy30ortiz
Unless these women all collaborated on their usernames, I'm calling shenanigans.
BeNaughty Alternatives Dating Coaches Recommend For Regular Men
A lot of normal guys are struggling on dating apps because they didn't take the time to figure out what app will work for them. There are really only a few options out there that consistently work for regular guys. Try these first:
Site
Our Experience
Our Rating
Free Trial Link

Best Hookup Site Right Now

Experience Highlights

Top option for local hookups by far
Best results for regular guys
Over 60 million active members
The design needs an update

Try AFF For Free

Great If You're Handsome

Tinder Highlights

Great if you're pretty good looking
Very popular, especially if you're 18-22
Really focused on photos
Becoming more of a dating than hookup app

Try Tinder

2nd Best For Most Guys

Experience Highlights

2nd best option to find hookups
Attracts an older crowd than most hookup apps
Pretty popular
Solid free trial

Try Passion
Design of BeNaughty.com
Credit where it's due, the design of this site is great. The template they use is clean, very easy to navigate and loads quickly. It's everything you want from a modern website and they've nailed it.
It's a shame they've delivered such a quality interface on an otherwise garbage website. No doubt they do it as a way of making the site more plausible and it works. How frustrating.
Oh, and remember the sites I mentioned that are from the same company? Their design is pretty much the same:
Messaging and chatting on Be Naughty
Remember how I said I like to leave a blank profile sit for a few days to see if I get any spam messages? Yeah, that was the first red flag here.
After just a few days of a completely blank profile, my notifications looked like this:
34 messages, 68 notifications and yes, that gray avatar is where my profile photo would be if I'd added one. 34 women messaging me before I even have a photo — what a stud.
Of course, the moment I try to respond to any of these I'm just taken to the subscription page to hand over my credit card info. Even clicking in the text field to reply sent me straight to the payment page.
What can you do with a free membership on BeNaughty.com?
As a free member on this site you're very limited. You can browse the fake profiles, receive spam messages and spam notifications and that's about it.
There's nothing else for me to elaborate on here. The whole point of the site is to get your credit card info so they generate fake interest hoping you'll sign up.
Advertisements on BeNaughty
Another good sign a dating website is fake or at least low quality is sponsored ads. Rather than focusing on a quality experience for their users, they're trying to squeeze ad revenue from you.
Unsurprisingly, BeNaughty has a few ads scattered around the site too. First off, the banner ads.
You'll see ads like this in the side panel and at the bottom of profile pages mostly. On the upside, at least they aren't explicit porn or camgirl ads.
The more subtle ad you'll see on this site lives in the footer. It's a text link just like the one below and, to me, the wording suggests it's an internal link. Clicking it will take you to another page on BeNaughty where you can see women interested in your profile. This is not the case.
Whether you click the banner ads or this text link, you're redirected to Flirt.com. This is another of their dodgy websites and I assume they're using these links for SEO benefit more than anything.
Pricing of BeNaughty
As with most dating websites, the pricing structure is pretty typical. They operate on a subscription basis that becomes more cost-effective the longer you commit to.
When it comes to fake sites like these, they really want to push you into the three- or six-month subscription. This way they get as much money from you as they can before you realize it's all garbage.
After doing some more investigating I came across a huge volume of people warning not to pay them. Countless stories of people signing up for a one-day membership only to be charged for a full month.
Many accounts of people saying they signed up for BeNaughty and were simultaneously signed up for a paid subscription to another fake dating site as well. The ended up paying for two subscriptions.
Even worse, in both cases they couldn't cancel their subscription. They had to cancel their credit card to make the payments stop!
To top it all off, this network very clearly pays people to leave positive reviews. They're always written in poor English and don't read anything like a real review.
As an example:
"I am not single here, lots of cool sexy interesting folks in here. And the service is of high quality"
Ugh, what's wrong with people?
FAQ about BeNaughty
The final stage of this BeNaughty review is covering some frequently asked questions. A quick run-through of the questions we see people asking online.
What is Be Naughty?
Be Naughty is a so-called dating website that looks overwhelmingly fake. Part of a greater network of terrible sites, it poses as a quick hookup site. Avoid this site and anything associated with Together Networks.
Who actually owns BeNaughty?
BeNaughty is owned by Stolichnaq LTD, a company registered in Shumen, Bulgaria. They also operate several low-quality dating sites.
How can I contact BeNaughty.com?
You can contact BeNaughty.com via email at [email protected]
Is Be Naughty legitimate?
Absolutely not. They're part of a dodgy dating network that has countless reviews of people being charged much higher amounts than they agreed to.
Even worse, there are just as many reports of this company continually charging them until they canceled their credit card.
Is BeNaughty.com a scam or fake?
In our experience, BeNaughty seems like it's entirely populated by fake profiles. Looking at other user reviews, it looks like the site also charges your credit card long after you've unsubscribed.
Is Be Naughty safe?
No, Be Naughty has shown signs that it's not at all a safe site to use.
What are BeNaughty alternatives?
Rather than spend your time on BeNaughty, check out our recent review of the best dating apps and websites.
How does BeNaughty.com work?
Once you log into BeNaughty, you can see various profiles of women near you. You can filter them based on age and location. However, to read their messages or contact them, you'll need a paid account.
Is there a Be Naughty app?
No, Be Naughty doesn't have an app.
How much does BeNaughty cost?
Here are the payment plans for BeNaughty:
One day: $0.99
One week: $7.00 ($1 a day)
One month: $28.80 ($0.96 a day)
Three months: $48.60 ($0.54 a day)
How can you use BeNaughty.com for free?
If you want to use BeNaughty.com for free, all you can do is browse profiles. You can't send messages or read messages you've received.
Can you send messages for free on Be Naughty?
No, you need a paid Be Naughty account to send messages.
How do you cancel your BeNaughty subscription?
According to a high volume of reviews about BeNaughty, this company will not cancel your subscription. You'll have to cancel your credit card to stop the payments.
Official instructions to cancel your subscription are below. But if you've signed up for a paid subscription, contact your bank ASAP.
Click your profile photo in the top right corner
Select "My Settings"
Click "Billing History" (¾ of the way down on the right) then "Deactivate Subscription"
Follow the steps in this wizard to cancel further payments
How do you delete or close your BeNaughty account?
To delete your BeNaughty profile just follow these steps. Note that you'll have to cancel your paid subscription before you can do this.
Click your profile photo in the top right corner
Select "My Settings"
Click "Remove Account" (¾ of the way down on the right)
Follow the steps in this wizard to delete your profile
Given the nature of the site, I'd suggest keeping a close eye on your bank statement in the coming weeks too.
It doesn't really seem like the type of site to sell your info but it'd be wise to confirm that your subscription is actually canceled.