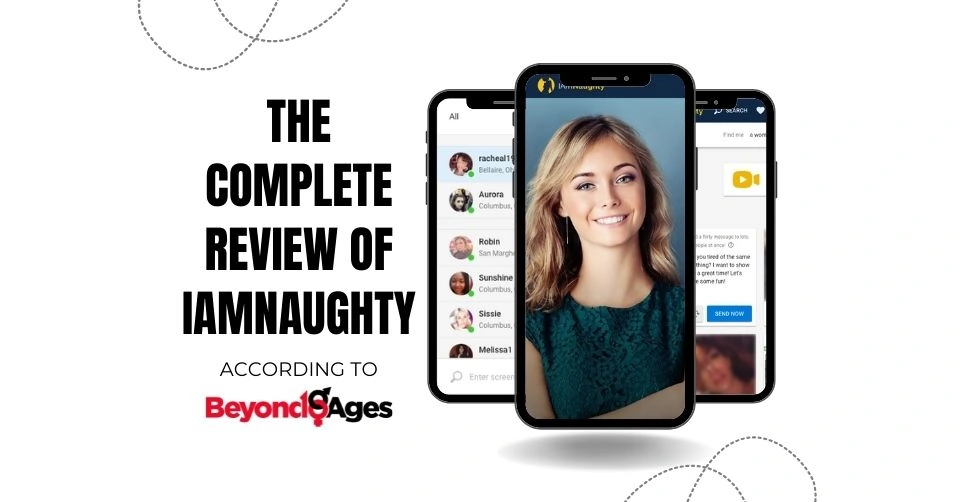 IAmNaughty sounds like a terrible name for a dating site, and we have to be honest–it is. But you'll see exactly why in this IAmNaughty review. While there are some good options, finding a quality dating website seems to be an increasingly difficult task these days. It seems for every legitimate dating site, 20 dodgy imitations show up. Even worse, they present as the real deal until you've handed over some money. In this IAmNaughty review, we dive deep!
To give you a glimpse into how IAmNaughty compares to AFF (our gold standard of hookup sites), here's a quick summary:
Site
Our Experience
Our Rating
Free Trial Link

Best for hookups

Experience Highlights

Best results for regular guys
Over 60 million active members
Our top hookup site for the year
Not good for long-term relationships

9

Try AFF For Free
Experience Highlights

A lot of fake profiles
So many obvious fake messages
No real women we could find
Gigantic waste of time

2

Try IAmNaughty
Using a quality dating app is so important now. Meeting new people has shifted heavily to dating sites and apps since the global pandemic, which makes meeting people in public much harder than before. According to a recent survey from Pew Research, "three-in-ten U.S. adults say they have ever used a dating site or app". This means that if you're not on an app, you're missing out on a serious portion of the dating population in your area.
You need to be on at least one app consistently if you want results.
Rather than spending your time and risking your credit card trying various websites, let me do the legwork. I like to do a complete review of some of the most talked-about dating sites to save you the trouble.
It can mean more time spent on real dates and less time talking to semi-convincing bots on the Internet.
How we reviewed IAmNaughty
To write this review, I set up a profile on the website and used it for a month. First with a blank, free profile to see if I'd receive spam messages. I then set up a complete profile to see if I could do anything without paying. 
Finally, I took the gamble and handed over the credit card info to get the full experience. I messaged multiple women and attempted to set up real, in-person dates with them.
I dove in deep and gave it a full, honest try so that you can know exactly what you're getting into. You can't really get a real impression of the site without trying out the free and paid versions like we did!
Overview of BeyondAges' Review Methodology
| | |
| --- | --- |
| Methodology | Description |
| Rigorous Testing | Conducting thorough reviews of dating apps and websites through extensive use over weeks/months. |
| Anecdotal Experience | Utilizing the practical experiences of a large team of dating and relationship coaches. |
| Expertise | Leveraging decades of practice in the dating scene to provide up-to-date and impactful advice. We balance subjectivity in an objective framework to give our readers a more wholistic frame of reference for modern dating. |
| Continuous Learning | Exploring new approaches to dating success to ensure advice remains relevant and effective. This includes out-of-the-box thinking to discover new trends and hacks. |
| Online Focus | We place a significant focus on how online dating and virtual communication affect modern dating dynamics. From apps, sites, chat rooms, video calls – we delve deep into the pros and cons.  |
| User Engagement | Engaging with readers to comment and share their experiences to build a vibrant community, enhance trust, and ultimately createa better dating experience. |
Affiliate Disclaimer:
Beyond Ages values honesty and clarity with our readers, which is why we're disclosing our use of affiliate links. Whenever you click on these links and make a purchase, we may earn a commission at no additional cost to you. Rest assured, these affiliate partnerships do not influence the content we produce. Our commitment is to provide unbiased and trustworthy information, recommendations, and reviews.
Engaging with our affiliate links is a way to support Beyond Ages, enabling us to keep producing quality content and offering valuable insights. We deeply appreciate your trust in our recommendations and your continued support of our community at Beyond Ages.
Let's jump straight into my I Am Naughty Review and see what I found through all of this.
IAmNaughty? IAmNotImpressed
All in all, the website looked so promising to begin with. After putting some time into using it though, things went downhill fast.
Let's take a look at how it stacks up against the hookup app we've been seeing men have the best results with, AFF (which you can also try here for free):
Overall

Our team rates each site objectively based on many hours of independent research, the features each site offers, and how it compares with other sites. The ratings are the opinion of our editors and their extensive experience.

1
9.5
Quality of Women

Our opinion of how attractive the typical woman is that uses this site and how easy they are to connect with compared to other sites.

5
9
Popular

How many people are using this site to actually meet people compared to other sites.

5
10
Usability

How easy is this site to use and how quickly can an average person begin meeting people compared to other sites.

10
9
Privacy & Safety

Does this site take proper precautions to safeguard its members, their identity, and their data.

10
9
Effective

Our opinion of how easily an average person will be able to achieve their dating goals with this site compared to other sites.

1
9
Value

Will the time and money spent using this site pay off for an average person based on the opinions and experience of our editors.

1
10
Our Recommendation
As you can see from the review above, I wasn't impressed at all with I Am Naughty. It ended up being a pretty big waste of time and it certainly isn't among the best hookup sites out there right now.
Our advice would be to stick with the other proven sites and apps out there and skip this one completely. Despite the quality design, I can't recommend using this site at all. T
They went to the trouble of producing a good-looking, modern website. And perhaps the plan was to make it legitimate.
If you're really looking for a fun hook up you should try out Adult FriendFinder's free trial if you actually want to get some results! If you're not sure if AFF is right for you, you can also check out our Adult FriendFinder review to know more.
In reality though, there are no real users on this website. Just a bunch of fake profiles designed to have you sign up.
Perhaps even more frustrating is this isn't the only site they have like this. I recently reviewed AffairDating and immediately noticed it's identical. The template, popups and general user experience are all exactly the same.
This appears to be this company's MO. Notice the similarities? So much potential gone to waste.
Despite the disappointments so far, I wanted to make sure I truly gave this site a thorough consideration. On that note, let's check out the positives and negatives it offers.
Clean, simple user interface
Fast load time
Easy to navigate
Appears to be a wide user base
Not a single reply from any of the women I messaged
Several spam messages from "women" that were clearly fake accounts
An In-Depth Look At My IAmNaughty Experience
Aggressive, fake accounts bombard you on Iamnaughty.com
In looking through user profiles for this IAmNaughty review, most of the profiles seemed legitimate. The photo style and quality were very Facebook-esque which suggests they're real people.
Similarly, the bios were the same style and quality you'd see on something like Tinder.
Where it fell apart was handful of blatant spam accounts on the site. As is often the case for fake dating websites, they have a lot of very aggressive "women" that message you.
While you have a free account, you'll get a consistent string of messages from these "women". Of course, you can't read those messages until you've signed up for a paid account.
While a couple of these spam profiles look a little convincing, most of them are quite obvious. Stock photos, very overt bios about how badly they need a man tonight. . . the usual stuff.
These accounts exist to make you feel as though you're missing out on quality interaction on the site. Of course, once you sign up and start chatting to them it becomes clear it's just nonsense.
By that point, they already have your money so it's too late.
Alternatives to I Am Naughty For Normal Guys Recommended By Dating Experts
If you haven't been getting good results from dating apps you're probably using the wrong apps. There are a few options out there that we've been seeing a lot of regular guys do really well with that you need to try:
Site
Our Experience
Our Rating
Free Trial Link

Best Hookup Site Right Now

Experience Highlights

Top option for local hookups by far
Best results for regular guys
Over 60 million active members
The design needs an update

Try AFF For Free

Great If You're Handsome

Tinder Highlights

Great if you're pretty good looking
Very popular, especially if you're 18-22
Really focused on photos
Becoming more of a dating than hookup app

Try Tinder

2nd Best For Most Guys

Experience Highlights

2nd best option to find hookups
Attracts an older crowd than most hookup apps
Pretty popular
Solid free trial

Try Passion
The design is misleadingly fantastic
This is the thing that gets me with both IAmNaughty and AffairDating. The design and functionality of the site itself is great. I'd even go so far as to say the user interface is better than the major dating websites.
The site uses a tasteful color palette, the header is very simple. Navigation is intuitive, search functionality and profile layout are clean and simple. Every part of it looks great and works so nicely.
When you can't talk to real women and actually set up a date though, an impressive UI is pointless.
Messaging is simple — if there were anyone to talk to
Even initiating a conversation on IAmNaughty is simple and straight forward. See a woman you want to chat to from the
search results? Click the big Chat button below her photo. That's it!
If you want to take a closer look before you start chatting? Click on her profile, read it then click that same Chat button at the top when you're ready. Very simple, huh?
As you can see from the screenshot above, the whole messaging interface is very straight forward too. A minimalist design where everything looks good and just works.
You know, aside from the fact there are no real, active users on the site. Instead, all you get are garbage, incoherent messages pretending to be real women that are DTF. Even when you have a blank profile.
Note that to actually have a conversation on this site you'll have to sign up for the paid version. Otherwise, every time you click that Chat button, you'll be asked to upgrade your account.
Dealing with Scams on Social Media? Follow these steps from Dr Elizabeth Milovidov, JD – Law Professor
Dating apps are dangerous enough, but what happens if you think you're being scammed after trading socials with someone you met online?
To help you figure out the best course of action Dr Elizabeth Milovidov, Law Professor and Digital Parenting Expert, offers actionable advice to take immediate steps to protect yourself from cybercriminals:
STOP COMMUNICATIONS

:

"Stop all contact with the scammer and block their phone numbers, instant messages and email addresses"

KEEP PROOF

:

"Keep copies and/or screenshots of the scam and any communications"

REPORT ON THE PLATFORM

:

"File a report on the social media platform where the scam occurred"

REPORT TO THE AUTHORITIES:

"File a report with the appropriate law enforcement agency"

SEEK FINANCIAL SUPPORT

:

"File a report with your bank or credit card company so that you can dispute any charges or request financial assistance"

SEEK EMOTIONAL SUPPORT

:

"Seek

support from friends, family or a mental health professional

. The emotional impacts of being scammed can be significant, and therapy or counseling can help process feelings and cope with the aftermath of the scam."
Have you enjoyed using IAmNaughty? Comment below and share your experience with the BeyondAges community.
A free membership lets you do nearly nothing
IAmNaughty gives you the standard offering in terms of free functionality. With a free account, it's very much a "look but don't touch" kind of thing.
You can search for women in your area, change your search parameters and view profiles all you like. They'll even allow you to receive a bunch of spam messages.
The moment you try to reach out to one of these women or read the messages in your inbox though? You're asked to upgrade.
In short, you can't actually do anything on this site as a free member.
Ads are subtle but scammy
The trademark of a high quality, successful dating website is a total lack of paid ads. IAmNaughty, of course, is missing that trademark quality.
Admittedly they don't go overboard with their ads but they still exist on the site. While some of their spammy counterparts litter the site with porn ads, IAmNaughty keeps it subtle.
You'll often find this one if you open a woman's profile and scroll down.
If you look closely you'll also notice a text link in the footer. The text suggests it may not be redirecting you and even the target URL is on the same site.
If you click this link though, you're redirected to Myhotsnaps who promise "Stunning local girls can't wait to meet you."
If you then click the giant "Fix a date!" button without reading the disclaimer below? You'll be set up with an account and spam for that site. What a great deal!
Love Older Women? This BeyondAges Guide Will Help You Find Your Next Cougar:
What Every Younger Man Should Know When Looking For Cougars is one our most popular guides on BeyondAges.com. Noted dating coach Kristin Wang takes you through everything – and we mean EVERYTHING – you need to know when it comes to wooing older women in person and online. 
Here's a brief preview with essential quotes from Wang:
Embrace Her Independence

:

"One thing you need to understand about cougars is that they're independent… She got there on her own and is perfectly capable of taking care of herself."

Utilize Online Dating

:

"Many cougars…mostly meeting guys online. You need to be on eHarmony…if you want to take things to a new level."

Be Financially Sensible

:

"Older, independent women don't need a man to spend tons of money on her… She is your equal, not your 'little girl' date."

Maintain Your Independence

:

"Don't be the clingy, needy type of younger man… An independent older woman doesn't want or need someone who is always hovering over her."

Respect Her Career Focus

:

"Don't get upset if she spends a lot of hours working… She is independent and got that way by focusing on her career and the goals she has set for herself."
What was your experience like using IAmNaughty? Comment below and share your experience with the BeyondAges community.
"Per day" pricing is confusing
The pricing model is displayed on the site in a very confusing way. And I can't tell if it's intentional or not.
Instead of giving you a price per week or per month like any other subscription, it's all done "per day".
To reduce the level of brain strain going on here, let's compare apples with apples. Below is how everything looks on a "per month" basis as you'd normally see it. 
3-day trial

$4.49

1 month

$20.99

3 months

$11.87 per month

6 months

$9.43 per month
The free membership doesn't let you do anything on the site. That means if you want to try it out for yourself you'll have to sign up for a paid option. They want you to sign up for six months because it's so much cheaper per month.
I can assure you though, the three-day trial is all you'll need to see it's a waste of time. Better yet, take my word for it — IAmNaughty is not a legitimate dating site. Spend that time tweaking your Tinder profile instead!
User Testimonias for IAmNaughty:
Paul L. – SiteJabber
"Excitement Unleashed
This platform has unleashed a whirlwind of excitement in my life. The connections I've made here have exceeded all my expectations. Each interaction is filled with passion and adventure, making every moment unforgettable. It's been an exhilarating experience that I wouldn't trade for anything!"
Anders Magnusson – TrustPilot
"Well, of course it's a scam. You weren't really falling for it, were you? You were just hoping that maybe somewhere out there you might find someone looking for the same thing your do, which is someone looking for you.
Is that such a tall ask? Ask yourself.
Still I have to hand it to them. Reading these responses has been great. So my 4 star rating comes not from the site, but how masterfully they have responded to the most humiliating reviews here in Trustpilot.
These guys are artists. Truly. I salute you!
u/Silver-iodide – Reddit
"Dating Website Scam: Flirt.com, iamnaughty.com, dating.bdsmdate.com
This is my first post. Here's what happened: I was feeling bored during the holidays, so I decided to search online for some BDSM dating websites. I came across three websites mentioned in an article and decided to register accounts on them. The links are in title. While browsing, I noticed that two of the websites had a very similar layout, and after registering, I started receiving emails from them, urging me to become a paid member. This made me question the authenticity of these websites…"
Safety & Precautions: Understanding the Scope of Online Romance Scams
No one likes to get scammed, but you'd be surprised how often men in particular are taken advantage of through romance scams via dating apps and social media. The world of online romance scams is vast and significantly impacts your experience with online dating. Here are some key facts and figures illustrating the extent of this issue:
IAmNaughty FAQ
To wrap up this IAmNaughty review, we're going to run through some of the most frequently asked questions.
These are the questions most people seem to have about the site and a few of them are pretty important. If you have a question that hasn't been addressed in this review we'd love to hear!
What is IAmNaughty?
IAmNaughty is a super sketchy dating website. It pretends to be a real site with real women. Unfortunately, though, I didn't get to speak to a single real user, because there doesn't seem to be any. But it takes paying for an account to find this out.
Who actually owns IAmNaughty.com?
AriemGroup Limited owns and operates IAmNaughty.com. They also operate several similar sites.
Spotting a scam? More about Ariemgroup Limited…
AriemGroup Limited is a private company based in Hong Kong, incorporated on September 2, 2016. It operates as a private company limited by shares and has been active for over six years. The company's registration number is 2423571​​​​​​.
That's all well and good, but there are a couple of red flags – namely, what their description has to do with dating sites. Does the following sound vague to you?
"AriemGroup Limited represents a digital space where our clients can put their business development ideas into action. Our up-and-coming team, cutting-edge tools and innovative approaches are key to the success of our clients. We provide you with the best possible traffic in the digital market and select the best partners for you.
Being perfectionists, we do everything to the letter and want our clients to be number one in their industry. If being the best and earning as much money as possible is what you long for, then you are on the right path visiting our website."
Even if you're no cybersecurity expert, you can see that the vague nature of their business dealings and the slick website with no mention of what exactly they do besides "earning as much money as possible". AVOID THIS COMPANY.
How can I contact I Am Naughty?
You can email I Am Naughty at [email protected]. You can also call them at 18008654158.
Is IAmNaughty real?
IAmNaughty is a real site, but everything in there looks incredibly fake. We don't think there's any way to meet anyone here.
Is IAmNaughty.com legit?
Sadly, no. IAmNaughty is just another sketchy dating website. Although it has the potential to be the real deal, you won't find any active women on this site.
How can I find better quality women than on IAmNaughty.com?
If you're looking for better options, we strongly suggest that you read our popular article, "5 Dating Apps for Highly Educated Singles Dating Pros Prefer". In it, you'll find suggestions for EliteSingles and eHarmony – both great apps for those seeking casual and/or serious partners with a similar level of education and life goals. 
Want a preview? Here are a few excerpts from author Patrick Davis, Dating Coach: 
"Q: Are you willing to date someone with different political views?"
"A: While there's a lot of crossover between levels of education and political views, it's not always a perfect correlation. If politics are really important to you, it might be better to try an app that's aimed toward that. After all, just because two people have matching master's degrees doesn't mean they're actually a match.
"Whether you meet someone in a bar or on an app, the first step is always breaking the ice. Too many guys shoot themselves in the foot at this stage simply because they don't know how to sound natural. This is especially true if your opening lines are often too cerebral. It's important you develop your skills as a conversationalist. That means learning both how to start a conversation with a girl and how to maintain one."
Is I Am Naughty a scam or fake?
From my experience with the site, all the talk of an IAmNaughty scam seems correct. No active users; just spam messages prompting you to sign up for a paid account.
Is IAmNaughty safe?
No, IAmNaughty isn't safe at all. Avoid it at all costs.
What are IAmNaughty.com alternatives?
There are countless, better alternatives to IAmNaughty.com out there. Rather than listing them all in this FAQ, go ahead and check out our review of the best hookup apps and websites.
How does I Am Naughty work?
I Am Naughty lets you create a free account and take a look around. That's about it. To contact anyone or even read messages, you need to pay for a subscription.
Is there an IAmNaughty app?
No, IAmNaughty doesn't have an app. It's browser-only.
How much does IAmNaughty.com cost?
IAmNaughty has several pricing options available. As usual, the longer you commit to at once, the cheaper it gets.
The site only shows them in a very confusing "per day" pricing structure for some strange reason. Instead, here are those same prices on a monthly basis for easier comparison.
3-day trial $4.49
1 month $20.99
3 months $11.87 per month
6 months $9.43 per month
How can you use I Am Naughty for free?
You kind of can't. All you can do is create an account and look at profiles. But reading and replying to messages requires you to pay for a membership.
Can you send messages for free on IAmNaughty?
No. Sending messages if only for paid members.
How do you cancel your IAmNaughty membership?
To cancel your paid IAmNaughty membership, just follow these steps:
Click your profile photo in the top right corner
Select "My Settings"
Click "Billing History" (¾ of the way down on the right) then "Deactivate Subscription"
Follow the steps in this wizard to cancel further payments
How do you delete your IAmNaughty account?
To delete your IAmNaughty profile completely, follow these steps. Note that you'll have to cancel your paid subscription before you can do this.
Click your profile photo in the top right corner
Select "My Settings"
Click "Remove Account" (¾ of the way down on the right)
Follow the steps in this wizard to delete your profile
Have you used IAmNaughty.com? Let us know what your experience was like!
---
References:
Bradshaw, S. (2023) What to say to start a conversation with a girl with ease. Beyond Ages.
Davis, P. (2023) The 5 best dating apps for highly educated singles dating coaches recommend in 2023. Beyond Ages.
Hardcastle, J. L. (2023) Romance scammers' favorite lies cost $1.3B last year. The Register.
Internet Matters (n.d.) Resources to manage data and privacy.
Lovz, E. (2023) 34 online dating message mistakes to avoid – Hall of shame. Beyond Ages.
Milovidov, E. (n.d.) How to tackle online scams. Internet Matters.
National Cyberspace Alliance (2023) Online romance and dating scams. 
Stouffer, C. (2023) Romance scams in 2023: What you need to know + online dating scam statistics. Norton.
Vogels, E. & McClain, C. (2023) Key findings about online dating in the U.S. Pew Research Center. 
Wearn, C. (2023) Expert commentary: Romance scams. Global Security Mag.
Wang, K. (2023) What every younger man should know when looking for cougars. Beyond Ages.
---
Contributing Authors:
Tom Senkus
For more than two decades, Tom has dated extensively and studied behavioral psychology as a way of understanding the complexities of human nature until he became an expert. After traveling as a touring musician and living in more than 15 countries, Tom has cross-referenced his experience in seduction, dating, and interpersonal dynamics with the ever-changing landscape of 21st-century dating. His work as a writer has appeared in 500+ publications (digital and print). Tom is also the author of several books (available on Amazon). In his free time, you can find Tom recording music and cooking the best Cincinnati-style chili you've ever had.
Sam Bradshaw
One of the founding members of Modern Love Systems, Sam has been coaching his friends to better dating success since he was in his teenage years. After graduating from university he began working with other men struggling with their dating lives eventually founding Modern Love Systems to help even more guys. With over a decade of professional experience, Sam is the mastermind behind our systematic approach to dating online.
Em
Em is the author of the popular dating books Stand Out and Get The Green Light. Em is an online dating consultant specializing in practical, actionable advice for leveling up your profile, photos, messaging, and mindset. Since 2014, she's helped thousands of men improve their online dating results, and her insight has been featured on Lifehacker, Thought Catalog, and numerous podcasts.