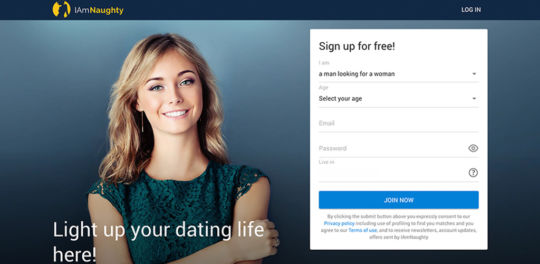 While there are some good options, finding a quality dating website seems to be an increasingly difficult task these days. It seems for every legitimate dating site, 20 dodgy imitations show up. Even worse, they present as the real deal until you've handed over some money. In this IAmNaughty review, we dive deep!
Rather than spending your time and risking your credit card trying various websites, let me do the legwork. I like to do a complete review of some of the most talked-about dating sites to save you the trouble.
It can mean more time spent on real dates and less time talking to semi-convincing bots on the Internet.
How we reviewed IAmNaughty
To write this review, I set up a profile on the website and used it for a month. First with a blank, free profile to see if I'd receive spam messages. I then set up a complete profile to see if I could do anything without paying. 
Finally, I took the gamble and handed over the credit card info to get the full experience. I messaged multiple women and attempted to set up real, in-person dates with them.
I dove in deep and gave it a full, honest try so that you can know exactly what you're getting into. You can't really get a real impression of the site without trying out the free and paid versions like we did!
Let's jump straight into my I Am Naughty Review and see what I found through all of this.
IAmNaughty? IAmNotImpressed
All in all, the website looked so promising to begin with. After putting some time into using it though, things went downhill fast.
Let's take a look at how it stacks up against the biggest name in this field — eHarmony.
Overall

Our team rates each site objectively based on many hours of independent research, the features each site offers, and how it compares with other sites. The ratings are the opinion of our editors and their extensive experience.

1
9.5
Quality of Women

Our opinion of how attractive the typical woman is that uses this site and how easy they are to connect with compared to other sites.

7
9
Popular

How many people are using this site to actually meet people compared to other sites.

8
10
Usability

How easy is this site to use and how quickly can an average person begin meeting people compared to other sites.

10
9
Privacy & Safety

Does this site take proper precautions to safeguard its members, their identity, and their data.

10
9
Effective

Our opinion of how easily an average person will be able to achieve their dating goals with this site compared to other sites.

1
9
Value

Will the time and money spent using this site pay off for an average person based on the opinions and experience of our editors.

1
10
Our Recommendation
Despite the quality design, I can't recommend using this site at all. They went to the trouble of producing a good looking, modern website. And perhaps the plan was to make it legitimate.
If you're really looking for a fun hook up you should try out Adult FriendFinder's free trial if you actually want to get some results!
In reality though, there are no real users on this website. Just a bunch of fake profiles designed to have you sign up.
Perhaps even more frustrating is this isn't the only site they have like this. I recently reviewed AffairDating and immediately noticed it's identical. The template, popups and general user experience are all exactly the same.
This appears to be this company's MO. Notice the similarities? So much potential gone to waste.

Despite the disappointments so far, I wanted to make sure I truly gave this site a thorough consideration. On that note, let's check out the positives and negatives it offers.
Clean, simple user interface
Fast load time
Easy to navigate
Appears to be a wide user base
Not a single reply from any of the women I messaged
Several spam messages from "women" that were clearly fake accounts
An In-Depth Look At My IAmNaughty Experience
Aggressive, fake accounts bombard you on Iamnaughty.com
In looking through user profiles for this IAmNaughty review, most of the profiles seemed legitimate. The photo style and quality were very Facebook-esque which suggests they're real people.
Similarly, the bios were the same style and quality you'd see on something like Tinder.
Where it fell apart was handful of blatant spam accounts on the site. As is often the case for fake dating websites, they have a lot of very aggressive "women" that message you.
While you have a free account, you'll get a consistent string of messages from these "women". Of course, you can't read those messages until you've signed up for a paid account.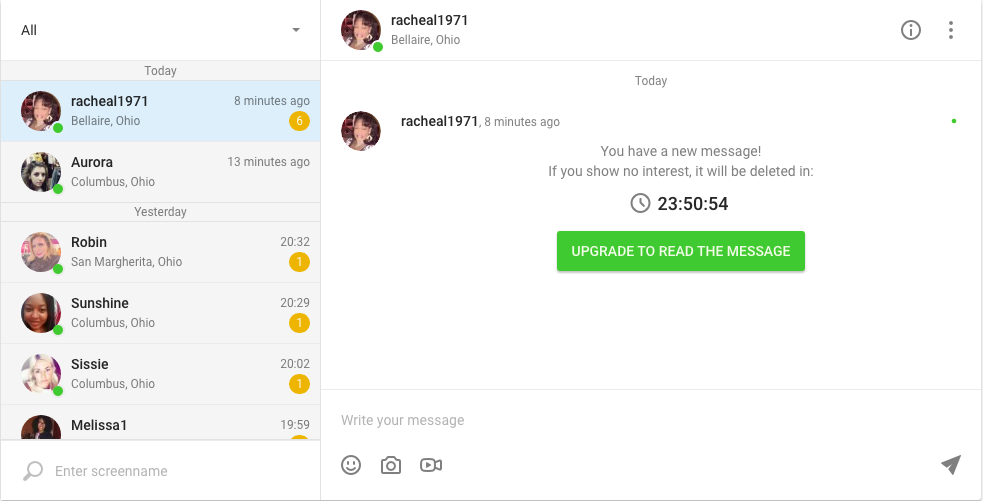 While a couple of these spam profiles look a little convincing, most of them are quite obvious. Stock photos, very overt bios about how badly they need a man tonight. . . the usual stuff.
These accounts exist to make you feel as though you're missing out on quality interaction on the site. Of course, once you sign up and start chatting to them it becomes clear it's just nonsense.
By that point, they already have your money so it's too late.
The design is misleadingly fantastic
This is the thing that gets me with both IAmNaughty and AffairDating. The design and functionality of the site itself is great. I'd even go so far as to say the user interface is better than the major dating websites.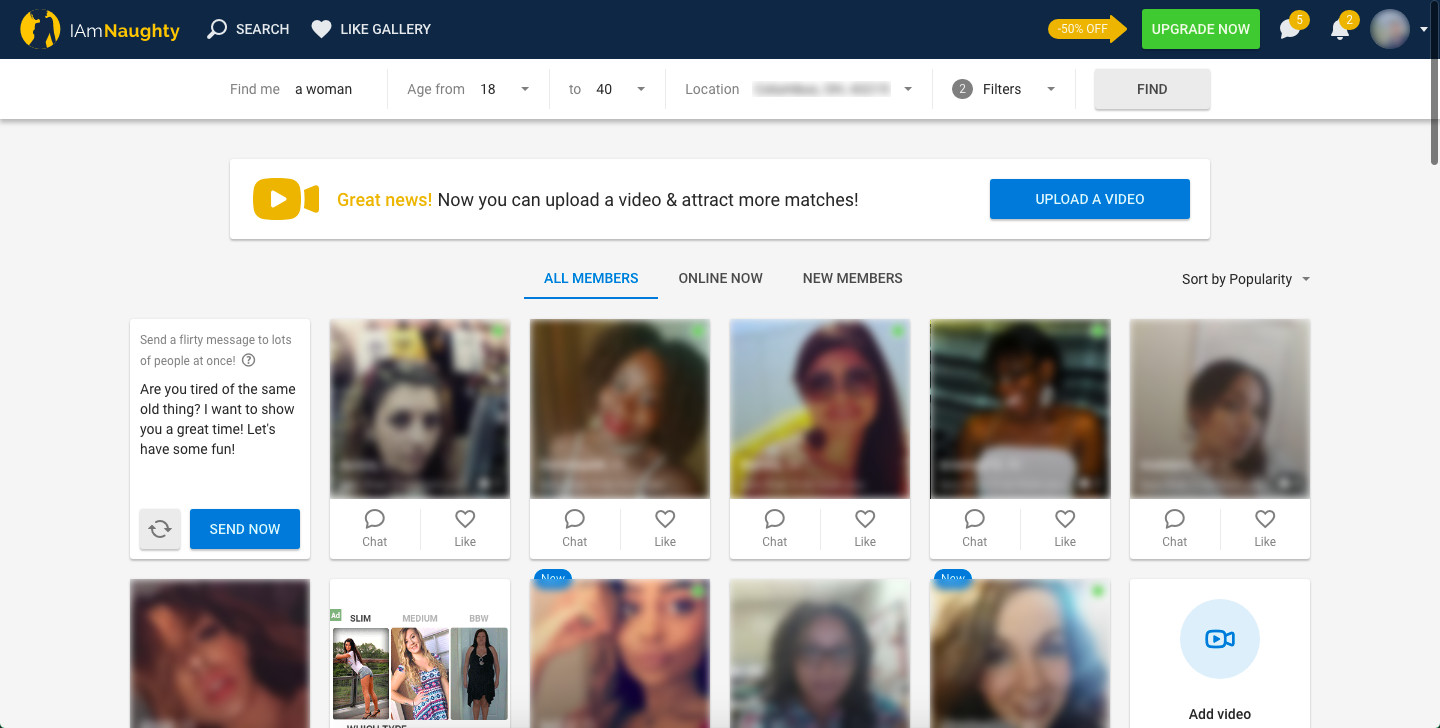 The site uses a tasteful color palette, the header is very simple. Navigation is intuitive, search functionality and profile layout are clean and simple. Every part of it looks great and works so nicely.
When you can't talk to real women and actually set up a date though, an impressive UI is pointless.
Messaging is simple — if there were anyone to talk to
Even initiating a conversation on IAmNaughty is simple and straight forward. See a woman you want to chat to from the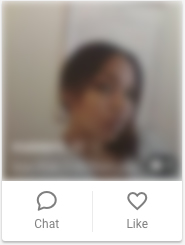 search results? Click the big Chat button below her photo. That's it!
If you want to take a closer look before you start chatting? Click on her profile, read it then click that same Chat button at the top when you're ready. Very simple, huh?
As you can see from the screenshot above, the whole messaging interface is very straight forward too. A minimalist design where everything looks good and just works.
You know, aside from the fact there are no real, active users on the site. Instead, all you get are garbage, incoherent messages pretending to be real women that are DTF. Even when you have a blank profile.
Note that to actually have a conversation on this site you'll have to sign up for the paid version. Otherwise, every time you click that Chat button, you'll be asked to upgrade your account.
A free membership lets you do nearly nothing
IAmNaughty gives you the standard offering in terms of free functionality. With a free account, it's very much a "look but don't touch" kind of thing.
You can search for women in your area, change your search parameters and view profiles all you like. They'll even allow you to receive a bunch of spam messages.
The moment you try to reach out to one of these women or read the messages in your inbox though? You're asked to upgrade.
In short, you can't actually do anything on this site as a free member.
Ads are subtle but scammy
The trademark of a high quality, successful dating website is a total lack of paid ads. IAmNaughty, of course, is missing that trademark quality.
Admittedly they don't go overboard with their ads but they still exist on the site. While some of their spammy counterparts litter the site with porn ads, IAmNaughty keeps it subtle.
You'll often find this one if you open a woman's profile and scroll down.

If you look closely you'll also notice a text link in the footer. The text suggests it may not be redirecting you and even the target URL is on the same site.

If you click this link though, you're redirected to Myhotsnaps who promise "Stunning local girls can't wait to meet you."
If you then click the giant "Fix a date!" button without reading the disclaimer below? You'll be set up with an account and spam for that site. What a great deal!
"Per day" pricing is confusing
The pricing model is displayed on the site in a very confusing way. And I can't tell if it's intentional or not.
Instead of giving you a price per week or per month like any other subscription, it's all done "per day".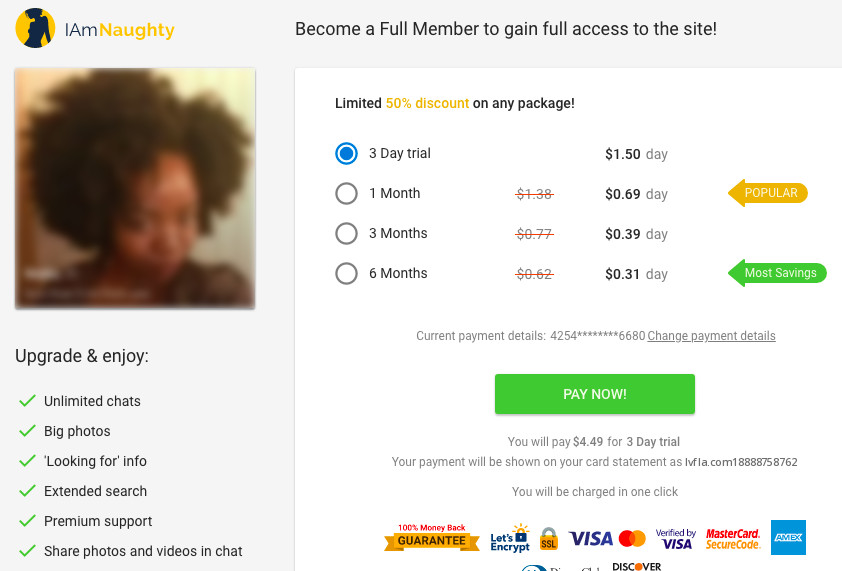 To reduce the level of brain strain going on here, let's compare apples with apples. Below is how everything looks on a "per month" basis as you'd normally see it. 
3-day trial

$4.49

1 month

$20.99

3 months

$11.87 per month

6 months

$9.43 per month
The free membership doesn't let you do anything on the site. That means if you want to try it out for yourself you'll have to sign up for a paid option. They want you to sign up for six months because it's so much cheaper per month.
I can assure you though, the three-day trial is all you'll need to see it's a waste of time. Better yet, take my word for it — IAmNaughty is not a legitimate dating site. Spend that time tweaking your Tinder profile instead!
IAmNaughty FAQ
To wrap up this IAmNaughty review, we're going to run through some of the most frequently asked questions.
These are the questions most people seem to have about the site and a few of them are pretty important. If you have a question that hasn't been addressed in this review we'd love to hear!
What is IAmNaughty.com?
IAmNaughty is a fake dating website. It pretends to be a real site with real women. Unfortunately though, I didn't get to speak to a single real user, because there aren't any.
The site has a bunch of fake accounts that will message you as a free user. Since you can't read those messages until you upgrade and pay, it looks like you have women wanting to chat.
After you've already paid, it becomes apparent the whole thing is bogus.
How do you log into IAmNaughty?
Creating an account on this site is as simple as filling out a short form. You'll need to enter an email address, password and some basic info about yourself.
From there, this email and password are used for all future logins.
What are IAmNaughty alternatives?
There are countless, better alternatives to this site available online. Rather than listing them all in this FAQ, go ahead and check out our review of the best hookup apps and websites.
How do you use IAmNaughty for free?
Technically you can use this site for free but it won't really let you do anything. By default, when you set up an account you're given a basic, free membership.
All it allows you to do is look at other profiles. If you want to interact with anyone, you'll need to pay. 
Of course, as I've mentioned throughout this IAmNaughty review though, there aren't any real, active users on the site. Either way, you won't be talking to anyone!
How do you cancel your IAmNaughty membership?
To cancel your paid IAmNaughty membership, just follow these steps:
Click your profile photo in the top right corner

Select "My Settings"

Click "Billing History" (¾ of the way down on the right) then "Deactivate Subscription"

Follow the steps in this wizard to cancel further payments
How do you delete your IAmNaughty account?
To delete your IAmNaughty profile completely, follow these steps. Note that you'll have to cancel your paid subscription before you can do this.
Click your profile photo in the top right corner

Select "My Settings"

Click "Remove Account" (¾ of the way down on the right)

Follow the steps in this wizard to delete your profile
Given the nature of the site, I'd suggest keeping a close eye on your bank statement in the coming weeks.
It doesn't really seem like the type of site to sell your info. But it'd be wise to confirm your subscription is actually canceled.
How much does IAmNaughty cost?
IAmNaughty has several pricing options available. As usual, the longer you commit to at once, the cheaper it gets.
The site only shows them in a very confusing "per day" pricing structure for some strange reason. Instead, here are those same prices on a monthly basis for easier comparison.
3-day trial

$4.49

1 month

$20.99

3 months

$11.87 per month

6 months

$9.43 per month
Is IAmNaughty legit?
Sadly, no. IAmNaughty is just another spammy dating website. Although it has the potential to be the real deal, you won't find any active women on this site.
Is IAmNaughty a scam or real?
From my experience with the site, all the talk of an IAmNaughty scam is correct. No active users; just spam messages prompting you to sign up for a paid account.
How do you send messages on IAmNaughty?
Sending messages on this site is incredibly easy. You don't have to match with anyone or go digging for the option.
Instead, you simply click the big "Chat" button below a profile on the home page and start chatting. Alternatively, you can click on their photo to view their profile then use the Chat button at the top.
Note that you need a paid membership before you can chat with anyone on this site. Until then, you'll just receive a bunch of spam messages (that you can't read until you pay).
How do you search on IAmNaughty?
Searching on IAmNaughty.com is equally simple. There's a very simple search bar right at the top of the home page. Here, you can control the gender, age range, and location of women you want to see.
There's also an advanced search option if you want to get even more specific.
Have you used IAmNaughty.com? Let us know what your experience was like!