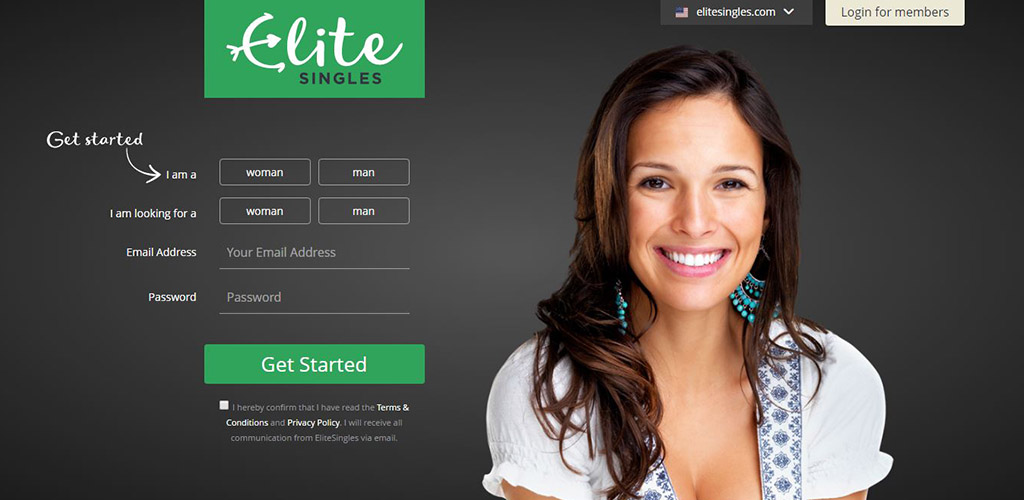 In our Elite Singles review, we take a deep look into the newest quality site for meeting older women to come out in years. EliteSingles.com has been getting a lot of buzz in the online dating community and we wanted to see what all the fuss was about!
As we have done many times before, we have spent hours and hours to really figure out just what is Elite Singles and how do they compare to all the other dating sites out there. Even more important, will they help you find a single older woman that is worth your time.
There are other Elite Singles reviews out there but you won't find one that is more in-depth than what we have put together here.
The Comprehensive 2020 Elite Singles Review
This is what we found after exhaustive research:
We found a LOT more women than men in our Elite Singles review
If you have any experience with online dating you probably know that it tends to be more popular with men than women. In fact, many sites have far more men than women on them which can create a pretty bad experience for a guy.
With EliteSingles.com we found the exact opposite (try them for free with this special offer and see what we mean)!
We found a high-quality dating site with a SIGNIFICANTLY higher number of women than men. On any other top site a 50/50 split of men and women is considered great. On Elite Singles we see 56% women and 44% men.
This is awesome if you are a guy!
For the first time in your online dating life, you get the opportunity to have the odds on your side. This is especially true when dating older women where historically more women than men have used online dating.
This is a gigantic positive for Elite Singles.
The first thing we saw was great site design
The phrase "you can't judge a book by its" cover doesn't work for online dating sites. The best sites out there almost always have a fantastic design. This is exactly what we found when we first began our Elite Singles search.
When you first land on the EliteSingles.com homepage you find a modern and inviting design that is simple to navigate. Men and women alike want a site that looks good and is easy to use. First impressions matter, if the site looks bad most discerning men and women will be quick to go somewhere else.
The Elite Singles personality test is a great tool to connect with older women (though it takes a little time to complete)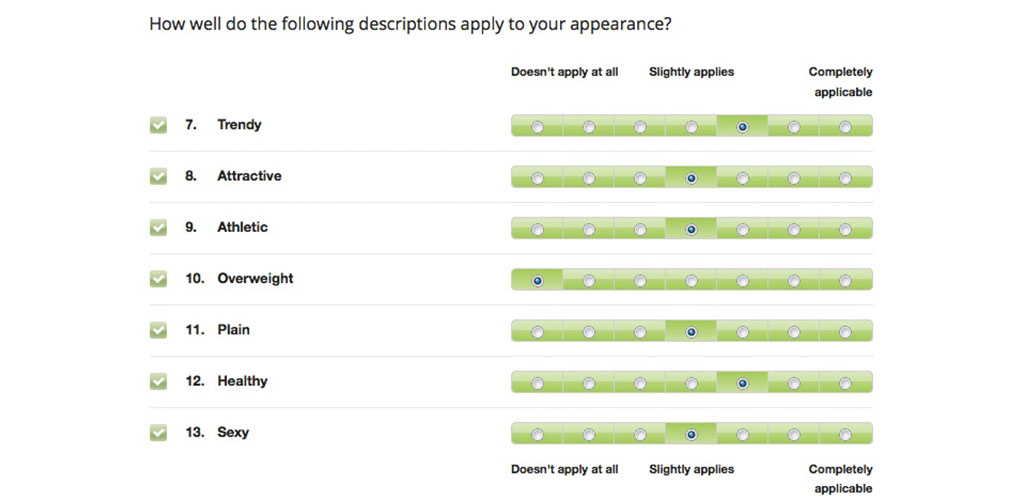 If you have any experience with older women you know how important it is for them to feel a connecting right away. This is especially important for younger men who are interested in dating an older woman.
Not every woman is interested in dating a younger guy but most are open to it if they feel a connection! In our Elite Singles review we found that they are using some pretty impressive technology to identify men and women who have a great chance of connecting.
You can try them out for free with this special offer and see what we are talking about.
This can save you a ton of time and money as well as help you overcome and potential barriers that might currently exist such as differences in age, race, or location. This is incredibly helpful you younger guys.
Age differences can be a big initial hurdle for younger guys to clear but once you do you are in the clear. Being able to spend your time with women that you have a much higher chance of connecting with makes dating older so much easier.
There are a fair number of questions that you need to answer but it goes by pretty quickly and the payoff is well worth your time. Instead of having to wade through 100's of profiles to find women you have a connection with they can be sent to you automatically.
One of the biggest benefits of online dating is the ability to save a lot of time and this takes that to another level. Once you start getting tailored matches sent to you it is hard to go back to a typical dating site.
Another big benefit of the personality test is that every woman who completes it is motivated to find a guy. These are not women that are window shopping. They are motivated.
The quality of women we found in our Elite Singles review is unlike anything we have seen
There are a lot of sites that boast about the quality of women on their site. Unfortunately, few live up to their claims. Elite Singles appears to be one of them.
Let's be clear, this site attracts a particular type of woman. Women who are educated (82% has a bachelor's degree or higher) and are interested in similar men are flocking to this site.
If you are primarily interested in women with a college education this is great news for you for two reasons.
First, this is a huge population of single women that may or may not have tried online dating before. Second,
Second, with so much competition from other women your odds of success go up tremendously, especially if you are college educated yourself.
These women have to compete with other women like themselves and not some 19-year-old hair stylist.
These are desirable women who appreciate a guy who appreciates them.  You can sign-up for free here and see what we mean in your city.
They have a large member base and have been growing like crazy
With any online dating site, and especially with new sites, you have to continually grow to stay relevant. It is extremely difficult for a new site to grow because it is only as valuable as the size of its membership. As soon as it stops growing it quickly begins to die off completely.
In our Elite Singles review we found a site that is growing like crazy!
With 65,000 new members PER WEEK they are easily the fastest growing dating site we have come across. When you add that growth to a member base of over 13,000,000 people it is easy to see how solid they are.

The image above shows the impressive growth that Elite Singles has had over the past year. This shows how popular they have been on Google search and is a rough indicator of how quickly they have been growing. As you can see, they have grown by nearly 500% over the course of the past year.
82% of the members in our Elite Singles review were university graduates
It is very hard to believe that any other online dating site out there can match this statistic. That is over double the national rate of university degree holders in the United States (40%)!
If you hold a university degree and are interested in dating a woman with a similar education you are not going to find a better place to look. Finding a partner with a similar educational background is incredibly important and it looks like Elite Singles is better positioned than the competition to make that happen for you.
All the profiles we saw were authentic
One of the most important things to look out for when looking at a dating website, especially a newer site, is fake profiles. There are a lot of sites out there that look OK initially but are filled with thousands or millions of completely fabricated profiles.
The creators of these sites will take huge numbers of photos from Facebook, Instagram, and other social media sites and then create fake profiles. This creates the appearance of a popular dating site for new members coming in.
Since we regularly review dozens and dozens of online dating sites for our annual review of the best sites to meet older women we have become very good at spotting fakes. We were very pleased to see that all of the profiles we saw appeared to be genuine and we were unable to spot any signs otherwise.
We only real messages from real women during our Elite Singles review
Another popular tactic from fraudulent online dating sites is sending fake messages to new users.  On these sites, as soon as you signup you will receive a few "messages" from extremely attractive women almost immediately.
This leads a lot of guys to immediately signup for paid members on these sites only to discover that the messages were automatically sent from fake profiles to trick them. A very sneaky trick and one that can be very effective.
With Elite Singles, we only received 100% legitimate messages from real members on the site. Thanks to the personality test that you go through during the signup process it was much easier to get a conversation going and ultimately meet them in person.
Once you finish the personality test you only need a couple minutes a day
Once you have completed the personality test Elite Singles sends you 5-7 matches a day automatically. At first, we were not too crazy about this because we just wanted to scroll through all the available women immediately to see what was out there.
However, we quickly realized how great this system is.
For starters, this means that we are only spending a few minutes every day looking at our new matches and messaging these women. We don't get stuck spending hours scrolling through profiles and wasting tons of time trying to figure out who would be a good match.
This also greatly increases the response rate we received from women, especially the most attractive women. On a traditional site where you can see and message everyone right away the most attractive women are getting 100's of messages a day. Something that is impossible on Elite Singles.
Women on this site are also getting matched up with 5-7 guys so she is receiving far fewer messages than on other sites. You also have a much higher chance of having a lot in common with these women which also increases your chances. The combination of these two factors goes a long way to improving your chances.
Overall Elite Singles review rating - About as good as it gets!
We have reviewed a lot of dating sites over the years and Elite Singles is about as good as it gets, especially if you are university educated or interested in dating someone who is. If you have not already you need to sign-up for their free trial and see for yourself.
Overall we found a very high-quality site that has been growing extremely fast over the past few years. A feat that is even more impressive given how new they are compared to their more established competition such as Match or eHarmony.
For men interested in dating older women this is a site you have to check out. There are far more women on this site than men which will drastically increase the odds that you are able to meet a great woman.
For younger men interested in an older lady the personality test can give you an edge. It helps you easily find women that are you are more likely to connect with and vault any mental hurdles she might have about your age differences.
Try out Elite Singles for yourself and see what we are talking about. We are confident you won't be sorry.