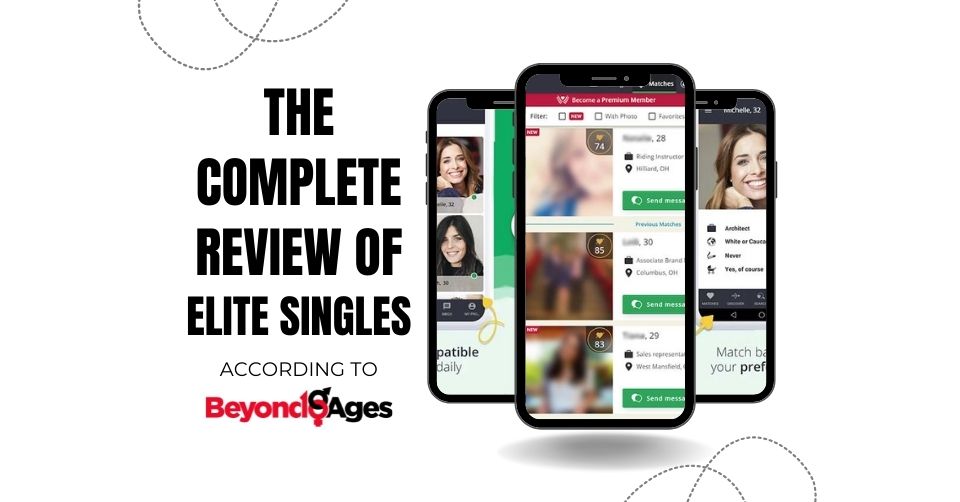 If you're the type of guy who has a preference for educated women, you're reading the right review. This Elite Singles review will lay out all the details to help you decide if this is the right dating site for you.
With so many people still avoiding spending time in crowded places it's can be extremely tough to meet other singles. Who knows when, or if, things will ever return to how they were.
Fortunately, dating apps like Elite Singles have become EXTREMELY popular. It's basically a requirement at this point to be on at least one solid dating app if you want to have any semblance of a love life.
Let's start with a little background on Elite Singles:
What Is Elite Singles?
Elite Singles is one of the lesser-known online dating websites but it has grown substantially in recent years. It now operates across 25 countries, supposedly helping an average of 2,500 singles find love each month. The majority of its users are single professionals aged between 30 and 55.
The question is: how does it compare to the world's best online dating websites? Is it worth your time creating an EliteSingles account – and should you invest in a paid membership? We answer all of these questions in our comprehensive Elite Singles review below.
How I reviewed Elite Singles
I put EliteSingles.com through the same comprehensive testing process that allows Beyond Ages to give the defining verdict on the value of an online dating website.
I invested in a paid account, messaged 50 suitable women and kept track of how far each interaction went. How many women would view my profile? How easy is it to get a reply or to swap contact details? Most importantly, how does this compare to the best online dating sites?
We use the same profile pictures, bios and opening messages in every review we complete, which allows us to make fair and accurate comparisons between websites.
Our Elite Singles review lets you know exactly what to expect when signing up for a premium membership, including the best features to use and how many women you can expect to attract.
Read on to discover all this and more…
Elite Singles Review: Our Experience Using It
Let's begin with a basic summary of how we rate Elite Singles compared to other online dating websites. Below, we have rated EliteSingles.com out of 10 for the aspects we consider the most important for online dating.
For extra context, I have included our ratings for eHarmony (which has a great trial), which we rate as the absolute best online dating website if you're looking for a serious long-term relationship.
Overall

Our team rates each site objectively based on many hours of independent research, the features each site offers, and how it compares with other sites. The ratings are the opinion of our editors and their extensive experience.

7
9.5
Quality of Women

Our opinion of how attractive the typical woman is that uses this site and how easy they are to connect with compared to other sites.

7
9
Popular

How many people are using this site to actually meet people compared to other sites.

7
9
Usability

How easy is this site to use and how quickly can an average person begin meeting people compared to other sites.

8
10
Privacy & Safety

Does this site take proper precautions to safeguard its members, their identity, and their data.

10
10
Effective

Our opinion of how easily an average person will be able to achieve their dating goals with this site compared to other sites.

7
9
Value

Will the time and money spent using this site pay off for an average person based on the opinions and experience of our editors.

7
10
Our Recommendation
After spending several weeks using it I can say that Elite Singles is a quality site run by a quality company (the same company that owns Zoosk). It does a good job of filtering out users who aren't "elite" and my experience was positive, though the number of users is much smaller than other sites.
However, it just doesn't compare to eHarmony when it comes to actually finding compatible relationships (in our experience). It's just hard to compete when eHarmony has 20 times the members (so 20 times the opportunities) and the ability to filter your results in a way that Elite Singles does.
If you're serious about finding a long-term relationship eHarmony is the obvious choice. If you have a little money to throw around it's probably worth trying both out.
How Does Elite Singles Work?
Elite Singles is relatively unique in that it requires new members to take a personality test before they are allowed to begin messaging other people.
The personality test has a total of 115 questions. It features everything from basic demographic questions to what you're looking for in a partner and how you behave in your everyday life. You'll be even asked to select your favorite image from a selection, similar to the Rorsarch test. The questionnaire took me roughly 20 minutes to complete.

Once you complete this test, you're prompted to pay for a premium membership. This is a bit disingenuous, as there are no suggestions that this is a paid website on the Elite Singles homepage, nor before you are prompted to take this lengthy test.
Still, once you're signed up for a paid membership, the website will begin suggesting women for you to contact. This is based mostly on your compatibility score, generated by comparing your personality test results to hers. This score (out of 100) appears in the top right of your matches' picture.
However, the Elite Singles algorithm will also consider your search preferences, which you can alter at any time. See the screenshot below.
The women suggested to you will be listed in the "Matches" tab. You won't get all your matches delivered to you in one day or even a month though. Instead, you'll be given just a few matches every day.
This could be considered a good thing, as it prevents the best women from being overwhelmed with messages. On the other hand, it limits the number of women you can message per day, meaning you may be forced to keep your paid membership longer than you'd prefer.
It should also be made clear that your "Matches" haven't "swiped right" on you or done anything to communicate their desire for you to get in touch. It's just that the algorithm has determined that you two could be a good match.
You may be given the opportunity to message other women in the "Have Your Met?" tab. These women have narrowly missed out on being a match. Again, you'll only be given a few of these per day. 
Below are my results after leaving my profile untouched for one week.

There is no option to manually search for women outside those suggested in your "Matches" or "Have You Met?" tabs.
However, you are able to send unlimited messages to these women. I was continuously matched with high-quality women every day throughout the testing process – and this remains the case more than a month later.
Does Elite Singles Have an App?
I used the desktop website for this Elite Singles review. However, there is an EliteSingles app available for iOS and Android devices.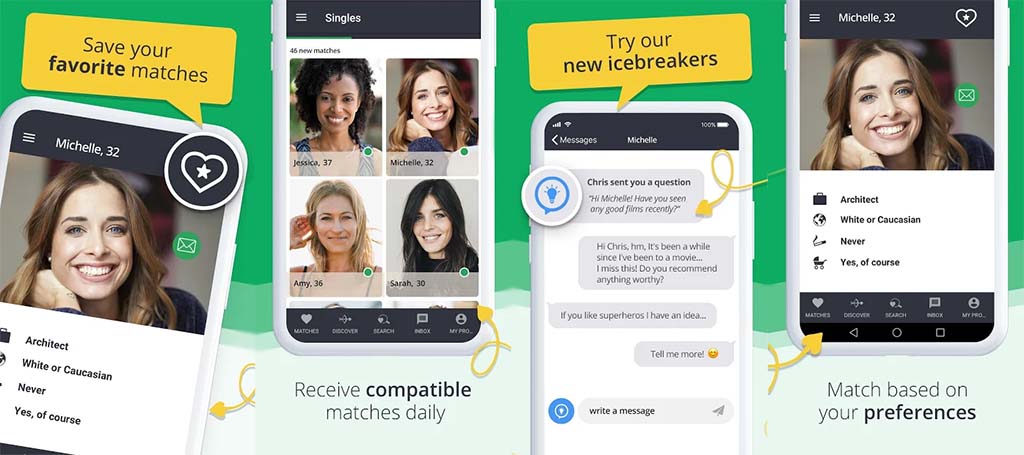 Requirements before Sign Up
You'll have to complete the extensive personality test and pay for a premium membership before you can begin messaging other members.
Pros of Using Elite Singles
Here are the top things I enjoyed during the handful of weeks I used Elite Singles.
I received a steady flow of matches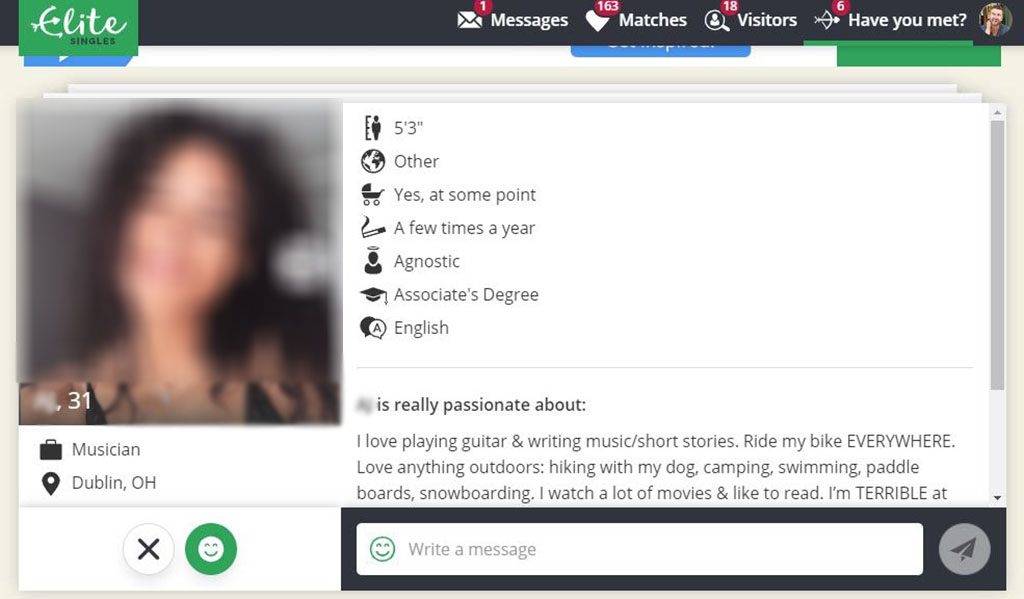 The women I matched with were all based within 50 miles of Columbus, Ohio (we always use this city to ensure a fair comparison). As expected, the majority were indeed professionals in their 30s and older. I considered the majority of my matches somewhat attractive.
The initial questionnaire asks how important it is to you for your partner to be physically attractive. I said "very important."
Still, EliteSingles was able to fufil this desire as well as any online dating website I've tested. I had 93 suitable matches within a week, plus another 20 to choose from in my "Have You Met?" tab. 
On top of that, a handful of women were sending "smiles" to me, as a result of my profile popping up in their "Have You Met?" tab.
EliteSingles has detailed profiles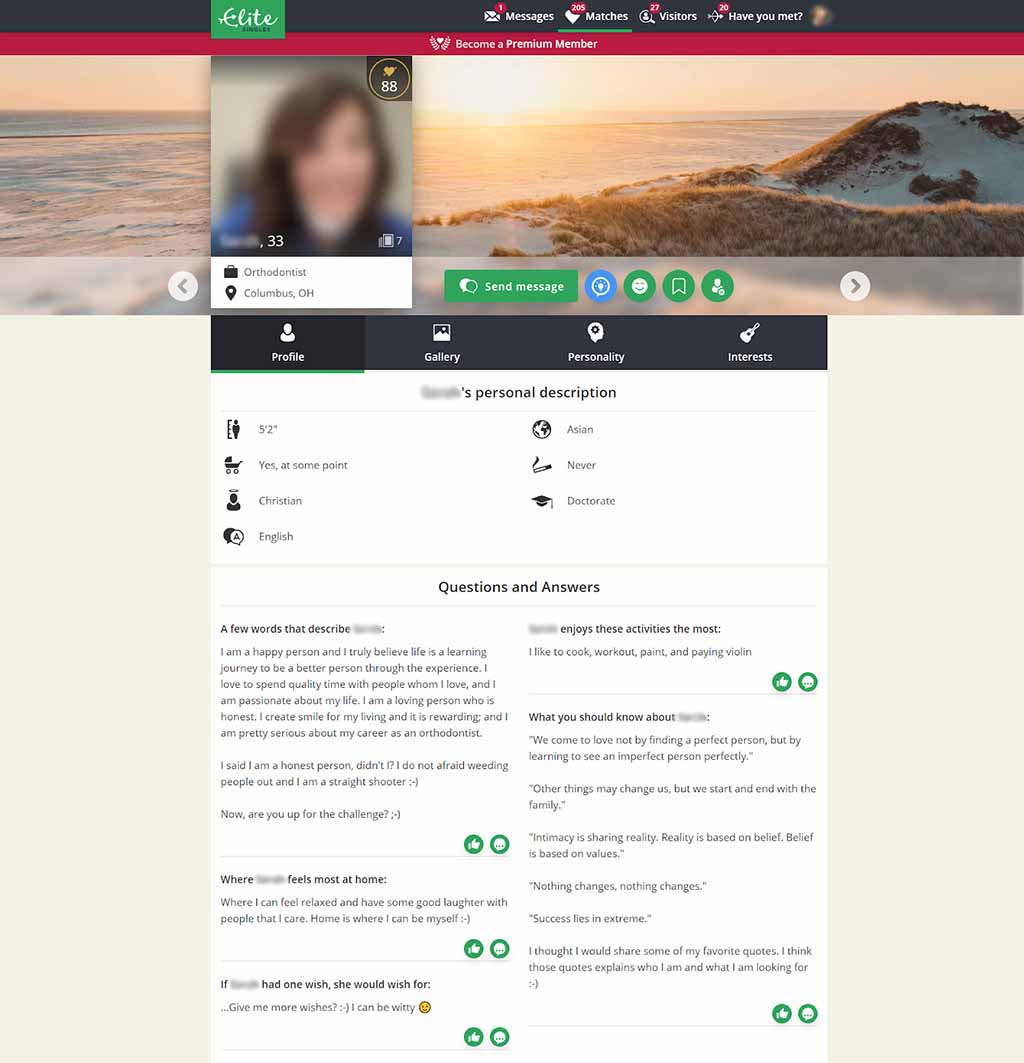 EliteSingles uses a lot of the information from the answers to your personality test and uses it to automatically populate your profile. When you view other members' profiles, you will also see a summary of the things you have in common. A perfect conversation starter!
Women on EliteSingles.com are ready to date
Out of the 50 women I messaged, only four replied. While not atrocious, this isn't as good as other websites we have tested. However, I am pleased to report that two of these four women agreed to swap contact details with the intention of organising a date. This is a great ratio.
On a lot of online dating websites, most of the women are only taking part for a bit of fun and an ego boost. At least on EliteSingles.com, there is a clear sign that female members are there to meet with single guys in real life.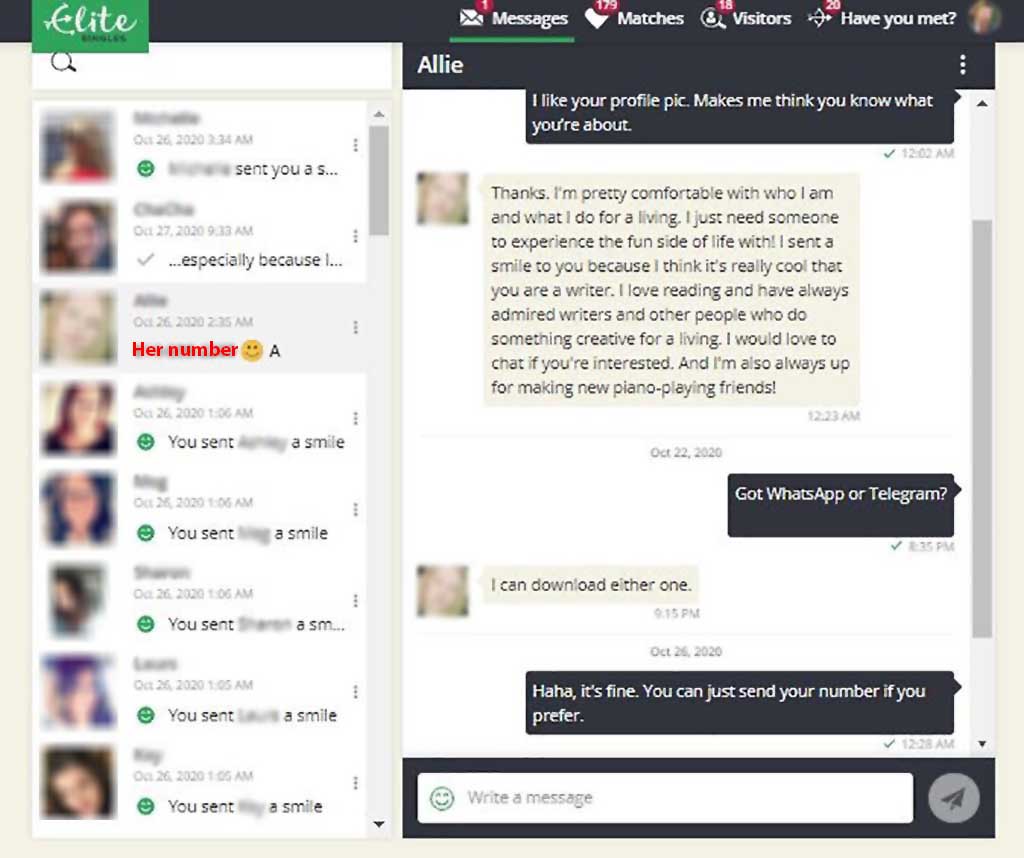 Cons of EliteSingles.com
As with any site, there were also a handful of things I didn't like about my experience. Here are the top ones:
I didn't receive as many messages as I was expecting
It took me a while to understand how my "Matches" were generated. I thought all of my matches had taken some proactive action to "like" me, as they have to do on traditional dating apps like Tinder.
However, on Elite Singles, it's the algorithm that matches you based on your preferences. There's no guarantee that the women like the look of you at all. When this fact is considered, perhaps four messages from 50 matches isn't as bad as it sounds.
You can't message anyone or even see their profiles with a free membership
A paid membership isn't cheap either. Here are your options for purchasing a premium membership.
Premium Classic. $54.95 per month for one month ($54.95 total)
Premium Light. $34.95 per month for three months ($104.85 total)
Premium Comfort. $24.95 per month for six months ($149.70 total)
The Top Alternatives To Elite Singes For Real Relationships According To Dating Experts
If you're looking for a real relationship there are a few options that are going to be a lot better than Elite Singles for most people. If you've been struggling to meet people try these out first as they tend to work best for more regular singles:
Site
Our Experience
Our Rating
Free Trial Link

Best For Relationships

Experience Highlights

Easily the best option for long-term relationships
75% of all online marriages start here
70% of users meet their spouse within a year
In-depth signup and matching process

Try eHarmony

Great If You're Handsome

Tinder Highlights

Great if you're pretty good looking
Very popular, especially if you're 18-22
Really focused on photos
Becoming more of a dating than hookup app

Try Tinder

Good For Women

Experience Highlights

Only women can message first
Hard for guys who aren't attractive
Getting pretty popular
More relationshihp focused

Try Bumble
Elite Singles Review Frequently Asked Questions
Here are some questions you may have about Elite Singles that we haven't covered above.
What is the male to female ratio?
Hold your breath guys! We found a high-quality dating site with a SIGNIFICANTLY higher number of women than men. On any other top site a 50/50 split of men and women is considered great. On Elite Singles we see 56% women and 44% men.
The main advantage of a good female-to-male ratio is that the best women are less likely to be bombarded with messages.
Elite Singles has already reduced the odds of this happening by drip-feeding matches to members. So if you send a message to your dream woman on Elite Singles, there is a great chance of her actually taking the time to read it.
What age group is it for?
EliteSingles says that the majority of its members are professionals aged between 30-55 and that was my experience when testing out the website.
Is it for serious relationships?
EliteSingles is primarily marketed towards single men and women looking for serious relationships, although it's ultimately up to you what you use it for.
What is the success rate?
I messaged 50 women, received four replies and swapped contact details with two women. There was scope to message a lot more women if I was so inclined. In fact, my profile had 90 matches in the first week and more than 200 after a month.
How much does the monthly subscription cost?
Your options for purchasing a premium membership are:
Premium Classic. $54.95 per month for one month ($54.95 total).
Premium Light. $34.95 per month for three months ($104.85 total).
Premium Comfort. $24.95 per month for six months ($149.70 total).
What does Elite Singles mean by "highly educated"?
Elite Singles markets itself as being an online dating website for "highly educated" professionals – but there are no actual restrictions on who can sign up.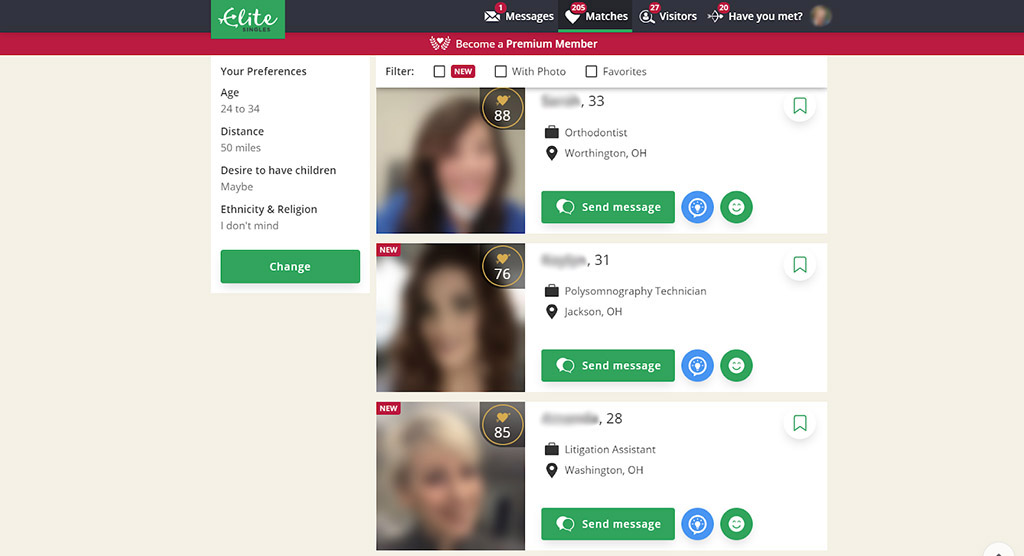 So, why does it say this?
Well, one reason is that a lot of singles are tired of communicating with illiterate idiots and trolls on online dating websites. Any marketing material that insinuates that members won't have to deal with people like that is a good thing.
It also allows Elite Singles to justify the expensive monthly membership costs. Just as a high-end gym or nightclub does, it is attempting to "price out" people who aren't serious about online dating.

It would appear to have done a great job too. All of the women I messaged were intelligent and well-spoken. Most of the women whose profiles I viewed appeared to have respectable well-paid jobs. Not an unemployed divorced single mom-of-five looking for a sugar daddy in sight!
Is it easy to cancel?
Yes!
Here are the three steps:
Click "My Account" from the list of options.
Find the Delete My Account section of the page, and click the link.
Give a reason for deleting your account and click continue.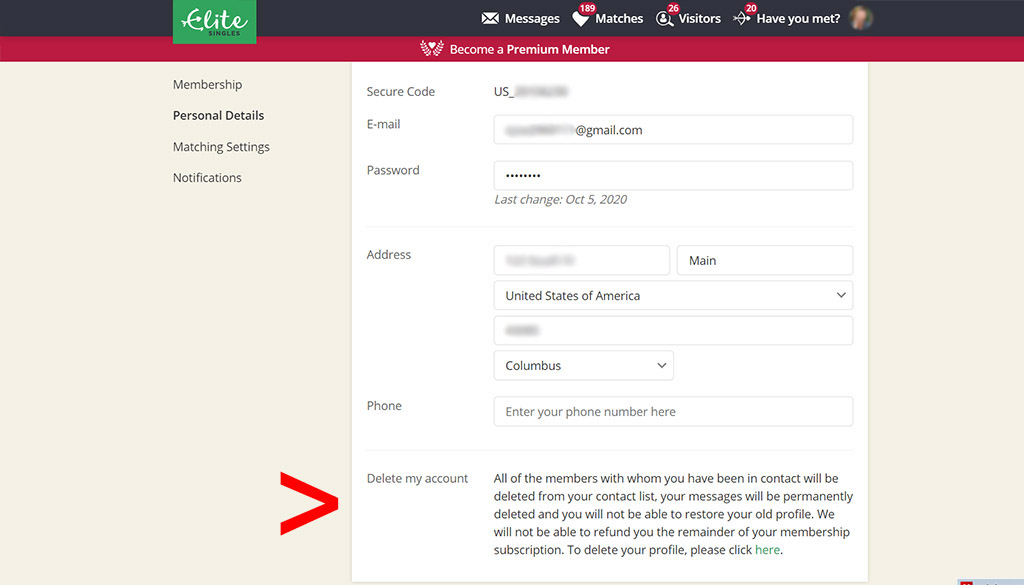 What does a green tick beside someone's profile mean?
A green tick indicates that a user logged onto the Elite Singles in the last 24 hours. It suggests that this user is actively searching for matches or at least replying to messages.
Can I get my money back?
If you made a purchase in error or believe you have been wrongfully charged, you can get your money back by contacting the Elite Singles customer care team. The contact form can be found within the website's "Help" pages.
What does a "smile" mean?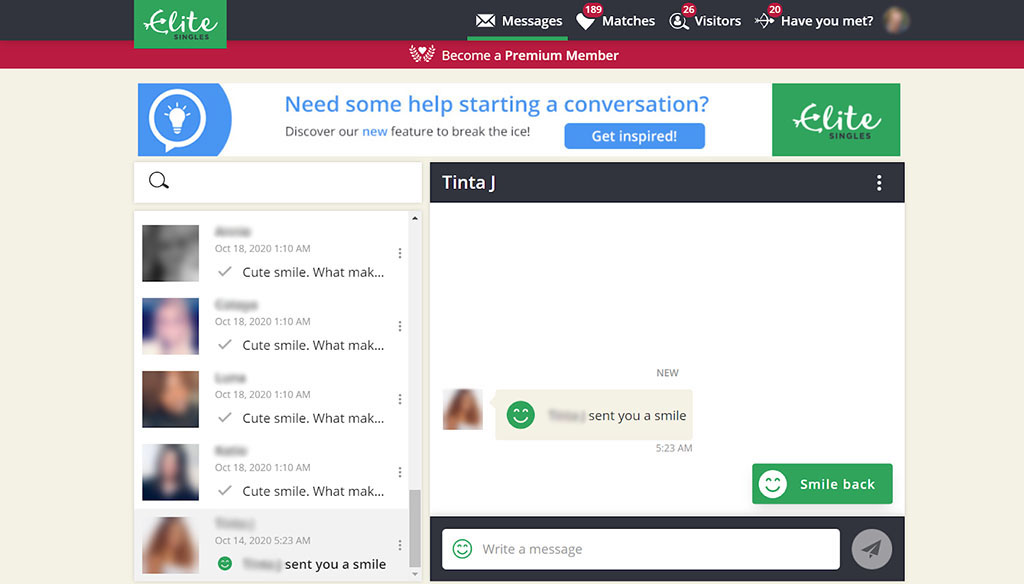 EliteSingles.com gives you the option to send a "smile" to other members instead of writing a message to them. It's the most basic low-effort way to express your interest in someone on Elite Singles, as it arguably is in real life too.
However, just as with real life, you'll need to start a conversation to make something happen, so why not just do that straight away?
Can I delete matches or block someone?
Yes, navigate to their profile and click the "delete match" button near the top. When someone is removed as a match, they are no longer able to communicate with the person who removed them.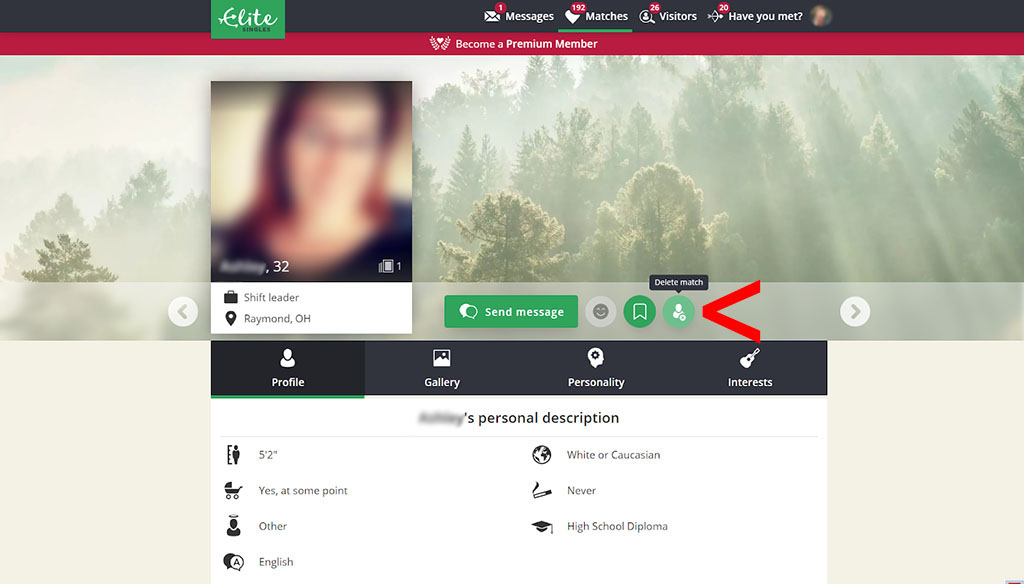 Which is better: Elite Singles or Match?
Honestly, it's tough to say. Both of these websites are aimed at similar demographics – and we experienced great results with both of them. You can take a look at what websites we rate best using our list of the best online dating websites.