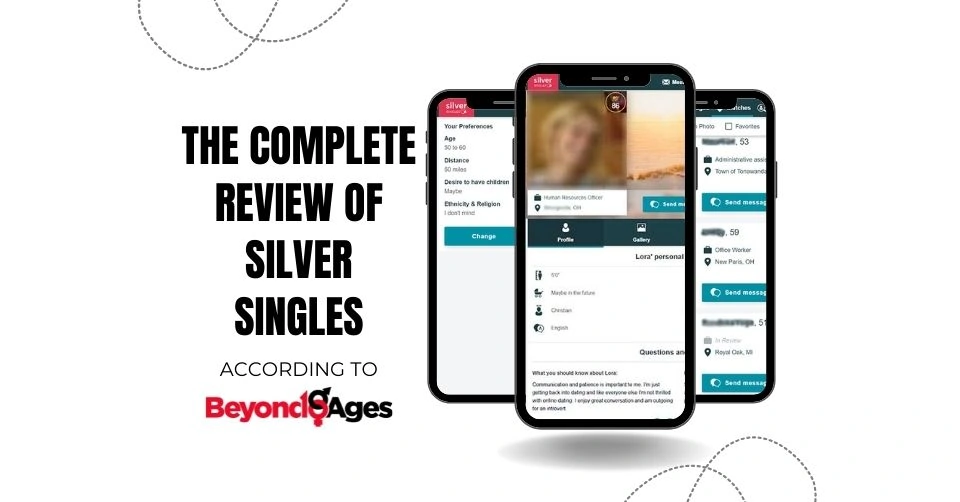 Online dating when you're in your 50s or over can be extremely intimidating. Most dating sites cater to the younger crowd, and those in their 50s end up only having a handful of options. Sometimes they're not even good dating options. Good thing there's been a surge of over-50s dating sites. Among them is Silver Singles, said to be one of the best in the niche. Let's find out for sure in our Silver Singles review.
SilverSingles.com is an online dating website aimed specifically at over-50s. This website uses a unique algorithm to match older men with women who are likely to be the most compatible with them. It does this by making all of its members fill out a lengthy personality questionnaire after they have signed up.
The Silver Singles algorithm then suggests women in your local area whose personalities are likely to match up with yours. Each woman recommended to you is given a compatibility score out of 100, and you'll see that above their picture. Because of this Silver Singles features some of the most detailed online dating profiles I've seen.
However, this in itself doesn't make it a great online dating website. 
In my experience reviewing online dating websites, I have come across too many that look fantastic but don't deliver anywhere near enough beautiful women to talk to. That's why I was so keen to complete this Silver Singles review for you.
Dating is difficult enough for over-50s without having to waste time and money on online dating websites that turn out to be complete scams. For this Silver Singles review, I left no stone unturned. You'll learn exactly what to expect when paying for a SilverSingles.com membership.
You'll discover the best features and biggest flaws of SilverSingles.com. More importantly, you'll get a good impression of the quality of women you can expect to meet on this website.
How I reviewed Silver Singles
I put SilverSingles.com through the intense standardized testing process that allows BeyondAges to make accurate comparisons between various other online dating services.
I used the same generic male profile we use for every review on this website. This includes the same photos, bio and home city (Columbus, Ohio).
After setting up this profile, I sent messages to 50 women that SilverSingles suggested were the most compatible with me. These messages came straight from our archive of approved opening lines that we use for every review.
My review is mostly based on how responsive these women were. How many responded to my messages? How many were willing to exchange contact details with the intention of organizing a date? Was I able to use both the free and paid features to the fullest?
These are the most important metrics for measuring an online dating website, after all…
So, is Silver Singles as super as it looks? Or will I actually be warning you about a Silver Singles scam?
Silver Singles Review: Your Best Shot At Finding Love At Over 50?
If you're not too fussed about a super-detailed investigation of this website, I have written a basic summary of SilverSingles.com below. In this summary, I have rated this website out of 10 for the most important aspects of an online dating website.
To provide some extra context, I added our ratings for eHarmony, the website that we rank as one of the absolute best for fings, relationships and anything in between with older women.
Overall

Our team rates each site objectively based on many hours of independent research, the features each site offers, and how it compares with other sites. The ratings are the opinion of our editors and their extensive experience.

7
9.5
Quality of Women

Our opinion of how attractive the typical woman is that uses this site and how easy they are to connect with compared to other sites.

7
9
Popular

How many people are using this site to actually meet people compared to other sites.

7
10
Usability

How easy is this site to use and how quickly can an average person begin meeting people compared to other sites.

8
10
Privacy & Safety

Does this site take proper precautions to safeguard its members, their identity, and their data.

10
10
Effective

Our opinion of how easily an average person will be able to achieve their dating goals with this site compared to other sites.

7
9
Value

Will the time and money spent using this site pay off for an average person based on the opinions and experience of our editors.

7
10
Our Recommendation
Yes, it's true. We found this website to be a great resource for meeting women. However, most of the attention I received wasn't from the type of woman I was expecting. You'll find out more in my detailed account of testing out SilverSingles.com below.
Let's start with the most important aspects of Silver Singles that you need to know about.
The personality test is very comprehensive
The personality test took me around 20 minutes to complete. There are 115 questions in total.  The questions range from basic details about yourself…
…to more complex questions about your personality
…and even some picture questions.
Once you've completed the personality test, you'll be prompted to pay for a membership. There is no free edition of this website.
You can be extremely picky when searching for your ideal partner
As if the personality test wasn't enough, you are also offered a huge range of filters to help Silver Singles match you with women most suited to your tastes. You can toggle your desired age, proximity to you, ethnicity and religion. On top of that, you can state how important it is that your matches have your desired height, income, drinking habits and smoking habits.
Once you do this, the website begins to deliver matches to you based on what you've asked for. It would appear to stagger these, so don't expect to be overwhelmed with matches within the first day of membership.
There is also a "Have You Met?" option in the main navigation, where women who don't quite meet your criteria will be suggested. If you wish, you can choose to send these women a "smile," which will enable you to start messaging them, as if they were a match. However, you shouldn't expect to see an abundance of options here either. There's also no way to manually search for women in your area.
There weren't many older women on this website, but there are loads of younger women
More than a third of Silver Singles members are aged over 50. By default, Silver Singles sets your preferences so you're only seeking women aged 50 and above.
But it wasn't delivering many matches. In fact, I only received seven matches in my first week on the app, and only three of them had photos. So, I widened my search parameters to match me with women aged 18-60.
That's when the matches started flooding in. Crazily enough, the majority of users on Silver Singles are under 40 years old.
My hunch is that these women probably signed up to a sister site of Silver Singles that allowed their profiles to show up on this website too. Not that it matters. The most important thing was that a lot of the women were keen to talk to me.
The women of Silver Singles were very responsive
Out of the 50 matches I sent messages to, I received 7 replies. Most of the conversations flowed for a while, and I managed to get one woman to swap contact details with me.
While this isn't the best response rate I've ever recorded, it's surely enough to suggest that you could land a few dates on this website. Most of the women I matched with this on the website were reasonably attractive as well.
I would still recommend using eHarmony over Silver Singles
As much as I enjoyed using Silver Singles, you'll probably notice that eHarmony outranks it for every comparable aspect in our summary above. We ranked Cougar Life as one of the best dating websites on the internet, and for good reason.
The truth is: everything Silver Singles does well, eHarmony does even better.
If you're looking to meet older women, there is no better website. eHarmony has been connecting men with older women for years! And by older women, we mean women over 35 who are looking for men of different ages, not just younger men as the "cougar" label often implies. So whether you're a young man looking to meet a hot older woman or a guy who wants to meet a woman your age, eHarmony can help you out!
Most women on this website are also happy to meet and get down to business. And you won't struggle to find a suitable match either. eHarmony has a huge active user base and features all the search filters you could possibly need to find your perfect match. If you're that eager to meet up, you'll even receive a notification that a cougar has checked out your profile!
It is currently running a trial offer too. So, there really is no reason not to check it out for yourself. If you do, you could be hooking up with an amazing woman today!
Pros and cons of using Silver Singles
Here are the main advantages and disadvantages of using this site.
Plenty of awesome and attractive women
A unique and complex algorithm pairs you with most compatible matches
Extensive profiles and search filters
No free version
Not as many older women as advertised
There is no way to manually search for women in your area
Silver Singles profiles are as detailed as it gets
Silver Singles uses the answers to your personality questionnaire to fill out your profile – and there are plenty of prompts if you want to add more.
You can even dive deep into their answers to the personality test, which can reveal more about who they are.
If you are struggling to attract matches, you can arrange an appointment with one of Silver Singles' online dating experts, who will give you tips on how to improve your profile. This costs $99.
To contact a dating expert, click on your profile picture in the top right corner of the screen and navigate to the "Coaches" option.
SilverSingles.com has an intuitive design
Despite the complexity of its algorithm and your search filters, the website is really easy to get the hang of.
Visitors. Who has visited your profile.
Have You Met? A selection of women who you didn't quite match with.
The highlights of all these pages are presented nicely on the main dashboard.
SilverSingles gives you a helping hand with messaging
You can send unlimited messages to your matches – and the website will even suggest you a list of "Icebreakers" if you're stuck for something to say. You can also send "smiles" if you're lost for words.
How much does a premium membership cost?
You are given three choices of premium membership.
These are:
Premium Light. $37.95 per month for three months ($113.85 total)
Premium Classic. $21.95 per month for six months ($131.70 total)
Premium Comfort. $19.95 per month for twelve months ($239.40 total)
The "Classic" and "Comfort" memberships afford you a few extra features, including the ability to view all member photos and receive read receipts on your messages.
Silver Singles Review: Frequently Asked Questions
This FAQ section will help you find some quick and easy answers that might help you decide if SilverSingles is right for you.
What is Silver Singles?
Silver Singles is a dating app aimed at helping older singles find love. It has a fairly active userbase, which is always a positive for any site.
Who actually owns SilverSingles?
SilverSingles is owned by Spark Networks Services GmbH.
How can I contact SilverSingles.com?
You can use the SilverSingles.com contact form (https://support.silversingles.com/hc/en-us/requests/new) or call their toll-free helpline at (001) 800 942 5989.
Is Silver Singles real?
Yes, Silver Singles is a real app with real users. As of writing, however, the site seems to be down. Thankfully, the app is still functional.
Is SilverSingles legit?
For sure. SilverSingles is not a perfect online dating service, but its membership is active enough. You should be able to arrange a date with a nice woman using this website.
Is SilverSingles.com a scam or fake?
There were no signs of a Silver Singles scam throughout this whole testing process. The app delivers everything it promises – and there were no encounters with scammy profiles either.
Is Silver Singles safe?
Yes, Silver Singles is perfectly safe.
What are SilverSingles alternatives?
For a full list of our favorite online dating websites, see this guide on the best hookup apps and websites. If SilverSingles doesn't work out, you can always find other options here.
How does SilverSingles.com work?
Upon registering to SilverSingles.com, you'll need to answer a personality test. This will help the site find ideal matches for you.
Is there a Silver Singles app?
Yes, Silver Singles has an app on Android and iOS.
How much does SilverSingles cost?
You are given three choices of premium membership.
These are:
Premium Light. $37.95 per month for three months ($113.85 total)
Premium Classic. $21.95 per month for six months ($131.70 total)
Premium Comfort. $19.95 per month for twelve months ($239.40 total)
How can you use SilverSingles.com for free?
You can't really do much with a free SilverSingles.com account. You need a paid account to read and send messages.
Can you send messages for free on Silver Singles?
No, you need a paid Silver Singles account to send messages.
How do you cancel your SilverSingles account?
Once logged in, go to "My Account" on the menu and tap "Membership". Then select the "Cancel" option, enter your password and tap "Confirm".