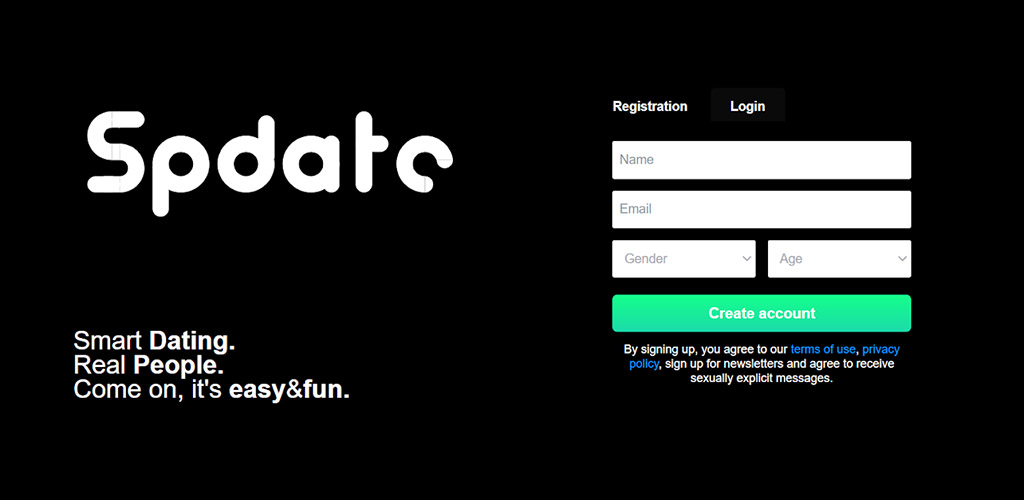 Online dating these days is the norm and personally, I think that's great. What I'm not such a big fan of is the fact that most dating websites out there are a big waste of time. Designed to fool you into giving out your credit card info only to find there are no real users. In today's Spdate review, I'll be covering exactly what I found on this site and how much time you should be putting into a site like this.
Dating site reviews have become a large percentage of what I do these days and I actually enjoy it. I put in the time to test these sites thoroughly so that you don't have to. If I can save even one person from scammers, it's worth all the effort.
How we reviewed Spdate
To review these dating sites equally, there's a standard process that I'll aim to run through each time. While some sites are so bad that I can't complete all the steps, I'll do as much as is practical.
All of this is designed to give me the complete picture of what the site is like to actually use. Both as a free and a paid user. The more I understand the site, the more helpful this review is, right?
So, I'll always start out with a free, blank account. No profile photo, only the mandatory parts of my bio filled out, and I just leave it for a day or two. A scam site is going to bombard me with inbox messages straight away so this is a great first test. After that, I'll populate my bio and add a photo. From this point, I'm setting up a legit profile and seeing how many dates I can set up with real women.
After a week or two of this, it's time to upgrade to a premium membership to see what changes. Dating sites always have a list of perks you can unlock with a premium membership — are they worth it? That's what I want to find out.
It's all good and well to get new features added. But I want to know if they're actually helpful to the average user. Once this is all said and done, I can give you a proper insight into what it's like to use that particular dating site. In the case of Spdate, the results were more comical than helpful. Let's move on to what I found.
Just How Bad Is Spdate, Anyway?
Let's start by looking at a comparison between SPdate and Adult Friend Finder. Since AFF is regarded as the best hookup website available, it works as a good baseline to give us some perspective.
Overall

Our team rates each site objectively based on many hours of independent research, the features each site offers, and how it compares with other sites. The ratings are the opinion of our editors and their extensive experience.

4
9.5
Quality of Women

Our opinion of how attractive the typical woman is that uses this site and how easy they are to connect with compared to other sites.

3
9
Popular

How many people are using this site to actually meet people compared to other sites.

5
9
Usability

How easy is this site to use and how quickly can an average person begin meeting people compared to other sites.

4
10
Privacy & Safety

Does this site take proper precautions to safeguard its members, their identity, and their data.

7
10
Effective

Our opinion of how easily an average person will be able to achieve their dating goals with this site compared to other sites.

3
9
Value

Will the time and money spent using this site pay off for an average person based on the opinions and experience of our editors.

3
10
Our Recommendation
As you can see, Spdate.com lacked in literally every aspect of a website. Pure garbage from the moment I signed in and it didn't get any better from there.
Spdate is free to use . . . and that's the only good thing about it
If there's one thing that might draw you to this site, it might be the fact that it's free to use. That's great and all, but in this case, it's a matter of "you get what you paid for." You can explore the site for days on end and chat with hundreds of "women." But what you'll soon find is that none of them are real people. They don't even respond like humans.
The site just bombards you with ads full of NSFW photos that are very likely not from users, as you'll see in our review of the site's Terms and Conditions. And if you do deign to have a conversation with any of the women on the site, this is what you'll get: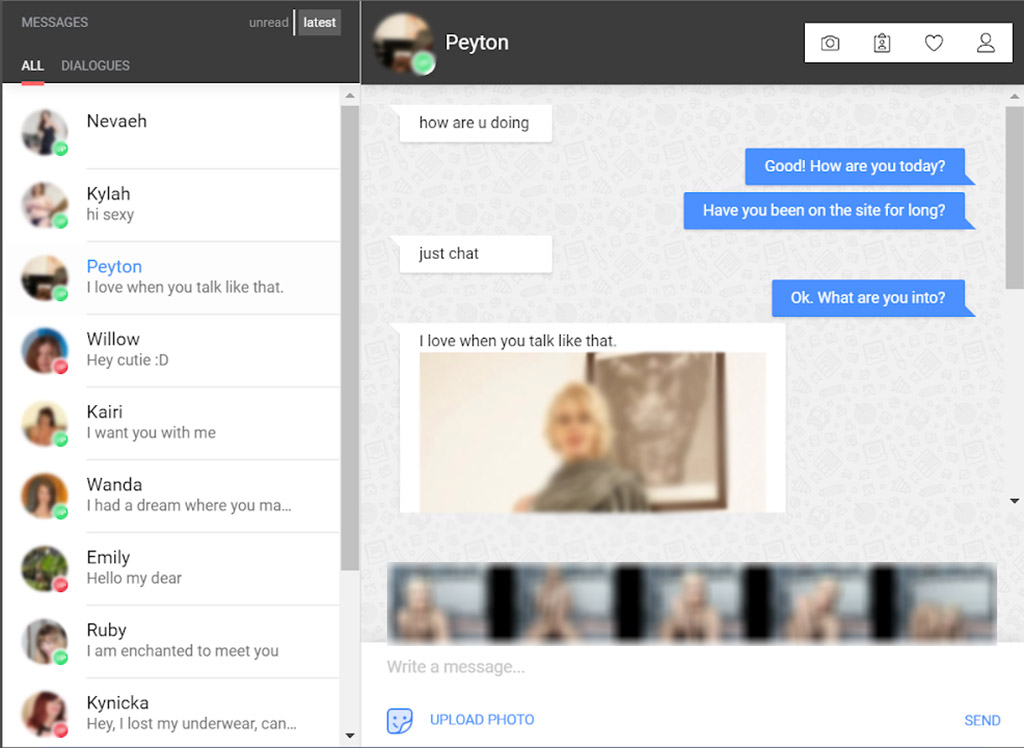 We have more examples of this below, and they're worth checking out if you want a good laugh.
A day on Adult FriendFinder will give you more real conversations than eternity on this site
If you want to get familiar with what a bad dating site looks like, I've just listed down some of the top red flags. Otherwise though, save yourself the time and go use Adult Friend Finder. They have over 60 million real users (compared to SPdate's 0) and their reputation is great.
Having used Adult FriendFinder's free trial and paid option myself, I can personally attest to the user base and just how easy it is to get a date on there. The women are real, they're responsive and you don't need to fiddle with a low-quality, ad-infested site just to get a date.
Pros and cons
Let's take a look at the positives and negatives of the site.
Obviously fake
No paid account option
Fake profiles
Likely stolen profile photos
Constant redirects to other fake sites
Constant bot spam in your inbox
No real users spotted on the site
Let's start with their Terms
I like to start by reading the terms of a dating site when preparing for a review. In the case of fake dating sites, it's always amusing to see what they put in there. As though 3,000 words of legal jargon makes their deceptive and misleading conduct any more legal.
As usual with a fake dating site, I found several gems buried among their long-winded ramblings:
They openly use bots to impersonate members
Literally the first line of their terms was an immediate red flag. Essentially, they admit to using bots on their site to "… Expand the number of actual activity of the web-site" [sic].
In other words, there are no real users so they reserve the right to pretend there are.

Further down, they also reiterate this fact and even show you how to tell the difference between a fake and a real user. Unfortunately though, they're all fake so these badges mean nothing.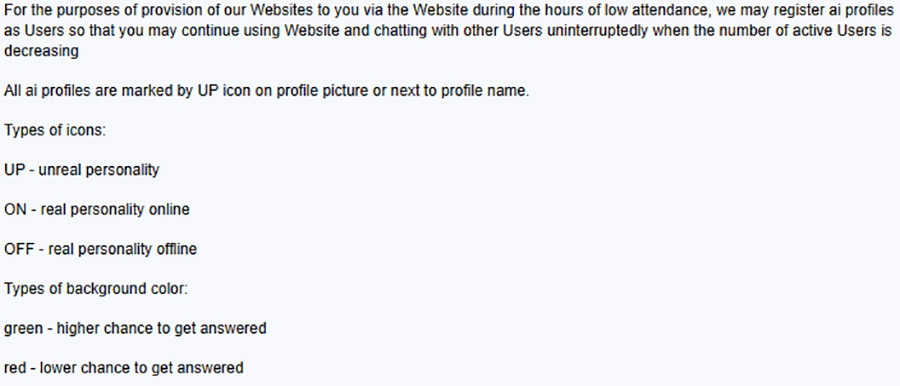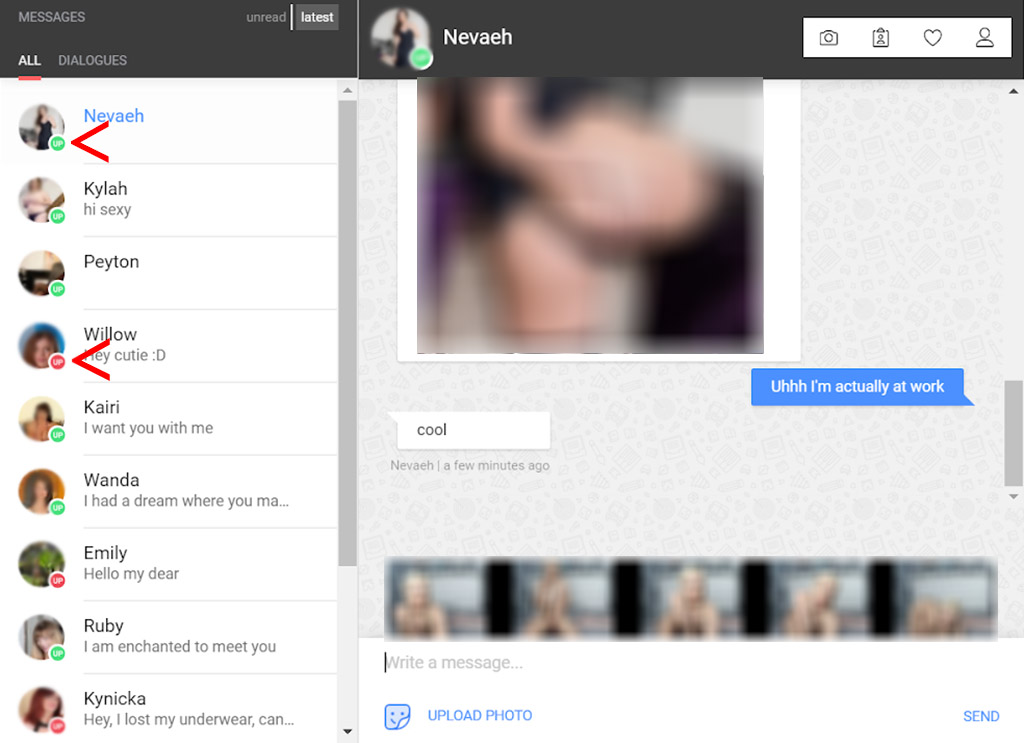 I love how they phrase it like they're doing you a favor. That they're spamming you with bots so you can "continue using Website and chatting with other Users uninterruptedly…" [sic].
I'm not quite sure how chatting to a bot helps me continue finding real dates. That's what I get for trying to apply logic to this nonsense, I suppose.
Want to see what I  mean about these badges being fake? Here's what happened moments after I added a photo to my profile.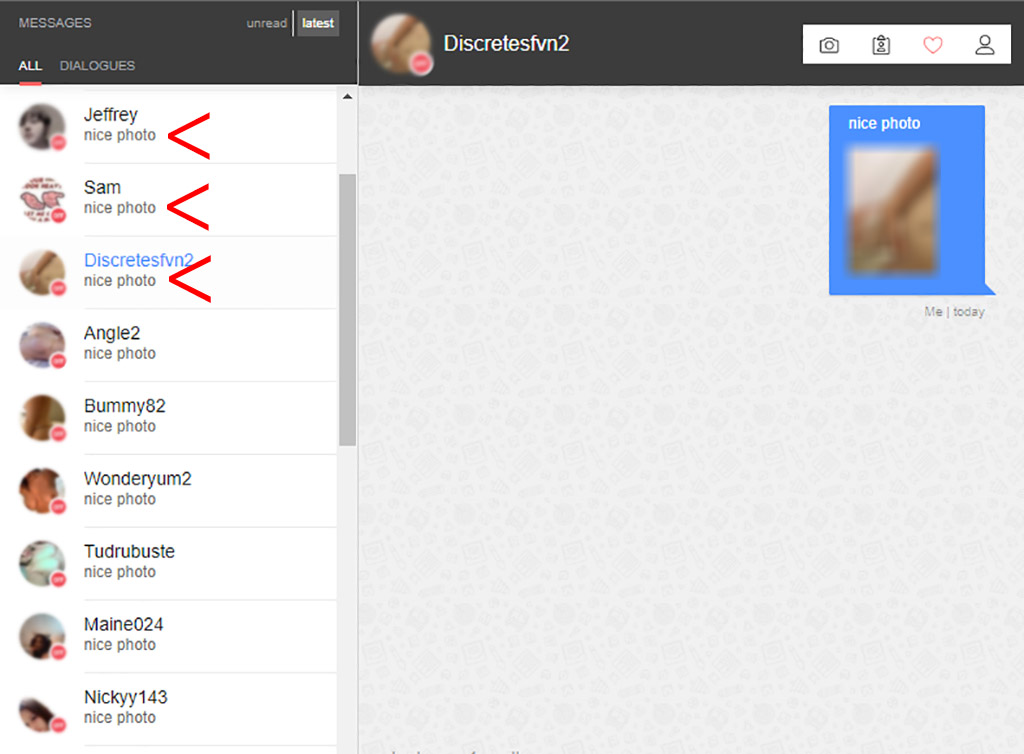 Every single one of the members down the left-hand side has an "OFF" badge. According to the site's Terms, that means they're a real user who is offline. All up there were 23 "users" that were marked as "OFF" that sent me exactly the same message.
In all but two cases, they sent it to me along with a nude photo. Almost like they're fake or something. Crazy, huh?
Waiving your right to the court system
Dodgy as this site clearly is, they try to keep themselves safe by saying you waive your right to the entire legal system. That "Arbitration is mandatory and is the exclusive remedy for any and all disputes…".

Imagine if it were that easy to remove someone's right to the legal system?
They can use and modify anything you submit
Legal jargon is often complex but this section really goes out of its way to be convoluted. What this entire section ultimately says is that by creating an account and submitting photos and video, you allow them to use those materials however they see fit.
They can "… Use, copy, perform, display, reproduce, adapt, modify and distribute…" your material however they like.

A very common thing to find in a fake dating website's Terms.
Let's talk about the user experience
Once I was done reading their creative writing experiment, I moved on to using the actual website. I can tell you, things didn't get any better from there. In fact, the first 30 seconds of using Spdate were some of the most frustrating I've encountered yet. I was hit with several pop-ups like this one, back to back as soon as I signed in: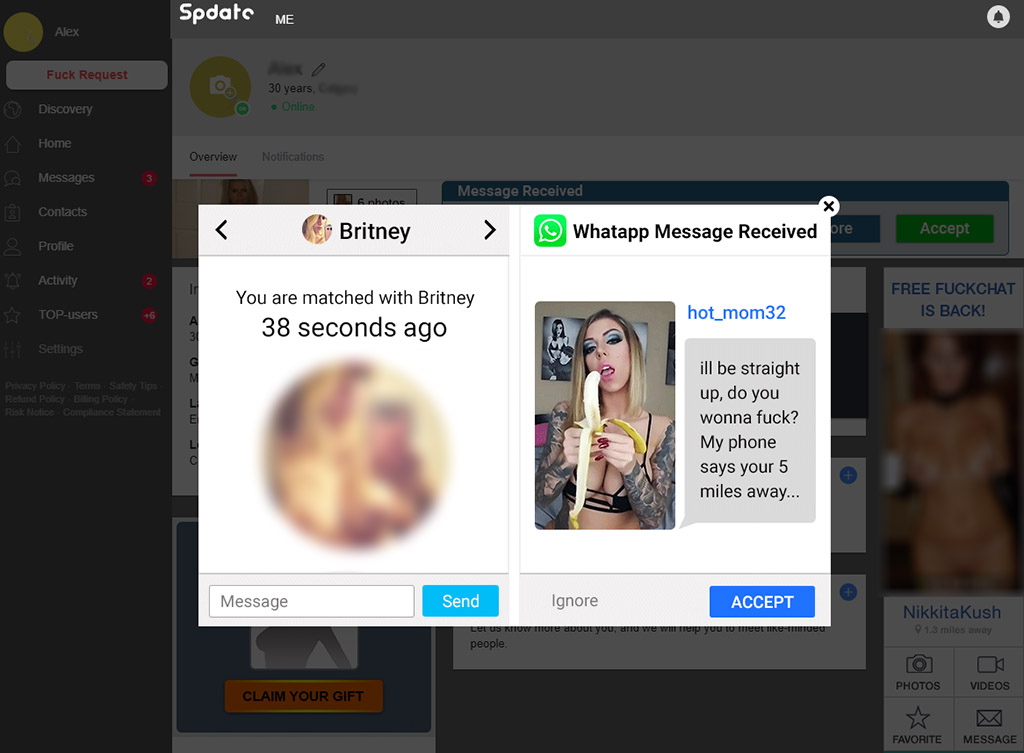 Even though they style it to appear as though you can message people from there, it's a trick. Click literally anywhere on that popup besides the "X" in the corner and you'll be taken to another fake site.
It was much the same with the second popup that I was lucky enough to be presented with. No matter where you click on that window, you're taken to another fake site.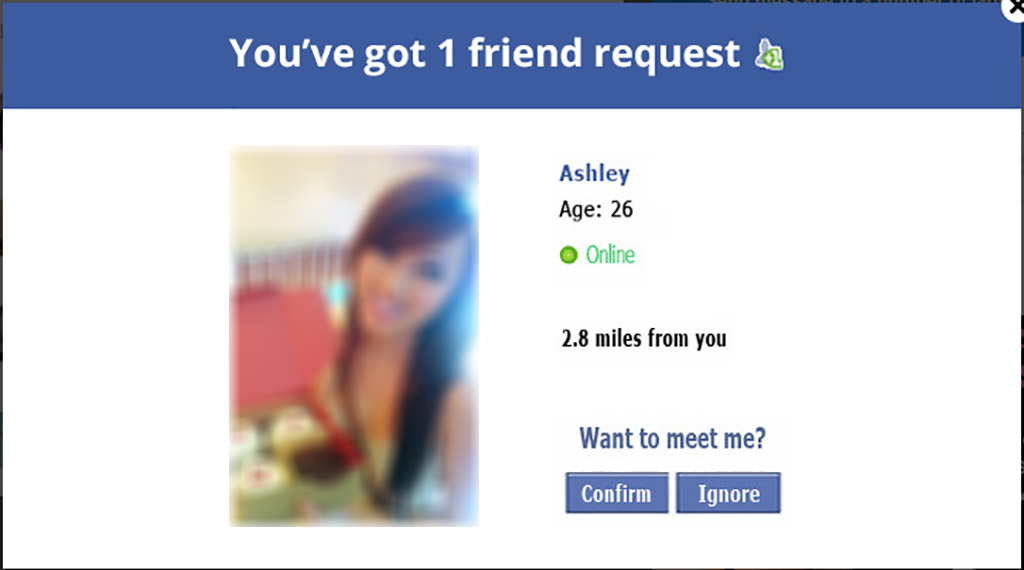 I can only assume they get paid for referral traffic because they work hard to fool you into clicking other deceptive links. Another example you can see in the first screenshot above is the "Are you over 18?" question in a chat message. Made to look as though you have to click "Yes" to verify, if you do, you're taken to a fake dating site. Ugh.
Immediately hit with messages in my inbox
Once I closed the pop-ups, I noticed I immediately had five messages from "women". My profile had existed for all of about 20 seconds at this point, had no information about me and no photo. If that alone doesn't scream "fake dating website", I don't know what does.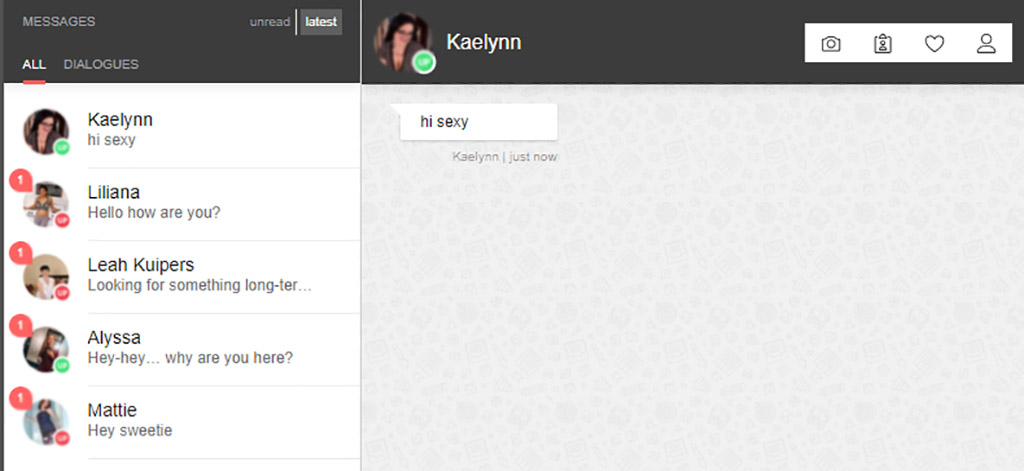 After 24 hours, I'd accumulated 41 conversations in my inbox. Not a single one of them showing any sign they're a real user.
Amusingly fake bot conversations
Since I'm such a stud that women were instantly clambering to talk to me, I figured I'd be gracious. I'd respond and brighten their day with some idle conversation. The results were just as ridiculous as I had anticipated. Check out the engaged conversation I had with my good friend "Mattie" below: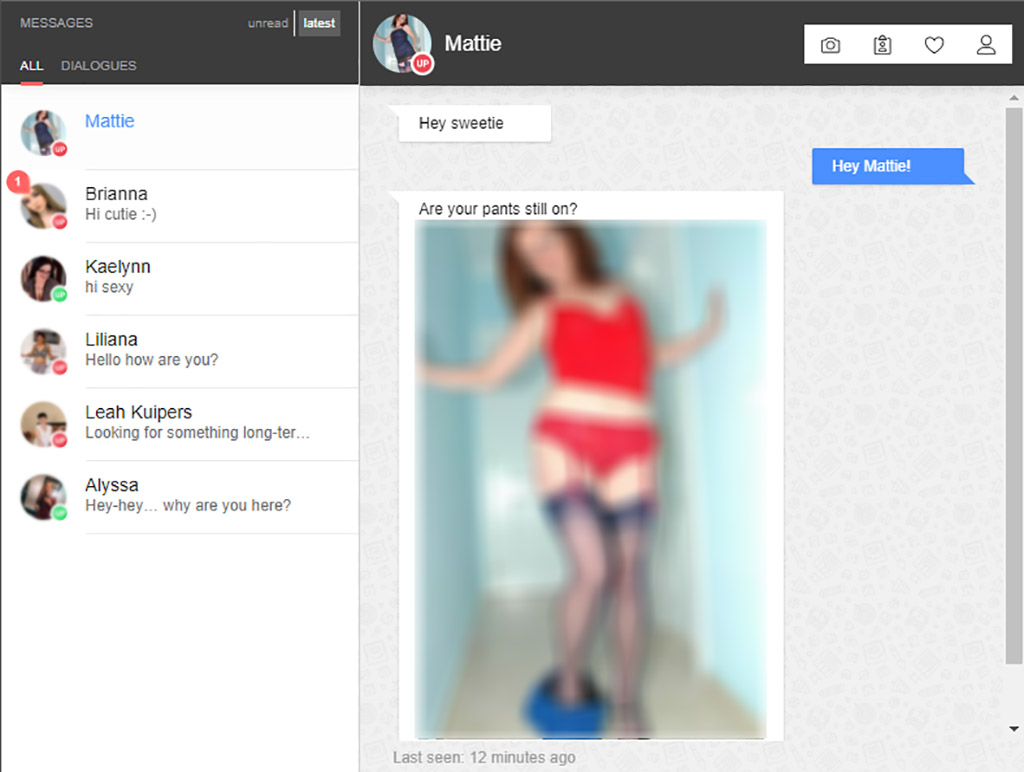 That escalated quickly but can you blame her though? My blank profile is just too hot to handle. Just to make sure the dashing good looks are what she was into, I asked her for specifics: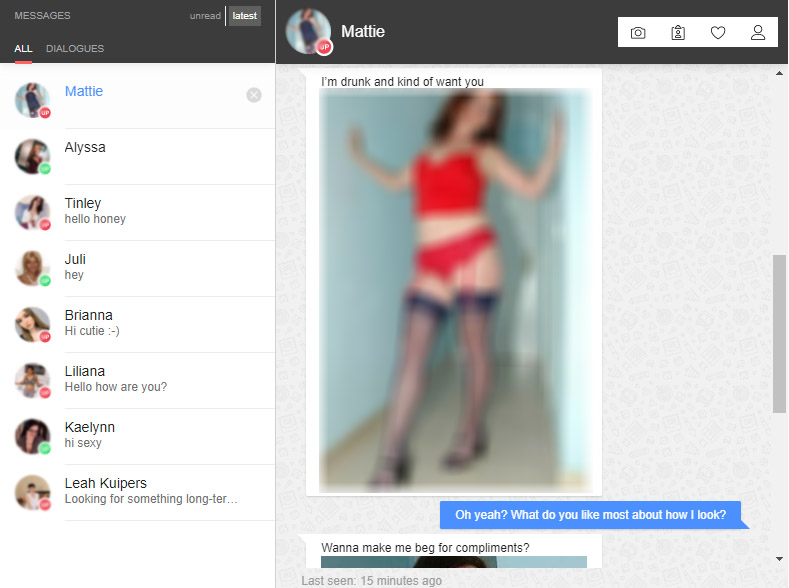 Maybe reading comprehension isn't Mattie's strong suit. I like to communicate openly in all areas of dating so I figured I'd tell her I just didn't feel heard: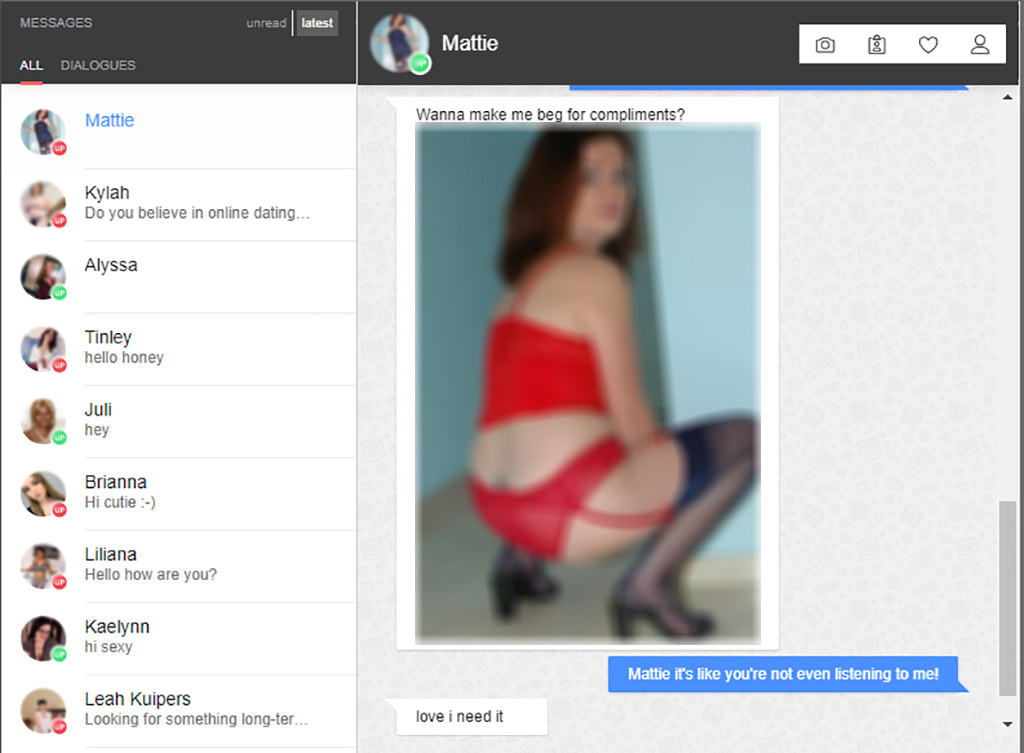 Honestly, I didn't really feel as though Mattie was being sensitive to my needs so I moved on. It has to be said though, this was an engaging conversation.
Since Mattie and I didn't connect, I figured I'd try another of my love-struck matches. Alyssa really knew how to turn things up to 11.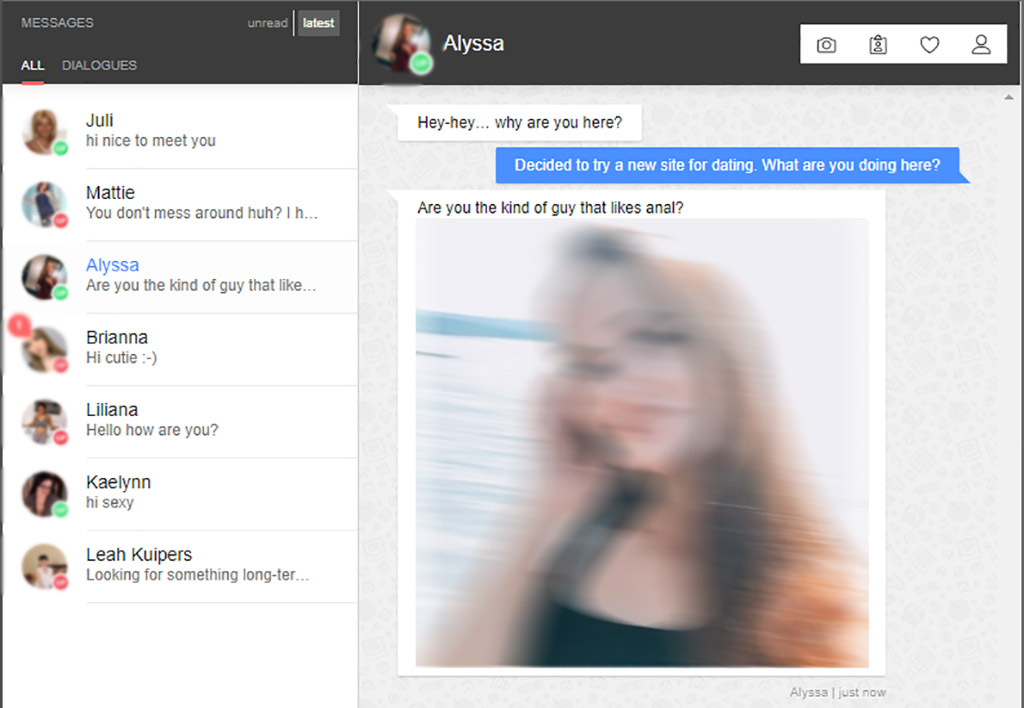 I'll spare you the rest of the conversation but let's just say, Alyssa wasn't really listening to me either. Although she did have an impressive collection of nudes she was eager to share.
Things brings me to my next point. . .
Photos appear to be stolen
A surprise to nobody, it seems the photos being used in their profiles and messages are stolen from elsewhere. A quick reverse image search for a few examples all showed these same pics elsewhere online: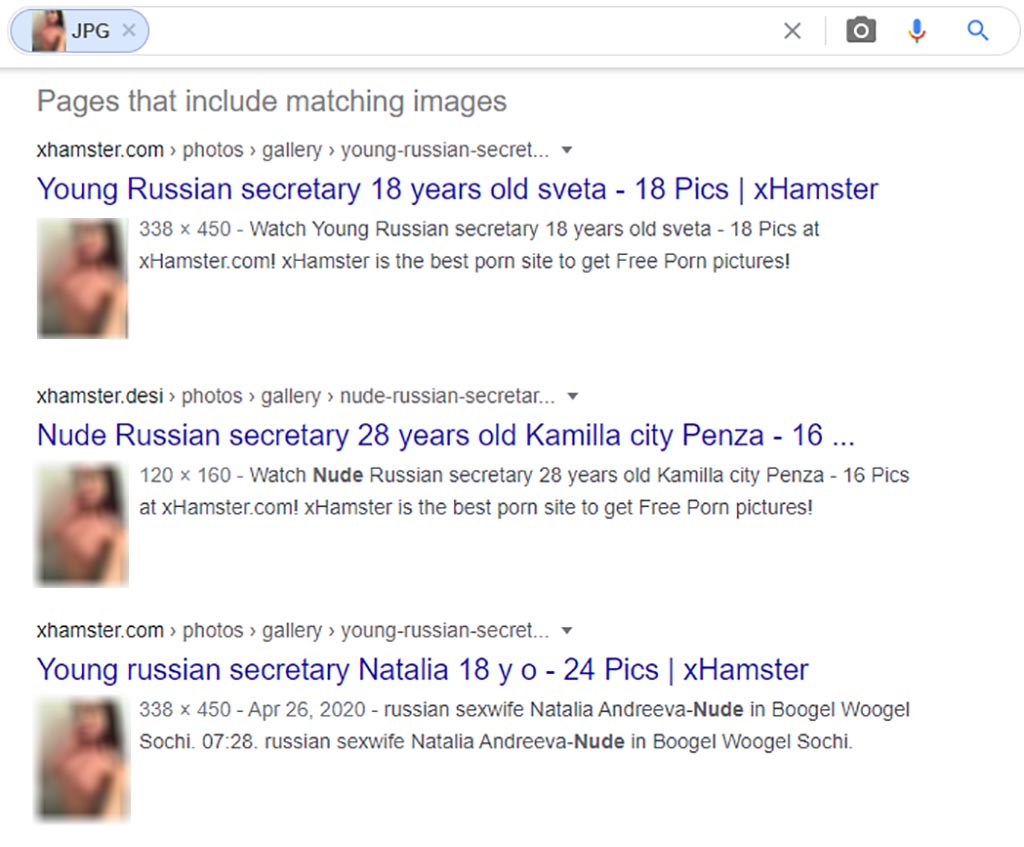 After doing a reverse image search of a photo Alyssa sent me, I saw these results. As it turns out, "Alyssa" is also 18-year-old Russian secretary "Natalia". Heartbroken — I thought we really shared something special.
Ever the professional, I continued with my search for a real user on this site. Alyssa/Natalia didn't deserve me anyway.
Ads for days
Another hallmark of a fake dating website is an abundance of ads. Real websites like Adult Friend Finder and eHarmony make their money through repeat membership. Since those sites are real and people actually enjoy them, they keep paying.
Fake sites, on the other hand, don't have that benefit. If they can fool a member into paying for a month's subscription, it's unlikely they can squeeze a second month. Instead, they rely on ad revenue and dodgy schemes.
In the case of Spdate.com, this is what you see in most areas of the site. In this particular screenshot, I scrolled down in a user's profile and saw this.
That's four different ads, all pointing to different, equally terrible dating sites. Meanwhile, there are just two sections here that are actually related to the user's profile.
Interestingly enough, this ad revenue and the referral traffic they send out seems to be their source of income. I can't seem to find any premium option to sign up for. Even though it mentions refunds and payment options in the Terms, I couldn't pay them even if I wanted to!
Frequently Asked Questions about Spdate
More often than not, people will arrive on a review like this one with some questions. Below are the most frequently asked questions we come across to make sure they're covered too. As always, if you have a question that hasn't been answered here, leave a comment below and I'll be happy to answer it!
What is Spdate.com?
Spdate is another fake dating website. The difference between this and many others like it is this site seems to rely on ad revenue and sending referral traffic. From what I can see, there's no paid option on this website, though it's packed with ads and misleading links.
How do you log into Spdate?
All you need to sign up is an email address. With that, you can create an account which you'll use to log in on future visits. Keep in mind that you can use literally any made up email address to create an account.
What are Spdate alternatives?
Rather than wasting your time on a site like this one, take a look at our review of the best dating apps and websites. You'll find at least a couple of options in here that work for you, no matter what you're looking for.
How do you use Spdate.com for free?
From what I can see, the entire website is free to use. All you need is to sign up for a free account and you're good to go. Just be warned there are no actual users. You're just talking to bots and earning the site ad revenue.
How do you delete your Spdate account?
To delete your profile, just follow these steps
Click Settings on the left side of your screen
Click Delete Profile at the top right
Click Remove

How much does Spdate.com cost?
Zero! There are no paid options that I can see anywhere on the site. Of course, you get what you pay for though since zero is also the number of real users you'll come across.
Is Spdate.com legit?
Sure isn't! I didn't come across a single real user on this website. While they claim to have an active user base, even their Terms say they use AI to make the site feel busy. If that's not enough to to turn you away, the constant pop-ups, spam ads and bot conversations will be.
How do you send messages on Spdate.com?
Sending messages is very easy. When you see someone you want to reach out to, click their profile picture. You'll be taken straight to the "Messages" window where you can chat directly to that bot.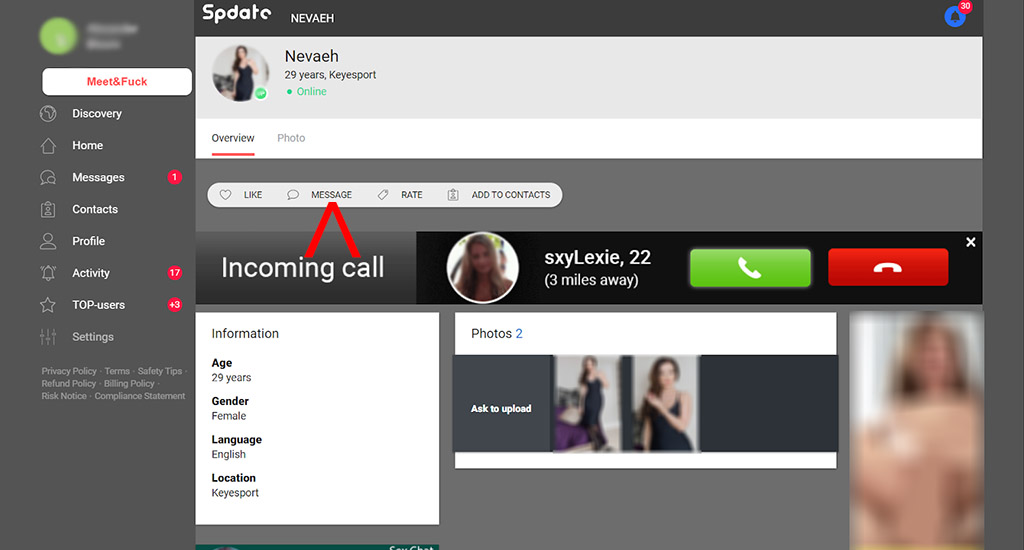 How do you search on Spdate.com?
Finding an AI profile to chat with is very easy, though there are no true "search" functions on the site. Instead, click "Discover" on the left panel and click either the "X" or the heart icon to like or dislike each profile. You can also click Home or Top Users to see different lists of fake profiles.