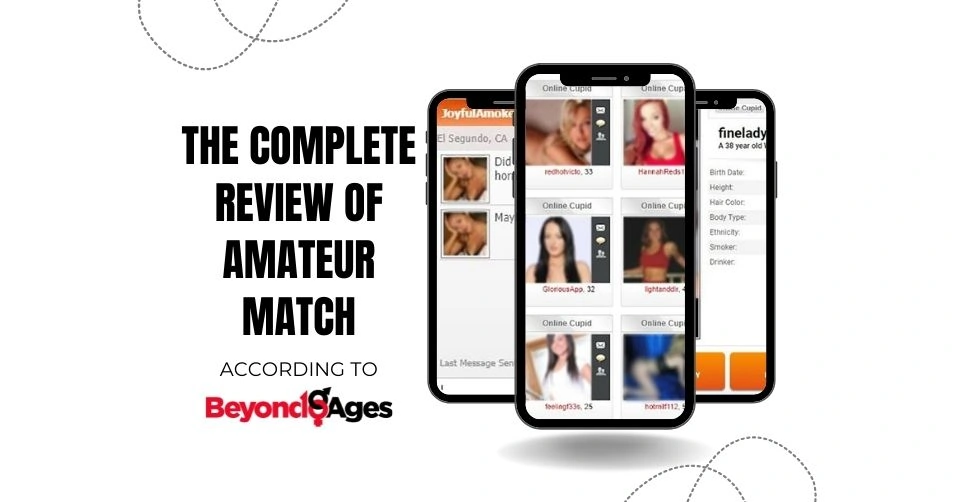 This AmateurMatch review will reveal whether this website can legitimately allow you to explore your sexual fantasies with gorgeous women online. We spent a LOT of time actually using it and gave it a fair shot to work.
That's the promise this website makes, but we know there are a lot of hookup websites that don't live up to their promises. Many of them are scam businesses that lure guys in with an impressive-looking free account,  only to criminally underdeliver once they splash out on a paid membership.
That's why I like to provide these detailed reviews of the lesser-known hookup websites for you. The last thing I want is for you to waste your money on a scam hookup website. Finding a good site to use is jut too important these days. Thanks to the ongoing social distancing it's extremely tough to meet other singles in public right now.
You really need to find a good app or two to use and that's where we can help!
With that said, let's take a look at Amateurmatch.com. Can you really expect to chat and meet up with tons of horny babes, or will I be unraveling an Amateur Match scam?
Let's dive in and find out.
How we reviewed AmateurMatch.com
At Beyond Ages, we have a standardized process to test whether online dating services are legitimate.
Initially, we set up a free account with a blank profile and no pictures. If our blank profile is flooded with messages from hot women, it's safe to assume there's something fishy going on. Most likely, it means the website is overrun with bots or scammers. After all, what legitimate hottie throws herself at a completely anonymous stranger?
If our blank profile receives little to no interest, we go ahead and fill out our profile, using the same photos and description each time. From there, we go on to check which features of the website are available for free, and what you get with a paid subscription. 
Then, we go ahead and pay for a premium membership and test how easy it is to swap contact details with women and potentially arrange a meetup. This is all done with a standardized set of opening lines to ensure our reviews are unbiased.
We try to give every site and app we try a fair shot and avoid any bias we might have going in.
Our Complete Amateur Match Review
For those of you who don't care to dive deep into the inner workings of AmateurMatch.com, here is a basic summary of the website.
We rate each of the aspects we believe to be the most important when online dating. For context, we have compared it to AFF and it's free trial, which we've seen become the best hookup over the past few years, especially for regular guys. It makes for a very good quick comparison:
Overall

Our team rates each site objectively based on many hours of independent research, the features each site offers, and how it compares with other sites. The ratings are the opinion of our editors and their extensive experience.

2
9.5
Quality of Women

Our opinion of how attractive the typical woman is that uses this site and how easy they are to connect with compared to other sites.

3
9
Popular

How many people are using this site to actually meet people compared to other sites.

3
9
Usability

How easy is this site to use and how quickly can an average person begin meeting people compared to other sites.

7
10
Privacy & Safety

Does this site take proper precautions to safeguard its members, their identity, and their data.

10
10
Effective

Our opinion of how easily an average person will be able to achieve their dating goals with this site compared to other sites.

2
9
Value

Will the time and money spent using this site pay off for an average person based on the opinions and experience of our editors.

2
10
Our Recommendation
Due to my experience using and testing dozens of different sites and apps, I can confidently warn you to stay away from a paid Amateur Match account if you're hoping to actually meet a woman online. There are much better sites and apps for finding casual flings, especially compared to AFF.
Within a few minutes of signing up to AmateurMatch, I received a series of direct messages and buddy requests despite having a completely blank account.
Here are examples of the various messages that popped up moments after I created an account:
Just to make it clear, my profile was blank at this point. There were several more similar messages in my inbox too.
This makes it clear that there's something fishy going on. 
New members are given 125 credits with a free account, but it costs 25 credits each time you want to send an instant message (IM). That means you'll get to send five IMs in total with a free account.
After that, you have to sign up for a paid account to message or reply to anyone. You'll also have to pay to accept buddy requests or view live webcam streams.
AmateurMatch would appear to have reasonably hot women, but there's no guarantee they're real
The women in the profiles I browsed appear reasonably attractive. But judging by the messages I received, there's no guarantee any of them are real.
The grammar, style and forwardness of all the messages is a giveaway. A bot sent them.
AmateurMatch seems to be heavily centred around live webcam streaming
If you really love watching women perform on a webcam, you might actually enjoy a paid Amateur Match membership. You'll need one for a worthwhile viewing experience, for sure.
Without a paid membership, you'll only be able to view each stream for a few seconds and you won't be able to chat live. If you become a paid member, you'll be able to watch and chat with as many cam girls as you like.
This is arguably the best feature of the entire website, although it appears to be provided by a third-party service, Camverse. There are hundreds of cam girls online at any time.
AmateurMatch has a "guarantee" that you'll hook up after three months
If you don't hook up in your first three months on Amateur Match, you'll get your next three months of membership for free.
That sounds good on paper, but I'm confused about how they'd even begin to track this.
It sounds like nothing more than a shady marketing trick to convince you into buying a more expensive three-month package over a one-month deal.
AmateurMatch canceled our paid account
Despite our suspicions about AmateurMatch offering a low-quality paid subscription, we bought one just to make sure.
However, soon after charging our credit card, it canceled our account. We received no notification until we contacted customer service, and even then we were offered no explanation. They didn't issue a refund either.
This is common with several other low-quality online hook-up websites.
Why bother with AmateurMatch if you can use AFF instead?
AmateurMatch attempts to hook you in with a free account, only to give you minimal access to its services. You can view webcams for a few seconds and send a grand total of five messages! On top of that, this is meant to entice you to shell out money for a paid account only to mysteriously cancel your account the minute you give out your credit card details.
As mentioned above, there is no intelligent reason to spend your money with Amateur Match instead of a highly-regarded hookup website like AFF.
Not only does AFF have a huge user base across the globe, but a huge percentage of the women on this website are actually keen to meet up and get down to business. Instead of wasting time messaging bots and jerking off over a woman's webcam videos, you could be messaging real women in your area who are looking to hook up.
To sweeten the deal even further, AFF is even offering a free trial. It really is a no-brainer. What have you got to lose?
Pros and cons of Amateur Match
Every site we try out has its own set of pros and cons. However, in the case of AmateurMatch, we had to look really hard for some serious pros.
User-friendly interface
Hundreds of webcam services available for paid users
If you don't hook up in the first three months, you get three months free (questionable mechanics)
Extremely limited free account
You can expect to be spammed by bots
You almost definitely won't hook up in the first three months or the first six months, as there is no sign of any real women on this website
They'll take your credit card details and cancel your account without explanation
Amateur Match profiles, pictures and members
Once you create an AmateurMatch account, you'll be asked to write a minimum of 20 words about yourself and another 20 about who you're looking for.
You can upload multiple photos to your profile if you wish. Interestingly, it's possible to see who other members have accepted buddy requests from. We're not sure why anyone would want to see a list of all the other guys chasing their love interest, but it's possible nonetheless.
The women in these profiles are attractive enough and most of them look like they were written by a real person. Still, it's almost certain that there aren't many real women behind them.
Amateur Match Design
Although it's not the most modern website, it's intuitive enough to use.
The first thing you'll notice about the website's design is that it's flooded with explicit adverts for other porn websites. Still, it's useful that the main dashboard is packed with a huge selection of women who are online right now. You might also notice that the photos have the users' email addresses. No idea if those are legit, but I doubt it.
Messaging and chatting
There are three ways to message a woman on this website.
You can send an instant message (IM), but only if they're online.
You can send an email.
You can chat on their live webcam stream.
With a free membership, you're given enough credits to send five IMs in total. Emails and live webcam chats are only available to paid members.
You'll be flooded with tons of IMs within seconds of signing up to the website. This is to bait you into using up your credits and purchasing a paid membership, so you can continue the conversations. Don't be so silly. They're not real women.
The cam girls are real, but there's little chance of them being based near you or interested in meeting guys from this website.
What can you do with a free membership on AmateurMatch.com?
Not a lot. You can create a profile and browse other profiles. You'll be able to send five IMs.
You'll also be able to read the spammy messages that inevitably make their way into your inbox.
You'll be able to watch live cam streams for about 10 seconds (with no live chat) before it cuts off and you're prompted to purchase a paid membership.
If you're really desperate to watch these women for free, you can endlessly refresh the page.
As with almost every online dating service, the only reason a free membership exists is to tempt you into a paid membership. Sadly, in the case of Amateur Match, the paid membership is also likely to frustrate you if you're looking to actually meet someone. You'll be able to enjoy the paid membership features only if you act fast because AmateurMatch will most likely instantly cancel your account.
Advertisements
Every page of the Amateur Match website is flooded with pornographic advertisements (as you can see from almost all the photos above). Needless to say, it's not a great idea to be browsing this website at work.
Pricing
There are four paid membership plans:
Limited Trial membership: $1.95 for 3 days.
Monthly: $29.95 a month.
Silver: $49.95 for three months ($16.65 a month).
Gold: $69.90 for six months ($11.65 a month).
It's not clear what the limits are on the 3-day membership, but the other plans will score you unlimited messaging, including live cam streams.
Remember that the website offers you three months for free if you don't hook up in the first three months.
Although I wouldn't recommend purchasing any of these membership plans, you definitely shouldn't go for the gold. It'll be cheaper to buy the silver plan, then claim your free three months when you inevitably end up meeting no one. That is before your account gets mysteriously flagged.
Amateur Match Review: Frequently Asked Questions
Need more answers about AmateurMatch? Here are some FAQs you should read:
What is Amateur Match?
Amateur Match may seem like your usual dating site, but it's not. The site uses "fantasy" profiles called "Online Cupids" that are operated by bots or employees.
Who actually owns AmateurMatch?
AmateurMatch is owned by Deniro Marketing, LLC. They also operate other low-quality dating and fantasy dating sites.
How can I contact AmateurMatch.com?
You can contact them via email at [email protected]
Is Amateur Match real?
Yes, Amateur Match is a real site. But its users are almost exclusively "fantasy" profiles or bots/employees.
Is AmateurMatch legit?
AmateurMatch seems to be a legitimate site for chatting with cam girls. However, these spammy messages I received suggest there's little chance of finding a real woman who is interested in meeting you on this website.
Is AmateurMatch.com a scam or fake?
It's difficult to go as far as calling this website a "scam." However, the automated messages that new members receive are very deceptive and a paid membership will disappoint anyone hoping to meet a real woman.
Is Amateur Match safe?
While Amateur Match didn't really do anything scammy while we were using it. But we still urge you to stay away from this site.
What are AmateurMatch alternatives?
You can discover the best alternatives to AmateurMatch by checking out our guide to the best hookup apps and websites.
How does AmateurMatch.com work?
Upon creating an AmateurMatch.com account, you'll discover that you can't do much without a paid profile. And once you do manage to message anyone, it becomes clear that you're talking to bots/employees.
Is there an Amateur Match app?
No, Amateur Match doesn't have an app.
How much does AmateurMatch cost?
There are four paid membership plans for AmateurMatch:
Limited Trial membership: $1.95 for 3 days
Monthly: $29.95 a month
Silver: $49.95 for three months ($16.65 a month)
Gold: $69.90 for six months ($11.65 a month)
How can you use AmateurMatch.com for free?
In short, you can't really use AmateurMatch.com for free. You need a paid account to message anyone.
Can you send messages for free on Amateur Match?
No, you need a paid Amateur Match account to send messages.
How do you cancel your AmateurMatch account?
To delete your AmateurMatch account, here's what you can do:
Click "Account Settings" at the top of the page
Click "Delete my login and profile" and click the "delete my login" button
Then enter your password