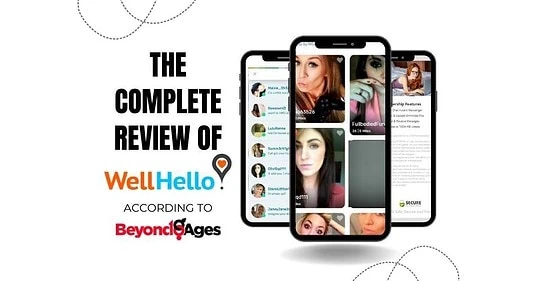 You've probably read several WellHello.com reviews already but don't know what to make of the site. The vast majority of the reviews out there are written by people who haven't spent more than twenty minutes using it and definitely haven't spent any money on the premium version. That's where this review is different. I've spent several weeks using every feature on WellHello to get the real experience.
I first heard about this site several years ago when it started becoming more popular, around 2017. It was a new site branding itself as "a fun and friendly site for fun dating and meeting singles and swingers" and "an online adult community that's designed for you to meet and hang out with like-minded singles and couples". It sounds great in theory but now that it's several years from the initial launch we wanted to review them again to see how things have progressed and if it's worth recommending as one of the best dating and hookup sites out there.
This is a sit that started off with a lot of promise but will it live up to it? With all the social distancing that's still happening finding the right dating app for you is more important than ever.
How I Reviewed WellHello.com And Why It Matters
At Beyond Ages, we take the time-consuming and expensive approach to reviewing dating and hookup apps. So many reviews out there are either compilations of other reviews or reviews written after spending 20 minutes using a free version. We do things very differently.
The only way you can get the full picture of how a site or app can improve your dating life is to give both their free and paid versions a try. That's exactly what we do! Don't listen to any reviews that don't take this basic step!
For this review I did the following in order to get a complete understanding of how successful most guys would be using WellHello:
My review process
I spent several weeks using both the free and paid versions of the site
I examined every corner of the site and tried out all the different features
I sent several dozen messages to women of all kinds
I followed up consistently using tried-and-true techniques that we teach that have led to hundreds of dates for me personally
I did my best to set up as many dates as possible from the conversations I started
I then compared my findings to those from the 100+ other dating and hookup apps we have recently reviewed to understand where WellHello stands
This is the only way you can truly understand if this is a quality site worth your time or just another ripoff. There are tons of low-quality sites out there that you absolutely want to avoid and only a handful that are actually worth your time.
The Beyond Ages team and I have reviewed over 100 different dating and hookup sites over the past year or so. We put a ton of time into finding the best options and have had a lot of success meeting women on the best options out there. You won't find anyone else who has more experience on so many different apps and sites.
Without further ado, here is our WellHello review. Keep reading to find out what the site really has to offer.
This Year's Top Hookup Site
AFF Highlights
Best results for regular guys
Over 60 million active members
Our top hookup site for the year
Not good for long-term relationships
Well Hello Highlights
Lots of fake profiles
Lots of fake messages received
Not very popular
Sketchy signup process
How WellHello Compares To The Best Hookup Sites
We always do a quick comparison to a high-quality hookup app that has proven itself over and over again as well as a high-level recommendation. After that, we jump into our detailed review that shows everything we found using WellHello.
This is how Wellhello compares to the gold standard of hookup apps and sites AFF (which you can also try for free here). When you're reviewing a new hookup app it always makes sense to compare it to the best first!
Overall

Our team rates each site objectively based on many hours of independent research, the features each site offers, and how it compares with other sites. The ratings are the opinion of our editors and their extensive experience.

5
9.5
Quality of Women

Our opinion of how attractive the typical woman is that uses this site and how easy they are to connect with compared to other sites.

4
9
Popular

How many people are using this site to actually meet people compared to other sites.

5
10
Usability

How easy is this site to use and how quickly can an average person begin meeting people compared to other sites.

8
9
Privacy & Safety

Does this site take proper precautions to safeguard its members, their identity, and their data.

8
9
Effective

Our opinion of how easily an average person will be able to achieve their dating goals with this site compared to other sites.

4
9
Value

Will the time and money spent using this site pay off for an average person based on the opinions and experience of our editors.

4
10
Our Recommendation
After spending a lot of time using and reviewing WellHello we have a pretty good grasp on what this app has to offer, especially to guys. While it isn't the worst option out there, it definitely isn't going to be a good option for most guys.
There are a couple of huge red flags that you need to know about if you're still considering using WellHello over the more legit options out there like AFF when you want to find something casual in the bedroom:
There are a lot of fake profiles on WellHello
We always spend a lot of time going through profiles before we start messaging anyone. We want to get a feel for the type of people using the app and who the most attractive women near us are.
What we found wasn't encouraging. We go into more detail further on in our review but we found a lot of fake profiles and maybe even mass-generated profiles. That makes it really hard to tell if there are ANY real women using this site.
We got a lot of fake messages
If you've signed up for a free profile here you know that the moment you do messages start flooding in. Even if your profile is completely blank you're going to start getting messages from attractive women looking to chat.
Does that sound real?
Are women just sitting around messaging blank profiles hoping that someone will respond to them? Doubtful. When you can't trust that the messages you receive are legit it's hard to move forward.
You just can't trust them
With so many obvious problems with the site there just isn't any way you can trust it. When considering your options there are way, way more trustworthy options that will actually get you results.
Run away fast or read more below for the full details! If you're actually looking for a site or app that has consistently delivered great results, especially for guys, check out AFF's free trial. We've tried out 100+ different sites and apps and AFF's has worked the best for most guys, especially if you're not super good-looking. Most guys won't be able to do better elsewhere!
Now let's dive deeper into what we found:
How popular is WellHello REALLY
When it comes to dating and hookup sites bigger is often better. The more people you have using a site the more options you're going to have. As soon as a site begins losing members it doesn't take long before everyone has moved on to the next big app.
Finding accurate user information for WellHello is difficult since they don't release it publicly. If you see any claims on other reviews that they have recent numbers be VERY skeptical. What we can look at is recent trends in how many people are searching for the site. This is a pretty good indicator of how popular the site is over time.
This is how WellHello's popularity has grown and shrank over the past decade:
As you can see above, WellHello launched in 2015 and grew slowly at first but then had a burst of popularity that peaked around 2018. Since then it has been steadily declining which is always a BAD sign for a dating app.
using this information we can estimate that the site is getting somewhere between 25,000 and 50,000 people a month searching for it. That might sound like a lot but major sites like AFF or Tinder are getting several MILLION searches. When a site is this small it is really hard to work for anyone using it since there are so few people to connect with.
The bottom line is this is a site that is shrinking and getting worse over time.
The Alternatives To WellHello Dating Experts Actually Want You To Use
If you've been using WellHello or just not getting the results you expected it's probably because you're on the wrong app. This is where most guys go wrong and then quit. That's a big mistake. You're going to be much better off using one or two of the apps that dating coaches actually recommend like:
Site
Our Experience
Our Rating
Free Trial Link

Best For Relationships

Experience Highlights

Easily the best option for long-term relationships
75% of all online marriages start here
70% of users meet their spouse within a year
In-depth signup and matching process

Try eHarmony

Best For Casual Fun

Experience Highlights

The best way to meet women for casual relationships
Best results for regular guys
Over 60 million active members
Not good for long-term relationships

Try AFF For Free

Great If You're Handsome

Tinder Highlights

Great if you're pretty good looking
Very popular, especially if you're 18-22
Really focused on photos
Becoming more of a dating than hookup app

Try Tinder
Signing up on WellHello.com
With a name like WellHello, I expected a site that was pretty welcoming. And so it was. Whoever made this site seems to know the value of first impressions. The sign-up page had a simple background montage of beautiful people casually enjoying themselves. WellHello.com's orange and blue logo was also cute and professional. My interest had been piqued.
Their introductory description was simple and to-the-point:
"WellHello is an online adult community that's designed for you to meet and hang out with like minded singles and couples. It doesn't matter if you're looking for one night of fun or a longer term relationship – we've got what you want."
Everything I had seen so far added up to a good first impression. The question was, could WellHello deliver on them.
Well Hello is more naughty than nice
One of the first things I noticed after signing up for an account with WellHello was the overwhelming amount of explicit content. When the homepage loaded, a large, very sketchy banner advertisement sat at the top of the screen. A whole section called "Videos" appeared below the first featured profiles, showcasing, well, pretty graphic videos.
It looked to me that WellHello was aiming to be an entertainment website more than a dating site. That wasn't promising.
Legitimate dating sites only concern themselves with one thing: helping you find a real date with a real person. They aren't trying to tease you with sketchy pictures and they certainly don't want to send you away to some other site where you can watch explicit videos. There's nothing wrong with being a little risqué, but if that's all the site had to offer, WellHello was going to be a big disappointment.
The rest of the signup process was pretty standard, just filling out the usual fields and creating my usual profile.
Pricing and membership options
Before you have a chance to even look at a single profile on WellHello you get pushed to a sales page that tries to sell you a paid membership. There are three different pricing options that you can consider if you want full access to the site:
24-hour access for $1
1-month membership for $24.95
Yearly membership for $89.40 ($7.45 per month)
For this review, I went with the monthly option and was charged $24.95 per month as advertised. It wasn't money well spent.
If you're at all curious about this site after reading our full review do yourself a favor and only go for the 24 hour option. That's all the time you're going to need.
How Well Hello works and what it looks like
Another thing that immediately turned me off to the WellHello site was all the pictures, ads, and popup windows that assaulted me from every direction (you can see some of this in the image above). It was hard to find the actual menu bar, or even the member profiles. When I first logged in, I arrived at an account upgrade page instead of my homepage.
Surfing through WellHello felt like being on a really terrible freeway at night, with cars zooming past me haphazardly. I'd barely been on the road a few minutes and I already wanted to turn off.
The best dating sites know user interface matters most. They want to make sure their site feels open and easy to use. Their menus are simple to find so that members can search for people to date without hassle. Good sites aren't bogged down with bright, flashy ads that distract from the content.
When a site looks as shabby as WellHello did, it means the owners either don't care about their customers, or they don't know how to make a pleasing online experience. Neither of these scenarios fills me with hope.
Using the WellHello App
For most sites these days we evaluate both the website as well as the app. For many, either the site or the app is significantly better and worth talking about. In this case, we couldn't even try out the WellHello app because they don't have one!
If you're a site this small and don't even have an app you're not even really trying anymore. This is a major red flag.
What you can do with a free account
As I perused WellHello, everything I did led me to account upgrade pages. Logging in did it, as did trying to respond to messages. It was quite frustrating. When a site advertises that they're "free," you should be able to expect some basic functionality with your membership. Browsing member profiles and sending messages should be included, at the very least.
Basically, you can't do anything worthwhile on this site without paying.
Paid memberships are usually reserved for special features, like getting your profile to show up first in the search results. There are too many good, actually free dating sites to spend money on the unknown.
Our experience communicating with other members
Adding to the chaos was the deluge of messages I was receiving. As soon as I signed up, WellHello inundated me with inquiries from the profiles of beautiful women. "Hey there" said one. "Were you trying to message me on snapchat?"
I don't really know what that one was supposed to mean. How would I have messaged a woman I don't know on Snapchat?
Another WellHello message demanded, "add more pictures! u r close 2 me – i just got divorced and want uncomplicated fun Grrrrrrrrrrr." This was followed by another from another user. And another. They were coming on strong; too strong.
Any guy who has spent some time on an online dating site knows that getting messages takes work. To start even one conversation with a beautiful woman can take hours of searching and crafting the perfect message. The fact that I was getting so many messages right away (without even putting up a profile picture) made me suspicious.
As I figured would happen, when I tried to respond to the messages, the WellHello site informed me I needed to upgrade to a paid account. This is a common tactic among sketchy sites. They send you a bunch of fake messages from fake profiles with attractive women to encourage you to sign up for a paid account. Once you do, you never hear back. A huge red flag.
Who is actually using this site (profiles)
All of these unprompted messages from beautiful women got me wondering who was behind the profiles. I clicked on a few of them but there wasn't much information available. Most of the women didn't even have a basic self-description. So, I turned to an old trick that has helped me a lot in the past: I used Google's reverse image search function on their pictures.
What I found was unsurprisingly not good. There were a bunch of matches on a few of the profile pictures. One photo was featured on trashy sites (it's what you'd expect).
Usually, when a profile has a photo lifted from other sites, it means the whole thing is fake, probably even run by the company or by a bot. I went to the Terms of Use page for WellHello, where it said:
"You acknowledge that Smoochy Brands [the people who run WellHello.com] creates and maintains some of the profiles on the site, and that some 'members' of the site are actually fictitious persons created by employees or agents of Smoochy Brands, who we refer to 'Love Hostesses.' You further acknowledge and agree that Smoochy Brands may respond to your communications to Love Hostesses through employees, agents or chat bots."
I've seen a lot of euphemistic names for fake profiles doing reviews of dating sites, but "Love Hostesses" has to be one of the strangest.  
They also use your personal content
I found even more unsettling issues when I looked through the fine print on the WellHello site. It stated, "You hereby grant to Us a perpetual, royalty-free and non-exclusive worldwide license to publish Your Content on the Site or on any other Site or in any other media." Like hell I did.
Imagine browsing on another site and seeing a photo of yourself on an advertisement for WellHello (or one of the other sites under the Smoochy Brands umbrella). Given the permissions of this user agreement, it could happen. They can take your private photos and use them for whatever they want. That was enough for me to know WellHello.com was not worth my time.
Who should use Well Hello – Our Final Recommendation
If there's one thing you need to take away from this WellHello review, it's that this site really doesn't have a lot to offer you. It's a jumbled site overstuffed with fake profiles. It claims to be free but isn't and the creators might even take your personal content and use it for their own profit. This is not what real dating sites act like.
Thankfully, the internet is flush with real dating sites, so don't lose heart. In our experience, AFF (which you can try for free here) is the first option most guys need to try, especially if Tinder hasn't worked out for them. It really does deliver for way more guys. The relationship of your dreams might just be a "hello" away.
More FAQ's About WellHello
Is WellHello legit?
A lot of people have asked us if WellHello is legit and the answer is "kinda". While it certainly is a decent site that isn't trying to scam you in any way we could see it isn't the best option out there. You can safely use it but a lot of guys aren't going to get great results from it.
Is the WellHello app real?
Similar to the question about WellHello being legit, we didn't see any reason not to think this is a "real" site. Real doesn't mean effective, it just means that you can log in and see other real people. In our experience, you're unlikely to get great results but if you do get any messages they are probably from real people.
Is WellHello a scam?
It's funny how people ask the same question three times just using different words! Based on our review we wouldn't say that WellHello is a scam. It's a perfectly real app that has the potential to be useful but falls short. If they had a lot more users it could be pretty solid because the actual WellHello app is pretty decent. It just needs more people using it.
Is WellHello safe?
After using it for many weeks we can definitely say that we think WellHello is a safe and trusted site to use. We don't' think they will try to steal your credit card info or charge you for random things. It's a safe site that just doesn't have enough members to be useful for most.
What are good alternatives to WellHello?
This is a question we've spent a lot of time on. After reviewing 100+ different hookup apps and sites for our rankings, we can say that AFF tends to be the best option for most, especially for men. They have millions and millions of users and a very strict focus on hookups instead of relationships. Give them a try and see.