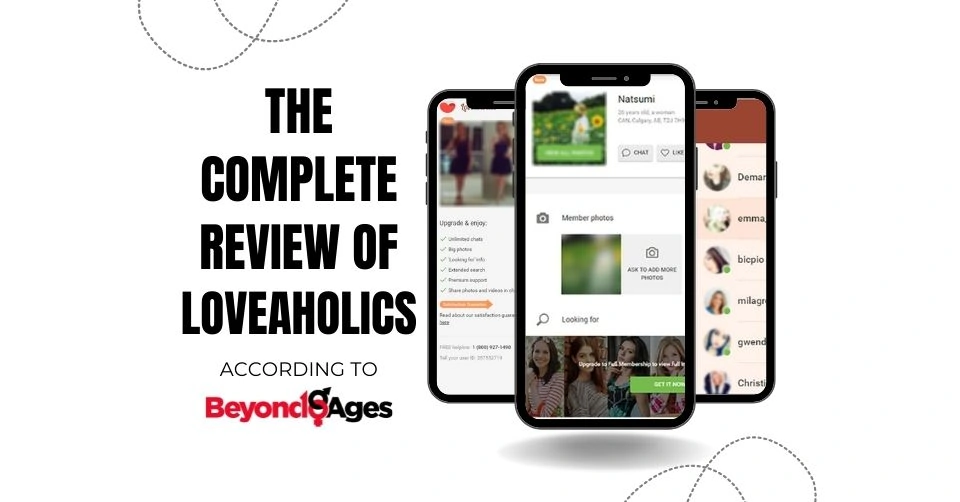 In case it was ever unclear why it's so important to be skeptical of dating websites, Loveaholics is a perfect example. In this Loveaholics.com site review, I'm going to walk you through what happens behind the scenes.
Finding a dating site that works for you has never been more important to your success. Social distancing has made meeting people in public nearly impossible and now almost everyone is using dating sites. If you're not, there is a very good chance you missing out on some good options.
The trick is finding the right site for you which is where we can help!
How we reviewed Loveaholics
In preparing for something like this Loveaholics dating site review, I always run through the same process.
I want to be as objective as possible so you're getting factual info rather than personal opinion.
After all, my personal opinion won't be the thing that helps you land dates.
Initially, I'll set up a free profile, leaving it as blank as possible. No photo and only the mandatory info about me. I want to see if they'll hit me with spam messages straight away. No actual user would ever message a blank profile.
After a day or two I'll move on to populating my profile. Now I want to see how many dates I can land with a free account. I'll add profile photos and fill out my bio just like I would any other dating site. After a week or two, I'll move up to the paid membership and compare my results. I want to see if paying for the premium perks actually helps me get more dates or if those perks are superficial.
In the case of cancer sites like this one, there's no need to pay for a premium subscription. Been there, done that and we won't feed the scammers any further.
By the end of this process, I have a solid handle on how likely it is you'll get real dates from the site. I can also give you informed advice on the premium subscription and whether it's worth the money.
After weeks and weeks of trying to setup dates with a variety of women these are our results:
The Results From Our Loveaholics Review
The more dating websites I review, the more I come across the same site under different brands. While that might sound frustrating, I actually view it as a good thing. The more of these sites we can identify as similar the better off everyone will be.
I hate hearing stories of people getting ripped off in their search for a successful dating life. I'd much rather you read this article, know what you're looking for and use a better website.
Speaking of better websites, let's kick things off with a comparison between this questionable site and AFF (which you can try free). AFF is the #1 hookup site right now for the majority of guys which makes it the perfect point of comparison.
Overall

Our team rates each site objectively based on many hours of independent research, the features each site offers, and how it compares with other sites. The ratings are the opinion of our editors and their extensive experience.

1
9.5
Quality of Women

Our opinion of how attractive the typical woman is that uses this site and how easy they are to connect with compared to other sites.

1
9
Popular

How many people are using this site to actually meet people compared to other sites.

1
9
Usability

How easy is this site to use and how quickly can an average person begin meeting people compared to other sites.

10
10
Privacy & Safety

Does this site take proper precautions to safeguard its members, their identity, and their data.

1
10
Effective

Our opinion of how easily an average person will be able to achieve their dating goals with this site compared to other sites.

1
9
Value

Will the time and money spent using this site pay off for an average person based on the opinions and experience of our editors.

1
10
Our Recommendation
Naturally, after reviewing Loveaholics.com it gets the lowest score on almost every element. In the interests of being fair and unbiased though, I have to admit the usability is pretty good. Still, a fast and intuitive site helps nobody when you're just browsing questionable profiles.
We've tested out and reviewed 100+ different sites and, in our opinion, Loveaholics is a complete waste of time. If you actually want to meet women you should check out AFF instead.
To further drive home why you need to avoid this entire network of sites, let's compare some other crucial stats.
By now, I'm sure you get the picture. Never give Loveaholics your credit card info. Before you close this tab and look elsewhere though, I'd suggest checking out the rest of this review. Maybe one day we'll be able to stamp them out entirely and the sniveling lowlives behind these sites will have to get a real job.
Let's talk about the TopOffers network
Loveaholics is one of 218 questionable dating websites that form part of the TopOffers affiliate network. The more dating site reviews I write, the more I've come across this network. Naturally, I've looked more and more into it as it keeps popping up and the discoveries were. . . interesting. Both intriguing and frustrating at the same time, I'd say.
First off, here's a glimpse at how I recognized this site straight away.
A lot of their sites use this exact same template over and over again. They tend to have cringe-inducing names like "Loveaholics", "Shagaholic" and (my next review) "MaturesForFuck."
Since no real business would ever want these names, they can register the domains easily. Then they duplicate the template, slap a new logo in there and they're in business.
How can you be sure they're questionable?
Great question, I'm glad you asked. First and foremost, I've now reviewed 8 sites with the exact same template and tactics. Each of them pointing back to one of the shell companies that fall under the TopOffers network.
Having used each of these sites with the sole intention of setting up dates, I can personally assure you they're garbage. I haven't managed a single conversation with anyone.
I get flooded with messages to a blank profile and those messages are always in questionable English. They also make it clear they were written by someone that has zero understanding of how women act in online dating.
It's always something awkward like "I'm just begging for a man to make love to me." They could at least do a better job of pretending, right?
Here's an example of one that came in a few minutes ago.
What's an affiliate network anyway?
In this context, an affiliate network is a bunch of websites that get rewarded for a particular action. For this network, it appears to be profile creation, premium subscription sign-ups and referral traffic. Basically, when you create an account, give them your credit card details or click a link on the site, they get paid.
What's a better option?
Finding hookups online is easy, but you don't need terrible sites like Loveaholics and its ilk to get laid. Instead, use a site that has been tried and tested like AFF. Of all the sites we've used for finding hookups, one-night stands or friends with benefits, only AFF delivers consistently. 
Aside from having a huge userbase all over the world, the site itself also has some fun features that keep the community active. You can join forums, enter chat rooms and comment on blogs. And in case you just want to get down to business, you can search for any type of partner (or partners) you're looking for. Search based on location, age, kinks, cup size and more.
The best part? AFF has a free trial offer that you can use today! Why not give it a shot right after you read this review?
Pros and cons
We've listed down a LOT of cons. But as with any review, we still try to find a few pros. . . as hard as it may be sometimes.
The layout loads fast and is easy to use
The dodgy tactics are lazy and easy to spot
Not a single real user on the website
Ads and other affiliate links everywhere
Constant spam messages pushing you to sign up
Blank profile, full inbox
As usual with the sites in this network, 48hrs of sitting dormant with a blank profile was enough. In that time, I got 42 messages from "women." These messages were very engaging though, it must be said. Look at what my good friend "Savana" had to say:
Naturally, I was head over heels for her from the very first message.
Legit Hookup Apps Normal Guys Actually Do Well On According To Dating Coaches
You need to skip Loveaholics and spend your time where it will actually benefit you. That means trying out one of the apps that dating coaches are actually seeing regular guys do really well on. Try these first if you actually want to meet girls:
Site
Our Experience
Our Rating
Free Trial Link

Best Hookup Site Right Now

Experience Highlights

Top option for local hookups by far
Best results for regular guys
Over 60 million active members
The design needs an update

Try AFF For Free

Great If You're Handsome

Tinder Highlights

Great if you're pretty good looking
Very popular, especially if you're 18-22
Really focused on photos
Becoming more of a dating than hookup app

Try Tinder

2nd Best For Most Guys

Experience Highlights

2nd best option to find hookups
Attracts an older crowd than most hookup apps
Pretty popular
Solid free trial

Try Passion
I'm not the only one with an empty profile
It was comforting to know my profile wasn't all that different to the "women" on Loveaholics.com. Every single profile I've ever looked at on these sites is set up the same way. A profile photo or two and literally nothing else. The stunning "Natsumi" was kind enough to be our example profile for this review.
As you can see, she ticks all the boxes. Definitely a lady you can take home to meet your mom. What more could you possibly need to know about a woman, right?
Conversations are locked behind a paywall
Just in case you did have more questions for Natsumi though, you're going to be disappointed. Even though there's a big Chat button in every profile, clicking it just takes you to this page:
Whether you click the Chat button or the text area of a chat window, you'll get the same result. That means you can't even reply to "women" who message you first. You have to pay for a subscription before you can have a conversation with the bot behind these profiles.
Interesting Terms and Privacy Policy
Basically, what you're going to find in both the Terms and Privacy Policy are the following key points:
They own the rights to anything you upload
Your profile will be duplicated across other dodgy sites
They claim the right to impersonate you on their sites
Real nice, huh? I don't quite understand why a sketchy site bothers with legal documents like this but it makes for some interesting reading.
FAQ about Loveaholics
Now, time to cover the most frequently asked questions to wrap up this Loveaholics dating site review.
What is Loveaholics.com?
In case the name didn't make it clear, Loveaholics is yet another questionable dating website. It forms part of a large affiliate network of equally dodgy sites you should avoid.
Who actually owns Loveaholics?
Loveaholics is owned by Blue Vision, a company registered in Bulgaria. They also own many other low-quality dating sites.
How can I contact Loveaholics.com?
You can contact them via email at [email protected]
Is Loveaholics real?
Yes, Loveaholics is a real site. However, it's a terrible site that won't help you meet anyone.
Is Loveaholics.com legit?
Loveaholics.com may look legit at first, but it's actually made to entice you into paying for a membership. Once you do, you'll find that none of the women who seemed so interested will respond.
Is Loveaholics a scam or fake?
While it might not be an outright scam, Loveaholics is incredibly suspicious.
Is Loveaholics.com safe?
No. Based on experience, Loveaholics.com has so many red flags that we're sure it's not safe.
What are Loveaholics alternatives?
Rather than wasting your time on Loveaholics, read through our review of the best hookup apps and websites instead. We've already taken the time to test and use the best ones out there, no need to put time and money into scam sites.
How does Loveaholics.com work?
Once you're logged into Loveaholics.com, you'll see profiles of attractive women. You can also receive lots of messages. However, to read these messages or reply to these women, you'll need to pay for a membership.
Is there a Loveaholics app?
Loveaholics doesn't have its own app.
How much does Loveaholics.com cost?
Here's how much you need to pay if you're interested in a premium Loveaholics.com membership:
One day: $0.99
One week: $7.00 ($1 a day)
One month: $28.80 ($0.96 a day)
Three months: $48.60 ($0.54 a day)
How can you use Loveaholics for free?
To put it simply, you can't. Loveaholics requires you to pay for a membership before you can read or respond to messages.
Can you send messages for free on Loveaholics.com?
No. You need a Loveaholics.com membership to send messages.
How do you cancel your Loveaholics membership?
Going by the other reviews I've seen online, it seems unlikely they'll actually cancel your Loveaholics subscription. You'll have to cancel your credit card if you want to stop the payments.
Official instructions to cancel your subscription are below. But if you've signed up for a paid account, contact your bank ASAP.
To delete your profile just follow these steps. Note that you'll have to cancel your paid subscription before you can do this.
Click your profile photo in the top right corner
Select "My Settings"
Click "Remove Account" (¾ of the way down on the right)
Follow the steps in this wizard to delete your profile
How do you delete your Loveaholics.com account?
To delete your Loveaholics.com profile just follow these steps. Note that you'll have to cancel your paid subscription before you can do this.
Click your profile photo in the top right corner
Select "My Settings"
Click "Remove Account" (¾ of the way down on the right)
Follow the steps in this wizard to delete your profile