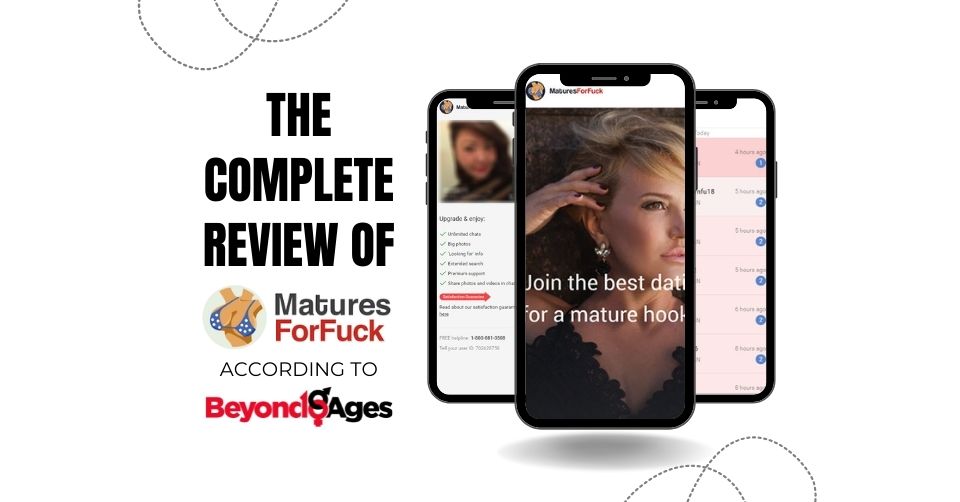 As a dating expert, some days are spent working on serious, complicated pieces. Other days, you find yourself trying out a website called "Matures For Fuck". . . So here goes. In this MaturesForFuck dating site review (a phrase I thought I'd never type), I'm going to run you through everything you need to know about it.
Beyond Ages is all about getting you out in the real world on actual dates. The better I can help you to understand what a questionable site looks like, the more effective you can be at doing just that.
Meeting women online has become even more essential over the past few years, especially if you want to meet older women. A huge number of single older women have moved 100% over to meeting guys online and avoiding all the social distancing changes. If you're not online you're missing out!
How we reviewed MaturesForFuck
I review a lot of dating websites these days and it's important that I evaluate them all equally. To make sure that happens, I have a process I go through with each one (or at least, as much as is possible/feasible).
To get things started, I'll create a blank profile on the website and just let it sit for a day or two. Since sketchy sites like this one will often spam your blank profile with messages, it's a simple trap to set.
After that, I'll populate my profile just like I would any other dating website. Quality profile photos, a complete and realistic bio, everything. Just like my own personal dating profiles, my goal is to set up as many dates as possible.
I'll then use the site a typical amount for one to two weeks before upgrading to a premium membership. Still aiming for more dates, I want to compare my results as a free profile vs a paid one. Since people are often wondering if the paid membership is worth the money, I want first-hand experience on the topic.
In the case of this MaturesForFuck dating site review, there was no need for the premium membership, It's a copy and paste of their other sites I've already reviewed.
Now for the results of our months of trial and error with this site:
Our Complete MaturesForFuck Review:
From the moment I opened this site, I knew what I was going to find from the rest of the review process. I ran through it all anyway just in case and unfortunately, I wasn't surprised. As I'll cover in more detail below, MaturesForFuck.com is part of a sketchy dating site network. This network seems to be worth big money and boasts 218 equally questionable sites, just like this one.
Before we get into any of that, let's compare MaturesForFuck against the site we've seen as the best to hook you up with older women: AFF (which has a great free trial). We find that comparing a new site to the current best option makes it a lot easier to quickly tell if it's worth checking out or not.
Overall

Our team rates each site objectively based on many hours of independent research, the features each site offers, and how it compares with other sites. The ratings are the opinion of our editors and their extensive experience.

2
9.5
Quality of Women

Our opinion of how attractive the typical woman is that uses this site and how easy they are to connect with compared to other sites.

2
9
Popular

How many people are using this site to actually meet people compared to other sites.

2
9
Usability

How easy is this site to use and how quickly can an average person begin meeting people compared to other sites.

10
10
Privacy & Safety

Does this site take proper precautions to safeguard its members, their identity, and their data.

5
10
Effective

Our opinion of how easily an average person will be able to achieve their dating goals with this site compared to other sites.

1
9
Value

Will the time and money spent using this site pay off for an average person based on the opinions and experience of our editors.

1
10
Our Recommendation
As you probably expect, we didn't have a great experience reviewing MaturesForFuck.com. With the exception of usability anyway. Credit where it's due, the design they re-use for so many of their sites is fast and intuitive. It's actually a bit of a shame to see such a good design getting used to trick people out of their money. In our opinion, there are far better sites out there that guys should be using, especially AFF. If you actually want to meet women instead of wasting time that's where you should go.
31 messages were sent to my blank profile in just 48 hours
Remember how I said my first step was always to set that trap of keeping a blank profile for a day or two? MaturesForFuck certainly fell into one and raised an immediate red flag. I left my blank profile unattended for two days and came back to 31 "women" desperate to talk to me.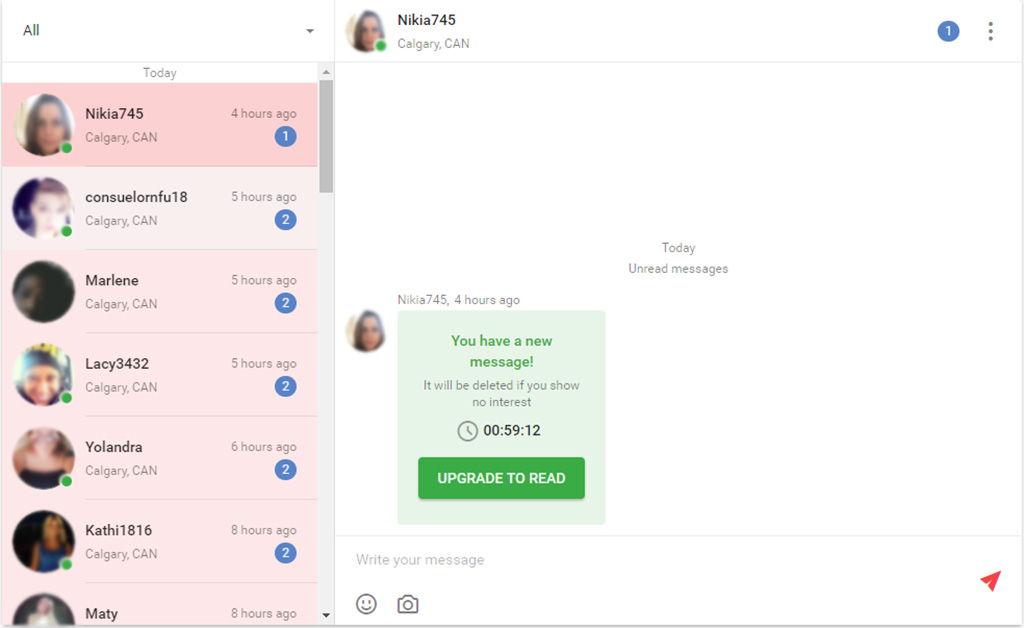 Most of them seemed more interested in having me sign up first, just like "Nikia745" here. Sadly for me, even the messages I could see gave the same result. As soon as I click in the text box to type a reply, I'm taken to the subscription window to sign up.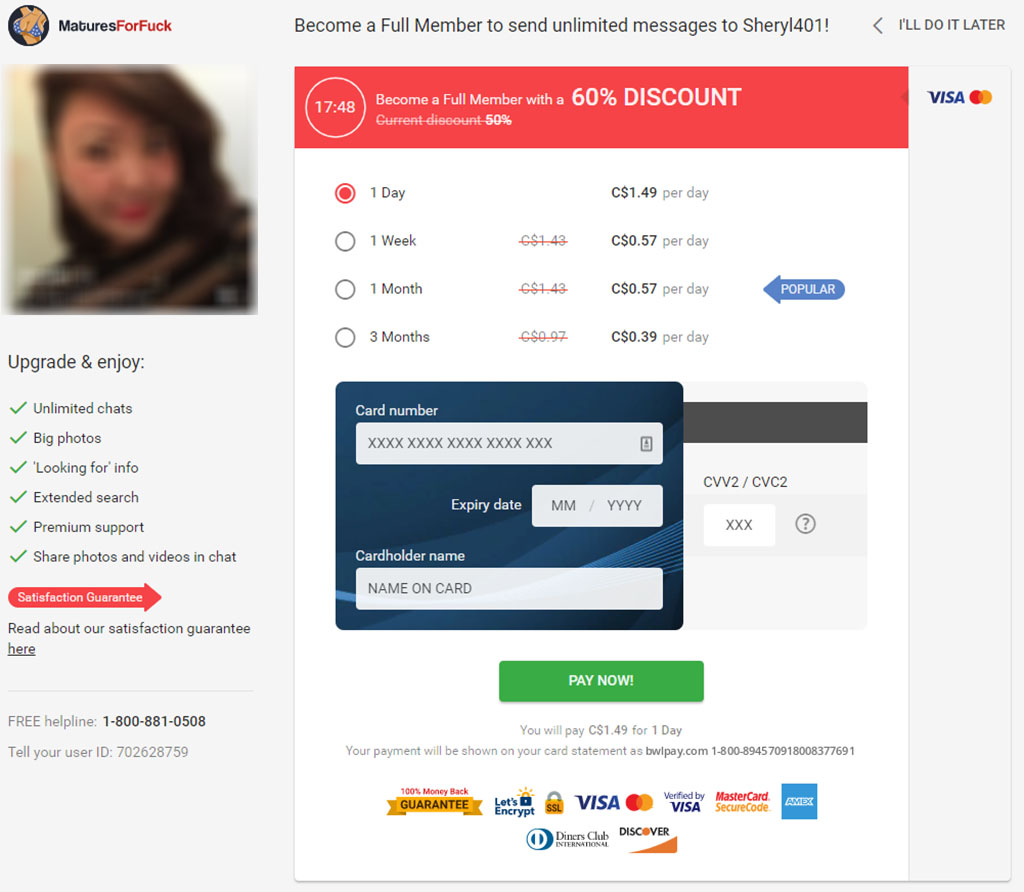 So many ladies chasing me, yet I had to pay for a conversation. I wonder why that could be?
In case you aren't familiar with the tactics of sites like this, it's because the chatbots are very low quality. They know that if you could chat to their bots using a free account you'd instantly see the conversation was questionable. Instead, they want you to sign up first. That way, by the time you realize it's questionable, they already have your credit card info.
Sometimes you can read the messages, but you'll wish you didn't
I'm pretty sure this site uses a tactic to give you a "sneak peek" of what messages you can read from women. These messages usually come from blank profiles, and they're made to entice you into paying for a subscription. 
These messages, however, are the opposite of enticing. They're almost always cringy, questionable and possibly written by someone who doesn't know how conversations work.



Finding cougars to date shouldn't be this hard
If there's one thing this site is good for, it's for browsing through a seemingly endless stream of photos from women over 35. That's it. You can spend an entire day admiring these women, yet there's no chance of talking to them if you use MaturesForFuck.
Now if you want to do more than just browse, why not use AFF instead? It's undoubtedly the best site out there for meeting older women who just want to hookup. Whether you're a younger man looking to find an older date or you're an older man looking for someone your age, AFF can get you a date. With such a high concentration of mature women on the site, you won't need to scroll through an endless feed of women in their 20s!
AFF ticks all the boxes for me. It has a pretty big userbase despite being a fairly niche site. It has a variety of real women that you might actually have a chance with. And best of all, it's not a bad site designed to take your money. So forget MaturesForFuck and all the other sites like it and test out the Cougar Life free trial today!
Positives and Negatives of Mature For Fuck
As always, we try to find at least something positive about every site we review, scam or not. In the case of this site, however, that's harder than we thought.
The layout loads fast and is easy to use
The questionable tactics are lazy and easy to spot
Not a single real user on the website
Adds and other affiliate links everywhere
Constant spam messages pushing you to sign up
Same template and tactics, just a new name
Time and time again I see "dating sites" that are part of this network. So many of them are immediately obvious to me because they look the same.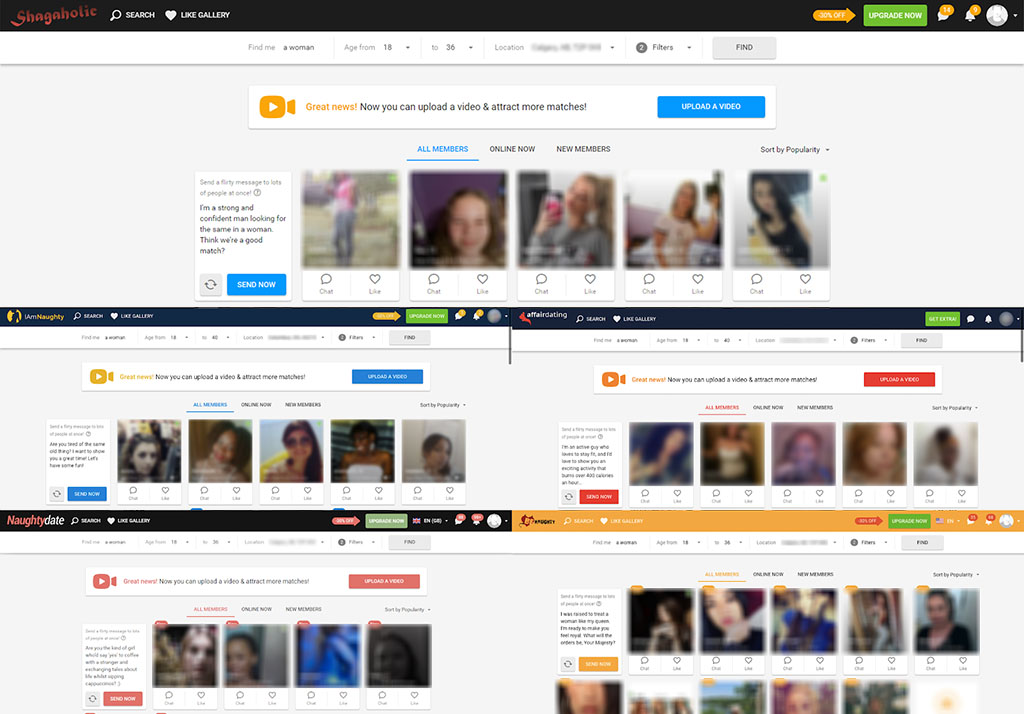 Aside from a different logo and color scheme, everything else on these sites remains the same. None of them have real users, they all spam you with messages and they all want your credit card info.
The Top Apps To Actually Meet Mature Women Recommended By Dating Experts
If you're a regular guy that hasn't had great success online it's probably because you're on the wrong app. This is an important decision and one most guys get wrong. Instead, try out one of the best apps to meet matures women for normal guys according to dating experts:
Site
Our Experience
Our Rating
Free Trial Link

Best Hookup Site Cougars

Experience Highlights

The best way to meet cougars for hookups by far
Best results for regular guys
Over 60 million active members
Not good for long-term relationships

Try AFF For Free

Best For Relationships

Experience Highlights

Easily the best option for long-term relationships
75% of all online marriages start here
70% of users meet their spouse within a year
In-depth signup and matching process

Try eHarmony

Decent For Younger Guys

Cougar Life Highlights

Focused on younger men meeting older women
A mix of relationships and hookups
Growing
Not as popular as eHarmony of AFF

Try Cougar Life
Another site in the TopOffers network of questionable dating sites
When I first started coming across sites in this network, I began noticing the same names in the footer. Always on questionable sites and always one of a handful of shell companies:
Bulova Invest Ltd
Together Networks Holdings Limited
Nelfor Services Limited
Timespace Holdings Limited
Kingsrock Holdings Ltd
Northlock Holdings Ltd
If you're ever on a site and see one of these names in the footer, close that tab and don't look back. Being that it's an affiliate network, members get paid for specific actions. I suspect in this case it's profile creation, paid subscriptions and referral traffic. In other words, if you create an account, sign up for a premium membership or click a link they probably make money.
Some of their tactics are outlined in the legal text
As a brief overview, they all say essentially the same things:
They own the rights to anything you upload
They can duplicate your profile across their other dodgy sites
You receive ZERO royalties if they decide to put your face on one of their ads.
If you've ever dreamt of being paid $0 to be the face of hundreds of questionable dating sites, this is an easy way to go about it. Just create a profile, upload a photo and wait for the site owner to make some money. What a great deal!
Blank user profiles
Just like the lookalike sites in this network, I've also noticed all the user profiles are blank. They'll have a profile photo or two and that's literally it. I suppose it wasn't worth the effort to populate questionable profiles any further.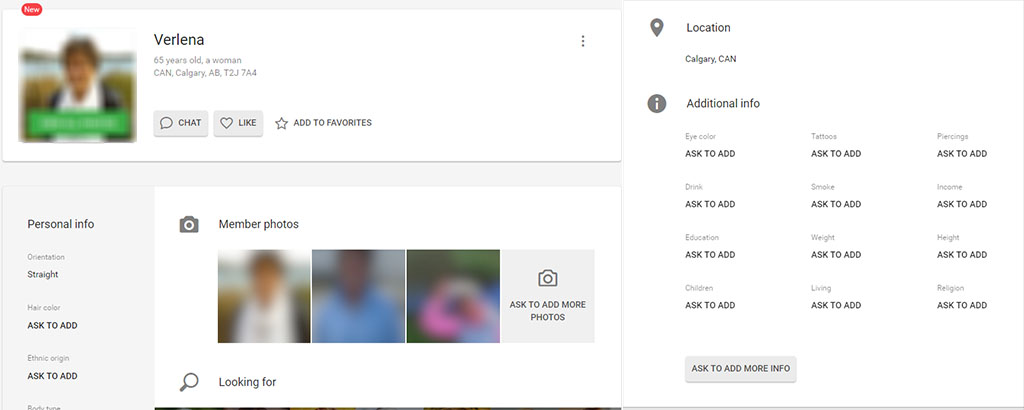 I'll be the first to admit that blank profiles aren't inherently scams, you will see them on legit sites too. When every single profile is like this though, that's a pretty big red flag you should pay attention to.
You need a paid subscription to talk to their bots
Just like those initial messages, I wasn't able to have a single conversation on MaturesForFuck.com as a free member. It didn't matter if I tried initiating a conversation, replying to a popup or using the Messages interface. Every single attempt led me straight back to that subscription window.
Sometimes you'll even see this: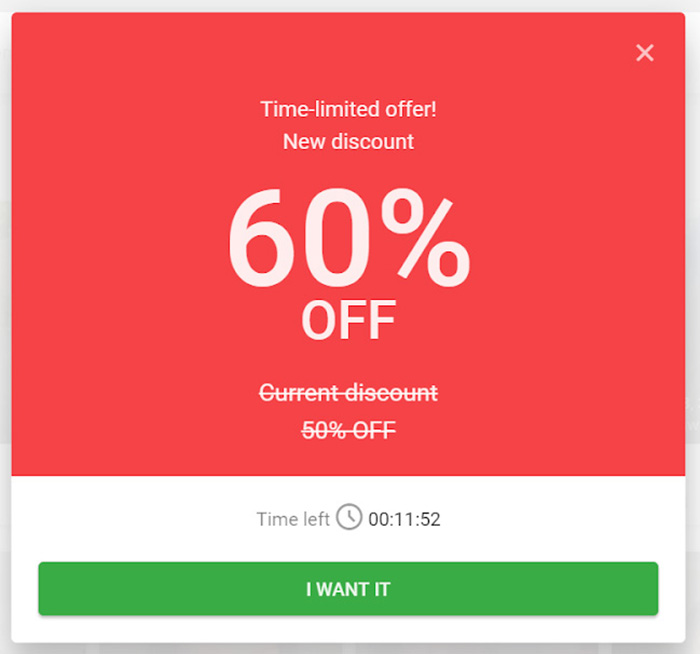 Don't be fooled, though. This is just another tactic to make you think you're getting a great deal. News flash: you're not. Their whole push is for you to give them your credit card info and visit their other questionable sites. It's just as frustrating as it sounds, especially if you were actually hoping to find some hot single cougars.
Frequently Asked Questions
Before I end this MaturesForFuck dating site review, I'm going to answer the most frequently asked questions. If I've missed anything, leave a comment down below and I can update this section accordingly.
What is MaturesForFuck.com?
With a name like that, I'm sure it's obvious that MaturesForFuck is yet another questionable dating website. Part of an affiliate network of questionable dating sites, avoid this site and all that look like it.
Who actually owns MaturesForFuck?
MaturesForFuck is owned by InfraWeb Solution Limited, which also owns plenty of other low-quality dating sites.
How can I contact Matures For Fuck?
If you have any concerns, you can contact the site at [email protected]
Is MaturesForFuck.com real?
Yes, MaturesForFuck.com is a real site, though not a real dating site.
Is MaturesForFuck legit?
Not even close. In fact, MaturesForFuck is part of a whole network of questionable dating sites.
Is Matures For Fuck a scam or fake?
While maybe not an outright scam, Matures For Fuck shows all the classic signs of a toxic site that you should avoid.
Is MaturesForFuck.com safe?
No, MaturesForFuck.com is not safe. Stay away from this site.
What are MaturesForFuck alternatives?
This site is pure trash. Instead of searching for a hookup on here, skim through our review of the best hookup apps and websites and choose one that works for you. On the other hand, if it's mature women you want to meet online, check out our review of the top-rated cougar dating sites.
How does Matures For Fuck work?
Matures For Fuck looks like it works like any other typical sites. But to be able to do anything on the site, you'll need to pay for a membership. Even if you do pay for a membership, you're unlikely to talk to anyone on the site.
Is there a MaturesForFuck.com app?
No, MaturesForFuck.com doesn't have an app.
How much does MaturesForFuck cost?
Here are the membership prices for MaturesForFuck:
One day: $0.99
One week: $7.00 ($1 a day)
One month: $28.80 ($0.96 a day)
Three months: $48.60 ($0.54 a day)
How can you use Matures For Fuck for free?
When you create an account on Matures For Fuck, you're given a free membership by default. The site is questionable so you can't do anything of value on here. That applies to both free and paid memberships.
Can you send messages for free on MaturesForFuck.com?
The easiest way to send a message on MaturesForFuck.com is by clicking the Chat button on one of the profiles you see. You will need a paid subscription to do this though and you'll only be chatting to a bot even if you do pay.

How do you cancel your MaturesForFuck account?
Official instructions to cancel your subscription are below. But if you've signed up for a paid account, contact your bank ASAP.
Click your profile photo in the top right corner
Select "My Settings"
Click "Billing History" (¾ of the way down on the right) then "Deactivate Subscription"
Follow the steps in this wizard to cancel further payments
How do you delete your MaturesForFuck account?
To delete your profile just follow these steps. Note that you'll have to cancel your paid subscription before you can do this.
Click your profile photo in the top right corner
Select "My Settings"
Click "Remove Account" (¾ of the way down on the right)
Follow the steps in this wizard to delete your profile