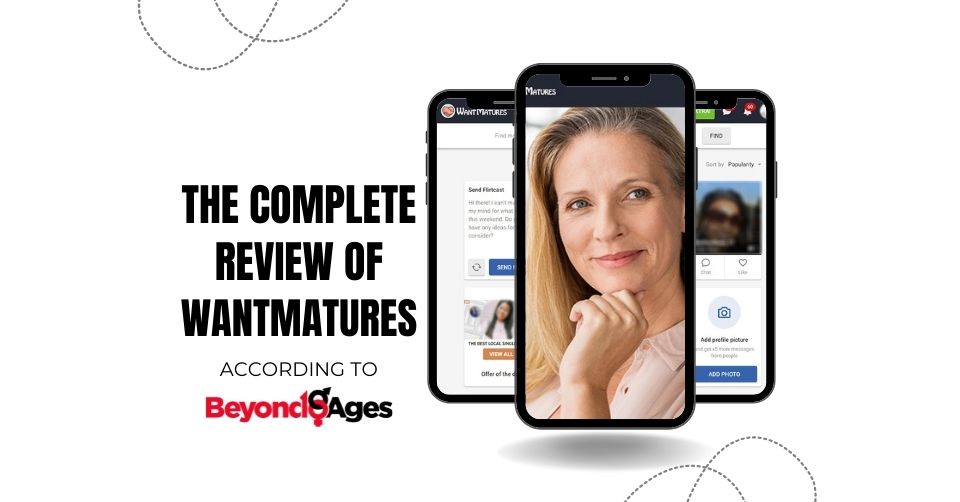 In our WantMatures review, you'll see a site that markets itself as the website that makes it simple and easy to find older women to chat with and date. It entices members to create an account by suggesting they'll be "shocked" by the sheer number of singles in their area waiting to speak to them on the website. The home page also attracts potential members in by boasting of several chat rooms and a platform that's conducive to meeting a partner quickly and easily.
It all sounds fantastic – and the website itself looks very modern. However, the sad truth is: there are lots of online dating websites that tempt guys into purchasing premium memberships with promises they can't deliver on only to deliver a terrible experience after they've paid. This is particularly common in the mature dating niche.
Meeting more mature women is really tough right now. So many of them have given up on meeting guys in public and only use dating sites and apps. It's critical for all singles to find a couple of apps that work for them and put in a little effort. Who knows when or if things will return to normal.
That's why I was keen to review Want Matures and give you the lowdown on the experience and let you know if it's worth the money.
How I reviewed Want Matures
When reviewing online dating websites for Beyond Ages, we have a standardized procedure so we can compare them all easily.
First off, we leave a profile blank with no photos for 24 hours. If our account is overwhelmed with several suggestive messages during this time, that's a serious red flag. In most cases, this is a ploy from the website to trick you into buying a paid membership. After all, what legitimately hot woman would throw herself at a completely anonymous dating profile?
Once this test is over, we fill out a profile with the same average photos and bio each time. Then, we message 50 women in our local area and make a note of how easy it is to connect with them. How many of them viewed our profile? How many will reply? How many can we convince to share contact details etc?
Lastly we opt for a paid membership so we can test out any extra features of the site. This allows us to see if a paid membership is worth it.
The verdict on WantMatures was as clear as day. Read on to discover what we thought of the site.
The Full Want Matures Review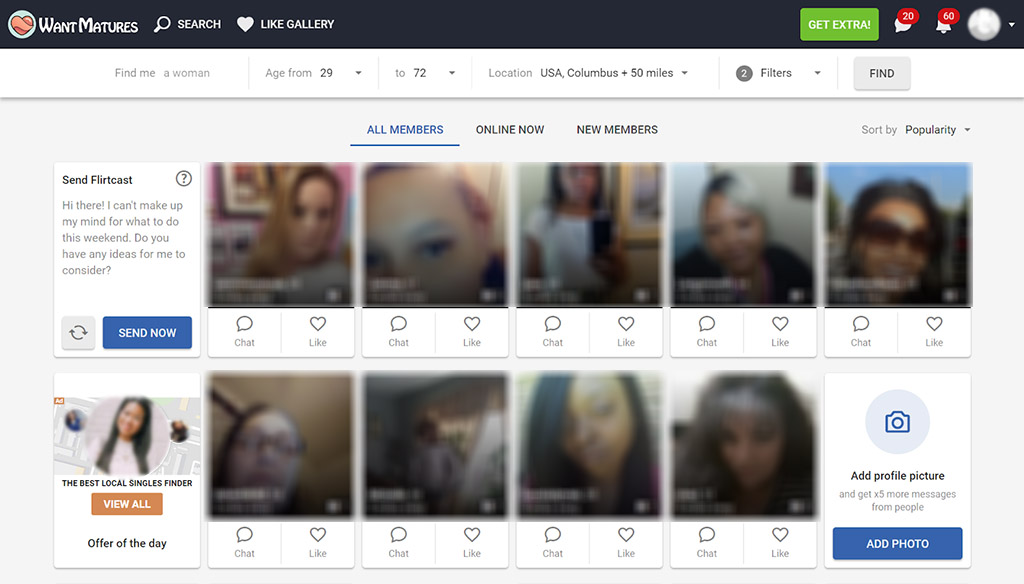 Below is a basic summary of WantMatures, for those who are in a hurry. We rank the sites for each of the most important aspects of online dating. For context, I have compared it to AFF (which you can try for free here), which we rated as one of the best hookup websites for meeting mature women right now, especially for normal guys. Seeing how new sites stack up against one of the best is an easy way to tell if it's worth check-in gout.
Overall

Our team rates each site objectively based on many hours of independent research, the features each site offers, and how it compares with other sites. The ratings are the opinion of our editors and their extensive experience.

2
9.5
Quality of Women

Our opinion of how attractive the typical woman is that uses this site and how easy they are to connect with compared to other sites.

3
9
Popular

How many people are using this site to actually meet people compared to other sites.

2
9
Usability

How easy is this site to use and how quickly can an average person begin meeting people compared to other sites.

5
10
Privacy & Safety

Does this site take proper precautions to safeguard its members, their identity, and their data.

3
10
Effective

Our opinion of how easily an average person will be able to achieve their dating goals with this site compared to other sites.

1
9
Value

Will the time and money spent using this site pay off for an average person based on the opinions and experience of our editors.

1
10
Our Recommendation
We're sad to say that in our opinion, Want Matures is going to be a major waste of time for most guys. We spent weeks and weeks testing it out with very little to show for it. Compared to other options out there like AFF, where we've consistently seen guys do well, this site was pretty bad. We recommend that every guy skip this site completely, especially if they want more mature women, in favor of more proven options.
There are much better options out there!
There were warning sirens going off in my head within the first few minutes of testing Want Matures. As soon as my blank profile was created with no photos and no bio, I began to receive several messages from female accounts. The longer I stayed logged in, the more I'd receive. I couldn't read them though, because you have to pay for a premium membership in order to read or reply to messages.
So, on a mission to confirm my suspicions about this website, I went ahead and bought a one-week membership. Here are the main aspects of this website you need to know about.
WantMatures.com is designed the same as two other sketchy websites I recently reviewed
The first thing I noticed was that this site had the exact same design as MeetWild.com and GetNaughty.com – two low-quality websites I had reviewed in the past. These two websites even shared the same female profiles. Want Matures had a different selection of women (mostly older women), but everything else about the design of the website was the same.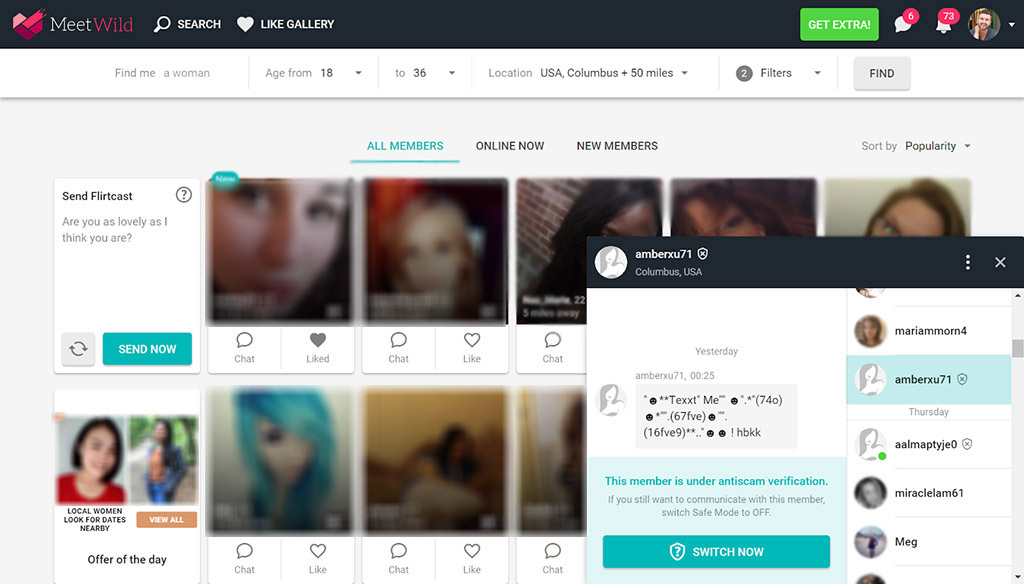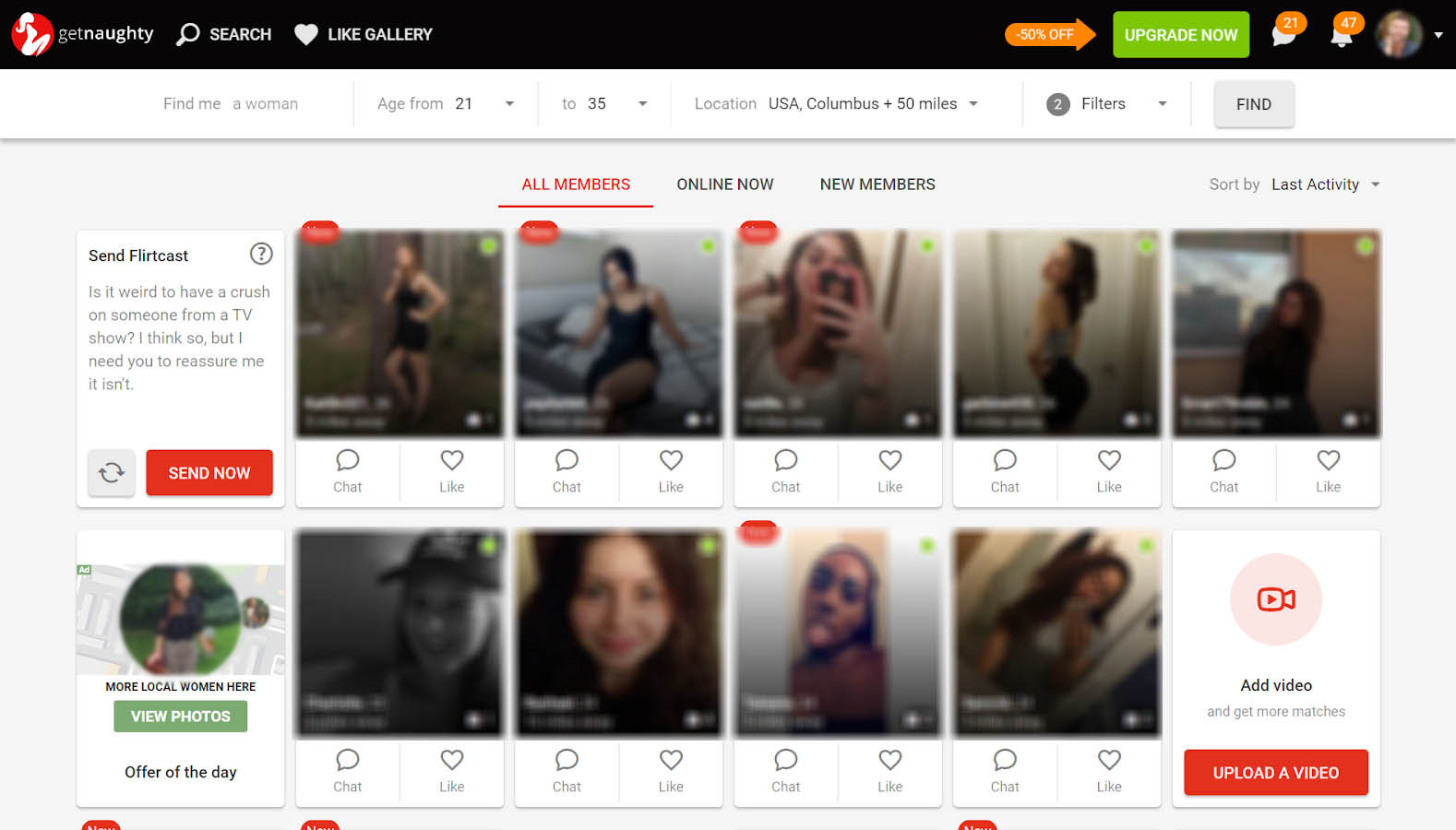 I received zero replies to my messages and was constantly messaged in a very questionable way
I replied to all of the accounts which had messaged my blank profile. These seemed like automated messages from bots. After all, what woman would start chatting with a line like this?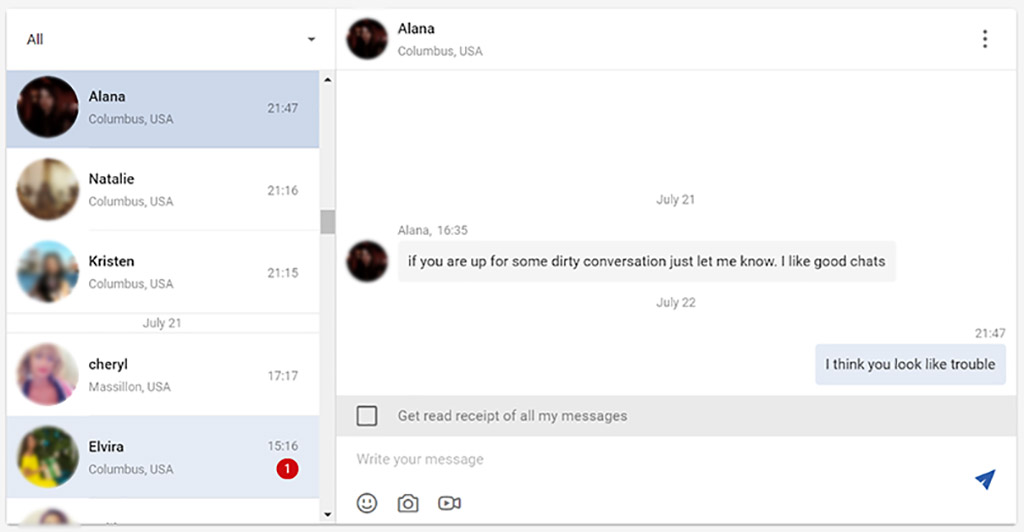 So, I reached out to cold-message another 50 women on top of that. I received 0 replies. This was the same result as the sister websites – MeetWild and GetNaughty. However, a major difference was that I did get cold-messaged by several accounts with actual humans behind them.
These were blank profiles with no pictures. They would all immediately ask me to send my phone number so we could chat via text. When I asked for their number, they insisted that I sent mine.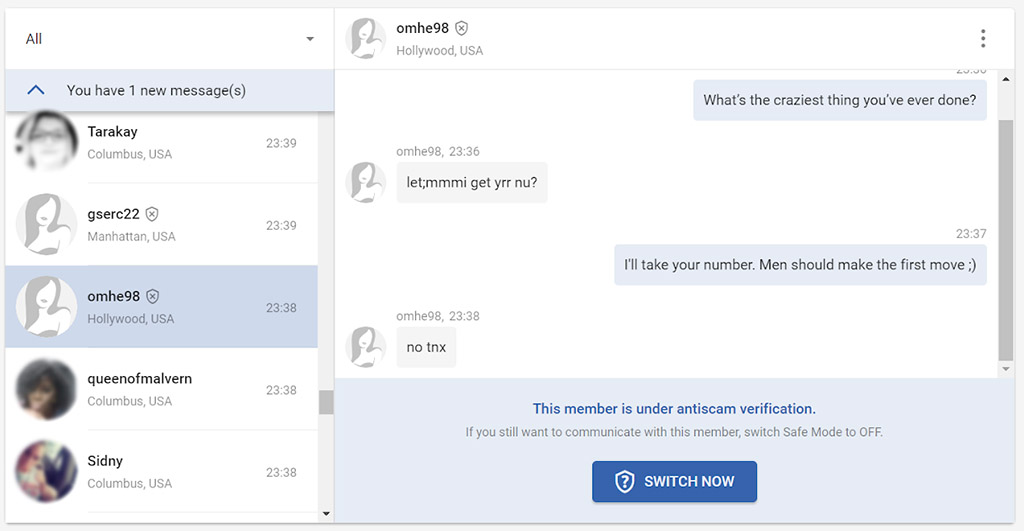 My phone number would most probably have been added to a million-and-one marketing lists if I'd handed it over. So of course, I didn't give them anything.
Of course, the main frustration is that I found 0 real women to have a real conversation with. You'll get plenty of automated notifications suggesting that there are women waiting for you on this website. Frequently, I was alerted about a woman viewing my profile, "liking" or "favoriting" me. But this never led to a message. I suspect these notifications are automated too.
There are no chat rooms on Want Matures at all
This site clearly advertises "tons of different chat rooms" on its home page, yet there are no chat rooms anywhere to be seen. Perhaps this is an old feature? Either that or it's an outright lie.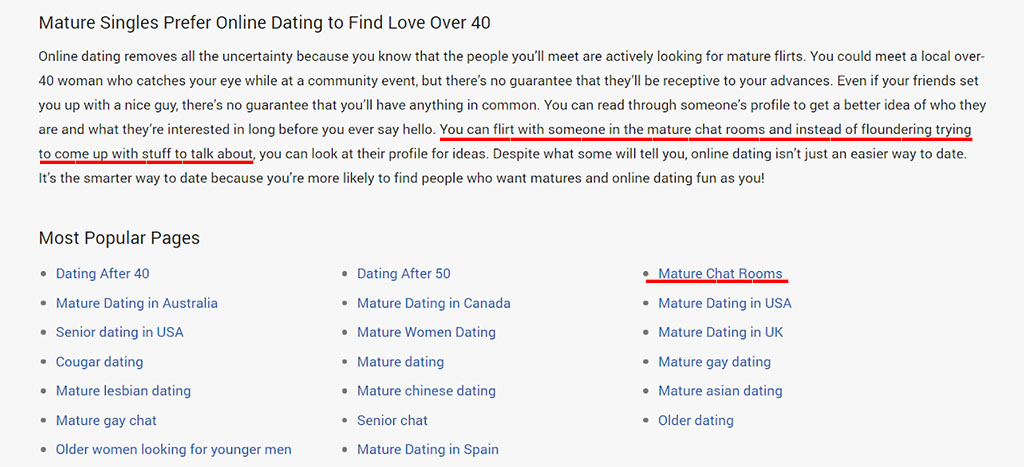 Why bother with WantMatures when you can use AFF instead?
It's fair to say that WantMatures.com is one of the worst online dating website I have tested. There is no reason to spend a second of your time or a penny of your money on this website. If you're looking to meet and date older women, I'd advise you to stay away from Want Matures and try out AFF instead.
AFF has one of the largest global user bases in the world, including a thriving population of older female users. AFF is marketed to singles looking for one-night stands and casual relationships. So don't be surprised if you connect with several women who want to meet and get down to business quickly. It's the most effective website we've tested when it comes to arranging speedy and hassle-free hookups.
Better yet, it's currently offering a free trial to new users. That means there's no better time to see what all the fuss is about.
Pros and cons
We try to summarise the pros and cons of every website we review, but it was tough to list any positives for Want Matures. It is truly garbage.
The website is well-designed
No messaging available on a free account
No reading the messages you receive unless you pay
There are no chat rooms (even though they are advertised)
I was constantly harassed by blank profiles asking for my phone number
No-one replied to my messages; it would appear as if there are no real women on this website
Profiles, pictures and members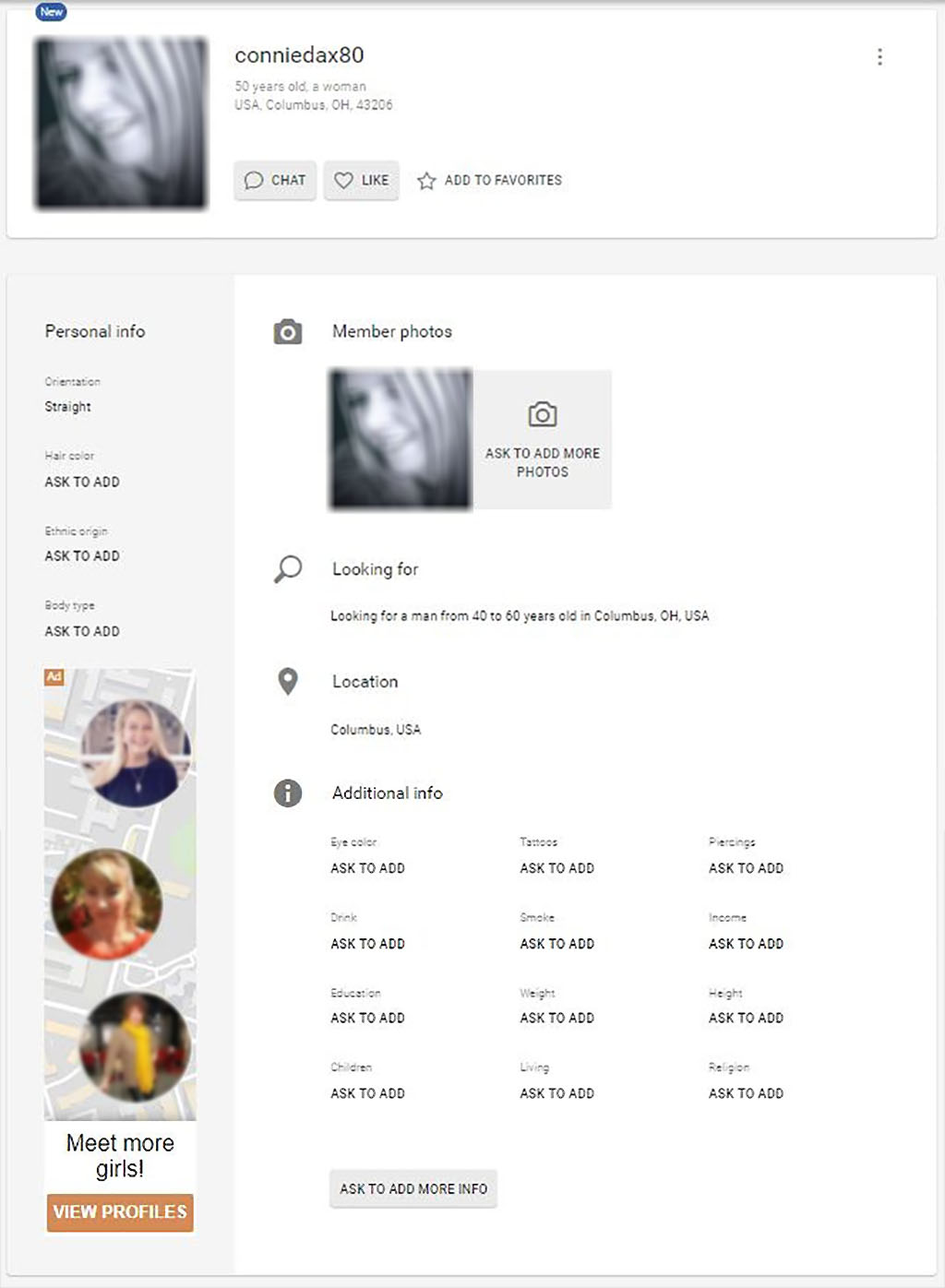 You can add photos or videos to your Want Matures profile, plus you're given 140 characters to add to a status. On top of that, you can add more information by answering multiple-choice questions about your demographic and appearance. If a member hasn't answered one of these questions, you can request they do so.
There are few female profiles with more than one photo. Most of them have the same generic line in their bio stating what type of man they're looking for. It states an age range and a home city.
Want Matures Isn't Very Good For Regular Guys But Dating Experts Recommend These
You can probaly tell by now that you need to find a better app to use. The biggest mistake normal guys make is picking the wrong app from the start. This often leads to terrible results when they would be seeing some real success on another app. You should try these recommended apps first:
Site
Our Experience
Our Rating
Free Trial Link

Best Hookup Site For MILFs

Experience Highlights

The best way to meet MILFs for hookups by far
Best results for regular guys
Over 60 million active members
Not good for long-term relationships

Try AFF For Free

Young Guys Do Well

Experience Highlights

Focused on younger men meeting older women
A mix of relationships and hookups
Growing
Not as popular as eHarmony of AFF

Try Cougar Life

2nd Best For Hookups

Experience Highlights

2nd best option to find hookups
Attracts an older crowd than most hookup apps
Pretty popular
Great free trial

Try Passion
WantMatures.com design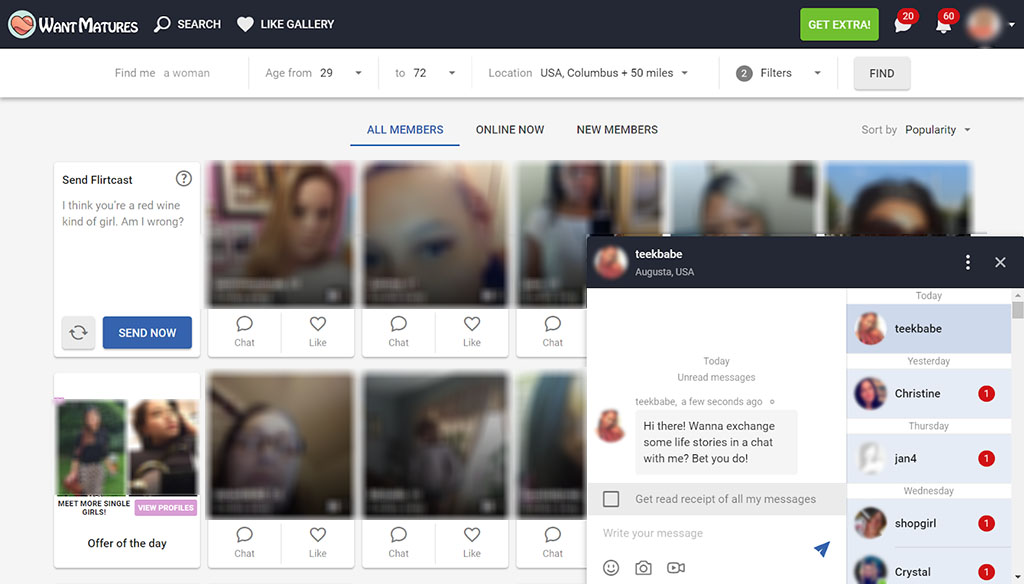 Wantmatures.com is well-designed. The main dashboard is dominated by large pictures of women you might want to speak to. The chat button, which appears on the home page and on each individual profile, triggers a small chat box to pop up in the bottom-right corner of the screen. You can scroll through all your previous chats in this pop-up box too.
Notifications appear in the top right corner. It's really easy to use and navigate this website. Perhaps other more worthwhile sites should consider using the same design.
Messaging and chatting
When you register a free account, you'll inevitably be flooded with messages. However, you won't be able to read them or reply to them. This privilege is only available once you purchase a premium account. Even worse, the messages sent to you will disappear within an hour if you have a free account. The website makes it easy to send messages to other profiles, but the problem is: I doubt I was talking to real women.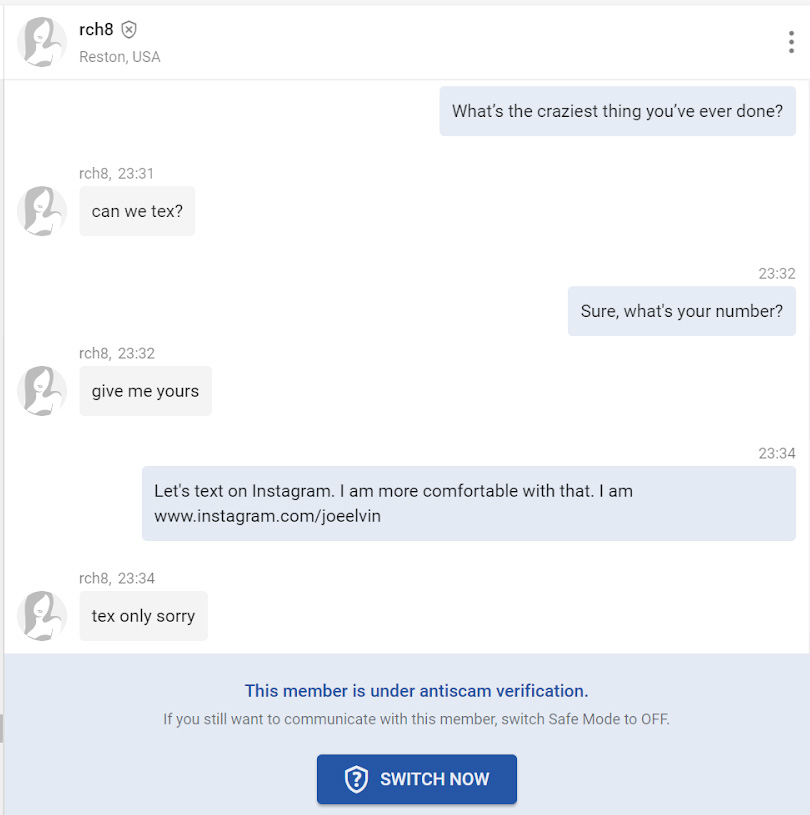 What can you do with a free membership on WantMatures.com?
With a free membership, you can view other profiles. You'll also be spammed with messages that you're unable to read. That's it.
Advertisements
You'll encounter a few small text-only adverts for alternate online dating websites. They tell you a specific number of women are "waiting for you," which is of course untrue. The third-party websites being advertised are designed exactly the same as WantMatures.com. There must be a whole network of websites owned by the same company, and I'd bet there are no women looking for love on any of them.
Pricing
You can buy a premium membership for one day, one week, one month or three months. You'll pay less per day if you choose a longer membership.
Here's how much you'll pay for each of them.
One day: $0.99
One week: $7.00 ($1 a day)
One month: $28.80 ($0.96 a day)
Three months: $48.60 ($0.54 a day)
You can also buy an add-on pack for an extra $0.95 per day. This includes HTTPS encryption, incognito browsing, read receipts and auto history cleaning. You'll also supposedly appear higher in other users' inboxes and in their search results when you buy this.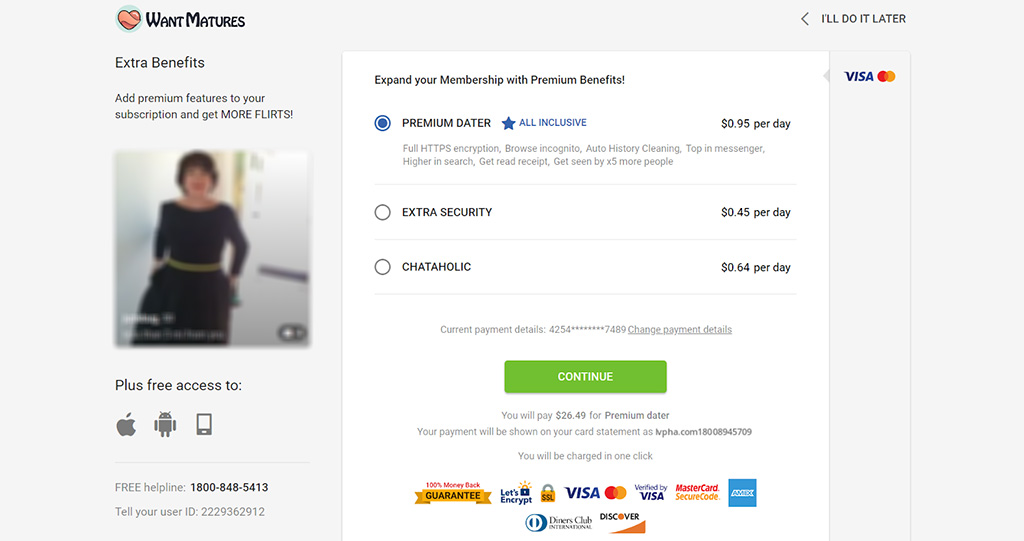 Want Matures review: Frequently Asked Questions
WantMatures isn't a tough site to figure out. But if you need some quick questions and answers, here are a few:
What is WantMatures.com?
WantMatures.com looks like your typucal dating site for meeting older women. However, we found exactly ZERO legit women to talk to on this site.
Who actually owns WantMatures?
WantMatures is owned and operated by Northlock Holdings Ltd. They also own several low-quality sites with the exact same features.
How can I contact Want Matures?
You can call Want Matures at +18008485413 or email them at [email protected]
Is WantMatures real?
While WantMatures is a real site you can visit and use. However, it's not a real dating site because it's impossible to contact anyone here.
Is WantMatures legit?
No, I found no women to speak to at all, which makes me think WantMatures is not legit.
Is Want Matures a scam or fake?
We are very suspicious of Want Matures. Warn your friends about this site now. This website makes huge promises on its home page, sends fake messages and entices you to pay to read them. It's only when you pay and read them that you realize this website has no women looking for love. The only accounts you'll converse with are blank profiles asking for your phone number. Avoid this website at all costs!
Is WantMatures.com safe?
No, WantMatures.com doesn't seem the least bit safe.
What are WantMatures alternatives?
For our recommended alternatives, see our guide on the best hookup apps and websites.
How does Want Matures work?
Creating a Want Matures account is free. Once you log in, you can check out some profiles and curate your searches by age and location. However, to read and send messages, you'll need to pay for a membership.
Is there a WantMatures.com app?
No, WantMatures.com can only be accessed through your browser.
How much does WantMatures cost?
You can buy a one-day, one-week, one-month or three-month premium WantMatures membership.
The price for each of them is below.
One day: $0.99
One week: $7.00 ($1 a day)
One month: $28.80 ($0.96 a day)
Three months: $48.60 ($0.54 a day)
How can you use Want Matures for free?
You can create a WantMatures account for free. But to contact anyone on the site, you need a paid membership.
Can you send messages for free on WantMatures.com?
No. To send or even read messages, you'll need a WantMatures.com paid account.
How do you delete your WantMatures account?
To delete your WantMatures account click your profile picture in the top right-hand corner of the screen and navigate to "My Settings." Then, find the "Remove Account" button near the bottom of the page and follow the instructions. You'll have to enter your password and answer some basic questions to delete your account. This is said to also cancel your membership, but you may need to call them up to cancel it manually.