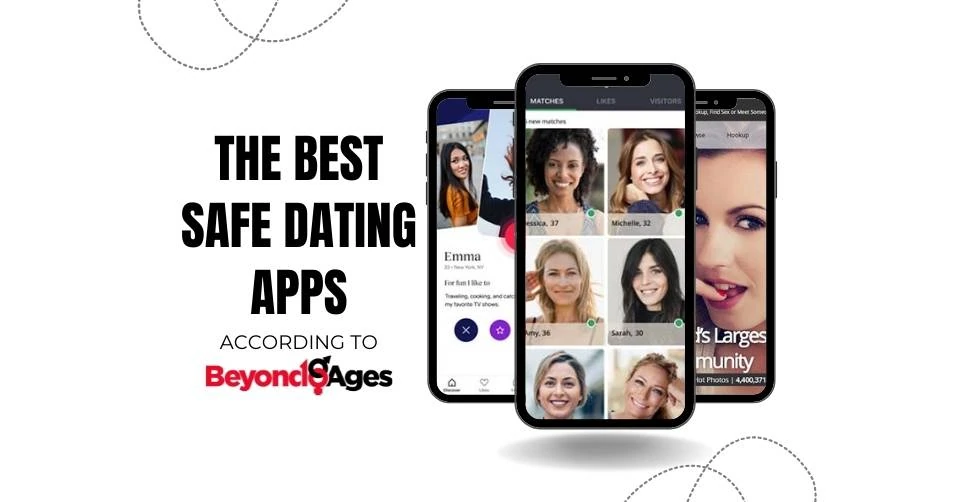 Are you looking for safe dating sites to find love? If so, you probably know that modern dating has plenty of security and privacy risks. It can be extremely difficult to find love when you're inundated with scammers, spam emails, and intrusive requests for personal information. That's why finding a safe dating site is a game changer.
By design, a safe dating site provides the best way to connect with potential matches, talk in a safe and non-threatening environment from the convenience of your computer/phone, and eventually set up dates. In this article, we'll look at the top safe dating sites that are worth using, considerations you should have in mind when choosing the right app, and a couple of helpful tips that'll make your experience more secure.
How we ranked the best safe dating sites
Safety should be one of your top priorities when it comes to using dating apps. So for this list of the best safe dating sites, we used a wide variety of dating apps to see which ones are actually safe. Armed with a list of options, we tested out each and every one of them. Over the course of several weeks, we used each app to see if they are indeed safe to use. We also paid for subscriptions if this is an option.
After testing out the apps, we then waited to see if there was any suspicious activity on either our accounts or credit cards. Once cleared, we then ranked the safe dating apps based on which ones we think are equally safe and effective for meeting potential dates.
The Top Two Safe Dating Sites Right Now Are eHarmony and AFF
If safety is your priority, we've picked out two of the safest dating sites you can use today. Here's a summary of their features:
Overall

Our team rates each site objectively based on many hours of independent research, the features each site offers, and how it compares with other sites. The ratings are the opinion of our editors and their extensive experience.

9.5
9.5
Quality of Women

Our opinion of how attractive the typical woman is that uses this site and how easy they are to connect with compared to other sites.

9
9
Popular

How many people are using this site to actually meet people compared to other sites.

9
9
Usability

How easy is this site to use and how quickly can an average person begin meeting people compared to other sites.

10
10
Privacy & Safety

Does this site take proper precautions to safeguard its members, their identity, and their data.

10
10
Effective

Our opinion of how easily an average person will be able to achieve their dating goals with this site compared to other sites.

9
9
Value

Will the time and money spent using this site pay off for an average person based on the opinions and experience of our editors.

10
10
Our Recommendation
eHarmony has superb security features that help you find your ideal partner
Long-term relationships are hard enough to come by, even more so if the apps you're using aren't warding off scammers. eHarmony takes both seriously. With a huge number of users on eHarmony who only want genuine relationships, the app is able to discern between those who are serious about their search and those who are looking to scam you.
eHarmony's safety features include verifying users' photos, warning users who spam others, and ensuring that your payment details are safe from any prying eyes. They even give refunds if you're not completely satisfied with the services on the app.
So while eHarmony sends you daily matches of other users who fit your preferences, they're also doing a lot behind the scenes to ensure that your experience is safe and enjoyable.
Try AFF for the safest way to find NSA fun online
If you want a hookup with privacy and security as a top priority, then AFF is at your service. AFF was designed to screen those who use the app with a short signup process, but a secure platform featuring end-to-end encryption.  As a new member, meet new friends through cams, chat, email, blogs, and groups, and set expectations from the get-go with a live video feature. Plus, if you encounter any issues with other users, AFF takes these seriously once reported. Try AFF for free, but you'll get the best results with a paid membership.
The Other Top Dating Sites for the Safety-Minded Worth Considering
Beyond the Top 2 dating apps for safe dating listed above, we have three (3) other options that can work for you if you want multiple apps at your disposal. Here are our other top picks:
If you're tired of putting yourself out there, only to deal with time-wasting women and endless scammers, Bumble offers a viable alternative. First, women are required to send the first message after you've matched with their profile. This means that only interested women will contact you (scams are sniffed out pretty quickly on Bumble). Because Bumble requires a paid membership to hide your profile from the public, it didn't make our Top 2 choices among the safest dating sites.
Match has been in the online dating game since 1995, so you can be sure that they take security very seriously. Match has established itself as a place where serious daters can establish genuine connections, even going so far as to partner with Garbo – a company that offers free background checks and the Date Check-In tool to notify up to three contacts of the time, day, and location of their first date with a new person. The only reason why Match wasn't in our Top 2 is its pricing structure, which can be expensive if you're not seeing success right off the bat.
Zoosk has 40+ million members in 80 countries around the world, so you know that they have security down pat. With a photo verification feature, you're more likely to have a safer dating experience with actual singles than scammers. With such a reach, the only drawback to Zoosk is that it is mainly geared to an under-30 crowd. If you're older, you may want to look at other apps.
The Most Important Considerations when Choosing the Best Safe Dating Site
Determining which dating app is the safest requires a fair amount of research before deciding if it's the right choice for your time, money, and effort. To help you discern what works for you, verify the five (5) following criteria to make the best choice.
Consideration #1 – Check out the number of users and its safety to make sure the app is worth using.
A safe dating app with a large user base is a double-edged sword, as most online dating apps are only as useful as the number of people actively using them. However, the flip side of this is more users means a greater likelihood of scammers (criminals play the numbers). Be sure to verify how many people are actually using the app AND whether the app has a reputation for safety. A simple way to do this is:
Search by "[dating app name] current users [current year]" on a search engine. If it seems too low (less than 50,000 users) and you live in an isolated area, it's most likely not a good choice.
Search by "[dating app name] is it a scam?" on a search engine. Read the negative reviews and look for patterns of misuse. If there are concerning reviews, look elsewhere.
Consideration #2 – Consider using higher-class apps.
People with large net-worth and celebrity status are constantly targeted by criminals, so you may want to choose apps that cater to their need for privacy and security.
Consideration #3 – Does the app protect your privacy by hiding your profile?
When it comes to the safest dating apps, you probably don't want to advertise to your friends, family, neighbors, and anyone else that you're in the market for a partner. Look for dating apps that enable you to hide your profile until you've made the choice to vet a potential match, this is usually offered among the paid membership/subscription options.
Consideration #4 – Look for alternative payment options.
Many dating apps now offer alternative payment options that let you pay through decentralized currencies, anonymized credit cards, and even payment processors like Zelle, CashApp, and more. If your info should be exploited, the ability to trace your details is significantly less. However, it should be noted that criminals use these payment methods, too, so always be aware of scammers.
Consideration #5 – What type of relationship is the app geared towards?
You'll need to be clear about which safe dating site fits the type of relationship you're actually looking for. If it's a hookup site like Tinder or AFF, you'll run into challenges when looking for long-term love; vice versa, eHarmony may not be the best choice for a spontaneous hookup on short notice.
5 Key Tips to Get Great Results Using Safe Dating Sites for a Better Overall Experience
The five following tips are designed to save you a lot of free time, money, and plenty of heartaches when using safe dating sites. Read on to learn how to use the system in your favor!
Tip #1 – Play the field as much as you're comfortable with
While you may hit it off with the first couple of people that you match with, understand that there are plenty of people out there. Even if you get some quick matches that seem legitimate, it's the sad reality of dating apps for some users to ghost you without warning, lose interest, or hit you with a scam once you're invested in meeting them. Play the field by matching with as many people as possible (easier with paid memberships on most apps), whittle down those who meet your dating requirements, and unmatch those who don't seem legitimate. Also, keep in mind that users that match with a higher number of users tend to get a boost in the rankings, so you'll actually get more matches if you swipe right and like profiles more often than not.
Tip #2 – Take your time to meet up in-person
It seems counterintuitive, but online dating may actually be slower than meeting someone in-person. Take your time to get to know a person and see if you have things in common. Those who press for a quick date are often poor matches who swipe on every profile, often leading to substandard outcomes. Also, being desperate to meet is always a turn-off, so you'll want to ride the delicate balance of being interested but not in a rush. Unless you're looking to play your chances on a hookup, you may end up compromising yourself and your information.
Tip #3 – Always pay for a membership/subscription
Even the safest dating apps are designed to make a profit, so they're incentivized to give better results and features to users who are willing to invest in their love life in comparison to those who won't pay. Because you're paying for exclusive access, a membership gives you a competitive advantage with better search features, a typical boost in the search results, and serves as a way to sort out the riff-raff.
Tip #4 – Fill out your profile completely
Signed up for a dating app, uploaded only a few pictures, and still have to add more info to your profile? To be blunt, that's simply not enough effort to make an impact in the highly-competitive online dating world. You'll want to complete your entire profile, add as many photos as possible, and answer survey questions from time to time to make a better impression on potential matches.
Tip #5 – Make sure to engage with the app as often as possible
Use your dating app(s) as frequently as you're comfortable with. Enable push notifications if available and respond immediately (or have your email set up to give you a notification). This active engagement also boosts your ranking in most search algorithms, as user engagement is an important metric for determining who are priority users versus casual users.
Frequently Asked Questions About Safe Dating Sites
Browse the most frequently asked questions below about safe dating sites that most people want to know before using them.
What are safe dating sites?
A safe dating site is an app that puts your security and online privacy a priority. With all of the recent hacks involved with dating apps, it's no wonder that those who want to keep this under wrap prioritize apps that use feature excellent security features.
Are safe dating sites legit?
When it comes to security, most apps have some sort of way of protecting your information from falling into the wrong hands. Usually, security is part of their holistic set of features, so you can expect decent features that take advantage of the best tech (ie. video streaming). However, your mileage will vary when it comes to which apps actually get results versus those that only upsell premium subscription memberships for exclusive access to their user base. The truth is dating apps come and go based on their popularity, success rating, and other factors.
Are safe dating sites actually 100% safe?
To be completely honest, there will always be a degree of risk when putting your personal information and photos online. Sophisticated criminals and bad actors can take advantage of this information by exploiting security loopholes or using social engineering tactics to find out more about you. As with dating in general, it helps to properly choose who you intend to meet up with. While you can screen for serious red flags among people that you've met in person by using your intuition, online dating safely requires careful attention to each match you have through texting conversations, details on their profile, and any other information they give you. Catfishing has also become a nuisance for online dating, so always avoid dangerous situations when meeting up or choosing to give out your personal information unless you're aware of the risk (at the very least, it can be disappointing to interact with someone that misrepresented who they are). Last, be prepared to block someone or report their behavior if they cross your personal boundaries or seem too good to be true
What are safe dating sites alternatives?
There are more dating apps than just those geared towards the best in security. Beyond Ages has compiled an extensive list of dating sites and apps that have been proven to provide success, generally decent security, and a great overall user experience. Use our list as a general guide for success and see for yourself just how great your dating life can be!
How do safe dating sites work?
Cybersecurity is always evolving, but you can expect the safest websites to safely store your information, encrypt all messaging, and provide verification of all users. Verification can range from email message confirmation, text codes to your phone, and even biometric data (ie. face ID). Some safe dating sites also provide better safety by simply charging a monthly/annual usage fee – even something as simple as charging $10/mon provides a stumbling block to criminals and scammers that don't want to lose money or have their info tracked by law enforcement.