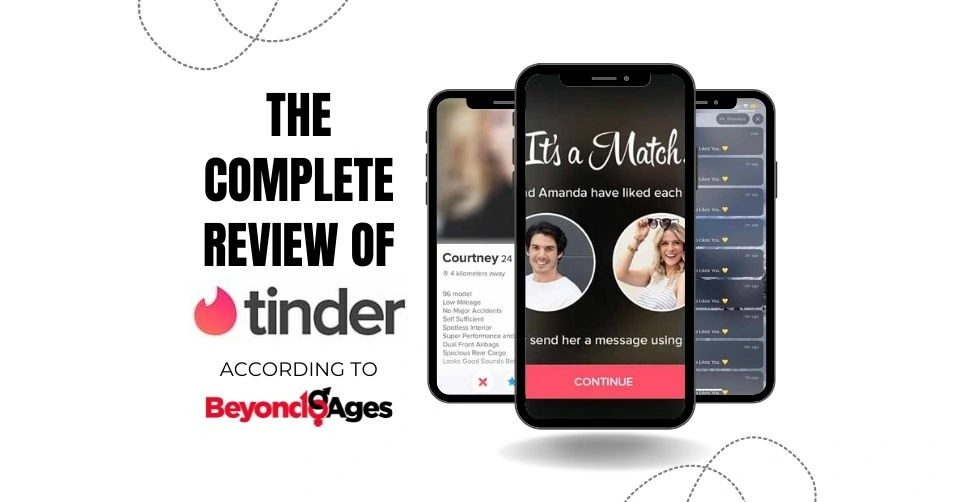 The app that started it all, you will have heard of Tinder at least a handful of times over the past 9 years or so. Whether you've used it or not, this Tinder dating app review is going to cover everything you need to know about it. What it's like to use this app right now and if I still found it to be effective.
I'm always happy to review a legitimate dating app and intrigued to see the difference between free and paid. For some apps, the paid membership is a game-changer. With others, it's a total waste of money.
I'll be giving you the low down on these differences and so much more throughout the review.
First, let's talk about the review process I use for all of these dating apps and website reviews. After all, they're only useful if they stay objective!
How we reviewed Tinder
No matter what app I'm using, I always run through the same steps in order each time. It starts with as much of a blank profile as the setup process allows. I'll leave it for a couple of days to see what notifications I get.
This is a great test to see if I get any spam messages since scammers are the only profiles that will message a blank user.
After that, it's time to populate my profile completely and see how many dates I can set up with a free account. After a week or two of this, I move on to a paid subscription and keep on the same track. I want to see a direct comparison between free and paid levels of access. It's the only way for me to give you a real overview of those premium perks and whether they're worth the money.
Tinder Review: Does It Still Stand Up to Modern Competition?
Just before we get into the finer details, let's take a look at a quick comparison against AFF. As another major name in the industry and boating almost 4 million connections, they make for a solid comparison.
Overall

Our team rates each site objectively based on many hours of independent research, the features each site offers, and how it compares with other sites. The ratings are the opinion of our editors and their extensive experience.

7
9.5
Quality of Women

Our opinion of how attractive the typical woman is that uses this site and how easy they are to connect with compared to other sites.

7
9
Popular

How many people are using this site to actually meet people compared to other sites.

8
9
Usability

How easy is this site to use and how quickly can an average person begin meeting people compared to other sites.

10
10
Privacy & Safety

Does this site take proper precautions to safeguard its members, their identity, and their data.

10
9
Effective

Our opinion of how easily an average person will be able to achieve their dating goals with this site compared to other sites.

7
10
Value

Will the time and money spent using this site pay off for an average person based on the opinions and experience of our editors.

8
8
Our Recommendation
Tinder still isn't quite my favorite dating app. That said, after trying it again for the first time in a while, I was pleasantly surprised by the results. In fact, their paid membership brought it almost on par with current big brands like Hinge and AFF, which was frankly unexpected.
It's easy to use, but it's not for everyone
All you really need are a handful of good photos and a short bio. That's literally it. After that, you can swipe away at all the women on the app.
But here's the thing: you can swipe all day and never get any matches if you put zero effort into your profile. Women on Tinder have their share of options. Unless you know how to stand out, you won't get anywhere.
In the off chance that you DO match with someone despite having a low-effort profile, make sure it's not one of those girls who'll match with you to get you to follow them on Instagram. You can bet that the minute you click "follow," she'll unmatch you. But more on that later.
AFF vs. Tinder
There's a reason most millennials and younger folks know more about Tinder than they do about AFF. Tinder is the hip, new app that's fun and easy to use. But it does have its downsides.
For one, Tinder has so many users that it's hard to know if they're looking for a relationship or a fling. Some of them state it outright in their profile, but others won't tell you unless you ask. Second, Tinder is very looks-based. The swiping mechanism was made for quick judgments on whether you want to match with someone or not. So unless you can stand out with your photo (or your bio if she reads that far), you likely won't get a lot of matches.
Contrast all that with AFF. AFF tends to be more popular with the late 20s and older crowd. And unlike Tinder, no one here is looking for a relationship, so it's pretty straightforward. On top of that, a lot of guys (even the ones who don't look like models) find it easier to match with women because the profiles are much broader. It's not all based on photos, looks and one-liners. Most people match her because of shared interests (sexual or otherwise).
So if you're young, you like having a LOT of options and you like quick and easy apps, go for Tinder. If, on the other hand, you just want casual hookups and you don't feel like competing with a thousand other guys in your city, you should try AFF's free trial.
Pros and cons from our review of Tinder
Here's a rundown of what I liked and didn't like about using Tinder.
A known, trustworthy brand
A very simple, intuitive interface with an easy tutorial
A broad and active user base
Matches feel quite limited as a free user
Still prone to women who are just looking for social media follows
All in all, it's an entirely safe app and you're going to get multiple dates from it in a short window of time. Just because it doesn't make it to my top pick doesn't mean it's not worth checking out!
How Tinder works
In case you're one of the 12 single people in existence who don't know how to use Tinder, here's a quick rundown.
Once you've set up your profile, you're thrown into the mix with other guys in your area. You'll pop up (seemingly) at random for women nearby, provided you meet their filter criteria like age and distance.
In the same way, you'll be presented with women in your area, based on the filters you've set. For each one of these profile cards, you can:
See her name and age
See how far away she is from your current location
Flip through her photos
Read her bio
With this info, you decide if you're interested in chatting with her. If you are, swipe to the right. If not, swipe to the left, it's that simple.
If you've swiped right on someone and she also swipes on you when your profile pops up, it's a match! At this point, you'll get a new match notification and she'll appear in the messages tab. It's time to chat.
Set yourself up for success
The process of creating a new profile (or updating an old one) can be as simple or time as consuming as you like. As with many things in life though, you only get out what you put in.
I wanted to cover this point quickly because it's crucial to the experience you'll have on Tinder. I've never struggled to get dates on this app and it's not because I'm the hottest guy in my city. It's because I take some time to do it properly once then don't have to touch it unless I'm adding fresh photos.
I have some friends who throw in a couple of mediocre photos, no bio text and call it a day. I'm sure you can guess how well they do.
All of this to say, do it right the first time and you'll have a far better experience. Use a good collection of accurate, quality photos, write an interesting bio and don't be afraid to experiment to see what works for you.
Unsure what a quality profile looks like? I already covered How to Win at Tinder in a separate article!
Don't. Be. Boring. (Or creepy)
I hate that I have to say this but it's still a thing. If you match with someone and just say "hi", you're not going to get anywhere. It's not "unfair" as my lazy friends claim, you're just being lazy, which is only hurting yourself.
Take a look at her profile, get creative and message her with something interesting. If you just say "hi" you're probably one of about 10-20 guys that have sent that message to her today. Yawn.
Likewise, stop being creepy, gentlemen. Don't call her "baby", don't try to be some slick "pickup artist" and stop opening a conversation by commenting on her ass. It's weird.
Need some help on what to say in that first message? That's okay, it can take some getting used to. I already wrote a separate article specifically about how to start and maintain a conversation on Tinder too. Check it out!
ELO Score
The order that profiles appear in your stack might seem completely random but they're not. It's all based on a proprietary score that's given to you based on a number of factors.
This score is referred to as an Elo score or Elo rating. Named after its creator, Arpad Elo, it's most commonly used in gaming to calculate skill level relative to others for game matchmaking.
In the context of dating apps, the algorithm behind this score is trying to quantify your desirability. Tinder doesn't give us specifics on what they track or how they weigh these elements. What we do know is that it's mostly about your actions in the app and how women respond to you.
For example, if you just open it each morning and swipe right on the first 50 profiles, you're killing your score. Likewise, if you only ever swipe right on models, your swipe-to-match ratio will be low, which also lowers your score.
To improve it, there are a few common recommendations to follow:
Create a good profile that women want to interact with
Be cautious with your swiping. Only swipe right on women you actually want to talk to
Engage with your matches and get a conversation going
If women with high Elo scores are matching and communicating with you, expect your success rate to improve overall.
If you're still running short on matches, I also covered 7 Reasons Why You Are Not Getting Matches On Tinder. Take a look and get your score heading in the right direction.
Beware the Insta/Snapchat farmers
For reasons that are still unclear, Tinder seems to be the worst one for this. Profiles that are set up with the sole purpose of gaining Snapchat and Instagram followers. The vanity!
Sad as this may be, it also takes away from the overall Tinder experience to an extent. How do I know this is their only intent? I have a few friends who've openly told me they do it. Ever received a message or read a bio along the lines of "I don't use this app much but you should message me on Instagram [Insta handle]"? Yeah, it's that.
Not satisfied with just hearing it from a couple of friends, I tested it for myself. Every time I received one of these messages, I replied with something like this:
"Honestly, same. I don't really follow people from dating apps but you should text me instead"
Then I'd give my phone number. Here's a list of all the names that actually text me after giving this response:
That's right, zero. Not a single one. Gentlemen, if they seem eager for you to find them on social media, don't waste your time or feed this tactic. Just be aware that it's a drawback of Tinder.
An app for all types
While not perfect, the culture on Tinder is generally one of acceptance. Whoever you are, whatever you look like, whatever you're looking for, that's okay.
Rarely will you find someone that'll give you a hard time. If they do, that's what the block button is for. Don't be afraid to openly communicate what you want, it's a safe space!
Users tend to come and go frequently
I absolutely include myself in this statement. It's very normal for people to set up their profile, use it for a period of time (sometimes days, sometimes months) then deactivate their account.
It's another cultural thing to be aware of because you're going to find some dormant profiles along the way. It's no big deal so long as you don't go getting too excited about one particular match — which is good general advice for all dating apps.
Expect low commitment
From my personal experience, I find people on Tinder seem to be far less invested in the app as well. I'm a big fan of Hinge because people are active, engaged and quick to go on a date.
With Tinder, on the other hand, sometimes it'll take a week for someone to reply. Maybe they're just using it to kill time and suggesting they text you is enough for them to go silent. Again, I include myself in this, I've fallen guilty to this same culture for some reason.
I'm pointing out these elements for two reasons: Firstly, it speaks to the experience you'll have on Tinder. Second, it's important to go into this with the right expectations. Don't beat yourself up for getting 20 matches but only managing a handful of dates. It's normal here.
Over 30? Congratulations, you get to pay at least double for premium
As someone a little over this cap myself, it's less than ideal. It's the exact same app with the same features and functionality — nothing changes. Sadly for me though, I get to pay at least double the monthly subscription price of my 30-year-old friend.
Why? Because Tinder can. That's literally all there is to it. This has raised a debate over whether or not it classifies as age discrimination, a debate I'm not equipped to enter.
Their reasoning is that people over 30 are capable of paying more than our younger counterparts. With the state of things these days, it's clear the decision-makers don't walk among us. I digress.
From the information available, it seems they're already dealing with multiple class actions and investigations for this around the world. Age, gender and potentially other factors seem to alter the subscription price. In some instances, a single user might see wildly fluctuating prices with zero transparency.
The good news is, if you live in California, they already settled a class action in your state and revoked this pricing model. Everyone pays the same, though there was talk of offering student discounts.
Three paid subscription options to choose from
In addition to the free subscription, you have three paid Tinder subscriptions to choose from. Here's an overview of your choices:
Tinder Plus
Unlimited Likes. The free version limits your swipes to an unknown number. Typically ~50 for men and ~100 for women but it's different for everyone based on proprietary details.
Rewind. If you accidentally swipe left on someone you can go back and fix it
5 Super Likes per day. Super Likes highlight your profile with a blue border and star in her stack so you stand out to her.
1 Boost per month. Your profile is temporarily pushed toward the top of the stack for women in your area, giving you more potential matches.
Passport. If you're planning to travel soon, you can set your location to somewhere else and match with people there before you arrive.
No ads 
Tinder Gold
All the features of Tinder Plus
See who Likes You before you swipe
See a list of women that have swiped right on you as it happens.
New Top Picks every day. Top Picks is a curated list of potential matches they think you're most compatible with. How they make this decision is also proprietary.

Tinder Platinum
All the features of Tinder Plus and Tinder Gold
Priority Likes
As a Platinum user, when you like someone, you'll be one of the first cards they swipe on. This priority boosts your likelihood of getting matches.
Message Before Match
With any other level of Tinder subscription, you have to match one someone before you can chat with them. This feature lets you talk to anyone, matched or otherwise.
Do these subscriptions at least make a difference?
As much as I want to say no, dating app reviews aren't about my personal gripes. Objectively, you'll have a better experience on Tinder if you upgrade to a paid subscription.
For this review, I went with Tinder Gold as a happy middle ground here. The biggest difference for me was being able to see who liked me without even having to swipe.
Honestly, if I weren't preparing for this review, I would have stopped swiping entirely. You can easily just jump into your "Likes" list and see a list of women that have swiped right on you. If you like them, it's a guaranteed match. If not, it's no big deal, just swipe left on them.
I mean check out this screenshot. After less than two weeks of use I had 130 women to choose from and I hadn't even used Boost yet. That's 130 people who swiped right on me, not including the ones I'd already matched with in the usual swiping process. Again, I'm not model material, Tinder is just a busy place.
Another part of this subscription level was getting a 30-minute "Boost" once per month. I activated this one night and got 13 new likes in that 30-minute window.
I also saw a marked uptick in the number of matches I got after that too — I have to wonder if all that attention improved my ELO score?
As for the other perks on the list, honestly, I didn't find them helpful at all.
Tinder Review: Frequently Asked Questions
Time to go through some of the most frequently asked questions we see about Tinder. It's a great way to wrap things up but if you still have questions I haven't covered, reach out to us and I'll gladly include those too.
What is Tinder?
Tinder is considered to be the original smartphone dating app. Launched as a scandalous hookup app, it saw a lot of controversy in the early days. Many consider it to be the brand that started our dating app culture. In its modern form, it still holds its own as one of the more popular and successful app options.
Who actually owns Tinder?
Tinder is owned by Match Group Holdings II, LLC.
How can I contact Tinder?
You can contact Tinder via their contact form: https://policies.tinder.com/contact
Is Tinder real?
Yes, Tinder is a real site that's incredibly popular worldwide.
Is Tinder legit?
Tinder is a legitimate app, yes. I've never felt unsafe using it, they take care of spam accounts quickly and I've never had a reason to feel my credit card was at risk.
Is Tinder a scam or fake?
No, Tinder itself is not a scam. However, you should be careful about users on the site who are looking to scam you. Thankfully, this isn't very common.
Is Tinder safe?
Yes, Tinder is perfectly safe to use.
What are Tinder alternatives?
Tinder is still a solid option for modern online dating. If you still want to check out other options, we've got the perfect article for you already: The Best Hookup Apps & Sites for Casual Sex that Worked for Us.
Go check that article out, read through the apps we've covered and see what works for you!
How does Tinder work?
Once you create a Tinder account, you're presented with a stream of profiles from users nearby. You can swipe right if you want to match with them, and you can swipe left if you don't want to match with them.
Is there a Tinder app?
Yes, Tinder is exclusively an app.
How much does Tinder cost?
Tinder is free. However, you can upgrade your account to Gold or Premium, depending on your needs.
How can you use Tinder for free?
Tinder is free. The paid account includes some special features, but the basic features are free.
Can you send messages for free on Tinder?
Yes, you can send messages on Tinder for free. However, to send anyone a message, you need to match first.
How do you cancel your Tinder account?
Like most legitimate apps, deleting your Tinder profile is simple, just follow these steps:
Sign into the Tinder app or Tinder.com
Tap the profile icon
Go to Settings
Scroll down and select Delete Account