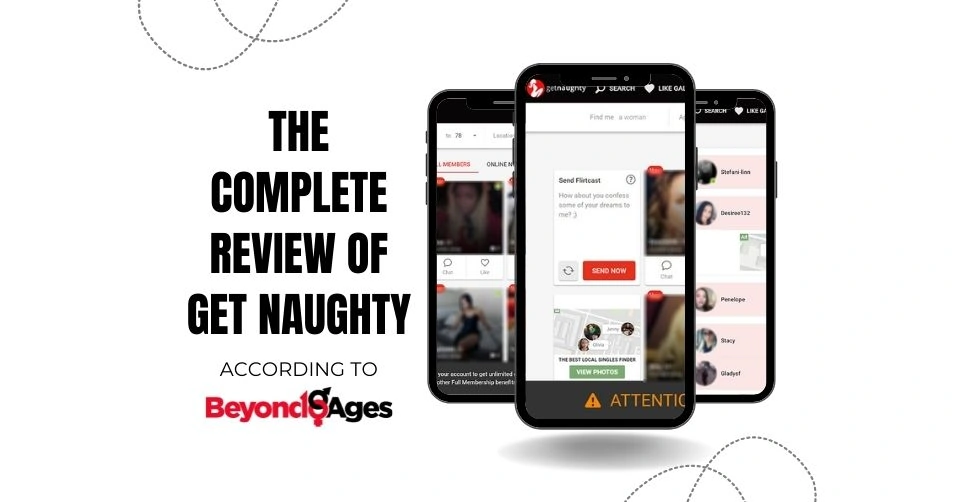 When we first started our review of GetNaughty.com we found a site that markets itself as the online dating website where "everything is possible." It prides itself as the web's trusted hotspot for naughty dating, promising its members the largest number of naughty girls on the web. Sounds exciting, right?
In a perfect world, we'd have no reservations about these claims. However, we have stumbled across plenty of websites that make similar promises, only to drastically underwhelm guys who sign up to a paid membership. GetNaughty won't allow you to view or reply to messages until you pay for a premium account, and that's why I was keen to review it as soon as possible.
This Get Naughty review reveals whether it's really the world's #1 website for naughty flirting – or one to avoid completely.
With online dating becoming an increasingly important way to meet people thanks to all the changes related to social distancing you need to make sure you're using one of the best apps out there. It's just too easy to waste a lot of time and effort on an app that looks good but isn't right for you. That's why we spend so much time testing and reviewing apps in order to make solid recommendations.
How I reviewed GetNaughty
My review of GetNaughty.com started with a basic test to check its legitimacy.
I created an account and let it sit for 24 hours with no photos and no bio.
With many scam websites, you'll still be bombarded with suggestive messages from female accounts if you do this. That's a clearcut sign that the website is flooded with bots, cam girls or other disingenuous users. After all, what legitimately beautiful woman would send flirty messages to a blank account?
Once this test is completed, I purchase a premium account, fill out my profile and message 50+ women. My profile includes the same generic photos and bio used in every BeyondAges review. I send the same set of opening lines too. That way, we can make a fair comparison to other websites. My overall rating of this website is based on how easy it is to convince women to share their contact details or meet me for a date.
Now, let's get into the results of our time spent using the site:
Our Full GetNaughty Review
Let's begin with a basic summary of the website. Below, I have rated each important aspect of it out of 10. For context, these ratings are compared to AFF (which you can try for free here), which is the hookup site that's been working the best lately, especially for single guys. I find that a direct comparison with one of the best options out there is the easiest way to see how a new site or app stacks up:
Overall

Our team rates each site objectively based on many hours of independent research, the features each site offers, and how it compares with other sites. The ratings are the opinion of our editors and their extensive experience.

2
9.5
Quality of Women

Our opinion of how attractive the typical woman is that uses this site and how easy they are to connect with compared to other sites.

2
9
Popular

How many people are using this site to actually meet people compared to other sites.

1
9
Usability

How easy is this site to use and how quickly can an average person begin meeting people compared to other sites.

7
10
Privacy & Safety

Does this site take proper precautions to safeguard its members, their identity, and their data.

5
10
Effective

Our opinion of how easily an average person will be able to achieve their dating goals with this site compared to other sites.

1
9
Value

Will the time and money spent using this site pay off for an average person based on the opinions and experience of our editors.

1
10
Our Recommendation
Unfortunately, we didn't have a good experience using Getnaught.com The rest of this review will essentially serve as a warning to stay away from this website. As soon as I created my blank profile, I began to receive alerts from several female profiles and it just went downhill from there. We had a hard time find real women using the site and ended up wasting a lot of time and money. After reviewing 100+ other sites and apps we can confidently recommend that this site is a waste of your time and that you stay far away from it.
If you actually want to meet women and have a great experience we recommend checking out AFF first. It's where we've seen the best success for lots of guys when it comes to actually meeting women.
It was made clear that I couldn't read or reply to these messages without paying for a premium membership. These messages even had a countdown clock attached to them. GetNaughty claims to delete these messages within an hour if you don't pay up. This pressure tactic is a massive red flag. At this point – and with my experience of reviewing similar websites – I'd have bet big money that none of these messages were legitimate.
My account had no photos and no bio. Yet, I still had 14 messages to open, supposedly all from beautiful women, all within 24 hours. Too good to be true.
I still coughed up the cash for a premium account, so I could see for myself whether this was the real deal or a big fat Get Naughty scam. Here are the highlights of my experiment, messaging 50 accounts from the Get Naughty website.
GetNaughty.com has the exact same profiles as another toxic website
GetNaughty.com is designed in the exact same way as MeetWild – a dreadful website I had reviewed not too long ago. In all likelihood, both websites have the same owners. The deja vu experience intensified when I logged into Get Naughty and found the same profiles waiting to greet me. Not only the same photos, but also the same generic barely filled-out bios.
These two websites are essentially the same. The only difference is they're marketed to a slightly different audience.
I received zero replies to my messages
I replied to all 14 of the accounts that had left me sketchy messages. Then, I reached out to a further 36 profiles to see if I'd get a response. I received zero replies within a few days. Even the robot accounts that messaged me first didn't respond. They'd done their job of tempting me to spend money on a premium account.
I checked the profiles of most accounts and none of them had more than the bare minimum information attached to them. There is no evidence that any of these accounts have real human women behind them.
Get Naughty sends you dozens of notifications that lead to nothing
Get Naughty will send a ton of notifications to spark your hopes of eventually finding someone. You'll be told that women have browsed your profile, sent you "winks," favorited you, etc. Yet, none of these women responded to my messages, and they probably won't respond to yours. Most likely, these notifications are automated in an effort to keep you using the website.
Why bother with such a dreadful website if you can use AFF instead?
GetNaughty is a complete flop of a website and arguably a scam. There's no point mincing my words about it. There is absolutely no reason to spend any money or time on this website at all, especially when considering your other options. As far as naughty online dating websites go, it's tough to find any better than AFF.
This website has been running for the best part of two decades. It has built up a HUGE user base of real women in that time. While you might not want to sleep with that many women, this gives you a lot of options. Even if you get extremely specific about what you're looking for (e.g. certain kinks, a smaller age bracket, women in cities near yours, etc.).
What's more, from our experience, most of its users are keen to meet up quickly and get down to business. Out of all the online dating websites we reviewed, there are barely any that are more effective for organizing no-strings, casual meetups than AFF.
There's even a free trial promotion running at the moment. So there's no better time to see what the fuss is about. You'll be glad you did.
Pros and cons
In all of our online dating reviews, we do our best to list the website's pros and cons. You may not be surprised to hear that there aren't many pros to list for Get Naughty.
The website is well designed
No messaging is available with a free account, so a lot of people will pay up before realising this website is a complete wasteland
I was endlessly spammed by bots
No accounts replied to my messages at all
Profiles, pictures and members
The Get Naughty profiles offer a variety of multiple-choice questions. Drop-down menus let you tell people key facts about yourself, such as height, weight, education, religion, etc. You can upload videos as well as photos. However, you're limited to 140 characters to write about yourself.
All of the photos on female profiles are attractive, but none of the bios are uniquely filled out. In fact, all of the profiles I checked had the same generic sentence, explaining the age range and location of the partner they're supposedly searching for.
Regular Guys Should Skip Get Naughty And Use These (According To The Experts)
Most dating experts agree that there are only a handful of dating apps actually worth your time if you're a regular guy looking for a hookup. These are the first three every normal guy should try if they actually want to get results:
Site
Our Experience
Our Rating
Free Trial Link

Best Hookup Site Right Now

Experience Highlights

Top option for local hookups by far
Best results for regular guys
Over 60 million active members
The design needs an update

Try AFF For Free

Great If You're Handsome

Tinder Highlights

Great if you're pretty good looking
Very popular, especially if you're 18-22
Really focused on photos
Becoming more of a dating than hookup app

Try Tinder

2nd Best For Most Guys

Experience Highlights

2nd best option to find hookups
Attracts an older crowd than most hookup apps
Pretty popular
Solid free trial

Try Passion
GetNaughty.com design
The website has an up-to-date design and is simple to navigate. The main dashboard shows you a series of accounts you might like. Your inbox and notifications can be found in the top-right corner of the screen.
When you click to message a member, a small pop-up window appears in the bottom right-hand corner. This pop-up allows you to load up previous chats as well.
Messaging and chatting
You won't be able to read any messages or write to anyone while you have a free account. What's more, the messages you do receive will disappear after an hour.
With a paid membership, you can message as many accounts as you like.
Read receipts are available with a paid add-on. This add-on also prioritizes your profile in other members' inboxes and search results. If only there was any sign of other members on this website…
Get Naughty also has an interesting yet vague "Flirtcast" feature. This would appear to be a mass message that is broadcast to multiple women. However, there appears to be no information as to who receives it. Also, the message is predetermined and can't be edited. You can send one "Flirtcast" every 12 hours, but I wouldn't count on anyone responding.
What can you do with a free membership on MeetWild.com
You can view other profiles. You can enjoy being spammed endlessly by bots, and not being able to see or respond to their messages.
Advertisements
There are adverts for other online dating websites dotted around the page. These take you to separate URLs. One hyperlink told me "7 girls wanna be with you." Another said "19 girls seek your attention" You'll have to create a separate account for these sites – and they're likely to be just as terrible as Get Naughty.
Pricing
If there's one silver lining about this website, it's that the premium memberships are relatively cheap. You can buy a one-day membership for $0.99 or a one-week membership for $7.00. You'll pay less per day if you choose a longer membership. Honestly, though, I couldn't possibly recommend spending a penny on this website.
Here is your full list of options.
One day: $0.99
One week: $7.00 ($1 a day)
One month: $28.80 ($0.96 a day)
Three months: $48.60 ($0.54 a day)
The site will sometimes offer you discounts if you've been logged in for a while or if your paid membership is about to expire.
If you like, you can choose to pay extra for bonus features such as incognito browsing, HTTPS encryption, read receipts, and auto history cleaning. For all of these features, you'll pay an extra $0.95 per day. Those who do so will have their profiles prioritized in others' inboxes and search results.
Get Naughty Review: Frequently Asked Questions
Still not sure what to think about GetNaughty.com? These questions might be on your mind:
What is Get Naughty?
Get Naughty may seem like a legit, well-designed hookup site. But it's actually a site full of seemingly fake profiles. It's not worth your time.
Who actually owns GetNaughty?
Ariemgroup Limited runs GetNaughty. They also run a handful of questionable dating sites.
How can I contact GetNaughty?
You can call GetNaughty at +1800654158 or email them at [email protected]
Is Get Naughty real?
Yes, GetNaughty is a real site, but it's not an actual dating site. It's just there to entice you to sign up for a paid membership.
Is GetNaughty legit?
No. GetNaughty.com promises you the largest number of naughty girls on the web. Yet, there is no evidence suggesting there is even one woman using this website.
Is GetNaughty.com a scam or fake?
Maybe GetNaughty isn't an outright scam. But this website fails to deliver on any of its promises. It tricks you into paying for a premium membership using bots and disappearing messages. Then, once you pay, you'll almost definitely get to discover there's no-one to speak to.
Is Get Naughty safe?
Absolutely not. Get Naughty shows so many red flags that it's best not to try it out at all.
What are GetNaughty alternatives?
Do yourself a favor and avoid this site. Instead, check out our review of the best hookup apps and websites.
How does GetNaughty.com work?
GetNaughty.com lets you create a free account. With that account, however, all you can do is browse profiles. You can't read or send messages unless you pay for an account.
Is there a Get Naughty app?
No, Get Naughty is only available on your browser.
How much does GetNaughty cost?
You can buy a premium GetNaughty membership for one day, one week, one month or three months.
Here are the prices for each scheme:
One day: $0.99
One week: $7.00 ($1 a day)
One month: $28.80 ($0.96 a day)
Three months: $48.60 ($0.54 a day)
If you want to buy extras such as incognito browsing, HTTPS encryption, read receipts, auto history cleaning and appearing higher in search results, you can pay an extra $0.95 a day for all of this
How can you use GetNaughty.com for free?
Yes, in a way. On a free GetNaughty.com account, you can browse through profiles. Reading and sending messages requires a paid membership, though.
Can you send messages for free on Get Naughty?
No, you need a paid Get Naughty membership to send messages.
How do you cancel or remove your GetNaughty account?
Click your profile picture in the top right-hand corner of the screen.
Navigate to "My Settings."
Scroll down to the bottom of this page and click "Remove Account."
Enter your password to confirm you want your account deleted.
You'll be given several options. Choose to delete your account.
Keep in mind that you should monitor your credit card to ensure that GetNaughty doesn't charge you after you cancel.