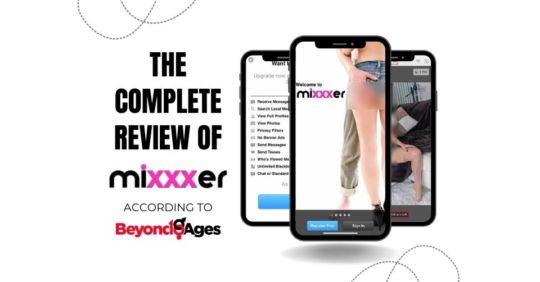 The Mixxxer app and site makes a lot of big promises right off the bat. They really make it seem like finding casual sex is going to be a piece of cake for anyone. When it comes to dating apps and websites, they typically fall into one of three categories—legitimate, obviously fake, and not-so-obviously fake. In this Mixxxer review, you'll know which category the site falls into.
It's pretty important to find a hookup site that works for you right now. A lot of bars and clubs are empty and social distancing has forced a huge number of singles to only look online to meet new people. If you're one of the few who isn't online you're going to miss out. The tricky part is finding the right option for you.
Since working through these hookup sites can be a time-consuming minefield, we like to do the heavy lifting for you. We often take a look at some of the most mentioned dating sites around and test them thoroughly. This lets you spend your time where it matters most—in the real world on actual dates!
It's important for us to cover the quality sites but it's just as important to uncover the fakes. Most dangerous of all are the sites that appear plausible at first glance but turn out to be dangerous.
To keep these reviews fair and equal while reviewing the Mixxxer app, I follow the same process each time. Or at least, as much of the process as is practical (some sites are just so bad there's no way we're paying for them!).
How we reviewed Mixxxer.com
I'll set up a profile and just let it sit for a day or two. I want to see if I'm going to get a barrage of messages in my inbox even though my profile is blank.
After that, I completed my profile with photos and all the usual info. Using it as I would any other site for one week, I'll reach out to dozens and dozens of women and see how many dates I can set up. This gives me a good idea of the quality of women on the site and how possible it is to get a date without paying.
Finally, I'll set up a paid account to unlock any bonus features they might offer. That way I can give you a breakdown of just how worthwhile that upgrade is. For many legitimate sites, it might even be worth paying for it just to support the devs. Other sites though, you'll want to keep your credit card safely in your wallet.
Signing up for both the free and paid version of an app is the only way that you can really see what it has to offer!
So, which of those three categories of adult dating sites does Mixxxer fall into? Let's just say reviewing this site was. . . interesting. Let's take a closer look.
Our Complete Mixxxer Review For This Year
Okay, first things first, let's go ahead and compare this site against the well-known AFF (which you can try for free). I find the high-level comparison against what we've seen as the best hookup app for most guys to be helpful for context if nothing else.
Overall

Our team rates each site objectively based on many hours of independent research, the features each site offers, and how it compares with other sites. The ratings are the opinion of our editors and their extensive experience.

4
9.5
Quality of Women

Our opinion of how attractive the typical woman is that uses this site and how easy they are to connect with compared to other sites.

3
9
Popular

How many people are using this site to actually meet people compared to other sites.

5
9
Usability

How easy is this site to use and how quickly can an average person begin meeting people compared to other sites.

7
10
Privacy & Safety

Does this site take proper precautions to safeguard its members, their identity, and their data.

7
10
Effective

Our opinion of how easily an average person will be able to achieve their dating goals with this site compared to other sites.

1
9
Value

Will the time and money spent using this site pay off for an average person based on the opinions and experience of our editors.

4
10
Our Recommendation
After spending many weeks reviewing Mixxxer we have to say that you can do better. From the moment we logged in to Mixxxer.com to our last time using it we didn't find much that was encouraging. There were few real women from what could tell and overall it just isn't going to be worth your time and money to try. There are other options out there that are going to be far better, especially for men.
In case it isn't already clear, I'd recommend avoiding this website and definitely avoid paying for it. There are great options out there, like AFF, that will actually help most guys find the hookups they're looking for. Give those a try first.
Mixxxer isn't for hookups . . . or anyone, actually
Mixxxer has the look of a legit adult dating site, we'll give it that. However, once you really try to find people to match with, it's all downhill from there. For one, there are a ton of profiles that use the same photo, just with different usernames and locations. Then, once you try to change your location, you'll see the same old profiles.
You can't do anything without a paid subscription
Once you create your profile and start looking for potential matches, you'll quickly realize that you can't do much outside of a paid subscription. You can browse and tweak your profile, but that's about it. But once you start to consider paying for a subscription, you may (hopefully) realize that Mixxxer is full of fake profiles. So what's the point of paying?
AFF will give you better results
Spoiler alert: AFF made #1 on that list. Assuming you're just looking for a hookup, that'd be my personal preference as well. They seem to have the largest user base around, a clear objective and they take their privacy seriously. 
The site is user-friendly, trustworthy and I've had surprisingly fast success setting updates on there myself. This is more than I can say for Mixxxer so let's get back to why they scored so low across the board, shall we?
Positives and negatives from our review of Mixxxer.com
We always try to look at the bright side, especially since a team did put some effort into creating the site. Here's what we found:
No spam messages in your inbox
No real users on the site
Crass language and imagery
"Local" profiles the same no matter where you set your location
Horrible user interface
Browser-based (no app) yet only usable on mobile
This site falls into the third, most dangerous category. Initial impressions were that maybe it was legitimate. There were a few red flags but nothing obvious enough that I was initially put off by it compared to other adult dating sites.
The further I got into my review process though, the clearer it became that this is another. . . creative dating site to be avoided.
Profiles, pictures and members on Mixxxer
When first logging into the site the profiles actually appeared as though they might be legit. Sure, there were some explicit ones in there, like you find on any other hookup site. But with a few exceptions, it's nothing I haven't seen on other dating sites and apps.
Once I started looking closer at the profiles, that's when the red flags started to pop up. By far the biggest flag being the bio text.
Take a look at how Evelyn chose to describe herself. Combined with her first photo, that's quite the impression, huh?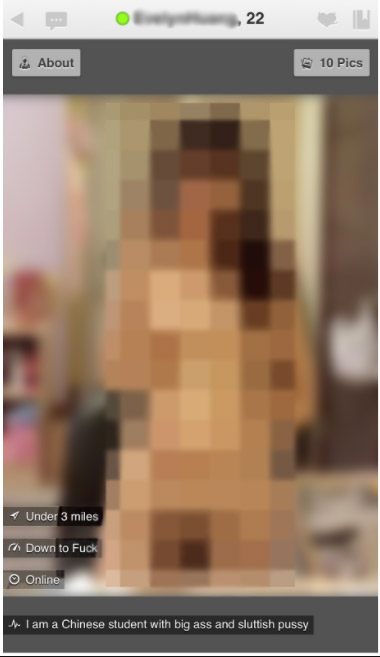 After viewing the first profile I was dubious but continued on with an open mind.
What you can expect from Mixxxer photos – Different profiles, same photo
Unfortunately for Mixxxer, I closed the first profile and noticed a couple of duplicate photos in the grid of "women near me." Since Mixxxer's user experience is lacking in many areas, I thought it may have just been an error—the same profile showing twice.
I opened each though and found it was two different "women" with the same photos. Different name, age, location and phone number yet the same photos. Going through many other Mixxxer photos we ran into the same problems.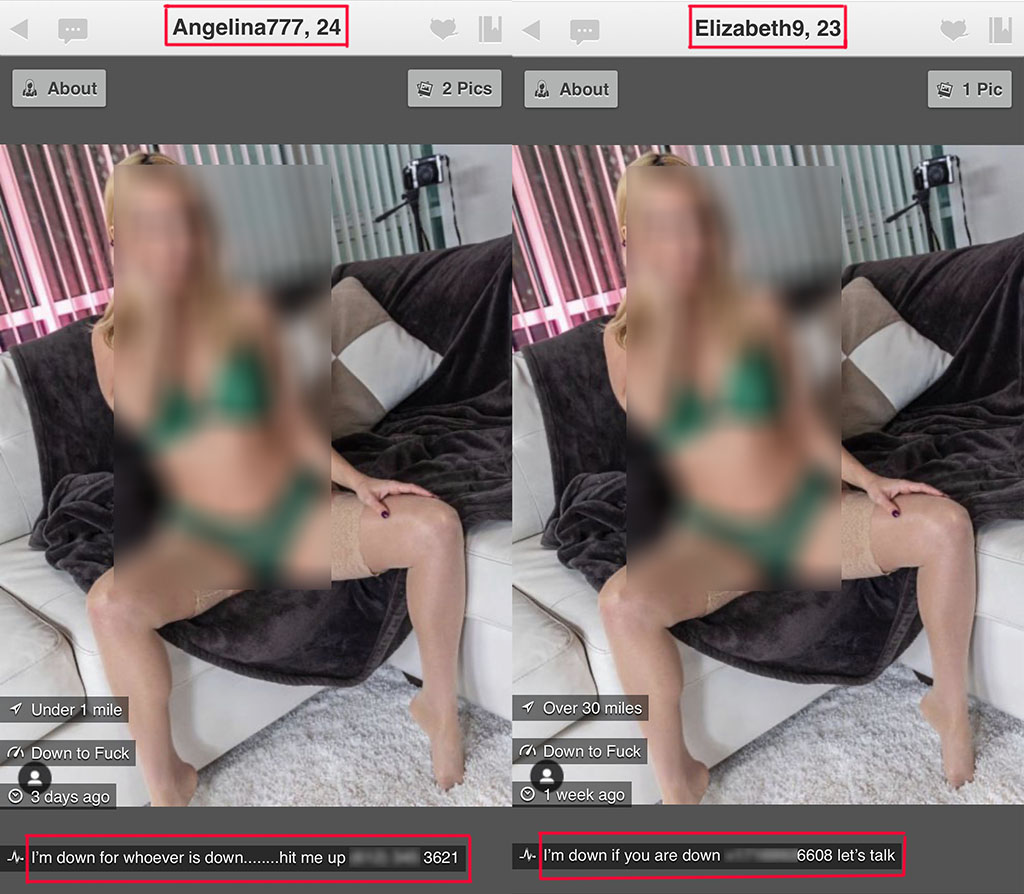 Yep, it becomes pretty clear at this point that Mixxxer can't be trusted. These aren't real women behind these profiles, they're just bait set up in the hopes you'll fall for it and pay a membership.
I spent a good 15 minutes poring over the profiles shown to me. While some were more convincing than others, not a single one appeared to be legitimate. If you can't even trust the photos on the Mixxxer dating site how can you trust the site?
The Mixxxer dating experience – Different location, same "women near me"
This was the final nail in the coffin, and something you may have seen in another thorough Mixxxer reviews. When you open the site and log in your browser asks if you'd like to allow access to your location.
If you say no, you'll be prompted for your postal code. Out of interest, I tried several different codes from all over the country. It didn't matter if I set my location to NYC, LA or Atlanta on the Mixxxer app, the women "near" me were the same every time.
I even tried to give them the benefit of the doubt, hoping this was a caching thing. That maybe they had my location stored locally and that's why it was showing the same.
Again, no such luck. I tried it in incognito mode on my laptop, desktop and phone on three different Internet connections. . . same result.
The design on the Mixxxer dating site
Like everything else about this site, the design is pretty terrible. You're presented with a huge grid of "women," you get bombarded with crass imagery and nothing is really explained.
Even the icon for their very classy "let's shag" button is cringy: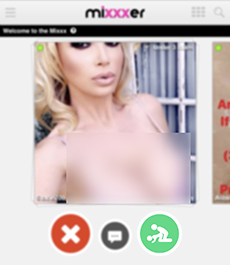 In the interests of a fair review though, I have to admit the very first impression of the site isn't terrible. It gets the point of the site across clearly, the color scheme works and that particular page is well-designed.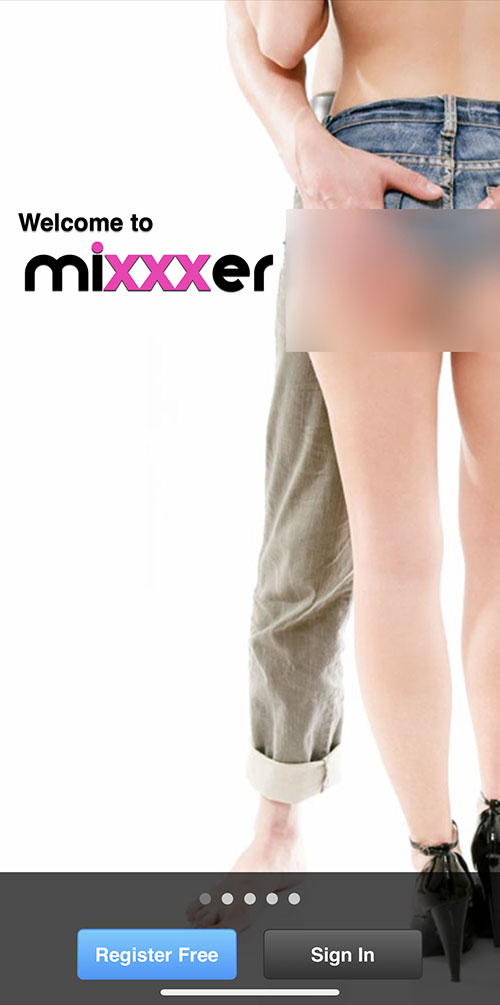 Messaging and chatting during our Mixxxer review
Unfortunately, these features are behind a paywall that we just weren't willing to pass through. If you're looking for free sex on Mixxxer you're going to be disappointed, especially if you've used any other adult dating sites. Having reviewed so many dodgy sites and seen their unethical tactics, even we have to take caution with the credit card sometimes!
What I can tell you is the messaging functionality appears to be about the same as any other dating site. From any user profile, you have the option to message them directly. You also have an inbox for incoming messages. The standard fare.
I can also say I was surprised to find no spam messages in my inbox at all. Considering the low caliber of this site, that's very rare. As a general rule, sites like this will fill your inbox with messages from "women." The hope being that you'll believe they're real and pay a membership to chat to them.
Credit where it's due, right?
What can you do with a free Mixxxer app membership?
As with just about any hookup site, a free membership basically just allows you to look around. You can set up your profile, change your search parameters and view as many profiles as you like.
If you want to interact with any of these "women" though, you'll have to get your credit card out.
With that said, I'd strongly advise against it. In case you're just skimming Mixxxer reviews, the site isn't one you want to give your credit card info to.
As for the question of whether or not any success can be had with a free membership the answer is a strong no. In fairness, the same can be said for a paid membership too.
Advertisements on the Mixxxer dating site
Something else I found surprising on this site was the lack of advertisements. This may very well be the reason why it felt plausible at first glance and maybe that's the intention.
So often on these dodgy dating sites, one of the first red flags you'll come across is a sea of porn ads. Various porn streaming sites, cam sites and adult products left right and center.
This may also have something to do with the limited screen real estate available on a mobile device.
The only thing I've found advertised anywhere is their paid membership but again, that's to be expected. How can they fool you into paying them if you don't know it's an option?!
Pricing for Mixxxer.com
After the complex and misleading pricing structures of some sites I've reviewed recently, this was a pleasant change. You have just two options to choose from and the only difference is the time frame.
You can either sign up for one month of full access at $7.99 per month or three months for $19.99 total ($6.66 per month). Aside from that, the benefits and features are all identical.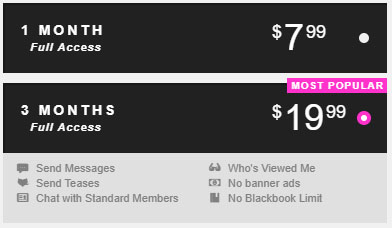 With a paid membership you get all the same access as a standard member with all the added benefits you see here: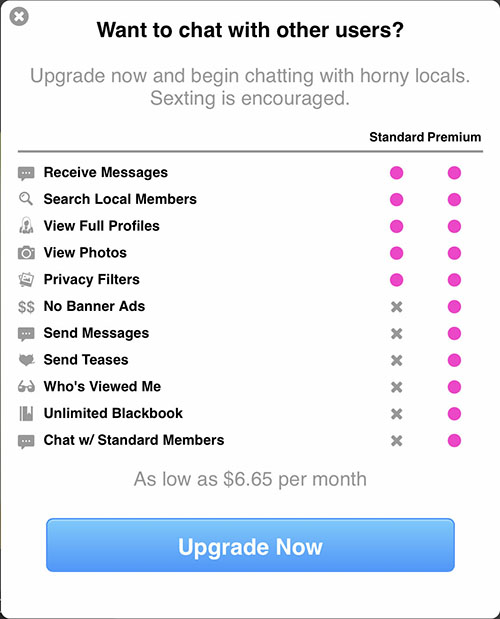 I find it interesting the "no banner ads" is a premium feature when there are none on the site as it is. Beyond that, the other benefits are all related to member interaction. Controlling who can view you, who you can talk to, how you can engage with other members and so on.
Since none of the profiles are actual users, none of these benefits are of any value. Add to that the general untrustworthy nature of the site and you see why I so strongly suggest you don't pay them.
FAQ for Mixxxer
To wrap up this Mixxxer review, it's time to cover the most frequently asked questions. Chances are everything you need to know is covered in this article. If you do have a question I haven't answered though we'd love to hear from you!
What is Mixxxer?
Mixxxer presents as a dating app designed for easy hookups. The primary features show you "women" in your local area that you can chat with if you have a paid membership.
After a little digging and using the app myself, these appear to be obvious bait profiles. Just designed to fool you into signing up for a paid membership.
If you take one thing away from this review, let it be this: Do not give them your credit card details.
Who actually owns Mixxxer.com?
Mixxxer is owned by Socialsoft Services LLC.
How can I contact Mixxxer?
You may contact Mixxxer via email at [email protected]
Is Mixxxer.com real?
Yes, Mixxxer is a real app. However, we're still doubtful if any of the users and messages are real.
Is Mixxxer legit?
Mixxxer is a lot of things but "legit" is not one of them. Although initially plausible, this app isn't one to go trusting with your credit card or personal info.
Is Mixxxer.com a scam or fake?
We don't want to go so far as to call Mixxxer a scam but it didn't leave us with a great impression. We spent money on a paid membership expecting a useful hookup app and didn't really get anything in return.
Is Mixxxer safe?
No, Mixxxer is a questionable app.
Is Mixxxer good?
No. In fact, Mixxxer is one of the worst sites we've tried.
What are Mixxxer.com alternatives?
Given the fact there are no real women on Mixxxer to meet, there are countless better alternatives available. Rather than listing them all in this FAQ, go ahead and check out our hookup app review for a complete rundown.
How does Mixxxer work?
Mixxxer is exclusively an app. You're presented with a stream of people you can hook up with.
Is there a Mixxxer.com app?
Yes, Mixxxer.com has an app. In fact, you can't even use it on a browser.
How much does Mixxxer cost?
A paid membership on Mixxxer has two pricing options. You can either pay one month at a time ($7.99 per month) or in three-month blocks ($19.99 per three months).
How can you use Mixxxer.com for free?
When creating a profile on Mixxxer the account you're given initially is a free, standard account.
With this you can set up your own profile and view others but that's about it. To interact with these profiles or restrict your own you'll need a paid subscription.
Can you send messages for free on Mixxxer?
No, you can't send messages on Mixxxer unless you pay for a membership.
How do you cancel your Mixxxer membership?
Their FAQ doesn't mention anything about being able to cancel your membership. I can't test it first hand since we won't be handing credit card details over to them. But I would expect it will become an option on the Subscription page.
Tap the menu button in the top left
Tap Settings
Tap Subscription
If you've paid for a subscription, hopefully you'll find a Cancel option here.
How do you delete your Mixxxer account?
There doesn't appear to be an option to delete your profile. What you can do though is disable it.
Tap the menu button in the top left
Tap Settings
Tap Account Details
Tap the slider to 'On' beside Disable Profile