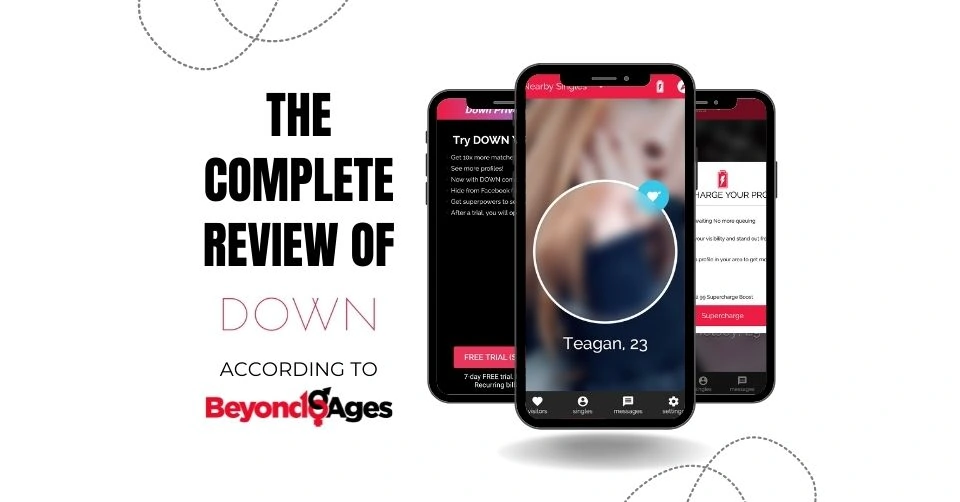 At Beyond Ages, we want to give you the best advice and information to get you out into the dating scene today. With so many dating apps available to us now, we like to check in on the more popular options so you don't have to. If you are looking for a complete, end-to-end DOWN dating app review, look no further because we'll show you if you can hook up with DOWN.
There are a lot of dating apps out there these days, which can make choosing the right app extremely difficult—especially with relatively new apps like DOWN. You only have so many hours in the day, and spending all your time on the wrong app can be extremely frustrating. Fortunately, we have done the hard work for you.
How we reviewed The DOWN Dating App
Before I could write a detailed review on the app, I wanted to put some time into using it myself. I've been using it for several weeks now: two weeks as a free user and more than a month as a Premium member.
I've been actively swiping every day for that six week period. That means hundreds of profiles and lots of experimenting with my profile and settings. The intention was to go through the motions and actually set up dates so I could talk about the entire process. Some apps have a different culture and require a bit of a different tact.
This wasn't just a quick browse. I wanted to be as fair as possible, and I made a genuine effort to meet real women.
A Detailed Look At The DOWN Dating App
This Year's Top Hookup Site
AFF Highlights
Best results for regular guys
Over 60 million active members
Our top hookup site for the year
Not good for long-term relationships
Down Highlights
Not many actual users
We got ZERO matches (weird)
Very few real women of quality
Waste of time
Above you see a quick comparison between the Down hookup app and the top-rated hookup app from this year. As you can see, there are some good things to like about the app but it isn't one of the best we've tried. Read on for the full details!
Originally designed as a way to secretly swipe on your Facebook friends, Facebook changes broke that model. As DOWN mentions in their FAQ: 
"As of April 30, 2015, Facebook changed their platform, killing the original idea of viewing your friends and secretly matching with them, without anyone knowing who uses DOWN. Due to those changes, it may now be possible for your friends to infer who uses DOWN while using it themselves."
Linked through your Facebook account, the DOWN dating app is quite similar to most of its competitors. You set up a profile, swipe to decide which profiles you're interested in and talk to those you match with. The biggest difference is you have three options when swiping.
You can ignore a profile and just move on to the next, swipe up to mark them as "Date" or swipe down for "Hookup". Rather than just swiping left or right for "Like" or "Dislike", you can now specify exactly what you're interested in.
I'm sorry to say that in my six weeks of using the app I'm yet to get a single match. . . we'll get into this later. Frustrating, since we put so much time, effort and money into these reviews. Look on the bright side—at least you know not to spend your money on it now, right?
Let's take a closer look at how it stacks up against AFF, the top competitor for the DOWN hookup app. After all, if an app can't satisfy these parameters, is it even worth downloading? I'll let you decide.
Our Thorough Review Of The DOWN Dating App
In order to really understand how Down compares to the best apps out there we've put together a high-level comparison with the hookup app we've seen average guys have the best success with, AFF. Results are certainly not guaranteed, but it tends to be where guy can see the best results unless they are really good-looking (which is when Tinder does better).
Here is how they compare in our opinion and based on our testing:
Overall

Our team rates each site objectively based on many hours of independent research, the features each site offers, and how it compares with other sites. The ratings are the opinion of our editors and their extensive experience.

2
9.5
Quality of Women

Our opinion of how attractive the typical woman is that uses this site and how easy they are to connect with compared to other sites.

5
9
Popular

How many people are using this site to actually meet people compared to other sites.

1
9
Usability

How easy is this site to use and how quickly can an average person begin meeting people compared to other sites.

9
10
Privacy & Safety

Does this site take proper precautions to safeguard its members, their identity, and their data.

9
10
Effective

Our opinion of how easily an average person will be able to achieve their dating goals with this site compared to other sites.

1
9
Value

Will the time and money spent using this site pay off for an average person based on the opinions and experience of our editors.

1
10
Our Recommendation
The DOWN dating app has potential but, unfortunately, it's a bit of a ghost town right now. In six weeks I got zero matches. Zero.
If this was the first time I'd ever tried online dating, I'd be certain there's something wrong with me! By the final week, I even extended my preferences and swiped up or down on every single person.
I was getting desperate for some interaction to report on. Sadly for the developers, the fact that I still didn't get a single match is enough for me.
Authenticating via Facebook (sorry, you will need a Facebook account to use the app), it does appear to be safe and well built. For whatever reason, their user base just isn't active. Presumably, they've had a bunch of people sign up, get bored and forget about it.
All in all, I'd say no, you can't hook up with DOWN, at least not as well as other dating apps. If you want to actually get some results you are much better off going with AFF's free trial. At least you know that you are on an app a lot of guys have had great success with.
Certainly, don't go handing over money for it. The ads for Premium promise "more matches," but clearly that wasn't accurate for me.
Positives and negatives
Ever the optimist, I'm going to run through the other factors I usually cover in these reviews. Just on the off chance that they might fix this one glaring issue and it becomes usable. Matches or not, this will be a complete DOWN app review! 
The thing is, the app has a bunch of positives, and I wanted to like it so badly. So let's go ahead and evaluate it fairly.
Clean design
Intuitive interface
Feels trustworthy
Well-built and reliable
Requires Facebook to sign up
User base appears to be zombied
Free version gives constant, intrusive ads for Premium
Profiles, pictures and members
As I mentioned above, the one thing I've done a lot of in this app is look at profiles. Hundreds. Of all those profiles I didn't see a single one that looked fake. Perhaps scammers know better than to target a ghost town?
Since you can only choose photos from your Facebook or Instagram uploads, it's no surprise the photos seem legit. They were all your standard fare, though many users have opted to have just one in their profile.
Also worth noting, Down profiles don't give you a space for a bio. It's just your photos, age and location which makes choosing the right ones even more important.
In terms of the 'quality' of women, this one was questionable. They appeared to be real people by all means. Instead, what I'm referring to here is attractiveness. To quantify it, I'd estimate maybe 30% of the profiles I saw were women I'd notice on the street.
In my personal life I'm a very picky swiper. If I were to apply my personal Tinder habits to this app my swiping would have been quite limited. Naturally for this review I opened myself up a little more to boost the volume of matches and conversations. Clearly, I was not successful.
These apps to tend to run on an ELO scoring system of some form so I was still cautious. If you go swiping on everyone from day one, you'll actually lower your score and get fewer matches.
As a final point here, I did see a lot of profiles from men despite stating my preference to women. Whether this is gay men setting their gender to "Female" or a glitch in the app I just don't know.
The Top Alternatives To Down For Hookups Dating Experts Use
If you've read this far down you're serious about meeting girls. If you haven't actually done that yet it's probably because you're using the wrong apps. Stop making that mistake and start using the apps that actually get results like:
Site
Our Experience
Our Rating
Free Trial Link

Best Hookup Site Right Now

Experience Highlights

Top option for local hookups by far
Best results for regular guys
Over 60 million active members
The design needs an update

Try AFF For Free

Great If You're Handsome

Tinder Highlights

Great if you're pretty good looking
Very popular, especially if you're 18-22
Really focused on photos
Becoming more of a dating than hookup app

Try Tinder

2nd Best For Most Guys

Experience Highlights

2nd best option to find hookups
Attracts an older crowd than most hookup apps
Pretty popular
Solid free trial

Try Passion
Design
Overall, the design of this app is great. It looks sleek and clean, functions well and is very easy to use. Even the free version has a premium feel to it which made me so much more comfortable handing over money.
Aesthetically it has a very modern look and the animations that overlay as you swipe are a nice touch. As you swipe up and down either a "Date" or "Hookup" overlay will slide over their profile in case you forget which is which.
This might sound like a silly detail but since most people use dating apps casually, I really like the idea. You can also scroll back through people you've swiped on too which I could see being helpful.
Comparing the app design to Tinder and Bumble, I think it's perfectly on par. Overall I prefer the Down interface, my only gripe is the fact that profile pics show up as a smallish circle. While Tinder and Bumble show you photos about ⅓ the size of your screen, Down shows a circle about the size of your Facebook profile pic.
All in all though, we're talking about very minor details here.
Messaging and chatting
I'll be sure to report back if I ever get a damn match!
What I can say is that I didn't get a single spam message of any kind, so that's nice.
Honestly, this is quite frustrating, given how clean the app is. I started out excited to test this out and write a DOWN app review. I suppose we can't win them all, right?
What can you do with a free membership
Like Tinder, the Down hookup app lets you do everything you need to with the free version. The way they push you to the paid version is by limiting you to seeing just 10 profiles per day.
If the app had active users, I see no reason why you couldn't be entirely successful with the free version. It allows you to:
See women in your area (limited to 10 per day)

Define and edit your age range

Swipe on those 10 profiles each day

Chat with women you've matched with
In terms of dating apps, there's really nothing more that you need from it. See women, match with them, chat and exchange phone numbers. That's the whole process in a nutshell.
Advertisements
Besides their constant ad to upgrade to a paid subscription, there are no ads in the Down dating app at all.
This adds to the premium look and feel of the app. I have to admit some course language was uttered several times when getting their ads for Premium though. Swipe, swipe, swipe, ad. Tap the close button, swipe, swipe, ad. Argh!
Pricing
The cost of the paid membership is $19.99 per month. Perhaps a little higher than I'd like to see but if Down provided success I'd probably pay it.
The premium membership gives you:
More profiles each day. I suspect it's unlimited but I can't seem to confirm that anywhere

"DOWN Compass". The ability to view matches from a different location rather than just your local area. Helpful if you plan to travel I suppose.

Hide your profile from Facebook friends

See who has liked you without having to match
All in all, these would be helpful if the app had active users. If their user base does improve I'd certainly recommend the paid version. As it sits right now though, save your money.
On top of this, you can also pay $2.99 for a "Supercharge Boost". This boost makes you the top profile in your area so you stand out and get more matches. This boost lasts just 24hrs.
Down Review FAQ
Finally, let's take a look at some of the most common questions people have been asking about Down. As always, if you have a question I haven't covered in this review, let us know!
What is DOWN?
Down is a dating app designed to facilitate both dating and hookups. Similar to most dating apps, you can swipe on those you're interested in and chat to your matches.
The biggest difference here is you don't just swipe 'Yes' or 'No'. Instead, you swipe 'Date', 'Hookup' or skip their profile. Sadly, DOWN's users seem extremely inactive.
Who actually owns DOWN?
DOWN is owned and operated by Pakton, a company based in Singapore. They also own other apps like Goodnight and Groopify.
How can I contact DOWN?
DOWN has a contact form that you can use to send feedback and concerns: https://www.downapp.com/contact
Is DOWN real?
Yes, DOWN is a real app that perhaps once had real people using it. But after weeks of using the app, I got ZERO matches.
Is DOWN legit?
From my experience, the Down app is legitimate, albeit a ghost town. While I'm still yet to receive a single match on the app, that appears to be a lack of active users rather than a scam.
Just because you'll struggle for interaction doesn't make this a Down dating scam. Nonetheless, I can't say I'd recommend installing it.
Is DOWN a scam or fake?
DOWN is a legitimate app; it just lacks an active user base. While you will be presented with profiles each day, they appear to be of users that have stopped using the app. You may read some skepticism online, but there is no DOWN dating scam.
Is DOWN safe?
DOWN seems perfectly safe. However, it looks like no one is using the app anymore.
What are DOWN alternatives?
The app store is littered with dating app alternatives. So much so that identifying successful apps can be tough.
To save you some time and frustration, we reviewed the year's best hookup apps. Take a look at that review for the best alternatives to the Down app.
How does DOWN work?
DOWN is an app that shows you a series of profiles. You can choose if you want to "date", "hookup" or ignore a profile. However, with a free account, you can only see 10 profiles a day.
Is there a DOWN app?
Yes, DOWN has an app on iOS and Android.
How much does DOWN cost?
If you don't mind being limited to 10 profiles per day you can use Down for free. If you'd like to increase that volume and get a few extra perks, you can sign up for the premium membership. This paid membership costs $19.99 per month.
How can you use DOWN for free?
With the free DOWN membership, you can only swipe on 10 profiles a day.
Can you send messages for free on DOWN?
Yes. If you match with someone on DOWN, you can send them a message for free.
How do you cancel your DOWN account?
Canceling a paid subscription for Down has to be done through your App store (iOS) or Google Play Store (Android). Follow the steps below for your device.
iOS
Launch the Settings app
Tap iTunes & App Store
Tap on your Apple ID
Tap View Apple ID when the pop up window appears
Enter your Apple ID password or fingerprint ID when prompted
Tap Subscriptions
Tap the Down subscription
Tap Cancel Subscription
Tap Confirm when prompted to confirm that you want to cancel your subscription
Android
Open the Google Play Store
Check if you're signed in to the correct Google Account
Tap Menu then Subscriptions
Select the Down subscription
Tap Cancel subscription
Have you tried the DOWN dating app? If so, review it here and let us know how it worked for you!