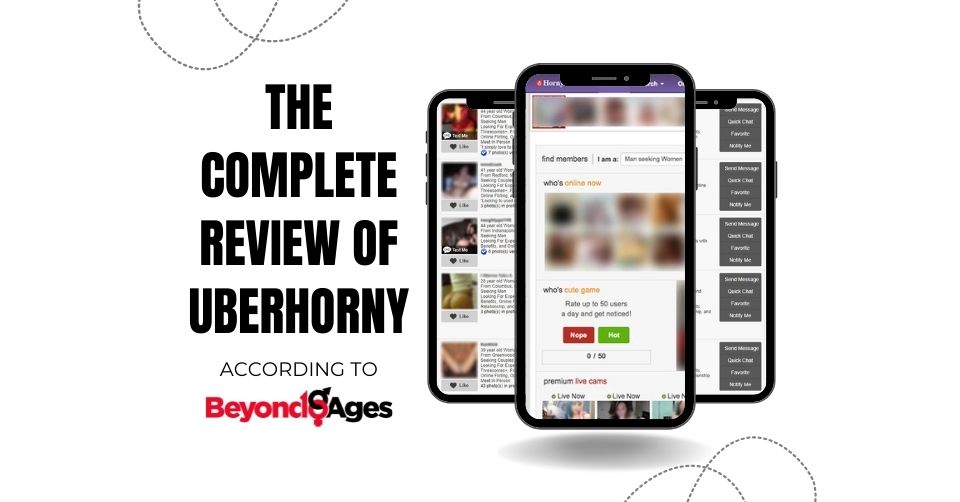 We've spent the last few months trying out and putting together this review of UberHorny. We spend a lot of time these days trying out all the new dating and hookup sites and putting together these reviews for good reason. It's not just because people are searching for them, it's because most dating sites out there are rip offs.
If you're looking to meet people for hookups you need to find an app or site that works for you. It's just so hard right now to meet other singles in person with all the social distancing that's still happening. A huge number of hookups that would have started in a bar or club now only happen online.
Of all the hookup sites I've reviewed over the past 12 months or so, I can count on one hand how many were legit. Of those, only one or two proved to be worth the money.
How we reviewed UberHorny
For this review, I went through a whole process to get a feel for what the site is actually like.
This keeps you safe from potential scams and means you can just read a quick review instead of putting weeks of your own time into it!
To give each site a fair and detailed review, I run through the same process on each site. Or at least, as much of that process as is feasible. I'll always start out with a free, blank account and just let it sit for a day or two. I want to see if I'll receive a bunch of messages or email spam before I've even added a profile. Since no real user would ever message a completely empty profile, this sets up a potential red flag.
After that, I'll go ahead and complete my profile, just as I would any other dating site. I'll add quality photos, my age, gender, location and a quality bio so I have the best chance of getting real dates. I'll then use the site as a free user for a couple of weeks to see if I can manage actual dates. Following that, I'll move on and actually sing up for a paid account if the website seems even remotely legitimate. For the remaining several weeks I'll use the site with this premium account and see if I'm able to get any more dates this way.
Ultimately, I want to see first-hand if the site is legit and whether or not the paid features are worth the money. By sticking with this process, I can give you a detailed run-down of what the site is actually like to use. Far more helpful than just skimming the home page and making assumptions.
Now, let's talk about what I found while setting up for this UberHorny dating site review.
Our UberHorny Review — How It Worked Out For Us
Before I go any further, let's take a look at this site compared to AFF (which you can try free) as a good baseline. From my experience, AFF is one of the best hookup sites out there. It's legit, reliable and full of real people. Let's see how UberHorny.com stacks up:
Overall

Our team rates each site objectively based on many hours of independent research, the features each site offers, and how it compares with other sites. The ratings are the opinion of our editors and their extensive experience.

2
9.5
Quality of Women

Our opinion of how attractive the typical woman is that uses this site and how easy they are to connect with compared to other sites.

2
9
Popular

How many people are using this site to actually meet people compared to other sites.

1
9
Usability

How easy is this site to use and how quickly can an average person begin meeting people compared to other sites.

5
10
Privacy & Safety

Does this site take proper precautions to safeguard its members, their identity, and their data.

5
10
Effective

Our opinion of how easily an average person will be able to achieve their dating goals with this site compared to other sites.

1
9
Value

Will the time and money spent using this site pay off for an average person based on the opinions and experience of our editors.

1
10
Our Recommendation
The more of these sites I review, the more familiar I get with the common low-quality site templates. More often than not these days, I can spot a dodgy site the moment I log in and see the layout.
In the case of this UberHorny dating site review, that's exactly what happened. It's a direct replica of HornyMatches and no doubt a host of other low-quality sites that I have yet to check out.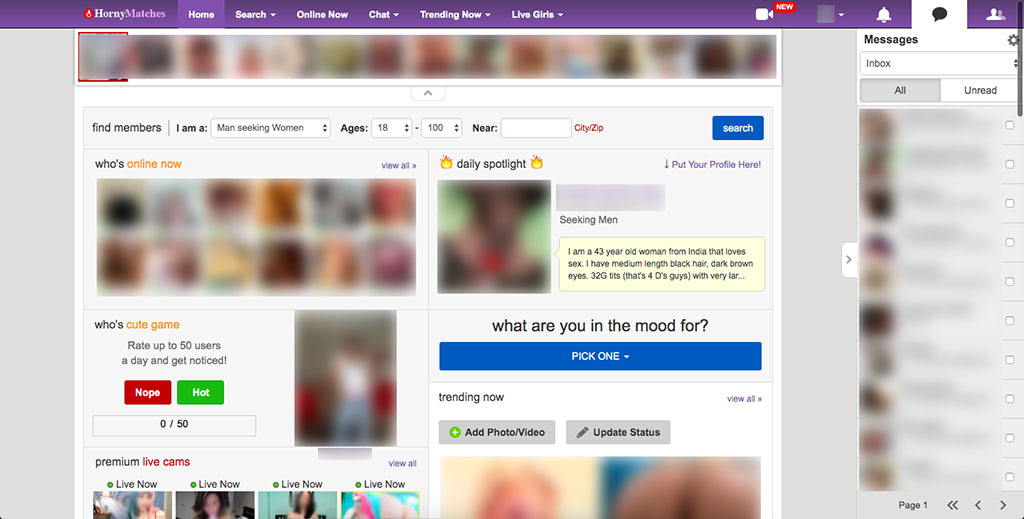 As you can see here, the layout is the same, the site name is similar too. As you'll see below, the tactics they use were basically identical which came as no surprise. Red flags were popping up from the moment I had an account.
No spam messages immediately after account creation
Reading all of this in the terms of the site wasn't a great start. Still, I've made wrong assumptions about dating sites before so I pressed on. I created the blank profile as usual and was amazed to find that I didn't have any inbox spam. Sadly, within about 20 minutes I started to receive some messages but hey, credit where it's due, right?
Sadly, I can't even read the message: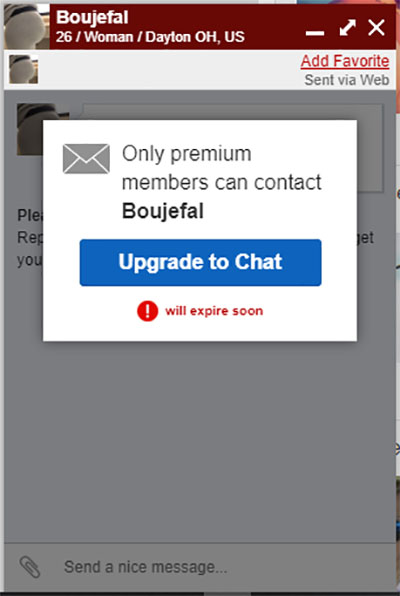 They claim to have won an AVN award
This is something I saw on HornyMatches as well and it's a claim I can't seem to validate. They don't say what year they allegedly won this award. Searching for proof of this win doesn't turn up any evidence at all.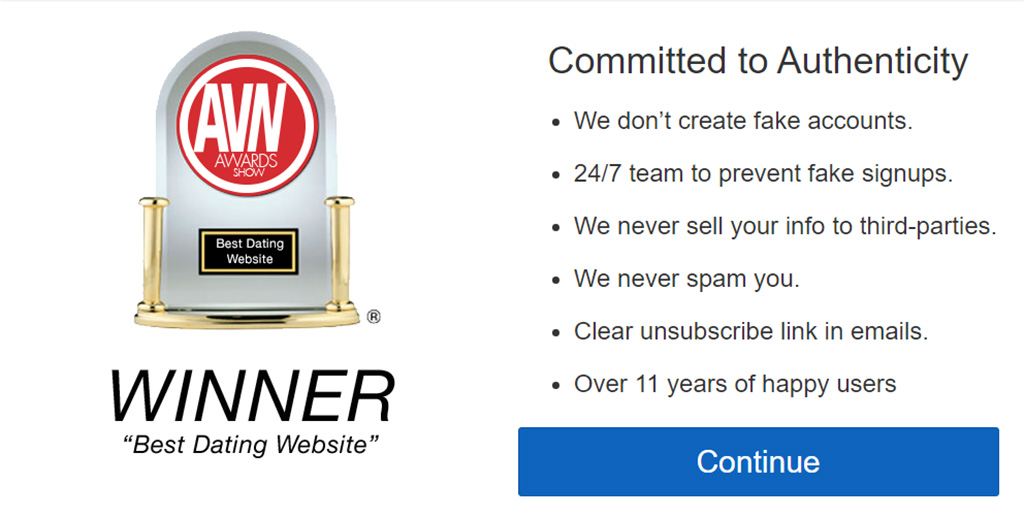 Near as I can tell, this is a false claim. Considering how obviously fake this "dating" site is, I can't see AVN (Adult Video News) giving them a damn thing. The AVN awards are no joke but this site certainly is.
My recommendation: Stay away from UberHorny
Plain and simple, this site isn't one you should be trusting with your credit card info. The profiles are very likely fake, the conversations make no sense and everything is designed to get you to pay for a membership.
Instead, you should use something more reputable like AFF. They have over 60 million real users and have a solid reputation as a legitimate site to find hookups. If you want to explore other options as well, we covered the best dating apps and websites of the year in a separate article.
Whichever way you go, don't waste your time on sites like UberHorny.com. By all means though, pay attention to reviews like this one so you're better educated on what a bad dating site looks like.
I'll be covering that in more detail below.
Pros and cons of UberHorny
Based off our recommendation, you can already tell that this site doesn't have a lot going for it. But with that said, it isn't all bad.
Most fake profiles are easy to spot
Setting your search parameters is simple
Search results are easy to skim
The site is not trustworthy
The vast majority of profiles are fake
Constant fake messages
Home page cluttered with profiles from out of state
The site's terms set an ominous tone
Having done so many of these reviews, I've learned to read through the boring legal ramblings before signing up. I can often get a good idea of what to expect just based on what they set out here, expecting nobody to read it.
In the case of UberHorny.com, I found a few gems that really set the tone for everything else. Here's what I found:
"No site created profiles"
Honestly, at first, it seemed like maybe we were onto a winner here. They specifically set out, in bold, that they don't create any profiles on the site. Based on my experience, this seems to be a bold lie rather than a bolded statement. More about that later.

They can use your photos for marketing multiple websites
You can see the long-winded legal jargon below but ultimately, it boils down to this. By creating a profile and uploading photos you're giving them the right to use them for marketing purposes.
This use is royalty-free and they can use your material to promote UberHorny and "… all other websites which share a common database…" with it. If you don't want to risk becoming the face of UberHorny, HornyMatches and who knows what else, walk away. Definitely don't upload any photos!

Your profile will be duplicated across other 'dating' sites
That's right, whether you like it or not, by creating an UberHorny profile, you're going to show up on other sites. It doesn't specify which other sites exactly, just that "… your profile will be shared with other dating and "hook-up" websites…".

I assure you this isn't a tactic legitimate dating sites use. Generally, the reason they do this is because they're part of an affiliate network. They get paid by the network based on the number of profiles and/or paid sign-ups they get.
That means if they reserve the right to duplicate your info across 10 sites, they get 10 times the income. I have no way to verify that's exactly what's happening here but that's usually why this happens.
Your videos can be watermarked and reused on other sites
As you'll also see in the last screenshot above, they also reserve the right to use your videos. If you upload anything to the site, they can add their own watermark (UberHorny or any of their other fake sites) and use that clip. Also royalty-free.
You can request a refund under a specific circumstance
If you choose to use the site and try a paid membership, there may be a chance you can get your money back. I wouldn't count on them honoring this but it is in their Terms. You can see the actual text below but essentially this line is the most important part:
"If the sole reason you upgrade your membership is to correspond with one specific member and such member does not respond to your correspondence, you may request a full refund within ten (10) days…"

In short, if a pop-up message from a possibly fake user fools you into paying for a membership, you can get a refund within 10 days.
The Uberhorny Alternatives Dating Experts Want You To Use Instead
Normal guys need to pay attention. If you're using the wrong apps you're really going to struggle. These are the best options out there right now if you're looking for something casual, according to dating coaches who know:
Site
Our Experience
Our Rating
Free Trial Link

Best Hookup Site Right Now

Experience Highlights

Top option for local hookups by far
Best results for regular guys
Over 60 million active members
The design needs an update

Try AFF For Free

Great If You're Handsome

Tinder Highlights

Great if you're pretty good looking
Very popular, especially if you're 18-22
Really focused on photos
Becoming more of a dating than hookup app

Try Tinder

2nd Best For Most Guys

Experience Highlights

2nd best option to find hookups
Attracts an older crowd than most hookup apps
Pretty popular
Solid free trial

Try Passion
Design
As you can see from the screenshot below, there's a lot going on here. Images, boxes, notifications and menus all over the place — it's hard to know where to look! Once you've spent some time there it becomes a little more tolerable. That said, it's not the type of website you want to be subjecting yourself to for that long!
To me, it feels like it's probably a site they set up back in 2005 and have just added things to since then. Because it's not an actual dating site, they most likely run with the good old "if it ain't broke, don't fix it" idea.
What can you do with a free membership?
Not a whole lot, really. When we initially reviewed HornyMatches, they'd let you attempt conversations with their "members." Those attempts were a bit of a joke. In this case, they lock those failed conversations behind a paywall. Now, you need to pay before you can do anything. You can't even open a user's profile without a paid account!
What you can do though is look around the site and search for members nearby. When using the 'Search' function you can select a number of parameters to search by. The usual elements like age, gender, location, etc. You'll see a grid of users like in the screenshot below but you can't interact with them in any way.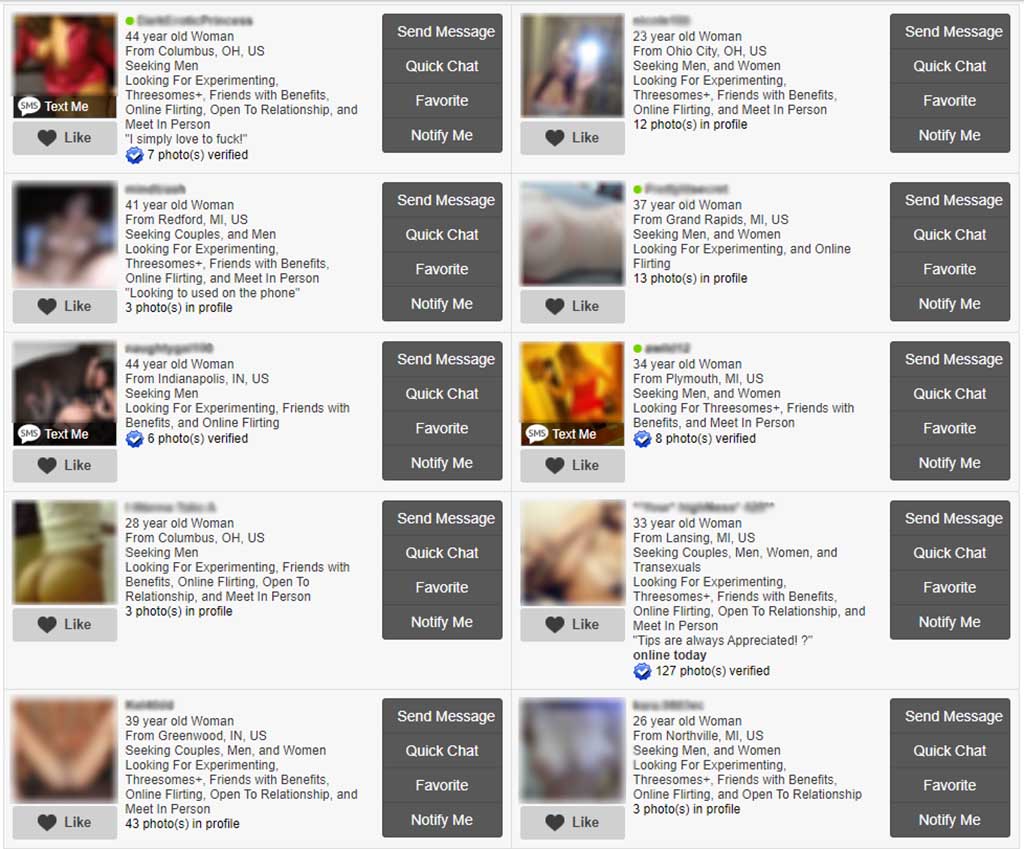 Essentially, as a free user it's a case of "look but don't touch." I suppose the more you can touch, the easier it is to see that this site doesn't work, right?
Advertisements
Real dating websites earn their money through ongoing subscriptions. They don't need to collect advertising revenue by placing ads for other websites on their own.
So, another common red flag that a dating site is fake or at least low quality is exactly this — ads to other websites. In the case of UberHorny (and, unsurprisingly, HornyMatches), you're going to find CamSoda ads. Very subtle ones promising free tokens when you sign up.
Pricing
If you choose to sign up for a paid account on UberHorny.com you have a few options available.
Two-day trial $1.14
Seven-day trial $11.94
One month $41.94
Six months $13.98 /month ($83.88)
12 months $8.00 /month ($96.00)
Since you can't really do anything on the site, you have no choice but to choose a paid membership. If you insist on trying it yourself, at least you know you can do so for $1.14.
UberHorny: Frequently Asked Questions
Finally, let's run through some of the most frequently asked questions to wrap up this UberHorny review.
What is UberHorny.com?
Uber Horny is a terrible dating website. While it claims to be a legit site aimed at facilitating hookups, I'm yet to see any evidence that it's a legit site. A direct replica of the equally questionable HornyMatches, I'd suggest looking elsewhere for online dating.
Who actually owns Uber Horny?
Uber Horny is owned by Global Personals, LLC. They also run several dating sites.
How can I contact UberHorny?
You can contact UberHorny via email at [email protected]
Is UberHorny.com real?
Yes, UberHorny is a real site, but it's not a dating site you'll want to use if you want to meet anyone worthwhile.
Is Uber Horny legit?
No. Uber Horny is a replica of another low-quality dating website, HornyMatches.com. You won't find real users on this site to interact with.
Is UberHorny a scam or fake?
UberHorny is pretty sketchy. Way too many profiles look incredibly fake. So even if the site itself might be legit, its users sure don't.
Is UberHorny.com safe?
No. We don't think UberHorny.com is safe to use at all.
What are Uber Horny alternatives?
Since you aren't going to meet real women on this site, you'll need to look elsewhere. Take a look at our review of the best hookup apps and websites for some quality alternatives.
How does UberHorny work?
UberHorny lets you create a free account. With this account, you're free to search for other users and check out their profiles. But if you want to read the messages you receive or reply to them, you need a paid account.
Is there a UberHorny.com app?
No, UberHorny doesn't have an app.
How much does Uber Horny cost?
Uber Horny offers several pricing options for their paid membership. If you want to try it for yourself this can be done for as little as $1.14 for their two-day trial:
Two-day trial $1.14
Seven-day trial $11.94
One month $41.94
Six months $13.98 /month ($83.88)
12 months $8.00 /month ($96.00)
How can you use UberHorny for free?
In short, you can't. If you're fine with just browsing, you can use UberHorny for free. But contacting anyone requires a paid account.
Can you send messages for free on UberHorny.com?
No. You need to pay for a membership to send messages on UberHorny.com.
How do you cancel your UberHorny.com membership?
Cancelling your paid membership with UberHorny is very simple:
Click your profile photo in the top right corner
Select "Account Settings"
Go to "Manage Membership" on the left
Click "Cancel your membership here"

How do you delete your UberHorny.com account?
The steps to deactivate your UberHorny account are very similar:
Click your profile photo in the top right corner
Select "Account Settings"
Click "Deactivate My Account"
Click "Delete Account" at the bottom