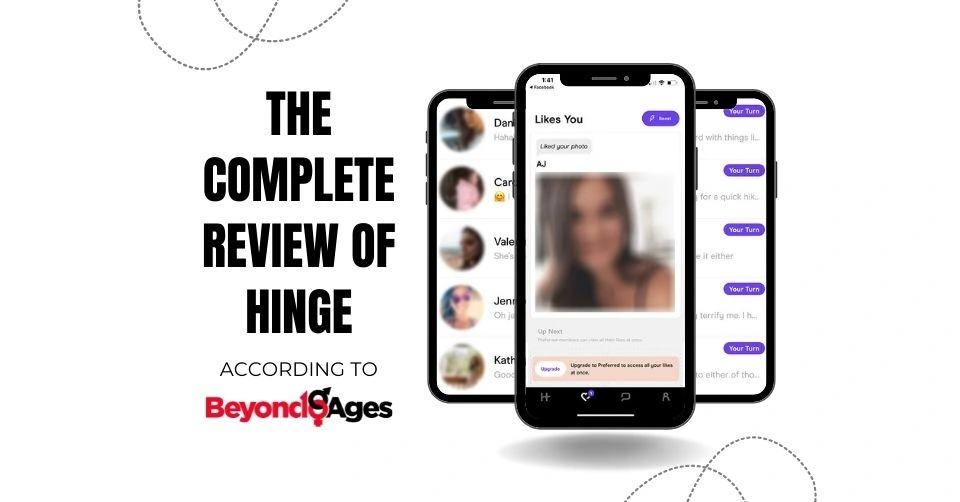 Gentlemen, I'm going to start this article off with my conclusion because it's the exact reason you should keep reading: Hinge is by far my favorite dating app right now, hands down. In this Hinge review, I'm going to cover exactly why and give you some examples as well. I've reviewed a lot of dating apps over the last year or so and this one comes out on top for a bunch of reasons.
It's so effective, in fact, that I had to cut my review process short. I was getting overwhelmed and only have so much time to spend on dates. It's a good problem to have and with the help of BeyondAges and Hinge, you can have it too.
Also, to clarify early on, this is not a sponsored review. Hinge has not asked me to write this, nor have they paid us for it, the app is just damn good and you need to try it.
How we reviewed Hinge
There's a lot to cover in this Hinge dating app review, so I'll jump straight into my process. For every dating app or website that I review, I try to run through the same steps each time.
It helps me provide a balanced and objective assessment on each of them by removing the variables. In some cases, the service is so bad that I can't complete the entire process but I'll do as much as possible. In the case of Hinge, it was quite the opposite.
I'll always start out with as much of a blank profile as possible. Just adding the minimum information I need to have a profile up and running. I'll leave it this way for a day or two to see if I get any spam messages in my inbox — a classic trick from fake dating sites.
After that, I'll complete my free profile and use it for one to two weeks to see if I can set up any real dates. With that done, it's time to upgrade to a paid account to see if it makes a difference. I want to see first hand if paying for that membership has a direct impact on usability and dates.
The more info I can gather with hands-on experience, the better these reviews can be, right?
Our Hinge Review: Yes, You Should Install It Now
That heading really sums it up right there. Gone are the days of rotating between a couple of different apps to improve your chances. So long as you put in a little effort on Hinge, you won't have time for other apps.
First, let's take a look at a high-level overview of Hinge and how it stacks up against AFF. The OG of hookup sites, it works as a great source of comparison at this stage.
Overall

Our team rates each site objectively based on many hours of independent research, the features each site offers, and how it compares with other sites. The ratings are the opinion of our editors and their extensive experience.

8
9.5
Quality of Women

Our opinion of how attractive the typical woman is that uses this site and how easy they are to connect with compared to other sites.

8
9
Popular

How many people are using this site to actually meet people compared to other sites.

8
9
Usability

How easy is this site to use and how quickly can an average person begin meeting people compared to other sites.

10
10
Privacy & Safety

Does this site take proper precautions to safeguard its members, their identity, and their data.

10
10
Effective

Our opinion of how easily an average person will be able to achieve their dating goals with this site compared to other sites.

8
9
Value

Will the time and money spent using this site pay off for an average person based on the opinions and experience of our editors.

8
10
Our Recommendation
It's been no secret from the first line of this article that I'm a huge fan of this app — these scores should come as no surprise. It really helps that I have a lot of attractive friends-of-friends though! If you don't have a lot of attractive women in your life already, or know people who do, it will really limit your success. To put these scores in perspective, it took less than 60 seconds of my profile going live to get my first interaction: "AJ liked your photo".
A familiar feel with a helpful twist
By now, most of us are familiar with how the major apps like Tinder and Bumble work. We're shown a stream of photos and swipe left or right to indicate if we're interested in that person or not. Then, if two people swipe right, it's a 'match' and we can both chat through the app.
Hinge is similar enough that it feels familiar but it has a major difference. I dare say this difference is why it's so successful right now.
On Hinge, when you build your profile you can add a few photos but you also have the option for more. Instead of a block of bio text, you have small writing prompts like "three truths and a lie" or "I'm overly competitive about" which you then write a short response to.
When looking at someone else's profile, this gives you far more flexibility. Instead of just swiping on each other, you either "like" or comment on something specific. It can be one of their photos or a response to one of their prompts.
This means the simple act of liking someone also acts as a conversation starter because you like or comment on something specific.
Something else I love is that if someone likes or comments on my profile, I get the notification immediately. No need for us to "match" to see each other, it's instant. Even with a free account.
You will need to put in the effort and get creative
A downside to online dating is the attitude many have developed. Like they shouldn't have to put in any effort yet, because their friends are successful, they deserve to be too.
If this sounds like you, just stick with the mediocre results you're getting on Tinder. Hinge takes a bit of creativity and effort but the results are worth every second of it.
Sure, you can just "like" the first photo in a woman's profile but she'll just ignore you (and rightly so). I had a number of women try doing this with my profile and none of them got a response. Not only because I don't want to talk to someone that's going to do that but because I'm overwhelmed with actual conversations.
My advice on this app is to take your time and comment on the profiles you're interested in. Writing prompt or photo, it doesn't matter, don't just "like" something and move on.
Exactly what you write isn't all that important, just avoid the stereotypes. No complimenting her body as a first interaction and no cringe stuff like "hey babe, you're hot." You're better than that!
More interaction than I know what to do with
The best way I can highlight what I mean here is with some relevant numbers. After a little less than 24 hours with a free account, I had 7 active conversations and a long list of "likes" to choose from.
After 24 hours with a paid account I had 33 active conversations and 12 phone numbers. The crazy thing about this is I was being very selective. I wasn't just trying to see how many phone numbers I could get, I was looking for dates I actually wanted to go on.
After just 48 hours of using Hinge, I already had to pause my profile. I'd exchanged phone numbers with enough women to go on a first date every night for the next 2 weeks. 2 weeks. . . after 2 days of moderate effort.
More attractive women than I'm used to seeing
The other thing that takes some getting used to is how attractive the women are that I keep interacting with on this app. Time and time again I was pleasantly surprised.
Not only were they attractive and active on the app, but they were also receptive to escalating. They weren't just there for attention and Insta followers, I've actually been on dates with a number of them already. The rest are set up for later in the week and next week.
So far, they look like their profiles and it's been a great time. On several occasions, some have even been forward enough to send me the "what are you up to right now?" text.
Exactly why the standard seems so high here I can't really determine. Maybe because it's about more than endless swiping? Maybe the more attractive women are tired of the creeps on Tinder and Hinge's process filters them out?
I really don't know. What I do know is I essentially got paid to go on dates in preparation for this review and I'm not mad about it.
Women that are actually there to date, just not seek attention
This is something I've touched on above but it warrants its own section here. On both Tinder and Bumble, I come across so many women who are just there for validation, with many profiles even including their Snapchat or Instagram.
Some are even so desperate for followers that they use the good old "I don't really chat on here but you should DM me on Instagram." How sad, really.
On Hinge, I haven't seen a single instance of that. They're on here to date, just like I am and they don't mind escalating to a phone number pretty quickly. Since I always frame it along the lines of "want to text me and we can plan some drinks this week," the intent is always clear.
If Hinge isn't for you (you're over 30), AFF is another solid option
As much as I love Hinge, I know it's not for everyone. For one, some Hinge users aren't straightforward about what they're looking for on the app. I'm sure there's a good mix of women who want hookups and those who prefer something serious. But what if you're a guy who is 100% sure you only want to hook up and you don't want to waste your time guessing?
For that, there's AFF. it's the OG hookup site that's been around for more than 10 years. It's reliable, easy to use and full of users who just want to get laid. No need to worry that you'll meet women who only want a relationship!
As with Hinge, AFF also has a variety of filters to help you find exactly what you're looking for. However, AFF's filters also include preferences for the bedroom such as kinks and cup size.
Lastly, AFF isn't a mobile-only site. You can use it both on your phone or on your laptop. So if you prefer to see your potential matches on a bigger screen while talking to them using a full keyboard, AFF is definitely the way to go!
What we loved and didn't love about Hinge
I could spend all day raving about how Hinge made dating so much more enjoyable, so here's a quick summary.
Lots of attractive users
Easy to interact with other users
In-depth profiles that you can comment on as your opening line
The premium membership is worth it
It's exclusively a mobile app
Mix of women who want hookups and relationships
Not a single bit of spam
The other refreshing change has been the complete lack of spam. Not a single fake account, no spam messages, nothing.
Again, I can't really tell why that is. Maybe it's a very active security team, maybe it's the amount of effort involved in setting up a profile. Maybe both. Whatever the case may be, after reviewing so many fake services lately, this has been a welcome change.
Based on my overall experience with Hinge, it definitely feels like a safe and secure service. No need to stress about your credit card info falling into the wrong hands.
Skip Hinge – These Are The App Dating Coaches Recommend For Normal Guys
Most guys fail because they spend all their time on an app that is never going to work for them. There are so many options out there and it's really easy to pick the wrong one. Do yourself a favor if you're a regular guy and try one of these apps that dating coaches recommend for you if you want real results:
Site
Our Experience
Our Rating
Free Trial Link

Best For Relationships

Experience Highlights

Easily the best option for long-term relationships
75% of all online marriages start here
70% of users meet their spouse within a year
In-depth signup and matching process

Try eHarmony

Best For Casual Fun

Experience Highlights

The best way to meet women for casual relationships
Best results for regular guys
Over 60 million active members
Not good for long-term relationships

Try AFF For Free

Great If You're Handsome

Tinder Highlights

Great if you're pretty good looking
Very popular, especially if you're 18-22
Really focused on photos
Becoming more of a dating than hookup app

Try Tinder
So, is the premium subscription worth it?
I wouldn't go so far as to say you need the Preferred Hinge Membership but at the same time, yeah, it's worth it.
The pricing is very reasonable and I found the Preferred benefits to be genuinely helpful. Besides, even if they were just a gimmick, I'm all for supporting a quality app like this one.
From my experience, 1 month is probably enough to overwhelm you with options but hey, $10 per month for six months isn't going to break the bank.
As for the benefits, here's a quick overview of the benefits you get from a Preferred Membership:
More filter options to be very specific about your matches (gender, location, age, distance, ethnicity, religion, height, whether someone has children, whether someone wants children, politics, drinking, smoking, marijuana and drug use.)
Unlimited daily likes
The ability to see everyone that likes you at once (normally limited to one at a time so you have to work through them in order)
They claim "Preferred Members get twice as many dates" and I'd believe that for sure. I definitely saw a big jump just by removing that cap on daily likes.
Hinge Review: Frequently Asked Questions
Before we wrap up this Hinge dating app review, let's take a quick look at the most frequently asked questions. If you still have a question I haven't covered here, drop a comment down below and we can update this review.
What is Hinge?
Hinge is a modern dating app. Similar to the likes of Tinder and Bumble, it offers a slightly different take that seems to work very well.
For starters, there's no need to match with someone to message them. Also, you can message users by responding to the answers on their profiles.
Who actually owns Hinge?
Hinge is owned by Match Group, which also owns Bumble.
How can I contact Hinge?
You can contact Hinge using their contact form: https://www.hinge.co/contact/
Is Hinge real?
Yes, Hinge is a real app that seems fairly popular.
Is Hinge legit?
Yes, Hinge is a legit dating app. In fact, it's quite popular.
Is Hinge a scam or fake?
No, Hinge is a legit dating app. We didn't encounter anything suspicious or scammy.
Are there fake accounts on Hinge?
There may be some fake accounts on Hinge. However, you can easily tell if these accounts are fake if they don't link to their socials or have any answers on their profile.
Is Hinge a safe dating site?
Yes, Hinge is quite safe in our experience.
What are Hinge alternatives?
Hinge is my personal favorite but that doesn't mean it's necessarily the best one for you. If you'd like to check out some other alternatives, have a read through our overview.
We already reviewed the best hookup apps and websites out there right now to save you some time.
Does Hinge work?
Yes, Hinge does work. With a decent profile and some messaging skills, you should be able to land a date in a week or so.
How do you use Hinge?
Unlike Tinder and Bumble, Hinge doesn't rely on a mutual match before you can start chatting to someone.
Instead, you can either "like" an element of someone's profile or comment directly on it. This like or message will go directly to their inbox where they can choose to reply or not. So simple!
Is there a Hinge app?
Yes. In fact, Hinge is an app.
Is Hinge free?
By default, when you first create a Hinge account you'll be given a free membership. While you are limited to just 8 likes per day, there's no limit on how many people can like you.
It will slow you down a little but by all means, you can and will get dates with a free account.
Does Hinge cost money?
It doesn't have to. You can use Hinge for free, but you'll have access to more features on a paid account.
Is paying for Hinge worth it?
Yes. At around $10 per month, you can get unlimited daily likes, more search filters, and the ability to see everyone that likes you at once.
Is Hinge Preferred worth it?
I wouldn't go so far as to say you need the Preferred Hinge Membership but at the same time, yeah, it's worth it.
The pricing is very reasonable and I found the Preferred benefits to be genuinely helpful. Besides, even if they were just a gimmick, I'm all for supporting a quality app like this one.
Is Hinge premium worth it?
Yes, at $10-$20 a month (depending on how long you subscribe to it), you get unlimited daily likes, more search filters, and the ability to see everyone that likes you at once.
How can you use Hinge for free?
You can have a full dating app experience with the free version of Hinge. You're free to message anyone on the site.
Can you send messages for free on Hinge?
Yes. Unlike Tinder and Bumble, Hinge doesn't rely on a mutual match before you can start chatting to someone.
Can you search for someone on Hinge?
No, Hinge doesn't allow you to search for specific people on Hinge. However, if you upgrade to the Hinge Preferred Membership, you can filter your results heavily by:
Gender
Location
Age
Distance
Ethnicity
Religion
Height
Whether someone has children
Whether someone wants children
Politics
Drinking
Smoking
Marijuana
Drug use
How do you cancel your Hinge Preferred Membership?
Canceling your paid subscription is refreshingly easy to do on Hinge too.
Tap your profile icon (bottom right)
Tap Account
Tap Manage My Subscription
Follow the prompts for your particular device
How do you delete your Hinge account?
Deleting your hinge account is even easier. You can pause it from your account settings to temporarily stop your profile being shown to others. To actually delete your account, follow these steps:
Tap Settings.
Tap Account.
Tap Delete Account
Confirm