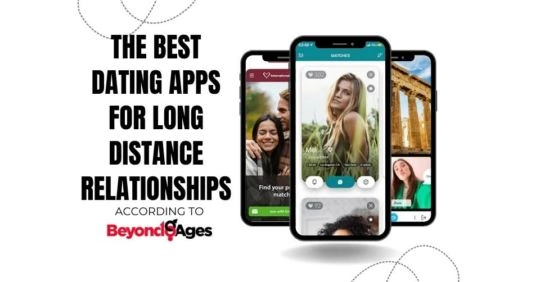 We love online dating because it's one of the best ways to meet new people. You can meet people nearby but also set your sights on different cities or countries to get to know the world better. Learning about what the best long-distance dating app is can help you get in the game so you can focus on finding Mr. or Mrs. Right.
If you're not sure what the best app for you is, don't worry! The team at Beyond Ages did the work for you by reviewing hundreds of dating apps to find the best long-distance ones. It was hard to narrow down our choice to just one, so we picked five of our favorites for you to choose from.
But before we get into them, let's discuss our criteria for choosing the best long-distance relationship apps.
How We Ranked the Best Long Distance Relationship Apps
The team at Beyond Ages takes pride in providing accurate, in-depth reviews of all the dating sites and apps we recommend to ensure you have a safe and fun experience online. To do this, we test a wide variety of dating apps that have features to help you find a long distance relationship.
We test these apps for several weeks to see how effective they are in helping users find matches and how well those matches translate into potential dates. Once we've used all the features of each app (both free and paid), we then create our recommendations. These recommendations are based on our firsthand experience, and they'll enable to you select the ideal LDR app.
With that being said, here are our top two choices for LDR apps:
The Best Long Distance Relationship Apps Right Now
After checking out a multitude of dating apps, we've come across two of the best ones to try if you want to meet someone from outside your state (or even country). Try them both out to see which one works for you.
Overall

Our team rates each site objectively based on many hours of independent research, the features each site offers, and how it compares with other sites. The ratings are the opinion of our editors and their extensive experience.

8
9.5
Quality of Women

Our opinion of how attractive the typical woman is that uses this site and how easy they are to connect with compared to other sites.

8
9
Popular

How many people are using this site to actually meet people compared to other sites.

8
9
Usability

How easy is this site to use and how quickly can an average person begin meeting people compared to other sites.

10
10
Privacy & Safety

Does this site take proper precautions to safeguard its members, their identity, and their data.

10
10
Effective

Our opinion of how easily an average person will be able to achieve their dating goals with this site compared to other sites.

8
9
Value

Will the time and money spent using this site pay off for an average person based on the opinions and experience of our editors.

8
10
Our Recommendation
Try Hinge if you want to change your location
Hinge is one of our favorite dating apps for long-distance dating because the free version allows you to change your location to anywhere in the world. This can help you meet people you never would have come across otherwise. We also love Hinge's platform because of how unique it is.
To create your profile, you upload six pictures and answer three conversation prompts. Then to match with someone, you must like or comment on a specific picture or prompt. This encourages you to actually consider each profile, so you're getting quality matches you can easily start a conversation with.
Try eHarmony if you're ready to settle down
One of the biggest dating sites on the market is eHarmony since it's been around since 2000. It's helped over 600,000 couples get married, so it's a great option for people who want a serious connection to make long-distance work.
We love eHarmony because it does the work for you. When you sign up, you complete an in-depth questionnaire about your interests, lifestyle, and preferences in a partner. Then, eHarmony uses your answers to recommend matches based on compatibility. This can help you find someone you actually have something in common with, even though you're in different locations.
The Other Top Long Distance Dating Sites Worth Considering
Even though these dating apps didn't make it into our top two, we still think they're great. Take a look at our description of each one to help you choose an app that suits your needs:
You've likely heard of Tinder before since it's one of the most popular dating apps in the world. But, did you know the app has a feature called Tinder Passport that lets you meet singles from anywhere in the world? All you do is search for the city you're interested in, set your location, and start swiping for matches.
Once you set your location, you use Tinder the same way you normally would. Which, if you've never used the app, is super easy. All you do is swipe right on a profile if you like it and left if you want to move on. If you and other users swipe right on each other, you match and can start chatting.
International Cupid is one of our favorite dating sites for finding love abroad. It's been around since 2004 and is part of the Cupid Media Network, which consists of over 30 reputable dating sites, so we know it's legit.
Although it's a niche dating site, it has over four million users around the world, making it a great place to find long-distance love. You can sign up and peruse profiles for free but if you want to message anyone, you'll need a paid membership. As this is one of the best international dating sites, we think the investment is worth it.
Zoosk is a great long-distance dating app because it has over 30 million users in over 80 countries and you can change your location to your target market. It's quickly becoming one of the most popular dating apps on the market, especially among young people from 18 to 25 who want to find something serious.
It's similar to Tinder as you swipe right on profiles you like or left when you don't. If you both like each other, you match and can start talking. Zoosk is free to use but it has limited features if you don't pay for a membership.
The Most Important Considerations When Choosing a Long Distance Dating App
When looking for the best dating app for you, here are some factors to consider first:
Can you set your distance preferences?
If your goal is to meet people from different cities or countries, you must choose an app that allows you to change your distance preferences. Some apps, like Hinge, offer this feature for free, but others may require you to pay for a premium membership. Check out each app's distance settings before committing to one.
How big is the userbase?
Niche dating apps targeted specifically at people who want a long-distance relationship may have a smaller userbase. This can improve your chances of finding quality matches but you may have a limited dating pool. If your focus is more on quantity rather than quality, choosing a general dating app may be a better option.
How much will it cost?
As traveling to see your matches or partners in the future can be expensive, you may want to save money in the early stages of online dating. Consider using free dating apps so you can stay within budget. It's just important to understand that your results may not be the same as they are with paid dating apps.
Are you looking for love or something casual?
Dating apps and sites are typically targeted either at people finding something serious or something casual. Decide which one you're after to choose the right dating app, though it's likely you want something serious if you're looking for a long-distance relationship.
How does the app select your matches?
Most dating apps either send you match recommendations, let you search through profiles yourself, or combine both features. Using an app that recommends matches based on compatibility can help you save time, but searching for matches yourself can help you find the perfect long-distance partner, so there are benefits to each. Consider your own needs to choose the best app.
5 Key Tips to Get Great Results Using Long Distance Dating Apps
If you want to improve your results when using LDR apps, consider the following tips:
Be honest
If you want to find a long-distance relationship online, it's important, to be honest about your intentions. You can put them in your bio or tell your matches what you're interested in. This ensures you're both on the same page so there's no disappointment down the line.
Invest in a membership
As we mentioned earlier, free dating apps are great, but they don't offer the same results that paid ones do. Paid dating sites give you features that make dating easier, like distance settings that allow you to change your location to meet new people. So, think of premium memberships as an investment in your future.
Ask questions
To get to know your matches and find out if you're compatible enough to try long-distance, ask a lot of open-ended questions. This can help you carry on a conversation until you're both ready to meet in person. If you're not sure what to ask, consider these articles for inspiration:
Plan your first date together
Once you get to know your matches, you may want to meet in person. Make it a memorable date by planning a fun activity together. Consider your shared interests to plan a unique date. For example, if you both like traveling, meeting in a new city that's in the middle of both of you could be a fun first date.
Put in effort
Long-distance relationships typically require more effort than normal ones. This is because you have to make more of an effort to show your partner you love them when you're not together all the time. Find cute ways to impress your matches or partner to keep them interested, such as sending them flowers or having a cute video chat date.
Frequently Asked Questions About LDR Dating Apps
Here are some answers to frequently asked questions you may have about long-distance relationship apps:
What is a long-distance dating app?
A long-distance dating app is a platform where people who are interested in dating abroad can meet. These niche dating sites help people with the same intentions easily meet one another. Many people looking for a long-distance relationship still use general dating apps though and just change their distance settings.
Are long-distance dating sites legit?
As there are thousands of dating sites on the market, there's no guarantee that they're all legit. To help keep you safe online, we test each app we recommend yourself, so we can guarantee that they're definitely legit. If you want to try an app we didn't recommend in this article, check out our other expert reviews first to see if we tested it out.
Are long-distance dating apps safe?
As we just mentioned, not every dating app is safe but online scams are common and they can happen on any website or digital platform. Just try to use your best judgment when dating online. Don't give out too much personal information and meet your matches in public for the first time.
What are long-distance site alternatives?
If you're looking for a long-distance relationship, you likely want something serious with one of your matches. But if you decide you're not quite ready to settle down yet, try one of the best hookup apps and sites to find something more casual.
How do long-distance dating sites work?
Long-distance relationship apps work the same way as traditional ones, they're just targeted at people who want a long-distance relationship. So if you're familiar with online dating, you shouldn't have a problem. If you're new to it, test out the app's features before choosing the best one.