If you're looking for the best dating apps for men in their 30s, don't just rely on the top-ranking options on the app store. Chances are those reviews aren't for people who are specifically your age. Instead, you need to put yourself in the mindset of the type of singles you want to attract on the app.
Dating in your 30s isn't that hard. Sure, your drunk party days at the cheapest dive bars are over. You're also probably a little more ahead in your career than the average 20-year-old. And you're now a lot wiser about the people you want to date. Whether that includes meeting someone for a long-term relationship or a casual fling, finding the right app is crucial.
Lucky for you, we have just the list of the best dating apps for people in their 30s. No matter what you're looking to find online, these apps can help you out.
How We Rank the Top Dating Apps and Sites for 40-Somethings
Beyond Ages is considered the most trusted website for online dating website reviews, because no one tests these dating apps with as much detail as us.
Our reviews are based on an intense testing period, where we try to land as many dates as we can ourselves. We do so using the same profile pictures, bios, opening lines and demographical data, which allows us to make accurate comparisons between websites. We then use both the free and paid version of the app to see if they're worth your time and money. So, when we tell you which dating apps are the best for your particular demographic, you can trust that this is based on in-depth data we gathered ourselves.
The Best Dating Apps for 30s Singles Right Now
These recommendations are exclusively for single men aged between 30 and 39. We have different verdicts for younger or older singles.
Best app for long-term relationships and marriage - eHarmony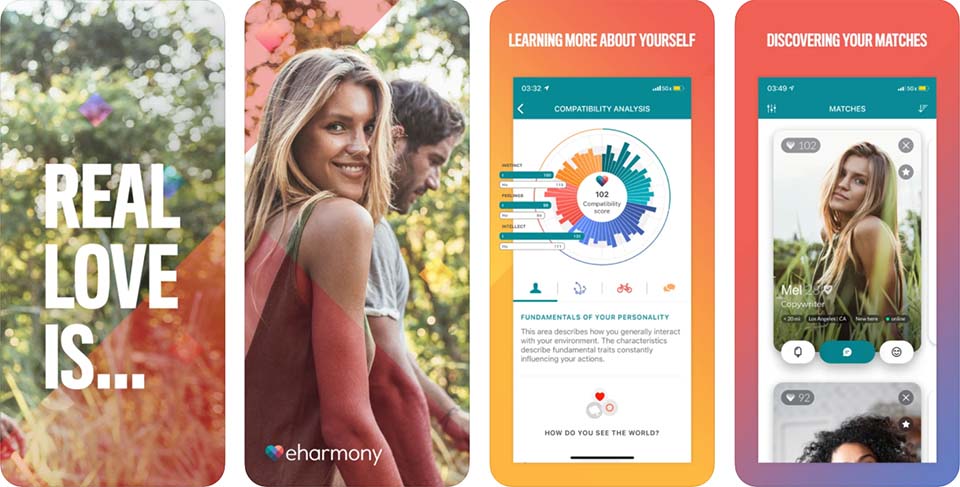 eHarmony has historically been known as the best website for seeking serious relationships. Even today, there is still no dating app algorithm that's anywhere near as intelligent or effective for pairing you with your ideal partner.
The algorithm is based on a lengthy survey that you'll be asked to complete during the sign-up process. The results of this survey allow eHarmony to suggest potential partners based on the best personality match for you. The stats suggest that it's responsible for more marriages than any other dating website. It has a near-enough 50/50 gender split and has won awards for the quality of its user base.
On top of that, eHarmony tends to attract users who are in their 30s or older. The reason we think it's the best long-term relationship site for singles in their 30s is that most older users end up quitting the site for one simple reason: they've finally found someone. So plenty of new users are still in their 30s, which means more people in your age range to meet!
If you're feeling the need to settle down into a serious relationship, there's little better that you could do than sign up for an eHarmony account today.
Best app for casual fun if you're not in the top 10% in looks - AFF (which you can try free)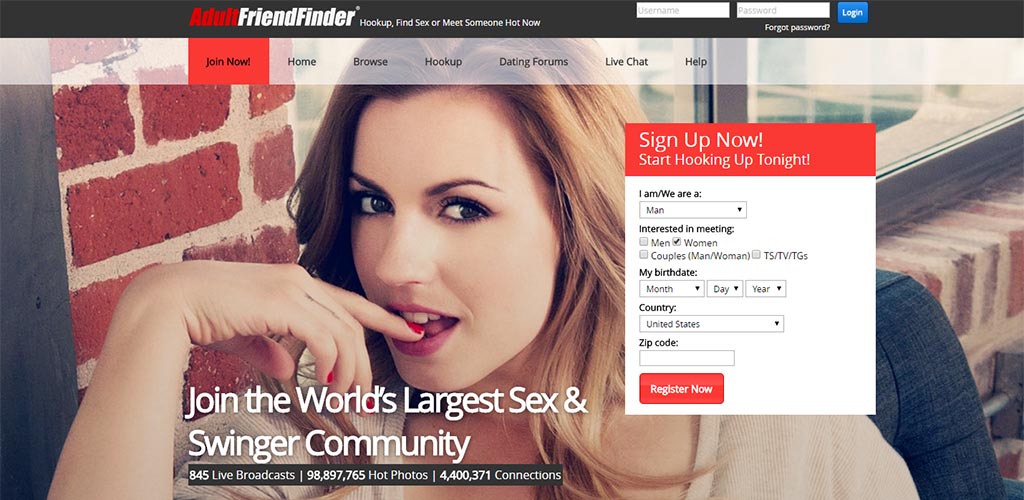 We love AFF. In fact, we rank it as one of the top hookup sites if you're a single guy looking for casual fun. There are plenty of single women on AFF looking for some no-strings fun or friends-with-benefits relationships. It's so easy to connect with women like this all over the world compared to the other options out there, and that's why we rank it so highly.
The great thing is that most younger folks looking for hookups tend to favor Tinder. But with the fierce competition on Tinder, many 30-somethings make their way to AFF. Plus points if you want to meet much older singles because there's plenty of that on the site too!
Want to see for yourself? Now is the best time to do so, because AFF is currently running a free trial.
Best app for casual fun if you're very attractive - Tinder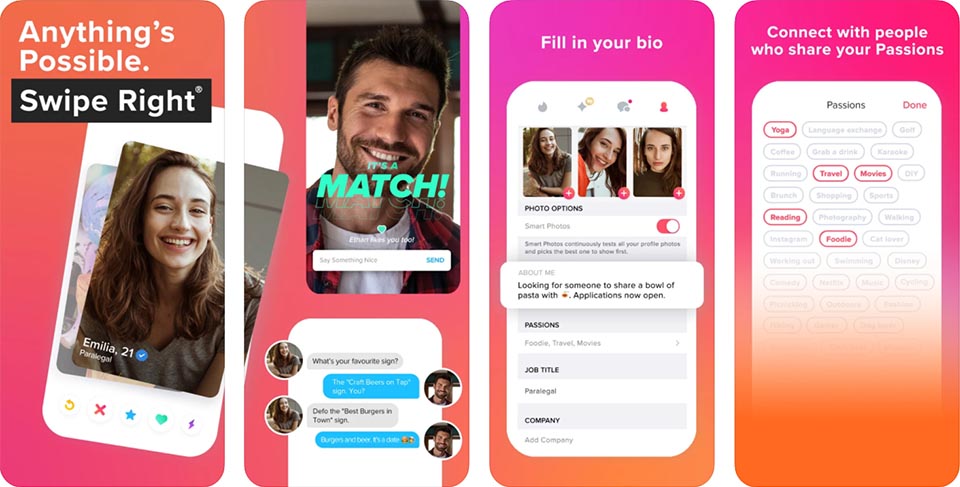 Tinder isn't just for the younger generations. There are plenty of guys aged 30 and above getting tons of action on this app too. No matter where in the world you use Tinder, there's likely to be a huge amount of women to swipe on.
The one downside of Tinder of this popularity is the amount of competition you'll face. That's why it's only the very attractive men who get noteworthy results on this app. Still, being in your 30s doesn't mean you should give up on Tinder. If you have reasonably attractive photos and you've got the time and energy to swipe through a seemingly endless array of profiles, you'll love Tinder.
Best app if you're not sure what you want - Match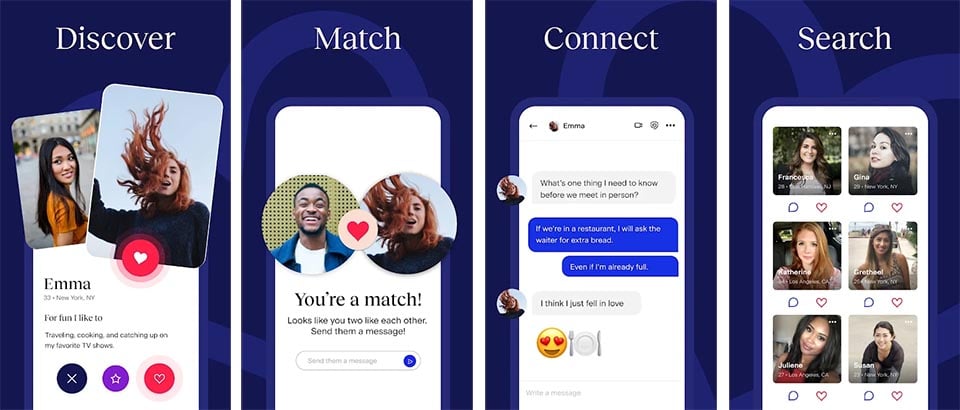 Match is another online dating brand that is almost as old as the internet itself. For that reason, it continues to attract an abundance of singles in their 30s and beyond.
Match has found a nice niche in between people looking for a hookup and those searching for something super-serious. These are singles who can favor either one, depending on who they meet on the app. If you find yourself in that niche, you'll find plenty of singles in the same boat on Match.
Best app for shy guys - Bumble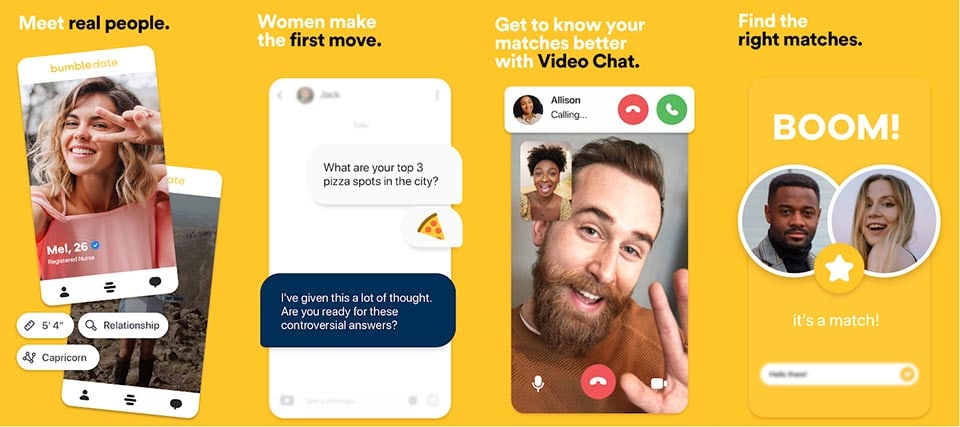 Bumble works similarly to Tinder. You create an account, set some preferences, and then you swipe away until you find a match. The key difference here is that when you match with a woman, she has to send the first message. We've found that this is perfect for guys who aren't good at making the first move.
The downside here is that if she doesn't send you a message within 24 hours, the match disappears. But that's a small price to pay, especially if you're the type of guy who can never come up with the perfect opener.
Best Dating Apps for Early 30s (30-Year-Olds to 33-Year-Olds)
You're just out of your 20s and you've still got the energy and time to date whenever you like. These are the apps you should be using.
Best app for long-term relationships and marriage - eHarmony
This is arguably the ideal age for eHarmony users. After all, it's often suggested that the early 30s is when men and women tend to get "the itch" to get married, in the West at least. As one of the best dating sites for 30s singles, eHarmony makes finding the right person for you so much easier with its patented algorithm!
We also have a complete list of the best dating sites if you're looking for something serious. These recommendations are perfect if you're done with casual relationships and actually want a long-term relationship.
Best app for casual fun - Tinder
The price of a premium Tinder membership rises when you hit your 30th birthday, but it's still the best app for casual fun, provided you've retained your good looks throughout your twenties. Is it one of the most popular hookup apps for 30 year olds? Yes. But is it the most effective? Yes, but only if you're attractive.
Best Dating Apps for Mid-30s (34-Year-Olds to 37-Year-Olds)
Best app for long-term relationships and marriage - eHarmony
Honestly, eHarmony is the best dating site for 30s somethings who are looking for a long-term relationship online. To be honest, no matter what your age is eHarmony is still the best option we've tried. There are plenty of eHarmony users in their mid-30s, so you're unlikely to be short of options. Just be patient since the signup questionnaire can be long. But we promise you that it really works when it comes to matching you up with compatible singles.
Best app for casual fun if you're very attractive - Tinder
It's said that men's attractiveness peaks in their mid-30s, provided they do all the right things in their twenties. That's why Tinder will still be popping for you at 34 and beyond, provided you're one of the more attractive prospects in that age range. You might not have as much success with the younger crowd, as many will filter the app to only show 18-30, but that doesn't mean you won't find any casual fun at all.
For more options on where to find hookups in your 30s, check out our list of the best hookup apps and sites. Tinder's there but you might just find other options worth trying.
Best app for casual fun - AFF
The creme de la creme of casual sex sites. We've already explained why AFF is one of the top contenders when it comes to finding casual fun. Mid-30s is the ideal age to be an AFF user and you can find that out for yourself if you take advantage of its free trial.
Best Online Dating Sites for Late 30s (37-Year-Olds to 39-Year-Olds)
There's not too much of a difference between dating apps in your mid-thirties and your late thirties. So, the recommendations above apply here too. As long as you know what you want and you set your expectations before using the app, all the apps we've mentioned above should work out fine.
What Makes a Dating Site Great in Your 30s?
Here are five important things for thirty-somethings to think about before choosing a dating app.
App popularity with 30-somethings
The most important thing to consider is how many people in your target demographic are using the app. If you're trying to meet women in their thirties, you'll want an app that's popular with this age range. After all, the most intelligent dating app in the world would be useless if there's barely any women using it.
Site design and features
You're hardly a boomer in your thirties, but it's still convenient to choose a dating app that's easy to use and allows you to find your dream woman without too much hassle.
Does the app make meeting people easy?
The ultimate aim of a dating app (for men anyway) is to meet someone and go on a date. All of our dating reviews are ultimately based on how easy it is to do that. This should be your main consideration when choosing a dating app too.
Do people use it for dating or socializing/ego-boosting?
We said "for men only" in brackets in the last point. That's because there are a lot of women using dating apps for validation and curing boredom only. If a dating app has a reputation for attracting these types of women, you're better off avoiding it.
Thankfully, this tends to be a habit indulged in by teenagers and twenty-somethings only. If you're seeking women your own age, you won't have to worry about this as much.
Can regular people find success or just the best looking?
If you're a thirty-something who is still peaking and living his best life, you'll probably do well on any popular dating website. Huge respect to you, by the way. You embraced the delayed gratification of the self-improvement lifestyle and now you're reaping the rewards.
If your best years are behind you physically, all hope isn't lost. You just need to choose a dating app where the best-looking blokes aren't stealing all the attention.
A Short Guide to Getting Great Results from Dating Apps in your 30s
Here are four steps you have to follow to achieve great success on dating apps in your thirties.
Creating a great profile
A great online dating profile requires great photos. There's no getting around it. It would be a brilliant investment to book an appointment with a professional photographer who specializes in dating app photos. If you have built a fun high-value lifestyle that a woman would want to be a part of (which you should have done by your thirties), your photos should make that clear and obvious.
You can write about that in your bio as well, but your photos are undeniably the most important part of your profile.
See these guides for assistance with creating an awesome dating profile.
Sending a great first message
A great first message is needed to capture your crush's attention. Here are some ideas to help you send a great opening message.
Responding to messages
These guides will help you get progress in an online dating conversation to the point where she's ready to be asked out.
Asking them out
The final step to landing a date is to ask a woman out, so let's explore some guides on how to do that.
Biggest Mistakes Singles Make on Dating Apps in their 20s
Here are the biggest mistakes to avoid during your online dating adventures.
Uninspiring photos
If you want to attract a great partner from a dating app, you need to upload great pictures of yourself. Include a hi-res shot of your face, your hobbies, you and your friends, plus and a candid shot of your body (if you're in shape).
Opening with any variant Of 'hi' or 'how are you?'
Most men begin the conversation with a variant of 'hi' or 'how are you'. It's either that or a generic compliment. It rarely works. Stand out from the crowd by crafting an opening message that will get her interested in you. Check out the articles linked above.
Not knowing what to say after the first message
It's easy to copy and paste a fun, interesting opening message. Any guy who can do a little research can pull that off. But once she replies, you need to know what to say to keep the conversation going. Small talk is fine during your first conversation, but you need more than small talk skills to make her excited to meet you.
FAQ about the Best Dating Apps in Your 30s
Still can't find the perfect dating app for you? No problem! Here are some quick frequently asked questions to help you decide which app is for you.
What are the best dating sites in your 30s?
Here's a list of the best dating apps in your 30s
eHarmony (for relationships)
AFF (for hookups)
Tinder (for attractive singles who want hookups)
What is the best dating app for over 30s?
The top dating apps for 30s singles are eHarmony, AFF, and Tinder (but only if you're hot).
Is Tinder for 30 year olds?
Some would say that Tinder is the best dating app for 30s singles. But that's only true if you're in the top 10% in terms of looks. AFF would be a better option if you're an average guy.
Is dating harder in your 30s?
Yes, but only if you're not using the best dating site for 30s singles like AFF and eHarmony.
Is Bumble good for over 35?
It can work, but using Bumble for online dating for 30s singles might be a challenge. Instead, we highly recommend AFF and eHarmony.
What is the best dating website for 30-year-olds?
We recommend AFF if you're looking for something short-term and casual. If you're searching for something serious, try eHarmony.
What are the best dating apps for 34-year-olds?
If you're 34 years old and looking to settle down, try eHarmony. It's one of the best apps out there for finding a serious relationship, and it's extremely popular among the 30-something crowd. If you're still not ready for something serious, Tinder or AFF are your best bets.
What are the best dating apps for 35-year-olds?
Thirty-five-year-olds would do well on eHarmony (serious relationships), Tinder (casual flings if you're hot) or AFF (casual flings in general).
Are dating apps good for meeting singles in your 30s?
Dating apps aren't just for the young bucks. There are overwhelming numbers of single guys and girls in their thirties using these apps as well.
How can I get better at using dating apps in my 30s?
The number one thing you can do is to invest in taking great photos. You can do this by scheduling a photoshoot with a professional photographer who specializes in dating app photos. This will skyrocket your matches, almost without a doubt. The number two thing is to learn how to send exciting messages. Most guys out here are boring women to death with their unoriginal dating app banter.