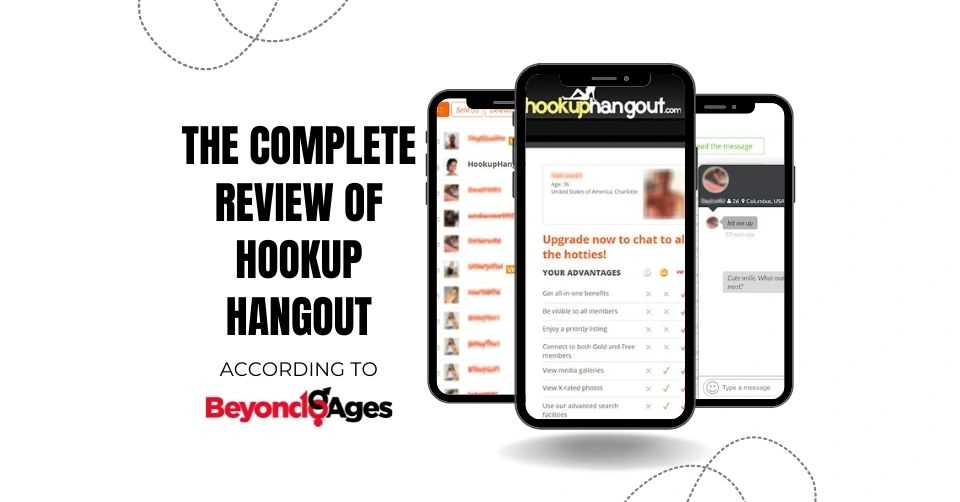 There are a plethora of dating sites online. However, sadly, not all of them are worth spending time on. The truth is, it's not that easy finding a decent dating site and that's why I'm here. In our Hookup Hangout review, we'll see how good it is as a dating website. As usual, I took a wary approach when reviewing this site and made sure to look through all the angles possible. 
You're already doing the right thing by looking at detailed reviews of dating sites. It's just so important to find a site that works for you right now. Way more people are meeting online than ever before and social distancing is making meeting other singles really tough in person. You just need to do your homework.
There's nothing breathtaking when it comes to its overall design. Creating a free account was rather simple and straightforward. From the get-go, it looks like just any other dating site. This made me all the more curious.
How we reviewed Hookup Hangout
To ensure I review all sites equally, I'll first set up a free account and use this said account as is.
The goal here is to see how many actual dates I can set up using the free account and then after some time switch to the paid versions and see how things turn out there.
What I first do is create a blank profile. I'll do this to see whether I'll receive spam messages before I've even uploaded a profile picture. When you get such messages even before you've put up a profile image, there's a high chance this is a spam website that has bots posing as women.
I'll let the profile stay blank for about a day or two before I properly finish it off with a complete bio and photos. For the next few weeks or so, I'll use my account just as I would my very own Tinder account. The whole reason why people try out dating websites is to see if they can find dates, and that's exactly what I look for as well. 
To get realistic results I invested quite a lot of time on the site, several weeks or so. This gives me enough time to find all the site's weak points. I'll quickly get to know whether the paid features are worth it and what's fluff on the site.
Once I've put in adequate time using the free account, I then upgrade to the paid version. As I look for more dates with the paid account, I get the chance to test run all the paid features they have on offer as well. This is what helps me find out for you whether the paid versions are worth spending your hard-earned cash on. I do all this so that you can avoid having to go through any of these processes.
Let's get to the full review:
The Full Review of HookupHangout
To give you a summary of what the site has to offer, below is a comparison of Hookup Hangout and AFF. Since AFF (which you can try free here) is undeniably one of the most reliable hookup sites around (especially for guys who aren't super handsome), we use it as our gold standard. So in case you're in a rush to know if HookupHangout is worth trying, you can base your decision on the scores below:
Overall

Our team rates each site objectively based on many hours of independent research, the features each site offers, and how it compares with other sites. The ratings are the opinion of our editors and their extensive experience.

2
9.5
Quality of Women

Our opinion of how attractive the typical woman is that uses this site and how easy they are to connect with compared to other sites.

3
9
Popular

How many people are using this site to actually meet people compared to other sites.

2
9
Usability

How easy is this site to use and how quickly can an average person begin meeting people compared to other sites.

6
10
Privacy & Safety

Does this site take proper precautions to safeguard its members, their identity, and their data.

3
10
Effective

Our opinion of how easily an average person will be able to achieve their dating goals with this site compared to other sites.

1
9
Value

Will the time and money spent using this site pay off for an average person based on the opinions and experience of our editors.

1
10
Our Recommendation
Hookuphangout.com looks like a pretty good dating site at first glance. You have your standard site design where you immediately see a variety of different members, some of whom have very racy photos. As is common in paid dating sites, I had to upgrade to a premium account before I could really do anything. So I paid for my account and anticipated what the site had to offer. Unfortunately, I was disappointed and I wouldn't recommend any use it.
And it was. . .
Nothing. Hookup Hangout deleted my account as soon as I paid and refunded the money.
I contacted support and they got back to me relatively fast. A guy called Yugin, from the Customer Retention Team, told me that they deleted the account because I used a 3rd party to make the payments.
We have a certain specified account we use to make payments here, but apparently, on Hookuphangout I think the email you use to sign up needs to be linked to the bank or PayPal account you use to make the payments for the upgrade.
So my verdict is pretty unclear. On the one hand, I guess it's a good thing that the site removes accounts that seem shady from their end. However, that means reviewers like me can't paint a clear picture of what the site has to offer.
So based on my short-lived experience with Hookup Hangout, this is what I found:
You can barely do anything with a free account
As soon as I created my profile, I received several updates from various women. Some were messages and others were winks. I could reply to chats, that pop up (as you can see in the image above), but not to messages that go to my inbox.
One odd thing I did notice about the site is that they allow free users to send 5 "emails" but not chat. I'm not sure what the difference is. Either way, as soon as I sent my 5 emails, I am met with a paywall:
Lots of good looking members, but no way to know if they're real
Hookhangout has a lot of potential when it comes to the members on the site. It actually has many good-looking men and women, and not the type that look like fake profiles that have just been set up by the site's administrators. However, since I wasn't able to have a conversation with any of them, I have no way of knowing if they're real.
What seemed fishy is that many profiles only have one photo. When I did come across profiles with more than one photo, they either seemed professionally shot or were from the same gallery. In my experience, most dating site users would post a variety of photos taken at different times. This wasn't the case with the ones I saw on Hookup Hangout.
The site sends potential matches your way through two ways: first is the search feature and the second is the seemingly more popular, which is the "flirt" feature. It's a Tinder-like method where you can choose to flirt with a member or not, and the site gives you an endless array of members to choose from.
Why AFF is better
That being said, if you really want to go in hard on dating sites then AFF would be a better choice than this one. In fact, there are many other dating websites out there that provide a much better experience than what Hookuphangout.com has to offer.
First off, AFF is a tried and tested site with millions of users worldwide. All the users are legit, and they also have methods of suspending fake users. Second (and most importantly), AFF has incredibly responsive users who are keen to hookup up ASAP. No need to wait around for days to get a response.
If you were to spend your money on a site, go with the one that's worthwhile. But if you're not willing to pay to try online dating, you're in luck because AFF has a free trial that you can check out right now!
What we liked and disliked about HookupHangout
Despite my short-lived experience with Hookup Hangout, I was able to create a list of the site's pros and cons.
The women are attractive
They gave us a refund after suspending our account
Heavily restricted for free users
We're not entirely sure if the profiles are legit
We've gotten much better results from other apps and sites similar to this
The site design is pretty good with a few annoying features
The site has a pretty basic design. As soon as you log in, you're greeted by a page full of women's profiles along with the search filters to your left. Pop-up notifications also appear on the bottom right-hand side of the page, though this can get pretty annoying.
Hookup Apps Regular Guys Get Great Results With According To Dating Experts
(Way Better Than Hookup Hangout)
If you want real results you should skip using HookupHangout and try one of the options that normal guys actually get results using. These are the apps that our dating coaches recommend to regular guys that want to get solid results instead of striking out:
Site
Our Experience
Our Rating
Free Trial Link

Best Hookup Site Right Now

Experience Highlights

Top option for local hookups by far
Best results for regular guys
Over 60 million active members
The design needs an update

Try AFF For Free

Great If You're Handsome

Tinder Highlights

Great if you're pretty good looking
Very popular, especially if you're 18-22
Really focused on photos
Becoming more of a dating than hookup app

Try Tinder

2nd Best For Most Guys

Experience Highlights

2nd best option to find hookups
Attracts an older crowd than most hookup apps
Pretty popular
Solid free trial

Try Passion
Messaging on Hookup Hangout
A huge sign that helps show you whether a site of this nature is a scam is when you get many spam messages. When I first signed up, I immediately got two messages. This scared me a bit at first, however, I didn't get any more texts until I uploaded a profile picture and updated my bio. I was able to send just 5 messages. You can contact members by either chatting with them on the site directly or sending them an email, though you can't chat before you pay for an upgrade.
Although, you will get some stats thrown at you telling you how many women are flirting with you or how many women have been looking at your profile. Some of these stats aren't true because the moment you try to connect with one of these said women is the moment they ask you to upgrade to paid versions so that you can engage better. I guess they have to make their money one way or another, no?
How much does a HookupHangout membership cost?
First off, this site doesn't offer any Trial Plans. With that said, it has a pretty standard pricing structure and it's basically the same as what you'd expect to find on many other subscription websites similar to this one.
Premium Plans:
One Month = $24.99
Three Months = $19.99 per month (Currently -20% off)
Six Months = $14.99 per month (Currently -40% off)
A VIP add on will set you back an extra $14.90 per month
The plans are recurring and to stop payments you'll need to cancel.
Payments can be made via wire transfer, direct debit authorization and credit card.
Hookup Hangout Review: Frequently Asked Questions
Before I close things, I'll take you through a few frequently asked questions. If you still have questions even after reading this article, I would love to hear them and please add both the answer and/or question if you can to help others as well.
What is Hookup Hangout?
Hookup Hangout is an online dating website that's designed to help you hook up for fun with no strings attached and arrange casual sexual encounters as well. However, you need a paid account before you can do anything on the site. Overall, we think it's a waste of time.
Who actually owns HookupHangout?
HookupHangout is owned by Tyche Technologies AG under the brand name Dating Factory.
How can I contact HookupHangout.com?
You can contact HookupHangout.com via email: [email protected]
Is Hookup Hangout real?
Yes, Hookup Hangout is a real site. However, I wasn't able to use the site long enough to see if the members are real.
Is HookupHangout legit?
The verdict is still out on that one. The free HookupHangout account had nothing to offer, and my paid account was suspended. Either way, I don't recommend this site.
Is HookupHangout.com a scam or fake?
HookupHangout.com might not be an outright scam. However, they did suspend my account after paying and I wasn't able to what a paid account has to offer. Those aren't good odds.
Is Hookup Hangout safe?
Hookup Hangout doesn't seem safe at all. We don't recommend it at all.
What are HookupHangout alternatives?
If you're looking for legit and easier ways to get laid than HookupHangout, check out our list of the best hookup sites. It's a compilation of sites that we've tried and definitely recommend.
How does HookupHangout.com work?
HookupHangout.com lets you create an account for free. Once you do, you can browse through profiles. But to read or send messages, you need a paid account.
Is there a Hookup Hangout app?
No, Hookup Hangout doesn't have its own app.
How much does HookupHangout cost?
Here are the payment plans for HookupHangout:
One Month = $24.99
Three Months = $19.99 per month (Currently -20% off)
Six Months = $14.99 per month (Currently -40% off)
A VIP add on will set you back an extra $14.90 per month
How can you use HookupHangout.com for free?
You can barely use HookupHangout.com without paying for an account. All you can do is browse through profiles, but you can't send anyone messages.
Can you send messages for free on Hookup Hangout?
You can't send messages on Hookup Hangout without a paid account.
How do you cancel your HookupHangout account?
All Hookuphangout memberships are automatically renewed before the expiration dates. In order to cancel a subscription, you'll need to go to the "Account Details" section on the "Profile" tab. Once you're there, you'll see a "Cancel Membership" option. Click on that and then follow everything they tell you to do next.