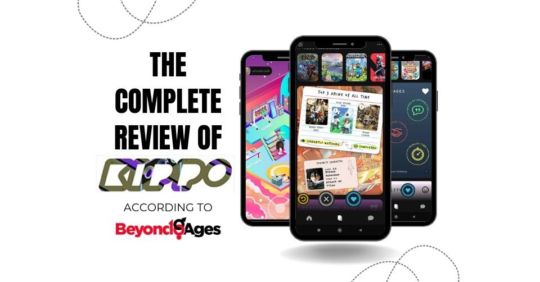 Most dating app reviews only give you the basics of how the app works. But this Kippo review is all about getting to know the app and using it until we get at least a few dates. So what makes Kippo unique? Why is it gaining popularity in the world of online dating?
Kippo is one of the newer dating apps that aims to take a large chunk of the younger market away from mainstream online dating services with its unique and fun design. The question is: is Kippo a better option to fill that hole in their dating lives and give them what they're looking for?
There are plenty of "alternative" dating apps out there that promise the world but end up being useless or even scams. That's where BeyondAges comes in. We have built a reputation as one of the most detailed and trusted dating app review websites. In this guide, you'll discover the results of our intense testing of the Kippo app.
Kippo has a free and premium edition, which costs a few dollars a month. It's always best to check a trusted review website before handing your money over to a relatively-unknown dating app.
So, let's find out what Kippo has to offer.
How we reviewed Kippo
At BeyondAges, our online dating reviews are all based on how we fared trying to make connections with women while testing out both the free and premium editions of the app.
Where possible, we make sure to always use the same photos, bio and demographical information. Our opening messages are chosen from our tried-and-trusted file of proven openers. This allows us to make accurate comparisons of the dating apps we test and to recommend the best apps for your specific needs.
After signing up for a premium Kippo subscription, I sent messages to 50 women in the local vicinity. Of those who responded, I did my best to build a rapport and swap contact details with the aim of meeting for a date.
While you'll learn about all the ins and outs of Kippo in this review, our verdict is ultimately based on how easy the app makes it to connect with and arrange to meet beautiful women. After all, that's the most important thing.
So, how did I get on? To find out, read on for my full and honest Kippo review.
2023 Kippo Review – Our Experience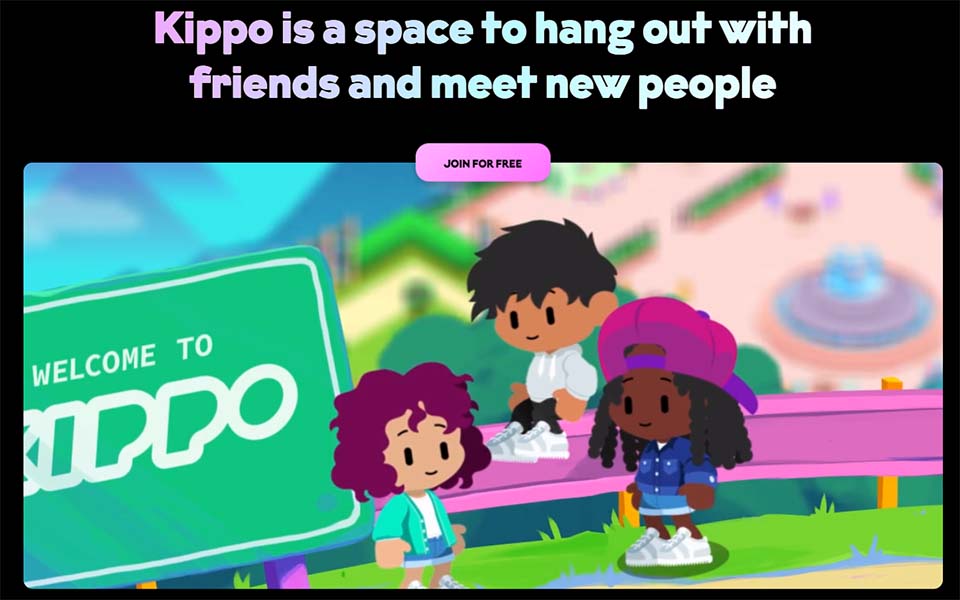 We'll begin this Kippo review with a basic summary so that those who aren't interested in a full investigation can quickly discover if Kippo is worth a try.
Below, you'll find ratings out of 10 for the most important aspects of Kippo. For reference, these are compared to eHarmony, the dating site that's been working the best for most guys lately.
Overall

Our team rates each site objectively based on many hours of independent research, the features each site offers, and how it compares with other sites. The ratings are the opinion of our editors and their extensive experience.

3
9.5
Quality of Women

Our opinion of how attractive the typical woman is that uses this site and how easy they are to connect with compared to other sites.

6
9
Popular

How many people are using this site to actually meet people compared to other sites.

4
9
Usability

How easy is this site to use and how quickly can an average person begin meeting people compared to other sites.

5
10
Privacy & Safety

Does this site take proper precautions to safeguard its members, their identity, and their data.

10
10
Effective

Our opinion of how easily an average person will be able to achieve their dating goals with this site compared to other sites.

3
9
Value

Will the time and money spent using this site pay off for an average person based on the opinions and experience of our editors.

2
10
Our Recommendation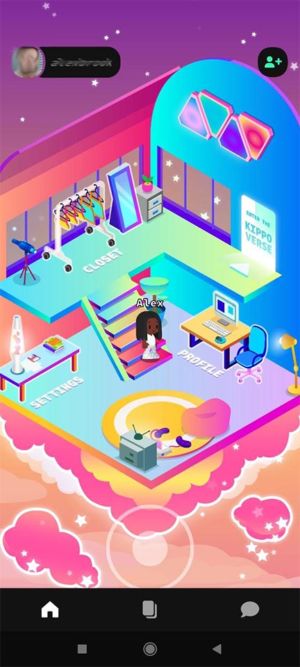 As soon as you log in to Kippo and create a profile, you'll immediately be taken aback by the unique visuals. While most of the mainstream dating apps have a corporate vibe and come across as quite similar to each other these days, Kippo has clearly made an effort to stand out. It feels somewhat childlike in many ways, especially because you're forced to create an avatar, almost like Nintendo Wii. No one sees the avatar except for you and it seems like a somewhat unnecessary step.
You'll be made to upload at least four photos of yourself before you begin, which is a nice step to help users know who they're really dealing with.
You can send unlimited messages to your matches with a free Kippo account. However, as the free edition only allows you to send one message per day to a user without matching them first, I went ahead and bought a premium subscription right away. 
Anyway, here are the moments of my experience testing Kippo and trying to land dates that you really need to know about.
There are plenty of great women on Kippo
Considering I'd never heard of Kippo before beginning this test, I was surprised by the number of great women who had created profiles on this app. Most of them were in their late teens or early twenties, which is not a surprise as the design of the app clearly caters to a younger audience.
During the tests, there was a small bug that made the app tell me that there were no users left to swipe on in my chosen radius. This happened several times, even after I switched my radius to global. Still, when I quit the app and reopened it, there were lots of new women to interact with.    
Kippo allows you to make beautiful and detailed profiles
This was definitely a huge selling point of Kippo. You can create a detailed and eye-catching profile by adding various cards, revealing certain information about yourself.
You can add a basic text file to create a normal bio, which is what I did. But, if you want to get creative, you can add cards to show people your love languages, favorite anime, favorite video games and more. 
You'll learn a lot about the person you're trying to connect with just by exploring what cards they added and what they chose not to add.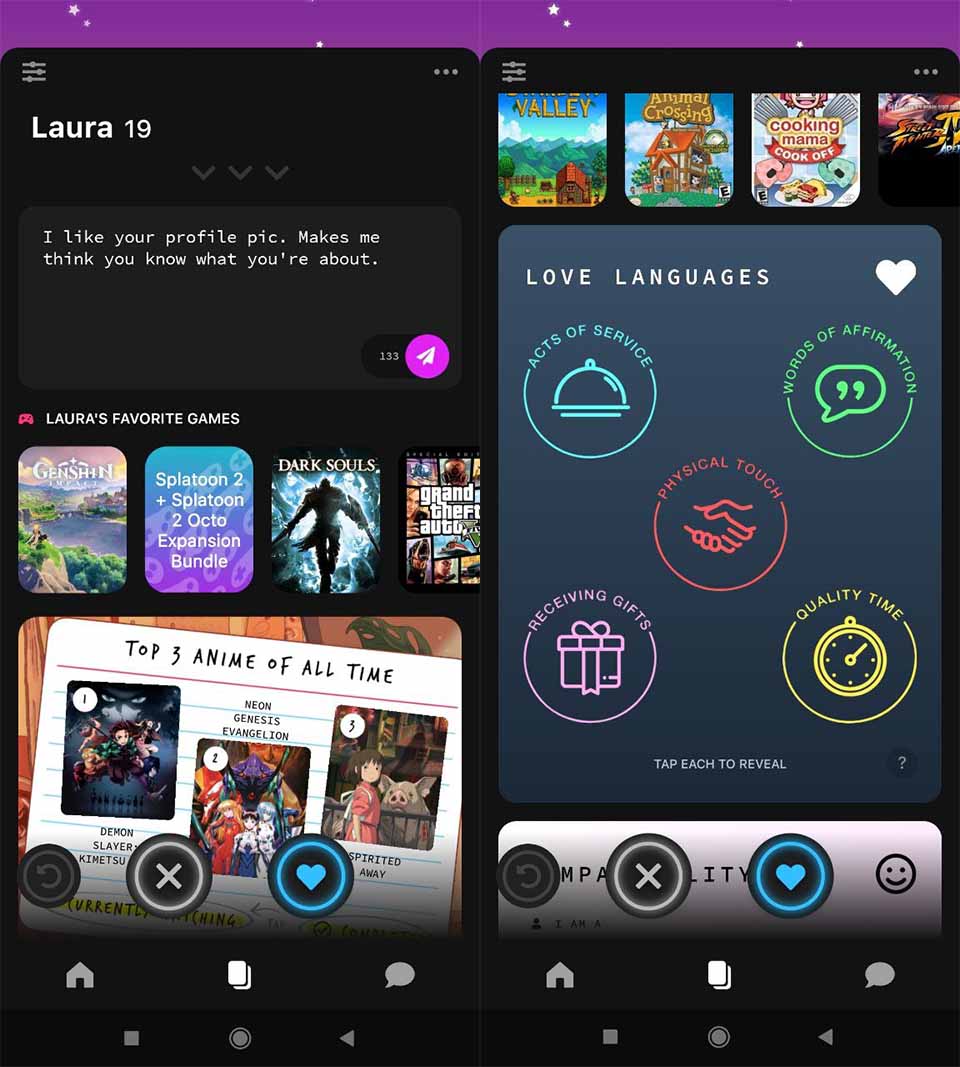 I had some success making connections on Kippo, but not enough to satisfy me
On Kippo, you'll be asked to swipe on profiles one-by-one, right for yes and left for no, just as on Tinder and so many other mainstream dating apps. The key difference with Kippo is that you can send an opening message with your right swipe, meaning you may be able to make an impact with a memorable opener. You can send one of these per day with a free account and an unlimited amount with Kippo Premium. 
It's possible to turn this option off, in which case you'll only be able to start messaging each other when you've both swiped right. 
I sent 50 messages to 50 women who had this option turned on, received only one reply and swapped contact details with them. This wasn't anywhere near as fruitful as some of the best hookup apps we've tested in the past.  
Why eHarmony is a better option
As fun and eye-catching as it was swiping on Kippo, there's no way I'd recommend it to anyone looking to hook up quickly and easily. If you want that, you absolutely need to create an account on eHarmony.  
We have tested eHarmony in several different states were always able to meet a lot of other great singles.. That's why we rate it as the number one hookup site today.
eHarmony has maintained a HUGE community of interested singles. Because it's so clear that this is the aim of the site, you're unlikely to come across many time-wasters looking to message back and forth for days.  
Best of all, you can see for yourself just how effective eHarmony is because the site is currently running a great trial offer. Click here to create a free account today.
Positives and Negatives
So what did we like and not like about the Kippo app? Here's a quick list of its pros and cons to help you decide if this is the app for you.
Unique and fun design
Four photos are required
Create fun and detailed profiles with the app's cards system
The app is a bit buggy
Mostly younger users (it's a plus if you're young too)
The user base isn't as large or as active as on mainstream websites
Profiles, Pictures and Members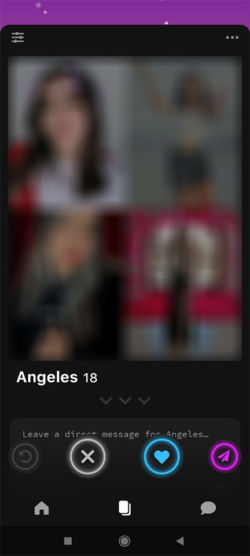 Whereas most dating sites only allow you to create a bio from text or by answering multiple-choice questions, Kippo takes a more creative approach by letting you choose from a range of cards to reveal information about yourself. This is a huge plus point of Kippo, which makes it fun to use and allows members to stand out and show off their true uniqueness.
Kippo makes you upload four photos (no more, no less) before you can start connecting with other users. They'll all be shown in a collage as you're swiping left and right, meaning there's no over-reliance on your first photo to make an impact. You might be banned if these photos aren't of you. This is another plus point, for sure. No one likes when people only upload one or two photos, especially if these photos aren't of them.
Kippo mostly caters to the 18-25 demographic, although I did stumble across the occasional older woman.
Design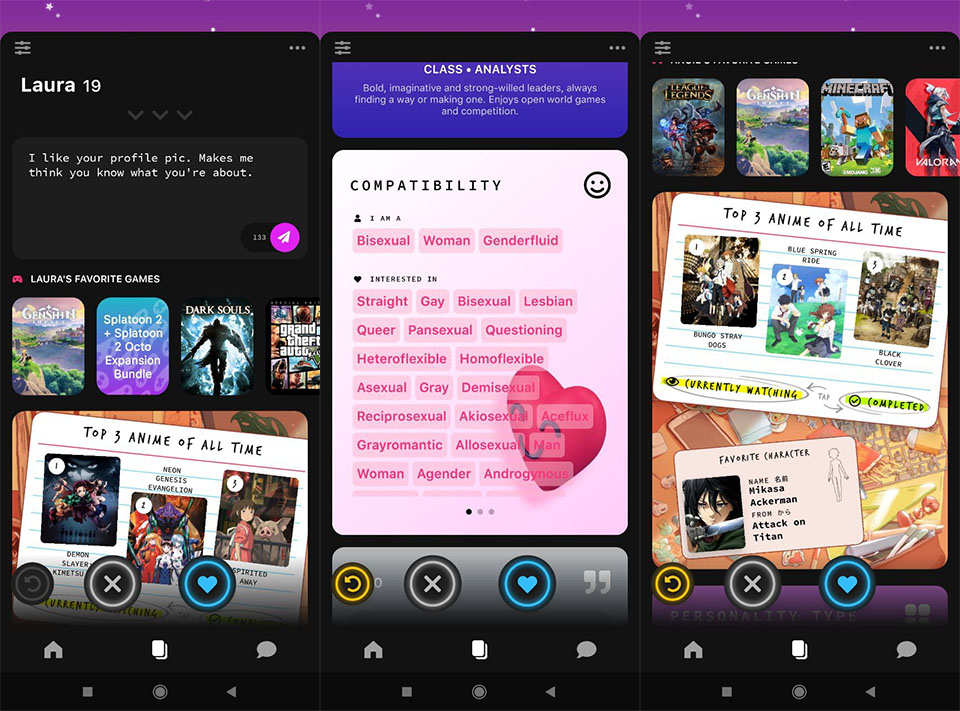 The unique design of Kippo is part of what makes the app so fun, although some older users might find it to be a bit too childish. The decision to show all four of a user's photos simultaneously while swiping is a good idea.
Messaging and chatting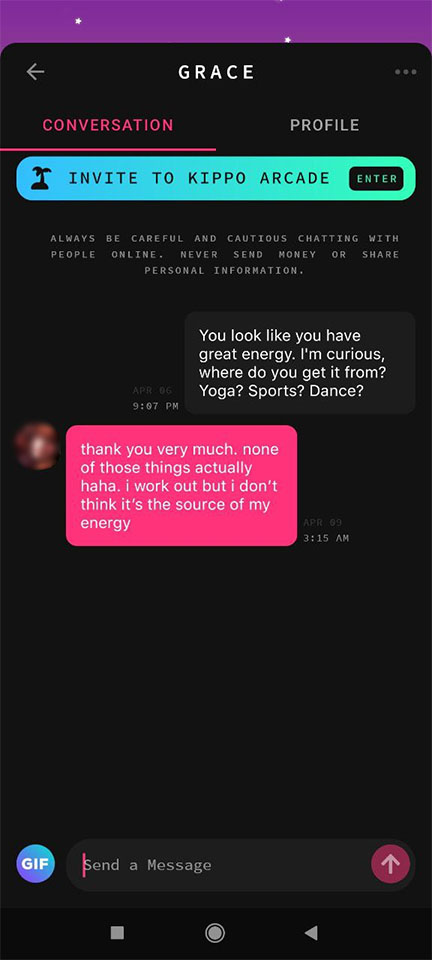 You can choose to allow Kippo users to message you before you swipe right. Better yet, the majority of women on Kippo chose to allow this.
I didn't have any women choose to start a conversation with me, which is hardly a surprise because (despite what Bumble says) women don't like to make the first move.
Kippo reminds you to be kind every time before you send a message to a new user. This is more about the app's branding than anything else. Trolls are going to troll even if they're asked not to by the app.
You can send unlimited messages on Kippo once you've paid for a subscription. However, you'll have to match (both swipe right on each other) before you can send a second message to the same person.
Advertisements
There were no advertisements on the Kippo app, which is a relief.
Pricing
A premium membership with Kippo costs $10 per month. Alternatively, you can buy a six-month membership for $37 ($6.17 per month) or a 12-month membership for $56 ($4.66 per month).
Kippo Frequently Asked Questions
Let's round off this article with the answer to some frequently asked questions about Kippo.
What is Kippo?
Kippo officially markets itself as a place to hang out and meet people. However, you will meet people by swiping left and right on their profiles and "matching" just like with most traditional dating apps. Many of the reviews on the iOS and the Google Play store mention dating apps too. This would suggest that most people use it as a dating website.
How can I contact Kippo?
Kippo's customer service team operates exclusively through Twitter. Visit www.twitter.com/kippoapp and send them a tweet.
Who actually owns Kippo?
Kippo is owned by Colavalent Inc.
Is Kippo real?
Kippo is a real dating app and everyone I spoke to appeared to be real too. The app has taken steps to prevent catfishing, including the mandatory uploading of at least four photos.
Is Kippo legit?
Kippo is a legit dating website, although it has to be said your money is probably best spent elsewhere.
Is Kippo a scam or fake?
There are no signs of any scams on Kippo.
Is Kippo safe?
Your personal and financial data would appear to be completely safe on Kippo.
What are Kippo alternatives?
You can see our most highly-recommended alternatives to Kippo in our list of the best hookup apps and sites we've tested.
How does Kippo work?
To start using Kippo, you'll need to create a profile with four photos.
From there, you'll swipe on other users, right or left, depending on whether you want to chat with them.
When you both swipe right, indicating you both want to talk, you'll be able to continue chatting and hopefully arrange to meet for a date.
Is there a Kippo app?
Yes, Kippo is available on iOS and Android.
How can you use Kippo for free?
You can send messages on the free edition of Kippo, although only to members who swipe right on you. The free edition allows you to send one message per day to one member before matching.
How much does Kippo cost?
A premium membership costs:
One-month membership: $10
Six-month membership: $37 ($6.17 per month)
12-month membership: $56 ($4.66 per month).
Your membership will automatically renew until you cancel.
Can you send messages for free on Kippo?
You will have to match with a Kippo member before sending a message in order to message them for free.
Once you've paid for a monthly subscription, you can send as many opening messages as you like on Kippo, although you can only message the same person again once you've matched.
How do you cancel your Kippo account?
You can cancel your Kippo subscription via the subscriptions tab in the iOS or the Google Play store. You can delete your account entirely by navigating to Settings and scrolling down to Delete Account at the bottom of the screen.