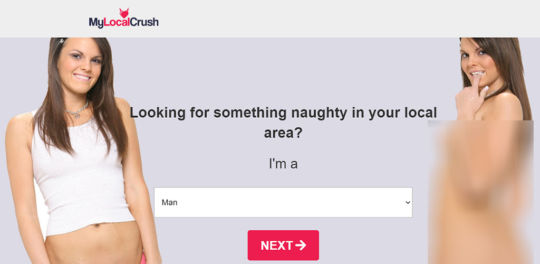 Internet dating is everywhere, now more than ever. After all, is there a better way to meet women from all over the country, get to know someone before investing in a face-to-face meet or have a ready-made repository of women who are all potentially willing to hook up? But for all its promise, internet dating ends up being a letdown more often than not. This is where our MyLocalCrush Review comes in.
Who among us can say we've never ended up on a website that looked promising, only to find out that there were few women on the site, that it was impossible to use the site without paying money upfront or — worst of all — that the whole thing was a giant scam? As dating and hookup sites become more prevalent, the bad ones get better at hiding their flaws and the good ones get lost among the noise.

This is where we come in — we ruthlessly scour the depths of the internet to find these sites, use them and report back here to let you know if they're any good. This time, it's My Local Crush getting the full treatment.
How we reviewed My Local Crush
As always, I start my reviews by creating a profile on the website and leaving it blank for a while. The reason I do this is that it's an excellent way to sort out the scam sites upfront.
Obviously, nobody is going to be messaging a completely empty profile offering to hook up. So if I get a flood of messages to my inbox straight away, that tells me right away that something fishy is going on.
After a couple of days, I'll go back and put in some real information. I fill out a bio, upload photos, add some interests, the whole shebang. From there, I use the site the same way I would my personal dating profile, by messaging women and trying to set up as many dates as I can.
Usually, I'd spend a couple of weeks seeing what I can do with a free account before setting up a paid subscription in order to fully test out all the features of the site. In the case of this site, their credit card payment system doesn't work, so I didn't get to try out the paid features. In this case, I don't think it mattered much, because the writing was already on the wall for My Local Crush — literally.
MyLocalCrush Review: What We Really Think
I like to start off with a high-level overview to rate the most important aspects of the site at a glance. Because AFF is still the gold standard when it comes to hookup sites, it's useful to provide a basis of comparison.
Overall

Our team rates each site objectively based on many hours of independent research, the features each site offers, and how it compares with other sites. The ratings are the opinion of our editors and their extensive experience.

1
9.5
Quality of Women

Our opinion of how attractive the typical woman is that uses this site and how easy they are to connect with compared to other sites.

1
9
Popular

How many people are using this site to actually meet people compared to other sites.

2
9
Usability

How easy is this site to use and how quickly can an average person begin meeting people compared to other sites.

1
10
Privacy & Safety

Does this site take proper precautions to safeguard its members, their identity, and their data.

1
10
Effective

Our opinion of how easily an average person will be able to achieve their dating goals with this site compared to other sites.

1
9
Value

Will the time and money spent using this site pay off for an average person based on the opinions and experience of our editors.

1
10
Our Recommendation
Even for those who may be getting a little burnt out on internet dating, the promise of a new dating site is hard to deny. Maybe this website will be The One — a site with lots of women, where it's easy to meet people, where you might actually have a chance of talking to a real person.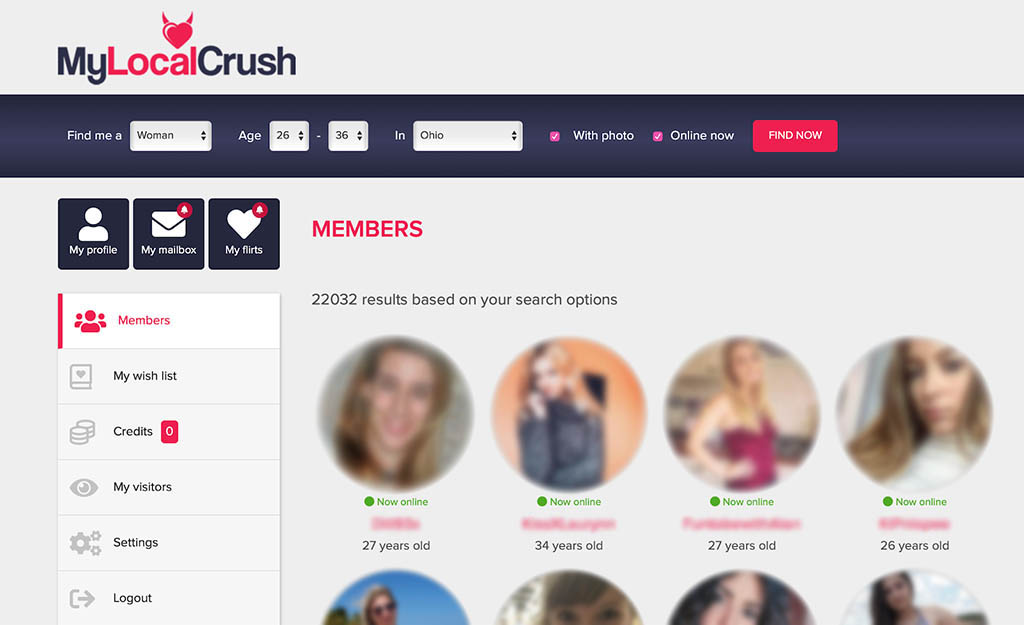 Those websites are out there and we've reviewed some of them. So, does My Local Crush deserve to be added to their number?
I received so much spam on MyLocalCrush
Remember how I said that the first measure of a site's trustworthiness is how many spam messages get sent to a brand new, blank profile? Usually, I'll get a few; on the dodgy sites, this may be as many as a couple of dozen, while on the better ones, I might get none at all.
This time? I need to start out by stressing that I am not exaggerating this number because, on this site, I received nearly a thousand messages in the first 48 hours!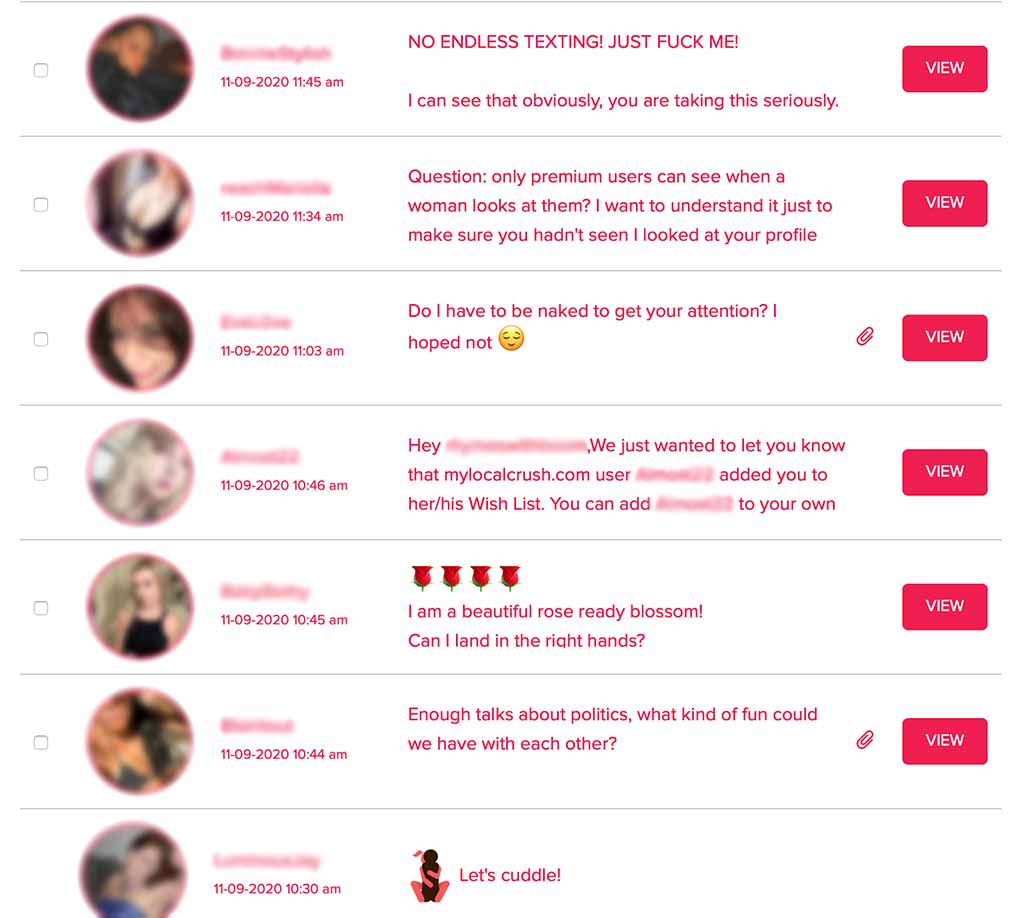 A thousand messages. All sent to a profile with no name, photo, no information whatsoever. Some were multiple messages from the same users wanting to know why I hadn't responded, often within minutes of the original message. Some were straight-up suggestions that we meet and hook up.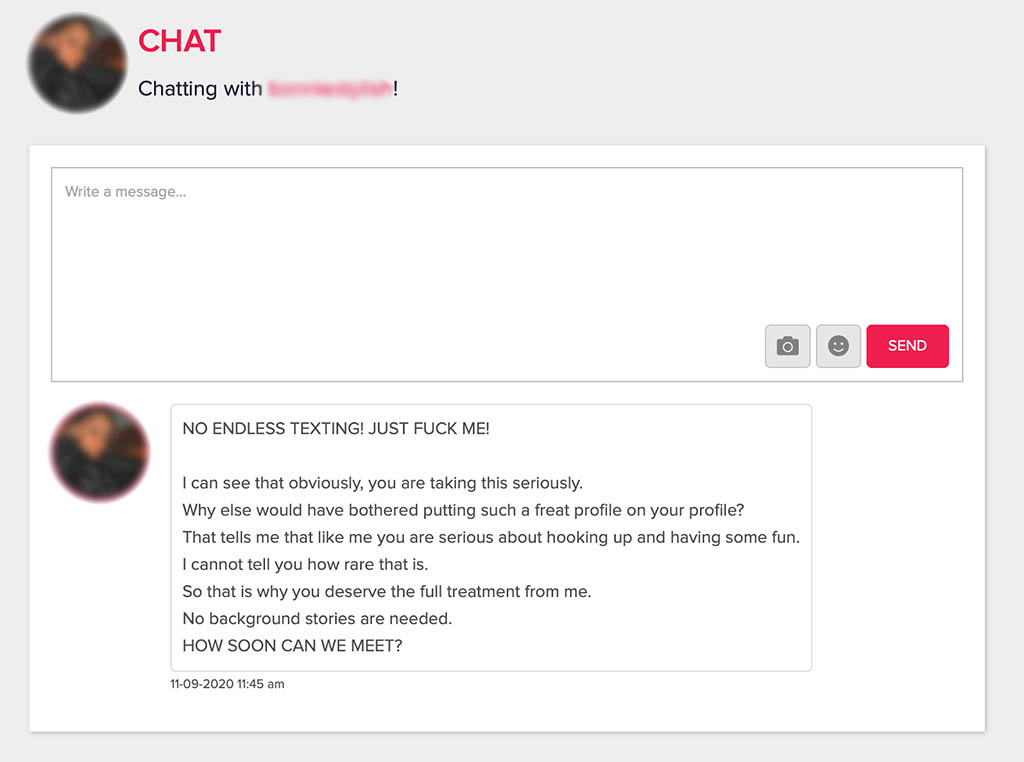 A few of these messages — if any of them turned out to be real — would have been a gold mine. A thousand? I could barely scroll through them all, let alone read them. Luckily for my sanity, there was a giant flashing red light that told me not to bother.
MyLocalCrush admits to having fictional profiles
When I was creating my account on the site, I noticed something unusual right at the beginning. In between the usual screens I had to click through, like entering my email address and promising I'd read the terms and conditions, I had to agree to seeing what they called "fictional entertainers' profiles."
Okay, I thought, maybe this is some sort of gimmick the site uses to stand out, so let's see what it's about.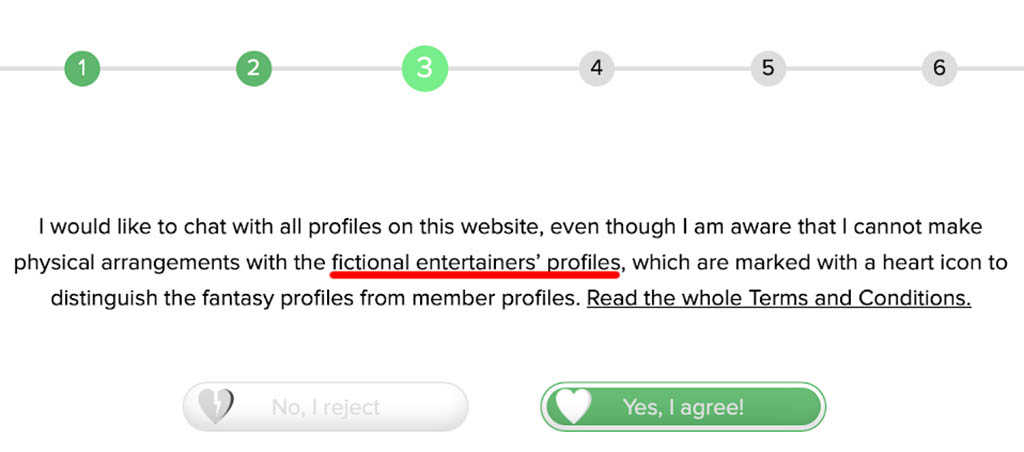 Supposedly, some of the profiles on the site are fictional — fantasy users set up to chat with men on the site, not real women who are open to hooking up. These profiles are marked with a heart icon, so you can tell them apart from the genuine users.
It sounded a little weird to me — I'd rather be chatting to a real woman on a dating website, not some dude on the other side of the country being paid to sound like a woman — but at least they were being transparent about it, so what's the harm?
It turns out, the harm is that this gimmick is the entire website. Every single message I got, every single woman I searched for, every single profile I clicked on — all fictional. The women begging me to tell them when we could hook up already? Not real.
And all this information is in black and white right on the site's terms and conditions. Buried somewhere between the sections on data usage and illegal activity, is the statement, "You also understand that this is a fantasy entertainment service and that your profiles are fictional and your interactions will be with operators."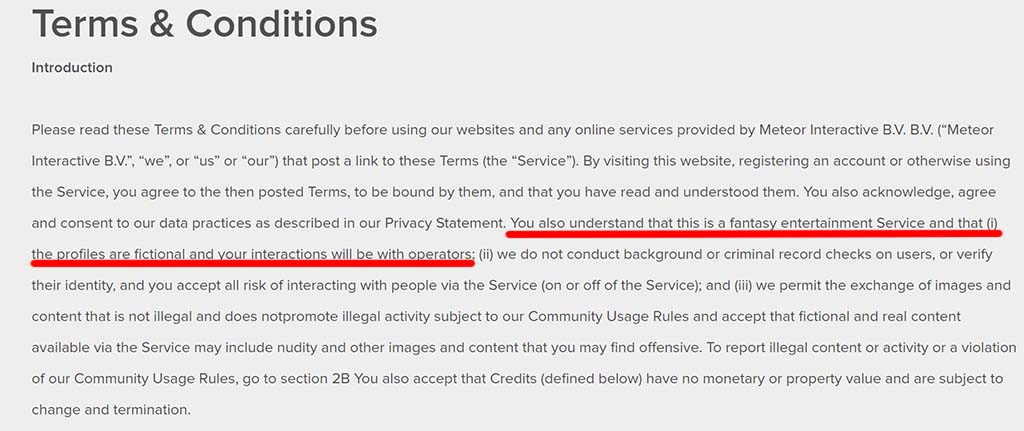 MyLocalCrush is part of the Meteor Interactive Group
It all started to make sense when I figured out who owns MyLocalCrush. The Meteor Interactive B.V. group is well-known for its awful online dating sites, all of which pull stunts like this one. Sites like localfling.com and amazingflings.com are all part of this group, all of which are heavily featured in complaints on scam reporting sites like ScamGuard.
Sadly, it's not the first time we've run into one of these sites here and it probably won't be the last. Suddenly, the fact that I wasn't able to enter my credit card details is looking like a blessing in disguise!
Conclusion
Do I really need to say it? Stay away from this site. The website's own terms and conditions admit that none of the profiles are real, so unless you're cool with paying real money to chat with someone who definitely isn't the woman on the profile — and probably isn't a woman at all — there's nothing for you here but a potential scam.
Save your money and try AFF instead, where you have great odds of hooking up with someone. On AFF, ALL the women are real (or at least the site does a great job of blocking the fakers). On top of that, they're all on the site to get laid and have some fun. Even if you're just an average guy who's no pickup artist when it comes to online dating, you still have a shot!
So if MyLocalCrush.com seems like the most depressing hookup site there is, AFF is the exact opposite. They even have a free trial in case you don't want to commit!
Pros and Cons of MyLocalCrush
Usually, I can find at least a few things I liked about a website. With MyLocalCrush, this was a lot harder than usual.
Clean and simple site design
No ongoing subscription
Good if you just want to flirt online and don't care about meeting real women
THERE ARE NO REAL WOMEN ON THIS SITE. That's the big one.
Per-message credit system could work out very expensive in the long run
Extremely shady language in the terms and conditions, giving the website rights to use your personal information
All the profiles are fictional. ALL OF THEM.
I spent a lot of time on MyLocalCrush looking for a profile not marked with the giveaway heart icon that designates a fictional entertainer and couldn't find a single one.
Annoyingly, there's no way to filter out these profiles and no way to see whether or not a profile is fictional without clicking into it, either on the search page or by looking at your messages. There's also no way to opt out of seeing these profiles once you've agreed to it — probably because you'd be left with a completely empty site.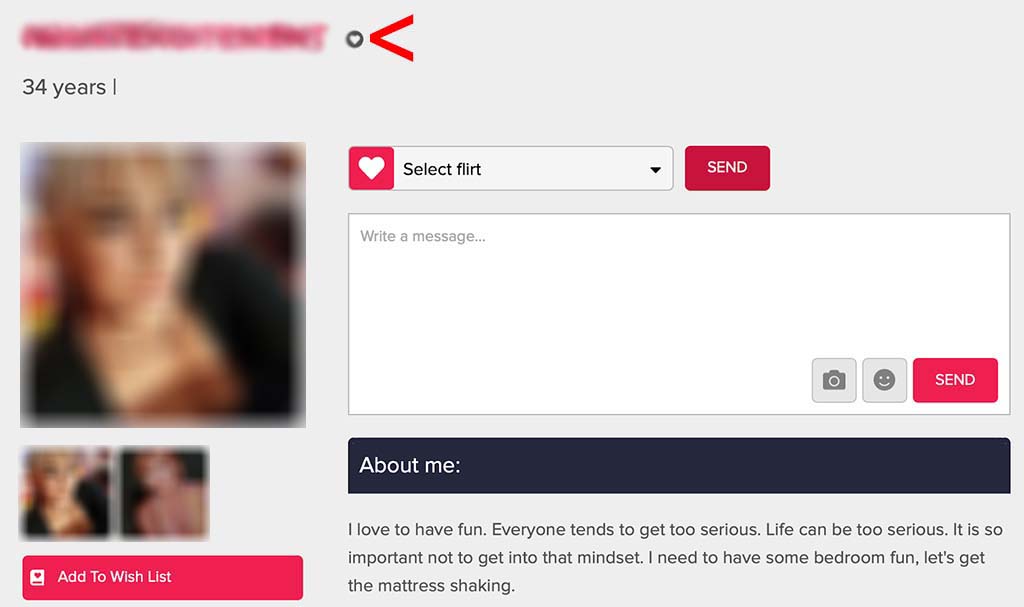 The search system is very basic, not that it matters much. You can search by gender, age range and location. You can also filter for profiles with photos and users who are currently online. The site relies more heavily on match suggestions based on your profile, which you can find by scrolling down to the "local flings" section.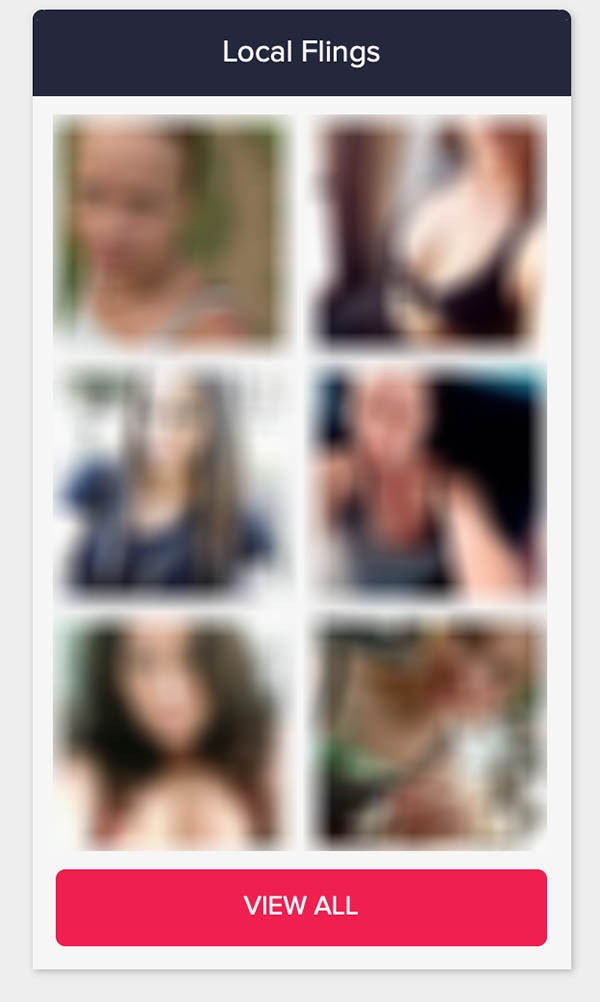 MyLocalCrush has a clean and simple design that might fool you
The design of the site is clean and simple. This is a good thing aesthetically — there are no distracting ads, glitchy features or loads of visual clutter — but it also means there really isn't much to do on the site.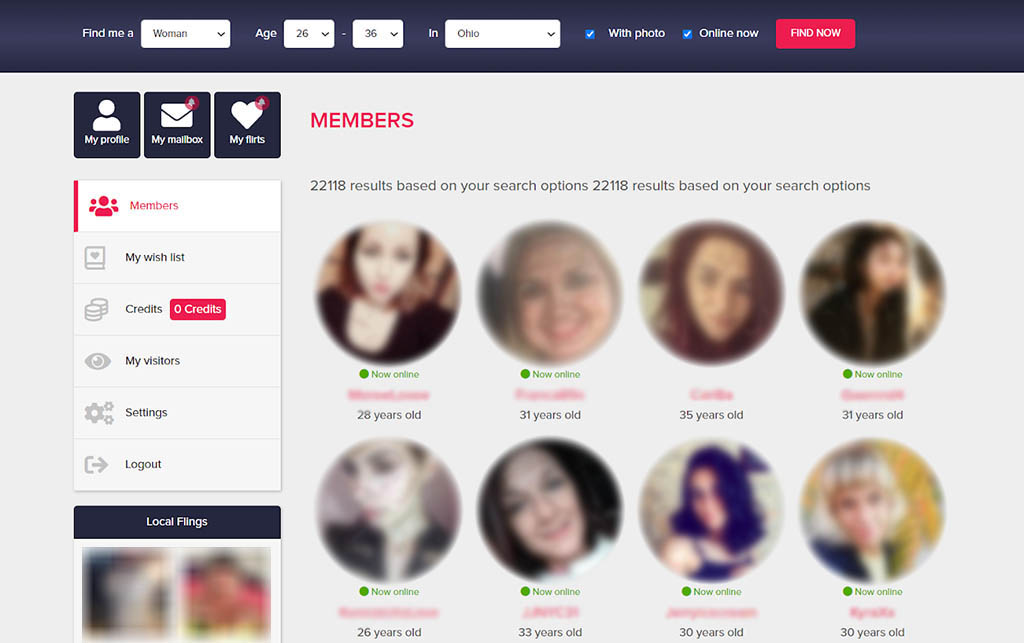 The search function is incredibly basic, with a simple search only and no advanced search option and there are no message boards, forums, blogs, articles or photo galleries, most of which you can usually find on other dating sites. This isn't surprising — those features all require interaction with other people and by the website's own admission, there are no real women here.
How the messaging system works
There are two ways to contact other users. The first is to pay for credits in order to send a message. The second option is to send a "flirt" for free — these are pre-prepared phrases ranging from "damn you're hot" to "flirt?" to "let's get naughty."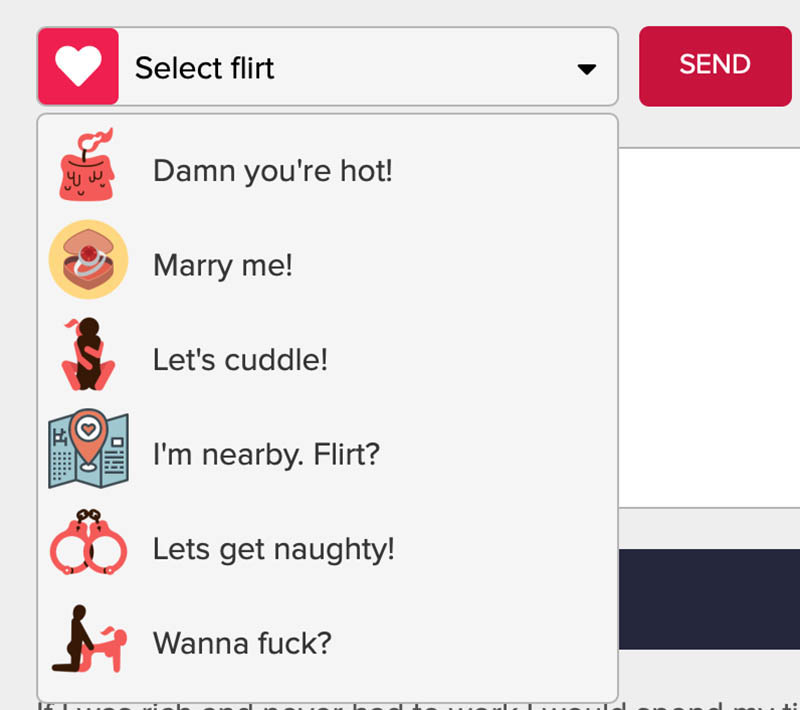 In terms of the messages I received, they may have been more convincing if I hadn't gotten so many of them. As it is, I could see how the concept of messaging fantasy profiles could be fun — if it wasn't so expensive.
Even though I wasn't able to buy credits to send messages myself, I don't feel like I missed out on a lot since all of the women who messaged me were fictional entertainers and that's not what I'm after.
What can you do with a free MyLocalCrush membership?
A free membership allows you to search for other users and read messages that have been sent to you. Given how many messages I received, it's a good way to entice unwary users into paying for credits.
The only thing you can do with a paid membership that you can't do with a free one is sending messages yourself and you'll be paying steeply for that — every message you send costs one credit, which is at least one dollar per message sent.
Explicit ads right at the top of the page
This one's a giveaway. Bad sites often have loads of paid ads to get revenue. After all, if they're not getting money from people who are convinced they're talking to real women, how else are they going to make a buck?
Annoyingly, these NSFW ads suddenly show up at the top of the page, right before you're about to click something. So what happens is you end up clicking on the ad and giving the site some revenue. It's a terrible design for the end-user, but a profitable one for the site.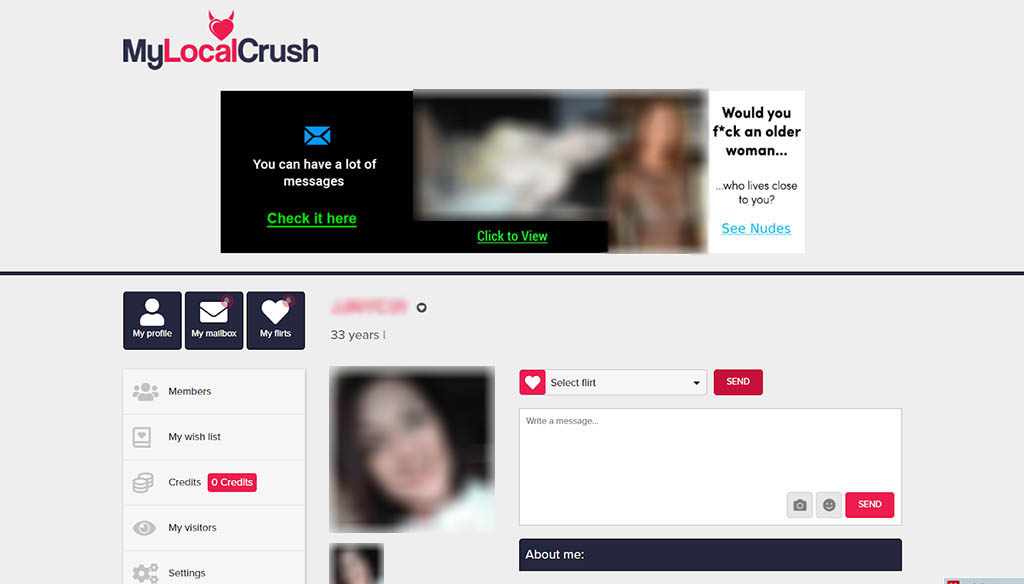 You pay for credits to send messages to women
MyLocalCrush.com runs on a different pricing structure to most dating websites. Unlike other sites, which run on a subscription model that allows you access to all paid features of the site for a set amount of time, the site allows users to pay for credits that are used to send messages. One credit allows you to send one message and the price ranges from $1.00 to $1.50 per credit depending on how many you buy.
10 credits $14.99
25 credits $34.99
50 credits $64.99
100 credits $119.99
200 credits $199.99
MyLocalCrush Review: Frequently Asked Questions
Feel like we didn't cover everything you need to know about My Local Crush? Here are some quick questions and answers to help you out.
What is mylocalcrush.com?
MyLocalCrush is a dating and hookup site aimed at singles. It has a unique feature called fantasy profiles, which are aimed at people who want to chat and flirt online but aren't looking for real people offline.
How do you log into MyLocalCrush?
To log into MyLocalCrush.com, enter your username and password in the top right-hand corner of the home page and click "log in." If you don't have an account for the website, you can create one by filling out some basic information directly into the popup window on the home page and clicking "join now."
What are MyLocalCrush.com alternatives?
For some legit alternatives, check out our review of the best hookup apps and websites.
How do you use My Local Crush for free?
Free users can read messages sent to them, search for and browse other users' profiles, send flirts and add users to their wish list. If you want to send messages, you'll need to pay for a credits package, which can cost anywhere from $1.00 to $1.50 per message.
How do you cancel your MyLocalCrush membership?
There's no need to cancel your membership since the site has no recurring subscription option. If you don't want to pay any more, you can simply opt not to purchase any more credits.
How do you delete your My Local Crush account?
To delete your account, go to "My profile" and click on "settings."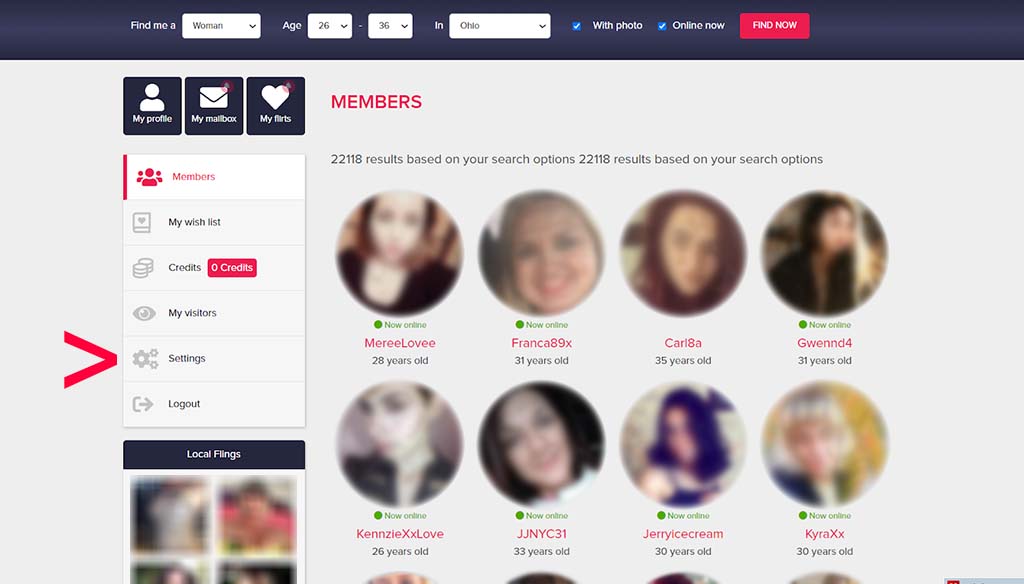 Then scroll down to the bottom of the page. From there, click the button that says "delete my account."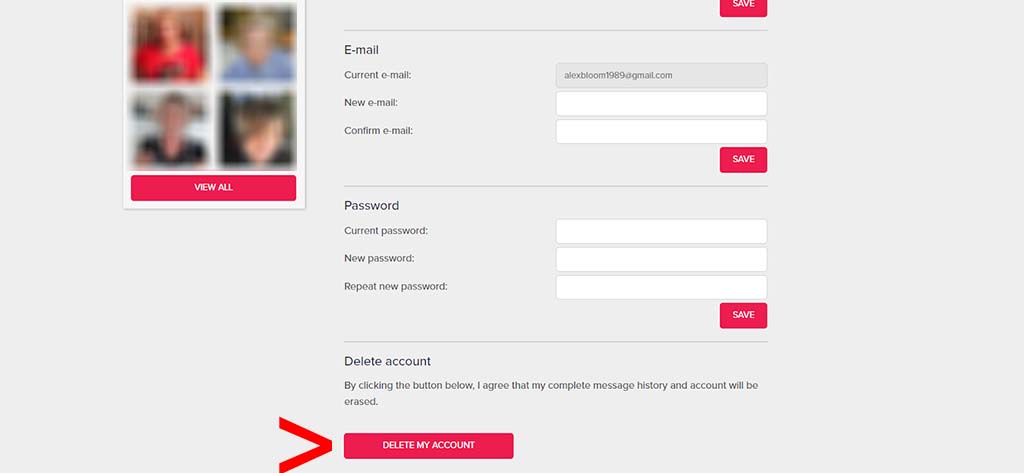 How much does MyLocalCrush.com cost?
There is no subscription option for the site. Instead, you can buy credits which are used to message other users. One credit allows you to send one message.
10 credits $14.99
25 credits $34.99
50 credits $64.99
100 credits $119.99
200 credits $199.99
Is MyLocalCrush.com legit?
Not in the least — it isn't even pretending to be. The website admits right in its terms and conditions that all profiles are fake and for "entertainment use only."
Steer clear of this site if you're looking to meet real people — here are some of our favorite dating and hookup sites that we recommend instead.
Is My Local Crush a scam or real?
The only thing keeping this site from being a scam is that it says exactly what it's doing right there on the website. That said, it's not immediately obvious that the entire site is full of fake profiles until you do a little digging and the "clearly marked" fictional profiles only show up when you're looking at a user's full profile.
So it's easy to be persuaded to spend money on message credits before you realize you won't be talking to any real women.
How do you send messages on MyLocalCrush?
You can message other users directly from their profiles or by replying to messages in your inbox. The message interface is simple to use and shows previous messages in the thread so you know what you're replying to. All messages cost paid credits, but you can send a "flirt" to a user for free that contains one of six pre-determined phrases.
How do you search on MyLocalCrush.com?
To search for users, choose some basic information from the drop-down menu at the top of the page, like gender, age range and location, and click "find now." You can also view your site-generated matches by scrolling down to "local flings" in the bottom left-hand corner of the search page and clicking "view all."