As I mentioned, my experience with Phrendly was almost entirely a positive one. Sure, the aesthetics could do with some work but once you get beyond the lackluster layout, everything is great.
Far more important than that, I never felt as though my credit card was in jeopardy. It was also quick and easy to find literally everything I was looking for. I'll always take a functional website over one that looks great but is unusable!
As a side note, Phrendly has an Android-only app as well as a browser version. Since I don't have an Android phone, this entire review is based on the web version, though I expect the experience will be the same.
Phrendly is for paid interactions, not relationships
I've touched on this above but it's important I highlight this for those who are just skimming the article headings. Despite what their tagline says, Phrendly is not about creating relationships. At least, not the type we think of when we talk about dating apps.
Instead, it's about trading in-app currency for interaction with women. This comes in a wide range of formats, depending on your preferences and bank balance:
Text conversation
Sexting
Phone calls
Video chat
Photos
Strangely enough, women can send you photos but not videos. Only video chat.
It all starts with you finding someone you find attractive and messaging them. From there, you're free to chat away and ask for whatever you're into. Of course, the women are welcome to define their own boundaries of what they will and won't do.
If you have a particular kink that you're looking for, go for it, just don't expect that every woman will be willing to cooperate.
Finding someone you're interested in
This part is simple. You click the search button on the left of your screen and are presented with sets of 20 profile photos. If you like any of them, all you have to do is click on their photo and choose what you'd like to do.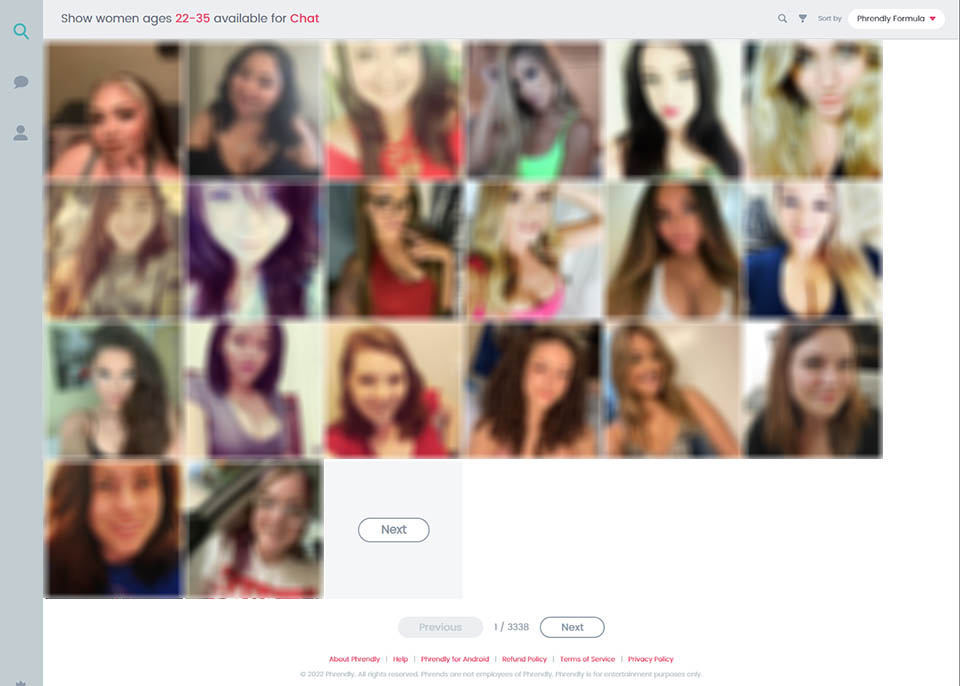 At the top, you can choose to "star" her profile, type and send a message or initiate a phone or video call if her profile allows it.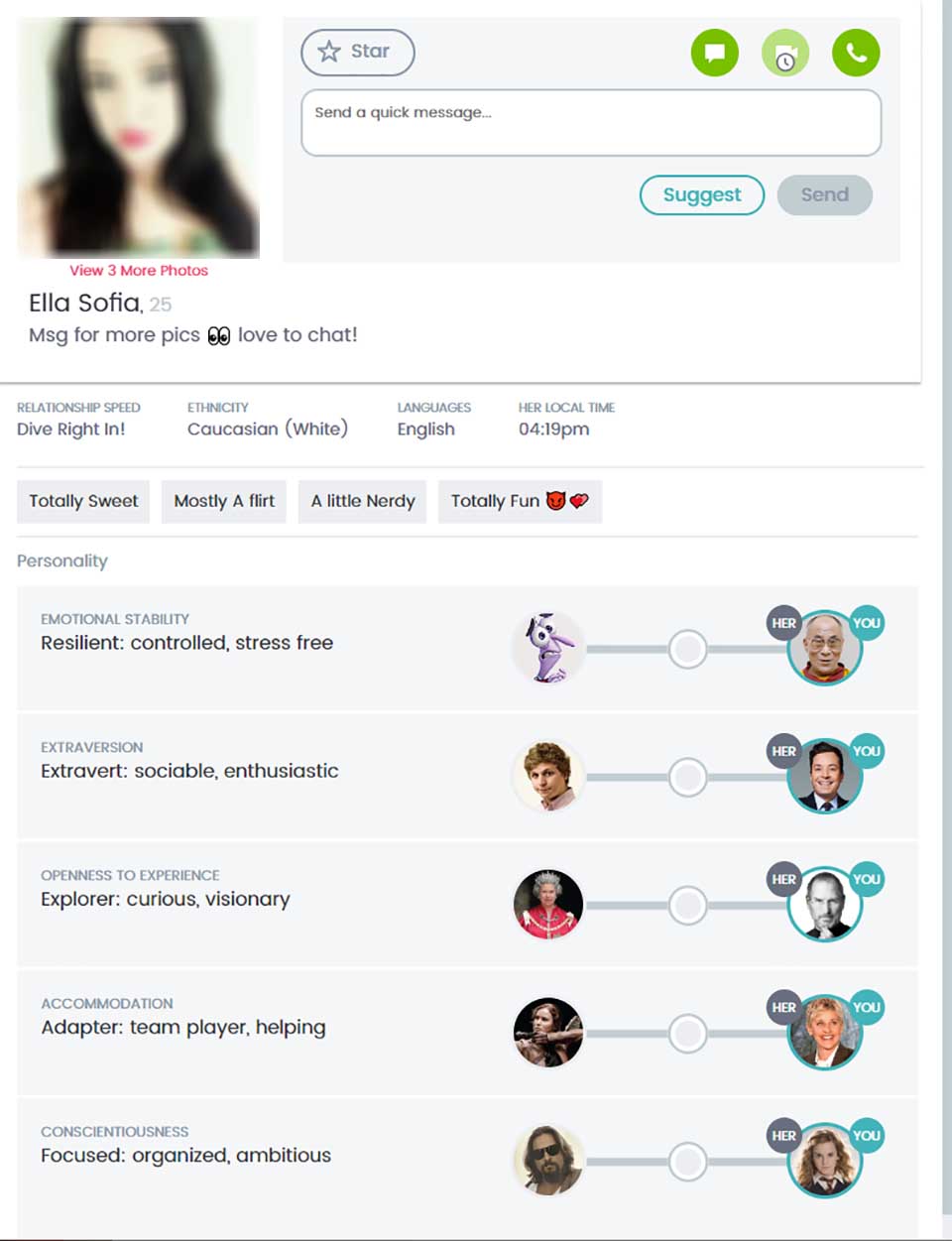 You'll also see other helpful information like her personality, local time, language(s), etc. If you're interested, you can see the result of her personality test and how it compares to yours, though this is mostly a gimmick.
How conversations work on Phrendly
Before you go messaging anyone, it's important to understand how it all works. Basically, the profiles you see aren't just regular people like on a dating app, they're models who do this for income.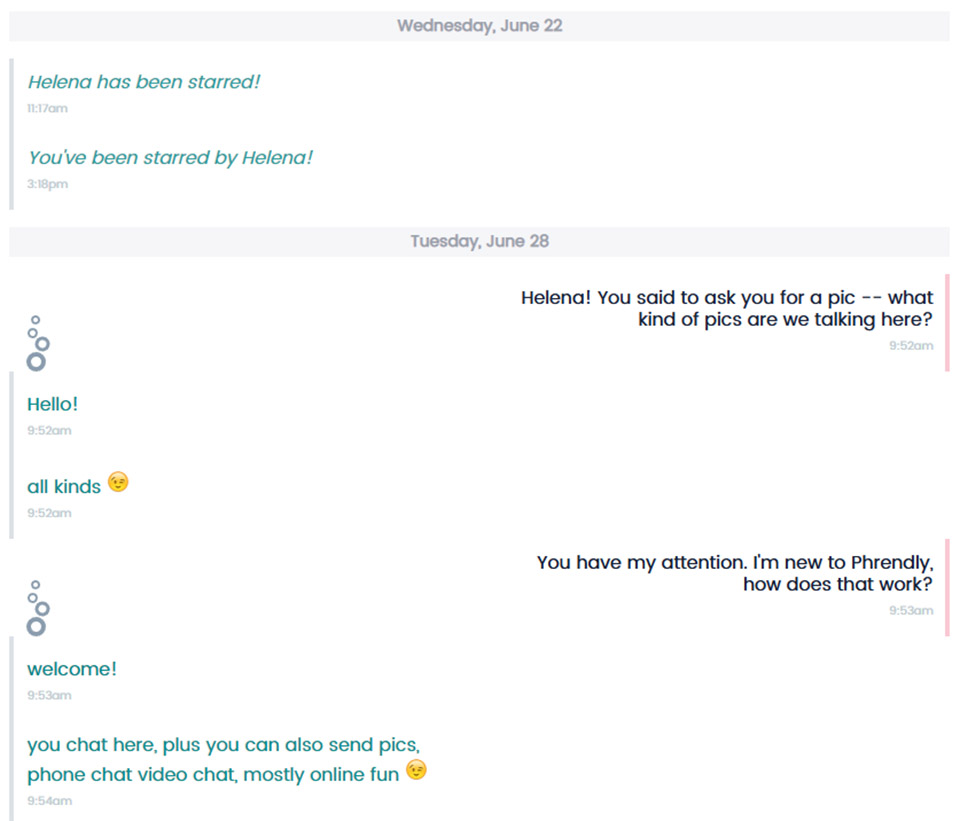 You can send her a message but when she responds, 1 "sip" is deducted from in-app credit (see below). This is how she gets paid — she receives a portion of the money you spent buying that sip.
Don't worry, only her first response to each of your messages will cost you money. If she replies three times to a single message, you're still only charged once.
Some women are more lowkey and discreet than others so don't just go assuming every person is the same. Some are there to promote their OnlyFans while others exclusively use Phrendly for some discreet income.
Expect conversations to get stretched for more money
Since this is a form of income for the women you're talking to, they're going to stretch the conversation as much as possible.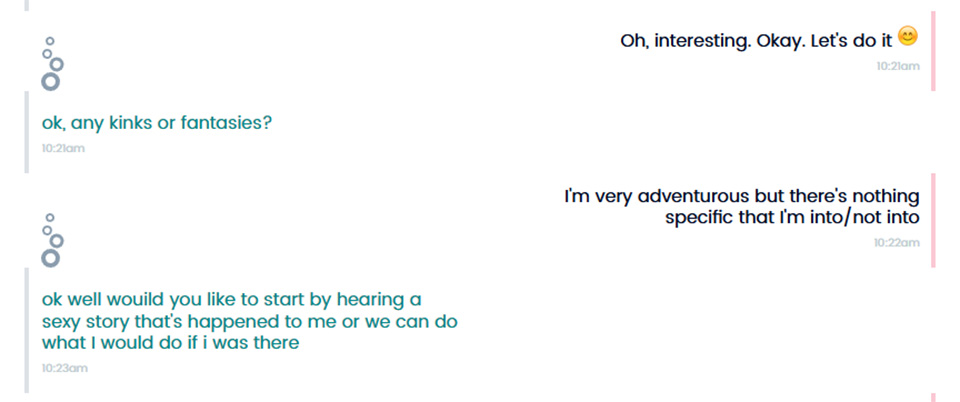 Let's be real, if we were in her shoes we'd do exactly the same. No shade, just a word of warning that since every reply costs you $1, you're better off with a video call than a long sexting conversation.
They will ask questions and suggest other text-based activities to keep the money coming in. If you know what you want, there's nothing wrong with being direct about it. Just keep it respectful.
Photos, voice, and video chat use "drinks", too
Much like text conversation, other services also run through this same in-app currency. At your request (and her discretion), you can request photos or initiate voice or video calls. These calls are done at a set rate while photos depend on the model and what you requested.
The default pricing looks like this, though the models can alter these rates:
1 Photo (not custom) = 1 rose ($5)
Voice call = 1 drink ($10) per 24 minutes
Video call = 1 drink per 19 minutes
At $25 per hour for voice calls and ~$31.60 per hour for video calls, the default charges are surprisingly great value. Especially considering the fact you could easily eat through $200 per hour in text messaging!
Just expect to pay more through "gifts" during the call for her to do or say certain things, though this is always optional.
How the in-app currency works
Phrendly's payment system is unnecessarily complicated but easy enough to navigate once you've used it a few times. Basically, you charge your credit card with a set amount of money and this is displayed in "drinks" within the app.
1 drink = $10 so if you put $100 onto your account, your in-app balance will say 10 drinks. Spend 4 "sips" and your balance will be reduced to 9.6 drinks. I assume they do this to remove that feeling of spending money with every transaction — "it costs one rose" sounds better than "it costs five dollars", I suppose.
Here's what it all looks like in real terms:
1 sip = $1
1 rose = $5
1 drink = $10
Balloons = $10
Chocolates = $25
Flowers = $50
Champagne = $100
Be selective with who you message
On apps like Tinder, it's normal to message 10 women back to back. If you do that on Phrendly, you'll end up burning through money like crazy.
If you message 10 women on Phrendly, all 10 of them are likely to reply and you've just spent $10 to get one response from each. You can see how quickly $100 would be gone just from 10 interactions with each of those chats.
These women are getting paid to talk to you so they're almost definitely going to reply, no matter what you say. Often within a few seconds. Rather than messaging several people and seeing who responds, be selective about who you reach out to in the first place.
If you want real action, use AFF instead
Phrendly is an overall decent site if you're looking for a little online flirtation with no plans of meeting anyone in real life. But if you actually want to meet someone and have some real fun, this definitely isn't the site for you.
Instead, you can use AFF–a site where people are actually willing to meet up for some casual relationships. AFF may have some features similar to Phrendly, but its main focus is helping singles meet and hook up. After all, AFF's users are mostly regular people, not models making money off guys who are attracted to them.
With millions of people on AFF, all of whom are looking for the same thing, you'll have much better chances of getting some action here than on Phrendly.