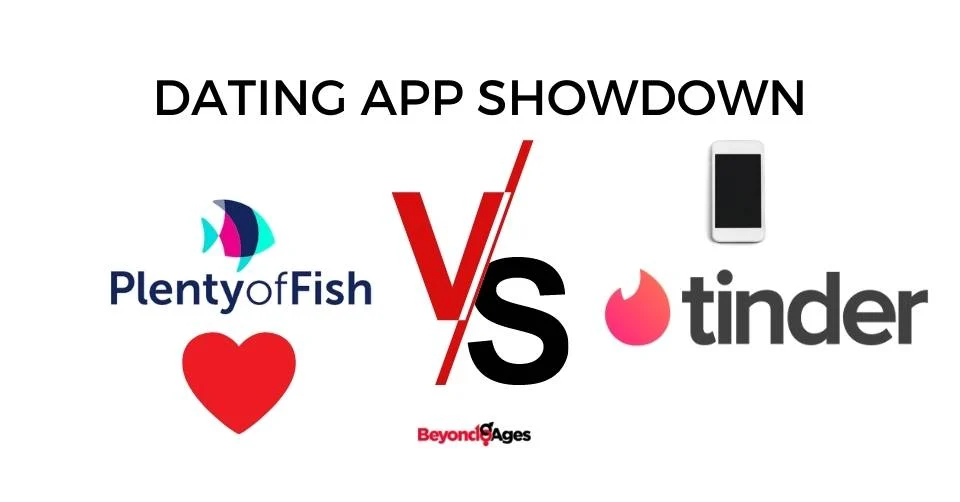 In this comparison of Plenty Of Fish vs Tinder, you'll discover which app is better for meeting high-quality women.
Dating apps can be an incredibly useful tool to help men and women connect effortlessly, but a lot of people complain about their effectiveness. Indeed, there are a lot of dating apps out there – and not all of them are great for finding a romantic connection.
Plenty Of Fish vs Tinder is a battle of the dating app heavyweights. Most people have heard of these apps while millions have used them. But are they any good? And which app is better? We put both of these top dating apps through our rigorous testing to reveal the answer.
In this review, we'll reveal our verdict about which app is better for hooking up, which is more effective for finding a relationship and which we recommend overall.
POF vs Tinder: How We Compared Them
Our online dating experts spent several months messaging women on POF and Tinder to give you a reliable verdict on which app is easier for landing a date. We tested the free and paid versions of these apps, so we can recommend the best app for every budget.
During these tests, our experts sent messages to 50 women using our reliable list of successful online opening lines. From there, they did everything in their power to inspire these women to swap contact details with the intention of meeting for a date.
All other determining factors were kept the same to ensure a fair comparison. That included our photos, our bio and our demographical information.
Our ultimate verdict is based on how easy it is to meet up with a beautiful woman using these apps. After all, we know that's the main thing that you guys care about!
So, which app is the heavyweight champion? It's POF vs Tinder and you're about to find out who came out on top.
Our In-Depth POF vs Tinder Review
Plenty Of Fish (POF) launched in 2003, making it a far older platform than Tinder.
In 2012, Tinder revolutionized online dating with the simplicity of its swipe right for yes, swipe left for no model.
Millennials swarmed to the app in their droves. In fact, it was arguably only after Tinder launched that online dating became globally popular with young and attractive singles.
With that said, a lot of the older websites – including POF – have stolen this swiping model to try and remain relevant to young adults.
Overall

Our team rates each site objectively based on many hours of independent research, the features each site offers, and how it compares with other sites. The ratings are the opinion of our editors and their extensive experience.

7
8.5
Quality of Women

Our opinion of how attractive the typical woman is that uses this site and how easy they are to connect with compared to other sites.

5
8
Popular

How many people are using this site to actually meet people compared to other sites.

7
10
Usability

How easy is this site to use and how quickly can an average person begin meeting people compared to other sites.

8
8
Privacy & Safety

Does this site take proper precautions to safeguard its members, their identity, and their data.

10
10
Effective

Our opinion of how easily an average person will be able to achieve their dating goals with this site compared to other sites.

6
8
Value

Will the time and money spent using this site pay off for an average person based on the opinions and experience of our editors.

6
8
Our Recommendation
Who should use Tinder?
Tinder is one of the best dating apps if you're looking to find someone quickly and easily and it's one of our favorite hookup apps for guys. The sign-up process is incredibly fast. You're not forced to include any information in your bio other than your age and your gender.
You can swipe right on 100 people every 12 hours without paying Tinder a penny, or get unlimited swipes (among other benefits to boost your reach) with a paid subscription.
Tinder attracts younger users than Plenty Of Fish. Its quick-and-easy nature attracts more people looking for short-term casual relationships. Indeed, Tinder has held a reputation as a "hookup app" ever since it launched.
To conclude: if you're looking for something casual with a younger woman, Tinder is the app for you. If you're over 25 or not super attractive you're better off with some of the other apps for casual fun we like.
Who should use Plenty Of Fish?
When you open the Plenty Of Fish app, you'll see the slogan "Dating For Grown-Ups". That tells you a lot about the differences between Plenty Of Fish vs Tinder.
POF has an older user base overall and it's more geared towards people searching for long-term relationships too.
For starters, POF forces you to include a lot more information about yourself in your bio, including your height, your salary, your smoking, and drinking preferences, plus what type of relationship you're looking for. It's possible to search for users and filter out people based on this information too.
POF vs Tinder: Which One Is Better for Serious Relationships?
Plenty Of Fish has more features designed to help people find someone with a compatible personality to theirs.
The app forces its users to answer more questions about themselves and publish these on their bio – and it's possible to search for users based on these.
Crucially, the app makes you publish your "intent" on your bio. You can choose between:
I want to date, but nothing serious.
I want a relationship.
I'm putting in serious effort to find someone.
I'm serious and I want to find someone to marry.
If you are looking for a serious relationship, you can state this in your bio and search for other people with the same intentions. Plenty Of Fish also has an older user base, who are more likely to be searching for serious relationships.
With that said, Tinder is often listed among the apps where couples are most likely to meet. This isn't because it has any features to appeal to those seeking a long-term relationship. More likely, it's because Tinder has a huge user base all over the world. When an app has a user base as large as Tinder, it is far easier to find someone with the same intentions as you. It might take a while to discover that as most users aren't putting much information in their bio at all.
Still, in our experience, Tinder tends to have a higher-quality user base too. We found that the women on Tinder are more beautiful and more likely to respond.
So, while POF is built to be the better option for long-term relationships, that might not be the case in reality.
Another option for finding serious relationships is eHarmony. Think of it like Plenty of Fish but with premium features. Profiles on eHarmony are also incredibly detailed (and you create a profile by answering a survey). But instead of just letting you message anyone, eHarmony instead finds matches for you based on your personality and preferences. No doubt, it's one of the easiest ways to find a date with someone who's actually compatible with you!
You can also check out our list of the best dating apps and sites for finding serious, long-term relationships.
Is POF or Tinder Better for Casual Fun?
The answer to this question is more cut and dry.
If you're looking for casual fun on Plenty Of Fish, you'll have to state that in your bio (unless you're in the business of being an asshole who lies about your intentions, which we don't recommend).
When you state that you're looking for "nothing serious" in your bio, you're going to alienate yourself from the majority of the women on POF.
In our tests, we found most of the women on this platform are looking for relationships, and the app makes it possible to filter your search based on those looking for something similar. That's why you're better off hunting for hookups on Tinder.
Tinder has a larger younger userbase anyway, plus it has more of a reputation for being a hookup app. Hooking up is also pretty much the norm on Tinder, so you should find it easier to find that casual fun you're looking for.
Now if you want another great option for finding hookups, you can check out AFF. Before PoF and Tinder existed, AFF was the most popular hookup site in the world. Today, it still remains one of the best sites out there if you want no-strings-attached fun. Everyone here is just after a good time, so no need to worry that you're chatting with someone who secretly wants a relationship.
Want more options for finding hookups online? Check out our list of the best hookup apps and sites that have always worked.
The Dating Apps Most Recommended By Dating Experts
If you haven't had a great time using dating apps to this point it's probably because you're using the wrong ones. There are a couple of apps that dating experts have been recommending to regular guys that will work for you:
Site
Our Experience
Our Rating
Free Trial Link

Best Casual Encounter Site

Experience Highlights

Top option for local hookups by far
Best results for regular guys
Over 60 million active members
The design needs an update

Try AFF For Free

Great If You're Handsome

Tinder Highlights

Great if you're pretty good looking
Very popular, especially if you're 18-22
Really focused on photos
Becoming more of a dating than hookup app

Try Tinder

2nd Best For Most Guys

Experience Highlights

2nd best option to find hookups for most
Attracts an older crowd than most hookup apps
Pretty popular
Solid free trial

Try Passion
POF vs Tinder: Which Is More Popular?
According to our research, Plenty Of Fish attracts just over 10 million hits a month to its website.
Meanwhile, Tinder attracts around 14 million hits a month.
These are impressive numbers for both websites in the grand scheme of things. You won't be short of people to connect with almost anywhere in the world on either website.
However, Tinder is more popular internationally.
How easy is it to find a match?
In our tests, we found it easier to match with women on Tinder than Plenty Of Fish. This is most likely because Tinder has a large user base of attractive women and these women are more likely to be active users too. Plenty of Fish, on the other hand, seems to have a LOT of inactive profiles.
Which app has the best quality women?
POF has an older user base, who are more interested in long-term relationships. Tinder has a younger more attractive user base, more of whom are interested in casual relationships. We'll leave it up to you to decide which of these demographics is "higher quality".
How much does POF vs Tinder cost?
It should be easy enough to land a lot of dates with the free version of both apps, provided you have a good profile. However, both allow you to boost your reach with a paid subscription.
An upgraded account with Plenty Of Fish costs:
for 3 months: $38.99 ($13 per month)
for 6 months: $59.99 ($10 per month)
for 12 months: $89.99 ($7.50 per month)
The pricing structure for Tinder is a little more complicated. For starters, Tinder has three levels of paid subscription; Tinder Plus, Tinder Gold and Tinder Platinum. You can pay for one month, six months or 12-month memberships for any of these. But, you'll pay far more if you're over 30.
Here are the costs for Tinder Platinum (the best paid subscription) if you're under 30:
for 1 month: $19.99
for 6 months: $59.99 ($10 per month)
for 12 months: $79.99 ($6.67 per month)
(The price of both POF and Tinder may vary depending on what country you live in.)
Which app provides better value for money?
The cost of the best paid subscriptions are relatively similar for both apps (if you're under 30), but Tinder Platinum does far more to put you ahead of the competition.
A paid subscription with Plenty Of Fish allows you to:
unlimited right swipes;
appear higher in search results;
see a full list of members who have viewed your profile;
see a full list of members who have "liked" you;
create an extended profile with more photos;
access members' extended profile;
access read receipts.
Meanwhile, a Tinder Platinum subscription allows you to:
unlimited right swipes;
appear at the top of the Tinder pack in your local area;
see a full list of members who have "liked" you;
access one free "Boost" per month;
access five free "Super Likes" per month;
message your Super Likes before they match you;
access Tinder Passport and message anyone around the world.
The features are somewhat similar, but we found that the Tinder Platinum benefits were far more effective for boosting your reach.
Being guaranteed a place at the top of the Tinder pack secured our experts a serious increase in matches, as did the ability to Boost and Super Like.
When you consider that our experts secured more matches on Tinder anyway, it's easy for us to conclude that this app provides better value for money.
Which Is Better? Plenty Of Fish or Tinder? 
They're both decent dating apps, but our tests found that Tinder just edges this battle.
Plenty Of Fish may have more options catered to finding a long-term relationship. However, Tinder has a larger user base and there are plenty of women looking for relationships there too.
We also found Tinder's paid subscriptions more effective for boosting our reach and finding high-quality matches.
To discover what dating apps we rate as the best on the internet, see this list of our favorite hookup apps.