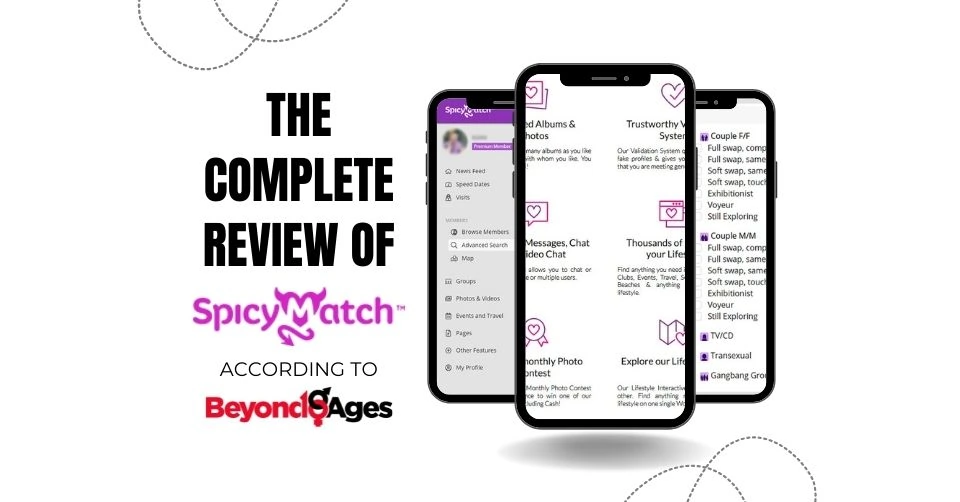 There's a huge variety of dating and hook up sites available – which ones are both legit and give you the best bang for your buck, figuratively and literally? If you're looking to put your explorer's hat on, here's a summary of what will be on your Spicy Match map. Are you really a swinger and you just didn't know it? That was the question I kept in mind while investigating for this Spicy Match review from the inside out.
The last thing anyone wants to do is research and comparison shop when looking for a dating or hook up site. Where do you start? What's real and what's all bots and fake profiles? And what is actually worth your time and money?
We understand your frustration and we're here to assist. Our reviews provide a detailed process of identifying the genuine from the crooked and testing the user experience on different sites so you don't have to. With the information we provide, you'll be able to choose with confidence.
How we reviewed SpicyMatch
For this review, I went online as a new user to understand how the site functions IRL, both free and with a paid membership. Again, this is to verify potential scams so you won't have to become a potential victim. Minutes to read our review could save you weeks of wasted time, energy and money.
I began by signing up for a free account with a name, age and location only, and let it sit for a few days as bait for any spam messages or emails that would strongly suggest bots.
Next, I went on to personalize my profile with great pictures and details then started using everything free that the site had to offer. This was to test what was available gratis and if any of it would allow me to attract bona fide dates. I liked and messaged and did my best to become a date magnet without spending a penny.
After a duration, I upgraded to a paid account. I evaluated all those extra bells and whistles to see if they made a significant difference in the number of my connections. In other words, did I have to cough up to hook up?
And from the first day, using this same process with every site that's reviewed, I took detailed notes about the good, the bad and the functionality. We do all this so you don't have to!
Now, let's get to the full review!
The Unabridged Spicy Match Review
Comparing SpicyMatch to AFF, the veteran of hook up sites, is a logical measure of features. Which one will get you matched and naked fastest and best?
Overall

Our team rates each site objectively based on many hours of independent research, the features each site offers, and how it compares with other sites. The ratings are the opinion of our editors and their extensive experience.

5
9.5
Quality of Women

Our opinion of how attractive the typical woman is that uses this site and how easy they are to connect with compared to other sites.

5
9
Popular

How many people are using this site to actually meet people compared to other sites.

7
9
Usability

How easy is this site to use and how quickly can an average person begin meeting people compared to other sites.

5
10
Privacy & Safety

Does this site take proper precautions to safeguard its members, their identity, and their data.

10
10
Effective

Our opinion of how easily an average person will be able to achieve their dating goals with this site compared to other sites.

5
9
Value

Will the time and money spent using this site pay off for an average person based on the opinions and experience of our editors.

5
10
Our Recommendation
This Spicy Match review is a good news/bad news scenario. The GOOD news is if you're a bisexual or bicurious female wanting to explore options, this site is tailor-made for you. EVERYONE is looking for girls with girls.vThe bad news? If you're a straight male, you're on so few search lists you might as well be an endangered species. For spicymatch.com, I was literally the odd man out within 1000 miles. After a full review, we have to recommend that any single guys give this a firm pass!
But the best news of all? AFF, the gold standard of any of the best hookup apps and websites we reviewed, would be more suitable than Spicy Match. It's being with like-minded users. You'll find it easier to pair up on AFF because of the huge number of profiles and the extensive filters, and because everyone wants the same thing.
We're not saying it's a Spicy Match scam by any means. It's an absolutely legit global entity. I just had very few profiles of women or even couples in close range to message let alone set up a naked meet. Like a handful.
SpicyMatch is best suited for adventurous females, not straight males
The first thing you see on their homepage is a conga line of women. Not just subliminal, this is the cover of any swinger's manual. Then you peruse the photo contest page:
These pictures would seem encouraging until you read the pages-long single-spaced Spicy Match manifesto on the bottom of the home page which gives helpful definitions and a detailed background of swinging.
If you read through it all – and it's a lot – you will be versed in their philosophy and able to decide if swinging is for you. And also to realize those contestants, they aren't generally looking for a penis.
There's a lot going on but it's all very specific to the global SpicyMatch community
Travel! Events! Erotic forums, webcams, photo contests, pages! As a newbie, I wished for toddler water wings before diving into all that was available. At every step, so many options, all about shared sexual experiences – if that's your thing.
.
Completing my profile on SpicyMatch.com took a long time
Reading. Googling (TV/CD is transvestite and crossdresser). Contemplating. Again, a fair amount of effort if the odds are not ever in your favor.

However, once your photo is approved, Spicy Match will allow you as a free user to view the cams, browse members, send messages and chat. They also send lovely support emails and give ever-changing tips and tricks on the sidebar.
I applaud the site for its transparency at every turn. But if you're looking for a one on one connection, pass SpicyMatch.
Payment is in Euros and membership types are confusing
A trial membership is free. Premium and standard memberships have a variety of payment plans. However, if you don't want to spend a lot on the site, you can always be a verified member. We'll get to that in a bit.
Verified members qualify for a discount as well, confirming again how important users' safety is to SpicyMatch.com
As for what you receive as a paid member, this is just one of three pages – a lot of value for your swinging dollar.

Spicy Match also offers a cash forward Loyalty Program for members recruiting members which, given the covert nature of the community, makes complete sense.
However, a paid membership for a single straight male on Spicy Match garnered me no more profiles than being a free member.
When my trial profile gave me less than 40 matches in my area and of those, only a handful looking for someone like me, I thought: "Paid membership and advanced search will save the day!"
Ummmm, no.
Only these profiles had "straight male" in their choices.
The map is a cool graphic though, giving you all the profiles closest to your location as well as clubs, nudist beaches, nudist campsites, mature shops, swinger hotels and swinger resorts that are available in that particular area. The Spicy Match logo signifies a swingers venue and the plain purple dots are city landmarks.
Hooking up is so much easier on AFF
Any single guy on Spicy Match will clearly see that he's not the target demographic of the site. But if you're looking for an easier, more effective way to hook up, AFF is definitely the way to go.
It has a really active social community with a lot of activities and choices for single users, female or male, to connect with like-minded hookup partners. Profiles are genuine and extensive, and the user base is 100+ million. AFF even has a free trial promo. Easy peasy.
Positives and Negatives from our review of Spicy Match
In conclusion, here's what we liked and did not like in our Spicy Match Review:
This is obviously a legit site
Privacy and safety are a priority
If I were an adventurous female, I would have been cheerleader popular
Single heterosexuals are not the target audience for this site
Swinging as a lifestyle is the focus, not just casual dating
Completing a profile took a long time
There were so many terms and options for a newbie
Profiles, pictures and members on Spicymatch.com
Profiles, pictures and members are clearly authentic. There was no evidence of fakery except maybe this SWF looking for her soul mate ON SPICY MATCH. Hilariously one of the few women I could find "looking for a single straight man", she did not reply to my message.
One thing though, you need to scroll down and scrutinize every profile's "searching for" before even thinking about messaging anyone.
Below is an example of a profile for a couple where they can each specify their stats. This is a pretty good feature that's more thorough than other swingers sites.
Hookup Apps Regular Guys Get Great Results With According To Dating Experts
(Way Better Than Spicy Match)
If you want real results you should skip using Spicy Match and try one of the options that normal guys actually get results using. These are the apps that our dating coaches recommend to regular guys that want to get solid results instead of striking out:
Site
Our Experience
Our Rating
Free Trial Link

Best Hookup Site Right Now

Experience Highlights

Top option for local hookups by far
Best results for regular guys
Over 60 million active members
The design needs an update

Try AFF For Free

Great If You're Handsome

Tinder Highlights

Great if you're pretty good looking
Very popular, especially if you're 18-22
Really focused on photos
Becoming more of a dating than hookup app

Try Tinder

2nd Best For Most Guys

Experience Highlights

2nd best option to find hookups
Attracts an older crowd than most hookup apps
Pretty popular
Solid free trial

Try Passion
Design
The design is a Facebook doppelganger and generally intuitive. It has that Carnavalesque cover photo on the homepage and your profile's news feed is easy to understand and navigate. The tips and tricks on this sidebar about fake profiles showcase their solid security.
Basic browse is the left sidebar on your newsfeed page. As a trial member, you receive all categories but you can modify your distance. The drop-down menu gives you advanced search as well as your local map; both are paid features.
Messaging and chatting with Spicy Match members
You can message for free with the chat option in the bottom corner, a la Facebook, which is a great feature for a trial member. There were no fake messages or, unfortunately, any real replies to my messages but the support people emailed me often.
For free, the basic functionality allows you to conceivably contact and connect. Success on the site though is geared towards swinging couples and bisexual/ bicurious women.
I also have the feeling that, as an often stigmatized community, they are more cautious than not about possible interlopers posing as genuine new users.
Advertisements
On the right sidebar are sponsored messages but they all appear to be from business partners involved with the travel and events. There's also merchandise such as SpicyMatch bikinis, so everything is on brand and in house.
Pricing
As already mentioned, all membership pricing is in Euros as the site is European in origin. There's also a lot of discounts and codes online.

In Summary: SpicyMatch.com
Well, I put my explorer's hat on to do this review and discovered as a heterosexual male, it's pretty much impossible to decide if I'm a swinger because I got no action. While it seems like it's a legit site it just isn't that good for a single guy. We consistently found better results on other sites and don't think most guys will do well on Spicy Match either.
Was it my sexual orientation? Was it my unmarried penis? Was everyone just completely uninterested in both?
As per the swinger's manifesto, I'm going to say a resounding yes. Without judgment, the nature of this site is wide-ranging while being exceptionally singular in its purpose.
Although I cannot recommend this as a hookup site for singles, if you put a wedding ring on that penis and bring your wife to SpicyMatch, I'm sure you'll find a much more comprehensive welcome.
FAQ about Spicy Match
Just in case I've missed some important basics, here are the answers to some frequently asked questions:
What is Spicy Match?
Spicy Match is a global swingers site. Open to couples and singles, they welcome anyone interested in exploring their lifestyle with a great deal of information and options. The site facilitates casual connections and shared sexual experiences. But it's also very much a community with a common philosophy as well.
Who actually owns SpicyMatch?
SpicyMatch is owned by SpicyMatch Ltd.
How can I contact SpicyMatch.com?
You can contact them via email at [email protected].
Is Spicy Match real?
Yes, Spicy Match is a real site with real users.
Is SpicyMatch legit?
SpicyMatch is a totally authentic site BUT it is for swingers, which is a specific community with a focused intention of shared sexual experiences. If you're a female open to exploring your sexuality, this is the place for you.
However, if you go on as I did, a single straight male looking for a one-on-one hook up, you will most likely not be successful. At all.
Is SpicyMatch.com a scam or fake?
No, SpicyMatch.com is not a scam. All the users I was able to interact with seemed real, and I didn't find any evidence that anything scammy was going on.
Is Spicy Match safe?
Yes, from our experience, Spicy Match is a safe site to use.
What are SpicyMatch alternatives?
If you've decided Spicy Match is not for you, here are the best hook-up sites we DO recommend for a good time.
How does SpicyMatch.com work?
SpicyMatch.com is a swingers site where anyone over 18 can make an account. You'll see some profiles for both couples and single people. Once you create an account, you indicate what you're looking for (e.g. couples, singles, straight, full swap, soft swap, etc.). You can also set location-specific search filters.
Is there a Spicy Match app?
Yes, Spicy Match has an app on Android.
How much does SpicyMatch cost?
Here are the standard membership plans for SpicyMatch:
1 month – €18.95
3 months – €38.95
6 months – €64.95
12 months – €98.95
Lifetime Premium Membership – €250
How can you use SpicyMatch.com for free?
You can easily set up a SpicyMatch.com profile to begin messaging and chatting as a trial member. Just click "sign up" on the home page and give yourself a while to fill everything in.
However, you can't adjust your browse filters, except for distance, view visitors to your profile, chat with cam broadcasters or see your local map.
Can you send messages for free on Spicy Match?
Even as a trial member, you can send and receive messages on Spicy Match. Once you've found someone you're interested in, click the message box located near the top right of their profile, just under their picture.
How do you cancel your SpicyMatch account?
You can either message the help desk OR go to "Account" using the drop-down menu on the top far right and click the tiny "Delete my account".