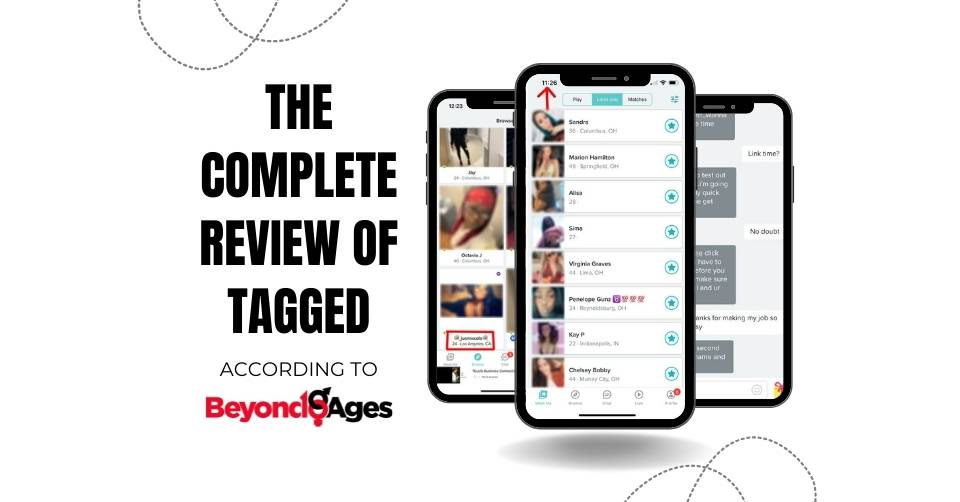 Every now and then, we get questions about this app and frankly, it's one I'd never even heard of before. When I was given this Tagged dating site review to work on, I was intrigued, to say the least. If only I knew just how weird this app was going to get right out of the gate.
I've spent a lot of time reviewing various dating apps. From the well-known platforms like Hinge and Tinder, right through to the pure scam "dating site" networks. Throughout those reviews, I've seen it all. Or so I thought.
Like every review that I do, I put the Tagged dating site through its paces. Here's a look at what this standardized process looks like.
How we reviewed Tagged
To give every dating app and website a fair chance, I always put them through the exact same process. You're not reading this Tagged dating site review to see my personal opinion, only how well it works, right?
It always starts with phishing for spam and scammers. I do this by setting up a completely blank profile, then giving it a day or two to see if anyone messages me. Since a real user won't message a blank profile, it's a sure sign of clean spam.
Once that's done, it's time to start using the app like a regular user on a free account. I complete my profile with quality photos and a bio, answer questions. . . whatever the app allows.
The purpose here is to get a first-hand feel for what it's like to use it without paying. How restrictive the free version is, if you can get real conversations going and if anything turns into a date. I'll attempt to message and/or match with as many people as practical without influencing the algorithm. This is the best way to see what the app is really like.
I do this for around two weeks before moving on to the paid account. By this point, I know how the app works and what the user base is like. Now it's about comparing my experience between the two.
Can I get more conversations and/or dates as a paid member? Are the perks actually useful? Most importantly, is the paid membership worth that added spend?
All of this works together to give you the most complete review of the Tagged dating app. Basically, I've put the time and money in so you don't have to.
It's Official: I've Tagged This Dating Site as a Joke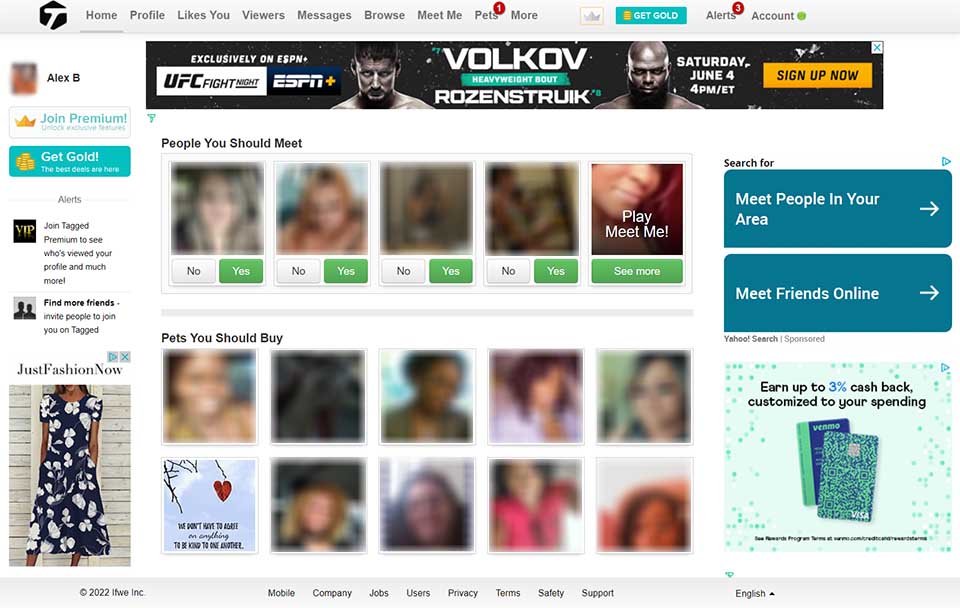 Frustrating as it is to find yet another dangerous dating app, I'm happy I can at least write a review about it. If I can keep even one person from wasting their money on this app, it's worth every second.
If you haven't figured it out already, Tagged is not a dating site/dating app you should try. Still, it's always a good idea to read the whole review anyway. Not only do you get the full story on my Tagged experience, but you also get a better idea of what to look for in other apps.
First off, let's look at a high-level comparison of Tagged against an industry leader, eHarmony. By seeing how it stacks up against a reputable site, it's easy to see Tagged's weakest points are.
Overall

Our team rates each site objectively based on many hours of independent research, the features each site offers, and how it compares with other sites. The ratings are the opinion of our editors and their extensive experience.

1
9.5
Quality of Women

Our opinion of how attractive the typical woman is that uses this site and how easy they are to connect with compared to other sites.

1
9
Popular

How many people are using this site to actually meet people compared to other sites.

1
9
Usability

How easy is this site to use and how quickly can an average person begin meeting people compared to other sites.

5
10
Privacy & Safety

Does this site take proper precautions to safeguard its members, their identity, and their data.

1
10
Effective

Our opinion of how easily an average person will be able to achieve their dating goals with this site compared to other sites.

1
9
Value

Will the time and money spent using this site pay off for an average person based on the opinions and experience of our editors.

1
10
Our Recommendation
Yeah, not a promising summary. Honestly, the best thing to do with this app is to avoid it entirely.
Essentially, Tagged won't land you a date. Honestly, you'll have about as much dating success with your phone's Calculator app as you will on Tagged — the bar is low.
I didn't find a single responsive user. All the women I tried to talk to were clearly bots. Most of the profiles used photos of people lifted off Instagram. I'll talk about it all a little further down.
Forget Tagged, try eHarmony instead
When it comes to actually finding success online eHarmony is easily the best option right now (and you can signup for free here). Unlike Tagged, it's extremely popular with singles and has the best track record we've seen when it comes to meeting people that are compatible with you.
If you're serious about online dating it's likely the best option for you unless you're just looking for something super casual.
Pros and Cons of the Tagged Dating App
Ever the optimist, though, let's look at some pros and cons as well.
The site starts to raise red flags almost immediately
The scammers on Tagged are lazy — they're easy to spot
Real users are very hard to come by
On the off chance that you find a real person, they're very inactive
Upgrading to a paid account will see you get bombarded with scammers
The app itself shows signs of being a scam, not just its users
No free trial to test it for yourself (I can't imagine why!)
Honestly, the "cons" section could go on and on, but I'll leave it at that — you get the picture. It's bad and they should feel bad.
How the Tagged dating app works
Tagged is both a browser and smartphone app. You can use them both interchangeably from the same account if you do want to try it.
In terms of the actual dating side of this app, it's the usual fare. You have a Tinder-style option to indicate if you like or dislike someone's profile. If you both like each other, it's a match and you can start chatting.
This functionality is completely pointless because you can also just look at a grid of profiles in your area and message them. One of the many signs that Tagged isn't even trying to be a legit app, they just want to pretend long enough to get your money.

There are a few other functionalities that we'll get to in a moment. They aren't really relevant to a "dating app" though so we'll skip them for now.
Fake profiles everywhere
As I started looking through the Browse section of the app — a grid of local profiles to choose from — I started to see so many red flags. Profiles that were clearly not real.
Since I'm here to give Tagged a good test, I decided to message a few of them to confirm.
I see spam, lots of spam
As always, I messaged quite a lot of people on this app, attempting to have a real conversation. As I looked through the Browse section it became increasingly clear that all was not as it seemed.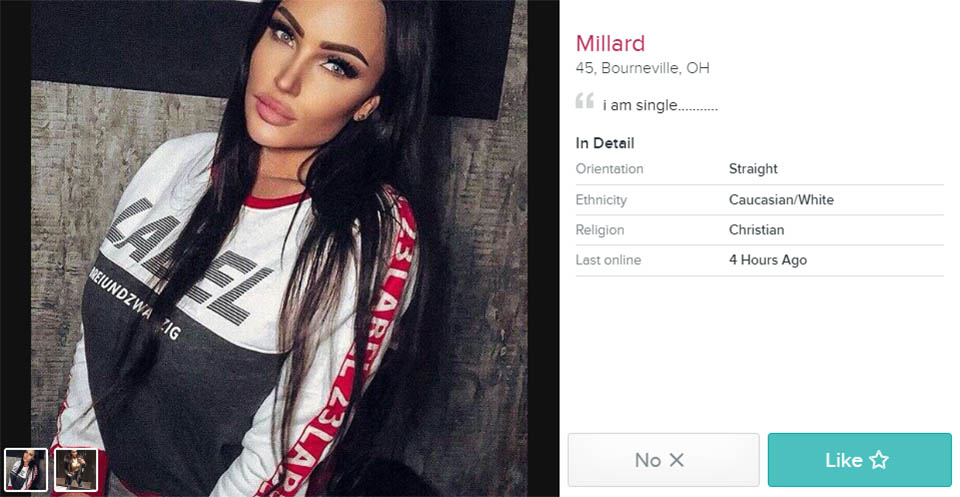 So many profiles with photos of heavily Photoshopped, over-manicured women and blank profiles. A typical sign of a lazy scammer, trying to lure guys in with what they think is an attractive woman.
Their faked conversations were just as lazy which is about the only positive thing I can say about this app. They really don't try very hard.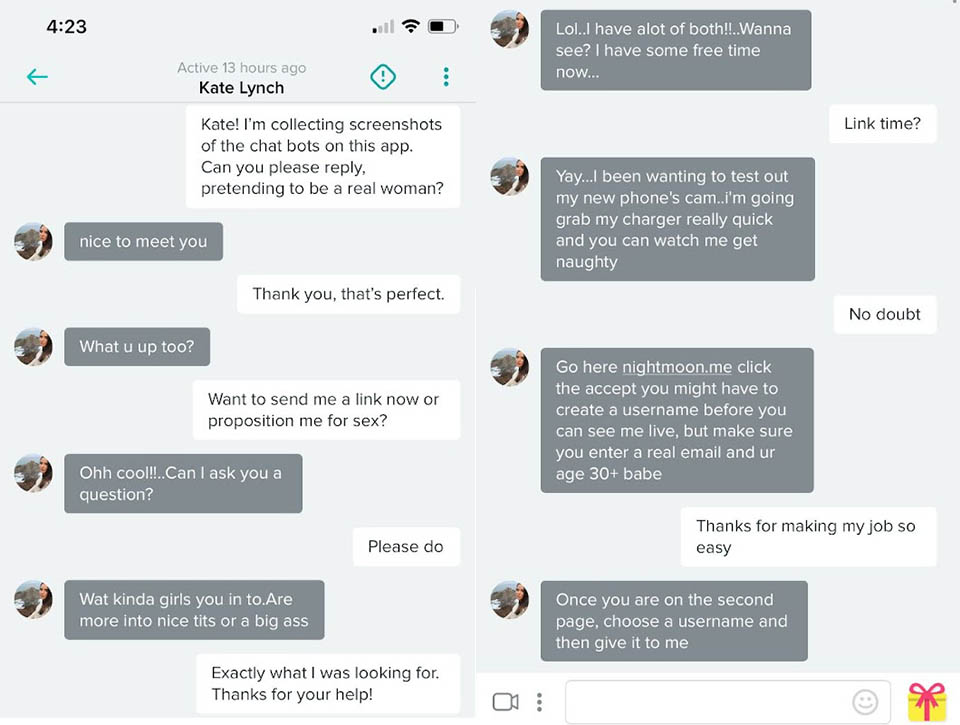 We occasionally see people trying to defend these conversations as potentially real. While I admire the optimism, I decided to use "Kate" to highlight this point beyond any doubt. Not a real user in sight.
In case you're wondering, the link this bot sent just goes to another fake dating site. These fake sites often work in affiliate networks where they get paid for referral sign-ups. To clearly re-affirm this, the screenshot below is where that link goes. The photo they've used? Lifted from the Instagram of @givemeavamoore. They were too lazy to take the watermark out when stealing her work.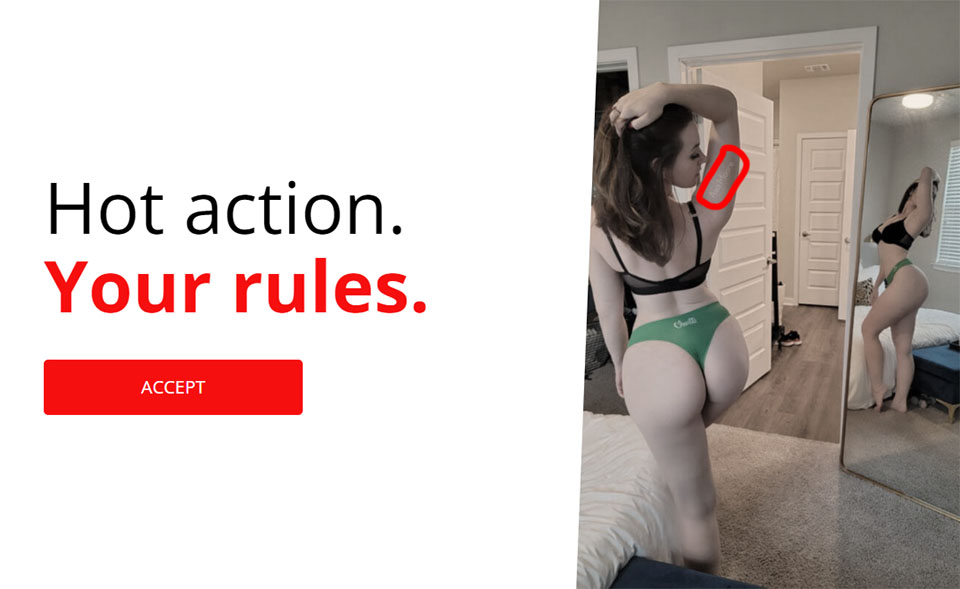 Signs that the app is intentionally out to trick you
Unfortunately, dealing with scammers is a necessary evil when doing anything online. That means no matter how vigilant the platform is, you'll see fake profiles every now and then.
With the Tagged dating site, it seems the app itself is the MO. The most obvious sign I saw was in the "Likes you" tab. Once you've paid for a premium membership, you can see the profiles that have liked you. From there, you can choose to match with / talk to them.
As I was looking through this list one day, I tried to scroll down to see more of these profiles. As soon as I did that, the entire list just disappeared. Thankfully, I happened to take a screenshot of this tab before this refresh happened so you can see it for yourself.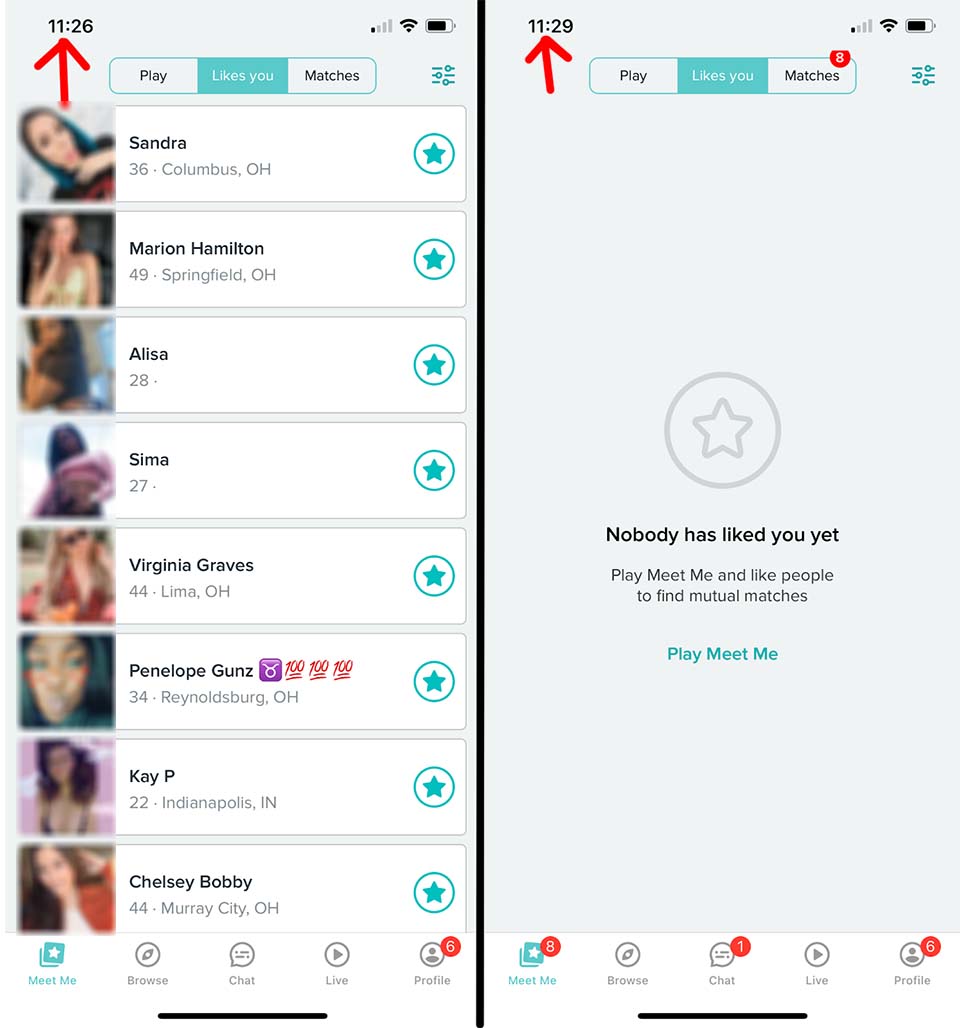 I went from being an incredibly popular guy with countless "women" interested in me to. . . zero. "Nobody has liked you yet". Story of my life.
I restarted the app in case it was a bug and nothing changed. Nobody liked me still. About an hour later, I decided to open it again to check and sure enough, I was incredibly popular again and the list had changed entirely.
It's almost like this list of profiles that have "liked me" is completely made up, pretending to be real user interaction.
Loaded with ads on both mobile and web browser
You know what I love even more than fake profiles and lazy scammers? Getting pumped with ads in between scam messages.
That, friends, is what you can expect from Tagged. Whether you're using it in a web browser or smartphone app, you'll be bombarded with ads. Clearly collecting money off paid memberships and spamming affiliate links isn't enough. They also want to collect that ad revenue on the side.
In a web browser, there are ads all over the place. It really matches with that early-2000s aesthetic they have going on here but at least they aren't intrusive.
In the smartphone app, however, they're annoying as hell. Open a profile? Bam! Ad overlay. Want to swipe through the photos in a profile? Every 5 photos, another beautiful ad overlay.
On the bright side, at least these ads aren't outright NSFW or links to scam sites.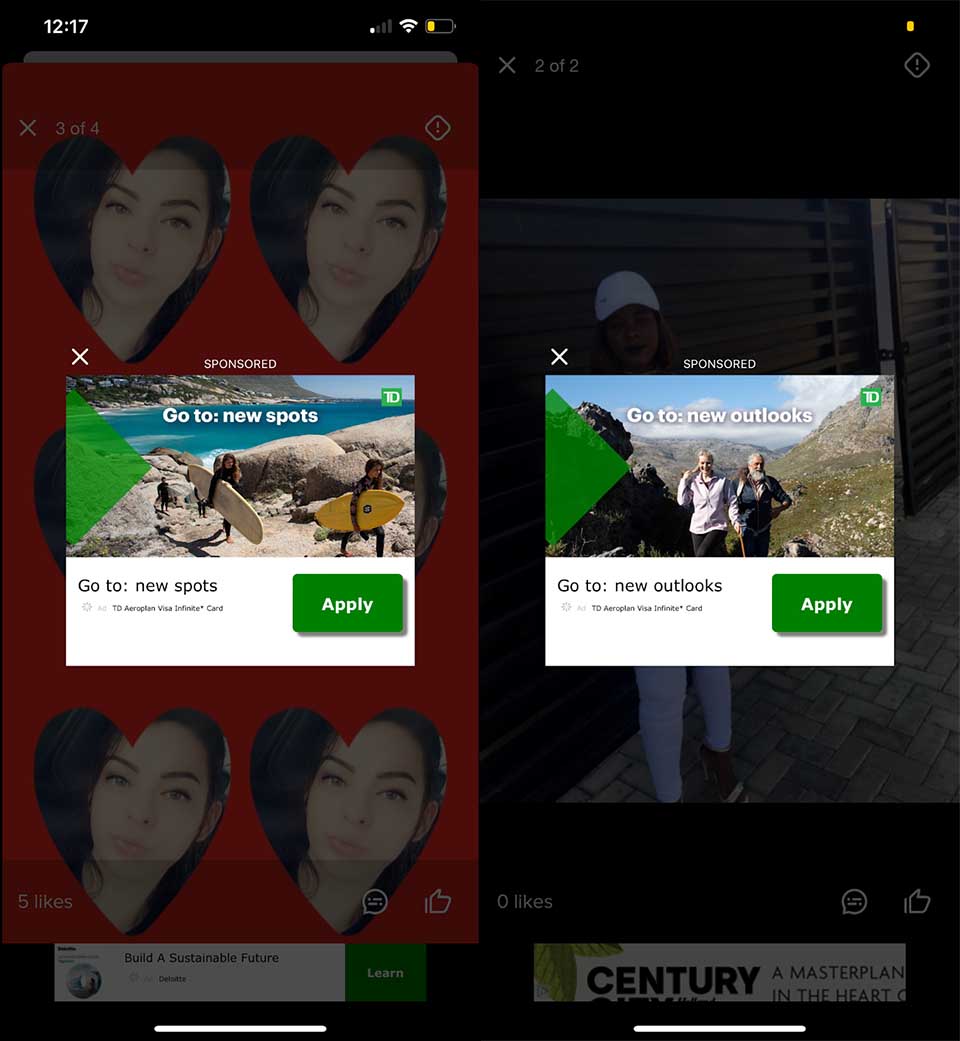 Talk about a smooth user experience! Apple could learn a thing or two from these geniuses.
Location filtering that you can't rely on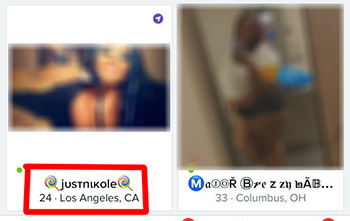 Another sign this app isn't trying to be legit, the location filtering only works sometimes. I had mine set to within 20 miles of my location here in Columbus, OH. About 1 in 10 profiles would show up from outside of that.
Sometimes 70 miles away, sometimes 500 miles away. If this were a real app, I'd say watch the location of people you're messaging. On the Tagged dating site though, messaging a profile that's not in your city is the least of your problems.
Take "JustNikole" here for example. Every other profile says Columbus, OH but not Nikole. She's in California.
Last I checked, LA was over 2,200 miles from here — hardly within that 20-mile radius. Either my geography is worse than I thought or this app's location filtering needs some work.
The handful of real users are fed up with the BS (yet they stay?)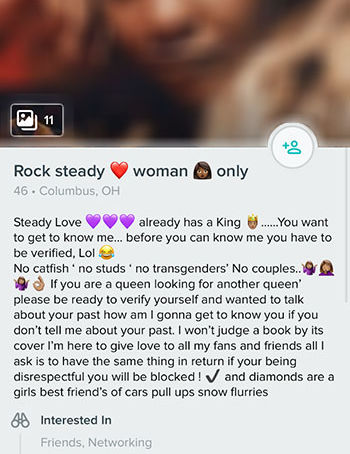 Every now and then, I came across a profile that actually seemed legit. They'd have photos that looked more authentic, some actual details in their bio, etc.
Of those very few users, I noticed they shared one similarity — they were tired of being catfished on this site. So much so that they'd say so right there in the bio.
The thing is, when the site is clearly nonsense and you're tired of it, why stay? This is something I've seen on a number of scam apps and I figure it has to be one of two things:
The deadbeats behind Tagged have just lifted this text from a real profile on another app and pasted it into this fake one.
This is a real user who really is fed up but they hang around "just in case" because other apps aren't working for them.
In fairness, the aggression they always show in their profile would reduce their chances.
Whichever it is, it's just another reason to add to the "don't bother trying Tagged" pile.
A very strange "Pets" function on the site
You know that feeling where you don't know whether to be confused, concerned or amused? Yeah, that sums up my first five minutes of this Tagged dating site review and all it's all thanks to "Pets".
Essentially, they're trying to create a trading economy where you buy and sell assets. The thing is, the people who created Tagged know just as much about trading as they do about women (zero, clearly). Each time a Pet is traded, it increases in value. That's the sole factor that influences marketing value which I guess means the value can never reduce.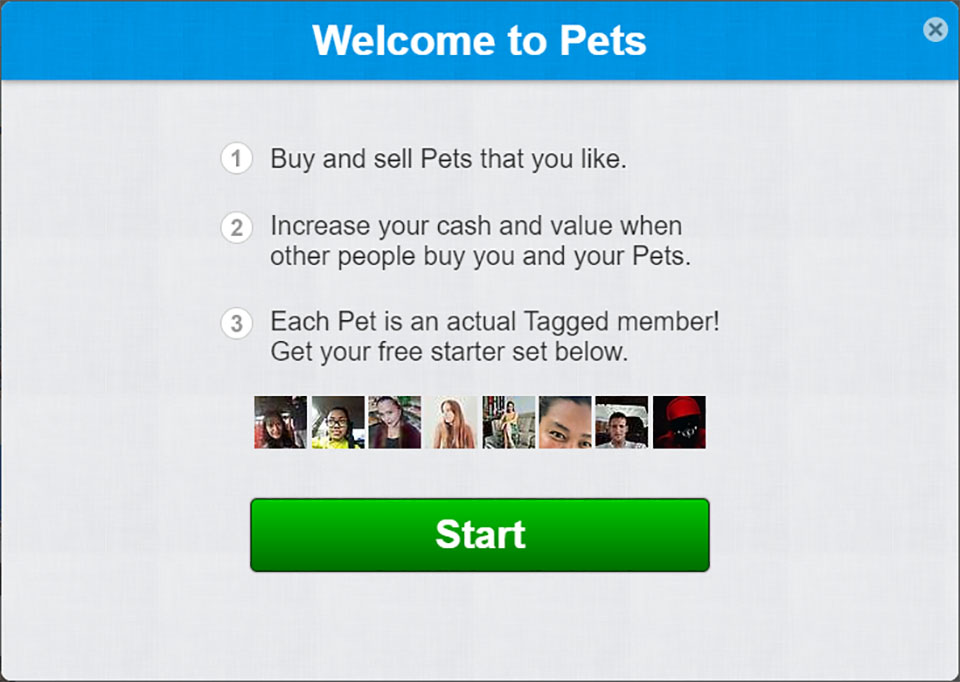 When you create an account, you're given 5 Pets. A "Pet" is just another user profile that's valued at 0.01 QV Pets Cash — their in-app currency. Obviously what they're trying to achieve here is a community of people who care about this lame concept and invest real money into it.
You can buy 2,500 "Gold" for $5 USD. 1 Gold will then buy you $300,000,000,000 QV Pets Cash. Yeah, I don't get it either. Best case scenario, you can generate more QV which is worth literally nothing in the real world.
Within minutes, two of my five Pets had been purchased by random people for $0.01 each. I ignored this section for the next couple of weeks, then came back to find that I was level 6,116 and had $29.5 million QV. Killing it.
There are rewards and incentives for getting into this whole trading thing but honestly, I'm not going down that route. I guess buying and selling people using fake currency just isn't my thing.
Yet another low-quality app that offers live streaming
This is something I've noticed in so many low quality dating apps the last few years. The app will have so many areas that could be improved, yet they slap a live streaming functionality onto it.
Even more confusing than that, people actually seem to use it. Ordinarily, I'd say it's just a regular streaming service that's being ported into this fake app. I've seen it on sites that are low quality but still perfectly legit too, though.
Also, if you look at anyone's livestream on Tagged, you'll usually only see three of four people watching. Each of those users has a Tagged profile you can view. That still doesn't make it legit but either way, it's an odd addition when you consider the costs involved.
Tagged Premium: in case you want to pay for your spam
This wouldn't be a complete dating site review for Tagged if I didn't cover paid membership options. Still, I'll repeat it once again — do not use this platform and definitely don't give them a dime.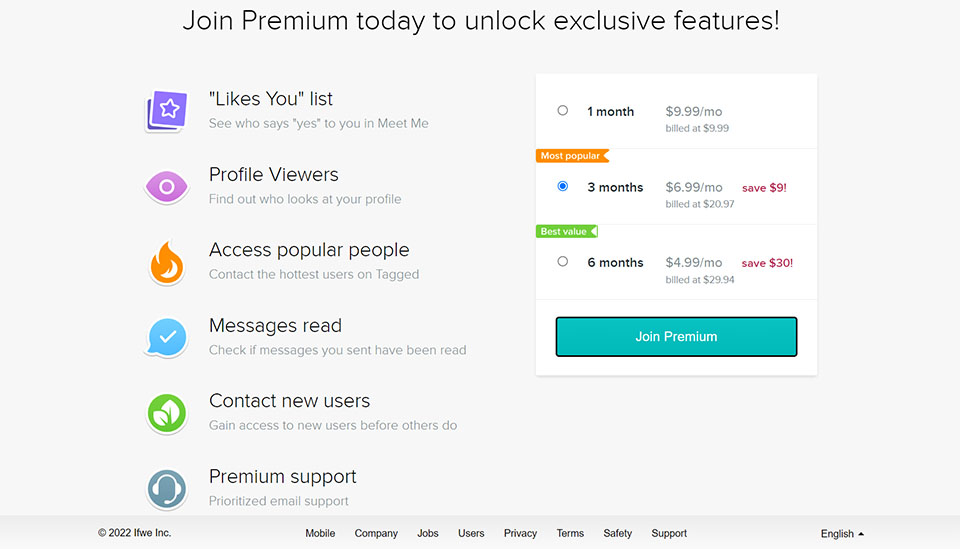 Tagged Premium pricing options
1 month $13.99 per month
3 months $8.99 per month ($26.67)
6 months $6.99 per month ($41.94)
What you get with a Tagged Premium membership
Access to more spam, only now you're paying for it
A list of profiles that like you
A list of profiles that have looked at yours
Access to "popular profiles"
Read receipts to see if the spam bot has received your message
The ability to contact new users
Premium email support
What a bargain, am I right?
FAQ about Tagged
To round out this Tagged dating app review, here are the answers to the most commonly asked questions we see. This is a platform you should never actually use but if there are any questions I've missed, I'd love to hear them so I can update the review.
What is Tagged?
Tagged is a dating site that tries to fool users long enough to have them sign up for a Premium subscription. An overwhelming majority of the users I saw were fake, and the conversations even more so.
How do you log into Tagged?
To create an account on Tagged, you just need to enter your email address and create a password. From there, you can use this to log in either in a web browser or through their smartphone apps. The account works across both platforms.
What are Tagged alternatives?
If you're looking for a real dating app, my personal favorite is still Hinged. Still, this doesn't mean it's the best option for you! For a more detailed look at what's out there, read through our review of the best hookup apps and websites and decide for yourself.
Honestly, you'll have about as much dating success with your phone's Calculator app as you will on Tagged — the bar is low.
How do you use Tagged for free?
When you sign up for a Tagged dating profile, you'll be given a free account. This allows you to "like" and message people. On legit dating sites, that's typically all you need. But with Tagged, there's no one worth talking to.
How do you cancel your Tagged Membership?
If you've signed up for a paid Tagged account and want to cancel your subscription, it's a simple process. Just follow the steps below for your device.
iOS
Open the Settings app.
Tap your name.
Tap Subscriptions
Tap the Tagged subscription
Tap Cancel Subscription
Android
Open the Google Play Store
Tap Menu
Tap Subscriptions
Tap the Tagged subscription
If you signed up with a web browser, follow these steps instead:
Go to Accounts > Settings
Click the Subscription and Payments tab
Click the text link "cancel your subscription?"
Click Cancel Premium
How do you delete your Tagged account?
There are two different ways to delete your account, depending on whether you're using the Tagged smartphone app or the website.
Deleting your account in a web browser
Go to Accounts > Settings
Click "cancel your Tagged account"
Choose a reason for deleting your account
Click "Yes, I want to cancel my Premium Membership"
Click "Cancel Premium"
From what I can see, if you have an active Premium membership still (even if you've cancelled the subscription) it won't let you delete your account. You'll have to wait for the subscription to expire, then you should be allowed to complete the final step(s).
Note that you'll still be able to delete it via the smartphone app. This worked successfully for me.
Deleting your Tagged account in the smartphone app
Navigate to Profile > Settings
Scroll to the bottom and click "Cancel account"
Choose a reason for deleting your account
Click Yes and Continue to accept the prompts
How much does Tagged cost?
Tagged Premium membership has 3 different subscriptions to choose from. They all offer the same "benefits", you're just committing for a longer period of time.
1 month $13.99 per month
3 months $8.99 per month ($26.67)
6 months $6.99 per month ($41.94)
This Premium subscription gives you:
Access to more spam, only now you're paying for it
A list of profiles that like you
A list of profiles that have looked at yours
Access to "popular profiles"
Read receipts to see if the spam bot has received your message
The ability to contact new users
Premium email support
Is Tagged legitimate?
Absolutely not. Most user profiles are fake and the app gives you fake notifications to feign activity. Do not use Tagged.
Is Tagged safe?
Absolutely not. All signs point to a terrible site full of bots, spam, and nonsensical features.
Does Tagged really work?
Not at all. The best thing Tagged can be used for is working on your typing speed. Start a conversation with one of their bots and try to keep up with their instantaneous replies!
How do you send messages on Tagged?
You have two options to message a profile on Tagged. You can either "like" profiles and match with those who like you as well. Otherwise, just go to the Browse section, tap on a user profile then send them a message directly from there.
How do you search on Tagged?
Tagged doesn't have a true "search" function. Instead, you can either view one profile at a time and 'like' them or use Browse and see all local profiles in a grid.
While you can filter the age, gender and distance for these results, those filters are pointless as these aren't real users.