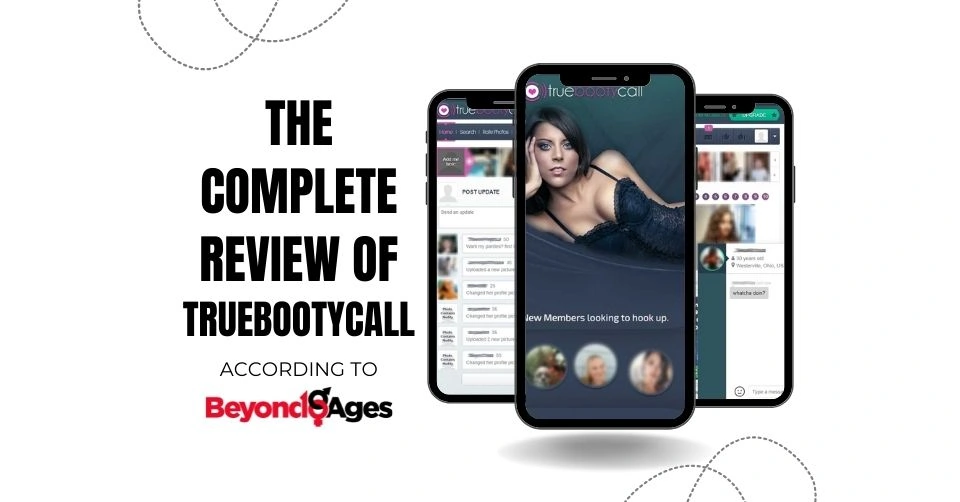 Are you looking for a casual fling with no commitment whatsoever? Well, in this TrueBootyCall review, we'll be unmasking the truth on whether it's a worthy hookup site or another shady site that offers no real value. In their own words, TrueBootyCall.com claims to quench people's thirst for casual sex encounters with no strings attached.
But, does it live up to the promise? Let us find out!
Well, in my time reviewing and testing out TrueBootyCall.com features, the results are worth reading through this review.
How we reviewed TrueBootyCall
This hookup site operates like many other hookup sites I've been to before, and the business structure is what I've seen the other sites do.
As usual, I created my free user profile with TrueBootyCall. I gave the account a few days to determine whether I'd be receiving computer-generated messages claiming to come from interested members.
Later on, I finished setting up my profile by adding some photos and info. I then checked if this would make users interested in my profile.
Considering True Booty Call doesn't offer much to free members, I had to upgrade pretty quickly. I then sent out messages from our list of opening lines to more than 50 women whom I found attractive on the site. No matter who replied, I attempted to set up a date to see if they'd be willing.
Our Detailed TrueBootyCall Review
To see how good or bad a site is, we usually test it against one of our favorite hookup sites: AFF, a tried and tested site that many people trust. Below is a summary of how TrueBootyCall stacks up against AFF.
Overall

Our team rates each site objectively based on many hours of independent research, the features each site offers, and how it compares with other sites. The ratings are the opinion of our editors and their extensive experience.

1
9.5
Quality of Women

Our opinion of how attractive the typical woman is that uses this site and how easy they are to connect with compared to other sites.

1
9
Popular

How many people are using this site to actually meet people compared to other sites.

1
9
Usability

How easy is this site to use and how quickly can an average person begin meeting people compared to other sites.

6
10
Privacy & Safety

Does this site take proper precautions to safeguard its members, their identity, and their data.

2
10
Effective

Our opinion of how easily an average person will be able to achieve their dating goals with this site compared to other sites.

1
9
Value

Will the time and money spent using this site pay off for an average person based on the opinions and experience of our editors.

1
10
Our Recommendation
While signing up for an account on TrueBootyCall.com, I wasn't hoping for much. After all, sites with crude or cringeworthy names are often scams. However, despite my initial low expectations, I was still disappointed.
TrueBootyCall is a waste of time and money for anybody looking to get laid. I got the ultimate trifecta of bad dating sites: fake profiles (they do admit to this), spammy messages and a paid membership that they keep pushing on you.
While the site's design was on point, that's pretty much all it has going for it. Otherwise, it's a waste of time. And this is EXACTLY why we do these reviews.
Let me give you a rundown of what I learned about this True Booty Call.
The usual computer-generated profiles and messages
Most of these low-quality hookup sites use computer-generated messages to lure their visitors into upgrading their accounts. This is a classic move used by most of these companies. If you've been around enough of these sites like I have, you'll spot one immediately after signup.
For those who are keen enough during the sign-up process, you'll realize that you need to consent to receive computer-generated messages from profiles before you can create an account. This is something many people tend to ignore most of the time while trying out these websites.
This gets explained further through their terms and conditions, which, again, is something most people don't bother reading. TrueBootyCall fully admits to using bots or, in other words, computer-generated profiles to let you think that you are interacting with real humans.
Soon after creating my user profile on the site, I immediately got a message from this gorgeous woman. Naturally, since I read the terms and conditions, I knew that she's not a real person.
Then after giving my account empty and dormant for several days, I had received more than ten messages. But to open these messages, I had to upgrade my account and part with my hard-earned money. Sadly, the messages sounded exactly as I had expected: fake, generic and sounding nothing like a real woman.
I also got a handful of messages that wanted me to click on some shady link. No thanks.
I replied to most of these messages, and no one responded to me again. The 50+ messages I sent out from our pre-approved template got a total of zero replies! Not even a single person replied to any of the messages!
Duplicate profiles from other sites
I'm sometimes left wondering, are sites such as TrueBootyCall.com operated by the same individual, or is it just a coincidence that the same people sign up for these services using the same profile pictures on 100s other sites?
I did a reverse image search on some of the profile pictures on TrueBootyCall using the TinyEye search tool, and to my surprise, other pictures appeared on more than 100 sites, which was insane!
Would someone sign up for more than 100 hookup sites or is this just a scheme used by these sites? In my experience, these pictures get scraped from porn and cam sites.
Therefore, the founders of these hookup sites use them within their network while duping unsuspecting users into thinking a real human exists on the other end of their computers.
Just avoid TrueBootyCall.com at all costs
TrueBootyCall site is undoubtedly among the many junk sites available on the internet, offering no real value to the end-user.
The truth is that sites such as TrueBootyCall.com are not in business for the long-term gain and just want to make a quick buck by luring you into purchasing their premium services that won't actually get you any booty calls.
If you are looking for a site that will offer you real value for your money and time, try out AFF, one of the most used hookup sites. On AFF, you can interact with a variety of different women, no matter where you are. That's because AFF has a huge userbase all over the world and it's growing by the minute!
So if you want a true booty call without wasting your time and money, try the AFF free trial instead!
Pros and cons of from reviewing TrueBootyCall.com
To make this review as fair as possible, I did intensive research on the TrueBootyCall hookup site, and to be sincere, there isn't much to like about this particular hookup site.
The site's design is not that outdated.
Feature to rate other users on the site
The site is easy to navigate
No real women exist on the site
Spam messages upon registration
They share personal information across other member sites
No special features as compared to other reputable sites such as AFF
The design needs a little retouching
While the website is easily navigable, I feel like the design needs some retouching here and there to make it sleeker. I found the homepage to be more attractive before signing up than the entire website in general after signing up.
I mean, just compare this design:
And this one:
I honestly expected a much better-looking design, but hey, it's just an opinion. Maybe someone else might find it appealing at first glance, but I didn't. However, the design isn't terrible at all, as many of the sites I've been to before. Kudos for trying in that aspect!
Legit Hookup Apps Normal Guys Actually Do Well On According To Dating Coaches
You need to skip True Bootycall and spend your time where it will actually benefit you. That means trying out one of the apps that dating coaches are actually seeing regular guys do really well on. Try these first if you actually want to meet girls:
Site
Our Experience
Our Rating
Free Trial Link

Best Hookup Site Right Now

Experience Highlights

Top option for local hookups by far
Best results for regular guys
Over 60 million active members
The design needs an update

Try AFF For Free

Great If You're Handsome

Tinder Highlights

Great if you're pretty good looking
Very popular, especially if you're 18-22
Really focused on photos
Becoming more of a dating than hookup app

Try Tinder

2nd Best For Most Guys

Experience Highlights

2nd best option to find hookups
Attracts an older crowd than most hookup apps
Pretty popular
Solid free trial

Try Passion
Expect ad redirects while clicking anywhere
Honestly speaking, I found ads on TrueBootyCall to be a bit aggressive by redirecting me most of the time to other sites while navigating the site's internal links. Most of these advertising banners are explicit and redirect to porn websites that TrueBootyCall.com is affiliated with.
What baffled me the most was that even after logging out from my account, the next landing page is a pornographic website! These people aren't joking and want to make money by all means, right?
Pricing
While preparing this review, TrueBootyCall ran a discounted offer of 40% off from the original price tailored for me. Who doesn't know this trick, right? They were just trying to entice me with a fantastic offer for me to upgrade my account.
The site offers three pricing tiers, with the most prolonged period being the cheapest compared to the other two in the long run.
One month: $29.95 per month
Three months: $19.98 per month ($59.94 total)
Six months: $16.66 per month ($99.96 total)
The site does not talk of refunds. If you are not satisfied with their services, you will probably not get one.
TrueBootyCall Review: Frequently Asked Questions
To summarize everything that I've pointed out about TrueBootycall.com, here are some of the questions frequently asked around the web about this site.
What is TrueBootyCall.com?
TrueBootyCall.com claims to connect people looking for sexual encounters online with other people from their local area faster than any other platform of its kind. However, as per my discoveries, their promises are far from the truth.
Who actually owns TrueBootyCall?
TrueBootyCall is owned by Ancient District Limited, a company based in the UK.
How can I contact True Booty Call?
You can email True Booty Call at [email protected].
Is TrueBootyCall.com real?
Yes, TrueBootyCall.com is a real site. But the users are all "fantasy profiles", which means they're either bots or employees who message users while pretending to be someone else.
Is TrueBootyCall legit?
TrueBootyCall is pretty honest with the fact that they use computer-generated (or fantasy) profiles, so it's not an outright scam. However, most users wouldn't know this unless they read the terms and conditions (and who does?).
Is True Booty Call a scam or fake?
True Booty Call might not be an outright scam. But the site does employ computer-generated profiles and messages. So if you want to meet real women, this isn't the site for that.
Is TrueBootyCall.com safe?
We don't think TrueBootyCall.com is a safe site to use. It's not worthwhile either since there are no real people on the site.
What are TrueBootyCall alternatives?
TrueBootyCall is a waste of time. If you are looking for alternatives that offer real value for your money and time, then check out some of our favorite hookup sites and apps for much better chances of actually getting laid.
How does True Booty Call work?
True Booty Call lets you create a free profile, but to message anyone you need to pay for a membership. But even if you do pay for a membership, you won't be able to talk to any real people.
Is there a TrueBootyCall.com app?
TrueBootyCall.com doesn't have an app.
How much does TrueBootyCall cost?
TrueBootyCall has a three-tier pricing model:
One month: $29.95 per month
Three months: $19.98 per month ($59.94 total)
Six months: $16.66 per month ($99.96 total)
How can you use True Booty Call for free?
You can't really use True Booty Call for free. To send the "fantasy profiles" messages, you need a paid account.
Can you send messages for free on TrueBootyCall.com?
No, you can't send free messages on TrueBootyCall.com.
How do you cancel your TrueBootyCall account?
Once logged in to your TrueBootyCall user account, click on the "help" link found on the site's bottom menu.
Scroll down and locate the "How can I delete my account" question.
Fill in the reason you want to delete your account and confirm your request.