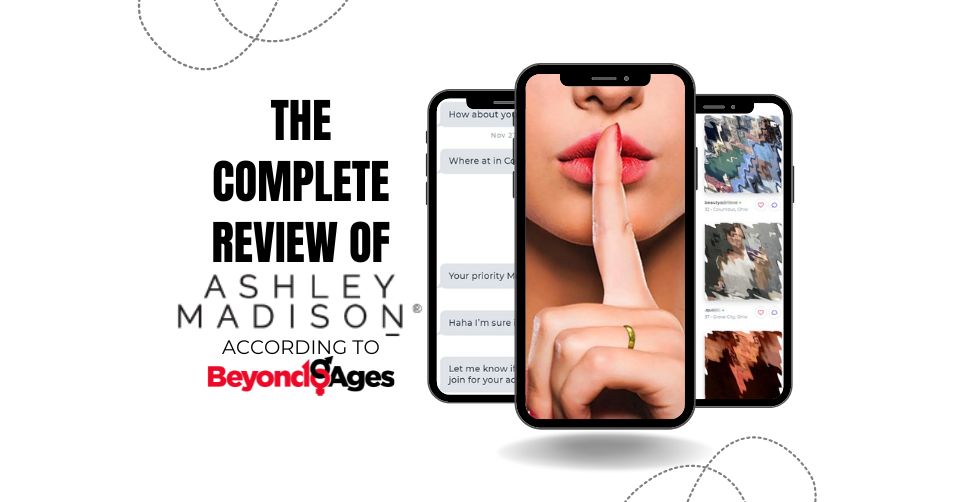 With so many hookup apps and sites out there, what does it take to stand out? Naturally, having a huge userbase of hot users will draw in even more users, but lots of other sites already do that. Could it be that one of the best ways to stand out is adding just one little niche that can tip the scales in a site's favor? As far as we can see, this is what Ashley Madison has done. Our Ashley Madison review is all about figuring out whether we had an easier time hooking up than on other dating sites.
AshleyMadison has received a lot of press due to the controversial aims of this website ever since it launched in 2002. For that reason, it's certainly the most well-known dating app for extramarital affairs. In fact, it has attracted over 60 million users since that time. But is this the prime feature of Ashley Madison or just an extra perk within a dating app? More importantly, is Ashley Madison legit and safe to use?
The site puts a lot of emphasis on providing privacy and security to its users, but we wanted to know just how safe you should feel when using Ashleymadison.com. The main unique selling point of AshleyMadison is that it provides the anonymity required to arrange a premarital affair, but aside from that, it's pretty much your standard hookup site. With that said, you can sign up to Ashley Madison if you're single and communicate with other single users as well. 
This Ashley Madison review will reveal how easy you're likely to find it to do either.   
How we reviewed Ashley Madison
Online dating has become so popular across the world, with billions being spent on membership fees and add-ons every year. 
The problem is: many users of dating apps remain frustrated. 
That's because many dating apps are ineffective tools for finding users their perfect romantic match. Some of them are outright scams that are only out to get your money (and credit card info). In most cases, you won't be able to discover just how good a dating app is until you spend your hard-earned cash to test it out.
That's no good for consumers – because there's no getting your money back once you realize that your chosen dating app is trash. 
Realizing this, we made it our mission to create the biggest and most detailed collection of online dating reviews available on the internet. In each case, we put the app we're reviewing through standardized tests using the same profile pictures, bios, demographic data and opening lines each time. Keep in mind that we kind of "dumb down" our usual online dating skills to see if even the most clueless single guy will find a date on each site we review.     
On top of that, we pledge to: 
test every feature of the online dating service for both the free and premium versions; 

contact 50 suitable women and track how many of them respond;

continue messaging each woman who responds and attempt to swap contact details with the aim of organizing a date. 
That's what I did in this Ashley Madison review. The consistent nature of our reviews allows us to make trustworthy comparisons between hundreds of online dating services. 
Ultimately though, this Ashley Madison review will reveal whether this website is worth using to land a date, either with a beautiful married or single woman.
How AshleyMadison Compares To The Best Hookup Sites
We'll begin this Ashley Madison review with a short summary to help you get the gist of what to expect from this website. Then, you can find out about more detailed aspects of the website afterwards.
Below, you'll find my AshleyMadison ratings out of 10 for the basic aspects of online dating that are important to all men. 
Overall

Our team rates each site objectively based on many hours of independent research, the features each site offers, and how it compares with other sites. The ratings are the opinion of our editors and their extensive experience.

9.5
9.5
Quality of Women

Our opinion of how attractive the typical woman is that uses this site and how easy they are to connect with compared to other sites.

10
9
Popular

How many people are using this site to actually meet people compared to other sites.

9
9
Usability

How easy is this site to use and how quickly can an average person begin meeting people compared to other sites.

10
10
Privacy & Safety

Does this site take proper precautions to safeguard its members, their identity, and their data.

9
10
Effective

Our opinion of how easily an average person will be able to achieve their dating goals with this site compared to other sites.

10
9
Value

Will the time and money spent using this site pay off for an average person based on the opinions and experience of our editors.

9
10
Our Recommendation
Your chances of hooking up with a married woman would appear to be much higher on Ashley Madison than on other dating apps. The odds that you hook up with any (or many) women are just as good as on some of the best dating apps around, if not better. After all, not adding a photo or any identifying information on Tinder or Bumble may be suspicious. But on Ashley Madison? It's what most users are doing!
So if you want anonymous hookups that won't come back to haunt your social life, we think that Ashley Madison is the app for you!
However, there are some concerns about the Ashley Madison price and the quality of women using the website. The most common questions I asked during my tests were "Why are so many profiles anonymous?" and "Why Is Ashley Madison so expensive?" We'll answer these questions below.
Who Is Actually Using Ashley Madison?
Is it all bots? Thankfully, no. Then are they all married women? Also no.
I was able to talk to more than handful of women while I used the app. Granted, I was only able to use the app for a couple of weeks, but this provided a pretty clear snapshot of its users: not all of them are married women, and I never ran into any bots or suspicious profiles. Some women were a little skittish and tried to dodge questions about exchanging contact info. But on a site that prides itself on letting its users be anonymous, that's actually reasonable.
It probably doesn't come as a surprise to know that most of Ashley Madison's users are from the US and Canada. The site is, after all, unavailable in several countries.
Now for the million-dollar question: are there as many women as men on AshleyMadison? Here's the answer:
There are more men on Ashley Madison than women, but that's pretty common for dating apps. As for the ages of these users, majority of the users are on the younger end, with up to 25% of users aged 25-34. Users aged 35-44 are a close second.
How Popular is Ashley Madison REALLY?
Many general dating apps (those geared towards either relationships or hookups) often get millions of visits every month. AshleyMadison.com gets around a million visits.
Is that a bad thing? Not necessarily. You see, we can't really compare Ashley Madison to sites like Match or PoF because Ashley Madison has a bit of a reputation for "promoting" affairs, even though it does well as a hookup app. It's a hookup site (which eliminates users looking for relationships), and its bonus feature is helping married people look for affairs (super niche).
But when you compare this to other niche sites that get an average of about 500k visits a month, AshleyMadison.com for sure has more users.
Signing up for Ashley Madison
To create your Ashley Madison account, you'll need to provide a few basic details including your relationship status, date of birth, ethnicity, and zip code. Nothing out of the ordinary here, except your relationship status. Most dating apps assume you're single.
Once your account has been created, you'll be prompted to set up your profile.
A profile picture or two is encouraged, but it's not obligatory. AshleyMadison understands that some married users don't want to be "outed" for seeking an affair partner. With that in mind, you do have a choice to upload some "private" pictures that can be unlocked for specific users at your discretion.
It's also possible to blur your photos or add some amusing masks to hide your identity just a little bit.
Your bio has a space for some "vital statistics" including your height, weight, body type and what you're looking for on the website. There's also some space to write about yourself.
Plus, you can choose from a long list of "interests and desires" to further describe what you're looking for from a partner. These range from "Music", "Wine", and "Travel" to "Sex Toys" and "Kinky Fun".
Any new uploads or edits to your profile will be subject to independent checks before they go live. As long as you don't break the terms of the site, you can expect these changes to go live in less than 24 hours.
AshleyMadison.com Pricing and Membership Options
Ashley Madison uses a credit system. You'll have to buy and spend credits, not only to start conversations but for every message you send. The cost can quickly add up if you're interested in making connections with multiple members.
It costs nine credits to start a conversation, or 14 credits if you want to send a "Priority Message" which lands at the top of a woman's inbox and includes a read receipt. We suggest saving that for someone you're really into.
Credits cost between $0.30 and $0.69 each depending on how much you buy at a time. That means it could cost you anything from $2.70 to $6.21 to start a conversation (or up to $9.66 to send a priority conversation).
Once you have initiated contact, additional messages to the same member are free (or it's five credits to send another priority message).
It will cost you:
$69 to buy 100 credits ($0.69 per credit)
$179 to buy 500 credits ($0.36 per credit)
$299 to buy 1,000 credits ($0.30 per credit)
This makes Ashley Madison one of the most expensive dating apps for men to use without doubt. Though keep in mind that women seeking men can send messages for free.
If you're wondering why is Ashley Madison so expensive, I'd suggest it's because some men are willing to pay through the nose to have a discreet extramarital affair. These super-keen guys can also pay $0.99 per day to boost their profile to the top of relevant search results if they want.
There is one loophole that can save you some money though. The "Member Initiated Contact" feature allows you to communicate with women who messaged you first without spending credits. This feature is available to you for free for the first 30 days after you purchase a credits package. It'll cost you $29.99 per month after that.
How Ashley Madison Works and What It Looks Like
Once you've created your Ashley Madison account, the next logical step is to navigate to the "Discover" page. This is where you'll search for women to message and (hopefully) meet up with.
The search filter has a lot of useful functions that other dating apps would benefit from adding – and that's why I ranked Ashley Madison so high for "usability".
You can choose to only show women who have been online in the past 24 or 48 hours, for example. You can also decide to only show women with public photos available. If you want to only show new members, you can do that too. On top of that, you can filter by age and location.
From the results that pop up, you can click to view a member's thumbnail to view their profile. From there, you can click
the "Message Me" button to send a message;
the heart button to add them to your list of favorites;
the wink button to send them a wink;
the key button to request that they unlock their private photos.
The "wink" feature is free to use and might be just the tool you need to encourage women to message you first (and save yourself some credits in the meantime). Unlock requests won't cost you anything either.
The "heart" and "message" buttons appear in search results too, meaning you can use these without having to click through to a profile.
If you're not on the Discover page, you'll most likely be in your inbox reading and sending messages.
Your inbox has two separate folders for your messages sent and received. You won't find the same conversation in both folders though, so your "Sent" folder essentially acts as a home for the women who ignored you.
Ashley Madison Review: Using The Ashley Madison App
The Ashley Madison app is so easy to use. It has only three tabs; "Profile", "Discover" and "Messages", and the pictures dominate most of the screen space. The app is titled "AM" and has an indistinct logo to protect your privacy. The app doesn't allow screenshots.
What Can You Do with a Free Ashley Madison Account?
Women seeking men can access all Ashley Madison features for free. Everyone else will only be able to view profiles, share photos, and send winks with a free account. They'll have to buy credits to send messages to other users.
What It's Like Messaging Other People on Ashley Madison
I connected with 50 women on Ashley Madison (including five who messaged me first) and 18 of them sent me a reply. That's not a bad response rate compared to the other dating apps we've tested. I imagine filtering for users with photos who had been active in the past 48 hours helped to attract so many responses.
Based on our conversation, four were willing to state that they were married, eight were single, and six didn't really want to talk about it.
Ultimately, I swapped contact details with six of these women as some wanted to get to know me a little better first. Four of these women were single.
Those who were interested were very interested. The conversations flowed with little delay and I was able to ask for their details successfully after a low amount of messages.
That's a definite plus point of Ashley Madison. It might cost a lot to send messages, but women are happy to move the chat to messaging apps or social media apps quickly.
How Safe and Secure Is Ashley Madison?
Ashley Madison famously suffered a data breach in 2015, but there are no signs that your identity, photos or data is unsafe with this company anymore.
This app makes privacy and anonymity a priority – and that's a big reason so many people looking for hookups (among other things) flock to this app to arrange it.
Who Should Use Ashley Madison?
If you're looking for an extramarital affair, Ashley Madison is recommended not only because of its privacy features but also because you're less likely to be spotted and doxxed by one of your single friends on this app.
It's definitely possible for you to find a hookup on this app if you're a single guy. However, I wouldn't recommend this app for singletons, simply because there are cheaper apps with a greater abundance of beautiful women.
To find out what apps we recommend for single men, check out our list of top-rated hookup websites.
Ashley Madison Review: Frequently Asked Questions
What is Ashley Madison?
Ashley Madison is a hookup app that has an additional feature of helping men and women seek affairs. It's available on desktop, iOS and Android.
How can I contact Ashley Madison?
Go to your Settings and you'll find a tab that says 'Contact Us'. That'll allow you to email the customer service team.
Is Ashley Madison real?
There is no real person named Ashley Madison connected with the website. The name was supposedly created by joining two popular woman's names together. The website itself is real, as are the women I encountered while using it.
Is Ashley Madison legit?
You should be able to find a date or a hookup on Ashley Madison with relative ease. It's a legit website if a little expensive to use.
Is Ashley Madison a scam or fake?
There is no obvious evidence to suggest that Ashley Madison is a scam or a fake website. There are more accounts with no profile pictures than usual though, so you need to take extra care against catfishing if you decide to message these.
Is Ashley Madison safe to use?
Ashley Madison was subject to a data breach in 2015. That might lead you to question is Ashley Madison safe, but there is no evidence to suggest it's less safe than any other online dating website now.
What are Ashley Madison alternatives?
For a list of recommended alternatives to Ashley Madison, see our guide on the best hookup apps and sites we've tested. Spoiler alert: Ashley Madison is pretty high up on that list.
How does Ashley Madison work?
Ashley Madison works the same as any other mainstream online dating app. Create a profile, search for someone suitable, send them a message, then (hopefully) meet. A key difference is that you'll have to buy and send credits to start conversations.
Is there an Ashley Madison app?
Yes, it's available on the Apple or Google Play app store. The app is titled AM and has an indistinct logo to protect your privacy from prying spousal eyes.
How much does Ashley Madison cost?
You'll need to buy and spend credits to start conversations on Ashley Madison.
Ashley Madison credits are available in three packages.
These are:
$69 to buy 100 credits ($0.69 per credit)
$179 to buy 500 credits ($0.36 per credit)
$299 to buy 1,000 credits ($0.30 per credit)
How can you use Ashley Madison for free?
You can create an Ashley Madison account and browse other profiles for free with no problems. You can send winks and ask to access private photos with a free account too.
Can you send messages for free on Ashley Madison?
Yes, if you're a woman seeking a man. Everyone else has to buy credits.
You can respond to women who message you first for free if you have the 'Member Initiated Contact' feature. However, this will either cost you $29.99 per month or you'll get it for free for 30 days after you've purchased credits.
How do you cancel your Ashley Madison account?
Navigate to your "Settings", find the "Account" tab, then scroll down to "Deactivate Account" or "Delete Account".