We have looked at all aspects of this site to help you find a BBW without wasting any time and money. Our BBW Datefinder review will tell all.
There are a lot of bad dating sites out there and they can be tough to spot if you don't know what to look for.
Do yourself a favor and read our review below before thinking about signing up for BBW DateFinder.
If after reading our review you want to find a better site (and you will) check out our overall rankings of the best BBW dating sites out there.
Our Full BBW Datefinder Review
Here is what we found during our extensive review of BBWDateFinder.com:
BBW Datefinder looks good at first
When you first log onto the site you see a dating site design that honestly looks pretty good.
The design looks modern and appears to have been updated recently.
The photography is high quality and the women they show in the main image is fairly attractive.
There is even a section at the bottom where they show that they have been mentioned by some pretty impressive news outlets.
If they have been mentioned by CNN, MSNBC, The New York Times, and Yahoo they must be doing legitimate right?
Unfortunately, they don't link to the articles they were mentioned in but that is still a pretty good start.
On closer inspection, there is some cause for concern
The photos above are what we saw on the BBWDateFinder homepage when we first logged in.
They don't state it explicitly, but they are strongly implying that these are photos of actual users of the site.
If alarm bells are not going off in your head at this point they should be.
How many big and beautiful women do you see out of the photos above.
Not even one!
Now, if you are a high-quality dating site that caters specifically to attractive larger ladies wouldn't you want to include at least one on your homepage?
This is a very bad sign in our experience based on the many reviews we have done.
Dating sites like this do not attract the typical skinny women that we see in the photos above.
There is absolutely no reason for them to be on a site that caters specifically to larger women like BBWDateFinder.com.
This is very suspicious.
eHarmony going to be a lot better for meeting a BBW for a relationship (click to try for free)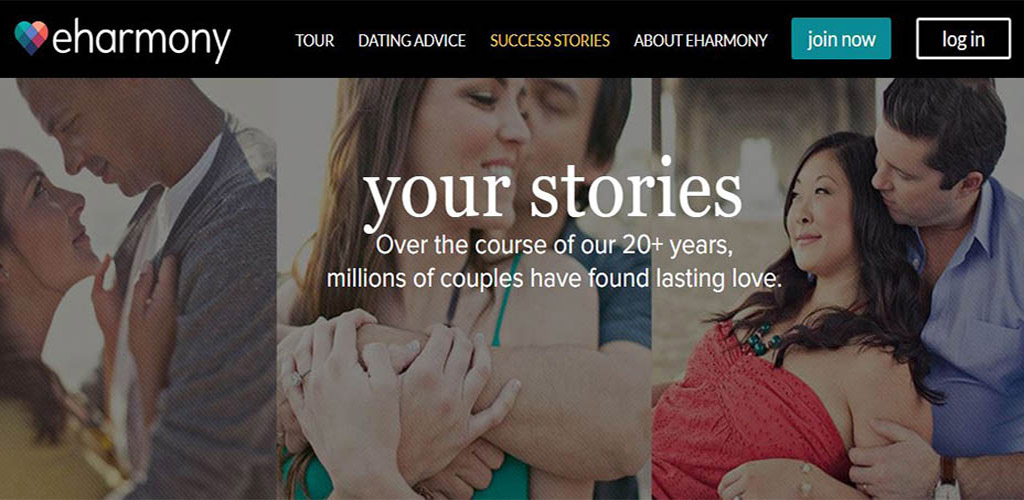 Of all the sites and apps out there for meeting BBW who want more than just one night of fun, we have seen the best results on eHarmony, particularly for guys who want something longer-term. This site is fantastic for guys for two main reasons: the sheer number of single BBW using it and how motivated they are.
To start with, there are thirty million+ active members on this site. Not just people who have signed up, but people who are using this site all the time. That's a huge number of women that you will have access to. Plus eHarmony does a really great job of matching you up with the women that fit the physical characteristics you are looking for.
Even more important than the number of women is how motivated they are to actually meet. 20,000,000 women who are just looking for attention doesn't do you a lot of good (looking at you Tinder). The women on eHarmony all took the time to go through the signup process and personality tests. If they were not serious about online dating they would have dropped out before the test. That leaves a ton of women who have been way more likely to message us first as well as respond to our messages (in our experiences).
They even have a free trial offer to make it easy for you to say yes to success. The signup process is a little long but it will pay off later. Better matches from the beginning and so much time saved.
BBW Match Mate is best if you are just looking for a quick hookup (and you can try them for free)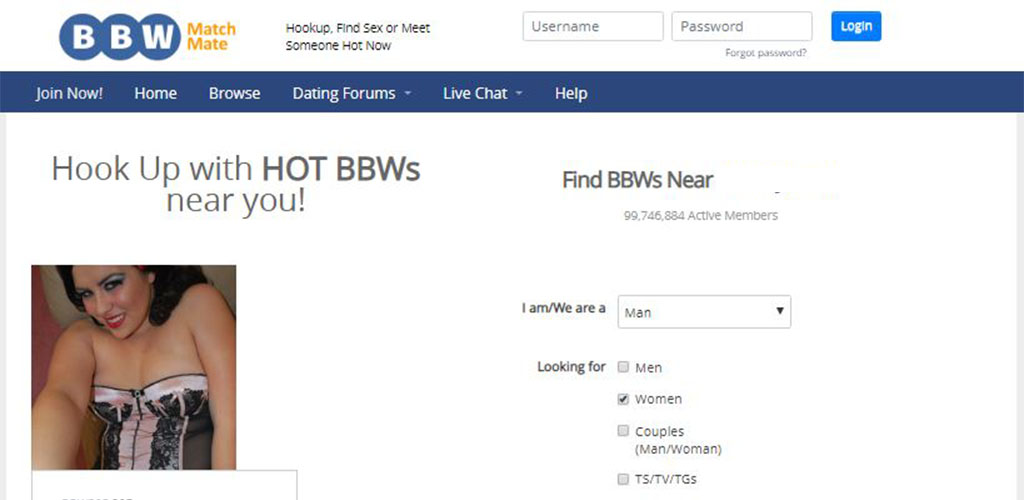 While eHarmony is great, it is more focused on long-term relationships instead of quick hookups. If you are taking a break from committed relationships or just don't have any desire to be in one BBW Match Mate is going to make your life MUCH easier.
When it comes to these kinds of apps and sites there are really only a couple of options worth considering; Tinder and BBW Match Mate. I'm sure you have heard of Tinder and you may have tried it out. It can be great if you are a very attractive guy or a typical woman. The best-looking guys get 90%+ of the matches and guys who are not male models tend to have a very frustrating experience.
On the other side, BBW tend to avoid Tinder as well. It can be really hard on your self-esteem if you don't fit traditional images of beauty and the guys using Tinder can be pretty cruel. As a result, a guy interested in meeting a BBW for some short-term fun is going to really struggle to find them. Every year we do a thorough review of all the best BBW dating sites so we know what we are talking about.
BBW Match Mate (which has a free trial) really does a good job of enabling guys to connect with BBW. They have a huge active user base drawing from over 90 million members (they are part of AFF) and have been around for WAY longer than Tinder (since 2006). They are pretty much the top site for people, especially those over 30, who are looking for some fun with BBW.
If you are taking a break from long-term commitments or just want some short-term excitement give them a shot.
Once you get inside BBW Datefinder, it gets worse!
Inside the site things get worse pretty quickly.
The clean and modern design that we saw on the homepage is quickly replaced by an extremely dated-looking design that could have been put together in 2005.
It is pretty suspicious when there is such a vast difference in design that you can only see once you signup for a membership.
We started searching through the profiles and it only got worse from there.
This isn't a BBW dating site at all

While BBWDateFinder advertises that it is for big and beautiful women and their admirers it really isn't.
If you look through the profiles you will realize that this is just a normal dating website that someone slapped a new homepage and name on.
The users of this site come in all shapes and sizes without any clue that this is a BBW site.
We looked through a large number of profiles and we found many women that described themselves as petite, slender, or tight & toned.
Not exactly what we would consider big and beautiful.
So how does this happen?
With a little more digging we discovered that this site is essentially a "white-labeled" dating site.
What that means is that they took a standard dating site run by another company, or another one of their own dating sites, put a new name and homepage on it and launched it.
The users of the site actually come from many different dating sites with different names and target audiences.
In this case, the users who sign up for BBWDateFinder.com are also included in a database with users from other dating sites such as InterracialMatcher.com
This type of structure is almost always reserved for the lower quality sites out there.
The best sites out there are able to easily attract enough members so that they don't need to combine multiple sites together just to have the appearance of legitimacy.
This is especially true for sites that target a very specific audience, in this case, big and beautiful women and men who appreciate them.
If you are an attractive larger lady and visit the site expecting a very specific experience you are going to be very hesitant to stick around once you see it is just like any other site out there.
Very few new members are signing up to BBW Datefinder
One of our favorite ways to tell the continuing popularity of a dating site is to see how many people are finding it using Google and other search engines.
People on good dating sites are constantly matching up and leaving the site forcing these sites to always be attracting new members to stay useful to their members.
As soon as they are unable to attract a lot of new members the site will quickly become useless.
In the image above you can see the search numbers for the site.
This measures how many times people using a search engine like Google have found the site.
Back in 2010 this site was actually fairly popular by getting over 15,000 searches a month.
The best site will get hundreds of thousands of searches or more a month but 15,000 isn't terrible.
What is terrible is how they have been performing since 2011.
Looking at the numbers since 2011 it is pretty obvious that nobody has really been looking for this site since then.
That is a pretty clear signal that the site has been pretty dead since then and isn't likely to come back any time soon.
This alone would be good reason to leave this site and never come back.
Our recommendation: Don't even think about it!
While this site looked good a first glance there was nothing worthwhile once we got below the surface.
You will not be seeing it on our list of the best BBW dating websites.
This site is basically a front for other dating sites and is not targeted at all toward BBW once you get down to it.
There are almost no new users coming in and it doesn't look like that is going to change any time soon.
If you've read anything we've written in our BBW Datefinder review, you won't give this site another thought!
Frequently Asked Questions About BBWDatefinder
Got more questions about BBWDatefinder.com that we didn't answer above? Here are some FAQs to help you decide if this is the site for you.
What is BBW Datefinder?
BBW Datefinder is a dating site that helps to connect singles with BBW. Sadly, it looks like a huge percentage of the users aren't even BBW.
Who actually owns BBWDatefinder?
BBWDatefinder is owned by Overman-Green Web Systems AB. They also own a another niche dating site called US Military Singles.
How can I contact BBWDatefinder.com?
You can send messages to BBWDatefinder.com at https://bbwdatefinder.com/user/about-us.php#contact
Is BBW Datefinder real?
Yes, BBW Datefinder looks like a real site.
Is BBWDatefinder legit?
We're not entirely sure if BBWDateFinder is a legit dating site. However, it looks like majority of the users on the site are inactive.
Is BBWDatefinder.com a scam or fake?
BBWDatefinder.com might not be a scam or fake. However, the site does charge you to send messages, and yet none of the users we messaged were responsive.
Is BBW Datefinder safe?
The verdict is still out on whether BBW Datefinder is safe. So we suggest using a different site instead.
What are BBWDatefinder alternatives?
If you want to hook up, forget BBWDatefinder and use one of the options on our list of the best hookup sites. If you want to meet BBW specifically, check out our list of the best BBW apps and sites.
How does BBWDatefinder.com work?
BBWDatefinder.com lets you create a free account, and you can browse through profiles. You're also shown a series of profiles asking if you want to match or not. But to message any of these users, you need a paid account.
Is there a BBW Datefinder app?
No, BBW Datefinder doesn't have an app.
How much does BBWDatefinder cost?
Here are the payment plans for BBWDatefinder:
6 months - $13.95 per month ($83.70)
3 months - $17.95 per month ($53.85)
1 month - $24.95
How can you use BBWDatefinder.com for free?
A free account on BBWDatefinder.com lets you browse profiles, receive messages, send winks, and post photos. The most important function (messaging people) requires a paid account.
Can you send messages for free on BBW Datefinder?
No, you need a paid BBW Datefinder account to send messages.
How do you cancel your BBWDatefinder account?
To delete your BBWDatefinder account, click on the "My Membership" link under your photo in the landing page. Then click "Delete My Profile". You'll be asked not to delete your profile, but if you've made up your mind, click "Just Delete My Account."