It's totally possible to find love in the desert with the help of the best dating apps in Albuquerque. Our city is home to lots of singles looking for the right person to love. But this does not make dating in this city any easier. These days, singles are so busy juggling a lot of responsibilities that their romantic lives have taken a backseat. This is sad because there's never a shortage of fun things to do in Albuquerque for dates. The real challenge is finding someone special to do them with.
Also, not every guy can be lucky enough to meet the woman of his dreams by frequenting Founders Speakeasy, Bar Uno, Sister or The Copper Lounge. It's very easy to approach a woman and flirt a little bit. But chances are you'll never see each other again after that.
You can also wait for your friends and family members to fix you up with single people they know, or you can do what modern guys do and try online dating. Your love life need not be as dry as the New Mexico deserts when you download one of the apps on our list.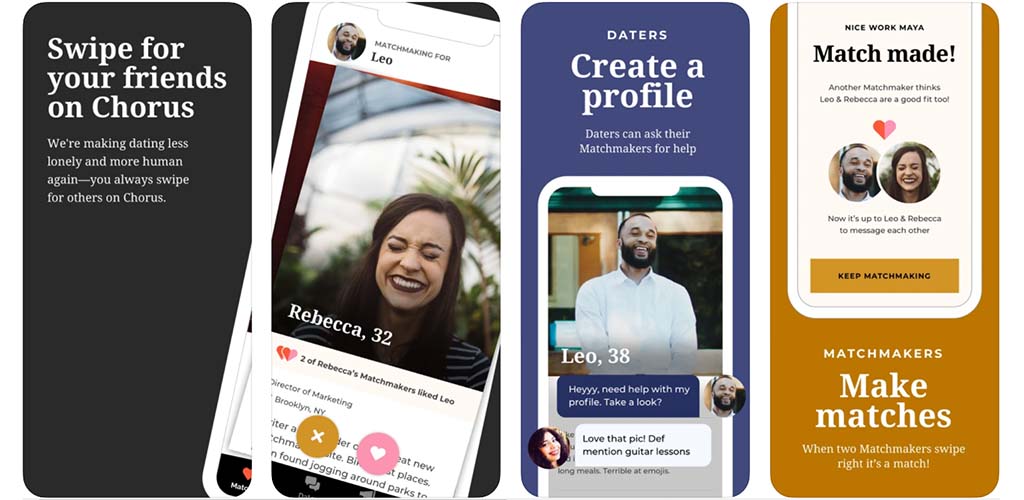 #1 - One of the best dating apps in Albuquerque for fun singles is Chorus (Android; iOS)
Chorus is one of the best dating apps in Albuquerque with a twist. If you have terrible taste in dates, then you can let your friends do the choosing for you. Your friends get to decide who you're going to connect with on the app. Now this ought to yield some great results for you, especially if your friends are a good judge of character!
Let's just say that the CEO of this app wanted something that's kind of an anti-dating dating app. Instead of focusing on good looks and hot bodies, the people over at Chorus wanted a dating app that's all about friends and real connections.
With Chorus, you can do away with the superficial stuff. Your friends choose who they think will be a great match for you. You can also get a chance to go on 5-minute video dates based on your preferences. It definitely removes the first date pressure and saves you time and money going out with someone you have no chemistry with!
What makes Chorus one of the best dating apps in Albuquerque
Perfect for singles who don't like the pressure of first dates
Fun and innovative
Also has that old-fashioned type of matchmaking
What we don't like about it
Smaller user base compared to other dating apps
Not for singles who don't like to share their dating life with friends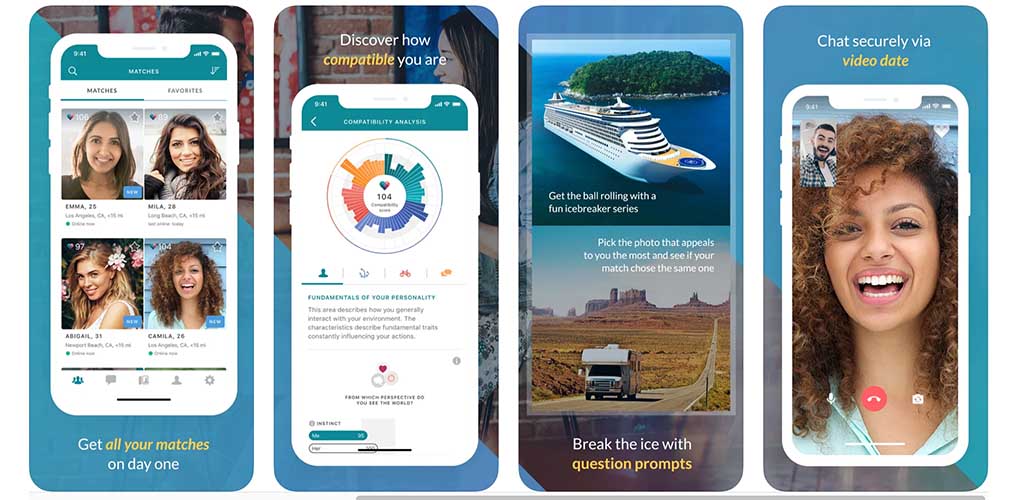 #2 - eHarmony (Android; iOS) can't be beaten for long-term relationships
eHarmony is extremely popular here and has an amazing track record of helping Albuquerque locals find long-term partners by using matching algorithms. This app does the best job of matching you up with compatible potential mates that we've seen.
You don't have to scroll for hours. The app does all of the tough work for you. Of course, you might not make a perfect connection outside of the algorithms. Usually, it works like magic. The toughest part is answering all of the questions. It's important because this is how they match you with other single people. You can build chemistry before you even meet.
If you're serious about finding long-term partners this is the site for you.

Why eHarmony is one of the best dating sites in Albuquerque
The best success rate out there for long-term relationships
70% of users find their future spouse within a year
Makes it pretty easy to form connections
What we don't like about it
It definately takes more time than most to get started
Not super popular with those 18-22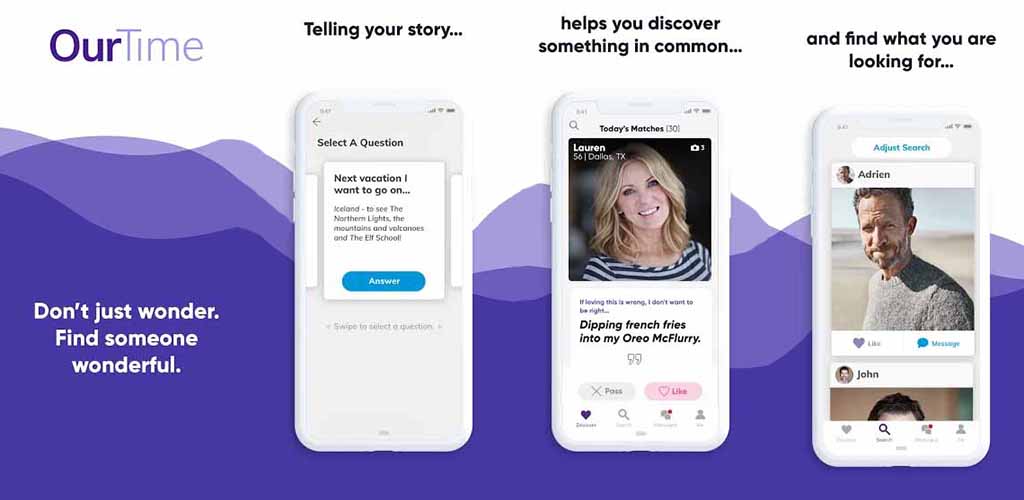 #3 - OurTime is for mature singles (Android; iOS)
So what about dating for singles over 50, you ask? Surely there's a dating site where you can meet like-minded people to share a cup of coffee or even the rest of your life with? OurTime is one of the best dating sites in Albuquerque for singles over 50. It offers a safe, fun, and no-pressure environment to meet new people and make new friends.
Let's face it. It's hard to meet someone new, no matter which age bracket you belong to. OurTime makes it easier for singles over 50 to find other singles who share the same interests and enjoy doing the same things. It's free to download and create an account. But some of its best features can only be accessed through a paid subscription. We think it's worth it, though, because even if you're not a techie person, you will be able to navigate the app easily.
What we like about it
Detailed profiles of members
Simple and quick sign-up process
Virtual quality time with other members through video calls
What we don't like about it
We found some fake profiles because there's no profile verification
The most useful features are behind a paywall

#4 - AFF is the easiest way to get some action
AFF should be your first choice when you're not looking for a relationship but still want some fun in the bedroom. We've tried a lot of different apps for this (most are awful) and only a couple have proven to work over and over. Tinder is great if you're under 25 but once you get beyond that AFF has shown the best results out of any dating site in Albuquerque we've tried, especially for guys.
One of the things we've really liked about this app is that they do a really good job of helping you find EXACTLY what you're looking for. Everyone on this site is looking for the same thing so you can save a LOT of time that you would waste on other sites. If you're 25+ and want to take someone home this is your app.
Why you should try AFF
They have a massive number of users on their app (over 50 million)
We've seen guys have the best success using it, especially those who aren't super good looking and didn't do well on Tinder
It's very straightforward and easy to use
What we don't like about it
Many users can only access via web app
The app is a little dated and not as polished as some others
Sometimes people are a little TOO upfront with what they want
You Can Try AFF Free!
If you're just looking for more short-term fun you need to
try out AFF's free trial
. We've spent months and months testing out the alternatives (more than 100 other sites) and haven't found anything that gives most guys more options and better results. Give it a shot!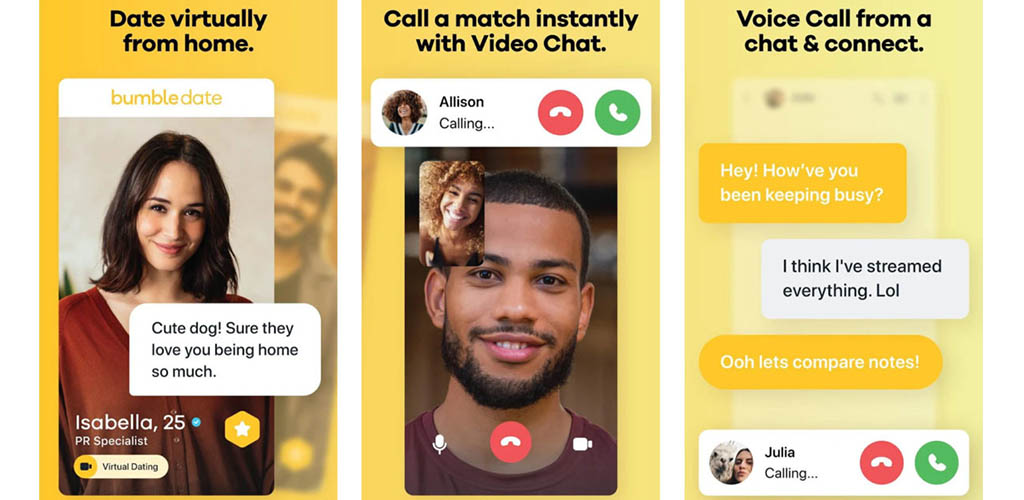 #5 - Bumble (Android; iOS) is best for both casual and serious relationship seekers
If you're new to online dating, one of the best Albuquerque dating apps you can try is Bumble. It's really no surprise because it's very easy and straightforward to use. Just install the app on your phone, create a profile, and start looking at profiles of other singles. Keep doing that and you're bound to find a potential match!
See a woman you like? Swipe right. The next one not your type? Swipe left. It's as easy as that! However, you can't simply send a message and start a conversation. You need to wait for her to make the first move and initiate the conversation. That's what makes this dating app different: how it gives the ladies all the power.
What we love about Bumble
Female-friendly app, so there are lots of women on the app
It's a dating app that's not limited to just finding dates
Plenty of users to choose from or match with
What we don't like about it
You can't go back to profiles you have accidentally swiped left on
Not for guys who are impatient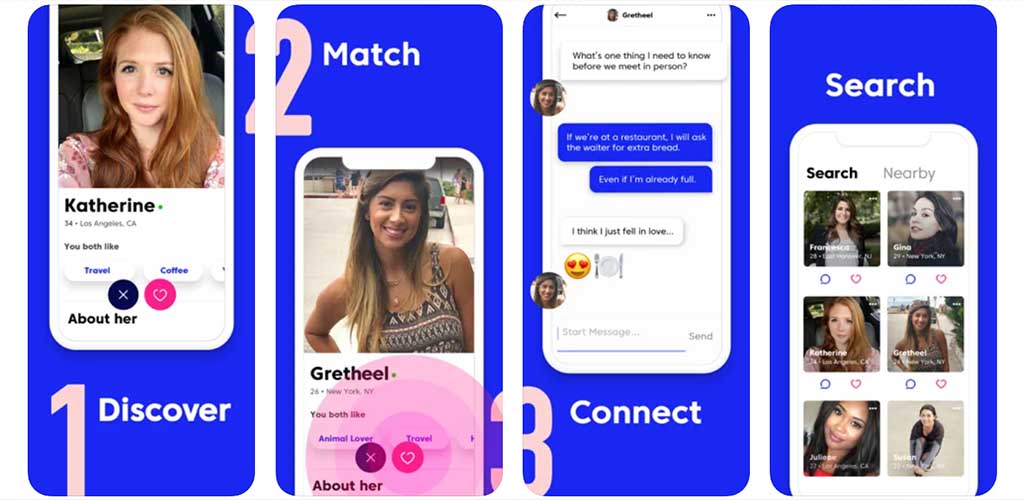 #6 - Match.com is one of the best dating sites in Albuquerque for love and romance (Android; iOS)
Match.com prides itself in finding you a match in 6 months. If you don't, you get free membership for the next 6 months. It may sound like a tall order, but Match.com has been in the matchmaking business for years. In fact, it's one of the pioneers and has been making matches happen since 1995. So can you just imagine how many relationships they have produced over the years?
The site has lots of helpful features to get you on your way to finding the love that you desire. If that's not what you're after, you can also sign up for an account to meet new people and make new friends. Download the app on your phone. Answer the questions about yourself and the qualities you're looking for in a partner, and you're good to go.
Why we like it
You can view profiles for free
There's a good amount of information on other members
Available in different countries with over 20 million members
What we don't like about it
Lots of fake profiles
Haphazard matchmaking process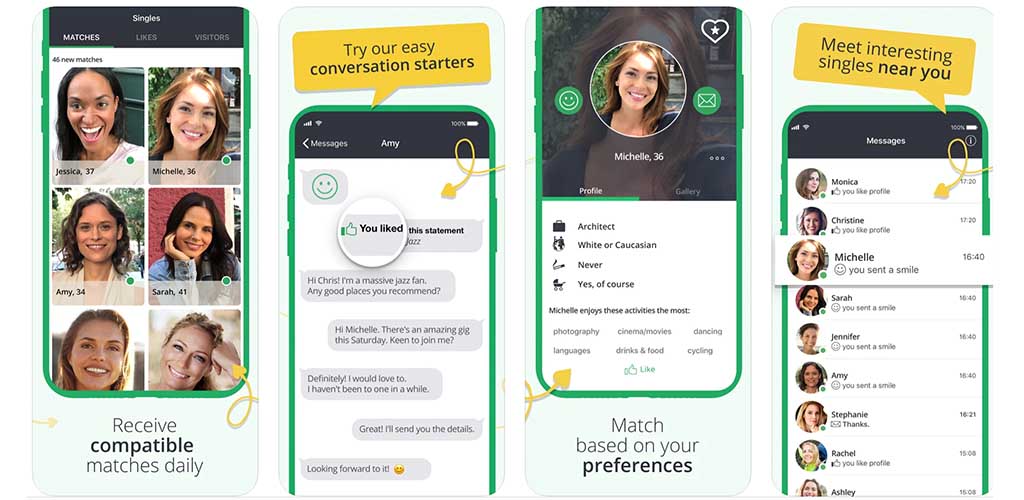 #7 - Sign up on Elite Singles (Android; iOS) to find successful and educated matches
Are you tired of dating apps that promise a lot of things but just don't deliver? Do you just want to find a person you can fall in love with and will love you back? Not because of who you are, what you own or what you have accomplished? Then check out Elite Singles, one of the best dating apps in Albuquerque for successful, driven singles.
It's a dating site for professional singles who are seeking serious relationships. Moreover, it promises quick but high-quality matches. Just answer the personality test honestly to get genuine and compatible matches. Brace yourself for a lengthy personality test, but trust us when we say that the results will give you only your ideal matches. Don't be in a hurry ― devote some time to answer the questions. Highlight your qualities you're most proud of and say hello to your future partner in no time!
Why Elite Singles is working in Albuquerque
Members have above average education
It's for singles looking for long-term relationships
Not a lot of fake profiles
What we don't like about it
No requirements to join and create an account
You can't message users without a subscription
#8 - Wingman (Android; iOS) is one of the best Albuquerque dating apps to try with friends
Do you like playing matchmaker for your single friends? Or do they like grabbing your phone and hijacking your dating app to find you your next date? Sounds like you should give Wingman a shot!
Maybe it's your bad choice of dates or your string of failed relationships. But with your well-meaning friends in control, this dating app can help prevent another disastrous relationship from happening. Your dating strategy rests entirely in the hands of your wingmen or wingwomen. No need to deal with the strange feelings of loneliness when you look through profiles and find no one that you like. Now, all you have to do is wait while your friends review profiles, chat with potential matches and find you the best one.
Why Wingman is one of the best Albuquerque dating apps
Easy to understand and navigate
Unique approach of friends finding dates for friends
Quick registration process
What we don't like about it
The app can be buggy
You can't choose your own matches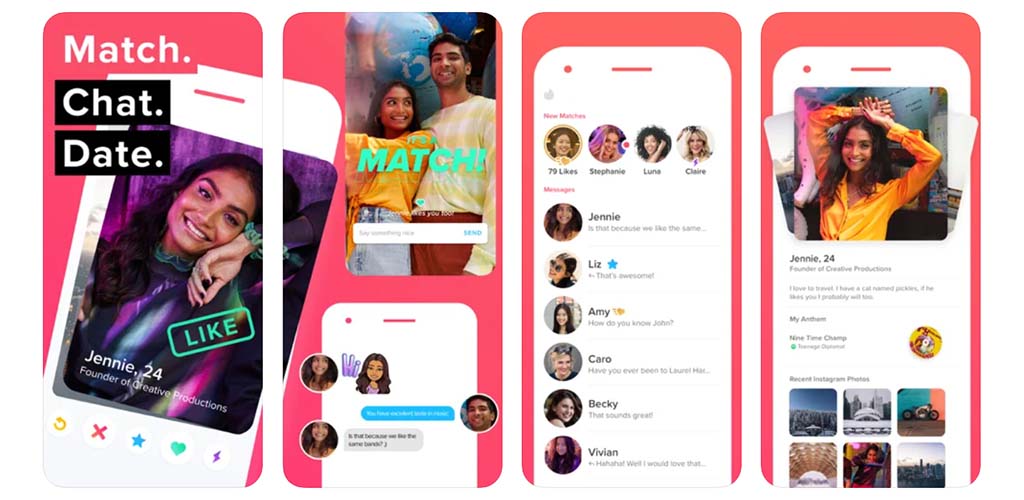 #9 - Time to say goodbye to single life with Tinder (Android; iOS)
Are you single and looking for some romantic adventures? Whether you're looking for something casual or serious, Tinder always has something to offer.
Because of the endless possibilities that Tinder provides, it's become one of the most popular dating apps in the world. To some extent, it has also changed our dating lives. With just a few swipes, you can easily find a date or someone to get naughty with.
Just swipe right if you're interested and left if you're not. If you both swipe right on each other, you can start messaging and getting to know each other. And if things move nicely in your chats, you can arrange to meet up in real life. What happens next will be entirely up to the both of you!
Why Tinder works
Messaging is free
Lots of members that you can match with
Paid subscription unlocks more features
What we don't like about it
Matches rely on physical appearance
Fake profiles can slip through