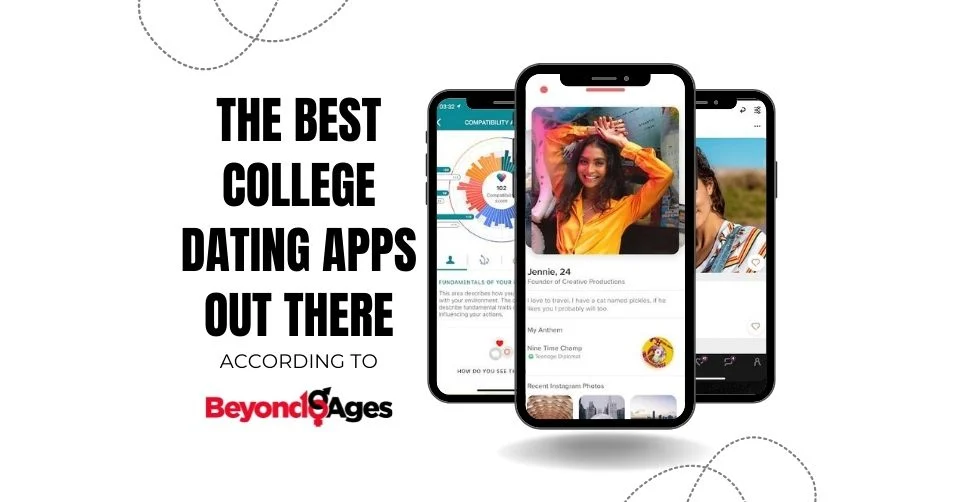 Dating apps have made it even easier to meet a partner in college. The problem is: it's not always simple to know what the best college dating apps are out there. Singles under 25 are highly likely to have used a dating app at some point in their life. And what better time to use it than when you're young, wild and free, partying it out in college?
At BeyondAges, we've reviewed all the major online dating apps and plenty of niche apps, meaning we're in the best position to let you know the best dating apps for college students. So, what do we recommend as the best college dating app?
In this guide, we'll compare our top two favorite dating apps for college students to help you find the best choice for you. Below, you'll discover a detailed comparison between Tinder and eHarmony to help you crown the best college dating app for your needs.
How We Selected the Best College Dating Apps
 Here at BeyondAges, we pride ourselves on putting online dating apps through more intensive testing than any other reviewers in this space.
We put the free and paid versions of various apps through their paces for several months, ensuring we attempt to start conversations with all types of women. All the key variants are kept the same to ensure fair comparison: all photos, bios, demographics and opening lines. Our verdicts are ultimately based on how easy our online dating experts found it to get high-quality women to agree to a date.
For this list, we focused on trying to land dates with women aged 18 – 25 who are in college. We checked out some apps to see if they have a sizeable userbase with this demographic in mind. If any of these apps only had a tiny number of college-aged women, we took the app out of the list.
With that said, read on to discover which ones we deem to be the best college dating apps.
Best College Dating Apps: Tinder vs eHarmony 
We rate Tinder and eHarmony highly if you're in college looking for someone to date. Read on for our summary of which app is likely to work best for you.
Overall

Our team rates each site objectively based on many hours of independent research, the features each site offers, and how it compares with other sites. The ratings are the opinion of our editors and their extensive experience.

7
9.5
Quality of Women

Our opinion of how attractive the typical woman is that uses this site and how easy they are to connect with compared to other sites.

7
9
Popular

How many people are using this site to actually meet people compared to other sites.

8
9
Usability

How easy is this site to use and how quickly can an average person begin meeting people compared to other sites.

10
10
Privacy & Safety

Does this site take proper precautions to safeguard its members, their identity, and their data.

10
10
Effective

Our opinion of how easily an average person will be able to achieve their dating goals with this site compared to other sites.

7
9
Value

Will the time and money spent using this site pay off for an average person based on the opinions and experience of our editors.

8
10
Our Recommendation
Try Tinder if you're looking for casual relationships or hookups
It's widely agreed that college is a time for exploring who you are, what you like and what you don't like. For a lot of people, that includes engaging in casual relationships and hookups. Tinder is certainly an app that facilitates that. There are plenty of people on Tinder looking for these sorts of short-term connections.
An added bonus is the "Tinder University" feature available for students based in the United Kingdom and the United States. This puts your fellow students at the top of the pack whenever you're swiping through potential matches. Tinder University users are also eligible for unique bonuses and events.
The good news for hard-up college students is: the free edition of Tinder provides plenty of value. You'll be limited to 100 "Yes" swipes every 12 hours with this edition. But, if you have a good profile, it should be easy enough for you to arrange plenty of dates without paying Tinder a penny.
With that said, the paid subscriptions are all great for boosting your visibility in the app. They'll also give you access to a list of users who have already swiped "Yes" on you. You can choose from Tinder Plus (cheapest), Tinder Gold or Tinder Platinum (most expensive). Each paid subscription lets you sign up for one month, six months or twelve months at a time. With the longer subscriptions, you'll pay less per month. If you're serious about meeting someone great online, we'd recommend splashing out on the most expensive subscription you can afford.
Try eHarmony if you're looking for long-term relationships
Not everyone is looking for casual flings in college. We get it. If you're the type who's looking for "The One" as soon as possible, eHarmony is for you.
eHarmony (which has a great trial offer here) is completely focused on helping you find your soulmate. Our testing suggests it's certainly one of the best websites for doing this too. We're not surprised it has won awards for having the highest-quality dating pool and being the most trusted dating app.
All of its marketing is centered around "true love", which in itself is likely to scare off anyone looking for easy one-night stands. It also forces you to take a 30-35 minute personality test before you can start messaging other users. That can also help to scare away potential matches who aren't serious about online dating.
If that doesn't put off casual users, the extensive price surely will. eHarmony doesn't let you message people within its free edition, and its paid version is significantly more expensive than Tinder. However, much like a VIP nightclub, this barrier to entry helps to ensure high-quality membership.
eHarmony takes a different approach to Tinder when it comes to matching you with potential partners. Based on your answers to the personality test, it will serve you up a daily handful of the most compatible users near you. It also encourages users to create large detailed profiles, because lifestyle and personality are more important when looking for love, especially compared to when you're hunting for a hookup.
This quality over quantity approach also helps encourage people to hunt for deeper relationships. It also massively increases the odds of your most compatible matches actually spotting and reading your message.
The Other Dating Sites for College Students Worth Considering
Here are some alternatives to Tinder and eHarmony that didn't quite make it into our top two dating apps for introverts.
Bumble
Bumble works in a similar way to Tinder and is quickly becoming somewhat popular in many parts of the world.
Its unique selling point is that women have to message men first. This non-traditional approach to courtship appeals more to younger generations, so it's perhaps no surprise that there are plenty of college students using this app.
Happn
Happn uses GPS signals to match you with users you crossed paths with during your everyday life. It might appear then to be the perfect app to connect you with that hottie on campus you spotted but didn't get the chance to meet.
The main flaw to this plan is that there's no guarantee that hottie is also on Happn. It's not as popular as Tinder or eHarmony.
Adult Friend Finder
Adult Friend Finder makes no qualms about being a hookup app. We found it incredibly quick and easy to find someone to agree to no-strings sex in our tests. If that's what you're looking for, we'd absolutely recommend this website. The one downside for college students is that AFF is mostly populated by older singles. If that's what you're looking for it's probably the easiest way to find something casual.
It's the best hookup option for most guys especially and they have a great free trial.
Hinge
Hinge used to be a dating app where you could meet friends of friends. Want to meet a friend of a friend but he just won't introduce you? She might be on Hinge. Hinge was basically a huge social networking site that helps you find dates among friends of friends.
These days, however, Hinge is geared towards making users create meaningful profiles with as much information as possible that might be dealbreakers: from political leanings, niche interests, hypotheticals, etc. Other users can respond to what's on your profile without matching, and that usually gets the conversation started.
The Most Important Considerations when Choosing a Good Introvert Dating App
Here are five factors to consider when deciding upon the best college dating app for your needs.
How big is the college-aged userbase?
The size of the user base is arguably the make-or-break statistic for any online dating service. If there aren't enough people in your chosen demographic, it won't matter how many cool perks or features are included with the app.
If you're looking to meet a specific demographic of person, you'll need to consider how many people of that demographic are using your chosen app.
We recommended Tinder and eHarmony partly because of their global popularity. Tinder is especially popular among young people – and even has a feature especially for university students in the UK and the U.S.
Are you looking for love or something casual?
Most dating apps choose to place themselves in the middle of the spectrum of romantic intentions. Tinder is widely agreed to be more for hook-ups, while eHarmony is undoubtedly for finding true love. So, you should definitely consider what you're looking for while choosing a dating app.
Who is allowed to message you?
Some dating apps will let users contact anyone who picks their fancy. Others will only allow contact after both parties have agreed to "match". If you don't like the idea of being bombarded with cold messages by people you're not attracted to, Tinder is a good choice for you.
If you want the opportunity to win over a potential partner with a winning first message, you might prefer eHarmony.
Does it have features especially for college students?
Most college students are excited about dating other students, so any feature that makes this easier is usually welcomed. Tinder University was designed to make it easier for students to connect with each other, and that's another reason why we recommended it.
There are no features aimed at students on eHarmony, but its detailed search filters make it easy enough to find singles studying at the same institution as you.
How much will it cost?
Students are stereotypically strapped for cash, so value for money is likely to be incredibly important to them. The free version of Tinder will land you plenty of dates if you have a good profile, and that's one reason why college students flock to it.
eHarmony is one of the more expensive dating websites, but this added cost helps ensure its user base is all serious about finding love.
Frequently Asked Questions About College Dating Apps
Here are some key facts you'll need to know about dating apps for college students.
What are college dating apps?
These are simply dating websites marketed to college students, or at least popular with them. However, few of them will make you prove you're a college student in order to register. As long as you're over 18, you'll usually be allowed to sign up.
How do college dating sites work?
Dating apps for college students don't have a one-size-fits-all way of working. They all work slightly differently. It depends on the app you choose.
Are college dating sites legit?
All of the apps mentioned in this review are legit, for sure. However, keep your eyes out when considering more niche college dating websites. There are some scams out there. Check out our expert reviews before signing up for a niche website.
Are college dating sites safe?
Most dating apps are putting extra focus on user safety because it has become clear that is of the utmost importance among users. It's still down to you to take care not to be fooled by online dating scams though. A good rule of thumb to remember: if it looks or sounds too good to be true, it probably is.
What are the best college dating site alternatives?
For a list of the best alternatives to dating apps for college students, see our list of the best hookup apps and websites. Likewise, if you're looking for a serious relationship, check out our list of the best dating apps out there.