Venturing into the dating scene using the best dating apps and sites in Anchorage is easier said than done. Why? Because contrary to popular belief, not everyone is into online dating. Even if you can find anything you need in just seconds with the help of the internet ―including love, romance and casual flings― there are still singles who want to do dating the old-fashioned way.
But if you want to keep up with the times, you need to roll with the changes. You need to start exploring these apps if you want to meet your soulmate. So don't knock these dating apps until you've tried them!
We understand if you're feeling intimidated by these dating apps and sites. It's totally normal to feel wary about the kind of people you will meet on these platforms. After all, there are so many fake profiles, and you can't trust what you see online until you see them face to face.
But that's why we're here! We've tried out a lot of different dating apps and sites with the help of our relationship and dating experts so you don't have to. Whether you're in Rabbit Creek or South Addition or in the Tudor Area, there's a dating app that's right for you.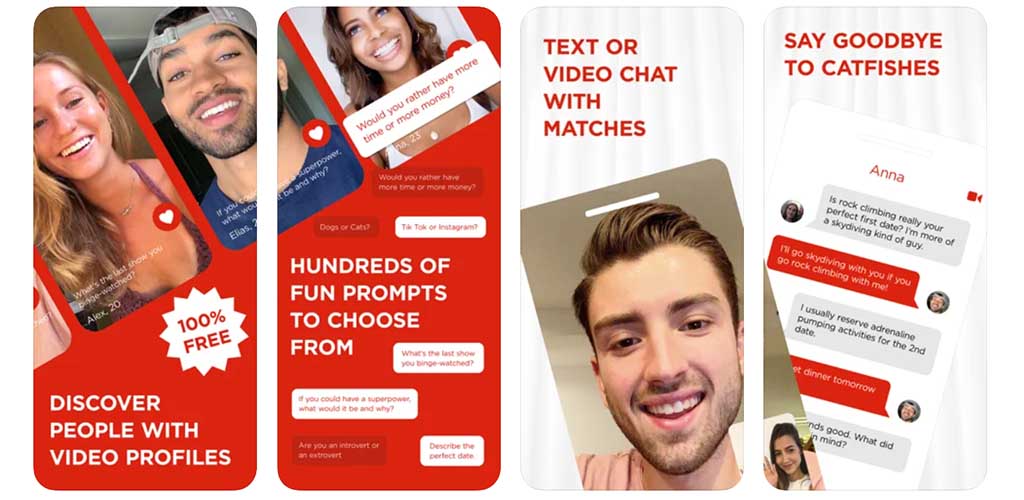 #1 - Curtn is one of the best dating apps in Anchorage if you like video messaging (iOS only)
Curtn is a dating app that works like the ridiculously popular TikTok app. You can skip the exchanges of perfunctory or awkward texts and go to video greetings straight away.
Instead of populating your profile with heavily filtered images that put you in the best light, you can upload short videos instead. This makes potential matches seem more real and gives you a better look at someone in real life without having to meet face to face. Save money on dates because you can weed out people you're not into before setting a date or a meet-up!
Why Curtn is so great
Game changing and innovative with the introduction of video greetings
Better way to see someone's personality and tell right away if you like their aura or feel their vibe
No need to waste time with texts, just answer video prompts and questions
What we don't like about it
Still a small user base/ community
It doesn't let you keep swiping, and you have to wait until the next day for your matches/options to refresh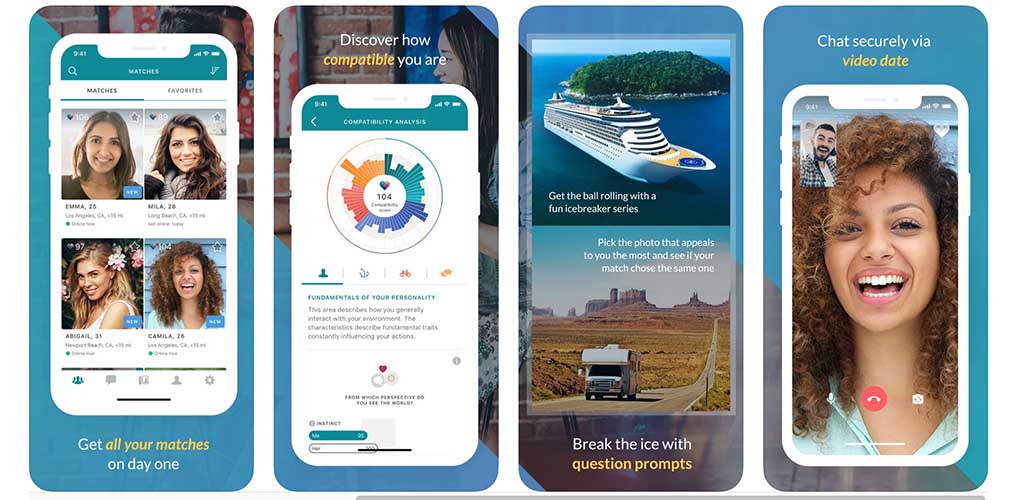 #2 - eHarmony (Android; iOS) is one of the best Anchorage dating apps for long-term relationships
eHarmony is best for men and women who are looking for something that's long-term instead of something casual and short-term. If you want to meet your girl/boyfriend or your future spouse, this is the perfect dating app for you. It's responsible for 75% of all marriages that start online so it's hard to argue with those results!
It's very popular in town and has a big user base, so you can easily find a match even if you're from a small or remote place in Anchorage. Members are thoroughly screened, so there's no need to worry about fake profiles. This site basically removes anyone who is not a good match for you!
To get your best match, you need to answer a very detailed questionnaire about yourself, your goals, work, just to name a few, so make sure you only give honest answers. Check out their trial offer here.

Why eHarmony is one of the best dating apps in Anchorage:
Extremely popular with nearly 40 million members
Incredible success rate for long-term relationships (75% of all marriages that start online start here)
Saves you a lot of time going through profiles one by one ― the site chooses the best matches for you
Really great matching capabilities
What we don't like about it
The sign-up process is lengthy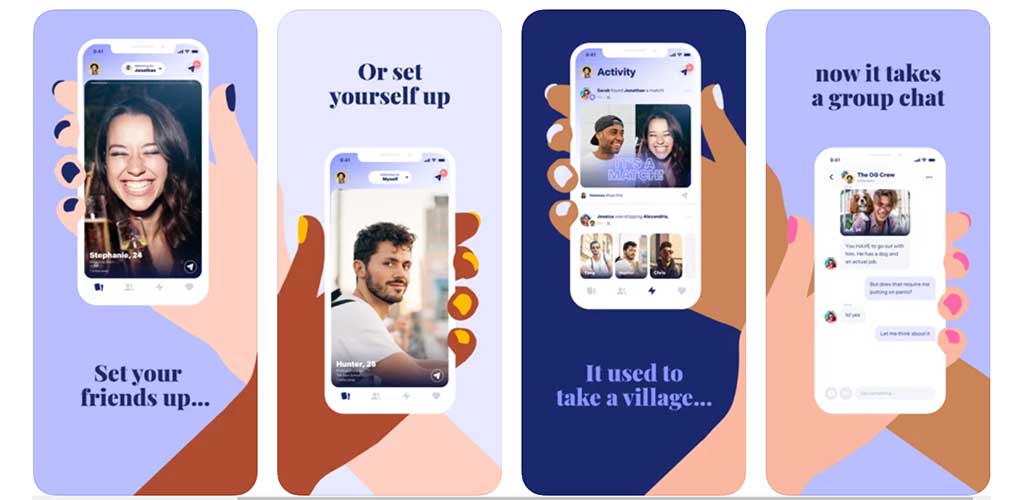 #3 - Ship is for women who trust their friends' tastes in men (Android; iOS)
Ship is the dating app lets your friends weigh in on your matches. Friends do this all the time, right? They like setting up their single friends with other single friends they know. So Ship is a bit like that, only online. Your friends can recommend people whom they think will make a good match for you. This makes online dating more fun and less scary when your friends call the shots as well.
With Ship, you can share all the thrills ―and even the awful bits ― of dating, together. There's even a group video call feature available so you won't feel shy when you talk to a potential date for the very first time. Sometimes relationships are made possible with the help of well-meaning friends!
Why it's among the best Anchorage dating apps
You can sign up as a "dater" or as a "matchmaker"
Friends can build their own "crew" who will make dating decisions on your behalf
Age range of users is between 25 to 34
What we don't like about it
You can only chat with your matches, and you need to like each other's profiles first to be a match
We can't say it's the best dating app in Anchorage because there are limited users

#4 - AFF is the best hookup app in Anchorage
AFF is the best hookup app that we've tried in Anchorage, especially for single guys. No other option has both a ton of singles using it and a complete focus on taking things into the bedroom quickly. Even Tinder is more of a dating app these days.
It has over 50 million users and a lot of them are in and around Anchorage. Unlike normal dating apps, everyone on this app is looking to skip the small talk and get physical. It's a VERY different experience from a typical app but that's exactly why it works so well.
If you've struggled with other hookup apps there is a good chance this will be better. The profiles are more expansive and it's easier to stand out if you don't look like a model. Check out their free trial and see. We haven't seen guys do better anywhere else.
Why AFF is the best dating site in Anchorage
Tons of people using it in Anchorage
Lots of useful features even if you are not actively looking for a casual fling
Women are open-minded and know what the site is about before signing up for an account
Best results for men
What we don't like about it
The design looks very dated and cluttered
Not suitable for work
You Can Try AFF Free!
If you're just looking for more short-term fun you need to
try out AFF's free trial
. We've spent months and months testing out the alternatives (more than 100 other sites) and haven't found anything that gives most guys more options and better results. Give it a shot!
#5 – Down is a decent free dating app for a fling (Android; iOS)
Down is a great free dating app that's decent for casual meet-ups. Basically, you choose which match you'd like to date, which one you'd like to sleep with and which one you'd just skip altogether. It presents you with potential matches in your area, and you decide whether you will swipe up to date or swipe down to hook up. And then when you match, you can start chatting.
A Facebook account is required to verify your age and to filter spam or fake accounts. Also, profile pictures that Down will use will be grabbed from your Instagram or Facebook accounts.
Why Down is great
You can basically do everything the app is intended for even with the free version. If you're happy with seeing just 10 profiles a day, the free app will be enough.
No ads in the free version, very premium feel
One of the best dating apps in Anchorage because it's so secure
What we don't like about it
It can take weeks before you get a match
Not the best app if you want to get a date ASAP or get laid tonight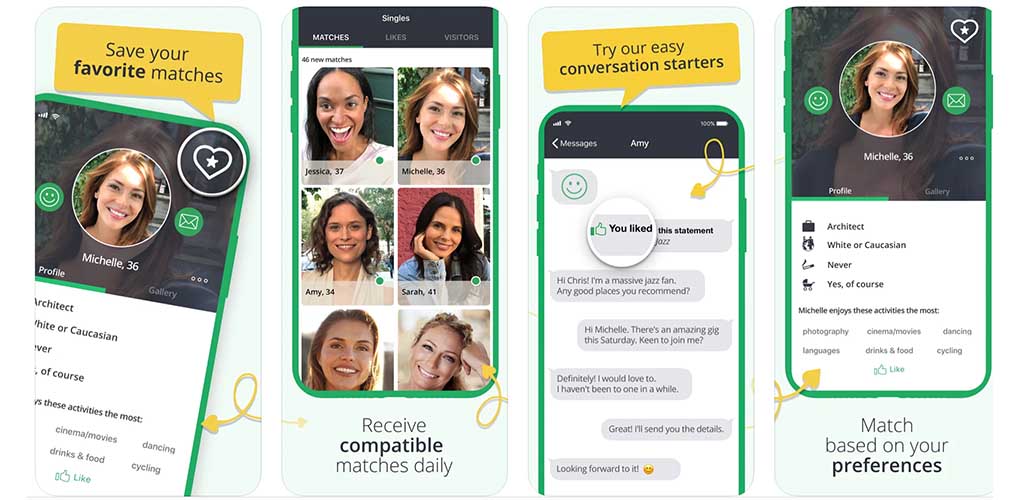 #6 - Educated singles say that Elite Singles is one of the best dating sites in Anchorage (Android; iOS)
Elite Singles is one of the best dating sites in Anchorage for educated singles who are looking for the real thing. Users sign up to this site to find serious and long-term relationships. Over 85% of its users have a college or university degree and are over 30 years old
Find the best partner that you're compatible with who lives the same lifestyle and are looking for the same thing as you. To achieve this, you need to answer a few questions to help finetune your match results.
Why Elite Singles is a great dating site:  
Your answers to their questionnaire match you up with someone who ticks all the boxes
The questionnaire is shorter and more fun and relatable
Quality users translate to quality matches
What we don't like about it
You need to disclose your university or college degree, your income bracket and your job title
No verification of education or employment backgrounds, so anyone can say they're a doctor or an engineer and not get flagged on the app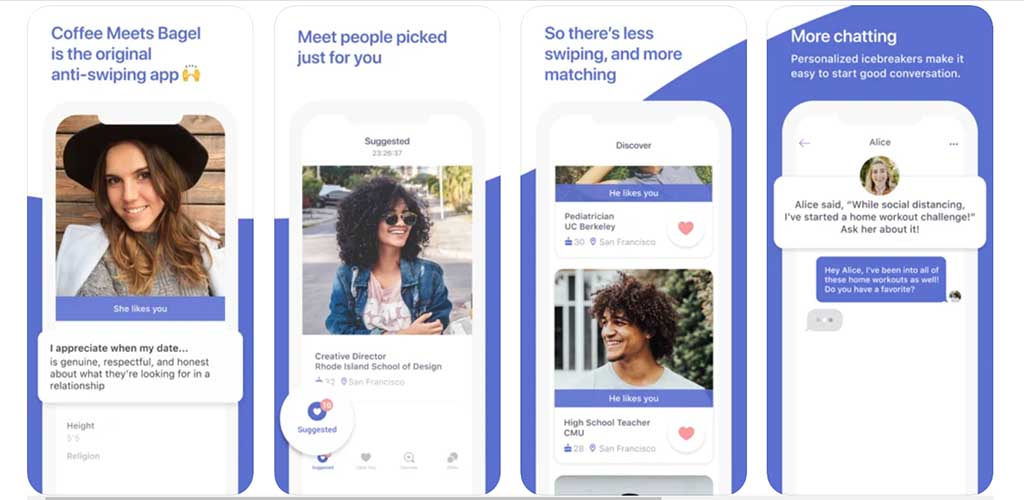 #7 - Coffee Meets Bagel makes lunch dates a breeze (Android; iOS)
Coffee Meets Bagel is for busy young professionals who want to meet new people but don't want to waste time on bad dates or chat with people they have zero chemistry with.
You can "like" or "pass" on suggested profiles that refresh every day at noon. You can screen your matches based on criteria like gender, age, height, ethnicity and religion. Then meet matches in your Suggested or Discover tab and get chatting when you both like each other's profiles.
Why Coffee Meets Bagel works
Up to 21 matches per day for guys
If you sign up with your Facebook profile, you can be matched with friends of your friends, eliminating the fear of fake profiles
Free to use and still enjoy get features
What we don't like about it
Because of its algorithm where it matches you with friends of friends, meeting up without your common friend's knowledge can be awkward
Profiles shared are not comprehensive, so you will still need to do the work of getting to know your matches to see if you're right for each other