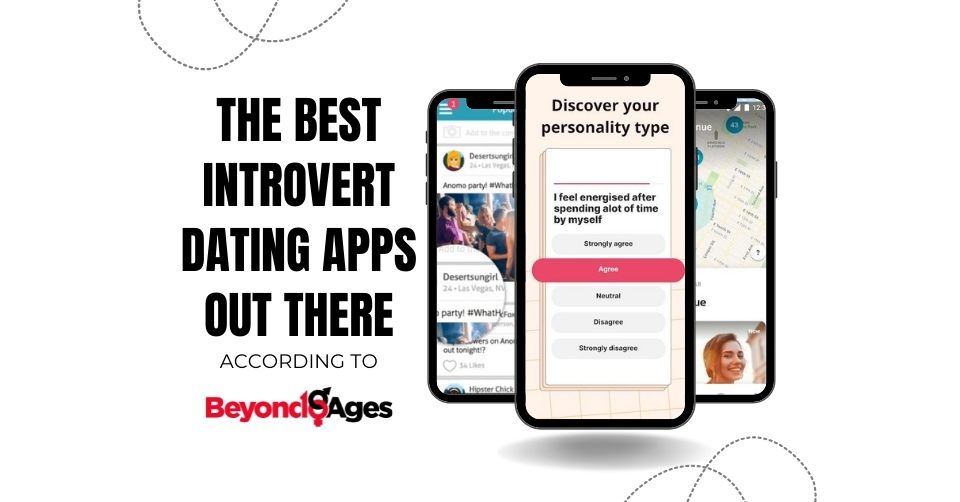 Dating apps can be a godsend for single introverts who want to meet a partner without the stress of having to mingle in social events. The problem is: it's not easy to know what are the best dating apps for introverts.
We've reviewed dozens of online dating apps over the years, and haven't found any specifically marketed specifically to introverts that were worth using.
So, what do we recommend as far as dating apps for introverts?
Well, as it happens, two of our most highest-ranked mainstream online dating services have a range of features that introverts are likely to appreciate.
But first, let's talk about our criteria for choosing the dating apps for introverts that made it to our list.
How We Selected the Best Introvert Dating Sites
At BeyondAges, we put online dating services through a more intensive testing process than any other reviewers. We test both the free and the paid versions ourselves, making sure we send messages to 50 women of all demographics.
We use the same photos, same openers and same demographics to ensure fair comparisons at all times. Our online dating experts then do all they can to convince these women to meet them for a date. The results of our reviews are based on how easy it is to land a date with a quality woman on the apps that we test. After all, we know that's what men are ultimately interested in.
With that in mind, we set out to find which apps have the features that will likely be palatable to introverts. So no apps where you're bombarded with messages, and in contrast, also no apps where you need to master the cold approach.
So, which app wins in our battle of the best dating apps for introverts?
What Is The Best Introvert Dating Side? Bumble vs eHarmony 
Bumble and eHarmony are both incredibly popular dating websites with gigantic user bases in most countries. However, that's where the similarities end.
These dating apps take radically different approaches to matching their users up with potential partners, their pricing structures and the audiences they market their services to.
While they're both undoubtedly good dating apps for introverts, it's highly likely you're going to enjoy one far more than the other, based on your personal preferences.
Here's how our top pics fare in terms of our usual dating site criteria:
Overall

Our team rates each site objectively based on many hours of independent research, the features each site offers, and how it compares with other sites. The ratings are the opinion of our editors and their extensive experience.

8
9.5
Quality of Women

Our opinion of how attractive the typical woman is that uses this site and how easy they are to connect with compared to other sites.

8
9
Popular

How many people are using this site to actually meet people compared to other sites.

8
9
Usability

How easy is this site to use and how quickly can an average person begin meeting people compared to other sites.

10
10
Privacy & Safety

Does this site take proper precautions to safeguard its members, their identity, and their data.

10
10
Effective

Our opinion of how easily an average person will be able to achieve their dating goals with this site compared to other sites.

8
9
Value

Will the time and money spent using this site pay off for an average person based on the opinions and experience of our editors.

9
10
Our Recommendation
Try Bumble if you want her to make the first move (and good looking)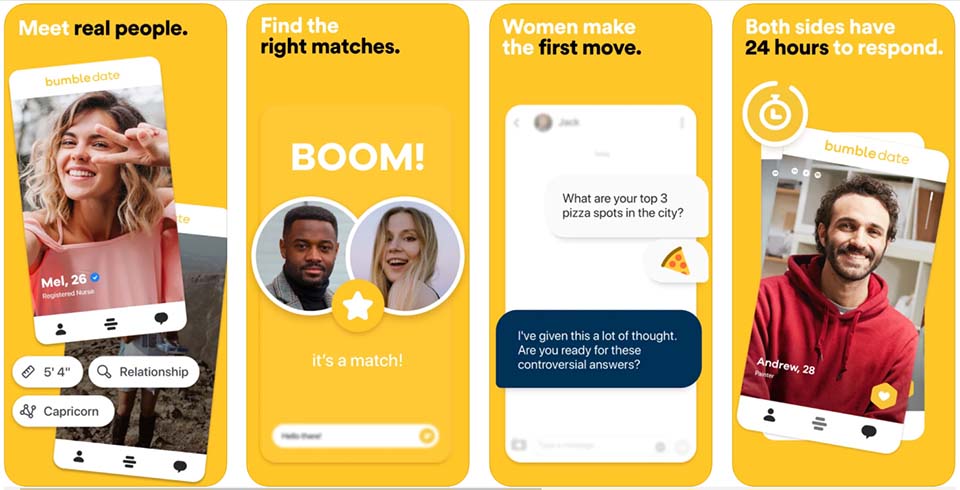 Bumble is one of the most popular dating apps for women, bar none. It's basically like Tinder where you swipe right on someone if you like them and you swipe left if you're not into them. On top of that, it's completely free. However, there is one feature that makes Bumble stand out: women message first.
On other dating apps where you swipe on users, either party can send the first message. With Bumble, women need to send that initial message to start the conversation. Otherwise, you'll automatically unmatch after 24 hours.
This is perfect for introverted guys who don't know how to send the first message to women on dating apps. You get to sit back and wait for her to start the conversation. Of course, the onus is on you to keep the conversation going. But at least you won't have to feel the anxiety of wondering if your first message is too boring, too basic, too out there or too forward.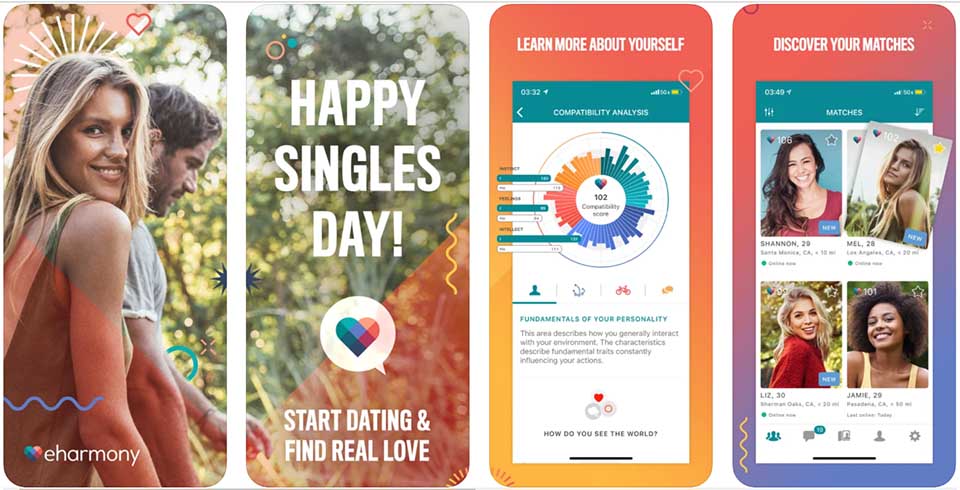 Every aspect of eHarmony's marketing is centered around finding your soulmate. There's plenty of data to suggest it's the best website for doing this too. The consistency of its love-centred branding means you're only likely to find people who are serious about finding a partner on eHarmony.
That's great news if you're also looking for a committed relationship. Indeed, it's common for introverts to prefer a special connection with one person rather than playing the field.
The price might be a stumbling block for some though. After all, it's not possible to send messages on the free edition of eHarmony, and its paid subscriptions are significantly more expensive than Bumble.
However, this higher price point does tend to filter out users who aren't serious about finding love on the platform.
The most unique selling point of eHarmony is its lengthy personality test. This typically takes over 30 minutes to complete, but the extensive data is used to help the eHarmony algorithm find your perfect match.
It also allows you to create a detailed dating profile. This is something that introverts may particularly enjoy, as they tend to like digging deeper into the personalities of the people they hang out with.
Other Dating Sites for Introverts Worth Considering
Here are some alternatives to Bumble and eHarmony, which didn't quite make our top 2 dating apps for introverts.
Anomo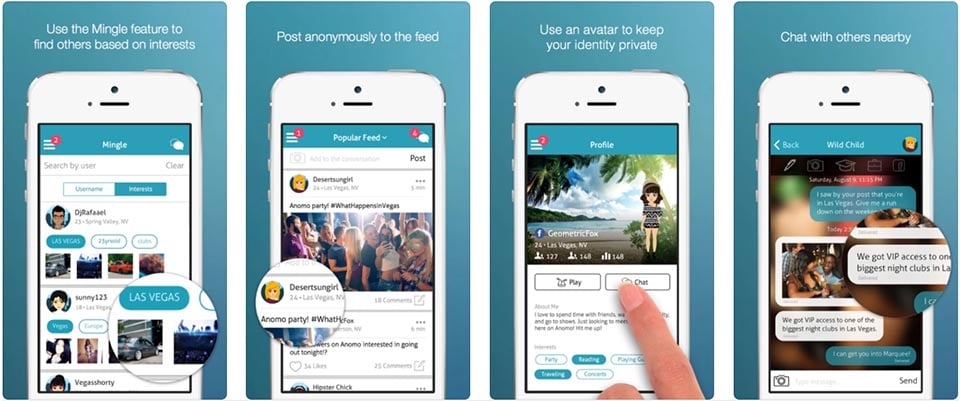 Anomo markets itself shamelessly as a dating app for introverts. Its unique selling point is that your photos and bios are locked at first. You can then choose to reveal them to another user once you get to know them better.
Even if you like this idea, you're unlikely to be impressed by Anomo, as its user base is far too small in most parts of the world.
So Syncd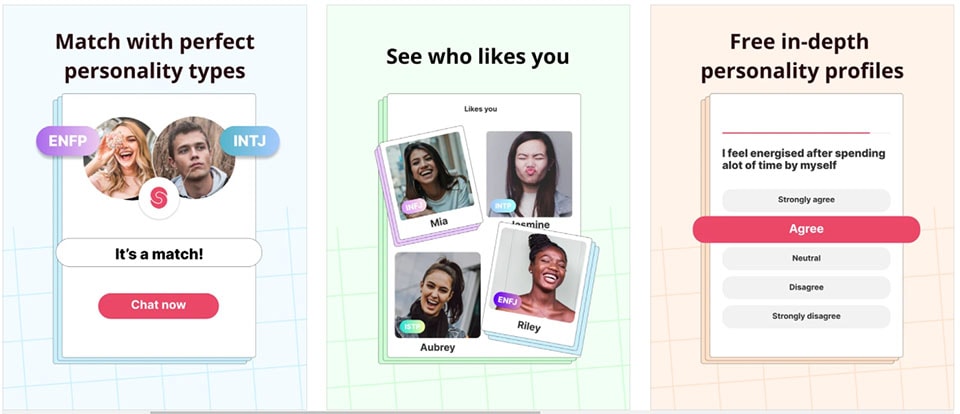 Similar to eHarmony, So Syncd suggests potential matches to its users based on data about their personalities. Apparently, around 70% of its user base are introverts too.
Unlike eHarmony, however, its user base is too small for you to have a good chance of finding someone perfect for you.
Happn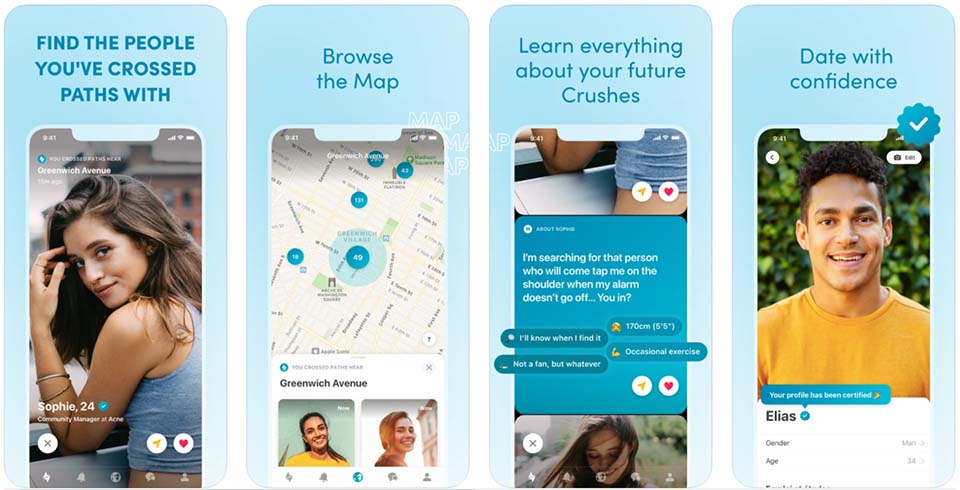 Happn's gimmick is that it matches you with users you crossed paths with in real life. It would be seemingly perfect for the introvert who was too shy to introduce themselves to the attractive person they spotted in the mall or at the cafe. But it would be downright useless if you never leave your house.
The problem is: it's increasingly unlikely that this mystery babe or hunk will also be a Happn user. While the app was somewhat busy in the years following its launch, its popularity has dwindled in recent years.
Important Considerations when Choosing a Good Introvert Dating App
By definition, introverts find it exhausting to socialize in the real world. Online dating allows them to avoid that by messaging potential love interests using their phone or computer from the comfort of their own home.
The following five aspects are what introverts should consider most when choosing the best dating app for their needs.
How big is the user base?
If a dating app's user base is too small in your home city, you're going to really struggle to find a suitable partner. At that point, it doesn't matter how many clever features the app has. That's why we recommend introverts try Bumble or eHarmony – two of the planet's most popular apps – rather than niche apps designed specifically for their personality type.
Who is allowed to message you?
Dating apps will either:
Make you swipe "Yes" or "No" on users one-at-a-time, and only let you message those who "match" with you;
Select and present you a limited number of people to message per day;
Let you search for specific types of users and message as many of them as you want.
Bumble uses the first option, while eHarmony uses the second. Introverts – especially of the beautiful female variety – might prefer apps that use one of these first two options, as this will prevent them from being overwhelmed with messages.
Bear in mind that – while the third option allows you to fish with a bigger net – it also limits the chances of the most attractive users actually reading your message, because these people are bombarded with attention on apps like this.
How does the app select your matches?
How sophisticated is the algorithm when it comes to suggesting compatible partners to you?
eHarmony asks you a lot of personal questions when you sign up – but this allows it to create a matching algorithm that has a reputation for being the most intelligent on the web.
Meanwhile, other apps with shorter signing-up processes would appear to be far more random when it comes to who they choose to match you up with.
How much do users write about themselves?
While most dating apps will allow people to write as much about themselves as they wish, others go the extra mile to encourage their users to include more information.
eHarmony has a 30-minute personality test and will use this to populate part of a user's bio. Other apps have prompts that encourage users to reveal more about themselves.
This might be particularly important to introverts, who typically enjoy diving into the depths of other people's personalities.
How much will it cost?
This isn't just an introvert thing. Everyone wants to get value for money from the things they buy. As such, you'll want to consider the cost of an online dating monthly subscription.
Most apps have more expensive pricing tiers for those who want their profile to have more reach. You're also likely to get a discount if you pay for several months in advance.
By reading expert reviews of these dating apps, you should be able to work out what pricing tier is likely to provide the best value for you.
Frequently Asked Questions About Introvert Dating Apps
Here are some key facts you'll need to know about online dating for introverts.
What are introvert dating sites?
These are dating websites marketed to introverts (i.e. people who prefer more reflective, in-depth connections as opposed to shallow, frequent interactions). You won't have to prove you're an introvert though. As long as you're an adult, you'll be allowed to create an account.
How do introvert dating sites work?
Dating apps for introverts don't work any differently from traditional dating websites. They're just marketed differently. Generally, dating apps for introverts limit the number of messages users receive from random strangers. This helps them focus on the few potential matches they encounter.
Are introvert dating sites legit?
There are some legitimate introvert dating websites out there. However, it's worth mentioning that niche dating websites are more likely to be scams. Check out expert reviews of your chosen dating website before signing up.
Are introvert dating sites safe?
Most introvert dating websites are safe, although there are a few scam websites out there. Read reviews of your chosen website before signing up, and keep your wits about you when speaking with others.
What are the best introvert dating site alternatives?
For a list of the best alternatives to dating apps for introverts, see our list of the best hookup apps and websites if you prefer casual, short-term relationships. However, if you're looking for a serious romantic relationship, check out our rundown of the best dating apps and sites.