Will the best dating apps and sites in Anaheim work for singles looking for their happily ever after? In a city with over 336,000 people, it's still challenging to find that one person you can fall in love with. As it turns out, you need to carry around that glass slipper all the time and slip it on the next woman you will meet, hoping that it will finally fit.
Hanging out at popular Anaheim spots like Parkestry, The Fifth and 1901 can put you right under her radar. But how can you truly make a connection and let love happen? How can you tell if she's single and not just having a night out with friends? Most importantly, how can you tell if she's the right one for you?
When it comes to dating, guesswork will get you nowhere. If you want to be single no more, you need to take extra steps to meet single ladies and catch their attention. Hanging out every night at singles bars and pubs can only get you as far as brief conversations and social media handles.
But if you truly want to know if someone is a potential match or not, you've got to trust matching algorithms! Check out the apps and sites we've included in this list.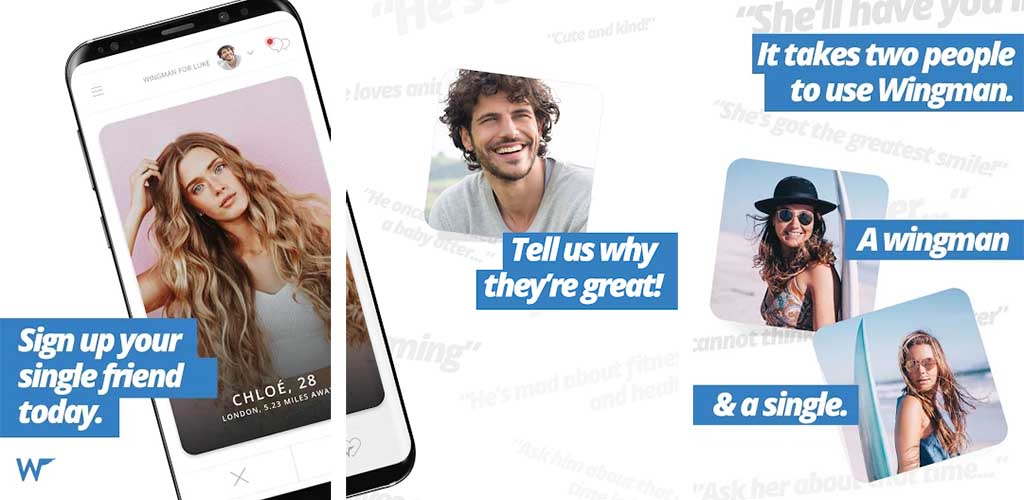 #1 - One of the best dating apps in Anaheim for singles and their friends is Wingman (Android; iOS)
Not much of a fan of dating apps? Perhaps you have some well-meaning friends and family members who'd gladly call the shots when it comes to your romantic life. Try one of the best dating apps in Anaheim called Wingman to help you find The One!
Dating is truly anxiety-inducing. There are so many rules to the game, and the rules keep changing. This is why it can be beneficial to have your friends or close family members on your team. Not only does it ease the pressures of dating, but finding that special person can be a lot more fun if your friends are also invested.
Just like its name, your chosen wingman or wingwoman will do the brunt of the work for you and find you the best match. They will sift through the profiles so you won't have to. When they find what they think is a compatible match, they can initiate contact. Now that's a load of pressure off your shoulders!
Why we love it
Well-designed app
Free to use
Simple and unique sign-up process (your wingman has to sign up for you)
What we don't like about it
The app can be quite buggy
Limited user base currently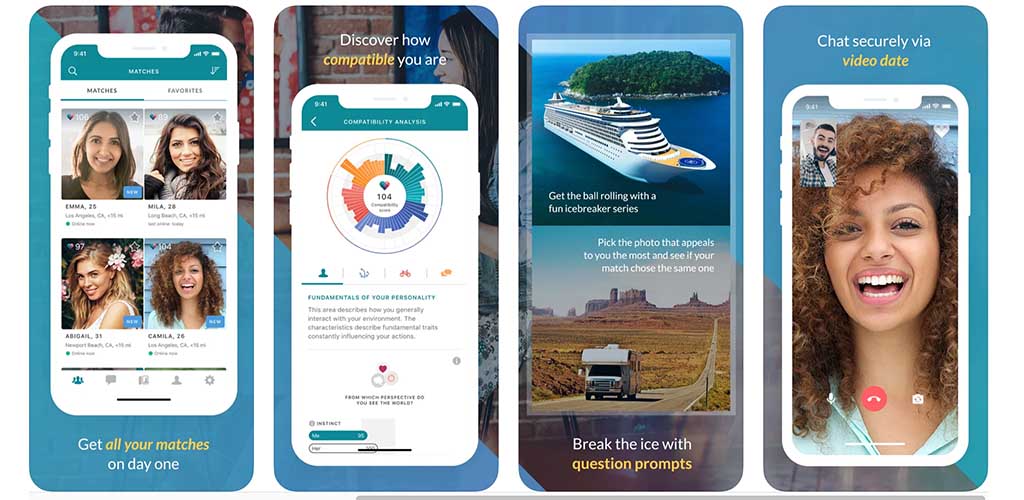 #2 - eHarmony (Android; iOS) can't be beaten for long-term relationships
eHarmony is extremely popular here and has an amazing track record of helping Anaheim locals find long-term partners by using matching algorithms. This app does the best job of matching you up with compatible potential mates that we've seen.
You don't have to scroll for hours. The app does all of the tough work for you. Of course, you might not make a perfect connection outside of the algorithms. Usually, it works like magic. The toughest part is answering all of the questions. It's important because this is how they match you with other single people. You can build chemistry before you even meet.
If you're serious about finding long-term partners this is the site for you.

Why eHarmony is one of the best dating sites in Anaheim
The best success rate out there for long-term relationships
70% of users find their future spouse within a year
Makes it pretty easy to form connections
What we don't like about it
It definately takes more time than most to get started
Not super popular with those 18-22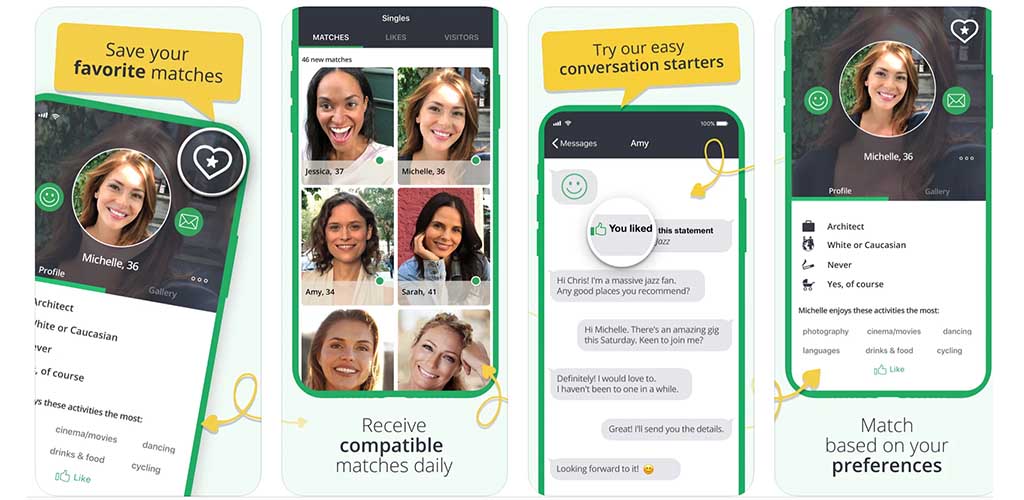 #3 - If you're looking for quality matches, check out Elite Singles (Android; iOS)
Are you looking for a dating app that doesn't just require a good-looking selfie? Check out Elite Singles. You'll be impressed by its wide range of questions that will get you familiar with your own personality traits. This means that you can also get a detailed user profile on people you will meet on the site.
Meet professional and successful singles, and get ready to answer questions about yourself, your job, your family and many others. They're not just your basic yes or no questions. Unlike other dating apps, Elite Singles has a thorough matchmaking process that reveals a lot about your compatibility with other members.
Setting up an account is also easy and free. If you wish to unlock more features, you can also opt for a paid subscription.
Why it's one of the best Anaheim dating apps
In-depth personality test
Powerful matching algorithms
Efficient and easy to use
What we don't like about it
You need a paid subscription to view photos or read messages
Only a few matches at one go

#4 - AFF is the easiest way to find a fling
AFF should be your first choice when you're not looking for a relationship but still want some fun in the bedroom. We've tried a lot of different apps for this (most are awful) and only a couple have proven to work over and over. Tinder is great if you're under 25 but once you get beyond that AFF has shown the best results out of any dating site in Anaheim we've tried, especially for guys.
One of the things we've really liked about this app is that they do a really good job of helping you find EXACTLY what you're looking for. Everyone on this site is looking for the same thing so you can save a LOT of time that you would waste on other sites. If you're 25+ and want to take someone home this is your app.
Why you should try AFF
They have a massive number of users on their app (over 50 million)
We've seen guys have the best success using it, especially those who aren't super good looking and didn't do well on Tinder
It's very straightforward and easy to use
What we don't like about it
Many users can only access via web app
The app is a little dated and not as polished as some others
Sometimes people are a little TOO upfront with what they want
You Can Try AFF Free!
If you're just looking for a fling or more short-term fun you need to
try out AFF's free trial
. We've spent months and months testing out the alternatives (more than 100 other sites) and haven't found anything that gives most guys more options and better results. Give it a shot!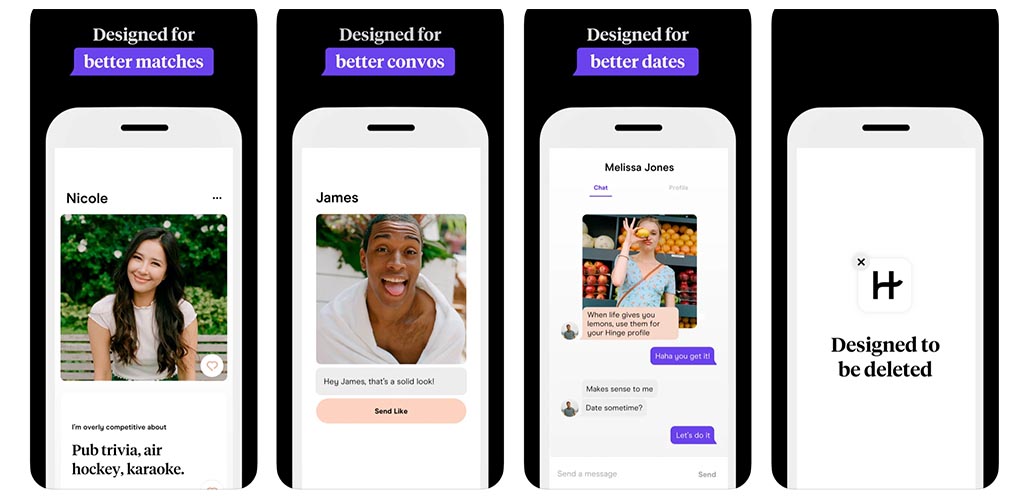 #5 - Hinge (Android; iOS) is one of the best Anaheim dating apps for singles looking for the real thing
Tired of flings and ready to say goodbye to booty calls? If you want a serious relationship and fall in love for real, one of the best Anaheim dating apps that you should try is Hinge. It's a very straightforward and no-nonsense app where you can find potential matches.
The great thing about Hinge is that even on a free account, you can like as many as 10 profiles per day. When you match with someone, you can use the feature called "Date From Home" to have a voice or video chat. And don't worry about running out of things to talk about. Hinge has conversation prompts that you can use to get the conversation going.
Why Hinge is one of the best dating apps in Anaheim
Easy to start a conversation
Users are relationship-oriented
Matches and conversations don't expire
What we don't like about it
Interaction is limited to daily suggested matches on free accounts
You need a paid subscription for unlimited browsing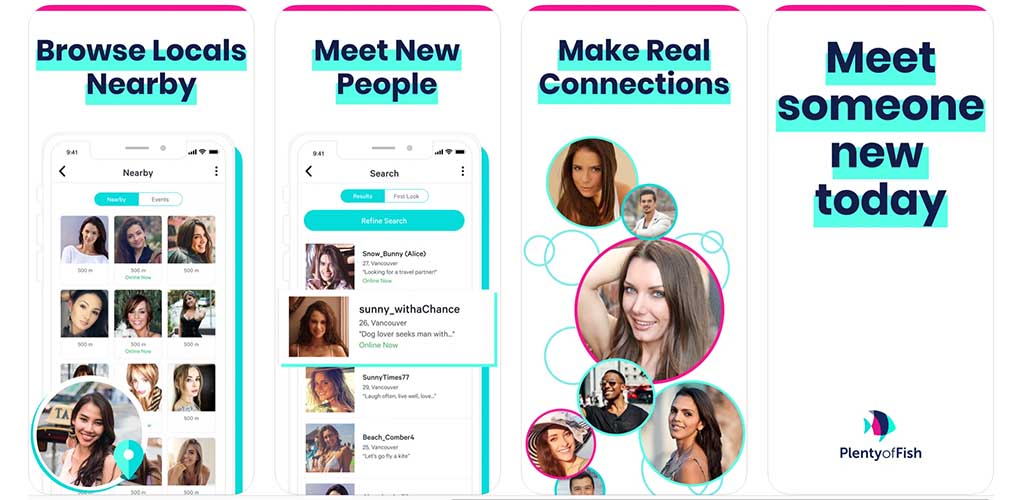 #6 - One of the best dating sites in Anaheim for quality matches is Plenty of Fish (Android; iOS)
You know you're ready for love, and you know what you want out of a relationship. Plenty of Fish is here for you. When you sign up for an account, you need to be clear about what type of relationship you want to have because it's what the site will give you. Whether you want to browse available profiles or search for a specific one, you can do so and speed up the matchmaking process. It's free to search and message other members after all.
But if you want an upgrade, you'll find that it's cheaper compared to other paid plans of other dating apps and sites. Still, if you just want to try online dating and see what options you have, the free account can still land you some pretty great matches!
Why it's such a great site
Well-known around the world
Large dating pool
Basic features don't require a paid subscription
What we don't like about it
Lots of fake profiles
Competition can be fierce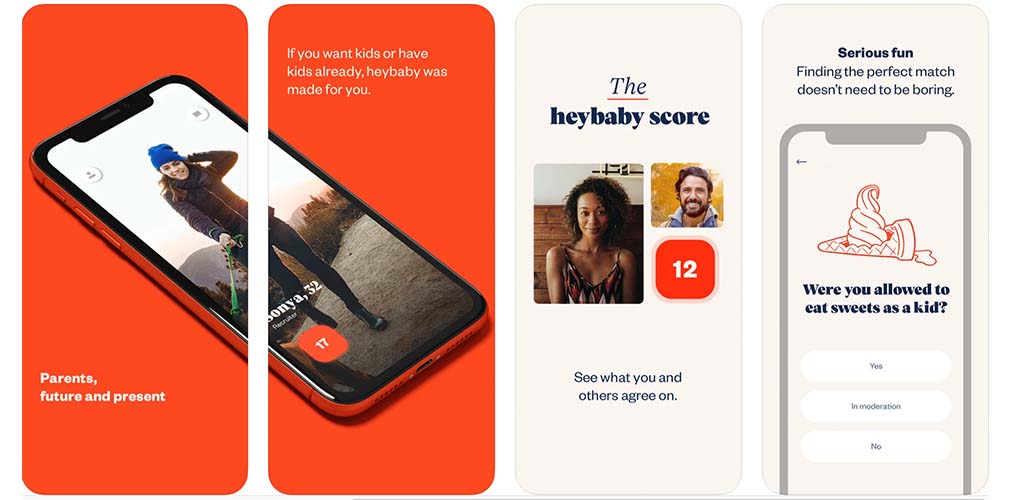 #7 - HeyBaby (iOS only) is for family-minded singles
HeyBaby makes it clear that it's a dating app for people who want kids or who already have kids. This puts everybody who will sign up for an account on the same page. In short, it's not for flings or one-night stands. Singles on this app are either parents or want to be parents in the future. It works to help you find great matches and potentially lasting relationships. It also removes the awkwardness of talking about whether you have kids or want kids on first dates.
HeyBaby weeds out singles who are only playing around and just want something casual so that you won't waste time and energy on them. How many times have you gone out with people only to find out that children are not a part of their plans? This dating app understands the struggles of dating with kids, so HeyBaby takes the load off your shoulders so you can easily find your match!
Why HeyBaby works
Removes the awkwardness of talking about kids
Designed to find potential matches for potential parents
Unique, fun and friendly community
What we don't like about it
Not a lot of users
Only available on iOS currently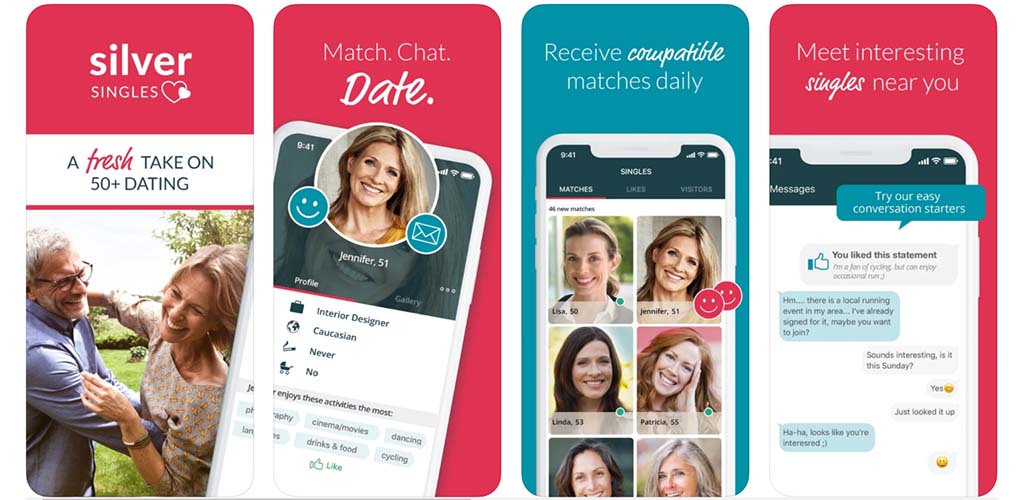 #8 - Connections are beautiful and genuine on SilverSingles (Android; iOS)
Who says you can't find love in your golden years? With SilverSingles, singles who are over 50 years old have the opportunity to find love and companionship in a safe and friendly environment. It's not big and flashy like other dating sites that you see. But it's serious about its promise to help you find the right match.
Aside from an in-depth personality test, SilverSingles also pairs you up with other singles in the same location. What's the point of finding a match when they're a hundred miles away, right? Finding you a compatible match in the same city is the goal of this dating site. Whether you're widowed, divorced or simply single by choice, you can still find love in this period of your life. If you're over 50, this is definitely one of the best dating sites in Anaheim you should try.
What we like about it
Straightforward sign-up process
Comprehensive personality test
Adjustable search filters
What we don't like about it
Instant messaging is available for paid subscription
You can't view profile pictures on free accounts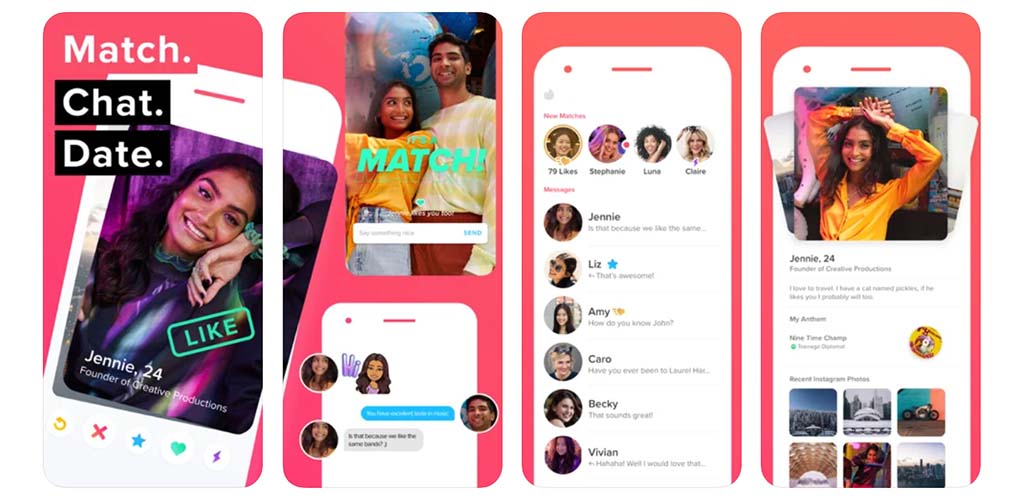 #9 - Tinder (Android; iOS) will give you what you need fast
Tinder is such a popular dating app because it makes meeting new people so quick and easy. You only need to download the app, register with your Facebook account or phone number and start swiping your way to a match.
This app is free to download, and it has been downloaded over 340 million times! Just imagine the number of single people you can meet on the app. And getting a match is quite easy too. It's just a matter of setting up an appealing profile until someone swipes right on you. Tinder is one of the most intuitive and downloaded dating apps, and for good reason!
Why we love it
Easily one of the best dating apps in Anaheim for the 20s and early 30s crowd
Free to download
Not a lot of personal information required
Very easy to use and navigate
What we don't like about it
No way to verify relationship status
Not everyone includes a bio on their profiles
If you are looking for more great guides to finding the right dating apps check these out: