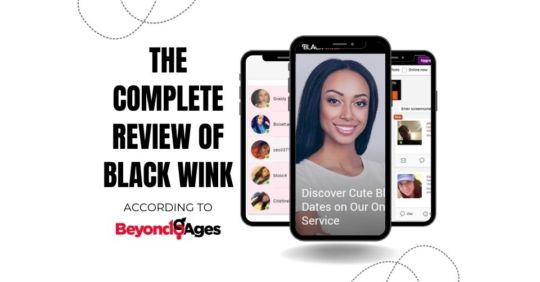 In our Black Wink review, we find a dating site that markets itself as the place "Where Ebony Dates are Fixed Online". The stylish black and pink logo suggests a refined but seductive experience. The woman on the front page wears a modest black dress and stares out from the screen with longing eyes. From the outside, Black Wink almost looks like any other dating site. Inside things get a little more interesting.
This site is a great example of why it's so important to do your research when finding a new dating site or app to try. There are a lot of options out there but few truly GOOD options. We spend a lot of time trying out different sites so you don't have to.
How we reviewed BlackWink.com
We put a lot of time into our reviews because we know how tough it can be to tell if a site is worth using. That's why
we spend many weeks using both the free and paid version of the site in order to find it's value
. If you read a review that doesn't do this think twice.
During the time we spent using BlackWink we send out many, many messages to women of all kinds in order to see how guys of all kinds will do. We have had great success using other high-quality sites and apps so we know what works.
We even go as far as to set up dates and hookups, if possible, to see how active the women are on the site. After all of this, we take our finding and compare them to what we've experienced elsewhere to put together this review.
The things we do for you guys, huh?
As part of our effort to regularly review new dating sites to update our compilation review of the most effective hookup sites to meet actually meet someone we're hoping to find some good news.
So, let's get into the review!
This is What We Found in Our BlackWink Review
It doesn't take long to realize that Blackwink.com isn't a very sophisticated website. First, let's look at a quick comparison between BlackWink.com and the best site out there fight now for finding a hookup for most guys, especially when you're looking for black women, AFF (which has a great free trial). It's always useful to have a good comparison point when talking about what a site does well and where it really struggles.
Overall

Our team rates each site objectively based on many hours of independent research, the features each site offers, and how it compares with other sites. The ratings are the opinion of our editors and their extensive experience.

1
9.5
Quality of Women

Our opinion of how attractive the typical woman is that uses this site and how easy they are to connect with compared to other sites.

2
9
Popular

How many people are using this site to actually meet people compared to other sites.

2
10
Usability

How easy is this site to use and how quickly can an average person begin meeting people compared to other sites.

10
9
Privacy & Safety

Does this site take proper precautions to safeguard its members, their identity, and their data.

1
9
Effective

Our opinion of how easily an average person will be able to achieve their dating goals with this site compared to other sites.

1
10
Value

Will the time and money spent using this site pay off for an average person based on the opinions and experience of our editors.

1
10
Our Recommendation
On the inside, the site is more like Las Vegas than Beverly Hills. It's full of bright lights, annoying sounds, and beautiful (but very fake) women. Everywhere you look someone is trying to swindle you out of your money. I can almost smell the moldy old casino carpet as I browse through the list of 'frisky stunners'. That's what the website calls it's members. The site tells you to "search for your perfect frisky partner and don't forget that the more stunners you date, the more pleasurable your evenings will be."
I don't know about you, but getting ripped off is not my idea of a pleasurable evening. There were a few key problems that made us run away fast for a legit option like AFF:
There are so many bots and fake profiles you won't believe it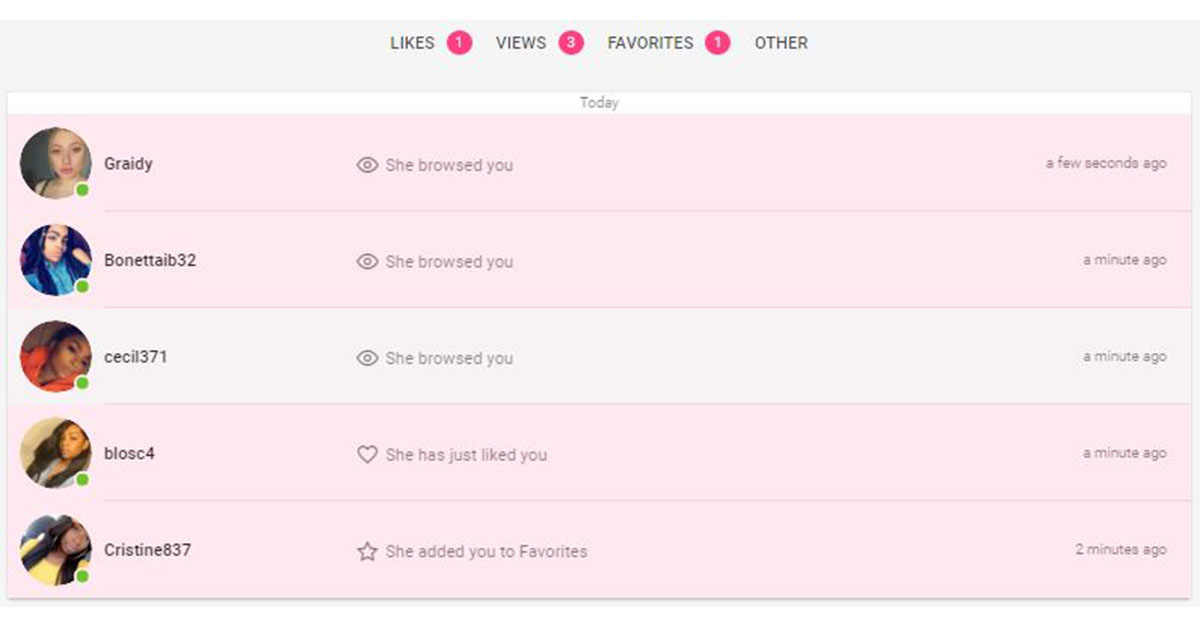 The image above shows the "activity" we saw on our COMPLETELY BLANK profile over a two minute period. That's right, supposedly five pretty attractive women browsed, favorited, or liked our profile that had no photos and no description.
Sounds reasonable right?
This site is obviously full of bots and other automated profiles that try to make it seem like a lot of hot women are using it. Super sketchy!
You can't believe any of the messages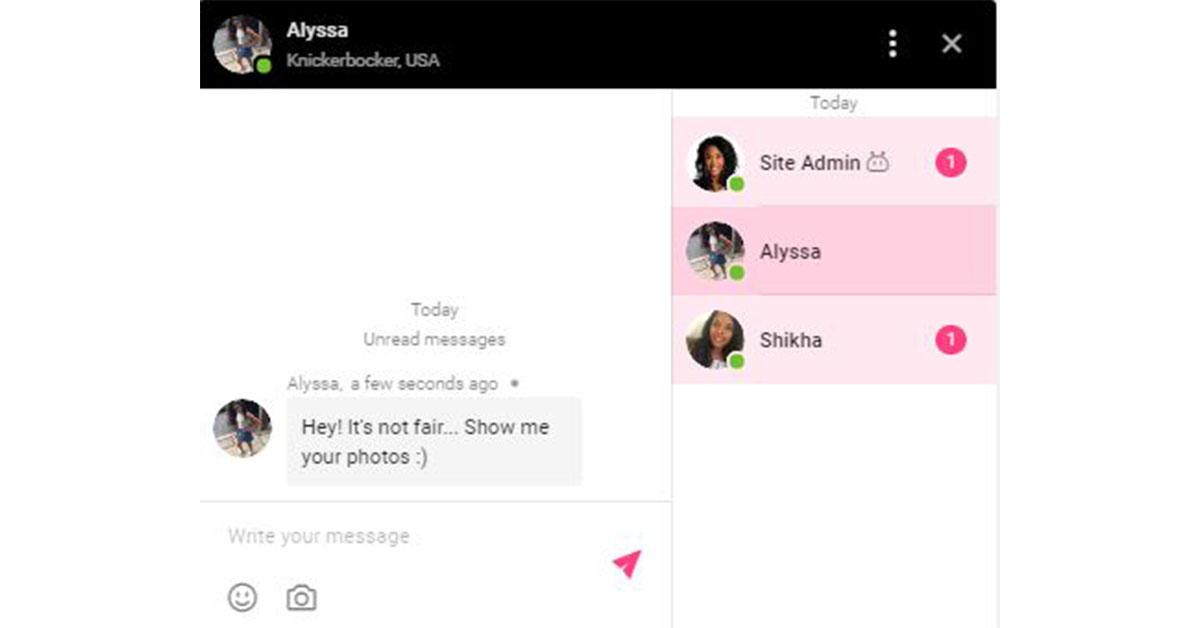 Within a few minutes of creating your blank profile you start getting chat requests from "women". It becomes pretty obvious pretty fast that these are not real messages from real women.
Real attractive women don't message blank profiles asking to see pictures!
This is really the last straw for a site like this. If you can't trust that the members are real and you can't trust that the messages are real why would you bother using it?
Do yourself a favor and check out a legit option like AFF if you actually want to see some results.
The first hint is that they are, quite simply, too eager for your business. Sure, any good company will try to lure in new customers, but only a sleazy one will send you five messages within twenty minutes, which is exactly what happened to me when I was doing research for this Black Wink review.
Making a profile was astoundingly simple. It only took me thirty seconds to create and already I was browsing through hundreds of 'local' 'women'. That's when the noises started. Beep! Ping! Every minute or so some small alarm would go off, or a pop-up window would appear to declare that I had a new message.
Never trust a dating site that gives you so much love so quickly. The honeymoon, I promise you, will not last.
The Honeymoon Is Over For Black Wink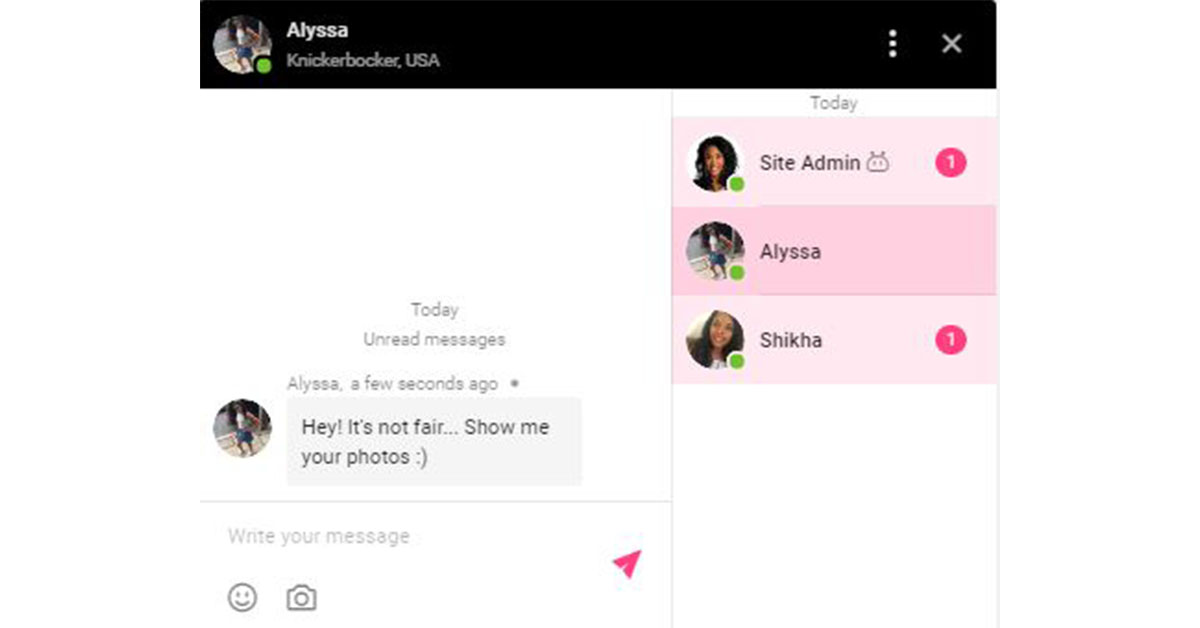 After a few minutes of browsing, I decided to check in on all of those noisy notifications I had been receiving. I had multiple chat requests, all of which were from screen names like Elie236 and Mercie414. Their pictures looked legit enough, so I clicked on one of the messages to read it. That's when I got redirected to (you guessed it) a page asking me to upgrade my account. That's right, you can't even read the messages without paying.
This is the oldest trick in the book. They get you to pay sixty dollars a month just to chat with a computer algorithm (more on their "staff profiles" below).
Now, we are going to help you out here and save some time. You can skip the rest of this review and use your time more wisely on our list of the absolute best hookup apps and sites. These are the sites that can actually get you laid.
You should just try AFF or eHarmony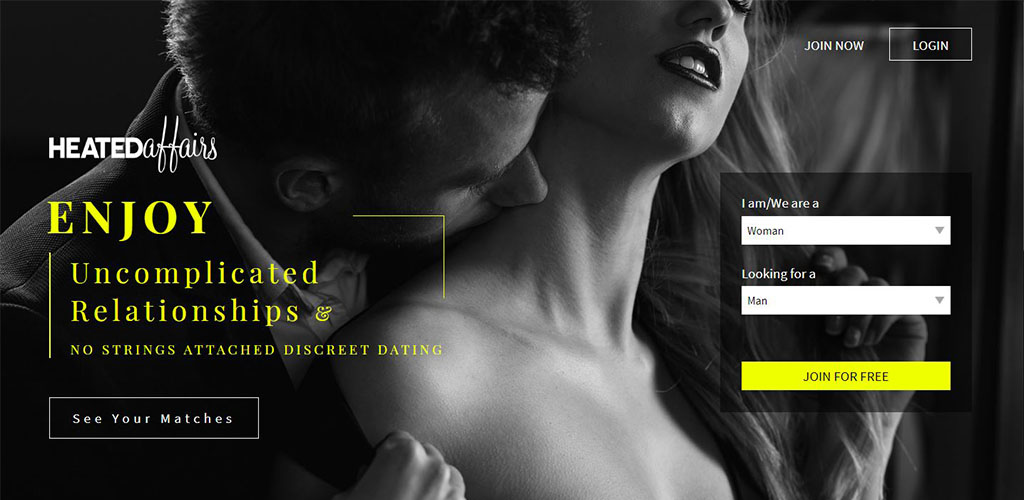 If you are serious about either a quick hookup or an actual relationship there are two good options for you. For a quick hookup, AFF is going to be your best option. They have over 90,000,000 active members and and quite a few black users that range from 18-50 for the most part. They are extremely diverse and the best option for those looking for something short-term.
Check out their free trial and see just how many black singles are around where you live.
For an actual relationship, eHarmony is the best out there right now. They have a big user base and a huge number of black singles focused exclusively on relationships. They are very relationship focused so don't go there expecting to just play around.
For a little more context, here is how they stack up side-by-side:
Site
Our Experience
Our Rating
Free Trial Link

Best For Relationships

Experience Highlights

Easily the best option for long-term relationships
75% of all online marriages start here
70% of users meet their spouse within a year
In-depth signup and matching process

Try eHarmony

Best For Casual Fun

Experience Highlights

The best way to meet women for casual relationships
Best results for regular guys
Over 60 million active members
Not good for long-term relationships

Try AFF For Free

Great If You're Handsome

Tinder Highlights

Great if you're pretty good looking
Very popular, especially if you're 18-22
Really focused on photos
Becoming more of a dating than hookup app

Try Tinder
The Not So Black Wink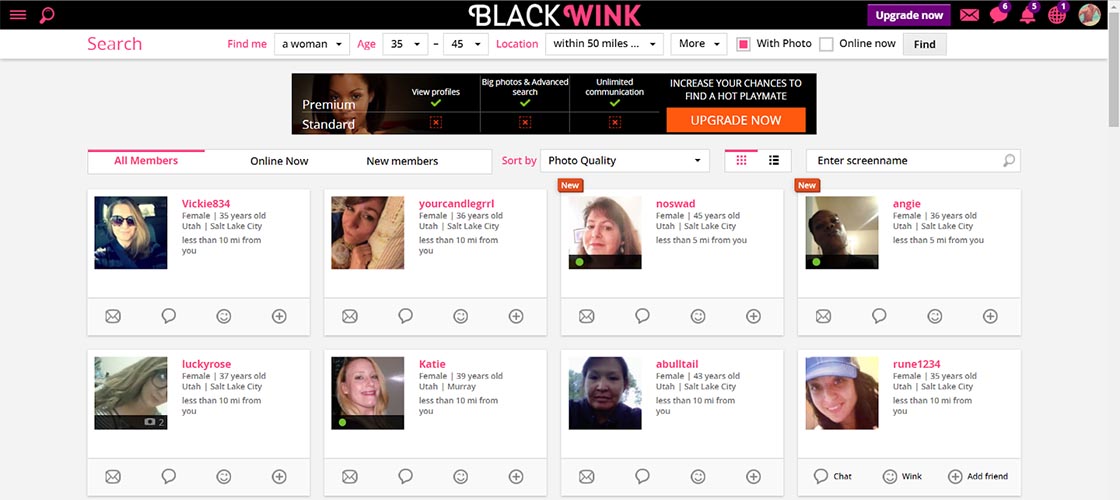 The next red flag that I noticed with the dating site is that, for a site dedicated to helping people meet black women, there sure are a lot of white women who have profiles. When we are reviewing sites for our list of the sites to meet older women you need to try we always look out for niche sites that are obviously not interested in their own niche. Looking through the various filters on my matches feed, I noticed that were checkboxes for various races, including caucasian, Asian, etc. So, I clicked a few of them.
After reloading the stream, the feed looked a lot like other dating sites. There were women of all races, but mostly white. Why would I come to a black dating site to meet white women? More importantly: Why would these women be on this site in the first place?
BlackWink.com is Really Attack of the Clones!

This question took me to the depths of the site's User Agreement page. That's where I found out that the company uses their customer's information for "the creation of duplicate profiles across our Partner Sites." Besides raising all kinds of ethical questions, this line suggests that most (if not all) of the white women on Black Wink don't even know they are on the site to begin with. The profiles are just clones of profiles made on other "partner" sites.
The site doesn't list a total number of members (although the site's Facebook app only has 28 active monthly users…), but we can assume that whatever the count is, very few of those people actually created their profiles on Black Wink in the first place.
If there's any part of you that's still interested in this site, let me just say that I don't think you're probably not going to have much luck dating a woman who doesn't even know she's online to begin with.
BlackWink Needs to Repeat the Eighth Grade
I don't have anything against non-English speakers or high-school dropouts, but you probably shouldn't hire them to write the script on the front page of your website. Blackwink.com's writing has an uncanny feel to it. It almost makes sense, but not quite, which makes me feel just a little bit awkward when I read it. For instance:
"You are free to do everything that pleases you, especially if that involves having fun with seductive singles…So, if you're seeking naughty black singles only, then you definitely need to explore this dating place, because many frisky stunners have chosen to look for fun and steamy action here."
Hey, Joe, let's go over to that dating place with all of the frisky stunners so that we can do everything that pleases us! said no one ever.
The Site Uses "Staff Profiles"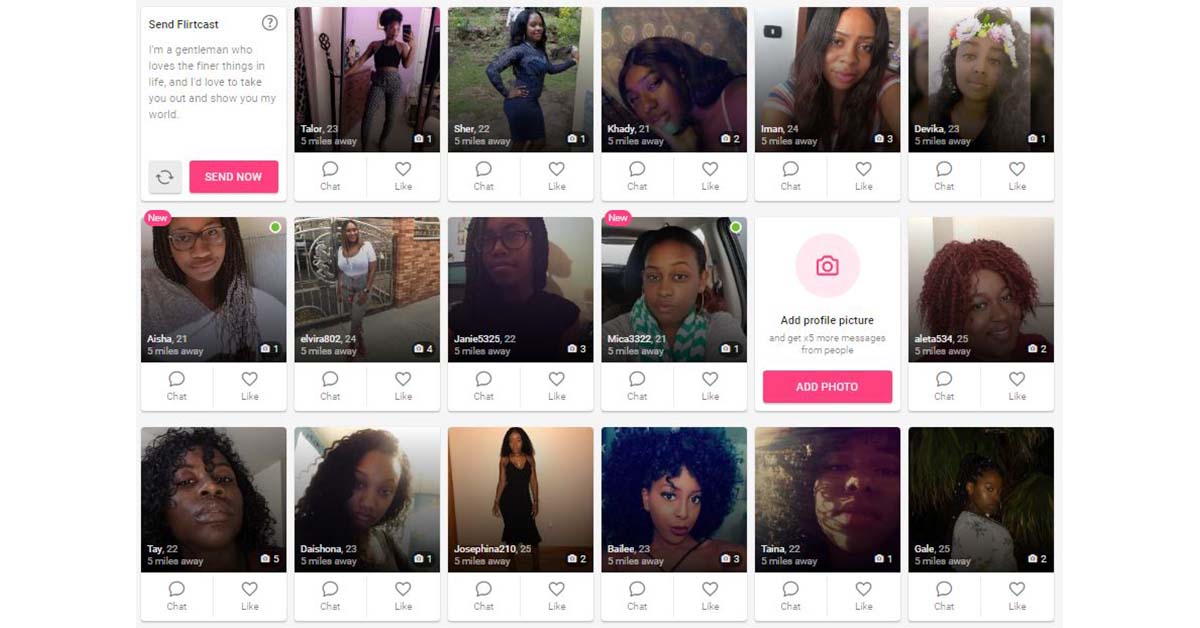 Blackwink.com is full of your typical sleazy promotional schemes. For instance, when I first made a profile, the site offered to send out a message from my account to a whole bunch of other profiles. The message read: "Are you the kind of woman who I could create crazy good memories with? I think maybe you are. Maybe… 😉 So tell me, what are the things in life you love? :)"
You can bet that any website willing to write messages for you is also writing messages for other people too.
Indeed, the company, which is named Nelfor Services Limited (and located in the British Virgin Islands), admits in their user agreement that they "may, from time to time, create profiles which are created, maintained and managed by our employees ('staff profiles')."
It's not just the strangely casual language (what exactly does 'from time to time' mean in a court of law?) in the statement that should alarm you. "Staff profile" is just another way of saying "robot". In short, they are reserving the right to trick you into chatting with a robot, which is exactly what they do.
Advertising for "Partner Sites"
What's more, the site admits that it "will censor any flagged messages and replace the content of these messages with links to our partner sites." To translate: they will be pushing advertisements from their partner companies, such as live cam sites, into the very messages you receive. Isn't that romantic?
Black Wink Will Sell Your Information (Yes, all of it)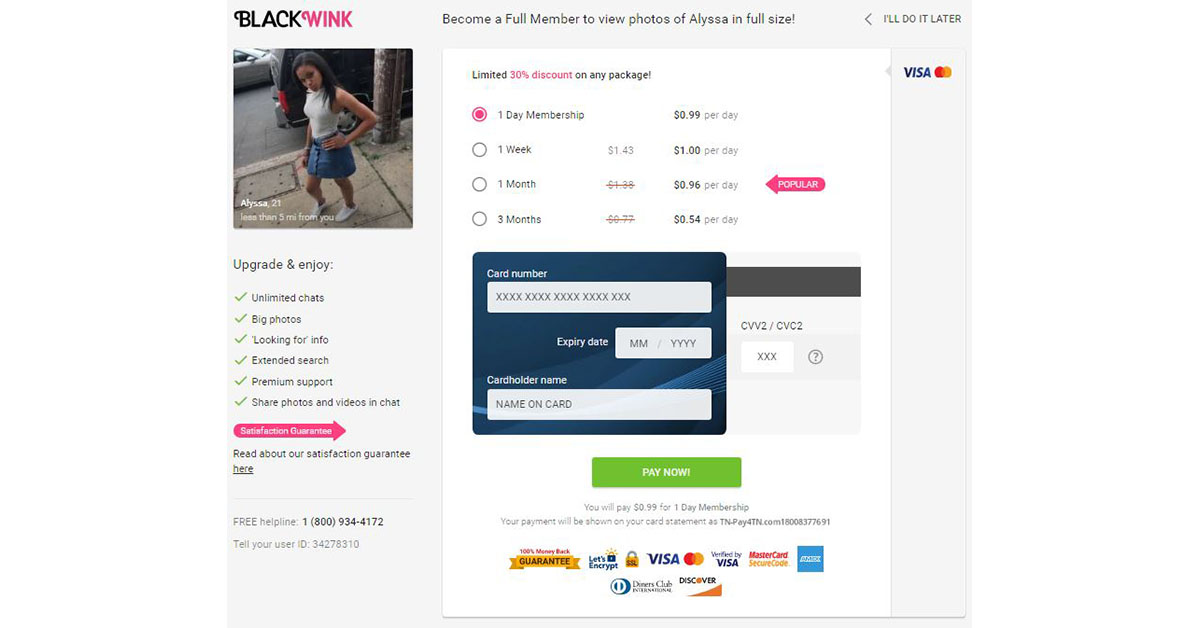 Perhaps the most alarming piece of information that I found in the User Agreement was in the section on information gathering and retention. They state that they " will collect your personal details including but not limited to your full real name, user name, address, telephone, email address, date of birth, race, religion, sexual orientation and any other information you submit when you create a profile and sign up to your Services."
They admit that they will share (i.e. sell) this information to third-party sites. They even retain the right to use your photos for advertisement, royalty-free. Do you want to see your own face on a banner advertisement on the side of adult websites? If not, then you should probably avoid Blackwink.com.
Considering that you have to pay to do anything of value on this site that's a pretty bad deal!
This is what Blackwink.com charges it's members:
1 Day Membership $0.99
1 Week Membership $7.00
1 Month Membership $29.99
3 Month Membership $49.99
Black Wink Review Verdict – It's Not Worth the Gamble
I hope that this Black Wink review helps you see that the site is not your place to meet older black women. In fact, it's not your place to meet any women at all. I know that casinos can be thrilling, but don't gamble with this Black Wink scam.
And remember what they say: money that is sent to a company in the British Virgin Islands stays in the British Virgin Islands.
Frequently Asked Questions about BlackWink
Do you need some fast and easy questions about BlackWink? Here are some FAQs to check out.
What is Black Wink?
BlackWink is a so-called dating site that claims to help men meeting ebony dates. However, in our experience, we've found that the site isn't worth your time.
Who actually owns BlackWink.com?
BlackWink is owned by InfraWeb Solution Limited, a Hong Kong-based company that also operates several low-quality sites.
How can I contact BlackWink?
You may contact BlackWink via email at [email protected]
Is Black Wink real?
Yes, Black Wink is a real site. However, we've found no evidence that it's an effective dating site.
Is BlackWink.com legit?
We have reason to believe that BlackWink.com is not a legit dating site. At best, it's an extremely low-quality site. At worst, it's a site designed mainly to gain money through paid memberships.
Is BlackWink a scam or fake?
While we wouldn't go as far as to call BlackWink a scam, we know for sure that it's a waste of time.
Is Black Wink safe?
We do not consider Black Wink a safe site to use for finding a date.
What are BlackWink.com alternatives?
We've reviewed over 100 dating sites, and some of them are worthwhile. You can check out our list of the best dating apps and sites for finding hookups.
How does BlackWink work?
Once you log into BlackWink, you can browse through several profiles of people in your area. However, you can't send messages on a free account.
Is there a Black Wink app?
Black Wink doesn't have a dedicated app.
How much does BlackWink.com cost?
Below are the BlackWink.com payment plans:
1 day – $0.99
1 week – $1/day ($7)
1 month – $0.96/day ($28.80)
3 months – $0.54/day ($48.60)
How can you use BlackWink for free?
You can use BlackWink for free, but you can only browse profiles. You can't even read messages unless you pay for a membership.
Can you send messages for free on Black Wink?
No. You need to pay for a paid Black Wink membership to send a message.
How do you cancel your BlackWink.com account?
Click your profile picture in the top right of the BlackWink.com dashboard
Click "My Settings"
Click "Remove Account"
Enter your password
Confirm you want your account deleted