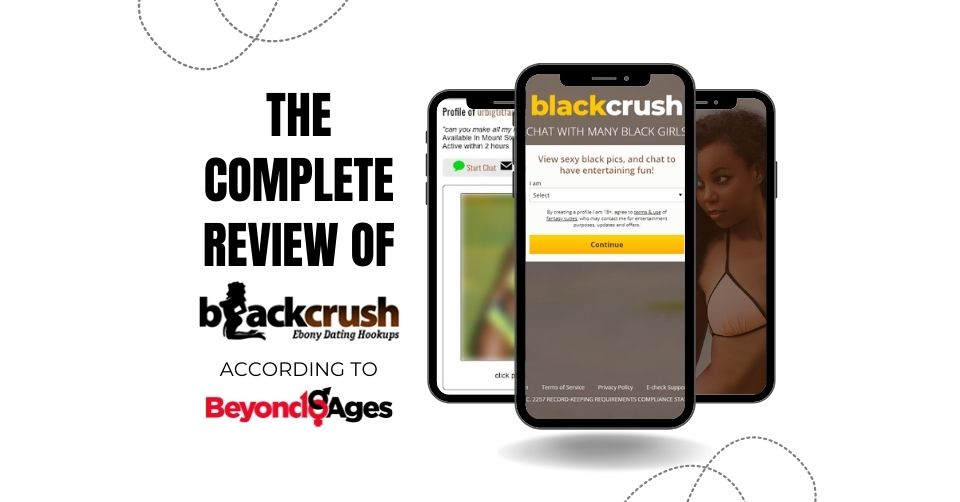 Online dating can be an amazing thing so long as you're using a quality dating site or app. Unfortunately, though, not all sites are created equal. And you don't want to waste your time on a site that's a bust or a scam.
With so much social distancing still happening it's more important than ever to be using a good dating app. Way too many relationships are starting online right now for you to avoid it. It's incredibly popular now to ONLY meet other singles through dating apps and sites.
If you're not using at least one or two good ones you're going to miss out on a lot of opportunities.
At BeyondAges, we're all about helping you get out there and enjoy dating. To make that happen, we like to extensively try out the apps and websites we see most talked about online. By taking the time to do a complete review of each, we can save you a lot of frustration, effort and money. You can avoid trying scam websites and put your energy into the ones that actually work.
How we reviewed Black Crush
For our Black Crush review, we used the site for several weeks and give it a fair shake. The first few days as a free member to see what we could do, then as a paid member for the rest of our time using it. Handing over a credit card to some of these sites can be a risky move!
When you're reading reviews of a potential site you can only trust that you're getting the full details if the person writing the review used BOTH the free and paid versions of the site/app!
We reached out to 50 women to start a conversation. Our goal was to see how many real users are really on the site and to set up a date with any if they existed.
We put Black Crush through the wringer to truly experience what this site was like as an actual user. We did all the work, so you don't have to.
As you can see below, this site is a carbon copy of a site we reviewed recently, AffairAlert. Immediately, we had a pretty good idea of what to expect from using this site.

Not to judge a book by its cover though, we went ahead with the complete review. Let's take a closer look at what we found.
Our Black Crush Review Experience
Let's start with a quick look at the fundamental elements that make for a quality dating site. We've compared it against the well-known AFF (which you can try for free) for a simple comparison. From this graphic alone, you get a pretty good idea of what's to come.
Overall

Our team rates each site objectively based on many hours of independent research, the features each site offers, and how it compares with other sites. The ratings are the opinion of our editors and their extensive experience.

1
9.5
Quality of Women

Our opinion of how attractive the typical woman is that uses this site and how easy they are to connect with compared to other sites.

1
9
Popular

How many people are using this site to actually meet people compared to other sites.

1
10
Usability

How easy is this site to use and how quickly can an average person begin meeting people compared to other sites.

6
9
Privacy & Safety

Does this site take proper precautions to safeguard its members, their identity, and their data.

1
9
Effective

Our opinion of how easily an average person will be able to achieve their dating goals with this site compared to other sites.

1
9
Value

Will the time and money spent using this site pay off for an average person based on the opinions and experience of our editors.

1
10
Our Recommendation
Overall, our recommendation is to save yourself the time. Don't bother creating a BlackCrush account and definitely don't go handing over your credit card information.
If you're looking for hookups with single black women you're going to have a lot better success using AFF in our experience.
We didn't come across a single legitimate user on the website. It's packed with fake accounts that push you into signing up for a paid account.
See, until you've paid for at least the basic package, you can't even message anyone on the site. While you've got a free account you'll receive quite a few messages and IMs from "women" that want to chat.
The hope is you'll fall for this, believe real women are reaching out to you, and start paying so you can talk to them. Unfortunately though, it appears to be all bots. No real messages and no true love to be had.
The only positive here is that they're quite lazy about it. Take the below message for example.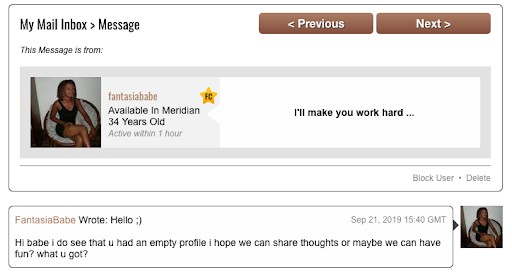 Lazy messages like this will slowly trickle into your inbox, targeting each step of their process. When you have a free account they suggest that you chat with them (which means you need to pay).
When you've paid but have a blank profile you get messages like this. Once your profile is set up, it's messages about how you should text them (an additional paid service).
Despite our overall negative experience with the site so far, let's get into the detail of the pros and cons of BlackCrush.
The spam messages and profiles are lazily crafted and easy to spot
The website is pure spam
No actual users exist on the site
You will be harassed continually to pay more money
The Details of Our Black Crush Review
The poor profiles were our first warning
Before the spam messages can begin, the low-quality profiles are your first indication that something is fishy.
Often constructed with poor English and the sort of language people just don't use, they feel a little off. Too over the top to be an actual woman behind the profile. In most cases, the photos are overtly sexual too, just showing a photo of their breasts or lingerie.
Now we know that being openly sexual doesn't mean they're fake. It's the combination of being so over the top while also having such poorly written attempts at enticing you to chat.
Take this profile for example. The user 'urbigtitfantasy' wants to know "can you make all my naughty dreamsm come true?" Oh boy, we sure hope so, shut up and take our money!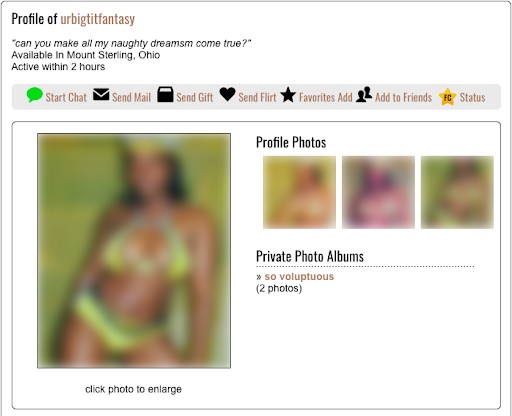 It's also worth noting we're nowhere near Mount Sterling, Ohio. Not even the location is accurate.
During our time spent on the site and reaching out to 50 "women", we are yet to see a single legit profile. Not a single real message or hint there's anything but spam behind each one. Just like AffairAlert.
Skip Black Crush – These Are The App Dating Coaches Recommend For Normal Guys
Most guys fail because they spend all their time on an app that is never going to work for them. There are so many options out there and it's really easy to pick the wrong one. Do yourself a favor if you're a regular guy and try one of these apps that dating coaches recommend for you if you want real results:
Site
Our Experience
Our Rating
Free Trial Link

Best For Relationships

Experience Highlights

Easily the best option for long-term relationships
75% of all online marriages start here
70% of users meet their spouse within a year
In-depth signup and matching process

Try eHarmony

Best For Casual Fun

Experience Highlights

The best way to meet women for casual relationships
Best results for regular guys
Over 60 million active members
Not good for long-term relationships

Try AFF For Free

Great If You're Handsome

Tinder Highlights

Great if you're pretty good looking
Very popular, especially if you're 18-22
Really focused on photos
Becoming more of a dating than hookup app

Try Tinder
BlackCrush doesn't fail at design
Overall, the design of this site isn't entirely bad. By all means, it is a dated style, but it's functional. Credit where credit is due, right?
While their choice of color palette may not be the most pleasing, navigating the site is pretty simple. Their excessive use of scantily-clad women is a bit over the top but overall, things could be worse.
In all honesty, dating sites in general aren't about to win awards for their design aesthetic. BlackCrush doesn't fall all that far behind some of the major contenders in terms of appearance.
Messaging and chatting on BlackCrush
Being that it's a spam site with no real users, messaging and chatting is a fruitless venture. 
By all means, the interface for both is simple and familiar. Internal messaging feels much like a 2005 webmail interface and chatting is quite similar to Facebook Messenger.
The obvious difference is that when you message "women" on this site, you'll get an automated response. It doesn't matter what you say, you'll get some kind of arbitrary response to suggest she wants you. Now.
Also worth noting, if you want to use the instant messaging feature, you'll need to pay for a Gold membership. The Premium option lets you message other users but not chat to them.
What we could do for free during our BlackCrush review
A free membership on BlackCrush allows you to do two things:
Look at the profiles of "women" in your area

Receive constant spam messages and chat pop-ups
That's where it ends. You'll constantly receive messages and IMs enticing you to talk to them. As soon as you try to respond though, you're reminded that only paid members get to do that.
Ultimately, that means the site is useless until you hand over your credit card — which we don't suggest doing.
Strangely, there are no ads to be seen
Interestingly enough, we haven't seen ads of any kind on this site. While AffairAlert had ads for cam sites and various porn sites, BlackCrush doesn't.
You do get constantly spammed to upgrade to a Gold membership but these don't really qualify as ads. Perhaps they're still in the process of building this site up before they monetize it? 
Misleading pricing options
The pricing structure for this website seems pretty complicated at first glance so let's take a look.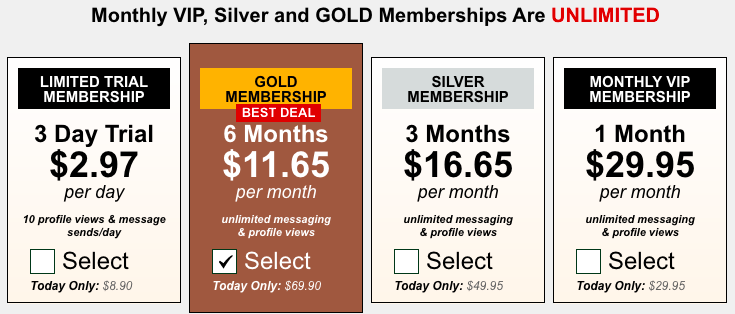 For this review, we went with the monthly VIP package. Looking at the screenshot above, it seems obvious this is the top package, right? No.
While they don't give you any additional info here, Gold is the one that gives you the most. It might seem counterintuitive at first but think about their goal and the site they're working with.
Not many people will be naive enough to pay for this site more than once. If they can get you signed up for 6 months straight away, they already have your $69.90. If you sign up for the VIP option though, you pay $29.95 today and you're not likely to fall for it again next month.
As a legitimate business, this would be a terrible model. As a spam site though, it's kind of clever. Just don't fall for it — put your credit card away.
Black Crush Frequently Asked Questions
To wrap up this Black Crush review we're going to cover some of the more frequently asked questions. If you have a question about this site or the review at all, go ahead and let us know. We'd love to hear from you!
What is Black Crush?
BlackCrush.com claims to be a dating website. While it claims to facilitate dating and hookups with black women, anyone you interact with will give you an automated response.
Who actually owns BlackCrush.com?
BlackCrush.com tries really hard to hide the name of the company that owns them. That's a bad sign.
How can I contact BlackCrush?
The only way to contact BlackCrush is through a third-party email: [email protected]
Is Black Crush real?
Yes, Black Crush is a real site. However, the users and messages you might receive are incredibly suspicious.
Is BlackCrush.com legit?
No, BlackCrush.com is not a legit dating site. It's only legit if you're looking to chat with bots and/or employees posing as other users (aka Fantasy Profiles).
Is BlackCrush a scam or fake?
We have reason to believe that BlackCrush isn't as candid about the fact that all users on the site are basically bots/employees. So while not an outright scam, they're suspect as best.
Is Black Crush safe?
No, we don't think Black Crush is a safe site to use or give your credit card details to.
What are BlackCrush.com alternatives?
No matter what you're looking for in a dating website, there's a legitimate alternative to suit. Rather than drop a huge list here, go ahead and take a look at our review of the best hookup sites.
How does BlackCrush work?
When you log into BlackCrush, you're free to chat with different users (only if you pay for a membership). However, the "person" who replies will be a bot or employee since there are no real users on the site.
Is there a Black Crush app?
Black Crush doesn't have a dedicated app.
How much does BlackCrush.com cost?
BlackCrush.com's payment plans is presented in a confusing way on the website. Here's a simplified breakdown of their pricing options:
3-day trial: $8.90
1 month: $29.95
3 months: $49.95 ($16.65 per month)
6 months: $69.90 ($11.65 per month)
The 6-month "Gold" package offers the broadest access. Regardless, save your money as you won't be speaking to any real users on this site.
How can you use BlackCrush for free?
You can use BlackCrush for free if you're satisfied with browsing through profiles without messaging anyone.
Can you send messages for free on Black Crush?
No, you need a paid Black Crush membership to send messages.
How do you cancel your BlackCrush.com account?
A testament to the spam nature of this site, there doesn't seem to be a way to cancel your membership. Having gone through every possible area of the site (including their FAQ) there's no option to cancel your payments.
Instead, just go ahead and delete your account:
Click Account Settings in the top left corner
Click Delete my login and profile
Click Delete my login
Enter your password and click Delete my login
We'd suggest keeping an eye on your credit card transactions in the following weeks too.
How do you delete your Black Crush account?
Deleting your account is just as simple. Just follow these steps:
Click Account Settings in the top left corner
Click Delete my login and profile
Click Delete my login
Enter your password and click Delete my login
Have you tried Black Crush? Tell us about your experience!