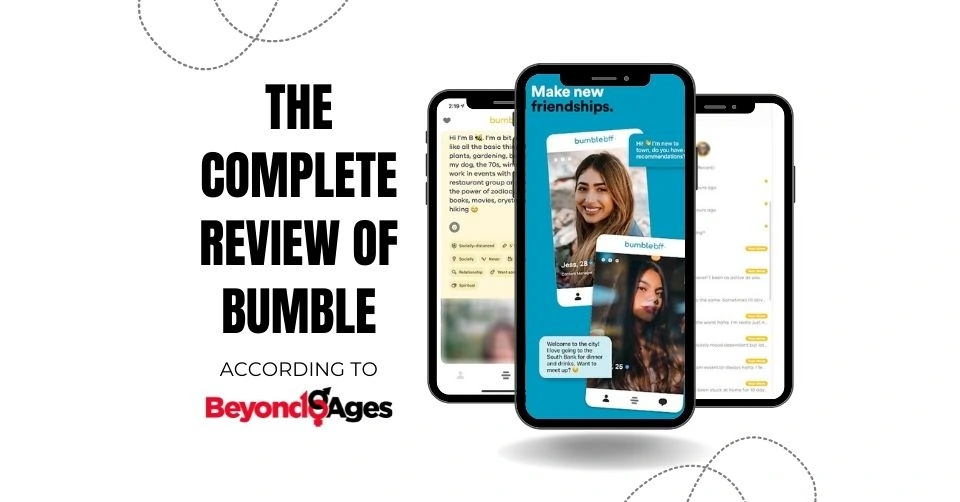 I review a lot of dating apps and websites here at Beyond Ages and sadly for me, most of them are fake. Not only does that make these reviews more valuable, but it also meant this Bumble review was a rare pleasure.
Bumble is one of the biggest names in dating apps. Even if you've never tried online dating before, you've probably at least heard of it and for good reason. It's easily in my top three for a host of reasons I'll be covering in this review.
If you haven't tried it, there's a good chance you've never heard of their browser-based version either. You can use Bumble's web version from any device with an Internet browser. Since this is only recent knowledge to me too, I'll be covering the key differences there and whether it's worthwhile.
First, let's talk about the process I run through for these reviews, then we can get into why I'm such a Bumble advocate. No, it's not because they've paid us (they haven't, it's just good).
How we reviewed Bumble
The most informative reviews are always the ones that can stay objective. My personal preferences have nothing to do with how effective Bumble will be for you. To make sure my reviews stay fair and balanced, I run through the same process with every dating app and website.
Initially, I'll set up a profile with the bare minimum. If it doesn't even ask me for a photo or my age, I'm leaving those fields blank. I'll leave this blank profile to sit for a couple of days and see if I get any spam messages — a common tactic from fake dating sites.
After that, I'll fill my profile out completely and start using it to set up as many dates as I can. I'll do this for about one to two weeks to get a feel for what the app is like as a free user.
After that, it's time to upgrade to a paid account to see what all the fuss is about. Sometimes those paid perks are fantastic, other times they're a gimmick. On the odd occasion, the free version is so good, I'd even suggest paying a premium to support the developers.
So, let's take a look at what I found in my couple of weeks with Bumble, shall we?
Bumble Review: Worth the Buzz?
Hype doesn't always mean a product is high quality. I think we've all been duped by marketers at some point or another. In the case of Bumble, it's not a new app by any means and there are a bunch of reasons why it's still so popular.
First, a comparison against eHarmony. Since Bumble leans (very) slightly more toward relationships than hookups, it makes for a great source of comparison. eHarmony is undeniably the biggest name for online daters looking for love.
With 2.3 million messages being sent on the site every week, I guess they're doing something right, huh? So, let's see how Bumble stacks up against this giant of a brand.
Overall

Our team rates each site objectively based on many hours of independent research, the features each site offers, and how it compares with other sites. The ratings are the opinion of our editors and their extensive experience.

8
9.5
Quality of Women

Our opinion of how attractive the typical woman is that uses this site and how easy they are to connect with compared to other sites.

8
9
Popular

How many people are using this site to actually meet people compared to other sites.

8
9
Usability

How easy is this site to use and how quickly can an average person begin meeting people compared to other sites.

10
10
Privacy & Safety

Does this site take proper precautions to safeguard its members, their identity, and their data.

10
10
Effective

Our opinion of how easily an average person will be able to achieve their dating goals with this site compared to other sites.

8
9
Value

Will the time and money spent using this site pay off for an average person based on the opinions and experience of our editors.

9
10
Our Recommendation
Like I said, this app makes it into my personal top three so it's hardly shocking to see it score so well. Now that we have an overview of how the app stands up, let's talk about why it scores so well. More importantly, why I think you should try it if you haven't already.
A great twist on the Tinder experience
The app that started it all, Tinder needs no introduction and has seen a lot of imitators over the years. With a very similar layout and the same left and right swiping on profiles, there's one major difference that sets it apart.
While it's almost mandatory on Tinder that the guy starts the conversation, that's impossible on Bumble. The reason I think this is such a fantastic twist is that it cuts down on women who are just there for attention.
They still exist on Bumble, don't get me wrong, just in far smaller volumes. On Tinder, it's perfectly normal to initiate a conversation with 10 women and get four or five responses. The other accounts might be inactive or owned by women who just want Instagram or Snapchat followers. In some cases, they just use their number of matches as a vanity metric to feel better. Yes, I personally know several women who do this. How sad.
Bumble fixes this problem by forcing the women to start the conversation. Until she does, there's no way for the guy to say anything to her. This also seems to change the type of women, or at least the attitude of women, who use the app.
A quick look at how it works
In case you've never used any of these types of apps before, I wanted to give you a very quick overview.
Once your profile is all set up, you're prompted to set the preferred gender(s) you're interested in. You also choose an age range and distance from your current location. It picks up your location via GPS. So if you go on vacation, you'll automatically see people in that new area.
Once you've done this, you'll see a seemingly endless stack of profiles, one at a time. Initially, you'll just see each person's first profile photo, their name and some where they work/study.
If you want to see more about them, you can scroll up to see more photos, likes and dislikes, their bio, etc.
Once you've decided if you're interested in them or not, you either swipe to the left (no, I'm not interested) or to the right (yes, I'm interested).
While your profile is active, you'll be shown to others in the same way. If you swipe right on someone and they do the same on your profile, you're a match! That person will now show up in your Messages tab at the bottom of the screen. After she initiates the conversation, you're free to chat.
So simple and that's exactly why it's so effective.
An engaged user base helps your chances
This change in demographic and/or attitude means you're far more likely to have a real, engaged conversation. Now sure, some women will still just open with "hi," ruining the whole system. Personally, I choose to ignore these.
The vast majority of the time, you'll get quality conversation that you actually want to be part of. This makes the app more fun and gives you conversations that escalate to dates much faster. After all, that's what we're all doing here, right?
In my experience, women on Bumble are way more likely to be there for actual dating rather than inflating their egos.
Bumble.com vs the Bumble app
If you like the sound of Bumble but prefer dating websites, Bumble gives you the option of both. Although it's just a web based version of the app, it's still a nice touch.
The features and limitations are identical to the app, everything is just larger and in one place. While the app puts your swiping and conversations in different tabs, the browser version puts them all on one screen.
I prefer the portability of the app so I can use it while I'm out and about. Still, if you want a larger screen and a keyboard, head over the Bumble.com and try it for yourself!
Just a word of warning, if you're jumping between the browser and app versions, restart the app and refresh your Bumble browser tab before you start swiping. I noticed they don't automatically refresh. That means if you're swiping away on your computer then go back to your phone, you'll see a lot of the same profiles all over again.
Works great as a free user
Bumble is great in that it lets you do almost everything as a free user. Sure, it limits the number of profiles you can "like" each day and doesn't let you backtrack (if you accidentally say "no" to a profile you can go back to it and swipe right instead).
With such a large and active user base though, I've had no problem finding dates as a free user over the years. In fact, this review was the first time I've ever used a paid account on here!
So, is a premium account worth the money?
In this case, it really depends on how you treat online dating and what you're looking for. It's a bit on the expensive side so the answer here is subjective.
If you're a casual dater like me and don't "need" anything, a free account is perfectly fine. The limit on "likes" each day just keeps you from spending too long swiping, really.
On the other hand, if you're really looking to put yourself out there and get aggressive with it, the premium boost is great. Not only do you get unlimited likes but you can also see who has liked you. 
As in, if Molly swiped right on your profile, you'll immediately get a notification about it. No need to match to see that she's into you.
If you really want to cut down on the amount of time you spend on dating apps, just check this list each day. Skim through the women that have swiped right on you and choose which ones you want to talk to.
An app that just works
In my 4 years of using Bumble now, I've never come across a single problem. No errors, nothing that made me question their safety or security, nothing. I could count on my fingers how many fake profiles I've come across too. Scammers are a part of life, but Bumble works hard to remove them quickly.
In terms of keeping your credit card safe, your payments go via Apple/Google anyway for an added layer of protection. No need to manually type in your credit card details.
Bumble or eHarmony?
Both work well, so why not try both? The great thing about online dating is that you're not limited to using just one site or app. With Bumble, you get the whole swiping experience with a few extra perks. You can match with someone based on how they look and a few details about what they're into. It's all up to you and that's the fun of it.
Just keep in mind that with Bumble, the target users are generally younger singles (below 35). They're also usually the types who have more time to swipe through matches on a regular basis.
With eHarmony, however, the site does most of the work for you. You just answer their signup questions (they're pretty thorough) and the site picks out women you're compatible with. Instead of just photos and a few details, you get a glimpse into your potential matches' personality, life goals, interests and more. This eliminates a lot of the guesswork that comes with apps like Tinder and Bumble.
So if you're a busy guy who prefers to see a handful of curated matches each day, eHarmony might be a better choice for you.
Bumble Review: What We Liked and Didn't Like
As you can tell, I really enjoyed my experience on Bumble. But there were a few things about the site that could have been improved.
Lots of attractive and responsive users
Women message first, so it encourages them to get creative with their opening message
Both the app and browser site work well
Has extra features for those who want to network
Women only have 24 hours to send you a message before the site automatically unmatches you
Bumble has some extra non-dating features as well
While this app is known for helping people find dates and hookups, those who prefer to network can use it as well. Below are some extra features you can try on Bumble:
Bumble BFF helps you find friends too
"Bumble BFF" is a mode you can activate in your profile. It functions exactly the same as the regular dating site, the difference is you use it to find friends.
It can be helpful if you've just moved to a new city or if you're on vacation. It's not a feature I'd personally use but hey, if you want to find new friends, Bumble can make that so easy!
Bumble Bizz means you can even do some business networking
This is an addition I actually wasn't aware of prior to this review. Honestly, it feels a little strange but if it works, why not?
Also similar to the dating and "Bumble BFF" functions, you populate your profile with photos and a bio and network away. Some industries can gain from this more than others but really, most people could benefit from a bit of networking.
As the old cliche goes, a successful career isn't about what you know, it's about who you know.
Bumble Review: Frequently Asked Questions
As always, we're going to finish up by running through the most frequently asked questions. Bumble is a great app with a very intuitive interface but if you have a question I haven't already covered, let us know. We'd love to update the review to include it!
What is Bumble?
Bumble is a dating app that's very similar to Tinder. The key difference (which I love) is that once you've matched, only the woman can start the conversation.
In my experience, this seems to attract a different type of user and a far better attitude.
Who actually owns Bumble?
Bumble is owned by The Blackstone Group.
How can I contact Bumble?
You can contact Bumble via their Contact Us page: https://bumble.com/en/contact-us
Is Bumble real?
Yes, Bumble is a real site that's incredibly popular in many countries.
Is Bumble legit?
It absolutely is. I've used Bumble on and off for four years now and had countless successful dates from it. As I mentioned in the review, I've never had an instance where I felt like Bumble was untrustworthy.
Is Bumble a scam or fake?
No, Bumble is not a scam. However, as with any dating app, be careful when talking to people who may be out to scam you.
Is Bumble safe?
Yes, Bumble is safe. After years of using the app, we've never felt unsafe while using the app.
What are Bumble alternatives?
Even though Bumble makes it to my top three dating apps, that doesn't mean it's right for everyone. If you want to see what else is out there, we already reviewed the best hookup apps and websites out there right now.
Take a look through that review, see which ones seem like the best fit for you and go test them out.
How does Bumble work?
Bumble is an app that shows you a stream of users. You can swipe right if you want to match with them and swipe left if you don't want to match with them. However, if you do match, it's up to the woman to start the conversation.
How many swipes can you do on Bumble per day?
You can swipe right on up to 25 Bumble profiles a day before it resets after 24 hours.
Is there a Bumble app?
Yes, Bumble is exclusively an app.
How much does Bumble cost?
Like most dating apps, Bumble works on a recurring subscription basis. Ranging from $10.99 per week to $24.99 per month, it gets slightly cheaper the longer you sign up for.
You can also pay $149.99 for a lifetime membership if you plan to use it for a while, too.
By upgrading your account, you'll get all the free features as well as unlocking:
Access to unlimited Advanced filters
Access to your Beeline so you can see your admirers
Travel mode
Backtrack
Ability to extend time on your current matches
Rematch with users who have expired
Unlimited 'Yes' votes
One Spotlight per week
Five SuperSwipes per week
How can you use Bumble for free?
Yes, you can use all the features of Bumble for free. However, with a paid account, you can access more features.
How do you send messages on Bumble?
To send a message on Bumble, you first need to match with them. If you swipe right (to say 'yes', I want to talk to her) and she swipes right on your profile too, that's a match.
Once that happens, you'll appear in each other's Messages tab. Note that Bumble forces women to start the conversation — as a man, you cannot chat until she initiates the chat.
How do you search on Bumble?
Rather than a traditional "search" function, you're shown a stack of user profiles. Shown one at a time, you can swipe their photo to the left if you don't want to chat. If you do, swipe right.
To narrow down the profiles that you'll see, there are a number of filters available. Even as a free user you can decide the gender, age range and distance to suit your preferences.
Can you send messages for free on Bumble?
Yes. However, on Bumble, women need to send the first message to open the chat.
How do you cancel your Bumble account?
If you've signed up for a paid Bumble account and want to cancel your subscription, it's a simple process. Just follow the steps below for your device.
iOS
Open the Settings app
Tap your name
Tap Subscriptions
Tap the Bumble subscription
Tap Cancel Subscription
Android
Open the Google Play Store
Tap Menu
Tap Subscriptions
Tap the Bumble subscription