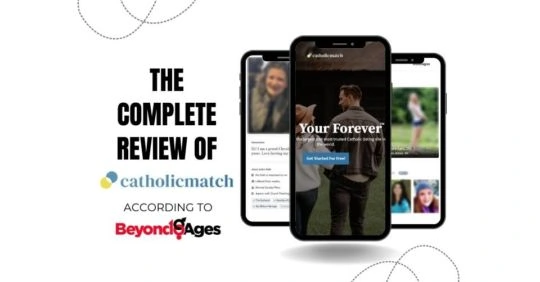 There is a high demand for niche dating apps for specific religions. After all, most people who are strictly religious want to date someone who practices the same religion as them. Otherwise, their daily lifestyles are unlikely to match and that can make it difficult to enjoy a long-term relationship together. This can be particularly true for a lot of strict Catholics, as this religion has a large impact on one's daily life and particularly their dating life! So have we found the best dating app for Catholic singles? Find out in our Catholic Match review!
CatholicMatch exists to help Catholic men and women meet a partner who is on the same page as them. It's a great idea – and one that there is clearly a high demand for – but that doesn't necessarily mean that the website works well when it comes to landing you a great date. 
Catholic Match requires you to set up a paid subscription before you can start messaging other people, meaning there's no way to see for yourself if it's any good. That's why I was so keen to complete this Catholic Match review.
My goal was to put this Catholic dating website through its paces, by testing out every feature and messaging enough women to get an idea of how easy it is to land a date.
Below, you'll discover the results of this test.     
How we reviewed Catholic Match
Every Beyond Ages review aims to be as thorough as possible. We want to test out every feature of every site we review. For our Catholic Match review, this was a bit of a challenge–I'll get into the details in a bit.
I started off by creating a free profile and supplying the bare minimum to let us create an account. In this case, I was able to create a completely blank profile, save for my age and gender. I then left my profile blank for 24 hours to see if any bots or questionable profiles would message me. If I receive any messages, it's very likely that it's from a bot since who would message a blank profile on a dating site?
Once the 24 hours were up, I then added some more information as well as a photo. Then I tried to use all the free features on the site to see if users can get by without paying for a membership. Once done, I then paid for a membership. This is where it got a little tricky as I wasn't really able to make the most of this membership. 
My goal was to message at least 50 women to see if a) they were real people, and b) if any of them were willing to go out on a date or at least exchange contact info. Below, I'll detail my full experience with Catholic Match.
Catholic Match Review: Will You Find "The One" Here?
Before we get into the meat of this Catholic Match review, let's explore the ratings out of 10 that I awarded this website.
These ratings are compared to eHarmony, the dating site that we consider to be one of the best for finding serious relationships.
Overall

Our team rates each site objectively based on many hours of independent research, the features each site offers, and how it compares with other sites. The ratings are the opinion of our editors and their extensive experience.

2
9.5
Quality of Women

Our opinion of how attractive the typical woman is that uses this site and how easy they are to connect with compared to other sites.

5
9
Popular

How many people are using this site to actually meet people compared to other sites.

5
9
Usability

How easy is this site to use and how quickly can an average person begin meeting people compared to other sites.

2
10
Privacy & Safety

Does this site take proper precautions to safeguard its members, their identity, and their data.

2
10
Effective

Our opinion of how easily an average person will be able to achieve their dating goals with this site compared to other sites.

2
9
Value

Will the time and money spent using this site pay off for an average person based on the opinions and experience of our editors.

2
10
Our Recommendation
Here are the key moments that you need to know about what happened when I put CatholicMatch.com to the test.
All new Catholic Match members must take a personality test based on their faith
The answers to this test are used to help you find a suitable partner. They'll also be displayed in your profile for other members to see.
Here are the 23 questions you'll be asked.
First name:
Last name:
Location:
Gender:
Marital Status:
Date of birth:
How did you hear about us?
What Diocese are you in?
How tall are you?
Ethnicity:
Do you drink alcohol?
Do you smoke or use tobacco?
Do you currently have any children?
Political views:
Education level:
What is your line of work?
How much do you practice your faith?
How often do you attend Mass?
What liturgical style do you prefer?
Do you accept the Church's teachings on the Eucharist?
Do you accept the Church's teaching on contraception?
Do you accept the Church's teaching on the Sanctity of Life?
Do you accept the Church's teaching on premarital sex?
All but the most basic questions are multiple-choice.
Once you're done and your account is created, you also have the option to take another Match Portait test about the type of partner you're looking for. This is a more extensive personality test designed to help Catholic Match better recommend members with whom you might be compatible.
The women on the site were fairly attractive
As with all niche sites, you usually run into two issues:
There are barely any people on the site from your city, or
None of the women are attractive
In the case of Catholic Match, I was pretty surprised to see that there are plenty of women on the site, many of whom were pretty attractive. I narrowed down my search to my city, and true enough, there were several pages of profiles to browse through.
Upon looking at the profiles, it also looks like they're legit since there were varying details on their profiles, and they had a fair number of photos. I was pretty excited to get in touch with some of them until I realized…
You'll have to sign up for a premium account before you can send any messages
On the main dashboard, you'll see photos of nearby members who might be to your specific tastes. There is also a "Search" option which allows you to find other members based on the criteria you choose. You can filter your search based on most of the questions asked in the initial personality test.
You are given zero opportunity to message any Catholic Match members with a free account. If you try, you'll be prompted to sign for a premium membership.
I didn't receive any messages before signing up for a premium account either, but that might not necessarily be a bad thing. Some scam dating websites will send you messages using bots to encourage you to sign for a paid account, so at least Catholic Match didn't resort to that.
Catholic Match blocked my account within a short while of me paying for a premium membership
The next step of my CatholicMatch review was to pay for a premium account and begin messaging women to see how responsive they were. However, I was unable to do this because Catholic Match blocked my account within a short while of me paying for a premium membership.
When a Catholic Match account is blocked, you're not given any notification about why this happened, nor can you log in to access information about the customer service.
When I created a second account, it was blocked shortly afterwards too.
While we can't legally comment on whether this is likely to happen to you, we felt obliged to warn you why this happened to us.
We think eHarmony is better
While Catholic Match initially seems like a decent site, we weren't able to test out any of its paid features. We're not entirely sure why, but it seems a little suspicious that a site would suddenly block you right after paying for a membership. Using a VPN or Incognito Mode shouldn't even be an issue since many people do this for online security reasons.
You know what site won't block you out of the blue? eHarmony. And this is why eHarmony is still our top choice when it comes to finding a match, whether Catholic or not.
eHarmony, like Catholic Match, has a fairly extensive signup questionnaire that helps narrow down your potential matches. You can also choose to specify your religion and that you're only willing to date someone of the same faith–something that Catholic Match also does.
However, the big difference is that eHarmony is much more popular than Catholic Match. eHarmony has a huge number of users from all over the world, many of whom are also Catholic. Since dating is a numbers game, eHarmony has a much better chance of helping you meet your ideal partner than a niche site like Catholic Match.
Positives and Negatives of Catholic Match
Despite not being able to try the paid membership, I was able to see a few pros and cons of using CatholicMatch.com:
Catholic Match uses personality quizzes to match you with suitable partners.
There would appear to be a fair amount of beautiful women on Catholic Match.
The website looks modern and is easy to navigate.
The profiles show all the key information that Catholics would want to know about their partner's faith.
You won't be able to send messages to any members until you sign up for a paid subscription.
CatholicMatch blocked our account a short while after our paid subscription was set up.
Profiles, Pictures, and Members
The Catholic Match profiles do a great job of clearly showing the key information that Catholic singles might want to know. This includes information on how important their faith is, how often they attend mass, what kind of mass they usually attend, and which of the Church's Teachings they agree with.
So even if everyone on the site is Catholic, you can all differ in some aspects of your beliefs. This is extremely important when dating someone.
Design
The Catholic Match has a modern design. The main dashboard will recommend matches that may be suitable for you to send a message to. The search engine and its many filters are very easy to understand and use.
The profiles are very easy to scan and show you a lot of information about other members and their faith. The help section is a;sp extremely detailed and well-organized.
The only section of the website that looks a bit dated is the Catholic chat forums, but then again, most other dating websites don't have a feature like this at all.
So, there really are no complaints as far as the design of the website.
Messaging and Chatting
You won't be able to send a message to anyone until you sign up for a premium membership. Once you do, you'll be able to send as many messages as you like to as many members as you like.
The messaging feature allows you to send emojis, but no photos. Catholic Match also has its own set of forums for you to discuss all topics related to Catholicism.
Advertisements
You won't see any adverts on CatholicMatch.com, whether you're a free member or you have a premium membership.
Pricing
There is only one form of premium membership, but you can choose to buy it for one month, six months or twelve months.
The longer memberships cost less per month, but more overall.
At the time of the review, the prices on offer were:
One-month membership: $29.99
Six-month membership: $89.94 ($14.99 per month)
Twelve-month membership: $119.88 ($9.99 per month)
Your membership will automatically renew after this time is up and you'll be charged again unless you cancel it beforehand.
Catholic Match Frequently Asked Questions
Still unsure about Catholic Match? Here are the answers to some frequently asked questions about this dating app.
What is Catholic Match?
Catholic Match is a dating website, primarily for Catholics and those who want to date them.
How can I contact Catholic Match?
You can email [email protected] or visit https://catholicmatch.zendesk.com/hc/en-us/requests/new
Who owns Catholic Match?
The three co-founders of Catholic Match were Mike Lloyd, Brian Barcaro, and Jason LaFosse. Sadly, Mike Lloyd died in 2014.
Is Catholic Match real?
Catholic Match is a real online dating website, although we had troubles with our accounts being deleted after signing up for a premium membership.
Is Catholic Match legit?
Catholic Match has been praised as the number one Catholic dating website on the internet, although we had trouble using it because our accounts kept getting deleted after we signed up for a paid subscription.
Is Catholic Match a scam or fake?
We're not prepared to call Catholic Match a scam, but our accounts kept getting deleted after we set up paid subscriptions. So this makes us extremely suspicious.
Is Catholic Match safe?
Catholic Match has a 24/7 security system, in which all accounts are commonly scanned for common signs of scammers. If an account shows some red flags, it's manually reviewed by a staff member, then banned if necessary.
It has all the necessary means to protect your personal and financial information too.
What are Catholic Match alternatives?
You can see our most highly-recommended alternatives to Catholic Match in our list of the best dating apps and sites we've tested.
How does Catholic Match work?
You'll create an online dating account by filling out its 23-question personality test.
From there, it's down to you to upgrade to a paid membership, search for other members that catch your eye, and begin conversations with other members. Of course, you may choose to only respond to those who message you first.
If you hit it off with someone, the idea is that you arrange to meet in the real world and hopefully have a fantastic time!
Is there a Catholic Match app?
Yes, it's available on iOS and Android, as well as on CatholicMatch.com.
How much does Catholic Match cost?
You can't message other Catholic Match members with a free membership, so you'll have to pay to stand any chance of landing a date. You have three options when it comes to paid memberships.
At the time of the review, the prices on offer were:
One-month membership: $29.99
Six-month  membership: $89.94 ($14.99 per month)
Twelve-month membership: $119.88 ($9.99 per month).
Your membership will automatically renew after this time up and you'll be charged again unless you cancel it beforehand.
How can you use Catholic Match for free?
You can browse other members' accounts with a free account on Catholic Match, although you'll have to sign for a paid subscription if you want to send messages to anyone.
Can you send messages for free on Catholic Match?
No, if you want to send messages to other members on Catholic Match, you'll have to sign up for a premium membership.
How do you cancel your Catholic Match account?
Click your profile picture on the top right-hand screen, select "Settings", then scroll to the bottom of the page and click the "Remove Account" button.