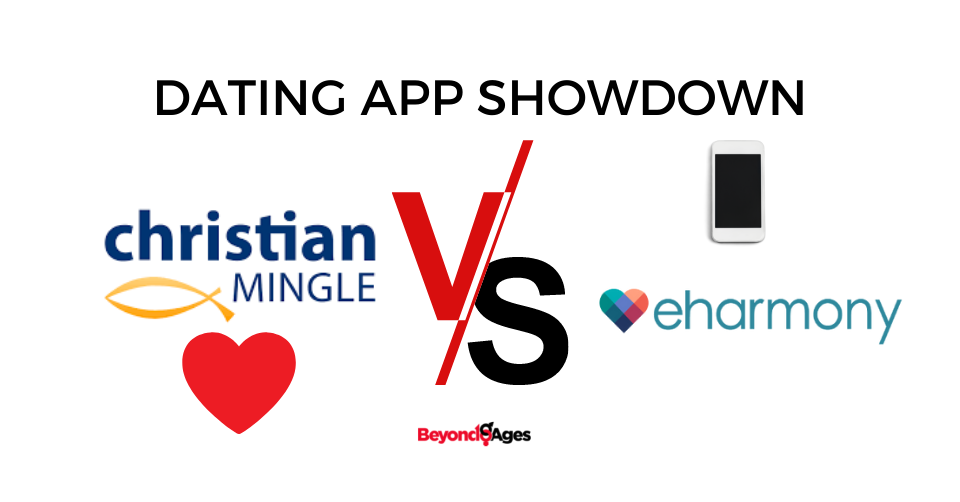 In this comparison of Christian Mingle vs EHarmony, you'll discover which of these online dating websites is best for finding a relationship.
Online dating has become a godsend in helping single people find a partner, whether that's for hookups, short-term flings or serious relationships. The problem is it's difficult to figure out which app is best for finding what you want.
Christian Mingle vs eHarmony is regarded as a battle between dating apps for serious relationships. But are either of them any good? This is what we aimed to find out in this comparison review.
Here at Beyond Ages, we like to get our hands dirty while reviewing online dating apps.
Rather than writing brief summaries based on what we heard from other people, we extensively test all websites we review. And if we find any new worthwhile apps for finding relationships, we always add them to our list of the best dating apps and sites. Both Christian Mingle and eHarmony were put through our rigorous testing process, so you can be confident when we recommend one over the other.
How We Compared Christian Mingle and eHarmony
Here at Beyond Ages, we know the most important aspect of an online dating website is: how easy it is to arrange a date with a quality woman.
Some dating apps are overflowing with great women, while others are more akin to a virtual wasteland.
In this Christian Mingle vs eHarmony review, we put both the free and paid versions of these websites through their paces.
Our online dating experts spent months sending messages to all kinds of women, doing everything they could to arrange to meet up in person.
They use the same photos and the same techniques on every website they test, so it's possible for us to present fair and honest comparisons for you.
We go the extra mile, so you don't have to waste your time on dud online dating websites!
Our In-Depth Christian Mingle vs eHarmony Review
Want to find out which website was better for arranging dates with quality women, between Christian Mingle and eHarmony?
Our detailed Christian Mingle vs eHarmony review reveals all. Scroll down to find out which website was the winner. After spending several months using both Christian Mingle and eHarmony, this is our verdict on how they compared against each other:
Overall

Our team rates each site objectively based on many hours of independent research, the features each site offers, and how it compares with other sites. The ratings are the opinion of our editors and their extensive experience.

7
9.5
Quality of Women

Our opinion of how attractive the typical woman is that uses this site and how easy they are to connect with compared to other sites.

7
9
Popular

How many people are using this site to actually meet people compared to other sites.

5
9
Usability

How easy is this site to use and how quickly can an average person begin meeting people compared to other sites.

7
10
Privacy & Safety

Does this site take proper precautions to safeguard its members, their identity, and their data.

8
10
Effective

Our opinion of how easily an average person will be able to achieve their dating goals with this site compared to other sites.

7
9
Value

Will the time and money spent using this site pay off for an average person based on the opinions and experience of our editors.

7
10
Our Recommendation
Who should use Christian Mingle?
Christian Mingle is a dating website exclusively for Christians. It claims to have over 15 million users across the globe.
There are plenty of Christians out there who would only consider dating someone of the same faith as them, and this app caters to these people. Although you're free to sign up to Christian Mingle regardless of your religious beliefs, you'll be asked to list your religion during the sign-up process and this will show on your profile. While we found plenty of users on the site, we didn't find any who weren't Christian, which isn't a surprise.
You'll also be asked to list the relationship type you're looking for. The options are friend, long-term relationship, and marriage or marriage and kids. Note how there are no options for one-night stands or hook-ups.
To conclude: Christian Mingle should only be used for Christians seeking other Christians for serious relationships.
Who should use eHarmony?
eHarmony markets itself as the number one website to help people find love with a quality partner. On its home page, you'll notice it shows off its awards at the most trusted dating app. It also boasts that someone finds love on eHarmony every 14 minutes. This doesn't come as a surprise since we found lots of active users on the site no matter our search preferences.
eHarmony puts a huge focus on personality. You'll have to answer an extensive personality test shortly after you sign up, and you'll be recommended potential partners based on your answers.
The eHarmony algorithm will give you a compatibility score (from 0% to 100%) with every other user on the website based on how each of you answered the test. Based on experience, the compatibility score is pretty accurate. All my recommended matches were looking for the same things I was. Though there were a few instances where the compatibility score with a specific match was around 80-85%, I found that this was because we didn't have a lot of hobbies and interests in common.
All of eHarmony's marketing centers around love and relationships, not hookups. The hefty monthly subscription fee tends to scare off people who aren't serious about finding love anyway.
To conclude: eHarmony should only be used by people who are serious about finding a long-term partner with a compatible personality to theirs.
Is Christian Mingle or eHarmony better for serious relationships?
Both apps are good bets to find serious relationships, as everything about them is geared towards this. However, if we had to choose one option that gave you the best shot at finding true love, we'd have to go with eHarmony.
Here are three key reasons why we think eHarmony is the best option for single men looking for a serious relationship.
eHarmony has a better range of single women to choose from. While Christian Mingle has niched down to only appeal to those who practice Christianity, eHarmony has a wider range of users looking to find love, including non-religious people and people of different faiths. A bigger user base means more potential matches for you.
eHarmony has a more intelligent algorithm to match you with the best women. It only took a few minutes to complete the personality test after registering with eHarmony, but this is time well spent. All my matches had a lot in common with me and they were looking for the same thing I was. In contrast, Christian Mingle lets you select who you want to talk to without facilitating the process.
eHarmony is a safer platform to use. eHarmony has won awards for being the number one most trusted dating app and for having the highest quality dating pool. That's in part to the quality of the safety measures to users to keep out fake and scam accounts. In once instance when I wasn't able to immediately upload information and a photo, my account was suspended. Christian Mingle, on the other hand, is somewhat lacking on this part. Literally anyone can create a profile, though they do suspend accounts that constantly change locations and search preferences.
If you want other options for finding serious relationships, check out our compilation of the best dating apps and sites we've tried.
Is Christian Mingle or eHarmony better for casual fun? 
While neither of these apps are marketed to singles looking for casual relationships, eHarmony edges out Christian Mingle here too. That's because the latter is stacked with serious Christians, who would only consider physical relations with a man who was their boyfriend or husband.
If you're only after casual fun with the women you meet online, it's better to join a hookup website like Adult FriendFinder.
We have put Adult FriendFinder through the same intense testing process that we use for all of our reviews and discovered that it was by far the most effective website for finding casual relationships.
This is mostly because:
Adult FriendFinder is unashamedly marketed as being a hookup website, so all the women who join have no reason to pretend they're searching for anything else. I didn't find a single person looking for serious relationships on AFF, though some were looking for friends with benefits (the closest you can get to a serious relationship in the world of hookups).
It has a far bigger user base than other hookup websites, and even more than some mainstream dating websites. They've been around for years, and we've been testing out the site for almost as long. More users keep pouring in and they're mostly active on the site.
Although there is a monthly subscription fee, we found it to provide far more opportunities to connect with like-minded singles than other paid dating websites in its niche. Unlike with apps like Tinder or Bumble, I was at least 100% sure that the women I was talking to on AFF wanted hookups, not relationships.
In case you want to check out more options for finding casual fun, we have a list of the best hookup apps and sites. This list has all the best online platforms you can use if you're not looking for a serious relationship.
The Dating Apps Most Recommended By Dating Experts
If you haven't had a great time using dating apps to this point it's probably because you're using the wrong ones. There are a couple of apps that dating experts have been recommending to regular guys that will work for you:
Site
Our Experience
Our Rating
Free Trial Link

Best Casual Encounter Site

Experience Highlights

Top option for local hookups by far
Best results for regular guys
Over 60 million active members
The design needs an update

Try AFF For Free

Great If You're Handsome

Tinder Highlights

Great if you're pretty good looking
Very popular, especially if you're 18-22
Really focused on photos
Becoming more of a dating than hookup app

Try Tinder

2nd Best For Most Guys

Experience Highlights

2nd best option to find hookups for most
Attracts an older crowd than most hookup apps
Pretty popular
Solid free trial

Try Passion
Christian Mingle vs eHarmony: Which is more popular?
According to our research, the Christian Mingle website averages just under 175,000 hits a month. That has been on a downward trend over the last two years.
Christian Mingle popularity:
Meanwhile, the eHarmony website averages around 680,000 hits a month. That's almost four times more. The traffic to eHarmony is on a downward trend also, but still retains an impressive active user base.
eHarmony popularity:
How easy is it to find a match?
These two websites have two opposite approaches to finding you a match.
On Christian Mingle, you can set your search parameters using its detailed filter system. This will help you find a woman of the right age, height and distance from you. On top of that, you can choose to filter further by their level of education, church attendance, desire to have kids, ethnicity, smoking and drinking habits, plus a lot more.
Once you've done that, you'll be presented with a list of matches, including a percentage compatibility score for each profile. You can then go ahead and send a message to as many women as you want who pick your fancy (provided you have a paid account).
eHarmony has no search feature at all. Instead, it will only let you send a message to a limited number of women that its algorithm determines to be the best match for you. Although you may be presented with more women each day, there is a daily limit to the amount of matches the website will give you.
Now while it may seem that Christian Mingle, therefore, gives you a better opportunity to match with your dream woman, please consider this:
The limits that eHarmony places on matches mean that your ideal woman is getting far fewer messages than they might do on other competing websites. The result is: your dream woman would be more likely to actually notice and read your message on eHarmony.
Add to that the fact that eHarmony has a bigger and broader range of active users, and it's little wonder that we had more success arranging dates on eHarmony than on Christian Mingle.
Which app has the best quality women?
Both eHarmony and Christian Mingle have about the same quality of users. eHarmony has a bigger user base, with the caveat that they're not all Christian.
Christian Mingle only has Christian members, but the user base isn't quite as big.
Ultimately, you'll need to choose between casting a wider net on eHarmony versus going to a niche website where all the women are Christian but there are fewer choices.
Which app is better for men to use?
STANDING OUT has always been the biggest difficulty for men using online dating platforms. Most online dating websites are flooded with men, meaning the most beautiful women are flooded with messages.
This leaves the average Joe finding it impossible to even get a reply, let alone a date.
eHarmony helps to eliminate this problem in two key ways.
eHarmony limits the number of matches that men and women can make per day. This ensures your matches won't be bombarded with messages, so your opener is less likely to be lost in the crowd.
eHarmony has a near 50-50 ratio of men and women. This makes it a far more even playing field for guys, compared to other mainstream dating apps.
For these reasons, we'd recommend eHarmony to any single man looking to find their true love online.
How much do Christian Mingle and eHarmony cost?
Christian Mingle has a free version, but this only lets you view profiles and send "likes" or "winks". You won't be able to message anyone without upgrading to a paid account.
There are three paid Christian Mingle plans to choose from: 
One month: $42.99
Three months: $74.97 ($24.99 per month)
Six months: $119.94 ($19.99 per month)
eHarmony has also a relatively useless free version, which limits you to one message per profile and doesn't let you see anyone's photos. To sign up for a paid account, you'll need to commit to at least six months of membership.
The three eHarmony paid plans to choose from are as follows:
Six months: $395.40 ($65.90 per month)
One year: $555.80 ($45.90 per month)
Two years: $861.60 ($35.90 per month)
You'll notice that eHarmony is far more expensive than Christian Mingle, but that added cost is what helps make it a more favorable experience for its users.
It helps to ensure the women you interact with are truly serious about finding love online. Much like a VIP nightclub, the high entrance fee keeps trouble-makers and low-quality individuals out. That's probably why we had so much success arranging dates with great women during our testing process.
Is eHarmony better than Christian Mingle? 
We think eHarmony is a much better choice than Christian Mingle if you're looking for true love.
It has a bigger, broader range of women.
It has an algorithm that is fantastic for finding your soulmate.
It has a near 50-50 ratio of men and women.
It limits the amount of matches users get per day, meaning your dream women are more likely to see your messages.
If you want more options for finding serious relationships, check out our compilation of the best dating apps and sites. eHarmony is on that list, but we also have a few options worth checking out if you want to best odds of succeeding in online dating.