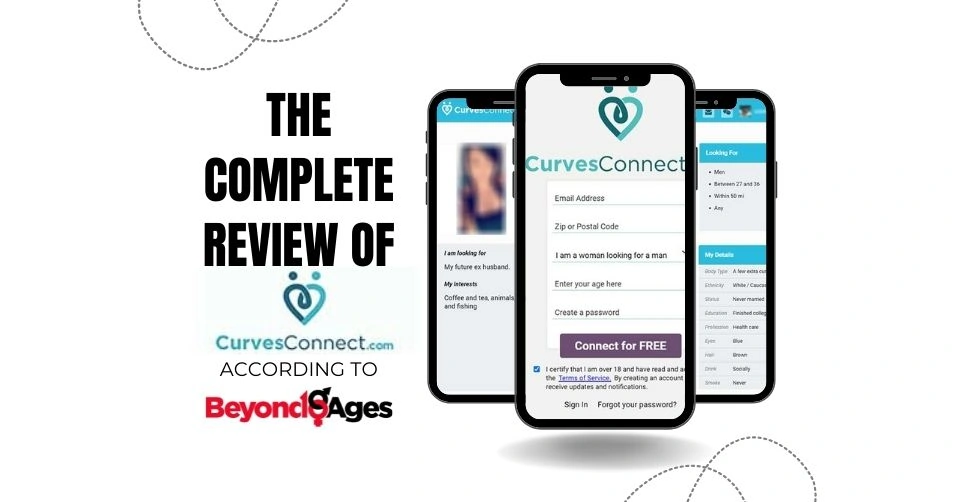 CurvesConnect.com markets itself as the online dating website where "real people can be accepted just the way they are." It suggests that – while you can only succeed on rival websites by posting "pictures fit for a fashion magazine" – this site is the home for real people to find meaningful relationships. Let's see if that's the case in our CurvesConnect review.
On its home page, it states that the site is for anyone who self-identifies as curvy, plus-size, having a few extra pounds or for those who don't judge a book by its cover. So, if you're into bigger women, this would surely be the website for you, right?
Well, I wanted to find out for sure…
Here at BeyondAges, we have discovered a lot of online dating websites that do not deliver on their promises, even promises as seemingly underwhelming as these.
CurvesConnect.com offers a paid membership, which supposedly makes it easier to find a great partner, but I wanted to make sure it was worth the money. If there was a CurvesConnect scam, I wanted to find it and warn you about it.
How we reviewed CurvesConnect
We have a set formula for reviewing online dating websites. When possible, we use the same city, the same stock photos, the same bio and send the same opening messages. We take a look at what's available with the free version of the website, if there is one. But we run our tests using the paid version of the website as well, so we can tell you whether to purchase or avoid it.
Our tests involve messaging 50 suitable women within our vicinity and noting down how responsive they are. How many of them reply? How many share contact details with the aim of meeting for a date.
So, is it worth signing up to the paid version of CurvesConnect? Read on find out…
Curves Connect Review – Is This Modest Website Worth The Money?
Let's cut to the chase. Below is our basic summary of Curves Connect, where we rate the website out of 10 for the most important aspects of online dating. For context, these ratings are compared to AFF, which we rank as the absolute best online dating website for organizing casual fun.
Overall

Our team rates each site objectively based on many hours of independent research, the features each site offers, and how it compares with other sites. The ratings are the opinion of our editors and their extensive experience.

1
9.5
Quality of Women

Our opinion of how attractive the typical woman is that uses this site and how easy they are to connect with compared to other sites.

1
9
Popular

How many people are using this site to actually meet people compared to other sites.

1
9
Usability

How easy is this site to use and how quickly can an average person begin meeting people compared to other sites.

5
10
Privacy & Safety

Does this site take proper precautions to safeguard its members, their identity, and their data.

1
10
Effective

Our opinion of how easily an average person will be able to achieve their dating goals with this site compared to other sites.

1
9
Value

Will the time and money spent using this site pay off for an average person based on the opinions and experience of our editors.

1
10
Our Recommendation
The main reason for the low ratings is that we have significant reason to suspect that this website is scamming its users.
CurvesConnect locked me out of my account as soon as I paid for a premium membership
You can't send or read messages with a free CurvesConnect account, so I went ahead and paid for a premium account straight away. The problem was: as soon as I logged out of my account I was unable to log back in.
There is no way for me to contact CurvesConnect customer service
The forgot password or reset password did not work on the website. To contact the Curves Connect customer service, you have to log into your account. So, it would appear there is no way to get back into this paid account.
I have sent the customer service team an email from a new account, but have yet to receive a response.
There is no reason to use Curves Connect, when you can use AFF instead
If you're looking to connect with women in your local area, I highly recommend using AFF instead. While yes, many curvy women are wary of using general hookup sites, many of them use AFF because it's a safe space for everyone who just wants to get laid.
This website is packed with beautiful women of all shapes and sizes. In our tests, we were able to talk to a variety of women, many of whom have curves to die for.
Better yet, because the website is geared towards those seeking casual flings, it's easy to arrange a meet-up without too much texting back and forth. Perfect for the time-pressed single male.
AFF is currently offering a free trial too, so you can check it out for yourself before committing any money.
Pros and cons of our Curves Connect review
Here's what we loved and hated about this site.
I like the sentiment of CurvesConnect. It would be great if a legitimate website catered solely to this niche.
I was locked out of my account as soon as I paid for a premium membership.
Customer service has been completely unresponsive.
Essentially, that means CurvesConnect has stolen my money.
What are the profiles like on Curves Connect?
Interestingly, there aren't so many profiles on this website. There are only five profiles aged between 21 and 22 in the whole of the United States, for example. A lot of scam websites pack their database with fake profiles.
There is a diverse range of women, as you would expect, although I was unable to confirm whether there were any real people behind their profiles.
The profiles on CurvesConnect.com are a little basic, but there is no way for me to tell whether real people created them.
Such a waste of a decent design
Curvesconnect.com has a very basic design. It's easy enough to navigate. Everything you might need is available by pressing the menu button in the top left hand of the screen. The "Discover" option also allows you to choose matches the way you might on Tinder.
How to message women on CurvesConnect.com
You supposedly need a premium account to message women on CurvesConnect. But as we established, it is not a good idea to spend a penny of your money on this website. You might end up getting locked out of your account as soon as you fork over your credit card info.
There is a "Message" button above every profile you see on the website, but this button will just take you to the landing page to purchase a premium account.
How much does CurvesConnect.com cost?
There are three memberships to choose from. These are:
1 month – $19.95 per month
3 months – $13.32 per month ($39.96 total)
6 months –  $9.16 per month ($54.96 total)
I wouldn't recommend any of these, though. It's possible this website will take your money and close your account too.
CurvesConnect Review: Frequently Asked Questions
Feel like we didn't cover everything? Here are some quick questions and answers about CurvesConnect.com.
What is Curves Connect?
Curves Connect is a dating site that helps curvy singles find each other. However, I got suspended the same day I paid for a membership.
Who actually owns CurvesConnect?
CurvesConnect is owned by Family Media Partners, Inc.
How can I contact CurvesConnect.com?
You can email their customer service at [email protected].
Is Curves Connect real?
Yes, Curves Connect is a real site. However, it seems super sketchy because they suspended my account once I paid for a membership.
Is CurvesConnect legit?
I found zero evidence of CurvesConnect being a legitimate dating website. Avoid it at all costs.
Is CurvesConnect.com a scam or fake?
I feel scammed! I paid for a premium account only to get locked out. And there appears to be no customer service team willing to help me out. So, yes, you should worry about a CurvesConnect.com scam too.
Is Curves Connect safe?
No. Curves Connect charged me and then suspended me. That's not a sign of a safe website.
What are CurvesConnect alternatives?
For our recommendations of the best alternatives to CurvesConnect, see our extensive guide on the best hookup apps and websites.
How does CurvesConnect.com work?
CurvesConnect.com works much like any other low-quality dating site. Once you create an account, you can check out other profiles. But to send messages, you need a paid membership.
Is there a Curves Connect app?
Yes, Curves Connect has an Android app.
How much does CurvesConnect cost?
Here are your CurvesConnect premium membership options:
1 month – $19.95
3 months – $13.32 per month ($39.96 total)
6 months – $9.16 per month ($54.96 total)
How can you use CurvesConnect.com for free?
You can't really use CurvesConnect.com for free. To message anyone, you need a paid membership.
Can you send messages for free on Curves Connect?
No, you need a paid Curves Connect membership to message anyone.
How do you cancel your CurvesConnect account?
Click "Settings" from the main navigation.
On that page, click "Remove Profile"
Enter a reason for why you are removing your profile.
Click "Remove"