The Jersey dating scene is a beast in itself. It can be tough when there are a lot of New York transplants that might not stay in the area all that often. Though there seems to be a ton of New Jersyans who can hop on a train to get to the Big Apple, there are also locals who like to keep the dating in their backyard.
No matter the preference, New Jersey dating sustained a hit in the past few years. Isolation has led a lot of people to resort to dating apps as their form of communication. Dating apps started coming out of the woodwork to capitalize on the opportunity. With the pandemic waning off, people are itching to get back into the dating scene in person.
We determined the best dating apps in New Jersey to use. Whether you prefer to stay in large cities like Newark or Jersey City, take a quick commute to NYC, or stay in a smaller Jersey city, we found the apps that best suit the overall user experience.
There are a ton of singles using dating apps in New Jersey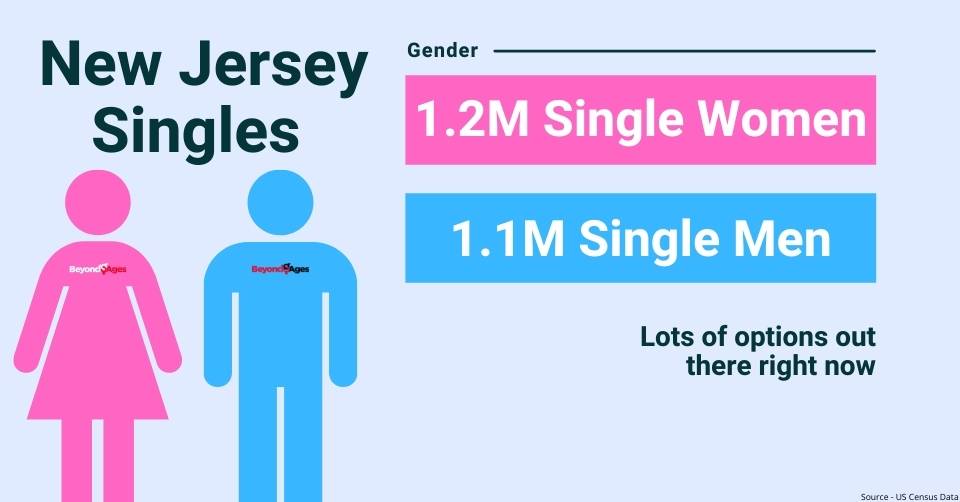 New Jersey has a lot more singles than one would expect. According to Town Charts, 26.4% of all New Jersey residents are single. This is about the average for any US state. But what's really worth noting is that the women in New Jersey outnumber the men. The total number of single men in NJ is 1,140,907, while the total number of single women is 1,200,954. So if you use the right New Jersey dating apps and also go out there to meet people, you'll find that there are a lot more women than men!
Now we got those promising numbers in your head; it's time to get to the apps. These dating apps have grown really popular in the last decade or so, with no signs of slowing down. They are especially popular in smaller towns where communication is few and far between. So if you want to join in on the fun, keep reading for the best 5 dating apps in New Jersey.
The 5 Best Dating Sites in New Jersey Right Now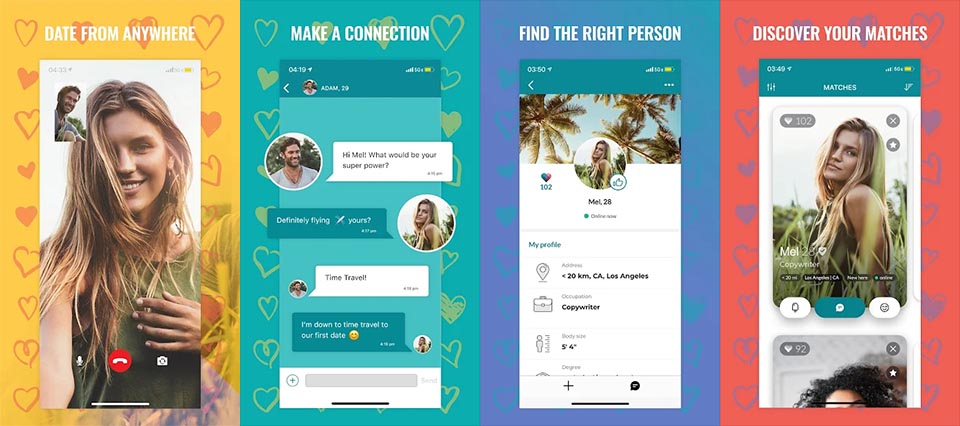 #1 - eHarmony (Android; iOS) is the best dating app in New Jersey for long-term relationships
eHarmony is the dating app that possibly stands out among the rest. With their track record, they are clearly doing something right. They have a unique compatibility quiz designed to match you up with the most promising singles. They stand by their formula and claim that they are responsible for 75% of all online marriages.
Essentially, it is up to you to see what you truly want when signing up. If you are serious about finding "the one," this might be your one-and-done dating app. If not, maybe keep this in mind when you're looking for something more long-term.
Why eHarmony is one of the best dating sites in New Jersey
70% of users find their future spouse within a year
The best dating app in New Jersey when it comes to longer-lasting relationships
Easy to understand interface allows for easy connections
What the app can improve on
More geared towards older singles
A lengthy startup isn't for everyone
The compatibility quiz takes a second to get done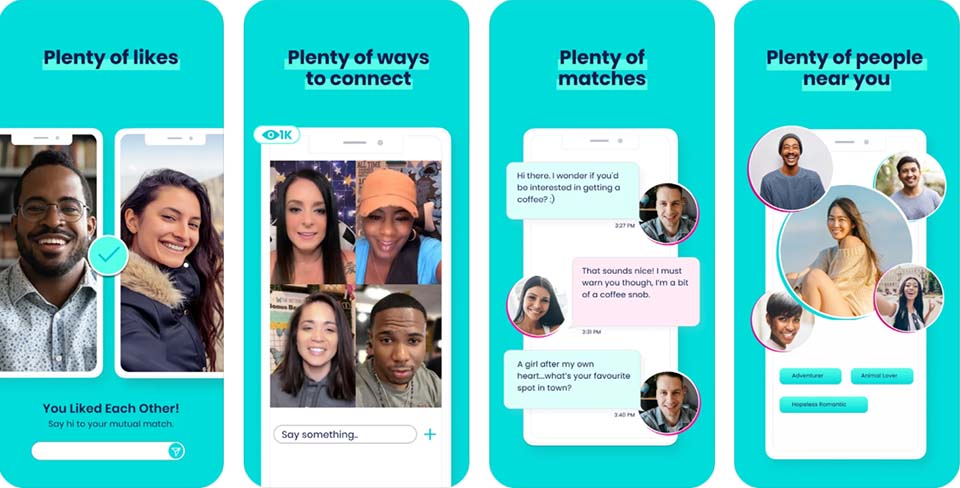 #2 - Plenty of Fish (Android; iOS) is a great option for free dating
Plenty of Fish has been around for quite a while but seems to fly under the radar a lot, especially when dating apps are discussed. So it's a little surprising knowing that their app is highly successful. Plenty of Fish is available in 11 languages in more than 20 countries, totaling 150 million registered users worldwide.
As for the app itself, it has plenty of cool features. For example, they have a Relationship Chemistry Predictor that measures five intangibles, such as easygoingness and social dependency, to match up with like-minded individuals. Similar to other apps, you can search for preferable criteria to get some traits you prefer or if you want to date someone in a certain profession.
If things are getting a little dicey with a certain individual, you have an option to report and block them. All in all, Plenty of Fish has plenty of perks worth exploring, even if you don't want to shell out for a premium membership.
Why you should try Plenty of Fish
It will help you find matches based on traits
In-person Match Events can get singles together easily
One of the most established services in dating
What could use a little TLC
A large user base calls for fake profiles
Premium memberships are pricey
Auto-renewed memberships can surprise members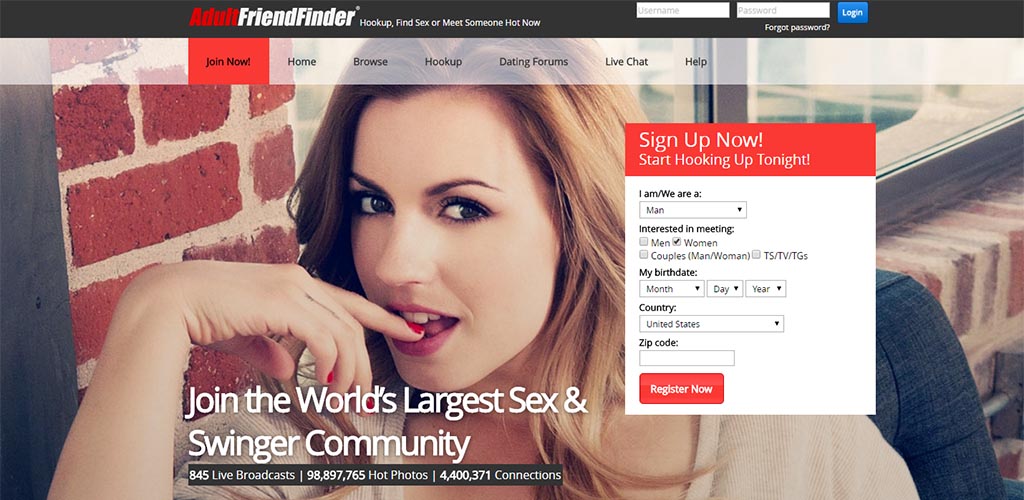 #3 - AFF is the best hookup site in New Jersey
If you prefer casual fun, you don't have to be left out of the dating app conversation. AFF is an app that allows people to be upfront about what they want. Although they only have a website at the moment, they excel at their niche. It clearly works, as they have a very dedicated user base of up to 60 million people. We're sure a few of them happen to reside in New Jersey.
In our experience, AFF works well no matter what you look like. Unfortunately, tinder seems to fall behind in this regard, as you really only get to play if you're exceptionally handsome. Even though we know you probably don't have an issue with that, it is helpful to know.
Last but not least, AFF just seems to be the hookup app that people need. It's not difficult to get started, and users tend to come back whenever they please. Moreover, it can lead to some fun, worthwhile experiences.
Why AFF is the best hookup site in New Jersey
A better alternative to Tinder
The most popular hookup site in New Jersey
Everyone is on the same page and makes casual fun easy
What we don't like about it
The surplus of ads can make the user experience inconvenient
The lack of a matching system can make searching difficult
Only available through a website
You Can Try AFF Free!
If you're just looking for a fling or more short-term fun you need to
try out AFF's free trial
. We've spent months and months testing out the alternatives (more than 100 other sites) and haven't found anything that gives most guys more options and better results. Give it a shot!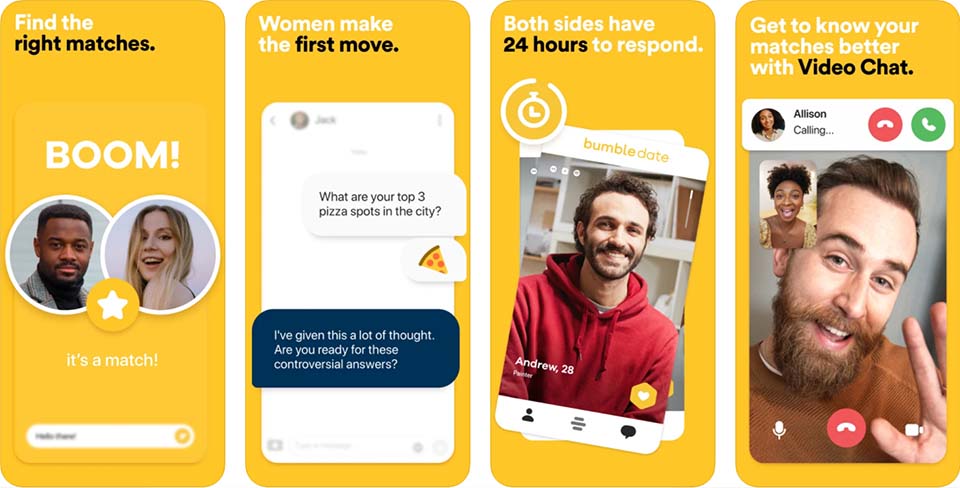 #4 - Bumble (Android; iOS) leads the way for women sending that first message
In New Jersey, there are all kinds of people from all walks of life. Locals, transplants, and people trickling in from New York can spice up the dating scene quite a bit. If you tend to be a little bit of an introvert, that shouldn't keep you from dating. Instead, Bumble is a perfect option for you and the ladies that prefer to make the first move or want to get out of their comfort zone.
Bumble was one of the dating apps that came after Tinder's success. It requires the woman to start the conversation. The slight change in Tinder's formula makes it easier for women to reach out and feel secure in the dating world. When women are allowed to feel comfortable, everyone seems to let their hair down a little bit.
The app isn't exclusive to outgoing women either. Their Bumble questions provide some icebreaker prompts that'll get the conversation flowing. People can even use Bumble to find some platonic friends or colleagues in their career field. It's a simple app that can do just about anything.
Why we recommend using Bumble for dating
Definitely works for men that typically don't make the first move
You can use it to find friends and network for business
Bumble questions can break the ice for shy women
What we weren't very crazy about
Not a good option for impatient men
Matches disappear in 24 hours if the first message isn't sent
You have to pay to switch locations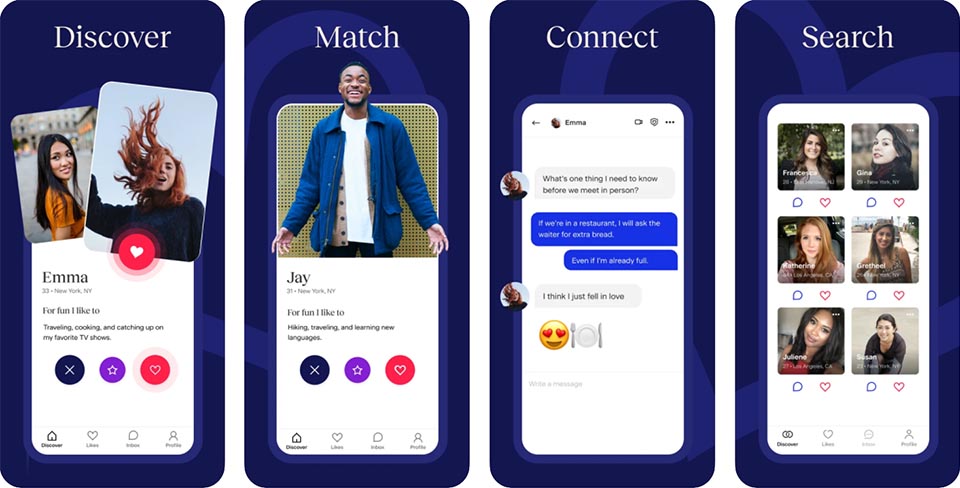 #5 - Match (Android; iOS) has been in the dating long enough to be a worthy try
Match, is a pioneer of online dating. Founded in 1995, the company is old enough to start settling down itself. Match's strength comes from its website, but its mobile app is improving every day. For now, it is a little lacking and can be inconvenient when trying to get some online dating done on the go.
If you can get past that minor flaw, Match has a lot to offer. Other than being a standard dating app, they also have a Match Event program that anybody can participate in. For example, a Match user can pitch a singles-only event to the app, if Match ends up liking the idea, they will promote it to local users, thus enhancing the experience. It could make for a fun time, and getting face-to-face with other singles can lead to further dating luck.
One of Match's sources of longevity is its matchmaking software. You can search for certain traits that you can't compromise in your search, such as non-smoking or religious purposes. While it might seem like a smaller detail, added perks like that narrow down your choices. And after all that, the Match Guarantee will refund you after the first six months if you haven't had any luck.
Why Match is worth a look
One of the most established services in dating
In-person Match Events can get singles together easily
It will help you find matches based on personal traits
Why you could skip it
Trial membership doesn't allow you to do much
A large user base calls for fake profiles
Inactive free users
The Best Hookup Sites in New Jersey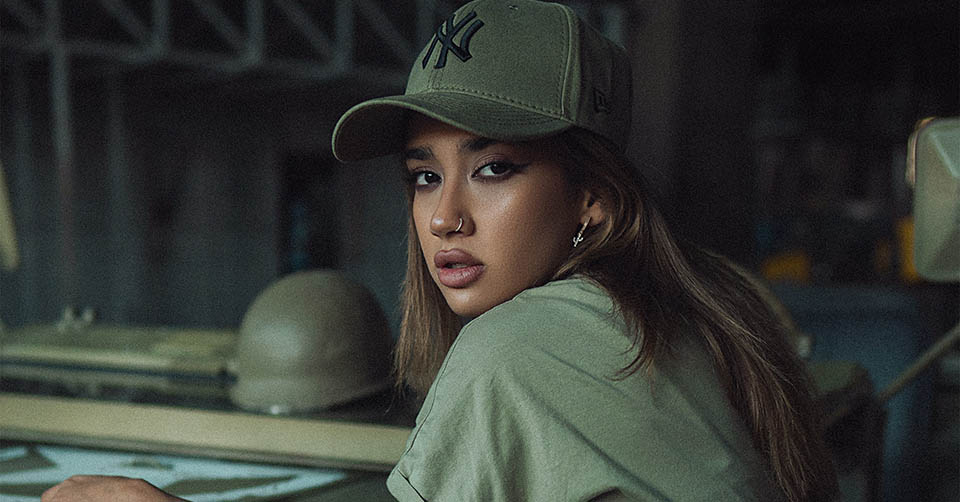 If you're looking for the best casual dating sites in New Jersey, we have two favorites. One isn't the most popular choice, but we've found that it works wonders. As for the other, it's incredibly popular, but it does have a few drawbacks.
One of the top hookup sites in New Jersey is AFF
AFF might not always be the most recommended site out there, especially since it doesn't have a dedicated app. But based on our experience, it's one of the sites where we were able to consistently find hookups in New Jersey. With millions of active users all over the US (many of whom are on the east coast), AFF consistently delivers when it comes to finding casual relationships.
The great thing about this site is that everyone is looking for the same thing. By virtue of being on the site, you already know what's on their mind. All you need to do is narrow down your options and find someone who wants the exact same thing as you.
Tinder is the popular choice for most singles
What makes Tinder so popular in the hookup sphere? For one, it's fun and easy. You can swipe all day and you're bound to find a match. Second, it's full of hot singles looking for a good time. Just keep in mind that all these hot singles tend to only match with each other. If you're hot too, great! If you're more on the average side, you can still find matches if you work on taking great photos and creating a witty bio.
The Best Dating Sites in New Jersey for Relationships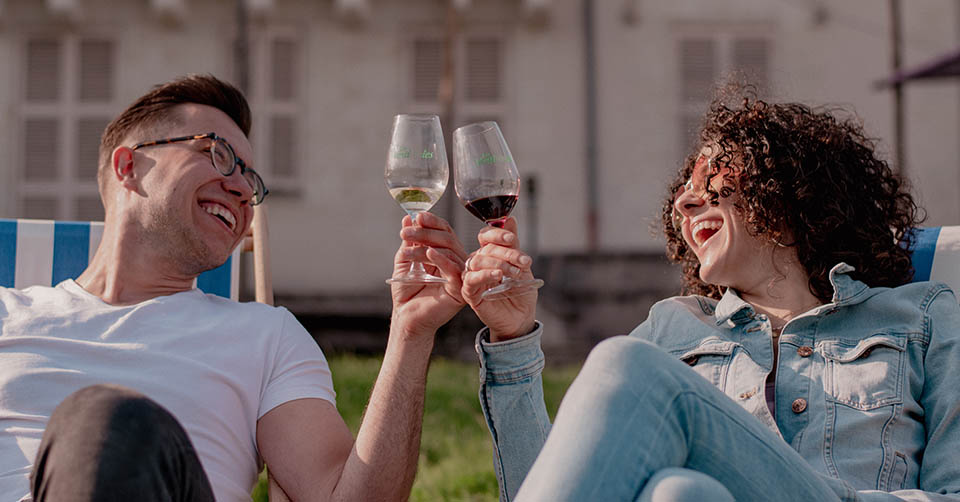 Finding a serious relationship is easier now than ever. More and more people are gravitating towards New Jersey dating sites once they feel that urge to settle down. Here are the ones to check out:
eHarmony's matching system is tough to beat
The great thing about eHarmony is that its algorithm does all the matchmaking for you. Once you answer the sign-in questionnaire, eHarmony starts searching for singles you'll be compatible with. 9 times out of 10, they hit the mark. Just ask the 4% of Americans who met through eHarmony and got married. So if you're looking for a long-term relationship and you need a little help finding the one for you, eHarmony might be the app you need to try.
Zoosk is popular among younger singles
When most people think of dating sites, they think of either finding people for hookups or as a potential life partner. Zoosk, however, is a little unique. It tends to be popular among singles in their late teens to early 20s. But while it markets itself as a site for serious relationships, it's more of a site for finding relationships that don't necessarily lead to marriage. Its target market is younger singles who aren't into hookup culture but are also not in a rush to walk down the aisle. If that's you, Zoosk is definitely worth a shot.
The Best Free Dating Sites in New Jersey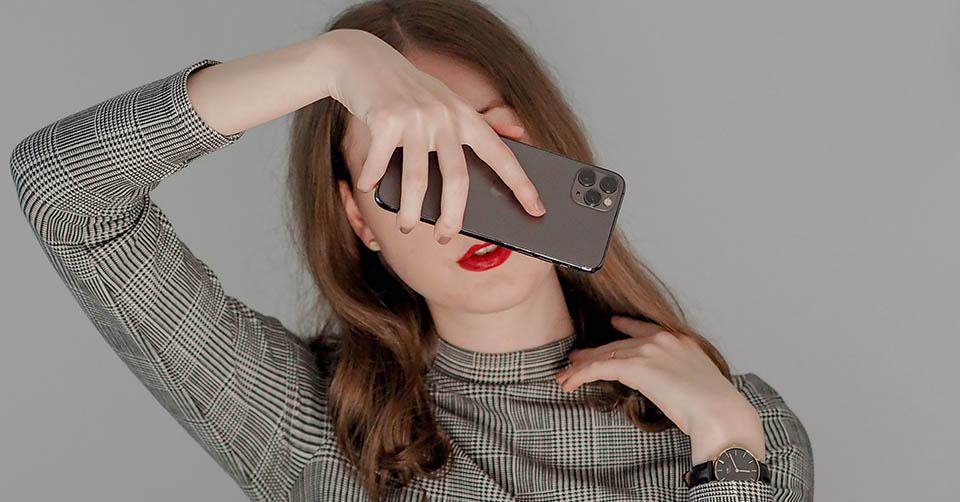 Free dating sites are a dime a dozen. The question is: which ones are worth your time? These apps may be full of users, but because they're free, they often have some issues. Whether it's constant bugs, fake accounts, or a lack of features–these are just some of the issues most users have with free apps.
Paid dating apps, on the other hand, tend to be a lot more reliable. After all, they don't rely on bombarding you with ads to make money. Instead, they use your monthly subscription payment to ensure that the app actually helps you find a date. Granted, these subscriptions aren't cheap, but they're often worth it.
If you're dead set on using the best free dating apps in New Jersey, these three are the best options: