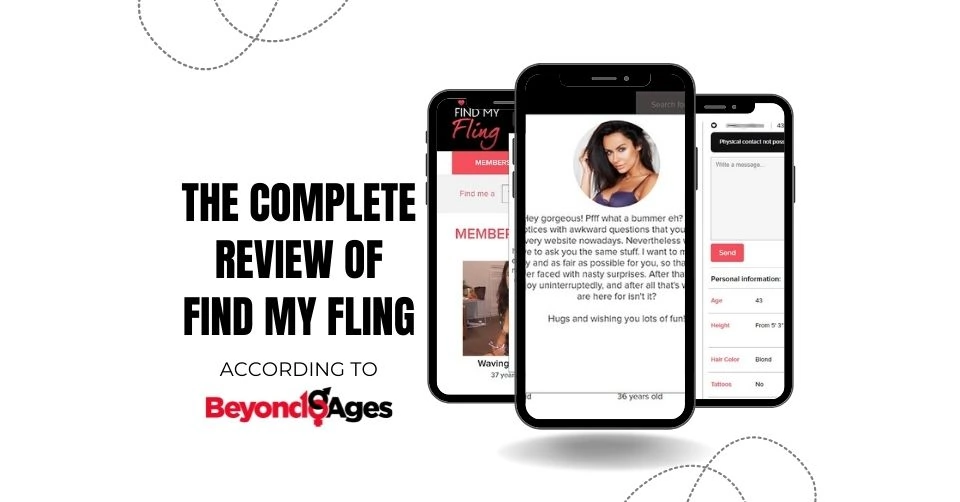 FindMyFling might sound like the perfect website to discover a host of women looking for hookups and casual relationships. But it describes itself as an "online entertainment and social networking website." So, you might be a bit confused as to what this website actually offers once you create an account. That's why I was keen to put it through its paces in my FindMyFling review.
Finding the right dating site for you is crucial. A huge number of relationships are starting online right now since so many people are still socially distancing to one degree or another. If you haven't found a good app or site you're way behind. Fortunately, we can help.
First, I need to explain how this review works, and what makes a good online dating website in our eyes.
How I reviewed Find My Fling
Our online dating website reviews are based on how effective a website is for arranging dates with beautiful women. We follow a standardized protocol so that we can create accurate comparisons between websites.
When possible, we begin the review with a blank profile and wait to see if any women message us first. If they do, that's a clear sign of a scam because it's extremely rare for any legitimate women to reach out to a completely anonymous profile, especially by sending sexually suggestive messages.
From there, we create a profile with the same pictures and bio text every time. We send out opening messages from the same list of approved lines to 50 suitable female profiles.
Our verdict on the website is based on how responsive these women are. How many would text back? How many would agree to a date and swap contact details?
To find out how likely you are to land a date on Find My Fling, read the review below.
My FindMyFling Review: What Can You Expect?
In this basic summary, I rate Find My Fling out of 10 for the most important aspects of online dating; perfect if you don't want to read the whole detailed review.
For context, these ratings are compared to the ones we awarded AFF (which you can try for free here), which we regard as the best site out there for arranging casual fun and no-strings relationships. This quick comparison really illustrates well what we found in the larger review below.
Overall

Our team rates each site objectively based on many hours of independent research, the features each site offers, and how it compares with other sites. The ratings are the opinion of our editors and their extensive experience.

2
9.5
Quality of Women

Our opinion of how attractive the typical woman is that uses this site and how easy they are to connect with compared to other sites.

2
9
Popular

How many people are using this site to actually meet people compared to other sites.

2
9
Usability

How easy is this site to use and how quickly can an average person begin meeting people compared to other sites.

7
10
Privacy & Safety

Does this site take proper precautions to safeguard its members, their identity, and their data.

10
10
Effective

Our opinion of how easily an average person will be able to achieve their dating goals with this site compared to other sites.

1
9
Value

Will the time and money spent using this site pay off for an average person based on the opinions and experience of our editors.

1
10
Our Recommendation
We didn't find much to like during our time using Find My Fling. At first glance, it looks decent but once you actually use it you find out just how low quality it is. If you actually want to meet someone you should avoid it completely.
As you can see from our comparison to AFF this is nowhere near being close to the top of our rankings.
It's very important that you take note of the small print when signing up for Find My Fling.
As soon as you've entered your location, desired username, password and email address, you'll be asked to check a box agreeing to the use of fictitious profiles.
Once you verify your email, you'll be asked to agree to a number of other terms, including this one.
"I would like to chat with all profiles on this website, even though I am aware that I cannot make physical arrangements with the fictive profiles."
These were the only two warnings I spotted throughout the whole testing period, so it's possible that some users may miss them both. It's also not made clear how many profiles are fictitious in these warnings. So, some desperate users may be still willing to give it a shot, even if they spot them.
As you may have spotted, the second warning includes a link to the full terms and conditions of Find My Fling. It's here – and arguably only here – that the true purpose of this site is revealed.
In Article 3, it says: "Findmyfling.com is the platform for users to chat with fictive profiles. The website, service and content are being provided for entertainment purposes only and are not intended to be used for establishing meetings with other users."
So, there you have it. This website is not designed for finding a date.
The document continues to explain that profiles marked with a heart icon are fictive profiles with which physical contact is not possible. Low and behold, every profile I checked had the heart icon next to it.
Credit goes to Find My Fling; when you hover over the heart, it tells you that physical contact is not possible with this woman.
However, these hearts are only included on the profile, not in your inbox or during the search results, and the warning only pops up when you hover your mouse over the heart. More could be done to clarify the fictitious nature of this website.
You will be bombarded with hundreds of messages within 24 hours of opening your account
Within a day of opening my FindMyFIing account, I'd received messages from over 100 accounts. This was without uploading a picture or a single word to my bio.
As we've established, every profile I checked was fictional. 
These were detailed and literate messages. Some of them were sexually explicit. Some even attached some racy pictures that weren't included in the woman's profile. Almost all of them asked me a question, in an effort to have me reply to them. If only women tried this hard with real-life online dating.
You have to pay for every message you send on FindMyFling
Instead of charging monthly for a premium membership, FindMyFling forces you to buy credits in order to send messages on its platform. It costs one credit per message you send. That includes replies to messages you receive and multiple messages to the same account. You start with zero credits, meaning you can't send any messages without paying.
The minimum spend is £16.49 for 10 credits. Yes, that's a stonking £1.65 per message (this website is a UK-only website). You get a discount if you buy more credits in bulk. The full price list is below.
You'll receive a reply from every single profile
For research purposes, I bought some credits and sent some messages out to these profiles. When I checked back 24 hours later, every single profile had replied to me. That's unheard of in real-life dating. All of the messages had some thought put into them. These responses were clearly penned by humans, not bots. 
All of the responses asked questions of me, so I can keep spending money to send messages. As these profiles are fictional, it's highly possible that it was the same person (or team of people) writing all these responses to me.
No profile will swap contact details with you
To see what would happen, I continued the conversation and asked if the women would be willing to swap phone numbers or social media details. Every time, they made excuses, saying they would feel more comfortable chatting on the website.
Even when I explained that I couldn't afford to keep messaging them, the excuses continued. Each message would still contain a question for me to answer. 
Why would you use FindMyFling when you can use AFF?
Perhaps there is a small niche of men out there who actually like the idea of chatting with fictional profiles. However, if you prefer to actually meet and hook up with women from the internet, I'd highly recommend using AFF. This was ranked as our most effective hook-up website for a reason.
It's packed with single women from all over the world, who are primarily interested in casual sex. In most cases, you should be overwhelmed with women to speak to, and many of them are happy to meet up for some no-strings fun after just a few messages back and forth. Don't settle for roleplay when you can have the real thing!
AFF is currently offering a free trial, so there has never been a better time to give it a go. You've got nothing to lose!
Pros and cons from our review of Find My Fling
Below, I have summarized the main pros and cons of Find My Fling.
You can expect hundreds of messages
You can expect every profile to reply to you
Some profiles will send you dirty pictures
You have to pay for every message you send
It's extremely expensive to send messages
The profiles are FICTIONAL. You're not chatting with the women in the pictures, and it's impossible to meet them.
The fictitious profiles on FindMyFling are at least somewhat entertaining
You can write a small bio in the "About Me" section. On top of that, there are loads of multiple-choice questions to answer if you want to share more information about yourself.
There are a lot of fake profiles to browse through on this website. Most of them have unique blurbs that have been written about each woman. A lot of them have multiple photos too.
Still, remember to search for that heart icon, which confirms that the profile is fictional.
Legit Hookup Apps Normal Guys Actually Do Well On According To Dating Coaches
You need to skip Find My Fling and spend your time where it will actually benefit you. That means trying out one of the apps that dating coaches are actually seeing regular guys do really well on. Try these first if you actually want to meet girls:
Site
Our Experience
Our Rating
Free Trial Link

Best Hookup Site Right Now

Experience Highlights

Top option for local hookups by far
Best results for regular guys
Over 60 million active members
The design needs an update

Try AFF For Free

Great If You're Handsome

Tinder Highlights

Great if you're pretty good looking
Very popular, especially if you're 18-22
Really focused on photos
Becoming more of a dating than hookup app

Try Tinder

2nd Best For Most Guys

Experience Highlights

2nd best option to find hookups
Attracts an older crowd than most hookup apps
Pretty popular
Solid free trial

Try Passion
Find My Fling design
The website looks very modern and is easy to use. You'll be greeted by the main dashboard packed with images of the women to send messages to. You can filter by age, gender and location. All messages are sent via the inbox, which is on a separate page.
You can't message anyone on a free account
It'll cost you one credit to send a message, and credits are obscenely expensive. Still, if my review is anything to go by, you can expect a reply every single time.
Pricing of FindMyFling
The site works on a credits system. It costs one credit to send a message. Here are your options for buying credits.
Buy 10 Credits for £16.49
Buy 25 Credits for £38.99
Buy 50 Credits for £72.49
Buy 100 Credits for £135.00
Buy 200 Credits for £249.00
You are also given the option to buy a Premium membership. This allows you to see all photos in full resolution, including private photos. You can also discover who viewed your profile.
Premium members supposedly get five times more messages – in case more than 100 a day isn't enough for you!
A premium membership costs:
£10 for one month
£25 for three months (£8.33/month) 
£39 for six months (£6.50/month)
£45 for 12 months (£3.75/month)
FindMyFling Review: Frequently Asked Questions
Need some quick and easy answers to frequently asked questions abou this site? Here are our FAQs.
What is Find My Fling?
Find My Fling was a so-called dating site that uses fictional profiles to chat up users. As of today, however, the domain has expired.
Who actually owns FindMyFling?
We can't find any information on who owns FindMyFling.
How can I contact FindMyFling.com?
We can't find FindMyFling.com's contact information since the site is no longer active.
Is Find My Fling real?
Yes, it used to be a real site. However, Find My Fling is no longer an active site.
Is FindMyFling legit?
It's not a legit way to find someone to date, that's for sure. Find My Fling explains to its users that its purpose is to chat with fictional profiles for entertainment purposes only.
Is FindMyFling.com a scam or fake?
We wouldn't really label FindMyFling.com a scam since they state in their terms and conditions that they use fictional profiles. However, it's still not worthwhile.
Is Find My Fling safe?
No, we can't say that Find My Fling is safe.
What are FindMyFling alternatives?
For a list of better alternatives to FindMyFling, take a look at our guide on the best hookup apps and websites.
How does FindMyFling.com work?
FindMyFling.com looks like your typical site where you can check out anyone's profile. However, the site uses fictional profiles to encourage you to pay for a membership. None of the users on the site are real.
Is there a Find My Fling app?
No, Find My Fling doesn't have an app.
How much does FindMyFling cost?
FindMyFling works on a credits system. It costs one credit to send a message. Here are your options for buying credits.
Buy 10 Credits for £16.49
Buy 25 Credits for £38.99
Buy 50 Credits for £72.49
Buy 100 Credits for £135.00
Buy 200 Credits for £249.00
How can you use FindMyFling.com for free?
You can't really use FindMyFling.com for free. You Need to buy credits to send messages.
Can you send messages for free on Find My Fling?
No, you need to buy credits on Find My Fling to send messages.
How do you cancel your FindMyFling account?
FindMyFling is no longer an active site. Back when the site worked, you can delete your account by going to "Settings" in the main navigation. At the bottom of that page, click the button that says "Delete My Account".