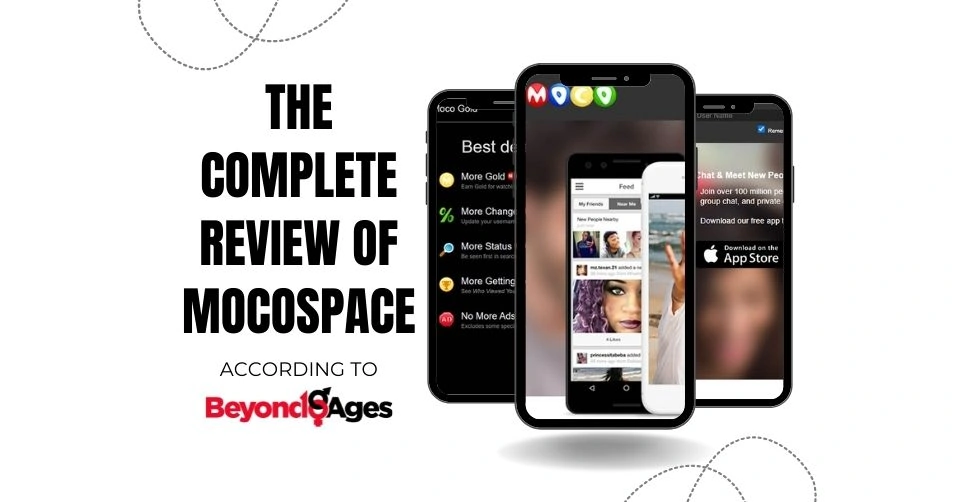 In this Mocospace review, you'll discover what is Mocospace used for and how effective it is for helping you reach your dating goals.
At its core, Mocospace is a mix between a dating app and a social networking website. You can find members of the opposite sex by searching for specific demographics, but you can also add friends, upload new pictures and have people comment on them.
At a time when a lot of people get frustrated with mainstream dating apps, more are looking at alternatives in an effort to find a partner. However, not all of these alternatives are great or even bearable to use. This is why I was keen to put Mocospace through its paces using our intensive review process.
By the end of this review, you'll be able to discover how effective it is at helping you find a partner or a more casual relationship.
How we reviewed Mocospace
At BeyondAges, we have gained a reputation as the most thorough website out there for testing online dating websites. We have put hundreds of dating apps and websites through our intense testing process, and that's why we're regarded as the experts on this topic.
The key thing is: our tests are always conducted in an identical manner. We always use the same photos, bios, demographic data and opening lines. This allows us to make fair comparisons and allows you to trust our opinion when we recommend one website over another.
After creating a Mocospace account, I left my account blank for 24 hours to see if it would still attract messages. This is a reliable test of whether it uses bots to tempt users to buy a premium membership. After all, few (if any) actual women would waste their time messaging completely blank dating app accounts.
After that quick test, I paid for a premium account and sent 50 messages to 50 suitable women on the Mocospace app. These messages came from our trusted log of engaging online dating openers. Then I tried to continue the conversation until I could convince a few women to either exchange contact info or meet up.
The verdict of this Mocospace review is based on how many women replied plus how many were willing to exchange contact details with the intent of going on a date. We know these are the two attributes of an online dating website that men truly care about, after all.
My Full Mocospace Review And Results 
As always, we'll begin this review with a basic summary for those who aren't interested in hearing about every last aspect of the Mocospace app. Below, you'll find ratings out of 10 for the aspects of Mocospace that we know men are most interested in. As a reference point, these have been compared to Adult FriendFinder, which we regard as the best hook-up website to ever exist on the internet.
Overall

Our team rates each site objectively based on many hours of independent research, the features each site offers, and how it compares with other sites. The ratings are the opinion of our editors and their extensive experience.

3
9.5
Quality of Women

Our opinion of how attractive the typical woman is that uses this site and how easy they are to connect with compared to other sites.

3
9
Popular

How many people are using this site to actually meet people compared to other sites.

3
9
Usability

How easy is this site to use and how quickly can an average person begin meeting people compared to other sites.

5
10
Privacy & Safety

Does this site take proper precautions to safeguard its members, their identity, and their data.

10
9
Effective

Our opinion of how easily an average person will be able to achieve their dating goals with this site compared to other sites.

3
10
Value

Will the time and money spent using this site pay off for an average person based on the opinions and experience of our editors.

3
9
Our Recommendation
It's as true of social media websites as it is of dating apps; a new competitor will only ever be as good as the size of its user base. While Mocospace has a few interesting features and a good unique selling point, after merging the popular parts of other dating apps and social media websites, it is simply not active enough.
There are plenty of other online dating services with a more active user base than Mocospace. This is the main problem that makes it so difficult for you to meet a great partner on this app.
Here are the key moments of my time testing Mocospace that you need to know about.
There aren't enough beautiful women using Mocospace

We like to base our online dating tests on a medium-sized American city. In our experience, this gives the best impression of how popular a dating app is. After all, there are several apps that are big in edgy tech-minded cities like San Francisco and New York but are barely used elsewhere.
Anyway, we use Columbus, Ohio for our tests whenever possible. In most cases, if we're testing a good app, there are plenty of eligible women to choose from here. However, when I completed a search of the women using Mocospace, there were less than a dozen in Columbus. What's more, before I was halfway through sending messages to 50 people, I was forced to start messaging women outside of Ohio. I'd already messaged all the women in the state.
I did check how many users there were in larger cities like New York and Los Angeles, and there were more options here. However, it would appear a lack of options will still be a problem on Mocospace, no matter where you're based.
There is a severe lack of attractive people using Mocospace
As I was sending messages to 50 nearby women, it became apparent that I'd only be excited about dating a small handful of them. Mocospace appears to have mostly attracted an older demographic of single women, some of whom don't seem aware of how to take good photos for online dating apps. While we're huge proponents of that at BeyondAges, it's fair to say that the women I found on this platform are far less attractive than those found during tests of other dating apps.
Most Mocospace users would appear to be inactive
Out of the 50 women I sent messages to on Mocospace, I received six replies after waiting one week. That's far below what our profile can attract on more popular dating apps. As always, I tried to lead these conversations towards swapping contact details with the aim of meeting for a date. However, the time in between waiting for replies was so long. Ultimately, I received 0 new contacts.
This is despite the quality of the women being far lower than on other apps (in my opinion). Indeed, everything about this experience points to Mocospace users generally being inactive.
Why AFF is a better option (try it free here)
Although Mocospace presents an interesting and somewhat unique concept, I couldn't possibly recommend anyone else to use it to find a date, especially when there are far better-quality hookup websites like AFF around.
AFF has built up a huge worldwide audience ever since launching in the early 2000s. It is a safe haven for singles looking for casual relationships, one-night stands or friends-with-benefits situations. It has also adopted elements of social media, including the ability to add friends and comment on photos. But more importantly, it has always been relatively easy to find someone great to hook up with on this website, no matter where in the world you're using it.
What's more, AFF is currently running a free trial, so you're able to see for yourself just how easy it is to connect to someone great for some short-term fun. Click here to take advantage of this free trial now.
Positives and Negatives
So what did we like and dislike about Mocospace? Here's a summary of the site's pros and cons.
A nice mix of features, taken from social media and dating apps
You can search for your ideal partner using various search filters
You can use most features of the app for free, and there's a free trial of the VIP account too
There are very few active users on Mocospace
There are even fewer attractive people using this app
The VIP features don't make it any easier to find someone to talk to
The app is clunky to use in some places
Profiles, Pictures and Members
The profiles on Mocospace are somewhat basic, which is surprising considering it bills itself as a social media app. You can post status updates and upload new photos that other people can comment on.
But, other than that, you're only prompted to add your hometown, your ethnicity, your education, whether you have children and what you're looking for on the app. Most of the users I checked didn't even bother to post that much.
It would appear that most of the Mocospace user base is aged 30 and above, with the majority of them choosing only to upload one photo.
Design
The Mocospace app is easy enough to navigate. There are five tabs at the bottom of the screen that allow you to choose between meeting someone new, chat rooms, live streams, your inbox and your profile/settings.
At the top of the Meet tab, there are two tabs allowing you to flick between searching for someone, or "Daily Picks", in which you swipe on users one by one, just as you would in Tinder.
I spotted a few bugs when I was creating my account and trying to log in, although I was able to circumvent these eventually.
Messaging and chatting
Some elements of the messaging function on Mocospace are bizarre. For example, when you swipe right during the "Daily Picks" feature, you're given a choice of standard ice-breaker messages to send that person.
These are:
"Have you been on Moco long?"
"How's your day?"
"Feel like chatting?"
Your only other choice other than sending one of these boring generic messages is to cancel the right-swipe altogether. Thankfully, if you find someone using the search feature, you can say whatever you want to them.
Some Mocospace users have enabled a setting that stops people outside their "Friends" list from messaging them. Your only chance of connecting with these people is to send them a "Friend Request", hope they accept, then send them a message.
The ability to comment on another user's photo is a somewhat strange addition to this app too, mostly because you can see all the lame comments that the other simps have left on the photos of the (very few) moderately attractive women on the site.
As a word of advice, publicly leaving simp comments is never a cool move. You're far better doing all your seduction in the DMs.
Advertisements
Mocospace has a lot of adverts. Just like most social media websites, ads are its main source of income.
Pricing
Mocospace is free to use, although you can purchase a VIP account for $11.99 a month. A VIP account gets you extra features, such as the ability to see who is online, the ability to see who viewed your profile, plus access to VIP-only forums. It would appear that VIP users get extra visibility in search results and other people's inboxes too.
MocoSpace Frequently Asked Questions
Here's a quick array of questions and answers about Mocospace to help you decide if this is an app that you should try out.
What is MocoSpace?
Mocospace is a dating app/social media website available on iOS, Android and desktop.
How can I contact MocoSpace?
Scroll to the bottom of your profile tab and click "Contact Us".
Who actually owns MocoSpace?
JNJ Mobile is the team that created MocoSpace.
Is MocoSpace real?
Mocospace is a real app with real users, although they are not as active as those of its competitors.
Is MocoSpace legit?
Mocospace is a legit app. What you see is what you get.
Is MocoSpace a scam or fake?
There would appear to be no scams on Mocospace. It is a genuine app.
Is MocoSpace safe?
There are no obvious dangers associated with using MocoSpace. Of course, as with any dating app, it's important to keep your wits about you when chatting with other members and giving away personal information.
What are MocoSpace alternatives?
You can see our most highly-recommended alternatives to MocoSpace in our list of the best hook-up apps and websites we've tested.
How does MocoSpace work?
MocoSpace is primarily a dating app where you can find potential partners using its search filters, or by swiping manually one-by-one on your Top Picks. There are also features that allow you to interact with other members on live streams, forums and by commenting on their photos.
Is there a MocoSpace app?
Yes, it's available for iOS or Android.
How much does MocoSpace cost?
You can use MocoSpace for free, although there are extra available features available if you buy a VIP account for $11.99 a month.
How can you use MocoSpace for free?
Simply create an account and start sending messages to people you like the look of. MocoSpace might ask you to verify your associated number before you can get started.
Can you send messages for free on MocoSpace?
Yes, although you'll sometimes be asked to verify your associated phone number before you get started.
How do you cancel your MocoSpace account?
Navigate to your profile tab.
Click "Account"
Click "Delete Account"