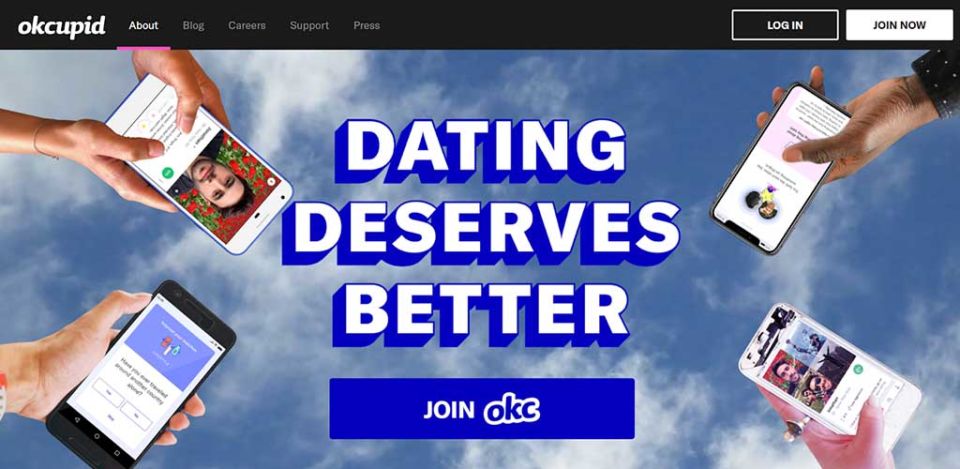 Dating apps have become a big part of modern culture these days and I'm all for it. The only problem is, with popularity comes cheap imitations and scams. In this OkCupid review, I'll be covering my experience on this well-known dating app. It should be noted they also have a website version which is identical in functionality, features and users.
In talking to friends about it, the reputation seems to be "the one that asks a lot of questions." After running through the setup process, I immediately saw what they meant. More information is often a good thing, but did that mean the app was helpful? I'll get to that in a moment.
First, let's talk about the process I use for each of these dating app reviews. To provide a helpful overview, it's important that I use the same steps for each one so let's set the scene.
How we reviewed OKCupid
I never read about an app before I start using it. That would only taint my opinion before I've even started and I'm not looking to just repeat other reviews. The whole point here is to provide an unbiased opinion and share my experiences on the app.
Instead, I start by setting up as much of a blank profile as the sign-up allows me to. OkCupid asks a lot of questions and requests a lot of information. But you can skip most of it so that's what I did.
The aim is to leave a blank profile to sit for a couple of days. I want to see if my blank profile will get any spam messages from "women" claiming to be into me.
After that, I'll complete my profile and get to using it as a free user for one to two weeks. Under normal circumstances, I'm looking to see how many dates I can set up with a free account. In this case, the goal was active, engaged conversation with women nearby.
After that, I'll move on to a paid membership and see if that makes a tangible difference to my experience. Did I get more engaged conversation? Was it faster or easier to use? Were the premium perks really worth the money?
In the end, I can give you the complete picture of what this app is like to use and if you should spend money on it.
OkCupid, not GreatCupid
Oh yeah, spoiler alert, sorry. "Ok" is a pretty accurate summary of my experience here in general. It's not a scam and despite early suspicions, I didn't find any evidence of spam accounts. Beyond that, I'll be covering the details below.
First, a look at the high-level info to kick things off. First, a comparison against eHarmony. It's a brand we've all heard for years and for a reason. According to their website, they came out on top as the "highest quality dating pool" from a 2018 study and "#1 trusted dating app" in a 2020 study.
If that doesn't make for an ideal comparison, I don't know what does.
Overall

Our team rates each site objectively based on many hours of independent research, the features each site offers, and how it compares with other sites. The ratings are the opinion of our editors and their extensive experience.

7
9.5
Quality of Women

Our opinion of how attractive the typical woman is that uses this site and how easy they are to connect with compared to other sites.

6
9
Popular

How many people are using this site to actually meet people compared to other sites.

9
9
Usability

How easy is this site to use and how quickly can an average person begin meeting people compared to other sites.

7
10
Privacy & Safety

Does this site take proper precautions to safeguard its members, their identity, and their data.

10
10
Effective

Our opinion of how easily an average person will be able to achieve their dating goals with this site compared to other sites.

3
9
Value

Will the time and money spent using this site pay off for an average person based on the opinions and experience of our editors.

1
10
Our Recommendation
In short, OkCupid isn't a fake app and you don't need to worry about your credit card info being stolen. Still, I'll be uninstalling it the moment I finish this review for reasons we're about to cover.
In case this is as far as you want to read though, my recommendation is to check out eHarmony instead. Their user data shows that "every 14 minutes, someone finds love [on their site" which is infinitely better than what I found on OkCupid.
While OKCupid lets you play a Tinder-esque game of swiping, eHarmony does most of the work for you. The eHarmony signup questionnaire takes about 20 minutes to answer (compared to the 30+ minutes OKCupid requires of you), and the site uses these answers to find you a handful of matches per day.
The best part? eHarmony has a much more active userbase than OKCupid (details on that in a bit), and no matter where you are in the world, there are eHarmony users nearby. So if you're looking for a serious relationship and you want your matches handed to you on a silver platter, you're much better off with eHarmony than OKCupid.
What I liked and didn't like about OKCupid
A known, trustworthy brand
A fairly intuitive (although busy) interface
No signs of scam or spam activity
The overall quality of users and profiles was limited
A lot of inactive users
No real conversations with anyone in this country
"Likes" from people thousands of miles outside of the range I specified
How OkCupid works and who it's for
At its core, OkCupid functions much like Tinder and Bumble. You see a stack of user profiles and swipe left (no) or right (yes) to indicate if you're interested in each user. If you both swipe right on each other, it's a match and you can start chatting.
Where it differs is the questions it asks. You're given a long list of (optional) questions and priorities. Based on those, it gives you a "match %" to indicate how likely you and these other users are to get along.
Another differentiating point is that you can sort by different categories. In the screenshot above, you can see the band of categories across the top:
Recommended (the default view)
Match %
Passport
Online
New People
Popular
Question Pros
Nearby
A few of these are limited to paid users only, but it's nice that you can sort by whatever factor matters most to you.
A lengthy sign-up process
The downside to them giving you that "Match %" metric is that you have to answer a lot of questions. I mean a lot of questions — a minimum of 15 just to create a profile. I answered 37 of them but it seems their cap is just over 3,000, according to Reddit. No thanks.
Of course, in theory, the more questions you answer, the more accurate your match percentage can be. In the real world though, I've had great relationships with people who shared very different views and opinions. In the end, communication and maturity trump "compatibility" every time.
The questions are a broad range of topics, aimed at getting a broad look at your personality type, I suppose. A few examples:
How do you feel about having joint bank accounts in a long term relationship?
Do you enjoy using sex toys with a partner?
If you don't do anything at all for an entire day, how does that make you feel?
For each of these, you choose one of the multiple-choice answers. You're also given an optional space to provide an explanation. On top of that, you can select the answer you'd prefer a partner to give and how important that answer is to you. Starting to see why even 15 questions is a lot at sign-up?
I see what they're doing here and it's not a terrible idea. Still, none of these things truly matter to me, honestly. In my opinion, they shouldn't form a basis of judgment to anyone but to each their own. I don't care about her political opinion or whether or not she has pets, I care if I'm attracted to her, we get along and can communicate.
Smart incentives to fill out your profile properly
This is a trend I've started to notice in dating apps and I like it. It's easy to leave your profile sparse, which will always lead to a worse experience for you and a bad rep for the app.
Instead, they give you incentives for completing your profile. In the case of OkCupid, the incentives are the potential for more matches. This is in the way of a free Boost (more visible profile for 24hrs) and a higher possible match percentage.
Very limited likes as a free user
Being so familiar with apps like Tinder, Bumble and Hinge, I was caught off guard by this one. It seems you only get to use 10 likes as a free user before you're maxed out for the day.
Various claims suggest it's because they want you to engage with every match rather than endlessly swiping. This would make sense if it weren't for the fact that a paid subscription immediately removes this limit.
In all fairness, I couldn't find evidence of this claim on their website, it seemed to be an understanding from their user base.
Two subscription tiers to choose from
Liking the app and want to remove a few of the restrictions you have as a free user? You have two levels to choose from: OkCupid Basic and OkCupid Premium.
As you might expect, the Premium option unlocks more features and costs more money. There's a comparison:
OkCupid Basic
No outside ads
Send unlimited Likes
Dealbreakers
Unlock all of your Intros
OkCupid Premium
All of the features of OkCupid Basic, plus:
See everyone who Likes you before you Like them
See everyone's public answers to their questions before you answer
All in all, if there were more interaction from people in the same country, the Premium option might be worthwhile. If that's the case in your city, go ahead and try the upgrade. From my experience, it didn't help at all.
Signing up for a paid subscription seemed better. . . at first

The first 10 minutes of my Premium subscription seemed great. I could see all 30+ women who had "liked" me and match with the ones I was interested in. It felt a lot like my favorite app, Hinge.
What I missed in my haste, though, was their location. Of the entire list, only two of these women were within 100 miles of me. For some reason, despite setting my 'distance' filter to 25 miles, almost every one of my likes was from women in other countries.
The Philippines, Turkey, Mexico, the UK, Canada, Poland you name it. Perhaps jaded by all the fake apps I've reviewed lately, I expected these offshore likes to be scams. Naturally, I engaged with them to see what scam they were running so I could warn you about it.
As it turns out, they all seem to be real users. I guess that's what I get for making assumptions but I'm still confused by what they're trying to achieve. Bored during quarantine, maybe?
Already a premium member? They still want you to pay for more.
This is another trend I've seen on a few dating apps lately that I'm not such a fan of. Not only do they have two paid subscription tiers (fine, they have to make money somehow), but even when you sign up for the top one, they still push you for more.
Paying for Premium? Have you considered Boost? Want to see read receipts? See who is new to OkCupid. . . each of these is an additional cost on top of your monthly subscription.
Honestly, bold given how lackluster my experience was on this app, even as a Premium member.
Expensive membership considering what it gives you
Leading on from that point, the cost vs value just isn't here with OkCupid. At $19.99 per month for the Premium level I used for this app review, it's up there with the pricing tiers of top apps.
While prices are comparable, performance just isn't there. On Hinge and Bumble, I'm pretty much guaranteed to get at least five quality matches and engaged conversation in the first 24hrs. With a free account.
With OkCupid, I'm more than two weeks into using it as both a free and paid user and. . . I'm still waiting for a match that I'm actually interested in. On that basis, this app is worth $0 to me so far. Pricing it as a premium competitor is an interesting choice.
A quiet app, even as a paid user
Sure, there are seemingly endless profiles (at least when you live downtown like I do), but that doesn't mean it's busy.
In the time I've been using OkCupid, I've managed a total of two conversations with women nearby. The others are the handful of overseas profiles I started chatting to when I expected them to be scammers.
Considering the fact that half of this time I've been using a top-tier paid account, that's disappointing. In the interests of staying objective, there's always a chance it'll be different in your city. Based on my own experience though, there are far better apps out there for the same money (or free, even).
A very different feel to other apps
I've ended up rewriting this section several times because my own personal preference keeps creeping in. Finally, I've figured out the underlying point here. It's the mindset and intent of this user base. Very different from the apps I frequent and worlds away from how I view dating. Not inherently bad, just different.
Objectively, there's nothing wrong with that in the slightest. If you're going to spend the 30-60+ minutes setting up a profile on this app though, it's something to be aware of.
The best way I can summarize it is this: If you prefer to treat dating apps casually and don't take it too seriously, OkCupid isn't for you. If you're intent on finding love and think that dating/dating apps are a serious topic, this is your audience. There's no right or wrong, it's purely personal preference and I support it either way.
As for what makes me say this, it's a combination of things. Rather than a clever quip or a basic overview of info in user profiles, what you'll see on OkCupid tends to be long-form responses. Multiple paragraphs about who they are, what they enjoy and what they're looking for.
Here's just one example of many:
As an extreme yet humorous example, take a look at Yulia's profile. That's one way to approach it, I suppose.
Instead of photos of them living their best lives, they seem more likely to be taken seriously. Selfies at home or in seemingly deliberate settings. There are exceptions to every rule but this is what I've noticed most frequently here.
Regardless, I'd still recommend eHarmony over OkCupid if relationships are your jam. This app is dead while eHarmony is a notoriously busy place.
OKCupid Review: Frequently Asked Questions
To end this OkCupid dating app review, I'm going to cover the most frequently asked OkCupid questions below. If we're still missing something you think should be included, reach out to us and we'll update it!
What is OkCupid?
OkCupid is a dating app (and website) designed for those seeking a long term relationship. Similar to the major dating apps in functionality, it offers some key differences.
Most importantly, you have thousands of questions that you can answer. You can also select the answer your ideal match would provide. From here, it gives you a match percentage to gauge how compatible the two of you are.
How do you log into OkCupid?
Once you've set up a free profile (using your email address), login is simple. All you need to do is enter that email address and your chosen password into the website or app.
What are OkCupid alternatives?
If you're looking for a relationship but OkCupid isn't doing it for you, my best suggestion would be to try one of the options on our list of the best dating apps.
How do you use OkCupid for free?
When you first sign up for OkCupid, you're given a free account. You can use this account for free as long as you like, you just have to deal with a few minor restrictions.
For example, you're limited to just 10 "likes" per day and can't see who likes you, among other things. By all means, you can use OkCupid just fine as a free user.
How do you cancel your OkCupid Membership?
How you cancel your paid membership will depend on the way you signed up. If you paid for it using the iOS or Android app, just follow these steps:
iOS
Open Settings
Tap your name at the top
Tap Subscriptions
Tab the subscription you want to manage
Tap Cancel Subscription
Android
Open the Google Play store
Tap Menu
Tap Subscriptions
Select the subscription you want to manager
Tap Cancel Subscription
Follow the steps from there
If you paid for it through the website, you were given the choice of using PayPal or entering your credit card information directly into OkCupid. To cancel these, follow these steps:
In a web browser (not the app), go to the Subscriptions page
Click the blue "turn off automatic billing" link under your subscription
How do you delete your OkCupid account?
Steps to delete your profile are also dependent on how you created your account in the first place. If you signed up via the iOs or Android app, follow these steps:
Within the app, tap on Profile
Select Account Settings
Tap Disable your account
Answer a few quick questions about why you're leaving
Select whether you'd like to disable (temporary) or delete (permanent) your account
Otherwise, if you signed up via the website:
Click Next
Answer a few questions about why you're leaving
Select whether you'd like to disable (temporary) or delete (permanent) your account
How much does OkCupid cost?
There are two tiers of membership that work on a monthly subscription cost. On top of these, you can also pay for even more additional features like Boost, seeing new members and read receipts.
Your two options are OkCupid Basic and OkCupid Premium which unlock different levels of access, as you would expect.
Is OkCupid legitimate?
Despite some early suspicions, it seems OkCupid is entirely legitimate. I didn't find evidence of any scam accounts on the app at all.
Does OkCupid really work?
Although it's a legitimate app, it didn't provide me with any kind of success as a free or paid user. Given the pricing model and total lack of success, I'd suggest going with eHarmony or other dating apps.
How do you send messages on OkCupid?
Like most similar apps, to send a message to someone, you first need to match with them. As a free user, this means you both have to swipe right on each other as your profiles come up in the stack.
As a paid member, you can see who 'likes' you in a separate tab and choose who you want to match with from there.
To message a match, just open their profile and tap the speech bubble at the bottom of the screen.
How do you search on OkCupid?
From the research I've done on OkCupid, it seems you could actively search for users in the past. In its current state though, this isn't the case.
Instead, it's a very Tinder-like style of being presented with a stack of profiles and swiping left (no) or right (yes) to indicate if you're interested.
One way OkCupid differentiates itself is that you can select different ways this stack is ordered. For example, by location or match percentage.